AFL 2022: League not ruling out private ownership
The AFL didn't have an issue with capital before the pandemic. Now the league will be forced to look at all avenues. Does that put private ownership back on the agenda?
The AFL has not ruled out turning to private ownership of clubs as a future source of cash, league chairman Richard Goyder says.
But while the head of the game said the league would be "crazy not to" consider all options, there would be inevitable challenges to such a model.
The AFL has not had private owners since the likes of Brisbane and Sydney shifted away from the model in the early 1990s.
Goyder said all potential sources of capital would continue to be considered if it meant freeing up more league money for things like grassroots, women's football and potentially a team in Tasmania.
Stream every match of every round of the 2022 Toyota AFL Premiership Season Live & Ad-Break Free In-Play on Kayo. New to Kayo? Try 14-Days Free Now >
Richard Goyder hasn't ruled out private ownership. Picture: Getty Images
"I think we'd be crazy not to look at accessing different forms of capital as we go forward and as we look to continue to grow the game," Goyder said at the SportNXT conference in Melbourne.
"We'll have a decision to make this year for example on Tasmania. How does Tasmania get underwritten if there was a team from Tasmania — big if — and how would that be underwritten over a long period of time."
He said that aside from the last two years as the game navigated the pandemic, "we haven't had an issue with access to capital", but maintained that the league could not rest on its laurels and must "evolve".
"We'll look at models. We've been so lucky to date, because the commission and the 18 clubs have been able to set the rules for AFL footy and be masters of our own destiny," Goyder said.
"I know from business when you've got co-investors, that brings, inevitably, conflicts.
"Yes, we will look at different models, we'd be crazy not to, but we'll stay very, very true to our guiding principles."
Goyder dismissed suggestions that the decision to put a team on the Gold Coast was a mistake, describing participation and growth of the game in south-east Queensland as "phenomenal".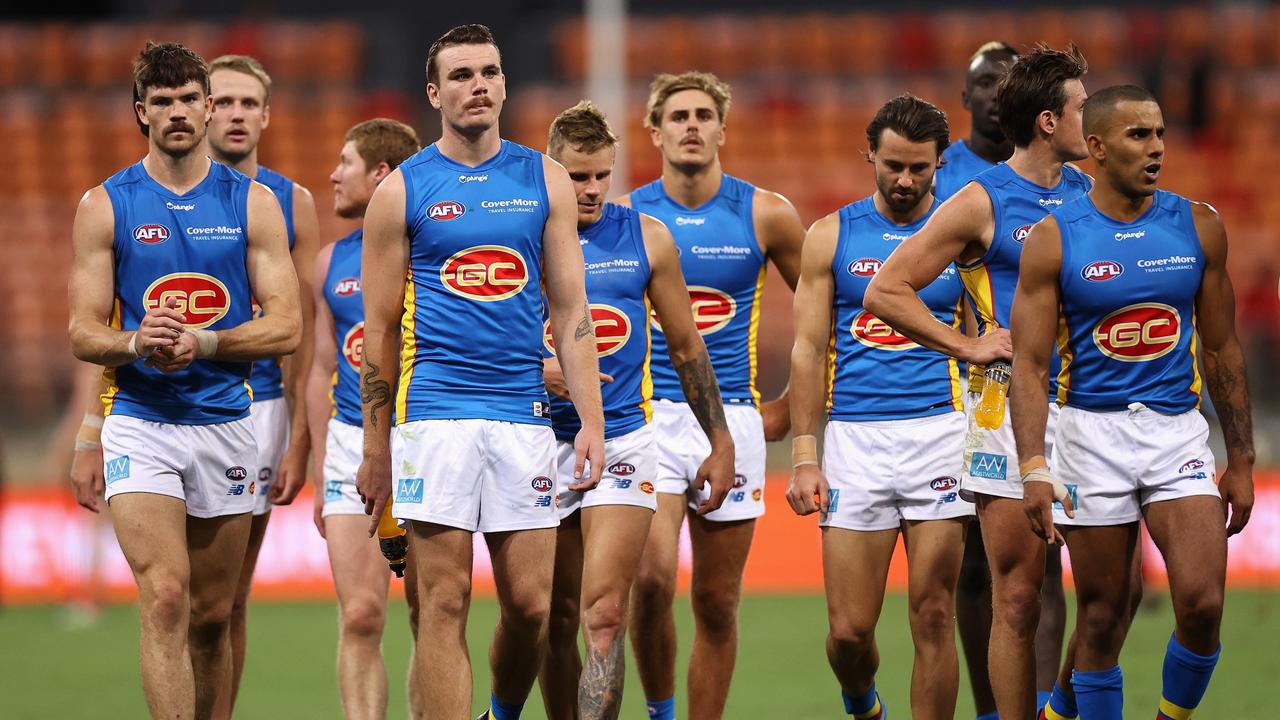 Goyder defended the decision to add the Gold Coast Suns to the competition. Picture: Cameron Spencer/Getty Images
The league accessed loans in the realm of $600 million in 2020 as Covid swept the globe, utilising its ownership of Marvel Stadium as leverage which Goyder said would remain a vital asset.
But staying true to the foundations of the game would be paramoutn.
"The way the AFL is going at the moment, we think we will have the capacity to continue to invest in community footy, women's football, the elite men's competition, stadiums, and also potentially other things," he said.
"Access to capital is important, but most importantly we stay absolutley true to our guiding principles which is to protect and develop the game at the community level. That's where we know we get participation.
"Our fans own AFL footy. Our fans own the game and it's important we're really true to them."
'The future': AFL cashes in on Buddy NFT
League boss Gillon McLachlan believes Lance Franklin's 1000th goal may become one of the game's most unique – and expensive – NFT prospects.
McLachlan has revealed that a deal has this week been struck between the league and the AFL Players' Association to distribute funds from non-fungible tokens, or NFTs, which have exploded in popularity in recent months.
NFTs are digital files or images that are trackable, tradeable and unable to be altered – essentially moments in games that become valuable in relation to their scarcity.
McLachlan, who spoke at the SportNXT conference in Melbourne on Wednesday morning, said Franklin's 1000th goal a fortnight ago could become one of the league's most valuable assets.
"There'll be a Buddy 1000 NFT – it's what it looks like," McLachlan said.
"The team are working on that at the moment. It's known we're in partnership with Animoca.
"There'll be lots of NFTs that come out of that, because it was a pretty unique event.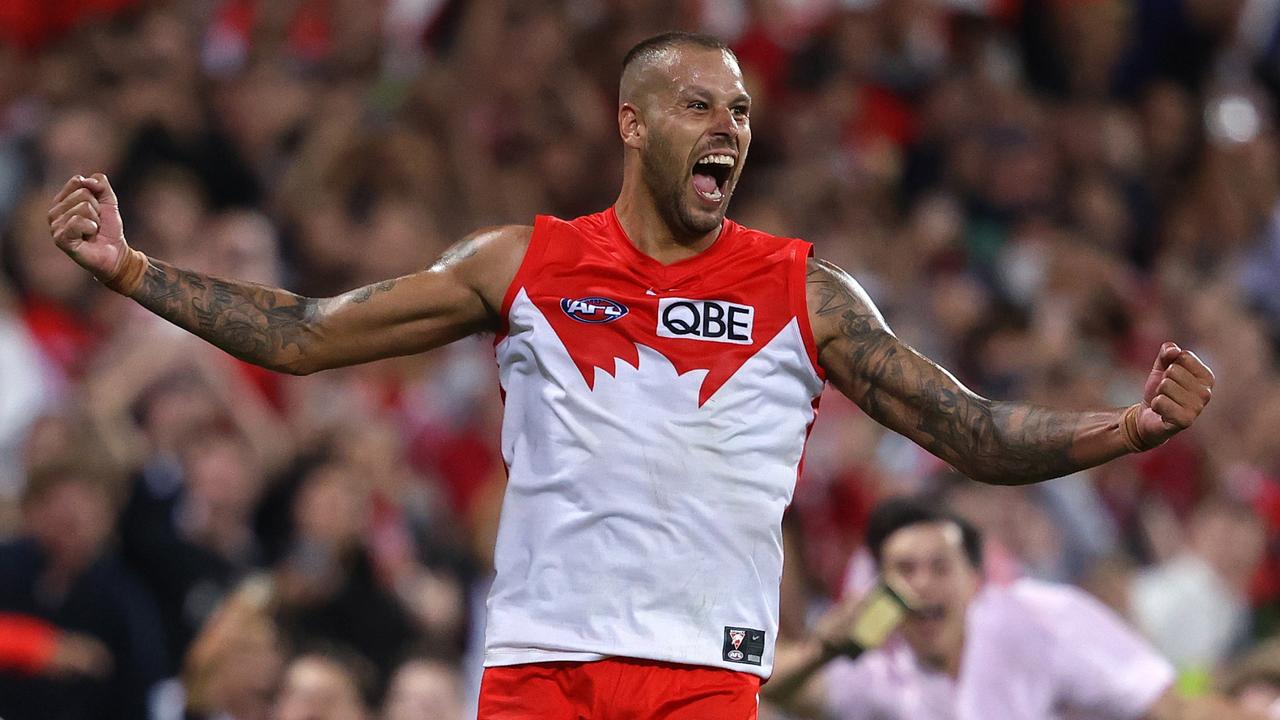 Lance Franklin celebrates after kicking his 1000th AFL career goal. Picture: Phil Hillyard
"That was one that will have a lot of value.
"There'll be one official NFT of him kicking that goal. Whether it's animated, there'll be different versions of it. That's the future."
He said while the "market will determine" its ultimate price, "there'll be some stuff that's truly unique that I think will be some of the most expensive stuff we do".
"And then there'll be lots of other stuff we're doing that will be more manageable in price," he said.
Under the deal struck with the players' association, the AFLPA will take a cut of around 20 per cent of the NFT price – from which the player in question's cut will be taken – with another 5 per cent set aside for marketing costs.
"The player's share comes out of the 20 per cent, and then there's our partnership with Animoca," McLachlan said.
In a wide-ranging panel with other leading Australian sport chief executives, McLachlan highlighted the "Covid hangover" as one of the biggest challenges facing the AFL in the near future.
"How long does that last? And is there a long-term impact in the mindset of participants and supporters?," he said.
"There's a confidence, but it's a concern."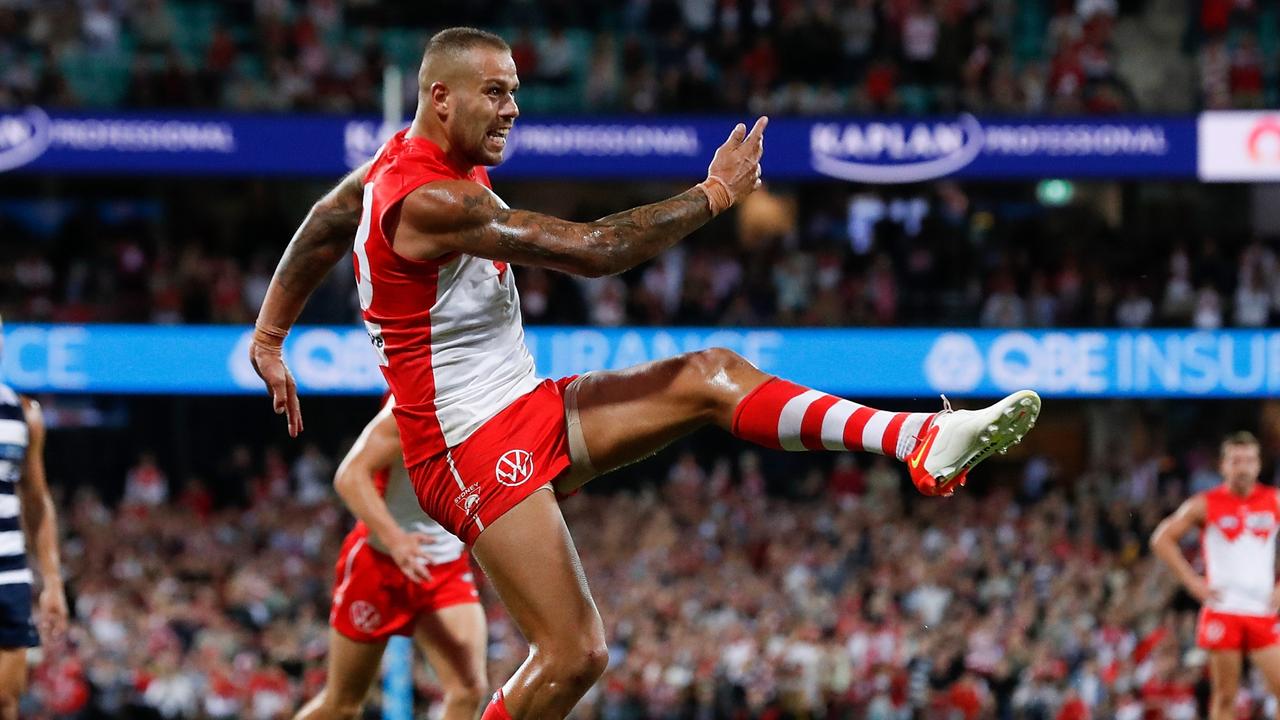 Lance Franklin's magic moment is a hot commodity. Picture: Michael Willson/AFL Photos via Getty Images
Both the men's and women's league collective bargaining agreements are set to be negotiated this year, and while McLachlan said that the AFL is forecasting some 90 per cent of pre-Covid funds in 2022, it has to consider a scenario in which revenue could potentially drop.
"I think we all had business models that we were talking in partnerships with players or clubs or where we invested that always factored going up, and there wasn't a lot of room to move or concertina down," McLachlan said.
"I think as we look to invest in different areas, I think we have to contemplate – and it hasn't happened to us for 20 years – that revenues do go down.
"They're the challenges for us. We've come through it well, the balance sheet is strong, but it's how we reset in different areas, how we invest a bit more diverse and how we contemplate the shocks that may well come again."
But he does not believe the length of player contracts would need to be limited in the upcoming agreement.
"I still think you can have long-term deals because players need long-term certainty, people want to have long-term agreements, but how does that contemplate a business that has shown that revenues can go down and therefore salaries must flow with it?," he said.
"That's going to be a bit of a trick."
Originally published as AFL 2022: League not ruling out private ownership