AFL caught lagging behind NRL in developing female officials
The AFL has been left in the wake of rival code the NRL in developing female officials — and the gap is widening.
The AFL has been caught lagging behind code rival the NRL in the development of female officials.
Women make up 9.5 per cent of the NRL's full-time officiating team and 14.6 per cent of the sport's 4106 officials.
According to the AFL's leaked report on the national female umpiring shortage, just 2.6 per cent of umpires at the elite level are female and 10.8 per cent across all levels of the sport.
Watch every blockbuster AFL match this weekend Live & Ad-Break Free In-Play on Kayo. New to Kayo? Try 14-Days Free Now >
The AFL's Women and Girls Action Plan – recently endorsed by the AFL Commission – wants women to make up 20 per cent of all umpires by 2025. That document has pledged a $5m investment for 2023-25.
But the league has not released the funding model and it is unknown how much will be spent on umpiring.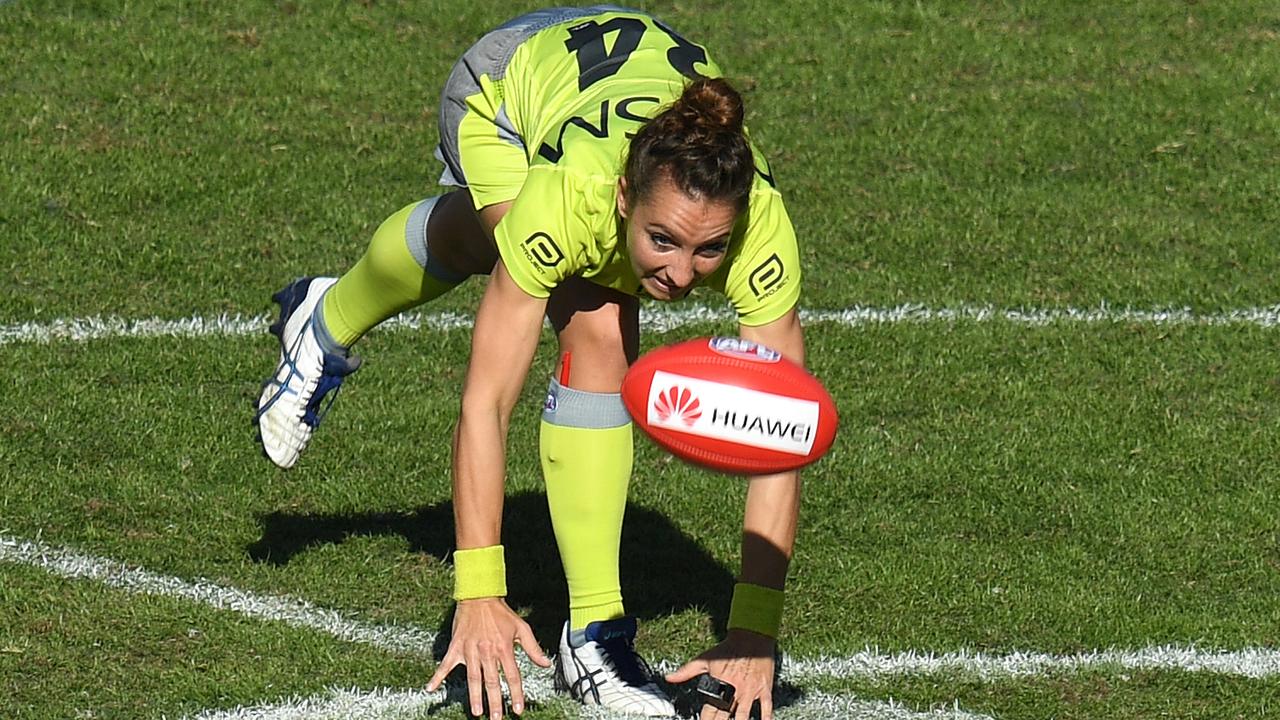 The AFL wants to grow the number of female umpires at the elite level. Picture: AAP Image/Dave Hunt
The AFL wants to grow female representation to 40 per cent nationally, albeit with no deadline. It faces an uphill battle in NSW, where the total refereeing numbers in the key development market have plummeted to 1579 – the lowest levels since 2014.
It is a 30 per cent fall from 2019, when 2266 men and women signed up.
Meanwhile, NRL is leading the way, with trailblazers Belinda Sharpe and Kasey Badger on the NRL's 21-person panel. Rugby league is widely acknowledged as Australia's market leader in developing female officials.
The 2021 and 2022 national women's championships included fully female officiating teams for every single match.
Other than one touch judge, the female under-19s and 2022 women's State of Origin matches also involved female on-field officials.
Belinda Sharpe was the referee in an all-female officiating team for the Women's State of Origin match betwen NSW and Queensland last weekend. Picture: Cameron Spencer/Getty Images
The NRL runs a Women in Rugby League Officiating Program (WILOP), which focuses solely on the development of female match officials from community level through to second-tier competitions.
Female officials from across Australia are provided with programs focused on technical, physical and personal skill, based on the best strategies for how female officials develop.
This year 40 young females were invited to Canberra as part of WILOP, which ran in parallel to the 2022 women's State of Origin match.
A further 40 will be invited to attend a Queensland-based program, which will be aligned with the 2022 NRLW finals.
An all-male starting umpires panel was recently unveiled for the VFLW finals series, which finishes with Sunday's grand final between Essendon and Southern Saints in Port Melbourne.
The only females named in any discipline – field, boundary or goal – for the finals series were emergencies.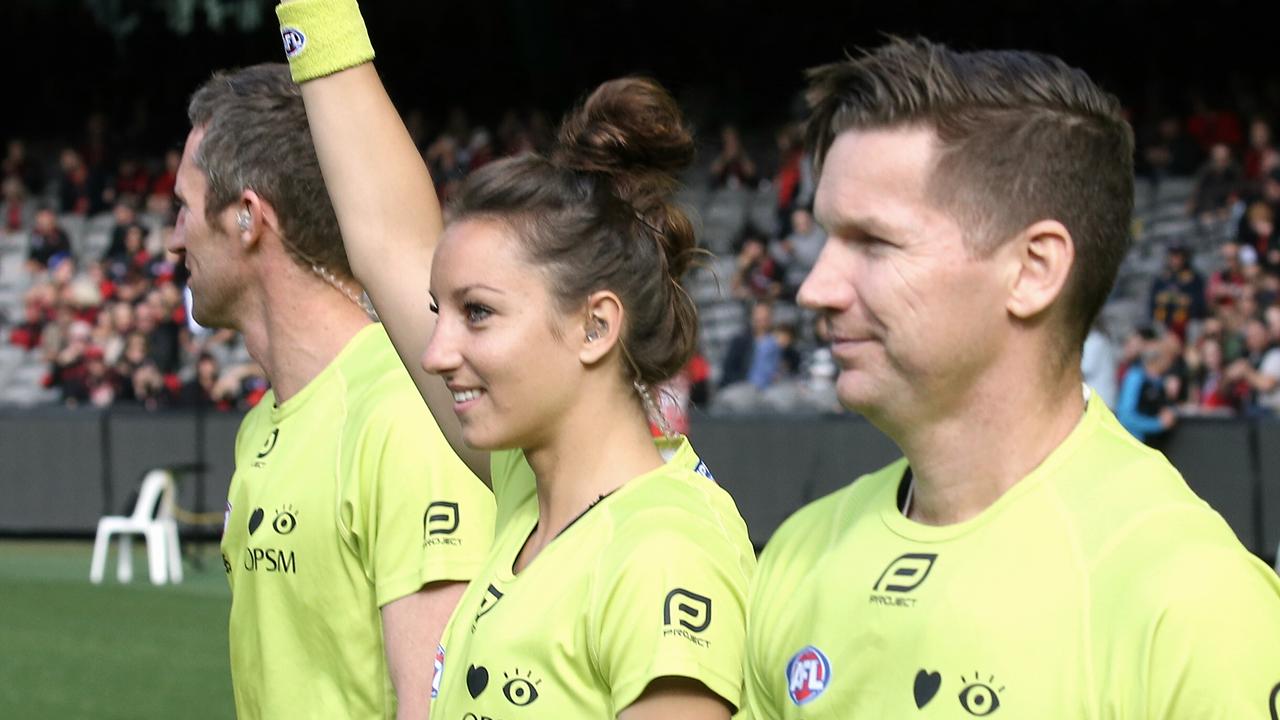 Eleni Glouftsis umpired an AFL game between Essendon and West Coast Eagles in 2017. Picture: Wayne Ludbey
Female umpires have been invited to an AFLW talent development day at Essendon's Tullamarine headquarters on July 10 as the league hopes interest in umpiring the upcoming women's season grows.
Former AFL community umpiring development manager Damian Anderson, co-author of the report into the female umpiring shortage, recently said the AFL's 40 per cent target was unrealistic. "They don't even have 40 per cent female participation of players (32 per cent)," Anderson said last month.
Leaked email reveals league's next step in toxic umps war
-Sam Landsberger
The AFL is again surveying female football umpires as part of its bid to fix the toxic culture that was exposed by a report handed to the league almost 12 months ago.
A leaked email sent last week shows state-league umpires have been given until 5pm on Friday to complete an internal and confidential online survey for the AFL in the fallout to that report, which was published by the Herald Sun last month.
"The Umpiring report provided some recommendations which we are working through, however, we also want you all to have an opportunity to provide feedback on what is working well and where we need to focus," the email from AFL human resources staffer Amy Adams said.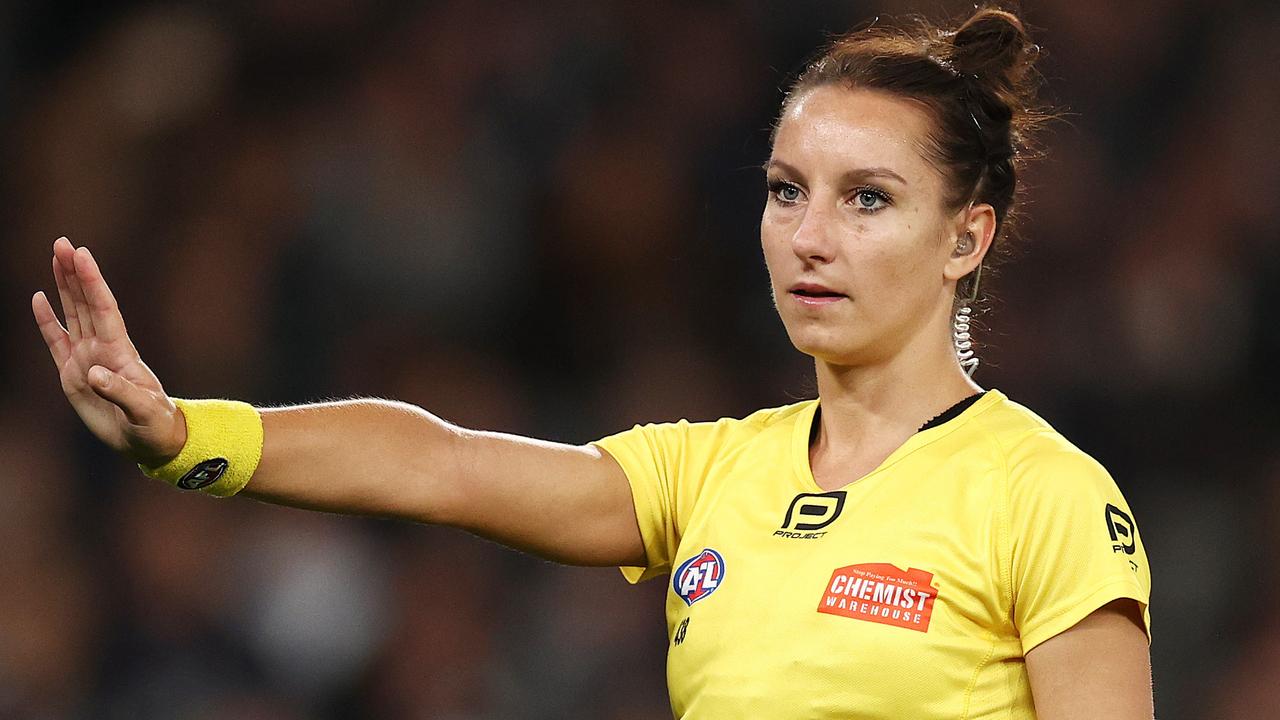 Eleni Glouftsis is a trailblazer in the umpiring fraternity. Picture: Michael Klein
"This feedback will help inform our next steps and consolidate our action plan going forward.
"This survey is an opportunity to share your experiences, provide insight into the culture of State League Umpiring (training and matches) and help the AFL understand what we can improve.
"Following the survey, and off the back of the feedback we receive in the survey, we will then determine our next steps which may include some listen and learn sessions and sharing the feedback received."
State-league umpires have also been told the AFL is committed to reintroducing a female liaison officer and running education sessions focusing on respectful relationships, to be attended by all umpires.
They were also issued details on the AFL's complaints resolution policy and procedure, which states: "We are deeply committed to taking fast and appropriate action if inappropriate behaviour occurs and we take a 'person centred' approach to ensure our people receive appropriate care, issues and managed sensitively and that wellbeing support is provided during and post any process".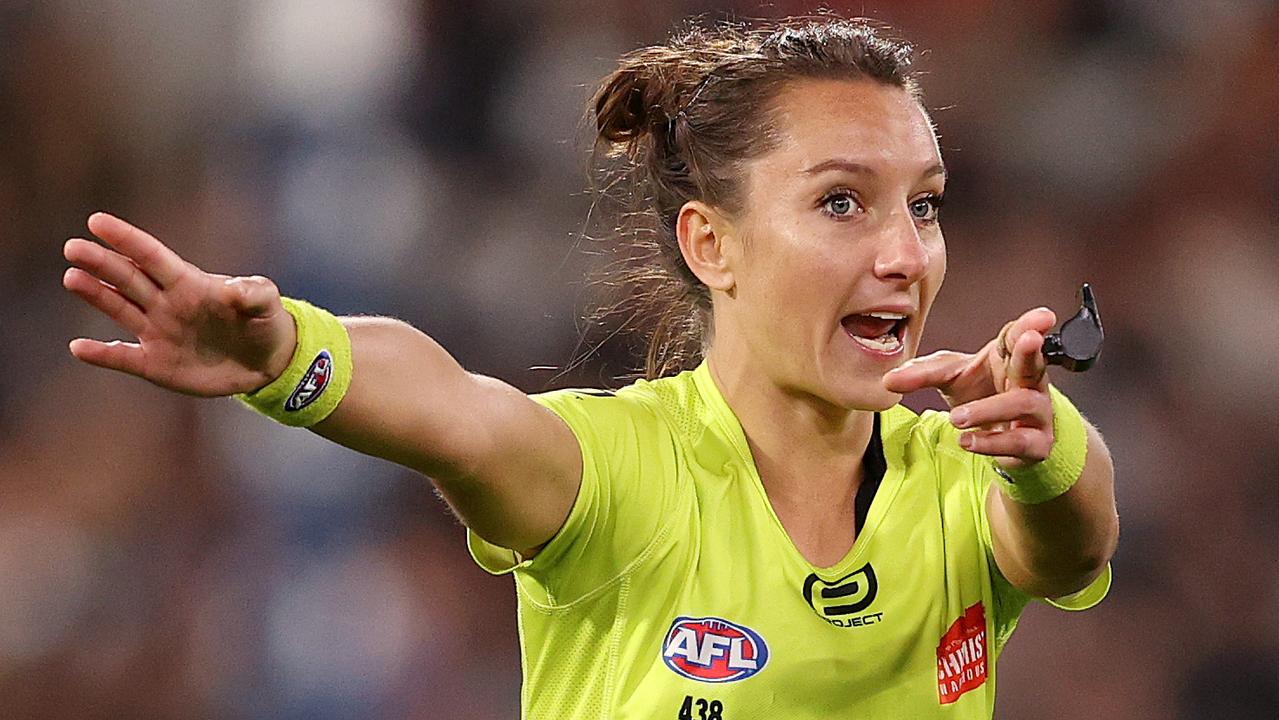 The league is again surveying female football umpires in an effort to delete a toxic culture.
Some umpires set to provide feedback this week also participated in the damning 2019 investigation that was funded by the AFL and conducted by the University of Sydney.
Back then, 27 female and non-binary umpires told traumatic stories of sexual harassment and abuse. The report was largely ignored by AFL executives until it was published by the Herald Sun.
The Herald Sun revealed on Monday that WorkSafe Victoria visited AFL House to make preliminary inquiries on the sexual harassment and abuse of female umpires.
It's understood AFL general manager of legal and regulatory Stephen Meade was a key figure at that meeting and the league has since had its Women and Girls Action Plan approved by the Commission.
AFL general counsel Andrew Dillon, head of mental health and wellbeing Kate Hall and acting general manager of people Lisa Lawry were also in that meeting.
Adams and Hall have held "really open and honest" conversations with female umpires recently.
Lawry starts as the new general manager of umpiring on Monday.
That position was created in the fallout to the leaked report. AFL head of umpiring Dan Richardson will report to Lawry as of next week.
WorkSafe questions AFL over ump abuse
WorkSafe Victoria is considering a probe into the sexual harassment and abuse of female football umpires.
The Herald Sun can reveal inspectors for the health and safety regulator attended AFL House in late May, where they made preliminary inquiries with senior league executives.
It's understood AFL general counsel Andrew Dillon, acting general manager of people Lisa Lawry and head of mental health and wellbeing Dr Kate Hall were in the meeting.
SCROLL DOWN TO READ THE AFL'S FULL STATEMENT
Several documents were handed over by the AFL, understood to include the gender equity action plan that was recently tabled to the AFL Commission.
They are currently under review at WorkSafe.
The inquiry has landed with the specialised psychosocial team, which deals with bullying, sexual harassment and mental health-related issues in workplaces.
WorkSafe wants to know what systems the AFL will put in place to ensure subsidiary leagues meet their obligations to manage the risk and respond to incidents of sexual harassment.
If the AFL is found to be not compliant with legislation then WorkSafe could launch a full-scale investigation.
It is the second active WorkSafe inquiry into the operations of the AFL, with the league's handling of concussion and its return-to-play protocols also under the microscope.
The latest inquiry follows the Herald Sun's exclusive reporting on the existence of the AFL's report into the national female umpiring shortage, which had been previously undisclosed.
An alleged victim's resulting complaint to WorkSafe also contributed to the case being opened.
The AFL on Sunday confirmed it had spoken to WorkSafe.
"In a recent meeting with WorkSafe the AFL provided context on the commissioning of the report by the AFL, the actions already taken and initiatives planned based on the recommendations outlined in the report, as well as providing details on the AFL
existing Mental Health & Wellbeing framework and plans to address imminent new State Government regulations that will impose obligations on employers to identify and address psychosocial hazards," a league spokesperson said.
The damning AFL-commissioned 62 page report – Girls and women in Australian football umpiring: Understanding registration, participation and retention – exposed a toxic culture in which women are sexually harassed and abused by colleagues, coaches and spectators.
The league paid $30,000 for the report. It was conducted by the University of Sydney and interviewed 27 female and non-binary umpires from across Australia.
The report, including 11 recommendations, was sent to the AFL last August but was largely ignored by league powerbrokers.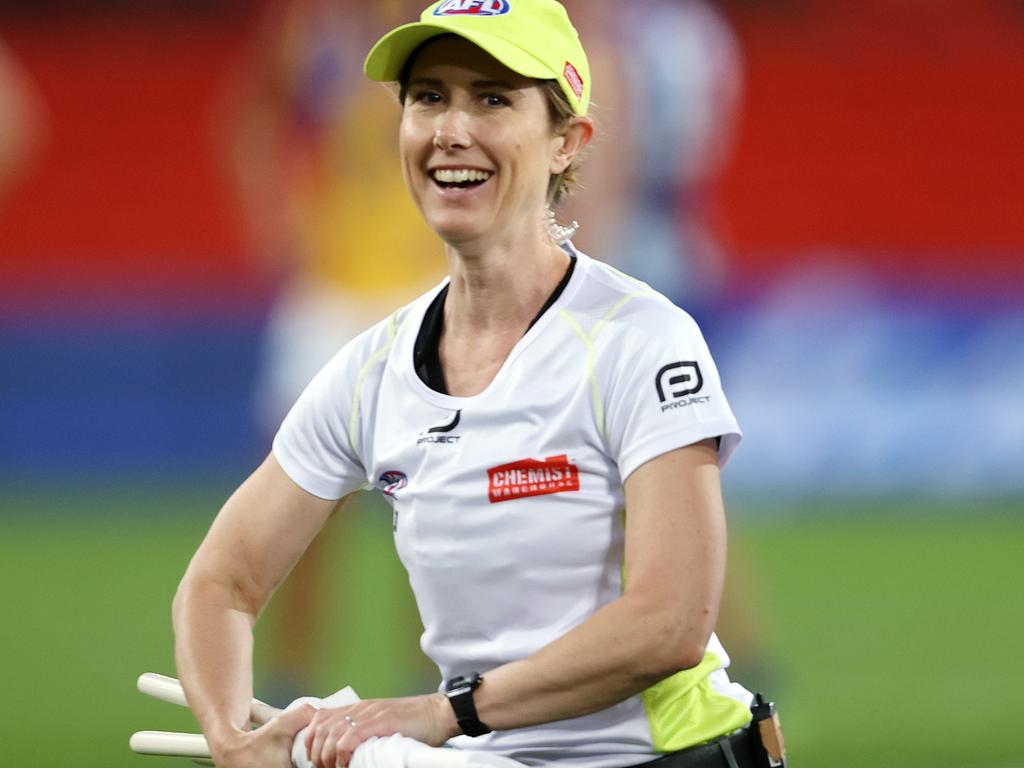 Goal umpire Chelsea Roffey adjudicates at the highest level. Picture: Michael Klein
Co-author Damien Anderson said he and lead investigator Dr Victoria Rawlings hosted two one-hour workshops discussing the findings with the AFL in May, 2021 – months before the report was .completed.
AFLW supremo Nicole Livingstone and head of umpiring Dan Richardson sat in those presentations.
But Anderson said he quit his role as the AFL's community umpiring development manager last November after the research fell on deaf ears.
On May 26 this year, Lawry was appointed to the newly-created position of general manager of umpiring.
She will sit above Richardson when that role begins next week (July 4).
When the report emerged in the Herald Sun, AFL acting chief executive Kylie Rogers said sorry to "any woman who suffers harassment or sexism of any kind".
Rogers described the report's findings as "horrific" and confirmed the AFL first received the document last August.
But AFL chief executive Gillon McLachlan claimed he did not read the report until it was published by the Herald Sun because it never reached his inbox.
Hawthorn president Jeff Kennett was "astonished" that the disturbing research was ignored.
"We have been told time and time again that the biggest challenge we have is with umpires at all levels," Kennett told the Herald Sun.
"Yet here there are a number of umpires, women in particular, who have been abused and when I challenged Gill and (AFL chairman) Richard (Goyder), they said they'd never seen the report, never been handed the report.
"(It is) absolutely astonishing. I would be furious if as head of an organisation that had commissioned a report that indicated such a breakdown, that no one had brought it to my attention."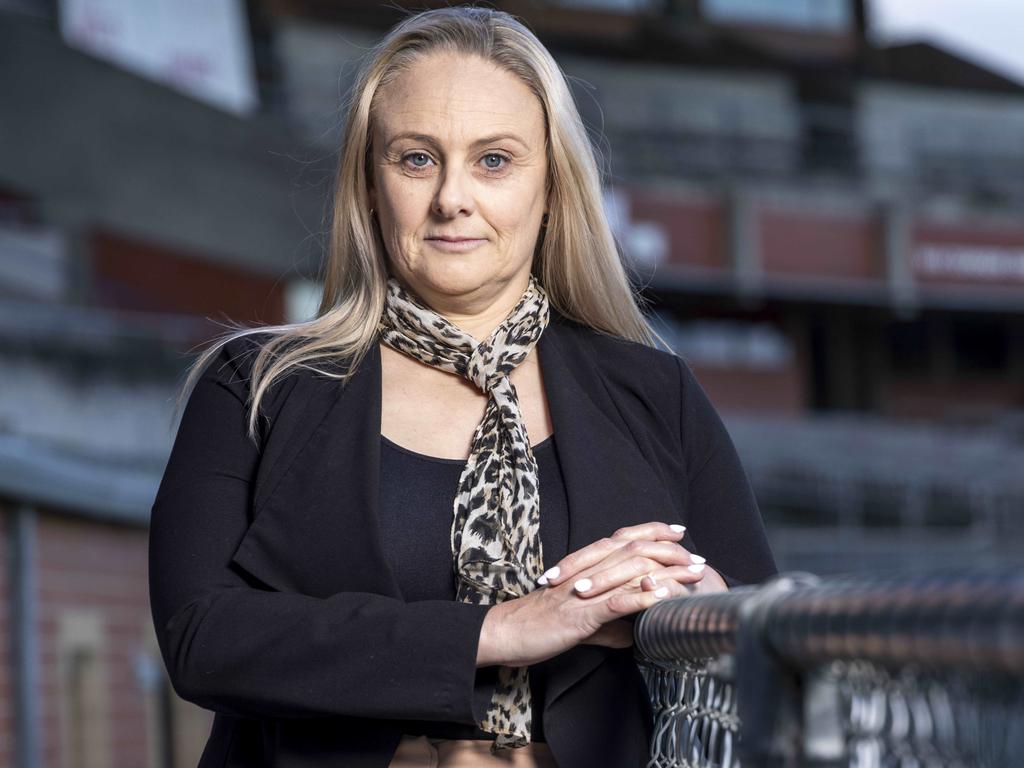 Christine Gent has shared stories of the shocking abuse and sexism she has been a victim of as an umpire. Picture: Wayne Taylor
Then Federal Employment and Workforce Minister Stuart Robert urged the AFL to take action the day the Herald Sun published the AFL's report.
"As the Workforce Minister I'm telling them – resolve it now," Robert said.
"If they don't, there are workplace laws that can be enacted because this is a workplace and everyone needs to understand that.
"We love our footy … but this is a workplace and people should feel safe and respected in their workplace."
WorkSafe Victoria has also visited the Western Region Football League to discuss umpire fatigue management issues.
The WRFL was forthcoming with documents and inspectors were satisfied that steps had been taken to improve any issues around fatigue.
That inquiry ran independently to the broader gender-based case that remains open.
Originally published as AFL caught lagging behind NRL in developing female officials