A Duursma family sporting dynasty emerges
Yasmin Duursma first picked up a footy to increase her fitness for the netball season. A handful of games later, she's on her way to joining brother Xavier at Port Adelaide via the AFLW Draft, writes PAUL AMY.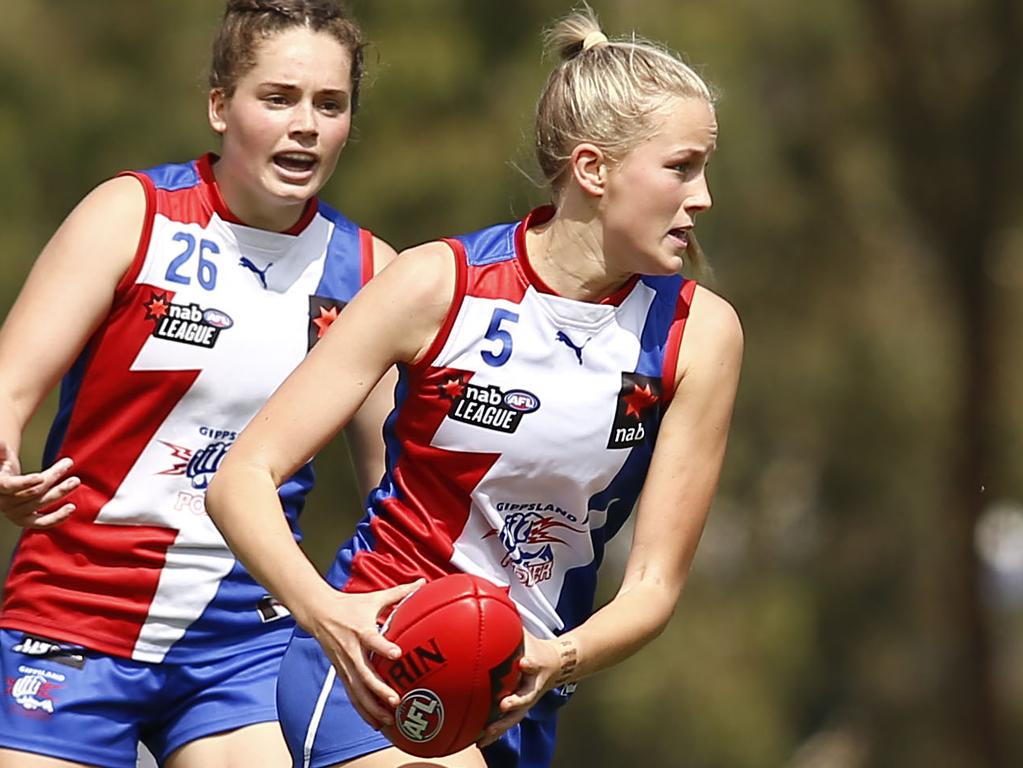 AFLW Draft hopeful Yasmin Duursma is the second talented sibling in a posisble football dyansty from Foster. Picture: Cameron Grimes/AFL Photos
Foster's Ryan Angwin earned a splash on the front page of the local paper, The Mirror, when he made his AFL debut for Greater Western Sydney last week.
Next week, Mirror editor Robbie Best might well be handing over Page 1 again to another of the town's emerging young footballers.
Of course, it's a Duursma.
Best has been chronicling the achievements of Dean and Suzie Duursma's children for quite a few years, going back to when Xavier started gaining selection in under-age representative teams and then became a leading player with Gippsland Power in the NAB League.
Xavier was also afforded a Mirror cover after being drafted to Port Adelaide in 2018.
Now there's a good chance his sister Yasmin will land at the same club.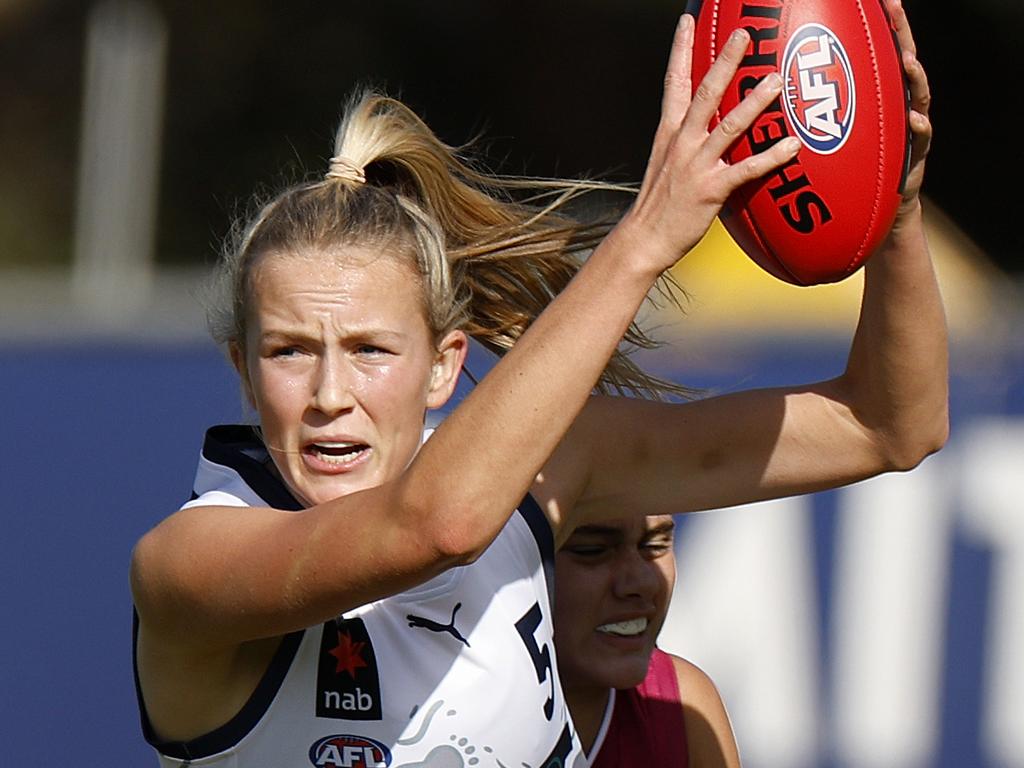 Yasmin Duursma may join her brother at Port Adelaide. Picture: Jonathan DiMaggio/AFL Photos/via Getty Images
She has been nominated in the South Australian pool of players for the AFLW draft, and Port has the first four picks.
Still, a few days out from the draft, she's going through what Xavier experienced four years ago.
"It's a very exciting time, but I guess the nerves override that a little bit,'' the 18-year-old says.
"You just want it to be Wednesday the 29th. Yeah, it's a pretty nerve-racking time.''
She has been in regular contact with Xavier and if all goes well she'll soon be relocating to Adelaide and moving in with him.
Living on his own in a four-bedroom house at West Lakes, he certainly has the space and he could probably do with the company.
"It would be a dream to follow my big brother over there, but we'll have to see,'' Yasmin, who is completing Year 12 at Foster Secondary College, says.
"That would be the best outcome. We're very close. I suppose over the past four years that he's been moved out you kind of grow a little bit distant, just not seeing each other as often, but he's still my older brother and I look up to him. He's always there.''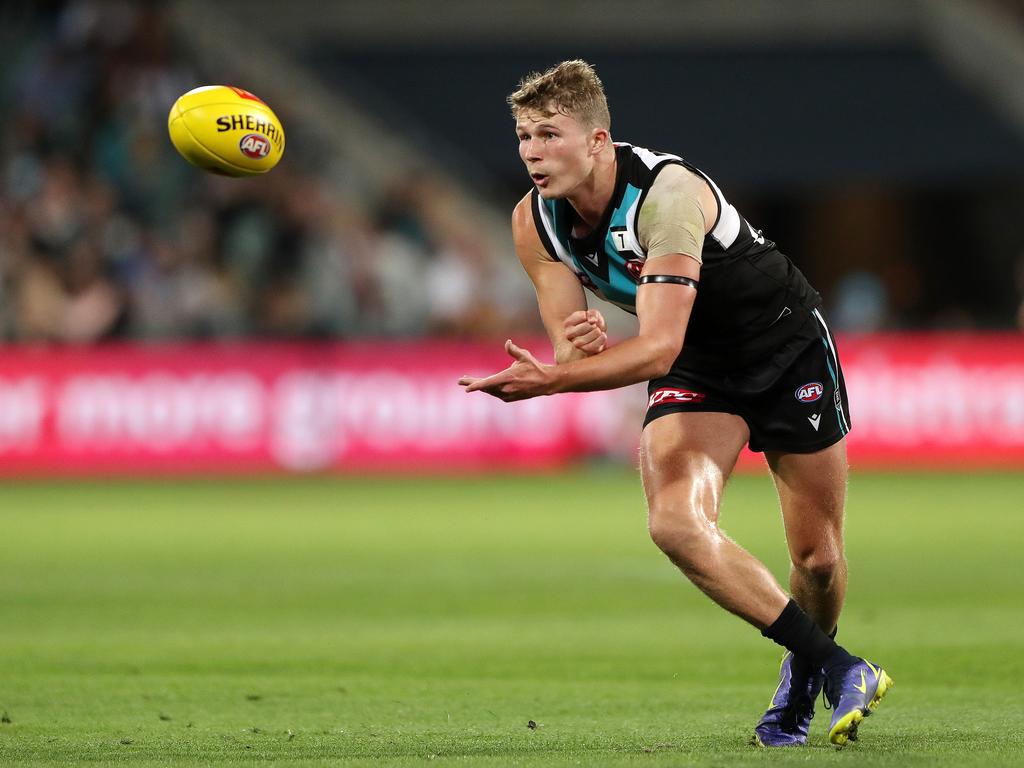 Xavier Duursma is in his fourth season with the Power. Picture: Sarah Reed/AFL Photos via Getty Images
The Duursmas may one day rival the Selwoods as a footballing family.
Zane, 16, is an AFL Academy member and a bottom-age player with Gippsland Power. A few weeks ago he slotted six goals against the Bendigo Pioneers and he has 19 for the season.
Zane made his debut for the Power last year as a 15-year-old, being named in the best.
Then there is Willem, 15, who has been selected in the School Sports Victoria 15 years and Under Boys team to play at the national titles in Lavington, NSW, from July 23-30.
He was chosen in the same side last year.
All the boys began their football at the Corner Inlet Stingrays, a club their father (himself a former league reserves and VFA senior player) helped establish.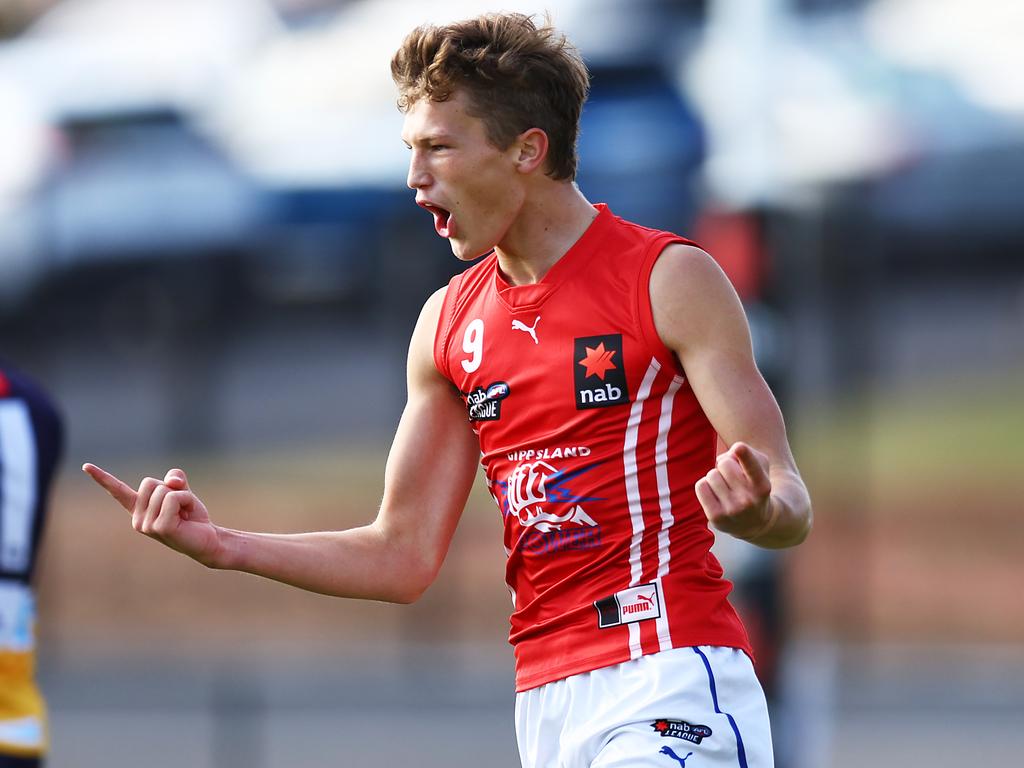 Zane Duursma is the next sibling eyeing the big time. Picture: Graham Denholm/AFL Photos/via Getty Images
Yasmin meanwhile played netball sufficiently well to reach representative level.
Two years ago Dean Duursma encouraged her to have a training run with Gippsland Power.
She enjoyed it so much she decided to make a sporting switch.
"I really hadn't heard much or looked into girls footy before,'' Yasmin says.
"I was pretty dedicated to netball and going into elite programs with that.
"When I started that pre-season training at Gippsland Power, I actually thought it would help me pick up my fitness for netball, because dad said, 'Go along, see how it goes'. My mindset was it would help me get fit for netball. But as soon as I started training and picked up the footy skills, I left netball behind.''
With three brothers playing, there was always a football around the house and she had her share of it. The game wasn't exactly foreign to her in Foster.
Covid has interrupted her football, as it has most things.
Yasmin Duursma celebrates a NAB League Girls win by the Gippsland Power over the Bendigo Pioneers. Picture: Kelly Defina/AFL Photos/via Getty Images
She played one game in 2020, eight in 2021 and a further eight this year, when the 173cm midfielder averaged 13.6 possessions. She regards her endurance running and her quick hands "to get us out into space'' as two of her strengths.
Her mother had been an excellent runner, all the way back to her primary school days at Foster Consolidated.
"I'm quite new to football and I still have a fair bit of development to go. We added it up. I think I've played 24 games,'' Yasmin says.
Those games have been with the Power and Vic Country sides, where she took her reputation beyond the Gippsland region.
This week AFL talent manager Kevin Sheehan named Yasmin in his top 30 fancies for the draft.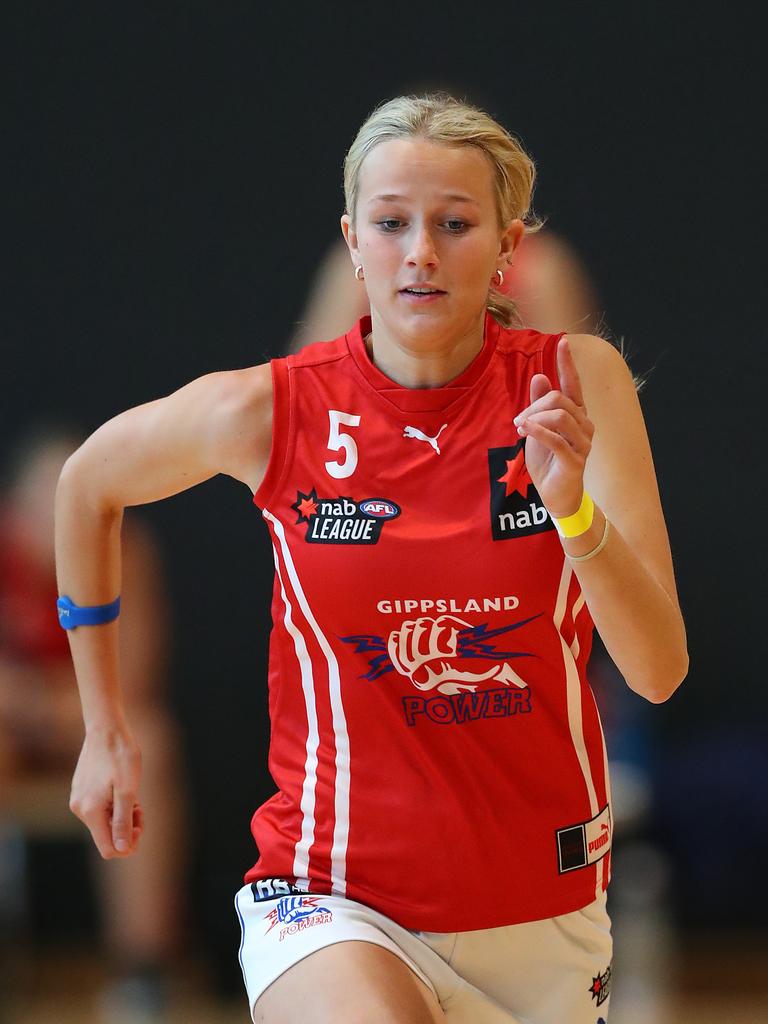 Yasmin Duursma at the NAB League testing day in late 2021. Picture: Kelly Defina/AFL Photos/Getty Images
Gippy Power talent manager Scotty McDougal says the latest Duursma in draft contention is an excellent prospect.
"She's extremely athletic, a disciplined player, and she's played just about every role on the ground, from a winger through to half back through to inside mid, learning as she goes,'' he says.
"She follows the trait of the family, very athletic and very dedicated, and her footy gets better and better for every minute she spends on it.''