AFLW 2022: Brisbane Lions end Collingwood's season, advance to preliminary final
Collingwood's AFLW qualifying final against Brisbane was postponed due to a Covid outbreak, but when the match finally went ahead there was more pain for the Pies.
The first-ever AFLW match to be played at the MCG will take place at 12.40pm next Saturday, when Melbourne hosts the Brisbane Lions.
The second preliminary final will be played between Adelaide and Fremantle at Adelaide Oval at 2.10pm local time the same day. The AFL has announced entry will be free to spectators to both matches.
Stream every match of the 2022 NAB AFLW Season Live & On-Demand on Kayo. New to Kayo? Try 14-Days Free Now >
Collingwood coach Steve Symonds said he could tell five minutes into the game the tank was nearly empty for his troops.
"(We had) one or one-and-a-half sessions together, but even the one we did was more of a captain's run," Symonds said.
"The reality is coming out we didn't know where our players were. Then we had to consider whether the players were up to playing in a finals game on the back of that (Covid), especially because of the humidity here today.
"All up we had one training session on the Saturday where we had 10 players available because of either Covid or injury.
"So it got down pretty thin."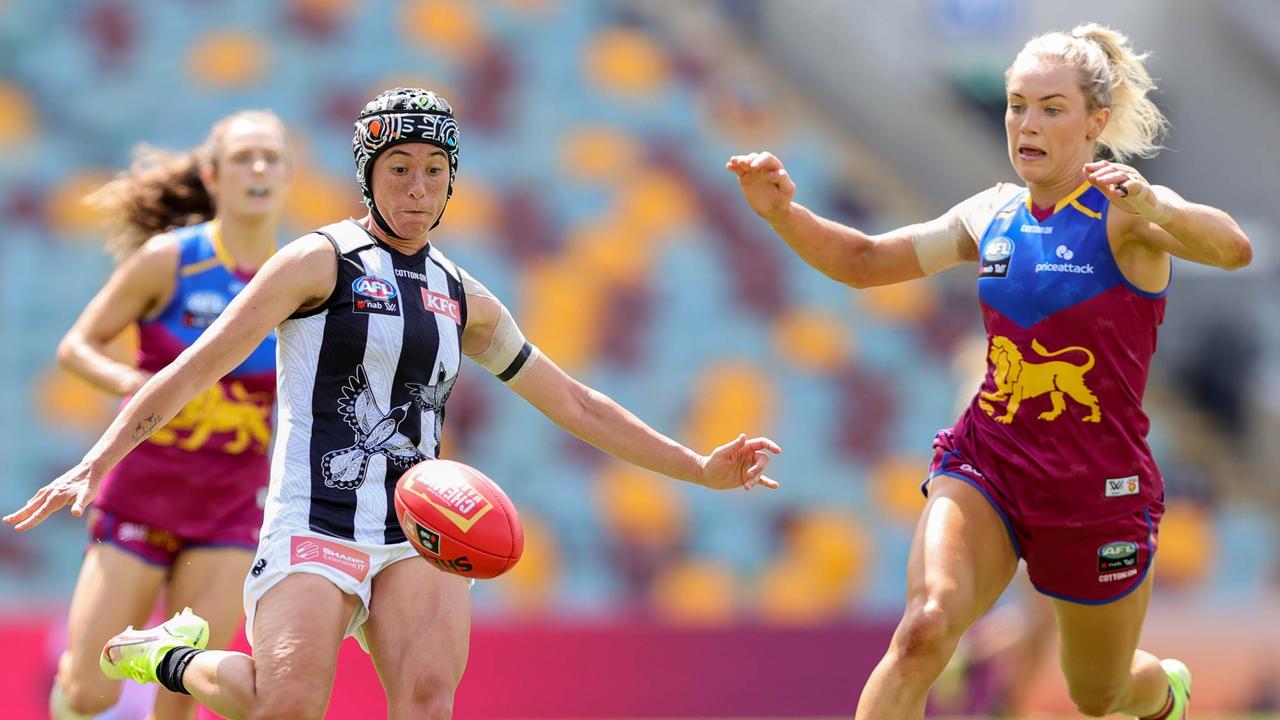 Aliesha Newman gets a kick away. Picture: Russell Freeman/AFL Photos via Getty Images
Symonds said the Pies' plans to blunt some of the Lions' key weapons with run-with roles had to be shelved or adjusted because of the fatigue of his players.
He said he could tell early in the game some of his players were battling.
"If I'm being honest, I probably picked up on it in the first five minutes of the game," he said.
"We had a couple of players whose running roles were affected so we had to flip our team around a little bit straight away.
"We're not using that as an excuse, Brisbane are a very good team, I think they're better than what they were last year and come together at the right time and will be tough to beat."
Despite the first-round exit from the finals, Symonds said the Pies could take plenty of positives from the season.
Collingwood had to overcome a pair of ACL injuries to All-Australian midfielders Bri Davey and Britt Bonnici, just four home games, and a month on the road, as well as the Covid setback.
"They're amazing (the players)," Symonds said.
"They just keep at it. There are times where things might seem too hard, but what do you do, you can either step forward or step away, and our girls have a bit of spirit behind them they'll keep stepping forward.
"Our middle and lower tier players have really stepped up, and our first and second year players have shown some really good signs.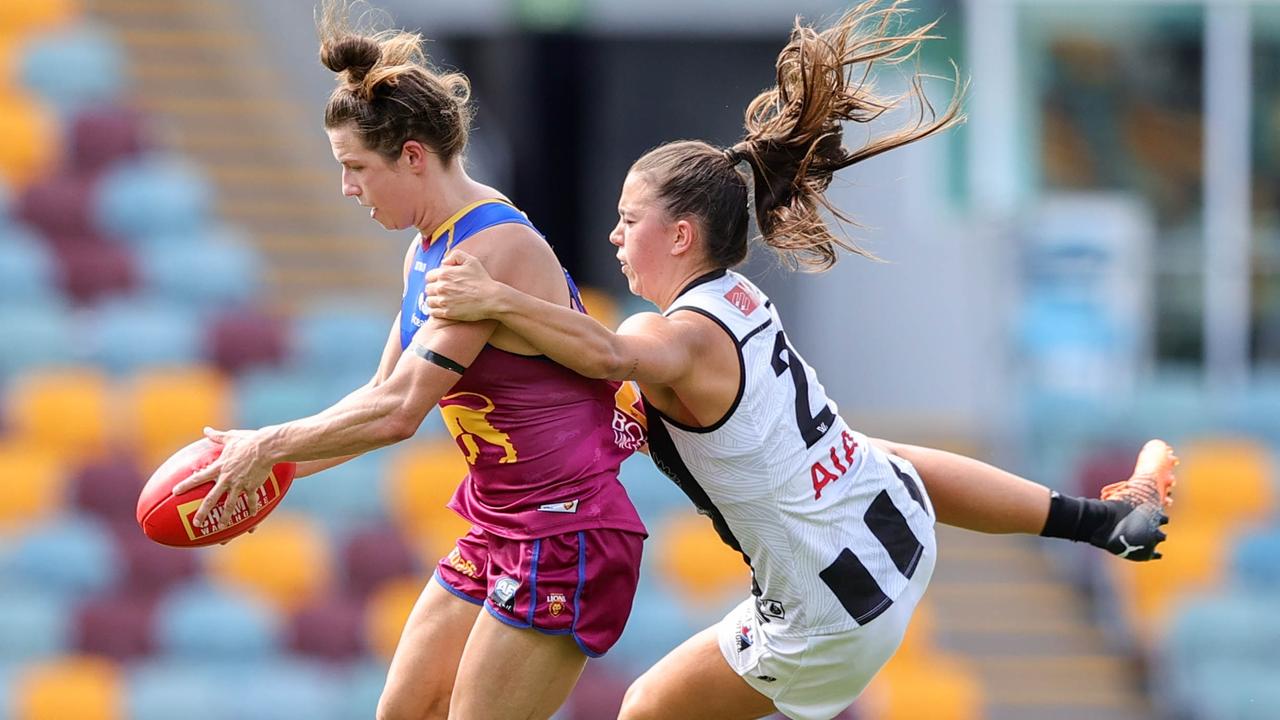 Catherine Svarc tries to break clear of Magpie Chloe Molloy. Picture: Russell Freeman/AFL Photos via Getty Images
Lions coach Craig Starcevich said his Brisbane side used the prelim as motivation for their 50-point win.
"They (the players) were excited the other day when it was announced," Starcevich said.
"The opportunity to do that is something that's not been done before in AFLW, so they were definitely up and about."
The Lions coach said he was worried with the extra week off his side might have lost some of its polish it found late in the home-and-away season.
"I'm always worried about the week off to be honest, we come in a little bit rusty and a little bit fumbly and that was the case early in the game," he said.
"We weren't that composed when we had chances to open up a decent lead at quarter-time, but the longer it went the cleaner it got
"The pressure was the main thing from go to woe, and it stood up."
On Sunday the Lions were too much for a beleaguered Collingwood, which had been ravaged by Covid in the lead-up to the game, running out 50-point winners.
After an arm-wrestle in the first 10 minutes of the game, Brisbane took control and never looked back, running all over the Pies as they struggled with a mix of lingering effects of Covid and the warm weather.
Brisbane had the better of the early chances in front of goal but was wasteful, missing three relatively easy shots, while the Pies missed one of their own.
A fortuitous free kick to Jess Wardlaw handed her the opportunity to kick the game's first and she split the middle from 30m out on a slight angle.
The Pies' tough preparation looked to be catching up with them late in the quarter as they were second to the ball, a trend that continued into the second term.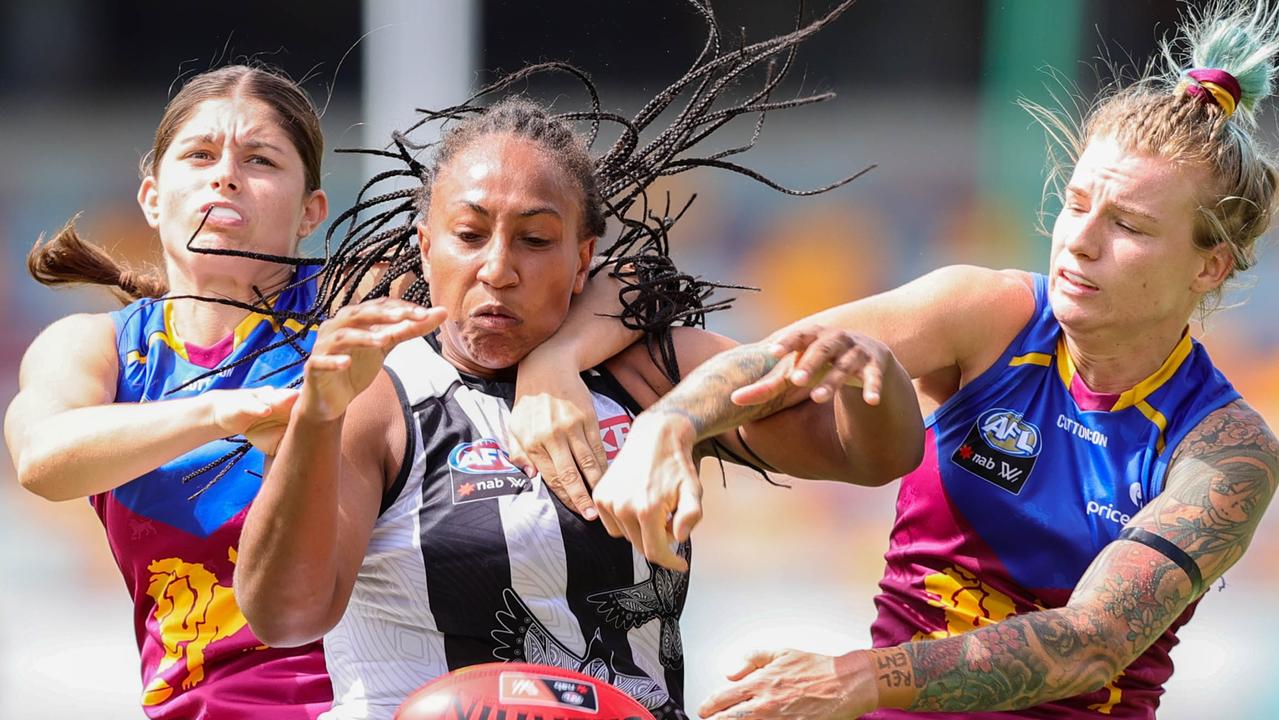 Sabrina Frederick fights for the footy between two Lions. Picture: Russell Freeman/AFL Photos via Getty Images
The Lions started to flex their muscle both on the scoreboard and physically, turning the pressure valve right up on Collingwood.
The Pies' main weapon, Jaimee Lambert, found going tough as she came in for some extra attention from Brisbane's midfielders, and Imogen Barnett was taken out of the game for a concussion test.
Orla O'Dwyer continued her stellar season and was best-on-ground to halftime with 12 disposals and a goal, while Cathy Svarc applied the clamps in the middle with six tackles.
The Lions dominated territory with 20-10 inside 50s on the back of owning contested possessions by 16.
Collingwood made the perfect start to the second half with a running goal from Aliesha Newman to cut the margin to 16 points.
But a 50m penalty to Wardlaw handed her a second goal of the game and a first career goal to Ruby Svarc snuffed out the Pies' charge.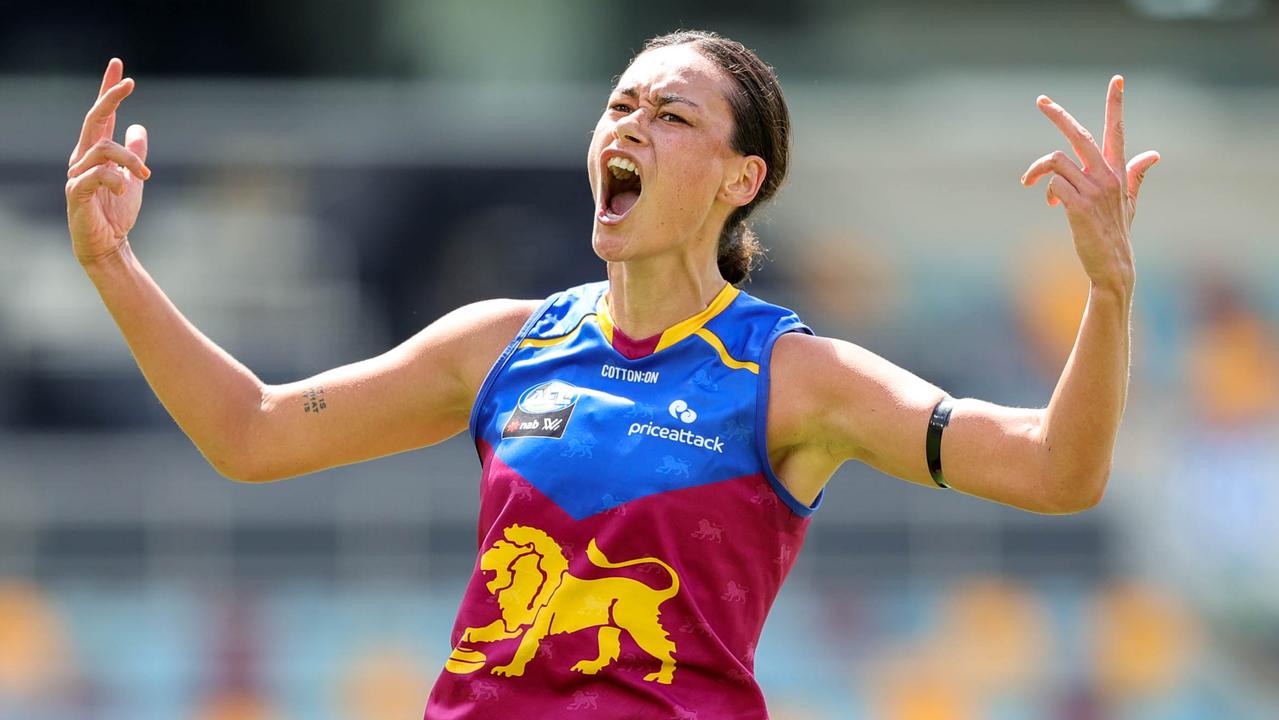 Jesse Wardlaw celebrates a big goal for the Lions. Picture: Russell Freeman/AFL Photos via Getty Images
Emily Bates showed why she is one of the favourites for the AFLW best-and-fairest with a huge third quarter and had three clearances and 13 touches to the final break.
Collingwood coach Steve Symonds said the Pies were struggling with their run at three-quarter time and it turned the final quarter into a victory lap for the Lions as the game was never in doubt.
Mikala Cann has arguably been the most improved player in AFLW this season and had another outstanding game with 20 disposals and seven tackles.
LATE MAIL
There were tears of joy in the Lions' rooms before the game as Maggie Harmer found out she was going to debut just moments before the opening siren.
Brisbane's first draft selection in 2021 came in for Indy Tahau, who was ill in the lead-up to the game.
The 18-year-old showed some bright signs and finished the game with six disposals and two tackles.
Stephanie Chiocci cops a late bump from Sophie Conway. Picture: Russell Freeman/AFL Photos via Getty Images
BOUNCE OF THE BALL
Sarah Rowe's phone wallpaper all season has been her kick that bounced backwards off the goal line in last year's preliminary final – the extra six points would've seen the Pies play in a Grand Final.
There was some bitter irony for Collingwood in the second quarter as O'Dwyer snapped towards goal and the ball bounced towards the behinds but took a left-turn and split the middle of the goals.
INTERCEPT QUEENS
It was a battle of two of the best intercept defenders in AFLW between Ruby Schleicher and Nat Grider.
Both finished with seven intercepts and were vital to their sides.
Schleicher couldn't get her usual rebound going as she was dragged deep in the Lions' attack, but still managed to finish with 312m gained.
Grider shut down most of the Pies' forward thrusts and had 145m gained.
SCOREBOARD
LIONS 1.4 4.5 6.8 10.10 (70)
PIES 0.1 1.1 2.1 3.2 (20)
MOTTERSHEAD'S BEST
Lions: O'Dwyer, Bates, Anderson, C. Svarc, Wardlaw, Grider.
Pies: Cann, Molloy, Schleicher, Butler, Rowe.
GOALS
Lions: Wardlaw 2, Bodey 2, Hodder, O'Dwyer, R. Svarc, Farquharson, Campbell, Anderson.
Pies: Frederick, Newman, Molloy.
INJURIES
Lions: Tahau (ill) replaced in selected side by Harmer. Pies: Nil.
Venue: The Gabba
Originally published as AFLW 2022: Brisbane Lions end Collingwood's season, advance to preliminary final