AFLW 2022: Carlton coach Daniel Harford backs Darcy Vescio's decision to reveal they are non-binary
Carlton AFLW coach Daniel Harford reveals the moment Darcy Vescio stood up in front of teammates to tell them they are non-binary – and what it means to the group.
Carlton AFLW coach Daniel Harford says whenever Blues captain Darcy Vescio addresses a group "it's hard not to be engaged in everything they say".
But as Vescio stood up in front teammates just prior to the Blues' Christmas break to reveal they were non-binary and no longer identified as female or male, Harford said the Carlton goalkicking ace's words were even more impressive.
Darcy Vescio, right, celebrates a goal with teammate Georgia Gee during the 2021 season. Picture: Dylan Burns/Getty Images
"Darce got up in front of the group and told them of their situation and how it had come to be and finally being comfortable in their own skin and being at peace with the world," Harford told News Corp.
"It was lovely, it was a lovely moment.
"To see someone who we all love dearly get up in front of a group of their peers and have the courage to say this is me was really, really powerful.
"Darcy is such a beautiful spirit, every time they speak it's hard not to be engaged in everything they say.
"And this was another moment for them to highlight to the group that it is OK to be you and to highlight for our entire program that it's OK and we encourage you to be you."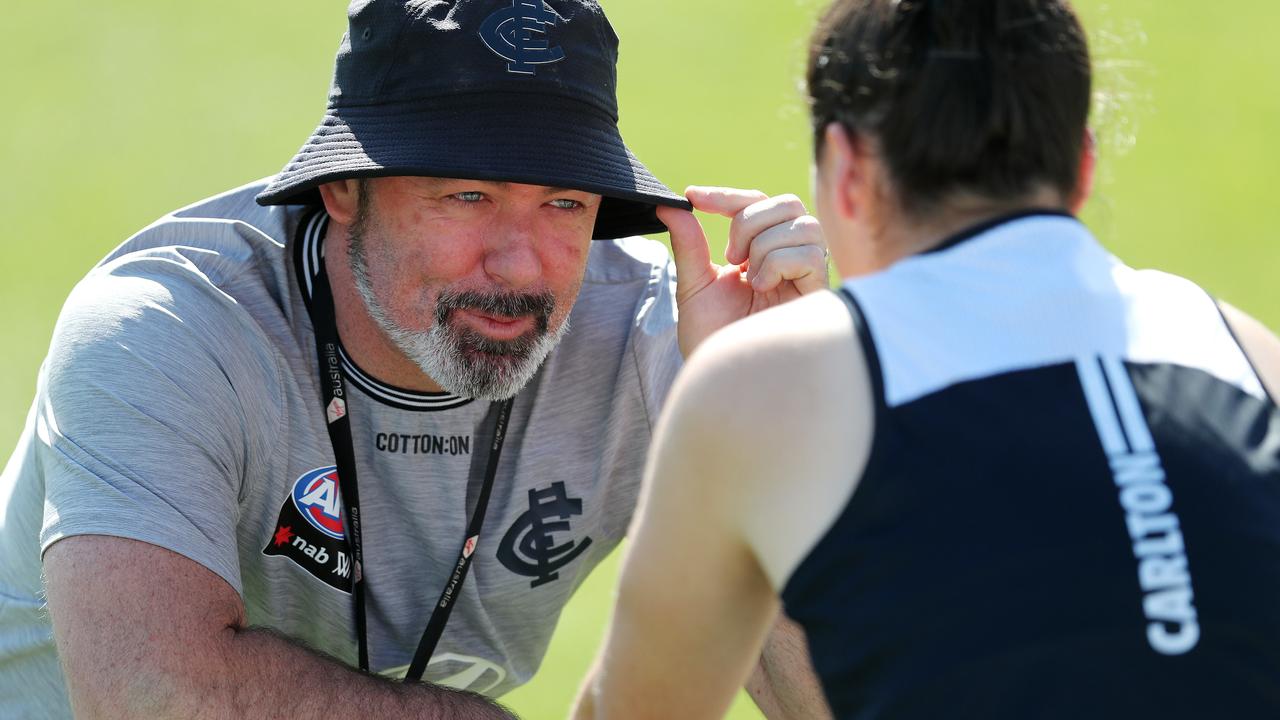 Carlton coach Daniel Harford at training in December. Picture: Michael Klein/NCA
The two-time All-Australian and league leading goalkicker posted a message on social media on Wednesday, saying: "Just popping in to let you know that I am non-binary.
"Sharing this feels a bit daunting but brings me a lot of warmth and happiness."
Vescio, who said "they" and "them" were their most comfortable pronouns, is the second player in the AFLW to reveal they are non-binary following Gold Coast's Tori Groves-Little's announcement also in December.
Vescio texted Harford, who has been coaching Carlton's AFLW side since April 2018, about their decision a couple of weeks ago.
"They sent a text message the night before training telling me about it and then they came into my office the next day and we had a bit of a chat about it," Harford said.
"And they explained a bit more about what it was and how it all worked.
"Because I must admit, I didn't know too much about it when that first message came through.
"One of the things I've learnt during my time in women's footy over the past five years is that there are a lot of different parts of life that I wasn't aware of.
"They just explained what the situation was and how they had came to rest on their identity so that was the crux of it."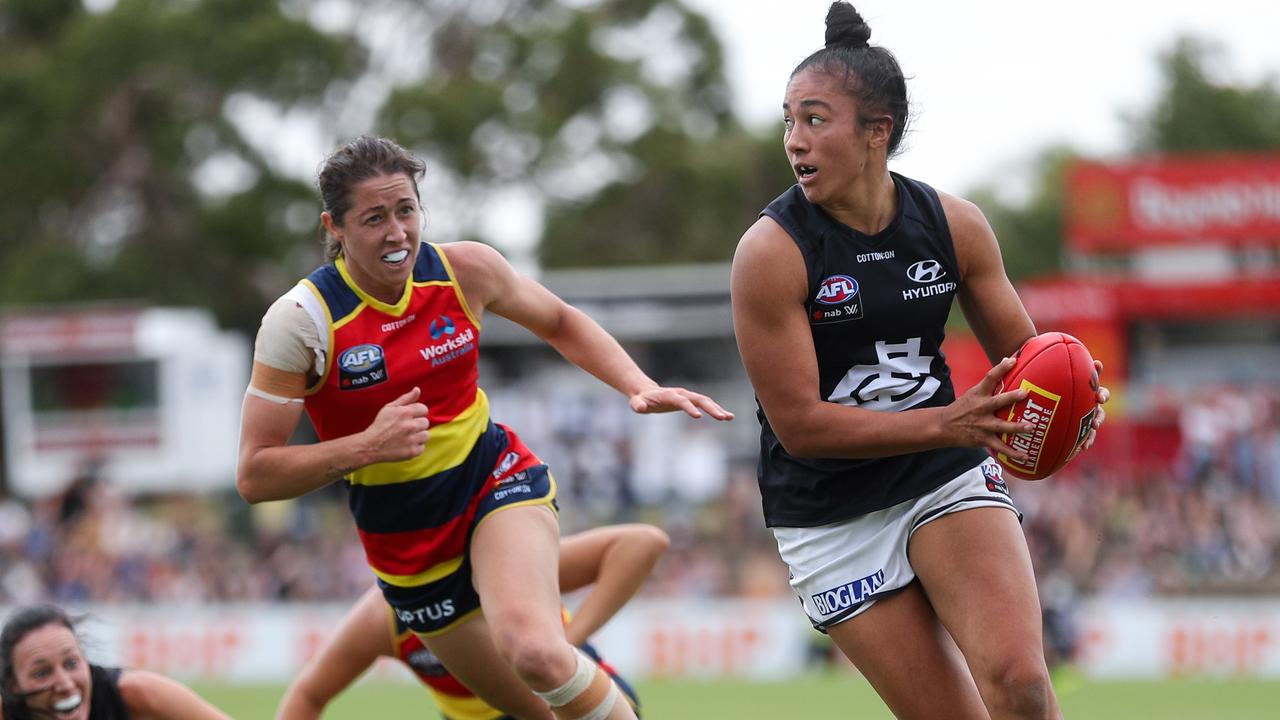 Vescio in action against the Crows. Picture: Matt Turner/AFL Photos
The post on Wednesday evening by Vescio has been celebrated widely in AFLW circles and received mainly positive comments by social media users.
Harford said the reaction from inside and outside the football world was massive.
"Darcy is one of those people on the planet that is hard not to love full stop," Harford said.
"Because they give so much to everyone they come across and it is a very powerful force they have inside of them, the response from the playing group and the club was exactly what I suspected.
"Nothing but love because it's actually not about us, it's about Darcy and their comfortability in the world.
"And I must admit the amount of support they have received from the football community but also the general community over the last 48 hours has been unbelievably heartwarming and amazing and we hope that gives others who are experiencing similar thoughts and emotions some support."
Harford said the announcement by Vescio wouldn't impact how he worked as a coach one bit, but he now had a big challenge.
"My challenge, and I'm going to bugger it up and Darcy is cool with this, but I'm going to get the pronouns wrong at some stage," he said.
"Just through 40 years of middle age man habit, so I'm going to get it wrong at some stage.
"But nothing will change, I still call Darcy DV3 so I'll continue calling them that and try not to misgender them.
"Darcy knows that no-one will try to do it on purpose and it's still new for a lot of us but they will have our full support and we will do everything to keep things as normal for them because that's what they want."