AFLW 2022: Follow the latest news in the lead-up to the first week of finals
Steph Chiocci has certainly won the hearts of the AFLW community with a generous act to a Collingwood superfan after the Pies' final was postponed.
Collingwood co-captain Steph Chiocci has won the hearts of the AFL Women's community with a stunning act of kindness in the face of finals chaos.
As the Magpies grappled with a Covid outbreak and a day of uncertainty surrounding their qualifying final against Brisbane — which has been postponed from Saturday's scheduled timeslot with a new date to be advised — Chiocci reached out to a super fan with a heartwarming offer.
Fearn Harrison, a long-time supporter of AFL Women's and Collingwood in particular, said she was "blown away" when Chiocci offered to cover the cost of her non-refundable flights to Brisbane when the Saturday afternoon game was postponed.
The AFL is still yet to set a new date for the match.
Stream every match of the 2022 NAB AFLW Season Live & On-Demand on Kayo. New to Kayo? Try 14-Days Free Now >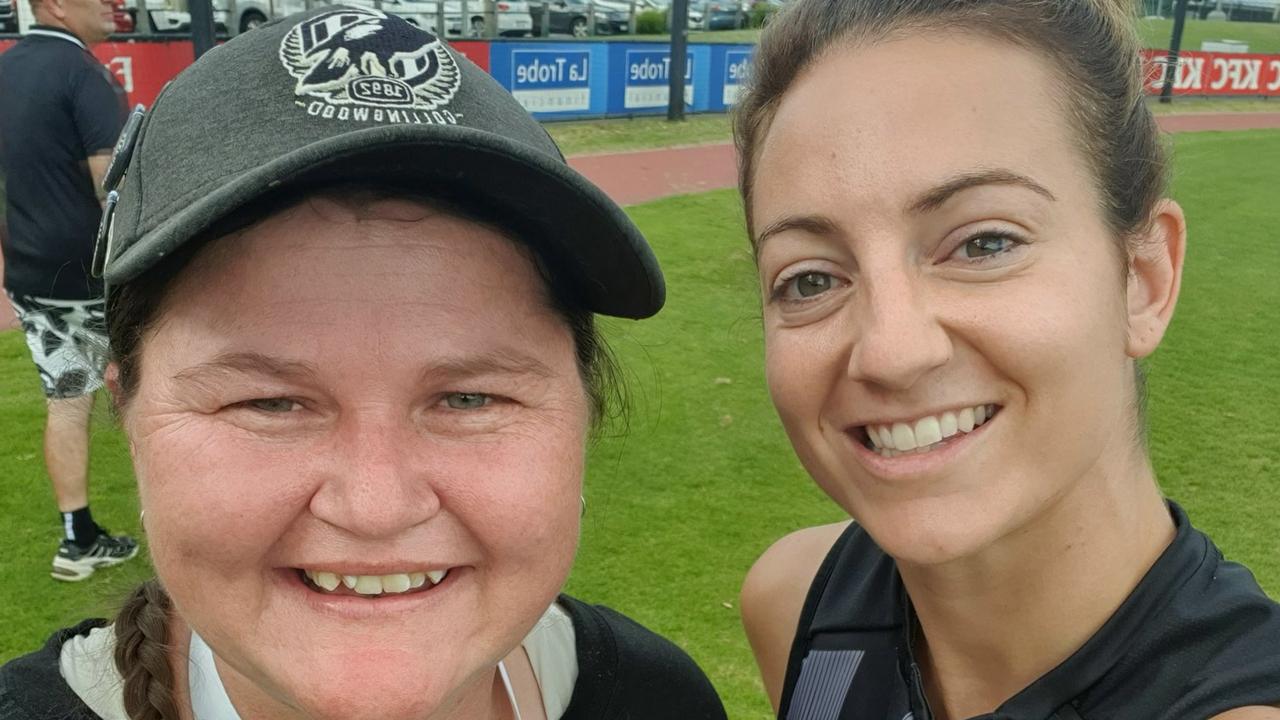 Steph Chiocci extended an act of kindness to Fearn Harrison (left) Picture: Instagram
North Melbourne's clash with Fremantle on Saturday at Arden Street remains as scheduled.
Harrison, who dubbed Chiocci "my absolutely favourite player of all time", said that she had been left lost for words by the Magpies player's generous act of goodwill.
"Steph contacted me to organise sending me money back for the non-refundable flights I paid for to Brisbane for the Collingwood AFLW final," Harrison wrote.
"I tried to reject her offer, but she insisted and now I am absolutely speechless and have tears streaming down my eyes.
"She said to use the money for the next final and thanked me for my ongoing support."
Harrison cited a key line from the Collingwood theme song to sum up the 33-year-old school teacher's kindness.
How about that @Steph_Chiocci. Facing a final being postponed as her team is ravaged by Covid & extends an extraordinary act of kindness for a fan out of pocket. There's good in this world. https://t.co/9AtozRdmNQ

— Lauren Wood (@LaurenHeraldSun) March 16, 2022
"Side by side we stick together isn't just a line in our great club song," she said.
"It's a line that has true meaning and holds special significance in my life.
"(I) love our Collingwood AFLW and VFLW teams as my second family."
Harrison has previously spoken of her love for the Collingwood playing group who also rallied to support her in the wake of her mother's passing last year.
"Your kindness and love really helped turn things around," she said in the wake of Chiocci's gesture on Wednesday.
The Herald Sun on Wednesday revealed that a Covid outbreak had left the Magpies with fewer than the required 16 players needed to play against Brisbane.
The league on Thursday morning confirmed that Collingwood had applied to have the game postponed.
"It has been determined that Collingwood would not be able to participate in a match this weekend," AFL competition boss Laura Kane said.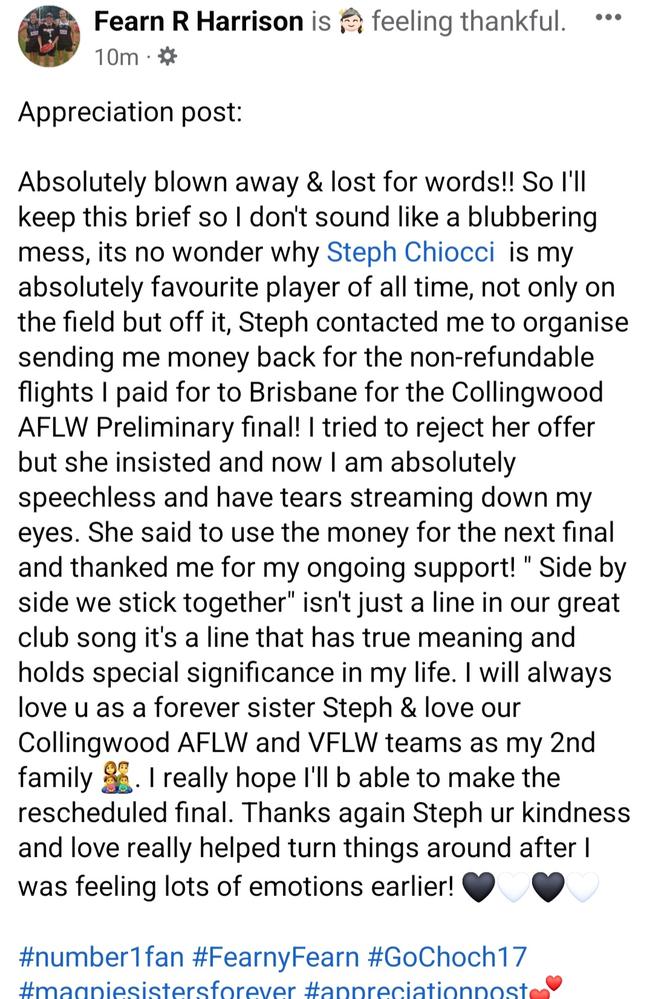 Collingwood superfan Fearn Harrison's appreciation post to Steph Chiocci. Picture: Facebook
AFLW finals chaos as Covid rips through Pies
Collingwood's AFL Women's qualifying final against Brisbane has been sensationally postponed after the Magpies were ravaged by Covid on the eve of the finals series.
The Magpies outbreak has thrown the AFLW finals planning into chaos as the league is now forced to find a new game date.
The North Melbourne Fremantle match is still expected to play this Saturday with preliminary finals currently scheduled for the weekend of March 26 and 27.
News Corp understands that the Magpies were left with just 14 players to select from after a raft of players either tested positive for Covid or were thrust into isolation as close contacts under government rules.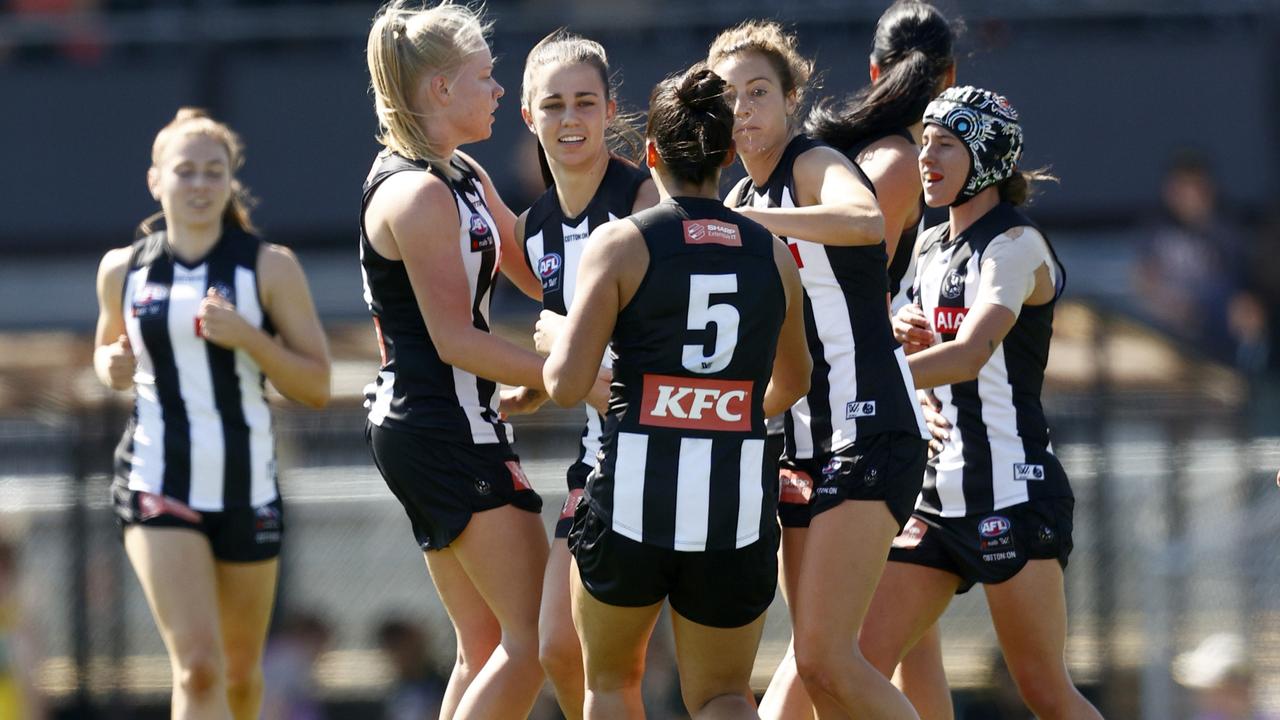 Collingwood's final has been postponed. Picture: Getty Images
AFL rules state that AFLW teams must have at least 16 players available to play, which can then be supplemented by top-up players, for a game to go ahead.
Under the rules, games can be postponed or even cancelled.
At this stage, North Melbourne's Saturday afternoon meeting with Fremantle remains as scheduled.
Collingwood had been set to fly to Brisbane on Friday but were forced to cancel their Wednesday night training session as more players tested positive.
The club and the league have been contacted for comment.
The AFLW finals series in 2020 was cancelled due to the COVID-19 pandemic when the country entered into lockdown as the virus began to sweep the world.
KEY PIE, CROW BANNED FOR CRUCIAL FINALS
A heavy bump has cost Magpie Sophie Casey her spot in an AFL Women's final this weekend, with the Collingwood defender hit with a one-match ban.
And Crow Eloise Jones will be hoping Adelaide makes the grand final after she was wiped out of the team's preliminary final for a dangerous tackle.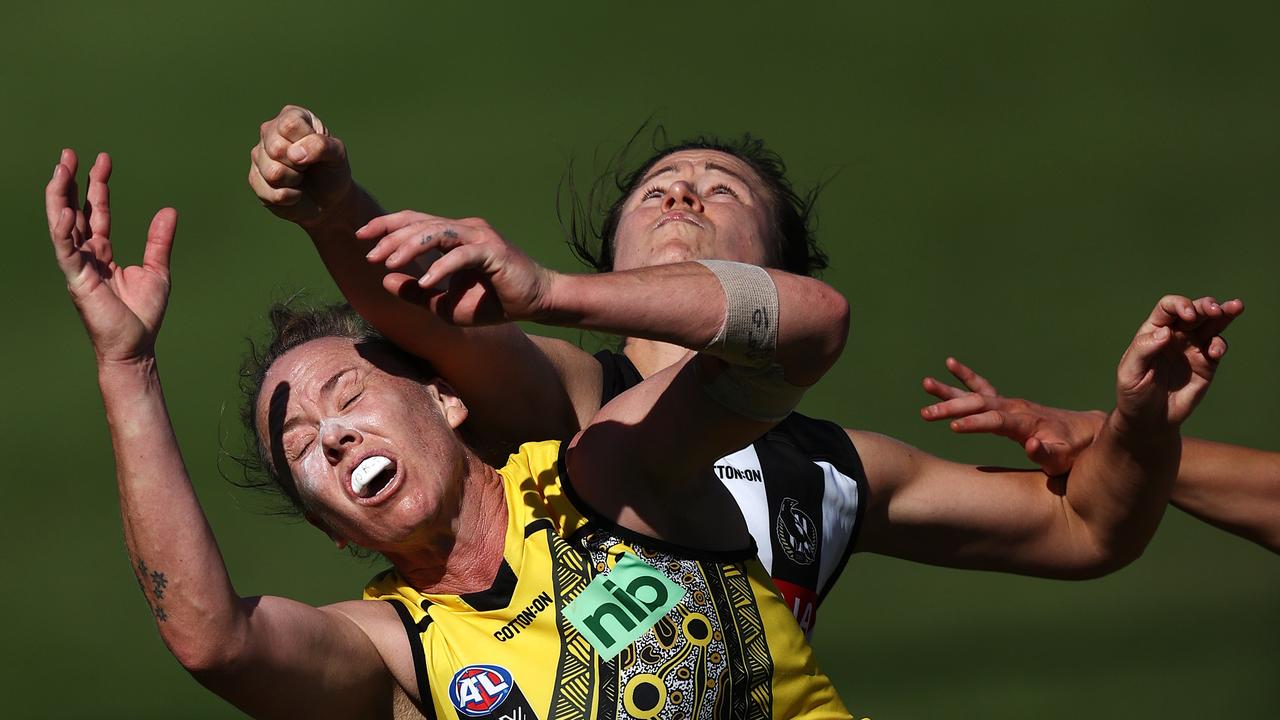 Sophie Casey has been rubbed out for Collingwood's elimination final. Picture: Michael Klein
Casey — who was reported at the time of the incident — was on Monday night charged with forceful front-on contact against Tiger Tayla Stahl, which the match review officer classified as careless conduct with medium impact and high contact.
Her teammate Jordyn Allen was let off for her strike on Tiger Emilia Yassir, which escaped with a reprimand, and will be free to face the Lions.
Jones, 22, will be sidelined from the Crows' preliminary final against either North Melbourne or Fremantle after her hit on Saints defender Tilly-Lucas Rodd, which was also deemed to be careless conduct, medium impact and high contact.
Both clubs can elect to challenge the ban at a tribunal hearing.
Collingwood will travel to Brisbane to play the Lions at the Gabba, with Magpies coach Steve Symonds declaring that "everyone's going back to even now" as the finals begin.
Originally published as AFLW 2022: Follow the latest news in the lead-up to the first week of finals