AFLW 2022: Players facing heightened Covid restrictions including needing approval to attend weddings, funerals
The AFL has tightened Covid guidelines on women's players just hours from the start of the season as the Omicron variant's grip on the season strengthens.
The AFL has tightened Covid guidelines on women's players just hours from the start of the season as the Omicron variant's grip on the season strengthens.
The protocols are in response to the increasing spread of Covid – particularly in Victoria and New South Wales – which has seen a number of players forced into isolation for this weekend's games.
The league has recommended that players and essential club staff are expected not to attend indoor events with over 100 people and should avoid socialising with other AFLW players and staff at home.
It comes as North Melbourne skipper Emma Kearney was ruled out of Saturday's clash with Geelong after testing positive to Covid this week.
Players and staff must obtain approval from their club if they wish to attend a wedding, funeral or cultural or religious ceremony where more than 100 people are present.
Emma Kearney won't play in Round 1 of the AFLW season. Picture: Mike Owen/AFL Photos via Getty Images
They are also being asked to not attend outdoor events where social distancing cannot be maintained, such as concerts or major sporting events.
The league has also reminded players that high density locations such as shopping centres present as high risk locations.
The protocols have been supported by the AFL Players' Association and AFL women's football boss Nicole Livingstone said it was an important step in an effort to safeguard the season.
"Our community is facing a challenging time in the life of this ongoing Covid pandemic. As we begin our season tonight the revised protocols have been introduced as a precautionary measure to safeguard our players, coaches, officials and the wider community," Livingstone said.
"We cannot wait to get the season started and trust that everyone understands in order to continue to play, we all must be really vigilant to minimise the risks for players, their families and the broader community.'
"On behalf of the AFL I want to thank our players, officials and everyone involved in getting us to this point and our importantly our thanks and appreciation to all the health, essential and frontline workers who are working so hard and putting their own health at risk to keep community safe.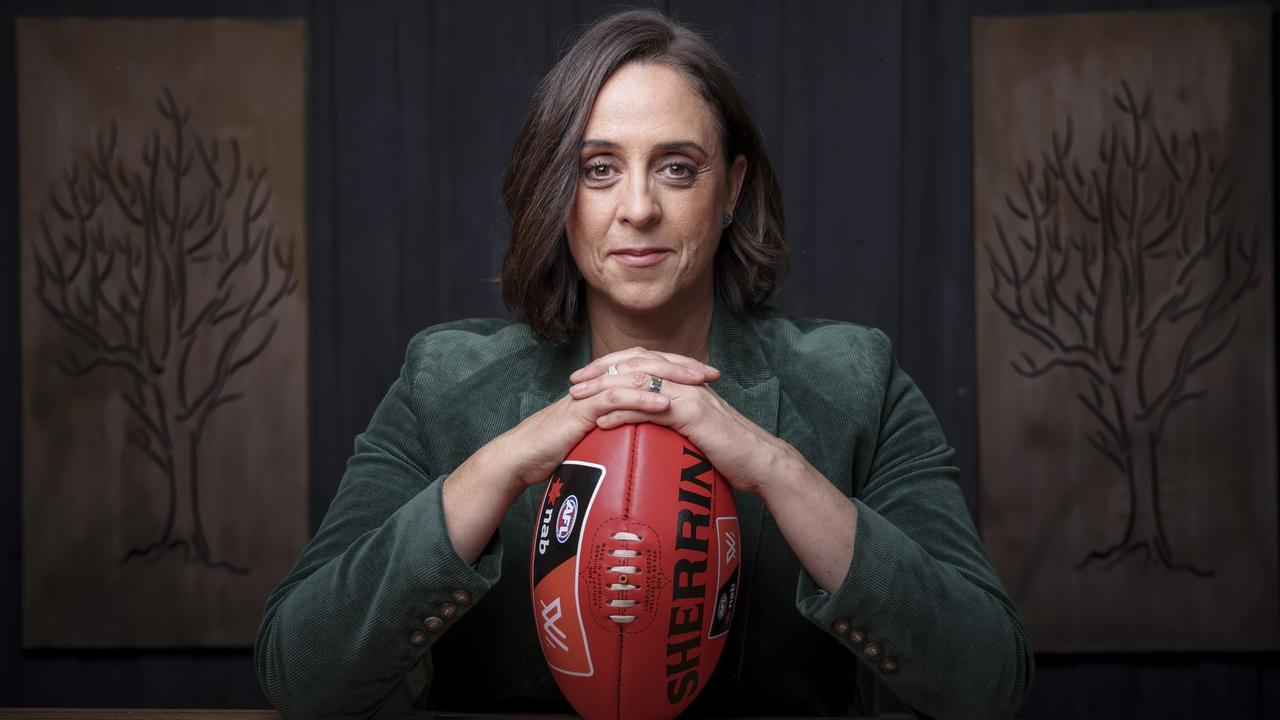 Nicole Livingstone has spoken on the new guidelines. Picture: Wayne Taylor
"The challenges in the community right now are well documented but that isn't stopping our excitement and anticipation for tonight. Our preparation and planning has been thorough and we feel really confident we will deliver one of the best seasons of women's footy of all time."
The new rules will be reviewed in two weeks' time.
The league on Thursday confirmed to the Herald Sun that players would no longer be required to undergo PCR testing in the lead-up to games, with players and club officials set to undertake rapid antigen tests before entering the ground.
The season will begin on Friday night when St Kilda hosts Richmond at Frankston.
Virus backflip: AFLW makes huge Covid testing call
AFL Women's players will no longer undergo PCR tests before games.
The league had this week confirmed that all players and club officials would be required to undergo the traditional test for Covid-19 in the lead-up to all premiership matches this season, with the samples tested in private laboratories so as to not have any impact on the community system.
But News Corp can reveal that the AFL has shifted away from the regime in favour of rapid antigen tests, in keeping with new federal government guidelines that favour the quicker option which return a result in under 15 minutes.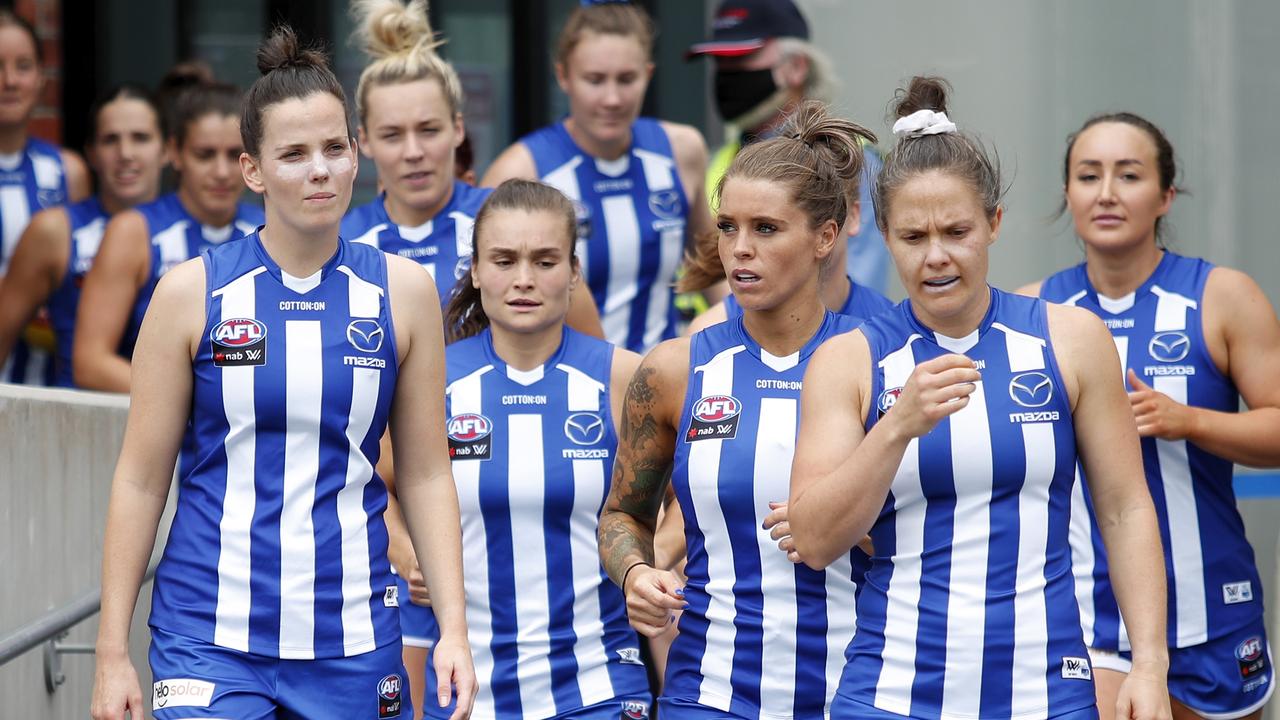 North don't know yet whether Emma Kearney will lead them into the round one. Picture: Dylan Burns/AFL Photos via Getty Images
North Melbourne skipper Emma Kearney remains in isolation ahead of her team's opening round clash with Geelong on Saturday after returning two positive rapid antigen tests this week.
The Roos will name their team at 5pm on Friday, with Kearney's isolation period understood to end at midnight on Friday.
The club had been hopeful she would be cleared to play. If not, it would be the first match she has missed since joining the AFLW as a foundation player in 2017.
And in a cross-club twist, her partner — St Kilda player Kate Shierlaw — has been forced out of Friday night's clash with Richmond due to the league's health and safety protocols.
Under the league's new testing plan, players and officials will be provided with a testing kit to complete immediately before entering any AFLW ground.
Any positive result on a RAT would immediately preclude a player or official from entering.
The club doctor would be informed immediately and work with the player to determine their Covid status and any subsequent return to the club when any isolation period was complete or – if deemed positive – all symptoms had subsided.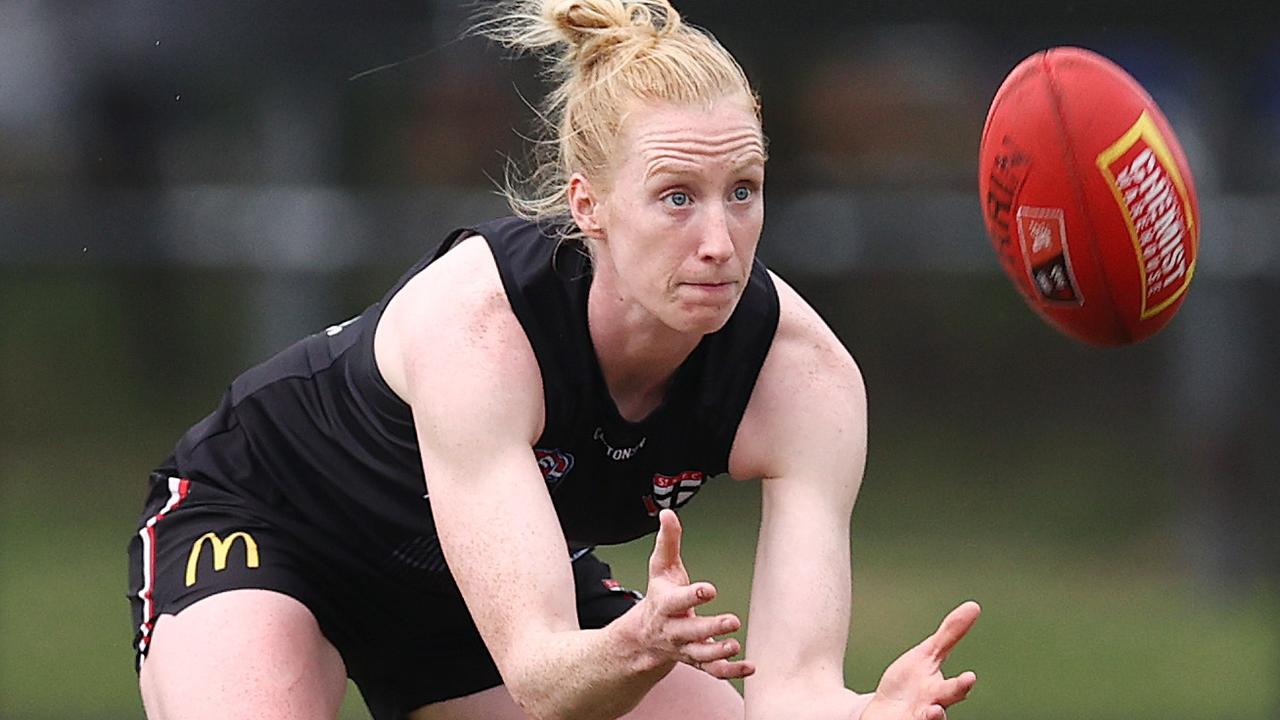 Kate Shierlaw is out of the Saints' opening round team. Picture: Michael Klein
Any player who is suffering from or is in isolation due to Covid will be listed as being impacted by the league's health and safety protocols when teams are named.
The league had organised a supply of rapid antigen tests well in advance of the AFLW season and long before the current rush on kits, with players and club officials having completed rapid tests before all training sessions and practice matches in recent weeks.
While the AFL has a limited supply of RATs on hand for the season, which begins on Friday night, it remains hopeful that supply issues facing the community are alleviated, with a similar regime expected to be in place for the men's season.
The federal government announced on Wednesday that close contacts of confirmed cases of Covid-19 and those with symptoms should now seek out and complete a rapid antigen test rather than a PCR test, with the testing system overloaded.
Only people with Covid-19 symptoms or a positive rapid antigen test should get a PCR test.
Women's football boss Nicole Livingstone said this week that while the league was encouraging supporters to attend AFLW games, they should not do so if they are experiencing Covid symptoms, in isolation or awaiting a result of a PCR or rapid antigen test.
Ticketing guidelines state that only fully vaccinated patrons can attend games.
Under the AFL ticket policy's extenuating circumstances allowance, patrons who are unable to attend games due to suffering from Covid or being in isolation may be eligible for a refund on pre-purchased tickets.
Covid crunch: Pies in isolation ahead of AFLW opener
Collingwood has at least four women's players in isolation with their Round 1 clash just five days away.
The Herald Sun understands that the players are on track to be released in time for the meeting with Carlton on Sunday, pending their fulfilment of state government Covid-19 isolation requirements.
Current guidelines require close contacts of positive cases to isolate for seven days from exposure to a positive case, and return a negative rapid antigen test on day six of isolation and also be symptom-free.
"We have a small number of players isolating in accordance with health protocols and will know later in the week what if any impact on the squad for the weekend," the club confirmed to the Herald Sun this morning.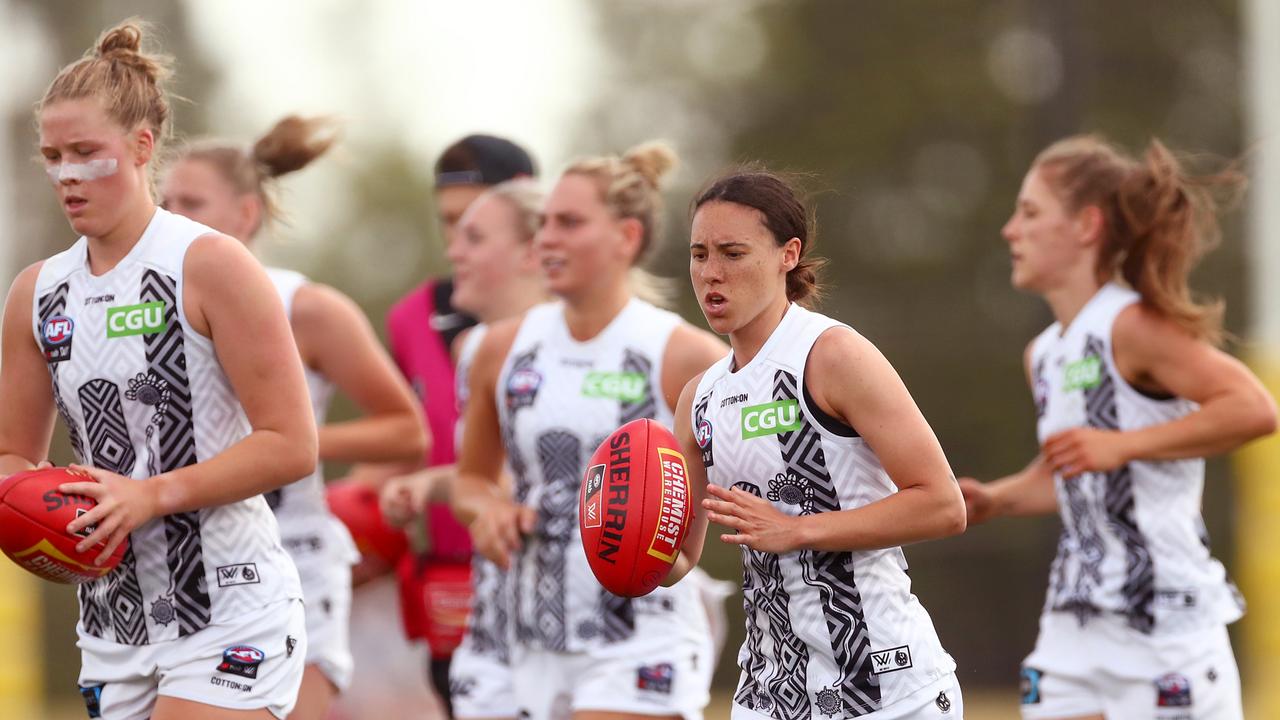 Collingwood has at least four players in isolation ahead of their Round 1 AFLW clash. Picture: Getty Images
At least one other Victorian club is also believed to have players serving precautionary isolation periods but it is not expected to impact on that club's Round 1 team.
Gold Coast has five players in isolation until later this week, after they tested positive. All will undergo PCR testing later this week to determine their availability.
The Pies are considered a hot chance to take out this season's premiership.
Covid is set to play a significant role in the upcoming AFLW season — which begins on Friday — as the league and clubs grapple with the increasing spread of the Omicron strain of the virus, particularly in Victoria and New South Wales.