AFLW grand final 2022: The stories behind our Melbourne and Adelaide stars
Whether she likes it or not, so much of the AFLW Grand Final build-up has been about Daisy Pearce. This is the story of how — premiership or not — she redefined women's footy forever.
The little voice bounced out of the crowd amid the post-preliminary final win chaos, and Daisy Pearce stumbled when she saw the 10-year-old girl's face in the MCG stands.
Did she remember her? Should she remember her?
"It's a trick question," her dad laughed when she saw the confusion on Pearce's face.
That little girl was one of the many babies Pearce helped deliver in her former life as a midwife at Box Hill Hospital in Melbourne's east.
It was a moment that two of Pearce's many worlds had collided — on the hallowed turf of the MCG soon after Melbourne had defeated Brisbane.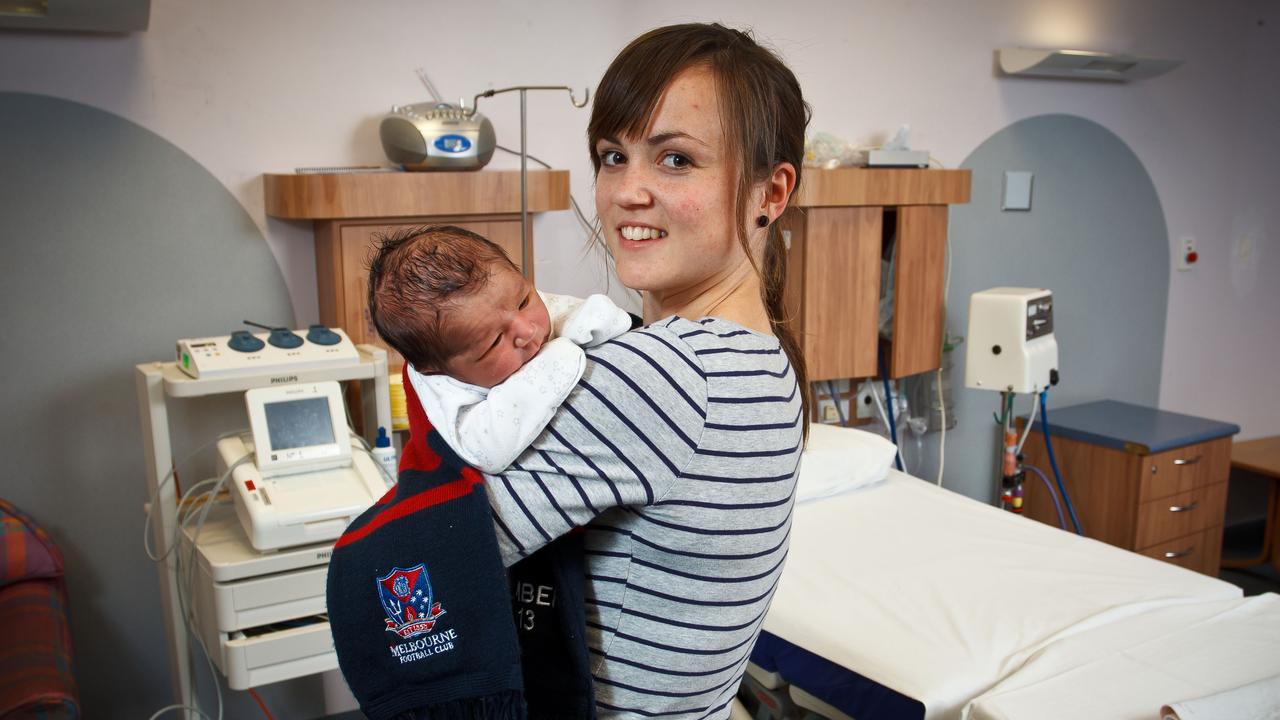 Daisy Pearce the midwife holds a baby after being drafted by Melbourne for an AFLW exhibition match.
Stream every match of every round of the 2022 Toyota AFL Premiership Season Live & Ad-Break Free In-Play on Kayo. New to Kayo? Try 14-Days Free Now >
After six seasons of AFL Women's, Pearce will lead Melbourne to their first grand final on Saturday.
She won 10 flags with VWFL/VFLW powerhouse Darebin, but this is the missing piece of silverware.
So as much as one of the pioneers of the AFLW competition does not Saturday's game to become about her, she doesn't have a choice. It has to be about her.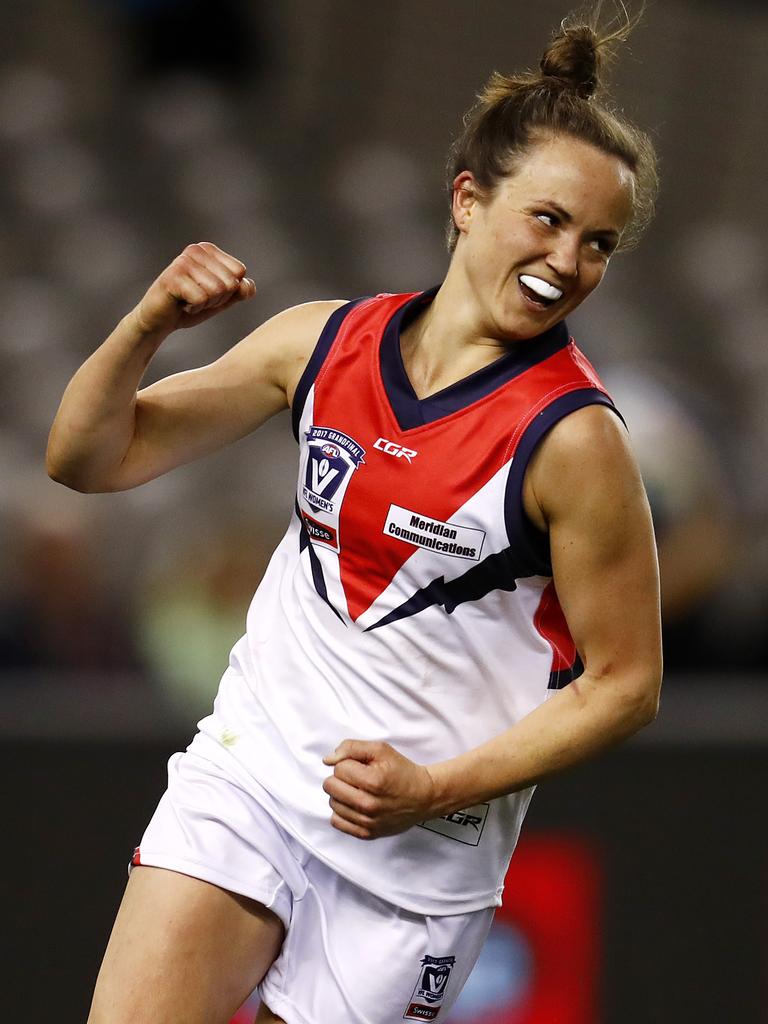 Daisy Pearce first made her name at Darebin in the VFLW. Picture: Michael Klein.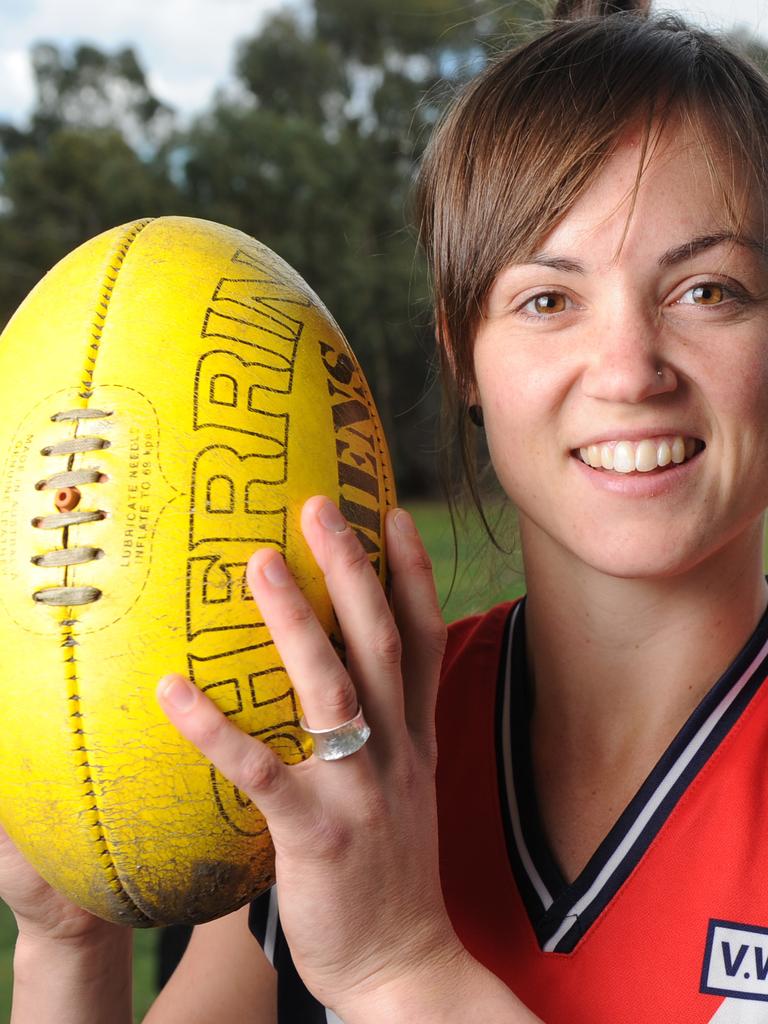 Daisy Pearce pictured in 2013 in her Darebin colours.
Some have wondered aloud whether Saturday afternoon at Adelaide Oval could see a Shane Crawford moment for Pearce – marked famously by the "that's what I'm talking about" catch cry as the Hawthorn great retired on the highest of highs after the 2008 premiership.
Pearce maintains she has made no decision on her playing future.
She is 33, has a thriving media career, has offers to move into coaching and her two toddlers are continually on the go, but Pearce knows you're a long time retired.
She has been adamant this week that no call will be made until the premiership is decided and she asks herself whether training and games remain her "favourite part" of the week.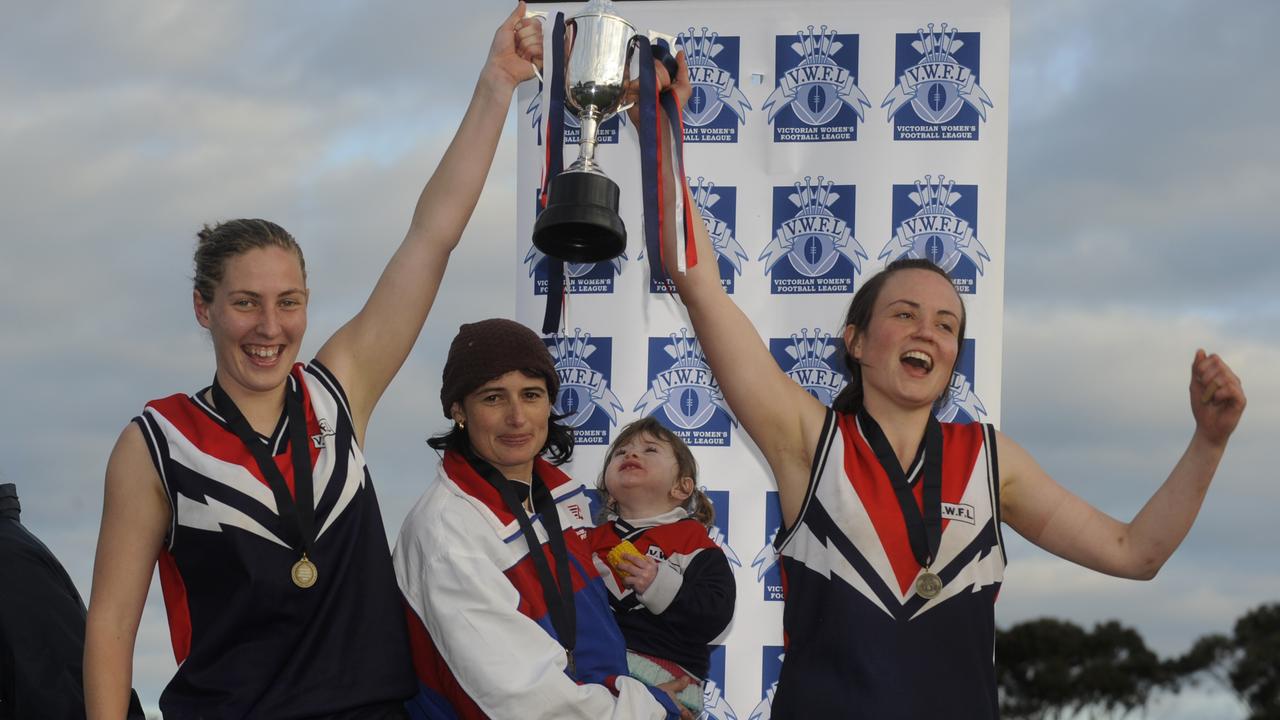 Falcons Co-Captains Anna McIlroy (L) and Daisy Pearce (R) with coach Peta Searle after a Darebin Grand Final win.
Teammate Libby Birch believes we should soak up every moment of Pearce even if she does play on next season.
"She is just the most humble person I've ever met and she takes a moment with each person she meets to have an impact," Birch said.
"It would be so easy for someone like Daisy to just skip over that.
"At training last Thursday, before the prelim there was a girl that had come down to Casey and was kicking the footy outside the gates because we weren't allowed to let anyone in. She was just a random fan.
"And Daisy, while she was training, noticed that and got her to come in and watch us train. So that's just a clear moment for me that it's never about Daisy. And that's what she did for me."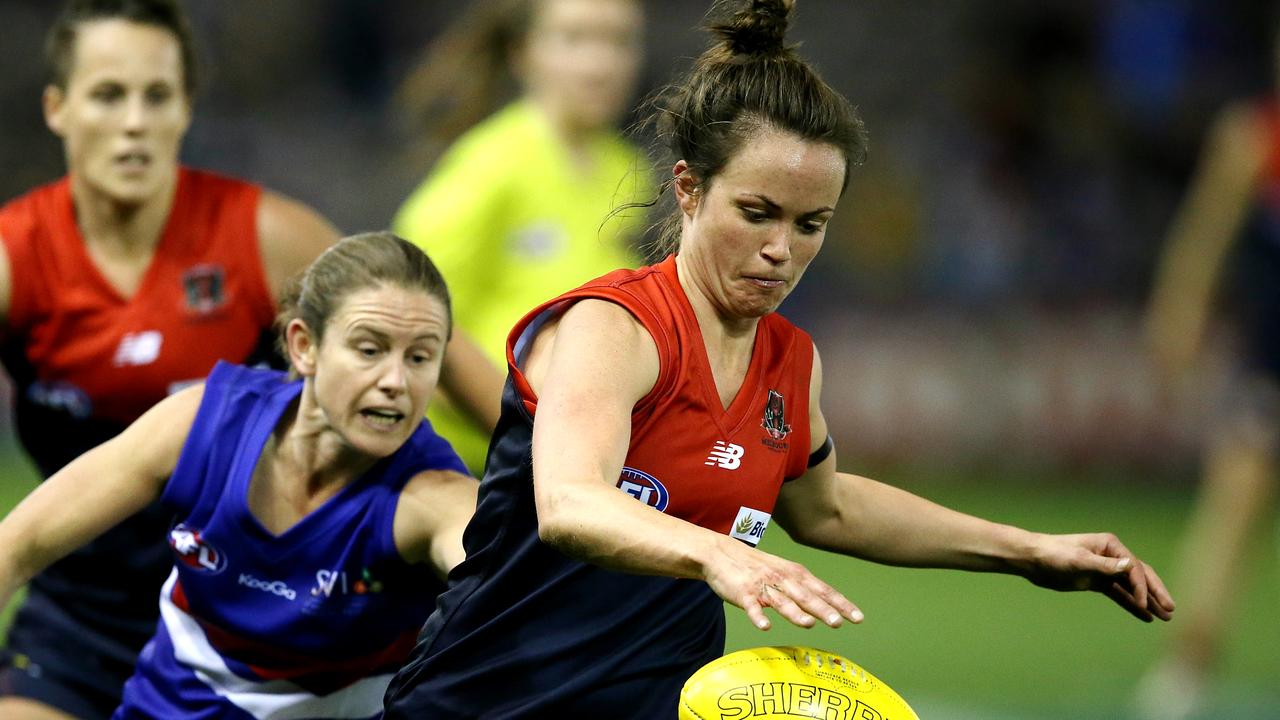 Daisy Pearce in action for Melbourne during a women's exhibition match.
Pearce lured Birch to football six years ago following a text exchange.
She lent Birch her first pair of football boots and the pair share a close bond that the All-Australian defender said was cemented in 2019, the only season of AFLW Pearce has missed amid the birth of her twins Sylvie and Roy.
"She gave me the gift of playing footy and, and I hope that I've repaid that in some way," Birch said.
"I've been lucky to have a personal relationship with Daisy. I've been there, in the moments … just after they were born and like, how hard and how raw that was for her, and (partner) Ben.
"It cannot be understated how hard that is to bring up not one but two kids, and be an elite athlete.
Daisy Pearce (left) and Chelsea Randall (centre) with Jack Viney in 2015.
"It's something that's missed – that she's done that, as well as making her body do what she needs to do and her mind, to give so much of her life to us as well, and to her kids."
Pearce, who grew up in Bright, played alongside the boys as a youngster, admitting a few years back that she had always felt "so awkward so often but it was never enough for me to stop" playing.
One of the most recognisable faces of the AFLW alongside Daisy, Tayla Harris, crossed paths with Pearce for many years but never knew her well until joining her at Melbourne this year.
She's "often in awe" of her teammate's ability, but it's more her heart.
"I feel very privileged to be able to play footy with Dais, but to have a friend in Dais is something that I don't take lightly," Harris said.
"None of us do. The footy stuff is big, but I would think that Daisy would potentially prefer to be remembered for the way she goes about her leadership and the way she affects people in more aspects than just on field.
"I feel super lucky to even know her, let alone play with her and be captained by her and get to hang out with her."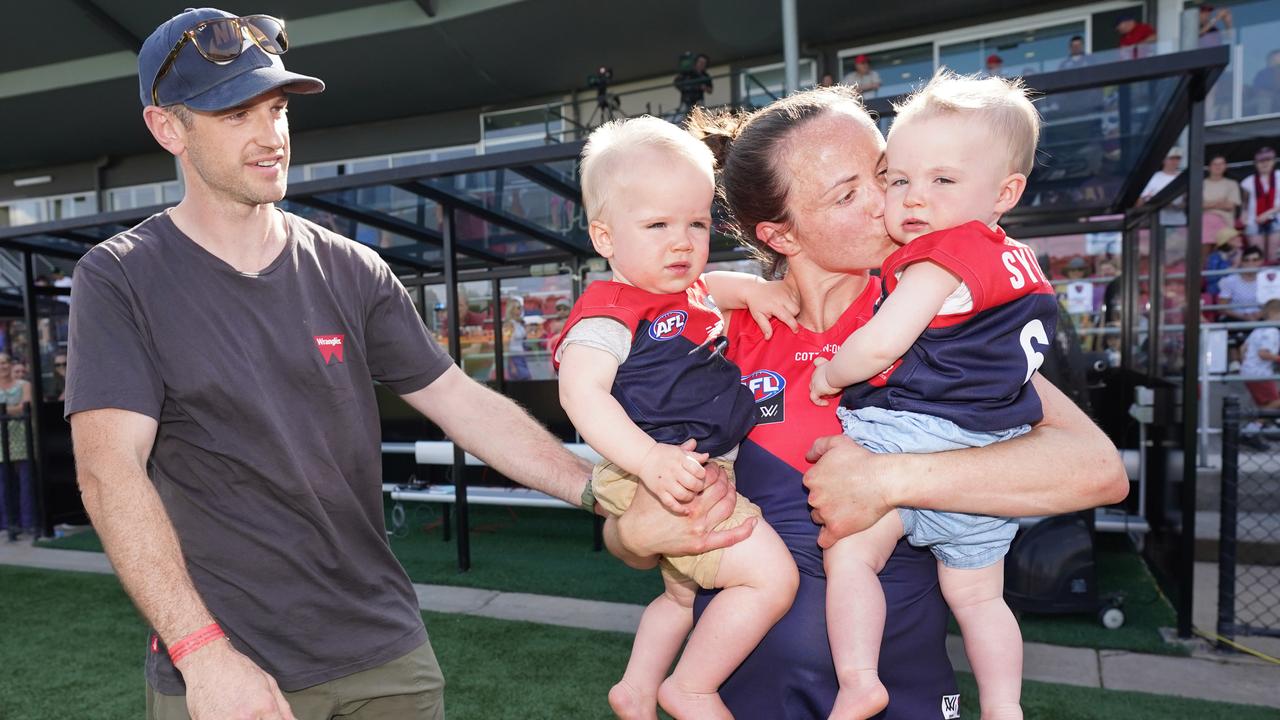 Daisy Pearce of the Demons celebrates a win with son Roy and daughter Sylvie.
Harris likens Daisy's influence over Melbourne to Geelong's recent come-from-behind win over Collingwood as skipper Joel Selwood broke the all-time captaincy record.
"They wanted to win that game for him, and I think that's going to be a similar storyline for us," Harris said.
"I absolutely will try and pull something from … well, I don't know where.
"If there's a moment where there's nothing left, I will find something to try and help her achieve that."
League boss Gillon McLachlan first encountered Pearce when AFL Women's was fast tracked to 2016 and said she was one who had always envisioned the growth of the game.
"Daisy is the trailblazer who has played footy all the way through from being a young country girl, and has always believed there would be a big stage for women's football," he told the Herald Sun.
"She has played her footy so well that she's kicked down doors, blazed the trail for others, and set the standards for those wanting to build the AFLW.
"She was at the forefront in the VFLW and then quickly became the face of the AFLW here in Victoria as thousands of girls turned to footy."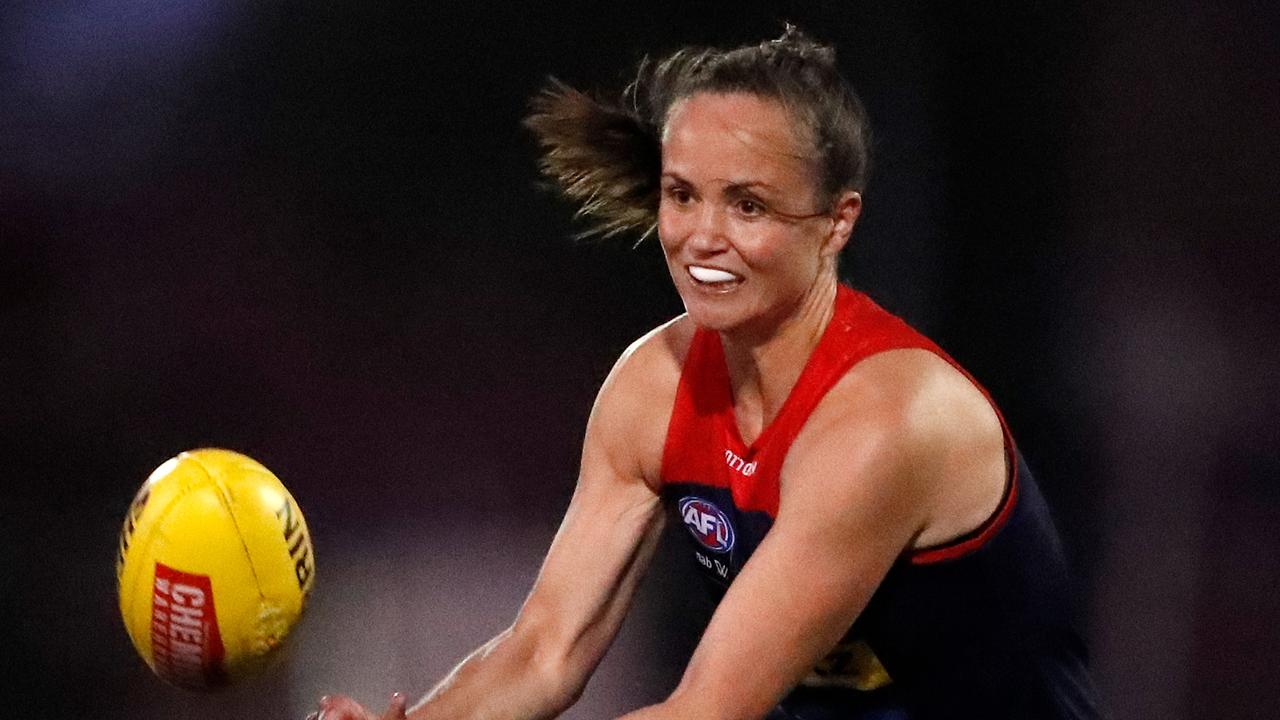 Daisy Pearce gets her shot at an AFLW premiership this weekend.
And it's been more about her deft touch with the footy.
"Daisy has been skilful, fair and resilient and also showed that motherhood is no impediment to your sporting dreams, returning to produce elite performances by continuing to lead Melbourne and winning All Australian selection after the birth of her twins," McLachlan said.
Sylvie and Roy did their best to earn a berth at Adelaide Oval on Saturday, Pearce revealed this week.
But she reckoned partner Ben, a firefighter, might have earned a day at the footy where he could just watch rather than be on the chase with buckets of chips and entertainment tactics all afternoon.
Pearce maintains that "footy teams are way bigger than one person", and after always being jealous of teams in the mix this week, finally gets her shot.
"For those that have been around at Melbourne for the six years, it kind of feels like we've been close in every year," Pearce said.
"There's been percentages and single goals or single stoppages that I can think of in my mind as reasons why we weren't in a grand final.
"This year, so far, we've been good enough to get there and now we've got to go about being good enough to win it."
But like many teammates, Birch says after all Pearce has achieved, to be a premiership captain would only be fitting.
"It would," she said.
"We'll be doing it for Dais, that's for sure."
ICE-COOL DEMON REVEALS SECRET TO KEEPING IT TOGETHER
It's been a "wild, wild, wild" ride for Demon Libby Birch.
She didn't take up Australian rules until six years ago, and didn't even own a pair of football boots when AFL Women's first began.
But the former state league netballer, who made it to the brink of national selection, played in a premiership with the Western Bulldogs in 2018 and earned her second All-Australian nod this week.
Birch, 24, joined the Demons after the 2019 AFLW season and hasn't looked back as one of the competition's premier defenders.
Her grand final experience has been called upon this week, alongside teammate Tayla Harris, starting with an all-team Zoom meeting last Sunday night.
"Where we can, we will offer our thoughts or our advice or our support," Birch said.
Stream every match of every round of the 2022 Toyota AFL Premiership Season Live & Ad-Break Free In-Play on Kayo. New to Kayo? Try 14-Days Free Now >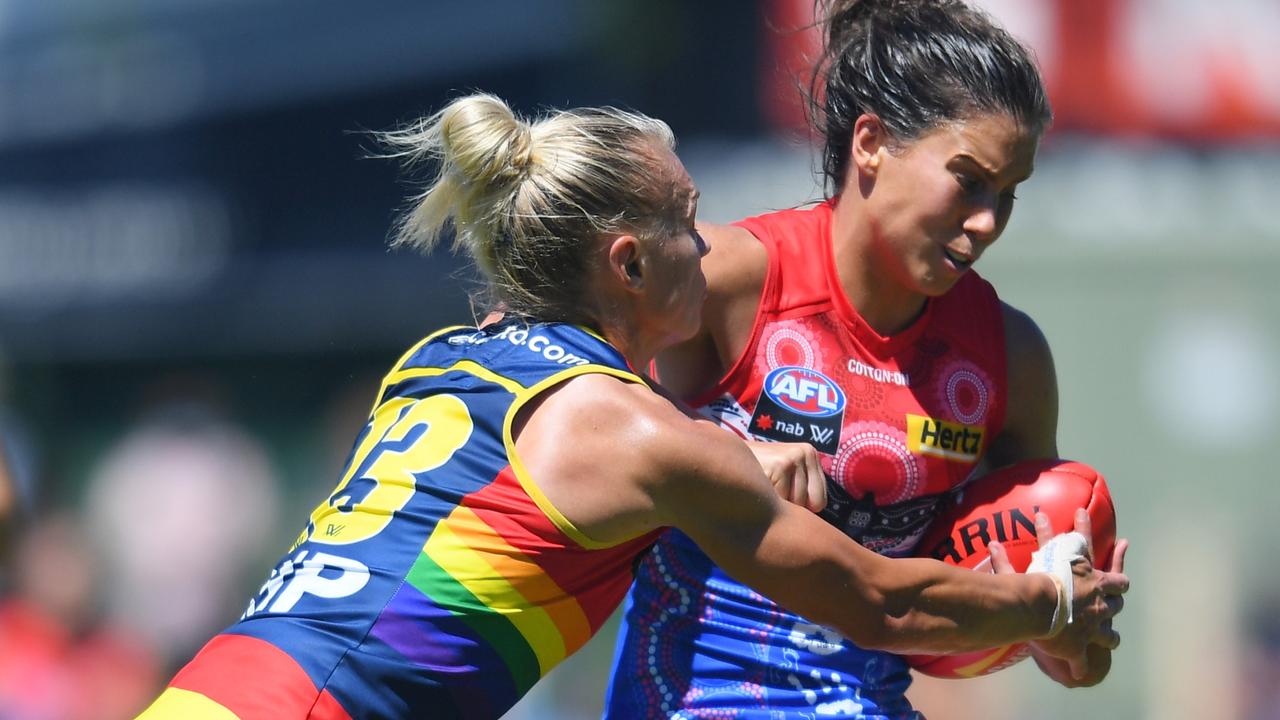 Libby Birch will compete again with Erin Phillips in the grand final this weekend. Picture: Getty Images
"But I have 100 per cent trust in each and every one of us that we know what to do.
"And if we keep it simple, and not get too overwhelmed by the noise that is grand final week, and I know that a lot of players speak about it. I think we'll be fine."
Birch's association with Melbourne captain Daisy Pearce started with a text message to the AFLW great before the pair had even met.
It led to Birch joining Pearce at suburban club Darebin Falcons and together they played in a VWFL premiership.
On Saturday they are endeavouring to do it again at the elite level and trying hard to keep the week as normal as possible.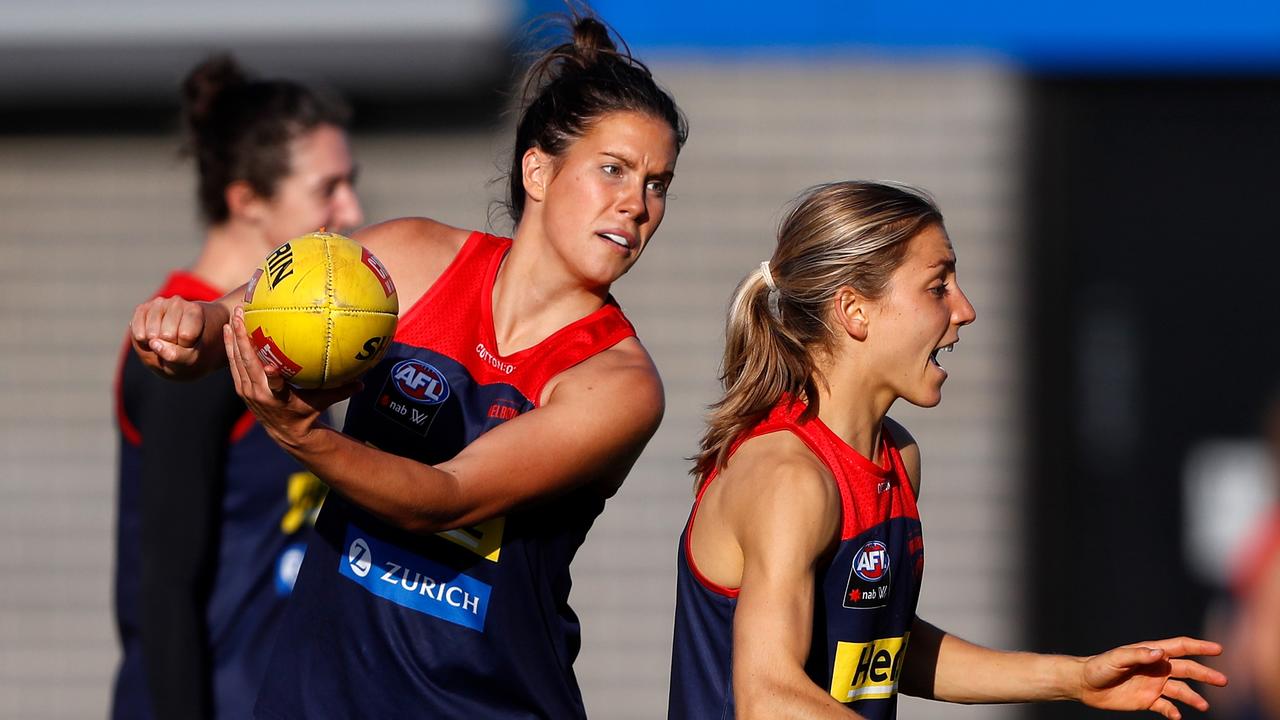 Libby Birch says the players are trying not to be overwhelmed by the noise surrounding the grand final. Picture: AFL Photos via Getty Images
"It comes in waves and it's honestly overwhelming," Birch said of the emotions leading into this weekend.
"There's the excitement that you feel and then there's nerves and sort of your brain looks at the outcomes and the results and what you might feel after them.
"I think that's all normal. That's something that I've learned, particularly from the 2018 grand final week is just that to be OK with the feelings that are going to pop up because that's just so normal, and not to fight it and just sort of absorb it and then refocus yourself."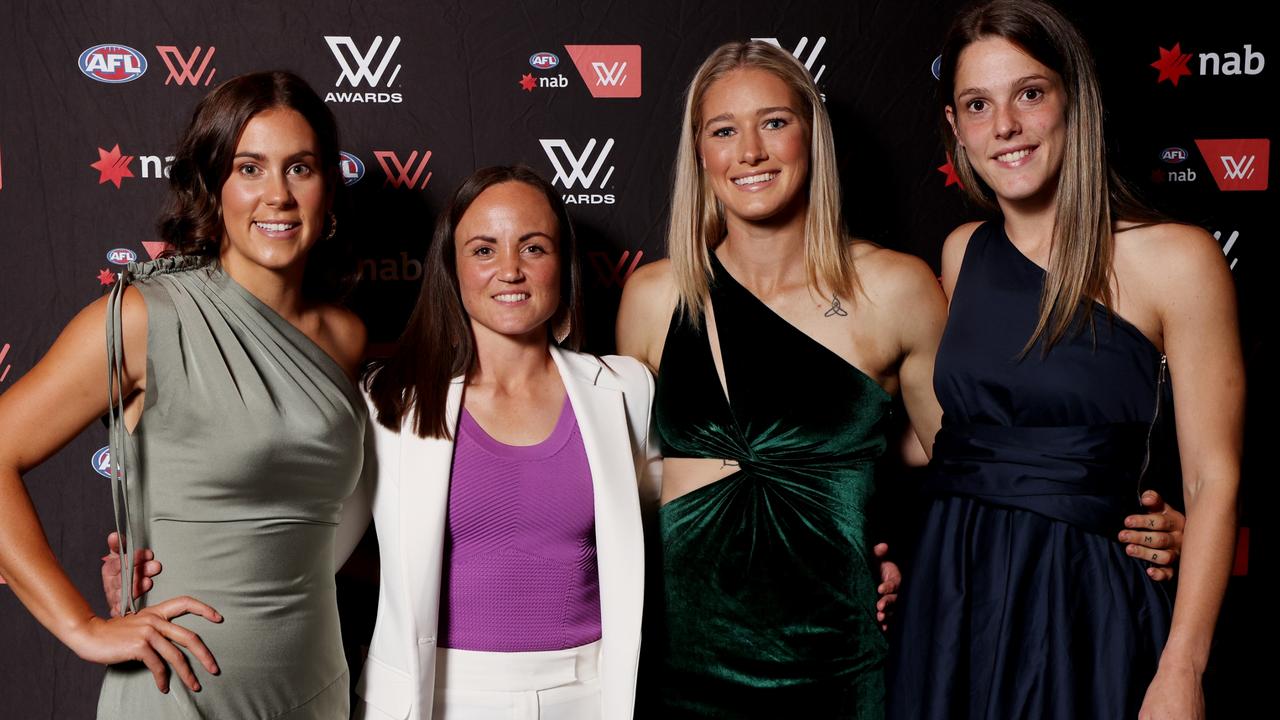 Melbourne's AFLW All-Australian players Libby Birch, Daisy Pearce, Tayla Harris and Lauren Pearce. Picture: Getty Images
There were masks galore at Melbourne's sole open media session this week, then again when the Demons gathered at a private function for the W Awards on Tuesday night.
It's all in a last-ditch effort to dodge Covid-19 — which has ravaged teams across this sixth season.
Despite the extra caution and nervousness that it brings, Birch is still pinching herself that she gets the change to become a two-time flag winner.
"It's been a wild, wild, wild journey," Birch said.
"Something that I'm just most proud of is the people that I've got the privilege to be around and the people that I've met.
"It just really makes this game so special. I talk about Daisy a lot, for all my teammates … even our youngsters, Eliza McNamara, Alyssa Bannan, Fitzy (Megan Fitzsimon).
"That's what makes the game. That's what makes you smile and what makes the game so fun.
"For me, it's just amazing to be able to get there with this group."
Bikes to the big stage: The rise of Tayla Harris
Tayla Harris was never prepared for the spotlight.
As a kid, she said, she rode around the Brisbane streets until dark.
As a fledgling footballer, she trained for a couple of hours during the week, went out for dinner with teammates and then played at weekends.
Now she is one of football's most recognisable faces – and kicks.
The exponential rise isn't lost on her. Nor is the fact that she was so underprepared for what her life became.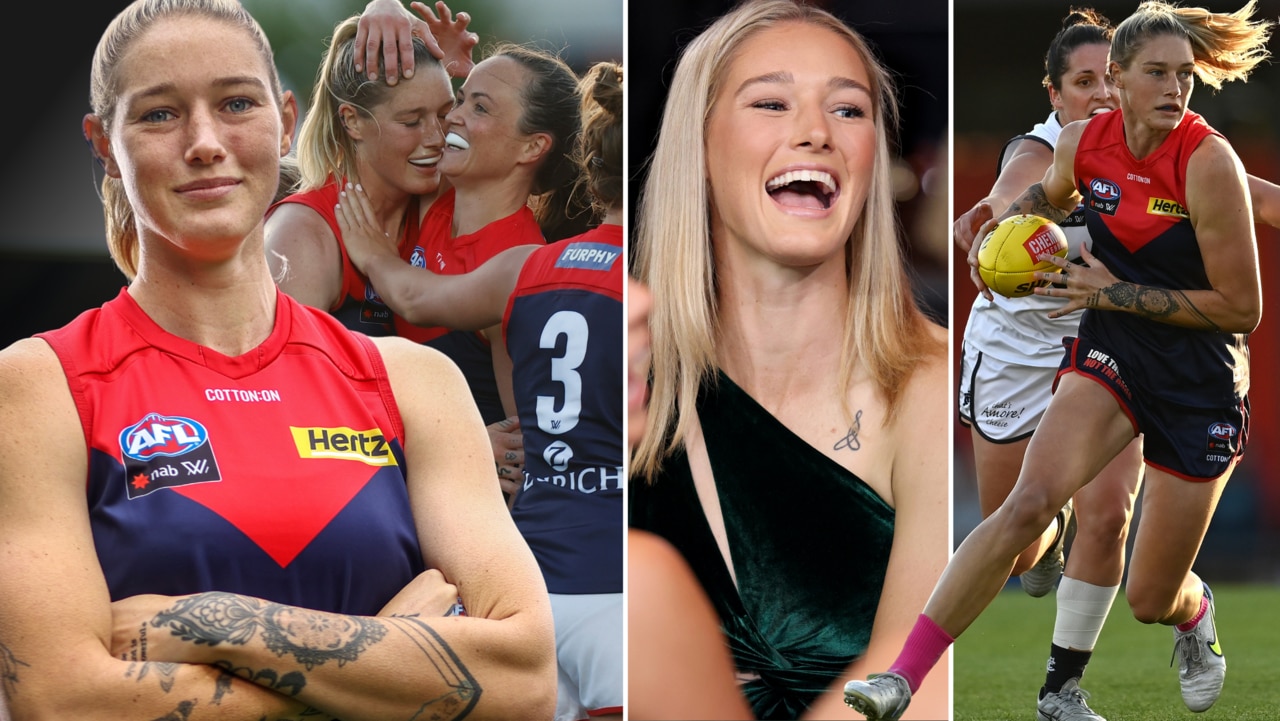 Is it third time lucky for terrific Tayla Harris?
"I often reflect and smile about the fact I'm just some kid from Queensland and that all this is happening," Harris said.
"Growing up, I really did just ride my bike until the street lights came on.
"It's not as if I had some sort of upbringing where I could learn about all this – media, playing in front of big crowds, it just wasn't my reality."
She admits she had to "learn very quickly" as life in the spotlight quickly became reality.
This week will be no different, but Harris feels better equipped than ever before to counter whatever right hook or jab is coming next.
"Every year, every season presents new challenges and without doubt something will happen – I've learned that," she laughed.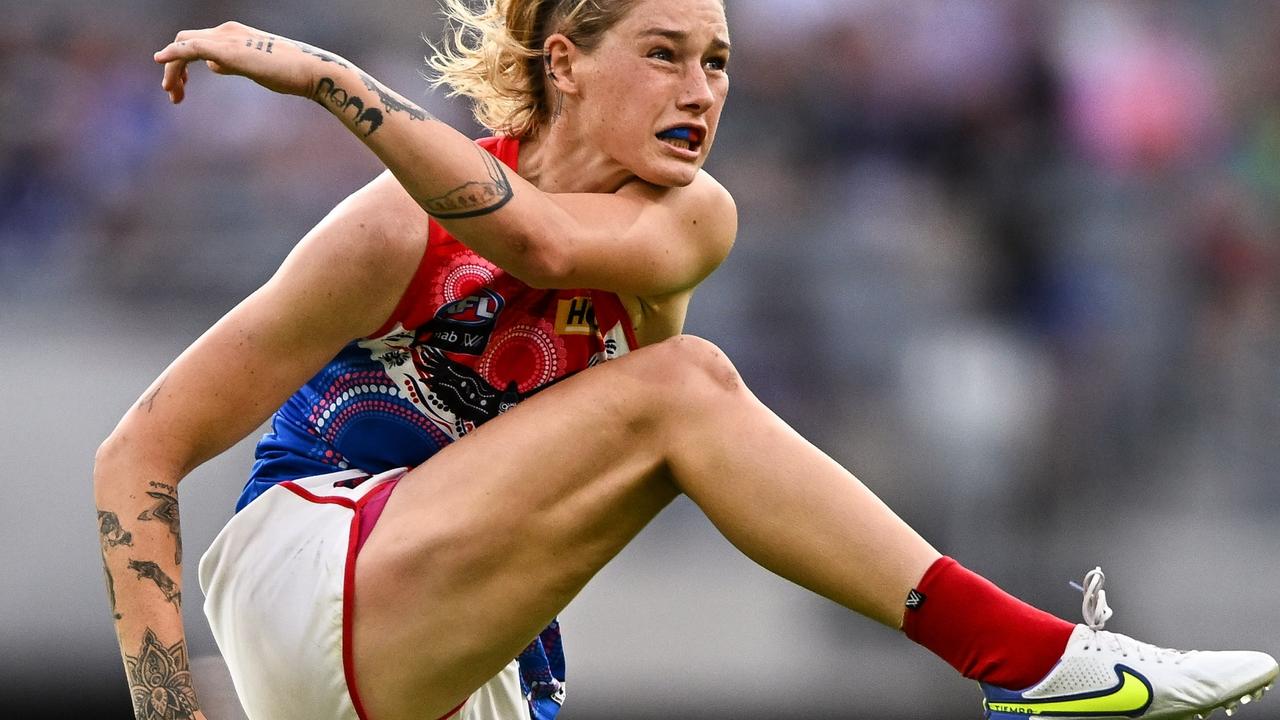 Melbourne's Tayla Harris kicks for goal against Fremantle.
"I can't predict what it will be, but I think I am able to kind of have a breath and think 'this is the situation I've got right now, how am I going to go about it?' and have a strategy. Some things you just have to react in the moment and hopefully it works out well."
On Saturday, she becomes the first player to play in three AFLW grand finals for three different clubs – Brisbane, then Carlton, now Melbourne — when the Demons tackle Adelaide at Adelaide Oval.
All three deciders will be against the Crows. So far, two have fallen on the wrong side of the ledger.
But Harris's form has never been better.
She was named a four-time All-Australian player on Tuesday after a blistering season up forward for Melbourne, which came off the back of a turbulent off-season that included an ugly exit from the Blues.
This year, the 24-year-old hasn't shied away from one major realisation.
"I don't owe anyone anything," she said.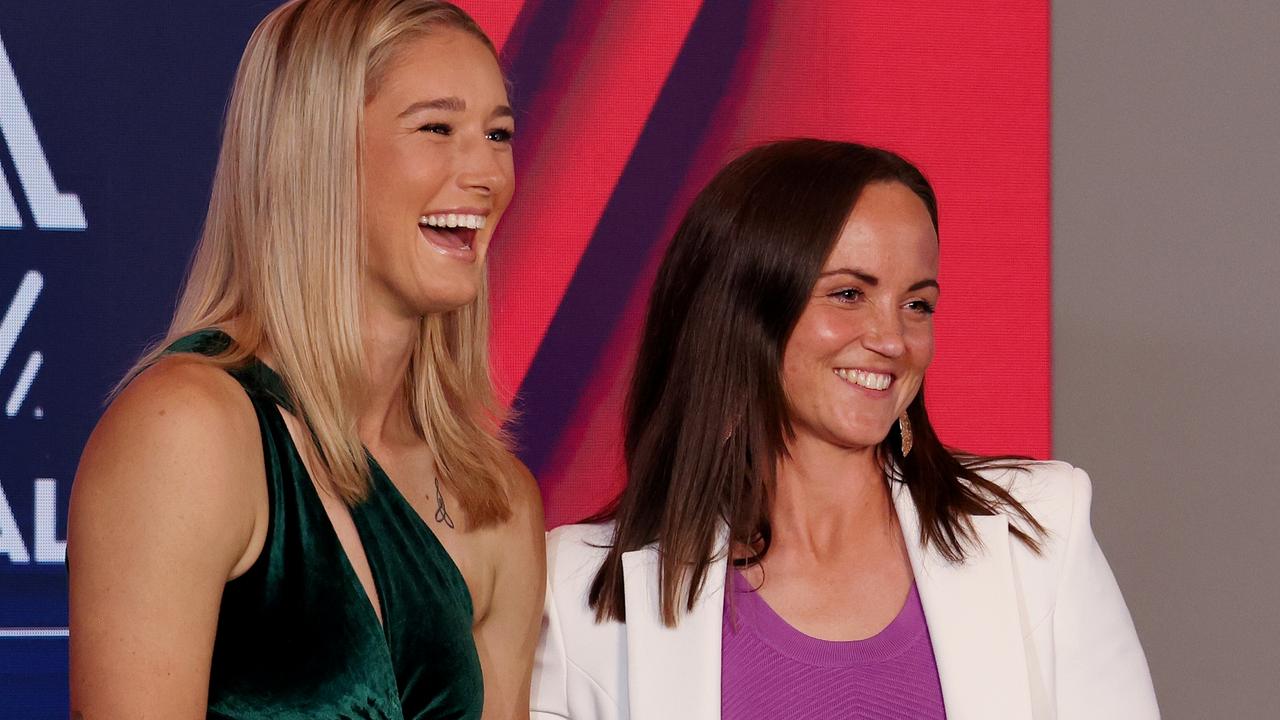 Teammates Tayla Harris and Daisy Pearce at the 2022 AFLW Awards.
It dawned after the storm that surrounded her leaving Ikon Park, landing at Melbourne on a one-year deal with a determination to prove her worth.
She's done that in spades, according to skipper and close friend Daisy Pearce, with their relationship seeded in the common ground of an atmospheric rise.
"You kick around playing footy for a long time and doing your thing working jobs and no one really caring, and then suddenly they do. It has its challenges and things that we've been able to share," Pearce said.
"The off-season played out the way it did for her … I couldn't be more impressed with the player and person that we've gotten off the back of that and I'm so rapt and happy for the club that we've gotten her across, and happy for Tay."
Pearce maintains that she "takes very little credit" for Harris' reinvention at Melbourne, and simply said "she works her backside off".
Then there's that kick.
"No one else makes that sound (when she strikes the ball)," Pearce said.
"She's a great teammate, she's got a big heart and she's very selfless and goes about every week just trying to play her role. It's been awesome to have her and pretty awesome to play alongside her up close."
Tayla Harris breaks clear during Melbourne's Round 10 clash with Carlton at Casey Fields.
Harris, an Australian title-winning boxer, mighty have to sideline her ring plans – and her biggest earning capacity – with the next AFLW season expected to be brought forward to August.
She's philosophical about it.
Rediscovering the fun in her footy had helped this season, Harris said.
She never thought about walking away, but sometimes wondered whether local football might be a lot easier.
"It's supposed to be fun and enjoyable," she said.
"When it's not that and on the field you're thinking about if you make one error, particularly in front of goal, that it's going to be scrutinised heavily … that's the reality of playing professional sport, but if there was ever something that went in my mind, it was, 'is this what I want to subject myself to, to play football, when I could just play local football, and that would be fun?'.
"But that's what I came from. We trained for maybe an hour a week, and then went out for dinner together and then played on the weekend and maybe our parents would come and watch."
Her parents Lisa and Warren will be there on Saturday – her biggest believers as questions swirled around whether she could deliver.
"I don't think I could care less (what people thought), to be honest, because I was going to make it work whether anyone believed in me or not," she said.
"My people believed in me, so it was pretty simple to do it."
Originally published as AFLW grand final 2022: The stories behind our Melbourne and Adelaide stars