AFLW grand final teams: Adelaide Crows make three changes as Melbourne Demons go into 2022 decider unchanged
Melbourne will go into its first AFLW decider with an unchanged side but Adelaide has several ins and outs — one forced — for Saturday's grand final. SEE THE TEAMS
Adelaide has swung the changes for the AFL Women's grand final.
Najwa Allen and Eloise Jones are returning from suspension and Jasmyn Hewett has been included in the team to take on the Demons at Adelaide Oval, with Brooke Tonon and Madison Newman omitted.
SCROLL DOWN TO SEE THE GRAND FINAL TEAMS
Montana McKinnon was unsuccessful in appealing her one-match ban and will also be sidelined.
Melbourne will be unchanged for the clash, its first premiership decider since joining the competition as a foundation team in 2016.
Watch The 2022 NAB AFLW Grand Final Live on Kayo. Adelaide v Melbourne Saturday 9 April from 12:30PM. New to Kayo? Try 14-Days Free Now >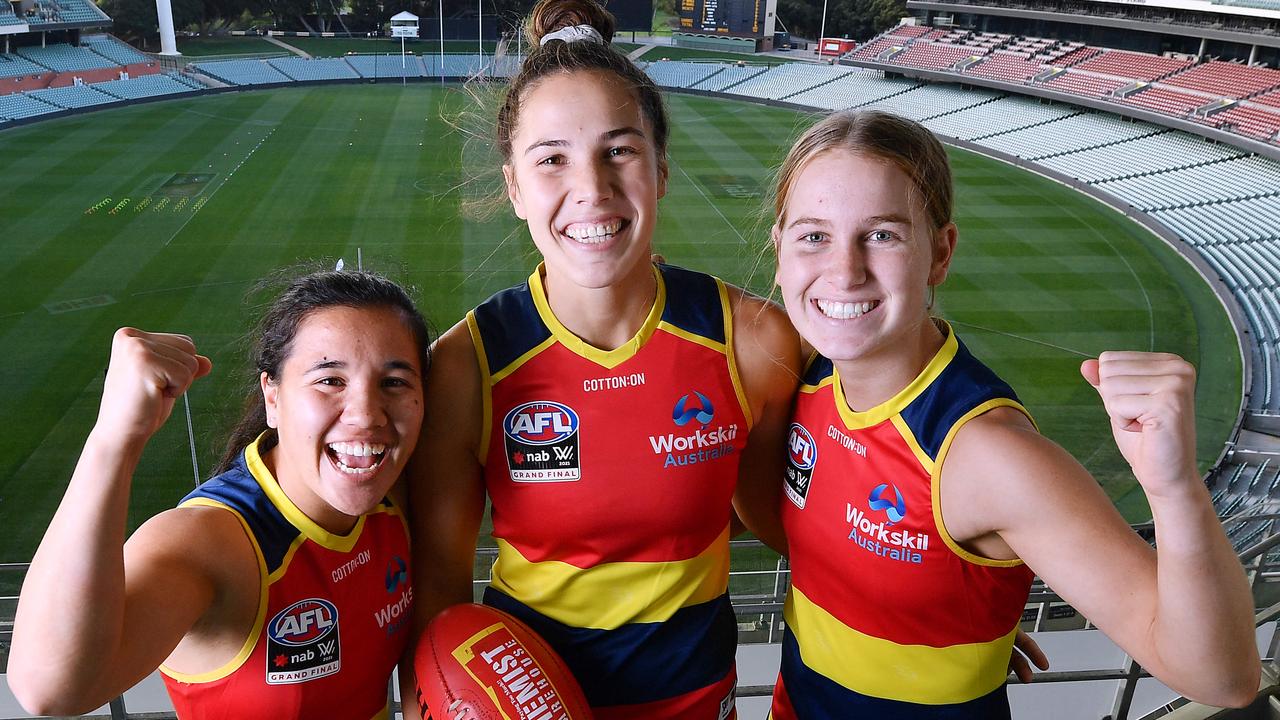 Najwa Allen (centre) is among three changes to the Crows' team that will enter the grand final. Picture: Mark Brake
Demons skipper Daisy Pearce said while her side respects the Crows, who are hunting a third premiership in six years, their belief had never been higher after a season that has just about had it all.
"Our belief is right there that we've got the tools go out there and have a real crack," she said.
"We know that it's going to take a very good side to beat us and we're playing against a good one, but nothing will be left to chance with this group."
AFLW GRAND FINAL TEAMS
Adelaide Crows v Melbourne Demons
Saturday, April 9, noon, Adelaide Oval
CROWS
Backs: C.Biddell12 M.Rajcic32
Half Backs: C.Randall26 (c) S.Allan39 N.Allen8
Centreline: S.Thompson14 A.Hatchard33 A.Considine16
Half Forwards: D.Ponter15 A.Woodland24 E.Jones2
Forwards: E.Phillips13 R.Martin5
Followers: C.Gould1 E.Marinoff10 T.Charlton25
Interchange: H.Button6 H.Munyard20 J.Hewett19 J.Mules23 N.Gore7
Emergencies: L.Whiteley22 M.Newman17
In: N.Allen, E.Jones, J.Hewett
Out: B.Tonon (Omitted), M.Newman (Omitted), M.McKinnon (Suspension)
DEMONS
Backs: L.Birch9 G.Colvin32
Half Backs: S.Goldrick23 S.Lampard8 S.Heath30
Centreline: K.Paxman4 T.Hanks5 L.Mithen14
Half Forwards: A.Bannan16 K.Hore10 S.Scott12
Forwards: D.Pearce6 (c) T.Harris7
Followers: L.Pearce15 O.Purcell2 M.Gay3
Interchange: C.Sherriff18 E.West11 E.Zanker29 E.McNamara22 M.Fitzsimon24
Emergencies: J.Parry19 T.Gillard17
No changes
WE BELIEVE: DAISY AND THE DEES KNOW THEY CAN TOP AFLW JUGGERNAUT
Belief is the biggest weapon in the Demons' armoury as they endeavour to topple the titans of AFL Women's in the grand final.
Melbourne coach Mick Stinear and Daisy Pearce both cited confidence — which the pair said the team had lacked in recent times — as the team's key asset in taking on Adelaide, which is hunting a third premiership from six seasons, at the Adelaide Oval on Saturday.
Pearce, 33, said the team's belief was "stronger than it's ever been before" and that was what set this season apart from the team's previous five where its best result was a preliminary final berth in 2021.
"We probably had questions in our own head in other years, just because we weren't ready. We weren't good enough," she said.
"But our belief is right there that we've got the tools go out there and have a real crack.
"We know that it's going to take a very good side to beat us and we're playing against a good one, but nothing will be left to chance with this group."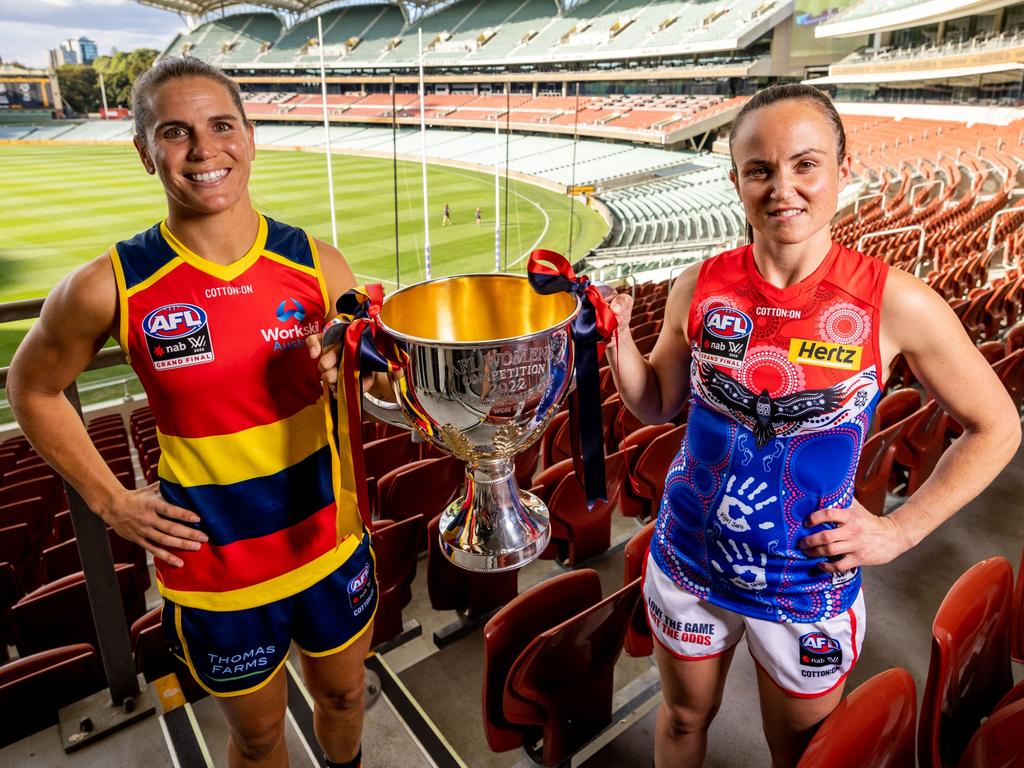 Chelsea and the Crows or Daisy and the Dees? Picture: AFL Photos
Melbourne, which made no changes to the preliminary final team that defeated Brisbane last week, has drawn inspiration from its rollercoaster season that Pearce said had delivered it all., including "travel to play top four teams", wins from behind and after leading early and being forced to "grind out wins" when not feeling their best.
"We've just found a way. From all of that, you gain a trust in each other that you're going to go out there and give it your absolute all," she said.
"Those girls have been a big part of that and I don't think they'll be intimidated."
Stinear — who will mark his 50th AFLW game as coach — said hope had morphed into strength.
"I think last year we came here (for a preliminary final) … and we were hopeful," he said.
"We were hopeful of being able to get a win. This time, we come here having a lot of belief in what we do and trust in each other. There's definitely a stronger mindset coming into this game for us."
Pearce has said she will make a decision on her playing future only after the decider, and said all that have gotten the team to its first grand final had been "dominating my thoughts".
"That's been one of the really special things for me — the amount of messages that you get from either people that have coached this team or previous staff at Melbourne … ex-players, the amount of people that have been on this journey over the six years.
"The sacrifices of our coaches and our teammates … my thoughts aren't about myself — they're about this team.
Analysis: Game changer who can help Dees topple Crows
Adelaide and Melbourne will battle it out for AFLW premiership glory on Saturday.
Where will the match be won and lost, and who will triumph?
Chloe Dalton provides her analysis.
Adelaide
Adelaide has cemented its place as the most successful team in the league.
The Crows have lifted the premiership cup twice, and made their fourth grand final in five attempts by defeating Fremantle in the preliminary final 6.4 (40) to 4.2 (26).
During my time at Carlton, I played in the 2019 AFLW Grand Final in front of a roaring 53,000 fans at Adelaide Oval and there is no doubt the Crows have a distinct home-ground advantage.
Adelaide has shifted its game plan this season from a scoring powerhouse to defensive juggernaut.
Watch The 2022 NAB AFLW Grand Final Live on Kayo. Adelaide v Melbourne Saturday 9 April from 12:30PM. New to Kayo? Try 14-Days Free Now >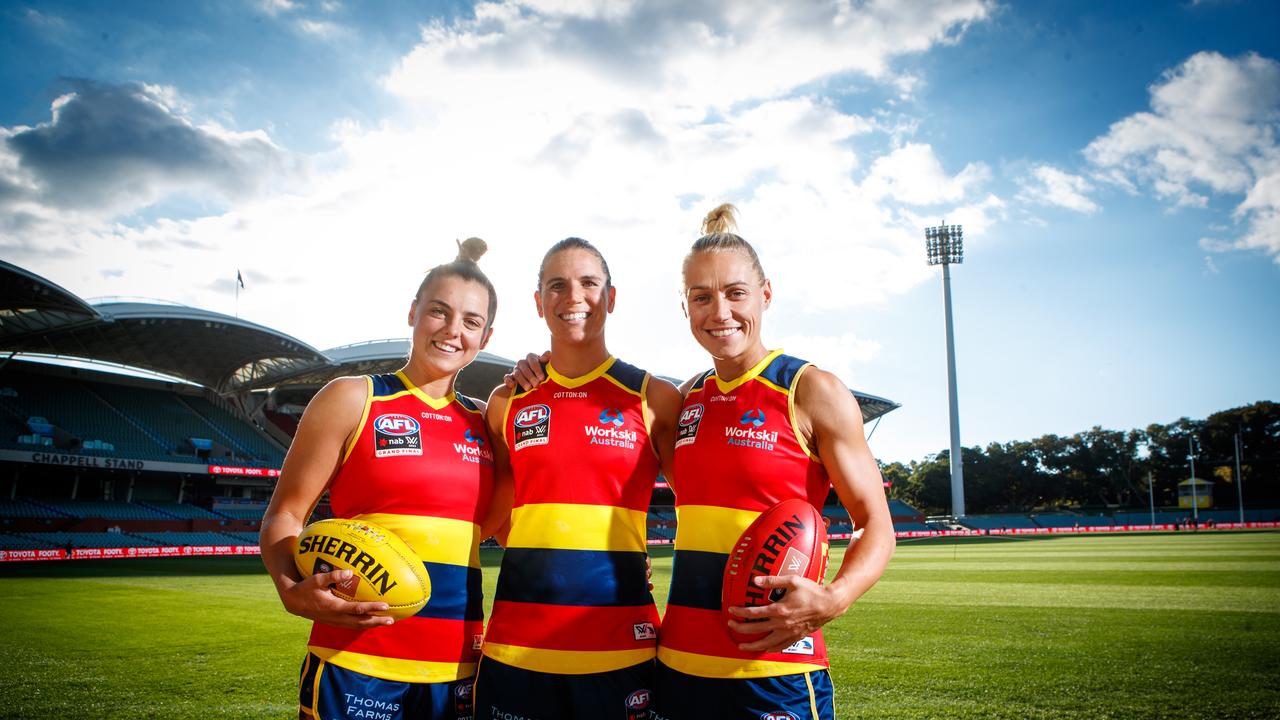 Ebony Marinoff, Chelsea Randall and Erin Phillips Picture Matt Turner.
The Crows are the first side in the history of the competition to concede an average of less than 20 points a game.
They successfully shut down teams with their defensive structure and number of intercept marks.
The Crows average the most intercepts in the competition this season with 61.5 across the season — defender Chelsea Biddell (60 intercepts) complements the defensive stalwarts in Sarah Allan and Chelsea Randall.
A key weakness in Adelaide's performance has been their goal kicking accuracy — 33.2 per cent it is the second lowest in the league.
So how will they win it?
If Adelaide is to beat Melbourne and take out its third premiership, it will be through dominating territory and preventing Melbourne's run through the corridor of Adelaide Oval.
Who is the key player?
Chelsea Randall was a key factor in the preliminary final win over Fremantle with 12 intercepts.
After missing the 2021 grand final loss to the Brisbane Lions because of concussion protocols, Randall's experience and composure in critical matches will be invaluable for the Crows on Saturday.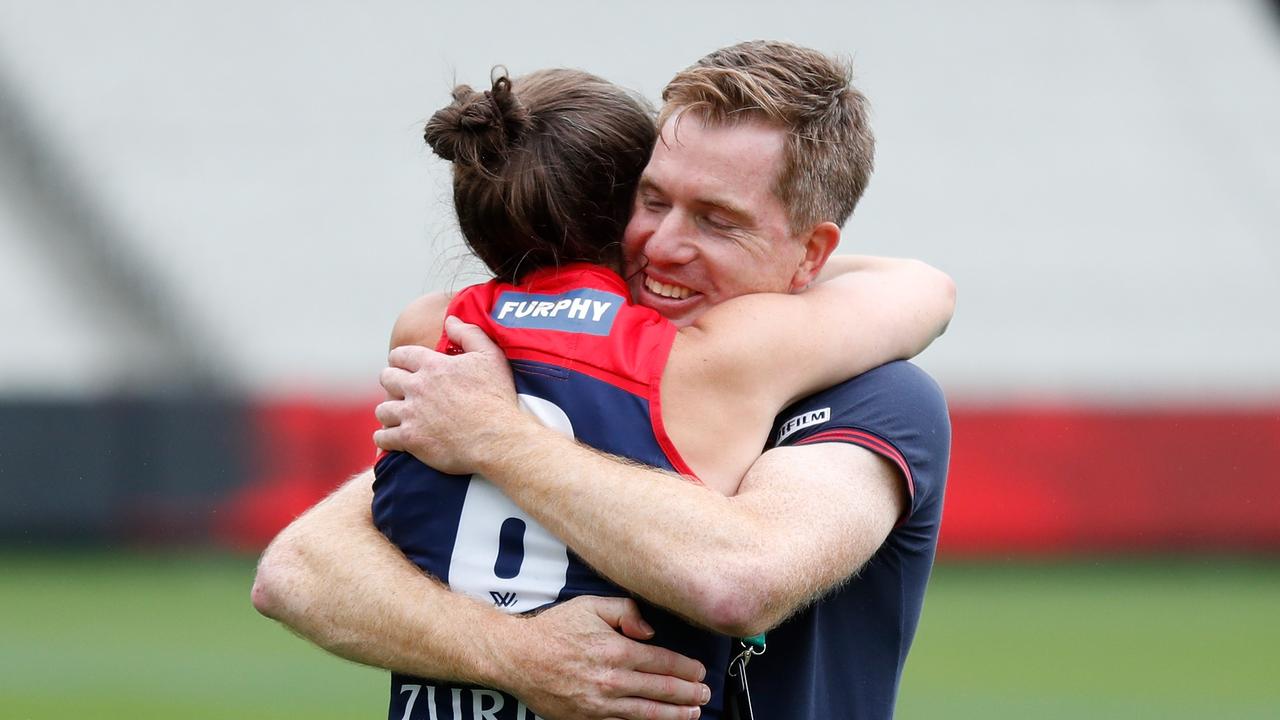 Mick Stinear coaches game number 50 in the AFLW grand final. Picture: Getty Images
Melbourne
Inaugural Demons AFLW coach Mick Stinear will notch up his 50th game in charge on Saturday and was aptly named AFL Coaches Association AFLW senior coach of the year this week.
Stinear has implemented an effective, high-scoring game plan for the Demons this season but they can still tough it out, defeating defending premiers Brisbane 5.3 (33) to 4.5 (29) in their hard-fought preliminary final win at the MCG.
The Demons have averaged 45.7 points per game this year, second only to Brisbane.
They became the first team to crack 100 points in their win over Fremantle, with captain Daisy Pearce kicking five for the game.
Pearce was named best captain at the AFLPA Awards during the week — the fourth time she has been picked up this title in the five seasons she has been eligible.
Considered an extra coach on the ground, Pearce can move between the backline and forward line when needed during moments of pressure.
How will they win it?
If the Demons are to cause an upset at Adelaide Oval, they will need to consistently hit short targets, nullifying the Crows opportunities for intercept marks, and then use the energise handball into their run and carry through the middle of the ground.
Who is the key player?
Young star Alyssa Bannan has been an offensive weapon for the Demons all season.
She kicked three in the preliminary final against the Lions last week and could be the game-changer that the Demons need to topple the mighty Crows.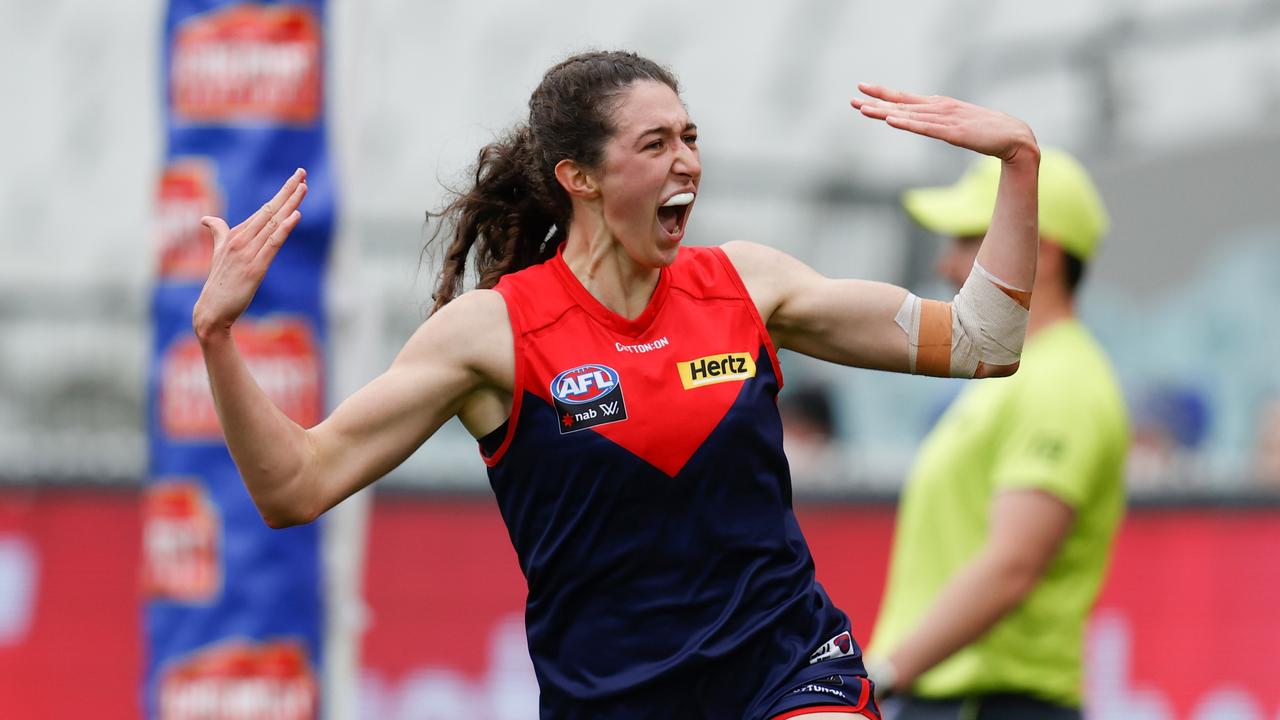 Alyssa Bannan has shone for the Demons in 2022. Picture: Getty Images
DALTON'S TIP
Minor premiers Adelaide handed Melbourne its only loss of the season in round four, but I think Melbourne's ability to score through multiple different players and avenues will be the deciding factor – Demons for the flag.
AFLW's best gets seal of approval with players' gong
— Lauren Wood
Emily Bates' standing as the competition's best player has been further franked with the AFL Players' Association Most Valuable Player award.
Bates capped her league-best-and-fairest-winning week with the players' top award, which is voted upon by all AFL Women's players, to add to the AFLW Coaches' Champion Player Award which was crowned last month.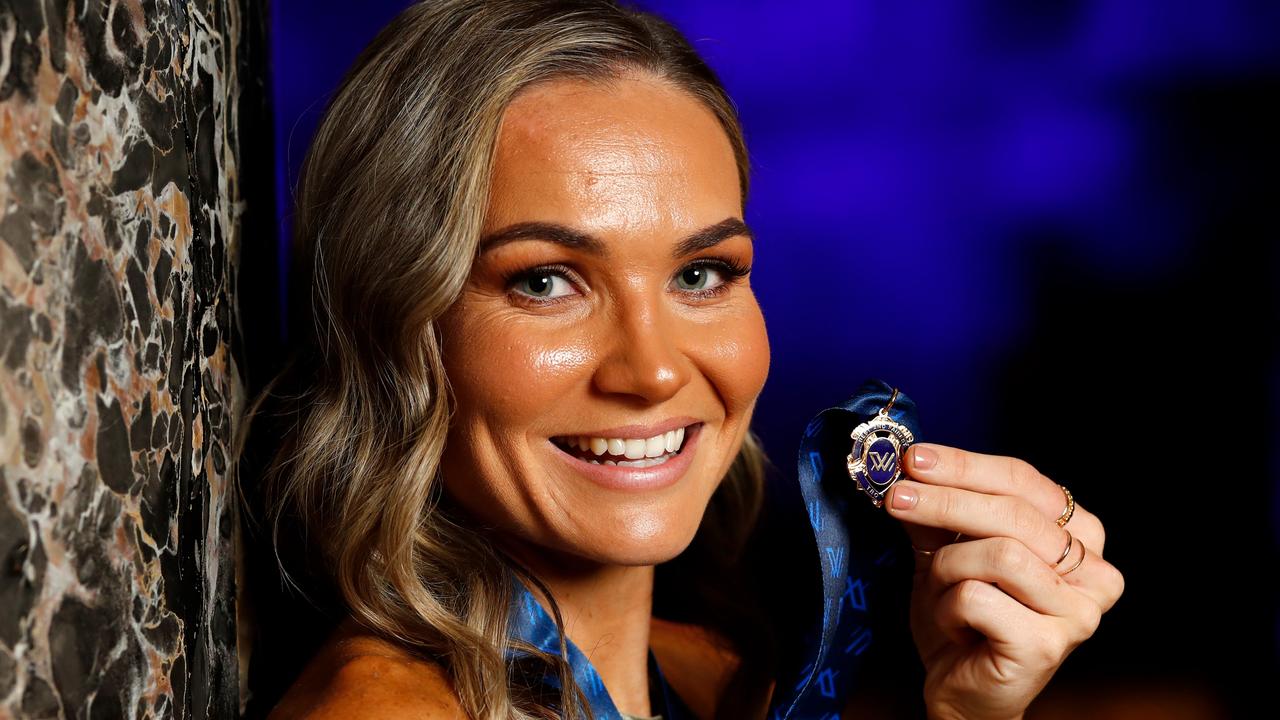 Emily Bates has added the AFLPA MVP award to her league best and fairest. Picture: AFL Photos/Getty Images
The 26-year-old narrowly defeated North Melbourne ballwinner Ash Riddell and Tiger Monique Conti to jag the award.
Her Brisbane Lions coach, Craig Starcevich — fresh from his now-famed W Awards champagne "shoey" to celebrate her victory — said her rise to the top of the competition was a mark of her determination to be at her best.
"She's constantly looking for better ways and she's never got complacent. She's always searching for an edge or looking to improve herself," he said.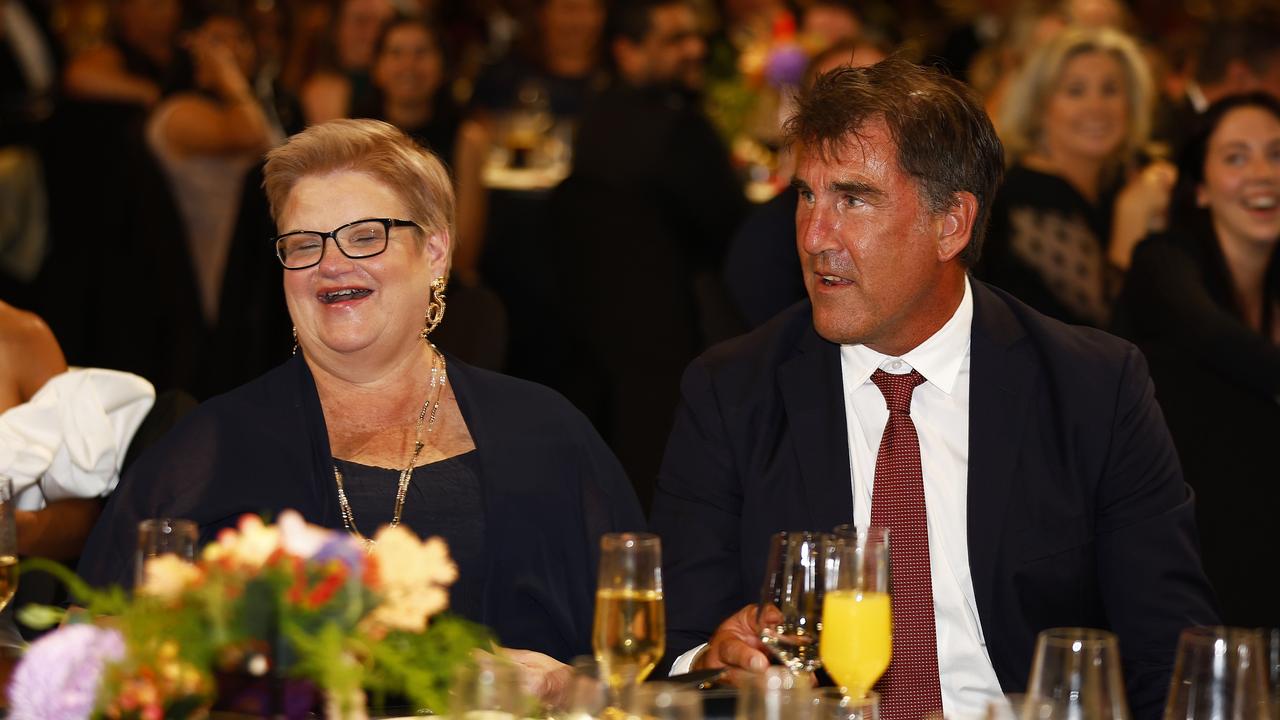 Bates' mum Julie and coach Craig Starcevich following her W Awards victory. Picture: Getty Images
"We're very proud as a footy club because when Emily started in the competition, she was already accomplished, but, perhaps, in the shadows of some of the bigger names and Victorian-based midfielders who were in the competition from the get-go.
"Now that she's in her mid-20s, had five or so pre-seasons, played 53 games – she's now got real status in the comp. I think the awards that she's getting this season are now starting to cement her right at the top, which is fantastic for her."
Demons star Daisy Pearce earned the nod as the AFLPA Best Captain for the fourth time, while tough Bulldog Kirsty Lamb was named the Most Courageous Player.
Gold Coast Suns young gun Charlie Rowbottom was recognised as the league's Best First Year Player.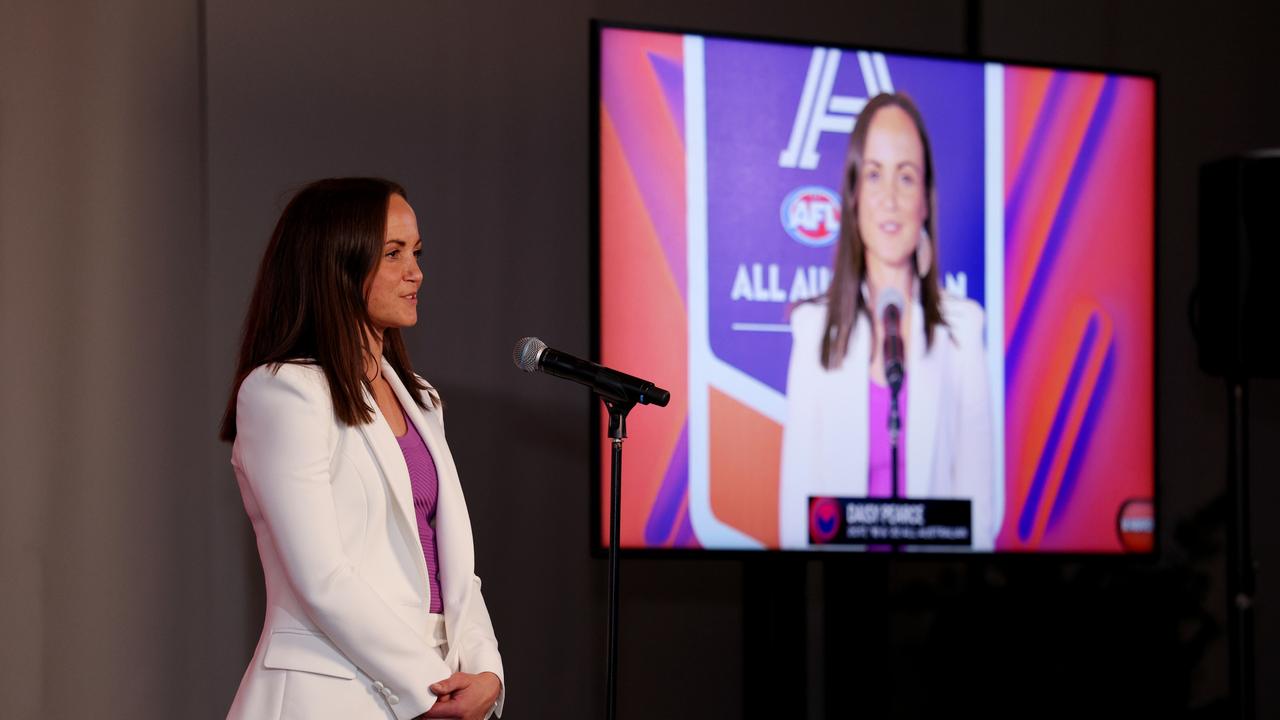 Daisy Pearce has been voted as the AFLW's best captain. Picture: Getty Images
A bleary-eyed Bates completed a full day of media commitments on Wednesday on the back of her league best and fairest medal win, which she had dedicated to her late father Lloyd, who died when Emily was just 15.
On Wednesday, Bates paid tribute to her mother Julie.
"Raising three daughters after dad passed was pretty hard but it's shaped us to be strong, resilient women," Bates said.
"Mum has been a massive inspiration to me and has been my biggest supporter in football.
"It was special to have her there at the awards.
"Obviously, I would have loved my dad to have been there and there's so many milestones along the way I would have loved for him to see.
"I know he would be proud."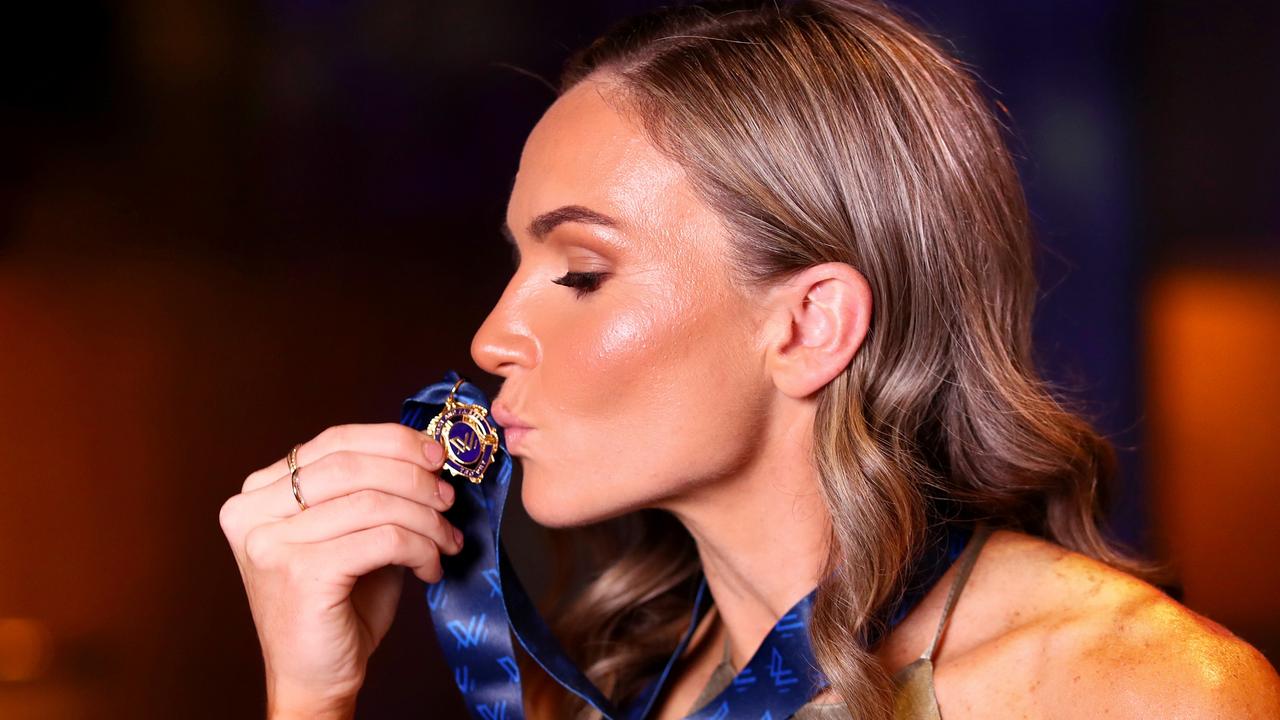 Bates' winning week has rolled on. Getty Images
Bates' stellar season came amid off-field setbacks including enduring a bout of Covid and the recent Queensland floods inundating her home while she played AFLW in Perth.
"It's been the toughest season I've been through, with Covid, other sicknesses, floods, everything," she said.
"It took a bit of resilience to rock up each week and get the job done.
"It's definitely a season to remember.
"I would probably prefer to be in the grand final this weekend but (the best and fairest) is a nice accolade."
AFLPA MVP AWARDS
AFLW Players' MVP
Emily Bates (Bris) – 286 votes
Ashleigh Riddell (NM) – 256
Monique Conti (Rich) – 164
Most Courageous Player
Kirsty Lamb (WB) – 107
Jaimee Lambert (Coll) – 29
Tahlia Randall (NM) – 29
Best Captain
Daisy Pearce (Melb) – 113
Hayley Miller (Frem) – 92
Ellie Blackburn (WB) – 25
Best First Year Player
Charlie Rowbottom (GC) – 118
Georgie Prespakis (Geel) – 88
Eliza West (Melb) – 49
Aussie pop royalty to headline AFLW grand final
—Owen Leonard
Multiple ARIA award winner Jessica Mauboy has been locked in to perform at halftime of the AFLW grand final on Saturday.
Mauboy, who has collaborated with the likes of Snoop Dogg, Pitbull and Flo Rida, has been a prominent R&B singer-songwriter since rising to fame as the runner-up of Australian Idol back in 2006.
She released her first solo album in 2009, with her debut single 'Burn' topping the charts.
The 32-year-old has since released 16 top-20 singles along with six top-10 albums.
Performing at halftime offered the opportunity to show support for women on the AFLW's biggest stage, Mauboy said.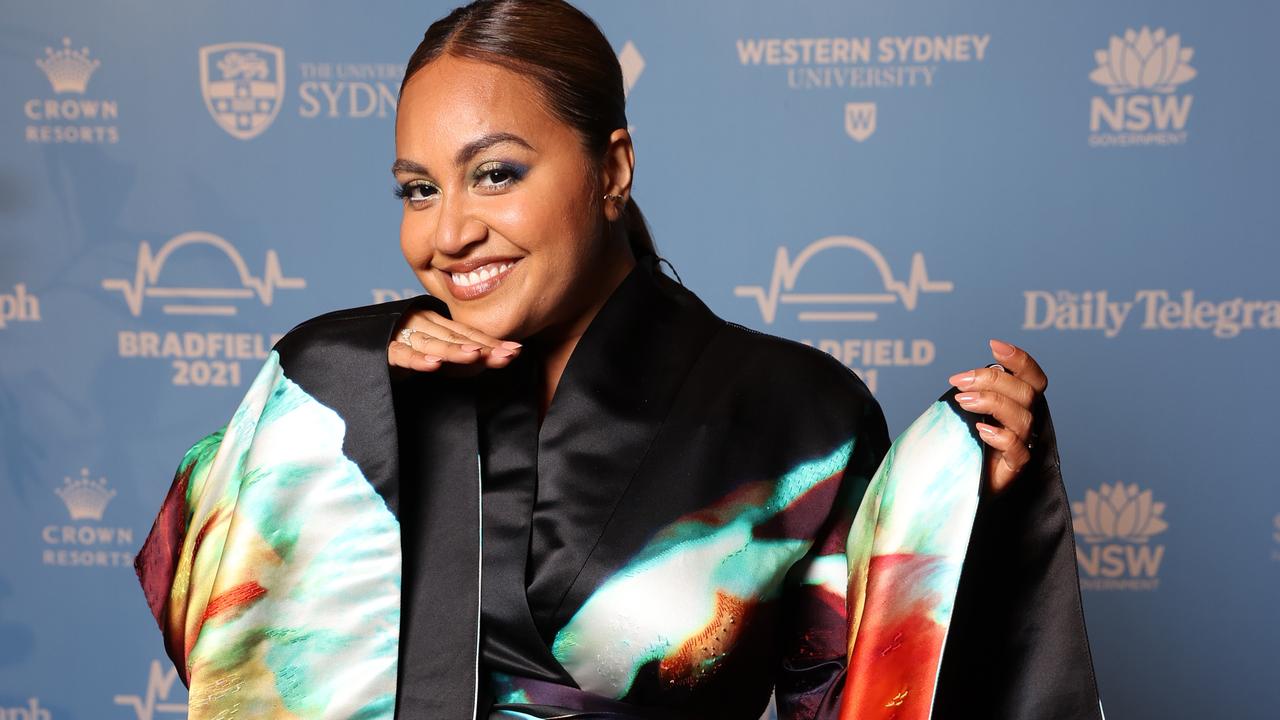 Jess Mauboy will take to Adelaide Oval at half time of the AFLW grand final. Picture: Richard Dobson
"(The AFLW) has grown from strength to strength over the last six years, so I'm proud to show my support for women and be part of the most important day of the AFLW calendar," she said.
"It's an honour to perform."
AFL executive Kylie Rogers said Mauboy was a fitting choice for the halftime show as a role model for women across the country.
"Jess is a wonderful performer and role model for women and girls across the country, so we're delighted to welcome her to be part of the festivities to celebrate another year of elite women's football."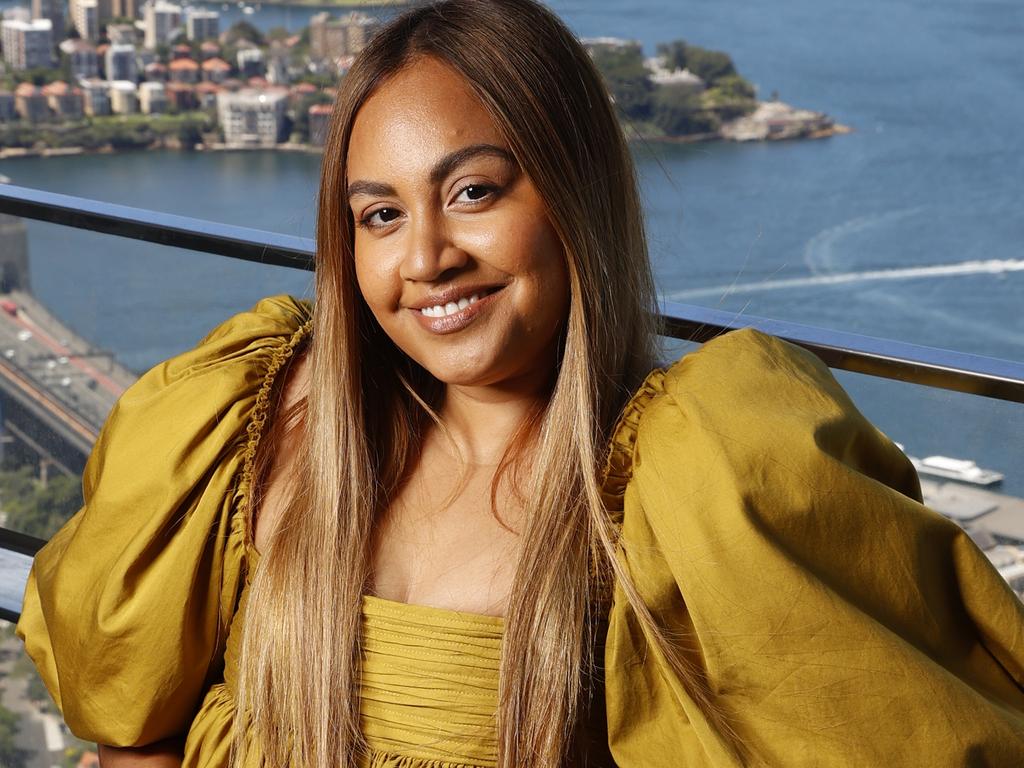 Mauboy will be part of the AFLW grand final festivities. Picture: Jonathan Ng
The league and Adelaide chief executive are hopeful the AFLW grand final will see fans return to live matches in their droves.
Adelaide chief executive Tim Silvers urged all Crows fans this week to turn up.
"It's a big week for our footy club and we want every Crows fan to get along to Adelaide Oval, make some noise and get behind the team," he said.
"We have seen in the past that our fans can make a difference so let's make the most of the home ground advantage."
The game will be a stand-alone clash with the men's round four match between Sydney and North Melbourne moved to later in the afternoon.
Originally published as AFLW grand final teams: Adelaide Crows make three changes as Melbourne Demons go into 2022 decider unchanged