AFLW news: Madison Prespakis on her move from Carlton to Essendon
Madison Prespakis has revealed the emotional toll of committing to leave Carlton to join the club she has always loved — Essendon. Plus, her brutal start to life as a Bomber.
It was last week that Prespakis first donned red and black as she prepares to begin life as a Bomber – a childhood dream coming to life in real time.
A session last week to properly meet new teammates, catch up with new coach Nat Wood, and grow familiar with the surroundings of the club's Tullamarine base wasn't intended to spill blood, but it might just be a sign of how hard the former Blue intends to go at things right from the moment pre-season starts this Monday.
"I put an Essendon training top on for the first time, and that was pretty cool, and came in and did skills," Prespakis said.
"At the end, we did some competitive tackling and I was trying to break through a tackle when (teammate) Jordan Zanchetta picked up the ball and turned right into me.
"We're pretty much the same height … we just headbutted. It's like every other contest I've been a part of, but when I ran off, I felt the blood starting to stream down."
Watch every blockbuster AFL match this weekend Live & Ad-Break Free In-Play on Kayo. New to Kayo? Try 14-Days Free Now >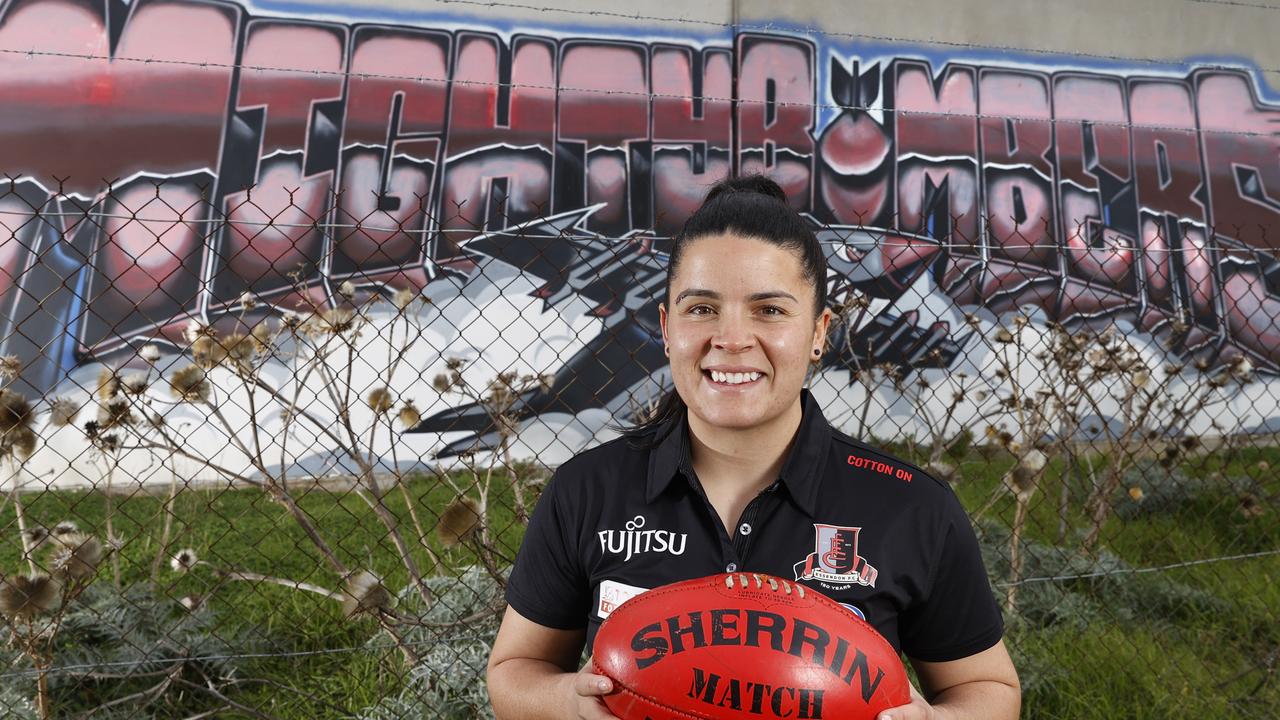 Maddy Prespakis's life as a Bomber begins with stitches in her right eyebrow. Picture: Alex Coppel.
There's six stitches in her right brow, now, with the 21-year-old hoping that any scarring is minimal.
"It's pretty much a warm welcome," she laughed.
"I realised, this is what it's going to be like.
"Mum and Dad just said, you'll never forget your first training day there."
When Prespakis' pre-season — the Bombers' first as an AFLW outfit — kicks off next week, there'll be the stitches in tow.
But the weight of agony she has carried in recent months as she weighed up her playing future is no longer bearing down.
Prespakis, the 2020 AFLW best and fairest winner – who claimed her medal in lockdown at home, no less – had been grappling with what she felt like had been change at Carlton, combined with a sense of languishing in her football as she sat warmly inside her comfort zone.
"I initially turned down the idea of expressing interest with other clubs. I thought I was always going to be a Carlton girl," she told the Herald Sun.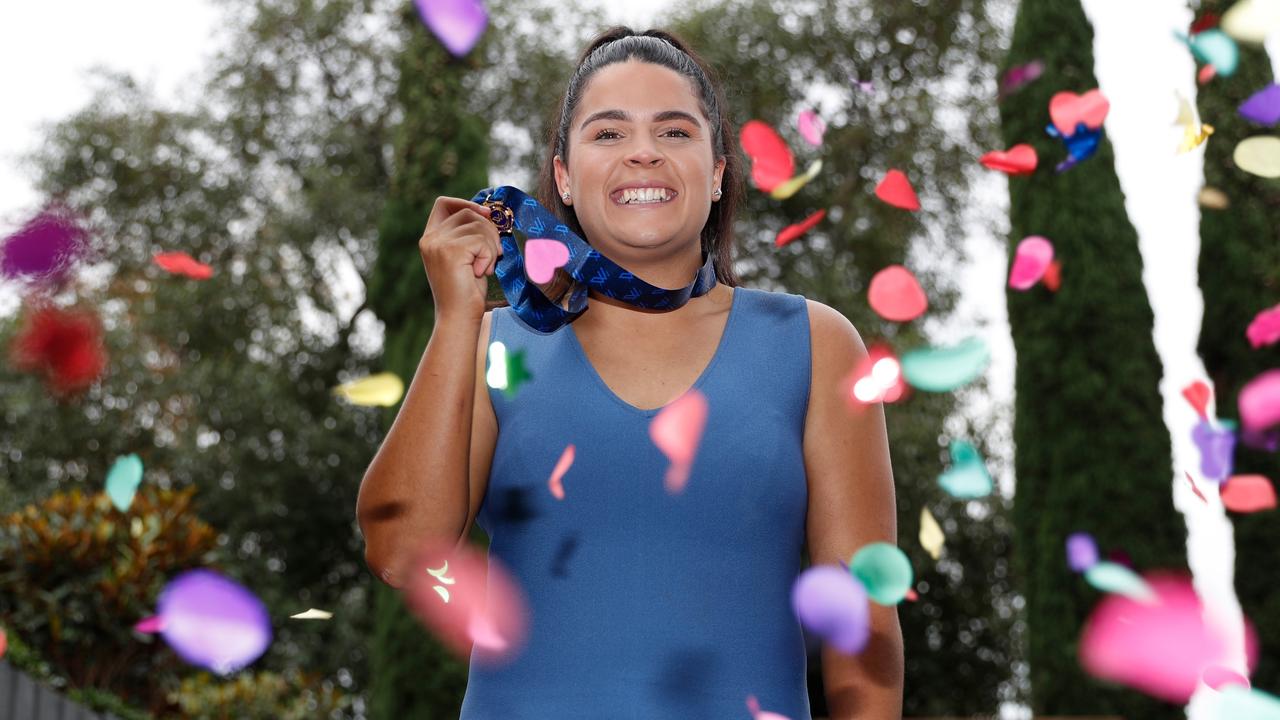 Prespakis won the 2020 league best and fairest medal … in her backyard as Melbourne was in lockdown. Picture: AFL Photos
"But I really haven't been this happy for a while. This is the happy version of Maddy that I haven't felt in the last 12 months."
The aftermath of the league's top gong had taken some navigating, with Prespakis admitting she failed to "prime myself, physically or mentally" for the season that followed as she sought her next step as a player.
Opening up for the first time on the emotional toll of the call, the midfield gun revealed it was a flood of tears and light bulb moment that proved to be the tipping point for her shift to Tullamarine.
"I never want to let people down or hurt people in any way," Prespakis said.
"Having to leave a club was probably the hardest thing I've ever had to do.
"Over the last season or two I probably hadn't performed the way I wanted to, and I probably hit a stagnant point after my 2020 season.
"I didn't really know what was next for me. I was only 19, Covid happened … I just didn't know what to do and I didn't feel like I was improving as a player and person.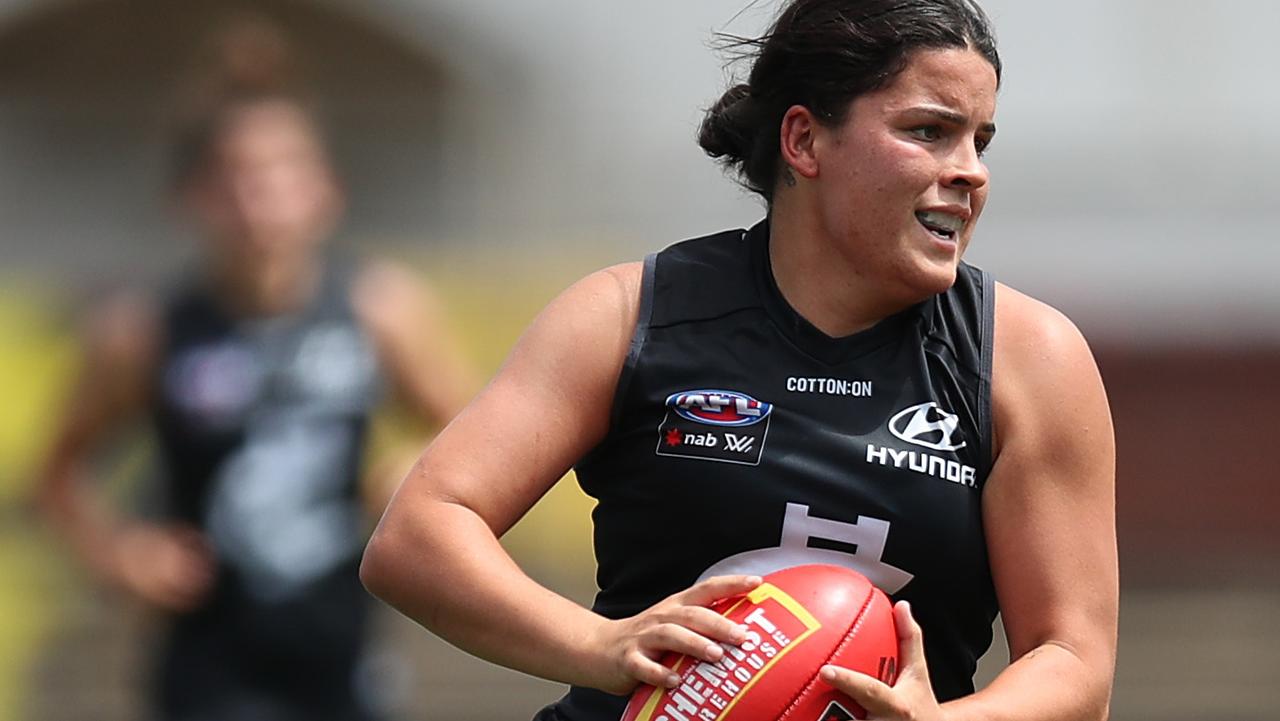 The former Blue maintains her decision was never about money. Picture: Getty Images
"If I was to stay, it would have been because I loved the girls and the club … but when I dug a bit deeper, I needed to put my head down and improve.
"The decision ended up coming down to what was best for myself."
The former Blue and 2019 rising star winner maintains she had still not made any decision as AFLW grand final week unfolded in April, before crunch time came once the Crows had lifted the cup.
"That's when the decisions had to be made, and I was still weighing it up," she said.
"I rang mum and dad and was a little bit emotional and said 'I don't know what to do – I don't want to let people down'.
"I had a coffee with my manager one morning and I just let it all out and gave her the flood of tears. I just said 'I want to do it – I want to be a part of Essendon'.
"Once that was done and I'd actually said it out in the open, I was like 'wow, that's it'."
She rang her now-former teammates. "The majority" were understanding, she said.
"It was a rough time.
"I never saw myself doing it.
"But once the decision was made, it was nice to feel happy."
The lifelong Bombers fan who wore Jobe Watson and Paddy Ryder's numbers on her back as a kid, playing juniors at Romsey, brought her Nan to tears with the news, while her brother Jimmy is ecstatic as a through-and-through Don.
As Essendon celebrates its 150th year this weekend, the club is preparing to write a new chapter in its history with its first AFLW team – and Prespakis, who is determined to leave a legacy in the women's game, is hoping to do the same.
"First, we build our team and put it on the park," she said.
"(The mentality) isn't 'first year, it's a bit of a let-off'. We want to make our mark and be known.
"Then after that a huge goal is a grand final. Individual things are great, but nothing would beat a medal around my neck."
Originally published as AFLW news: Madison Prespakis on her move from Carlton to Essendon