AFLW: The highs and lows of the first five years of national women's league
AFLW arrived with great fanfare and five years on is preparing to feature 18 teams for the first time. We examine the challenges and opportunities which confront the league at its first milestone.
The AFLW marks its fifth anniversary this week after launching in a blaze of glory –
25,000 people packing out Princes Park for the first ever match between Carlton and Collingwood on Friday night, February 3.
But as the competition marks half a decade in existence and the number of women playing the game at grassroots levels has exploded, this year has highlighted a number of key concerns – injuries, pay, season length, the summer conditions, part-time footballers and the coming expansion.
In a special investigation, we look at the big issues.
Darcy Vescio celebrates a goal during the firs AFLW game.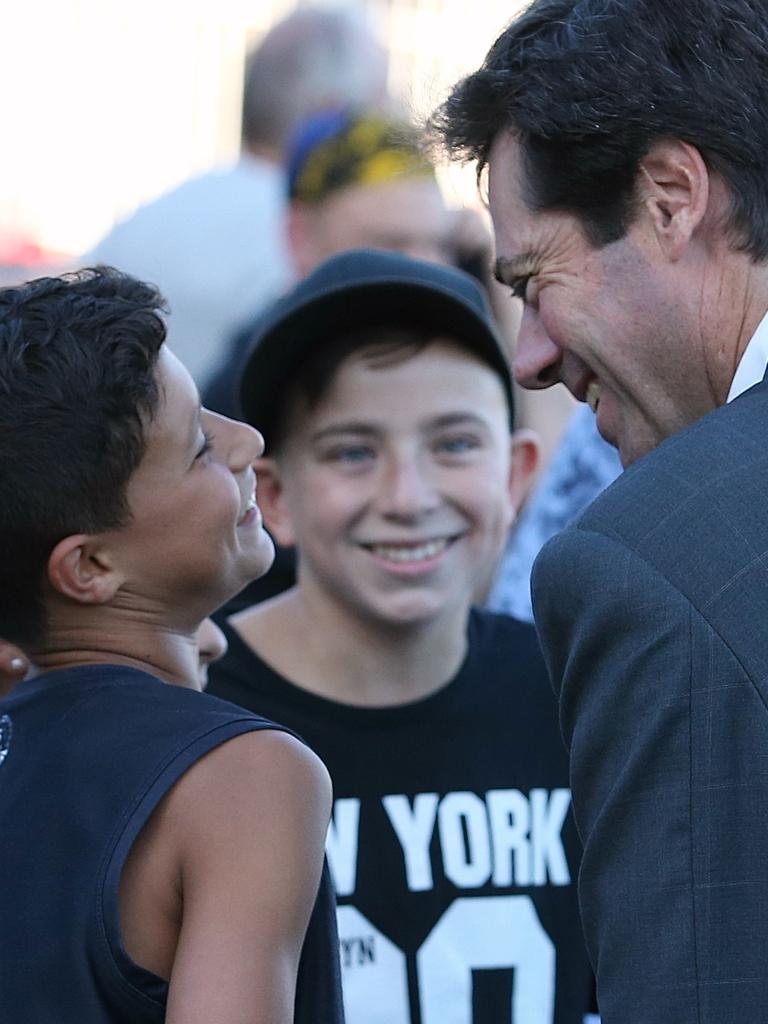 Gillon McLachlan chats to fans at a sellout maiden AFLW match.
THE PAY
AFL Women's players remain part-time.
But women's football pioneer Susan Alberti believes the time is coming to "rattle the cage".
As the team prepares to welcome four new teams – Port Adelaide, Sydney, Essendon and Hawthorn – next season, Alberti says female players will only gain "leverage" in pay negotiations when every AFL club is represented.
She admitted she harbours concerns about the pay gap between male and female players, but encouraged AFLW players to ramp up their push for more pay later this year.
"Start the drum roll now and get it moving and rattle the cage a little bit (later this year)," Alberti said.
"I'm aware that the women are not full time, and we don't have all teams playing yet. Until such time as we've got all that established and in train, it will be then that we've got much more room for negotiation, I believe."
Alberti, who pushed the league for years to introduce a women's competition and is a passionate supporter of women in sport, said that while the league's vision project was one step, it could not be "just all talk".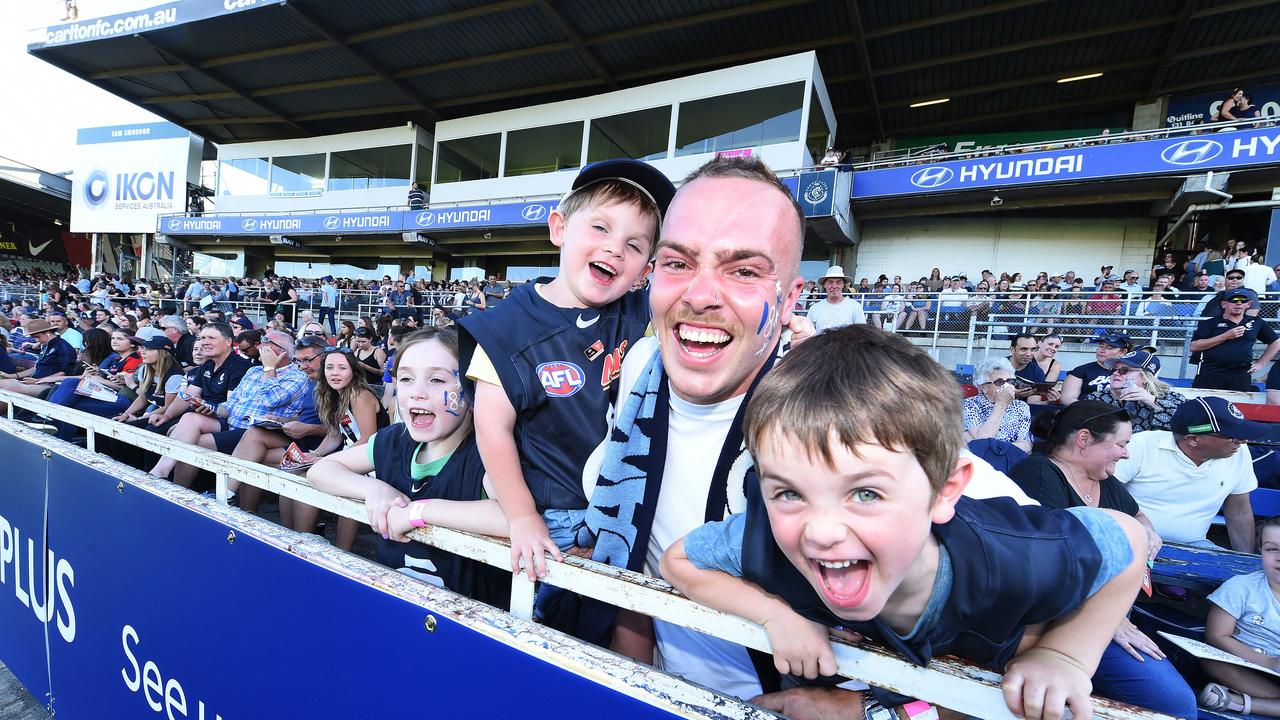 Fans packed Princes Park for the first match of AFLW five years ago.
Female players should be paid enough to be able to make a choice whether they wish to work during the season or not.
"Some of them are taking annual leave to go and play football," the former Western Bulldogs vice-president said.
"We owe it to these women and the women coming through to know that there's a pathway for them, that if they want to be professional footballers, they may be considering (as they weigh up careers, family and sport), 'What's the point?'."
Alberti has been pushing for a separate players' union for the women's league.
The collective bargaining agreement between the league and players is set to expire on October 31, coinciding with the expiry of the current broadcast deal and men's CBA.
Melbourne player Libby Birch has led calls for a joint CBA.
Under the current deal, Tier 1 players this season earn $37,155, up from $24,600 in 2019.
Tier 4 players take home $20,239, up from $13,400 three seasons ago.
The top two paid players at each club are excluded from any calculations for additional services agreements, meaning some players could earn well over $100,000 without it being included in a club's figures.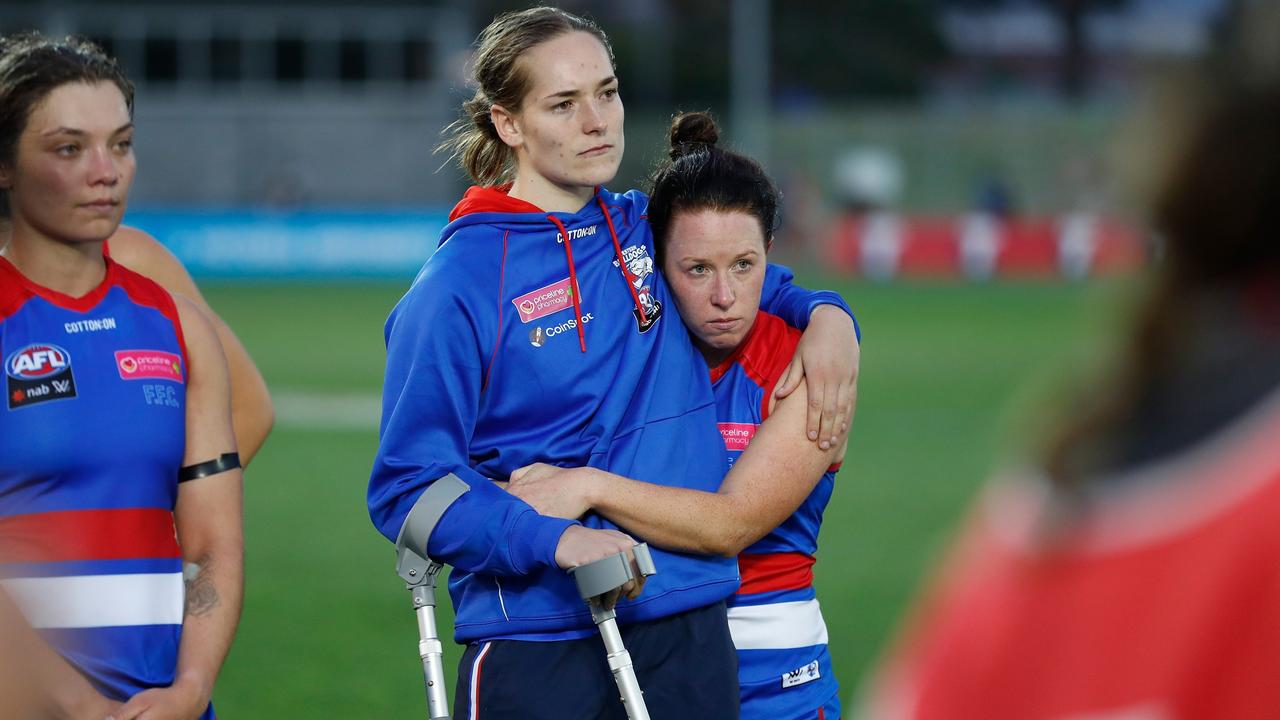 Isabel Hutington is consoled after suffering an ACL injury.
THE INJURIES
Seven AFLW players have suffered season-ending ACL tears in the opening five rounds of the competition.
Another two players – Crow Angela Foley and exciting Saint Tyanna Smith – won't play a game this season after suffering the same injury during the pre-season.
It's science, some experts suggest. For others, physiology. For others, bad luck. Hardness of grounds has also been considered as a potential factor, with the current fixture locked in for the hottest part of the summer.
The menstrual cycle and hormonal changes in the female body – including laxity of ligaments – has been floated, but leading sports medico Dr Peter Brukner told News Corp last month that "no one has ever been able to pin that down".
League best and fairest winner and great of the game Erin Phillips has done two ACLs, her second in the 2019 AFLW grand final in front of a packed Adelaide Oval.
Her belief is that full-time football will produce full-time fitness.
"I do feel very confident that, if girls were given the opportunity to play year-round and put the time and effort and money and practice into their body just being purely paid as an athlete, you've got to believe that there's going to be less injuries," she told The W Podcast recently.
A serious side-effect of these season-ending injuries is the toll it takes on player's jobs. Many are teachers, carpenters, exercise physiologists and university students.
Taking time off is not always an easy option.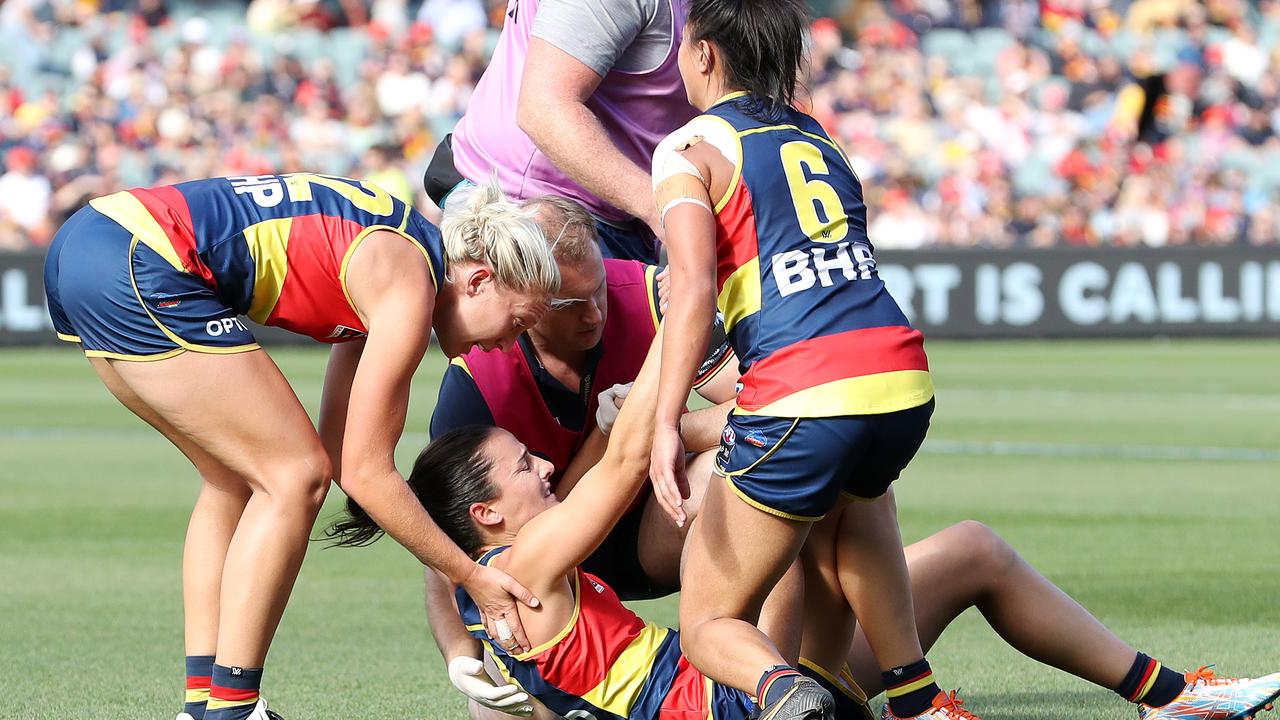 Angela Foley is helped by teammates after injuring her knee.
THE VIRUS
The "Covid effect" has ravaged this AFLW season.
Games moved, others cancelled and players returning still battling the physical effects of the disease.
Melbourne skipper Daisy Pearce lamented on the eve of this year's competition that fairness could be hard to find this season – and she was right.
Carlton, the Western Bulldogs, Brisbane, St Kilda and Greater Western Sydney have been the hardest hit, both directly by Covid cases that have ripped through teams at a rate of knots and by fixture reshuffles that have changed opponents at the drop of a hat and now leaves the league having to squeeze extra games into the calendar late in the season.
Others, however, remain unscathed with lengthy breaks and no games to jam in.
"Integrity?," one leading club official cried recently.
"What integrity? It doesn't exist."
One star player was released from isolation after battling Covid on the eve of the season and turned out a blistering showing just days later, while other teams – many battling personnel issues, even with top-ups – are having to push players to their limits on the back of the virus just to see out games.
It's brutal, but it's the new world, and a sign of things to come for the men's competition in 2022 as the competition grapples with just how to manage the wild Omicron variant – and who knows what else is to come.
Kerryn Harrington has raised issues about the workload on AFLW players.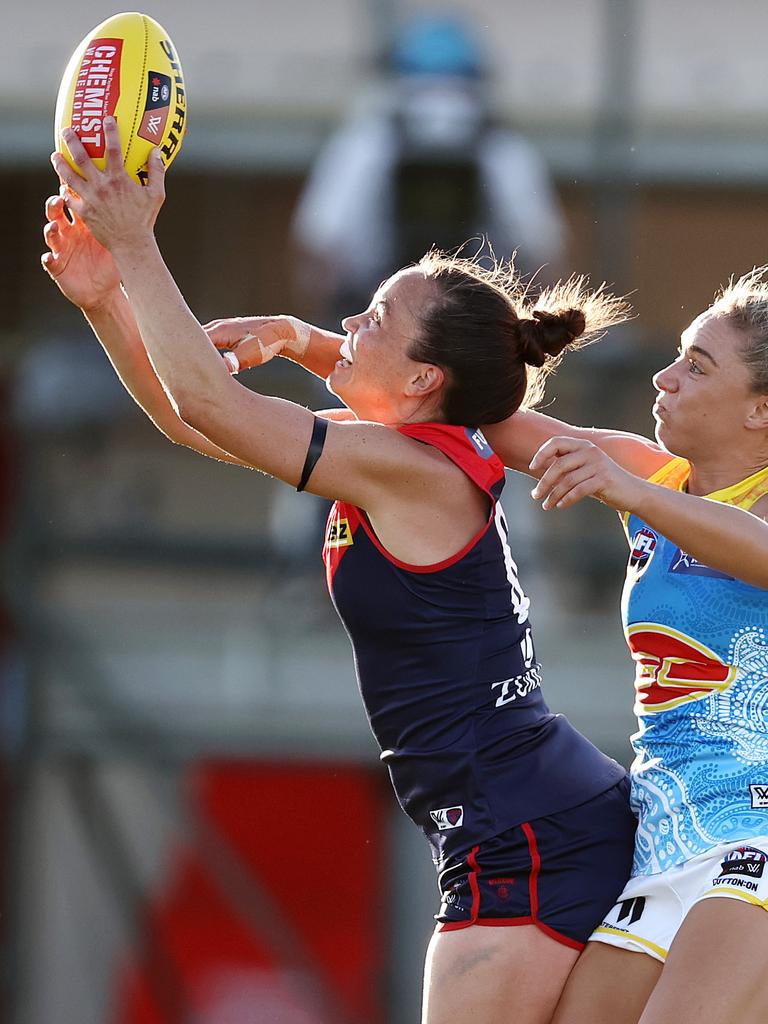 Demons star Daisy Pearce rises for a mark.
THE STRAIN
Players are nearing "tipping point" and club staff are tired.
Blues skipper Kerryn Harrington recently voiced her concerns at the load being managed – just – by players and Giants star and Olympian Chloe Dalton's recent column in the Herald Sun lifted the lid on the perils of the "juggle".
"Players are squeezed to the absolute max at the moment," Harrington said in an SEN interview.
Many are concerned that a ball will be dropped – and soon.
A longer pre-season and pushing the AFLW season back, with most players and staff working well beyond their contracted hours.
Many split their time between the men's and women's program, and even though the women's season is shorter, the dedication of club staff is no less despite being clocked on since the men's season.
A number of players told the Herald Sun they were often forced to reschedule gym sessions or recovery plans during the AFLW season to accommodate the men's program.
One administrator recently estimated they had had a total of three weeks off since 2019.
Further to that, many go beyond their job description.
The league provides a subsidy for AFL clubs to have 50 people travel for interstate games. For AFLW teams, it's only 35.
That means less doing just as much on match days – and they can't be everywhere.
If you choose to take the full 50 on the road, it's a hit to the soft cap.
"Even if clubs are wanting to invest in women's football and wanting to invest in the players, they essentially get punished for it, at the end of the day," a club insider said.
New Sydney coach Scott Gowans said this week he had taken on three extra coaching jobs outside of his AFLW assistant role at Collingwood, with "the average assistant (wage) in AFLW around the $6000 mark", as opposed to around $150,000 for the equivalent role in a men's program.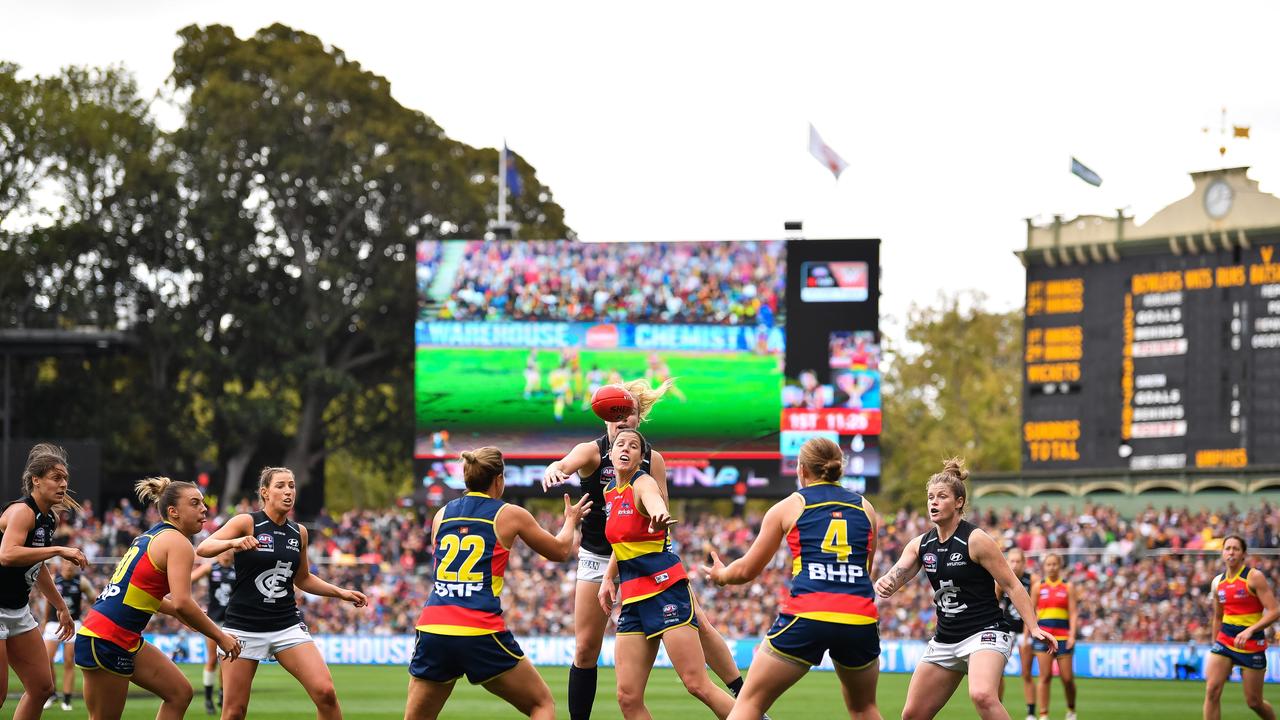 A bumper crowd packed Adelaide Oval for the 2019 decider between Adelaide and Carlton.
THE MONEY
Chartered planes, teams in city hotel hubs and added protocols mean Covid is no cheap exercise for the AFL.
After two years of the pandemic, it knows that.
And with a determination to award a premier, the costs add up.
One estimation put to News Corp this week suggested that the Covid crisis that has engulfed the competition is costing the league more than half a million dollars a week.
That's private planes – now for more teams to and from Perth with Fremantle and West Coast back on home soil – regular PCR testing and rapid antigen tests, all of which are provided out of the league's pocket.
Plus the actual games.
Dockers and Eagles players were also compensated with at least $250 per day – plus a meal allowance – per player for the almost four weeks they spent in Victoria amid ongoing border dramas, plus their Melbourne hotels, putting the month-long jaunt in the hundreds of thousands of dollars.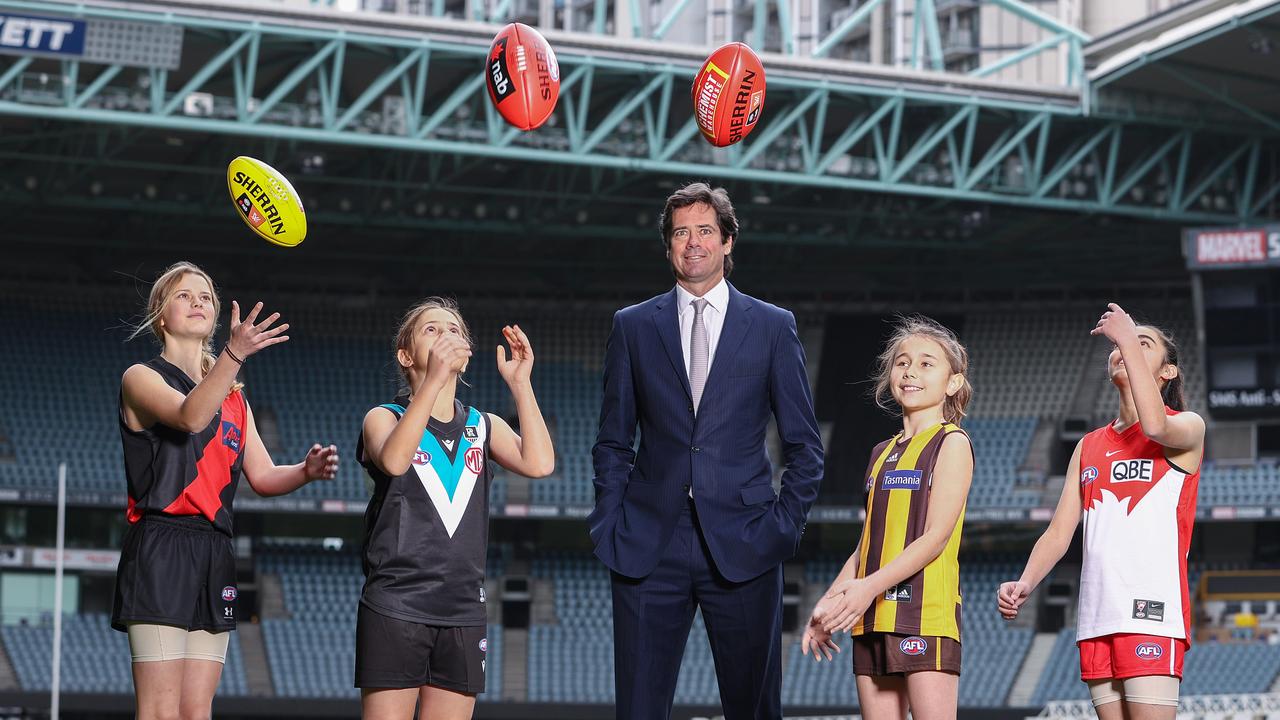 Four new teams will enter the AFLW from 2023 – Essendon, Port Adelaide, Hawthorn and Sydney.
THE EXPANSION
Four new teams next year.
That means about 120 new players — plus more to cover retirements at existing clubs — entering AFL clubs and the AFLW competition.
The NAB League Girls competition has been smashed by Covid in recent years, with no premiership in 2020 due to the effects of the pandemic and a limited season in 2021.
The concern for clubs is not only that star players on short contracts might be pillaged.
Phillips is one name who has already been thrown up as a target for Port Adelaide, given her long family connection to the Power with father Greg an eight-time premiership player.
Another concern is how prepared draftees will be when they enter a high-performance environment for the first time, some thrown into the top level earlier than would be ideal due to personnel challenges or, in the current environment, Covid.
"It's a bloody great competition to be a part of. It's a community," a club administrator told the Herald Sun.
"The girls and the staff just muck in. But it's tough going. You could understand why, if things don't change, some would say 'this is just too hard'."
HURT AFLW PLAYERS 'LIVING ON THE EDGE'
AFL Women's players are "living on the edge" as they tackle the far-reaching effects of sustaining a long-term injury.
Tigers women's football boss Kate Sheahan said that players – who are part-time – are not only dealing with the physical injury itself, but the flow-on effects to employment, study and family in addition to short-term football contracts.
But Richmond has affirmed its commitment to supporting its players who are injured with 12 months of support whether they remain contracted to the team or not.
Richmond – which is battling personnel issues after a torrid run of impact and unique injuries to its players over recent months – fell short of the Bulldogs on Sunday and was left licking its wounds after Laura McLelland (ankle) and Hannah Burchell (knee) were felled with injuries.
The game was stopped for five minutes for Burchell – who works as a paramedic – to be taken from the field.
Richmond's Hannah Burchell grabs her left knee after injuring it in a tackle. Picture: Michael Klein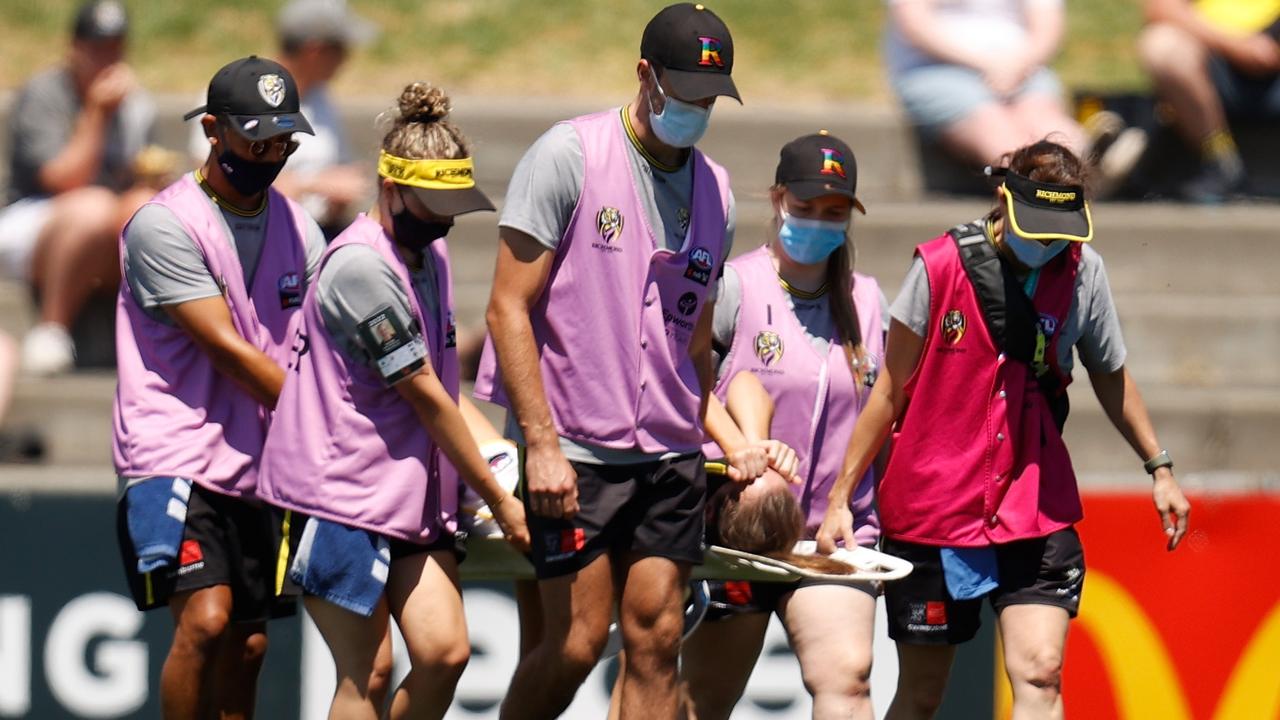 Hannah Burchell is awaiting scans after being carried from the ground on Sunday. Picture: Getty Images
Both players had scans on Monday with the club still awaiting results.
ACL injuries have again been at the forefront of the women's competition with the likes of Magpies skipper Brianna Davey and Bulldogs star Isabel Huntington among those felled, but syndesmosis injuries and broken bones have also occurred in recent weeks, spelling the end of the season for some players.
"There's a level of anxiety around injuries within the season because the season in the players' minds is so short," Sheahan said.
"They feel like if they get injured, whether it's minor or major, they don't feel like there's a lot of stability.
"The amount of work that goes into a player's week-to-week schedule, managing training, managing a job, plus the Covid situation, means that players have had to be incredibly flexible with when they play, train … it's almost like you are literally living on the edge, always.
"'Have I had enough sleep after work? To recover from a game where I've played in 35-degree heat, two players down without rotations?'. It's tough for them."
Tigers vice-captain Harriet Cordner – who works as a teacher – ruptured her ACL last month and has received overwhelming support from her employer in the wake of the injury, with her mobility issues accommodated by her school.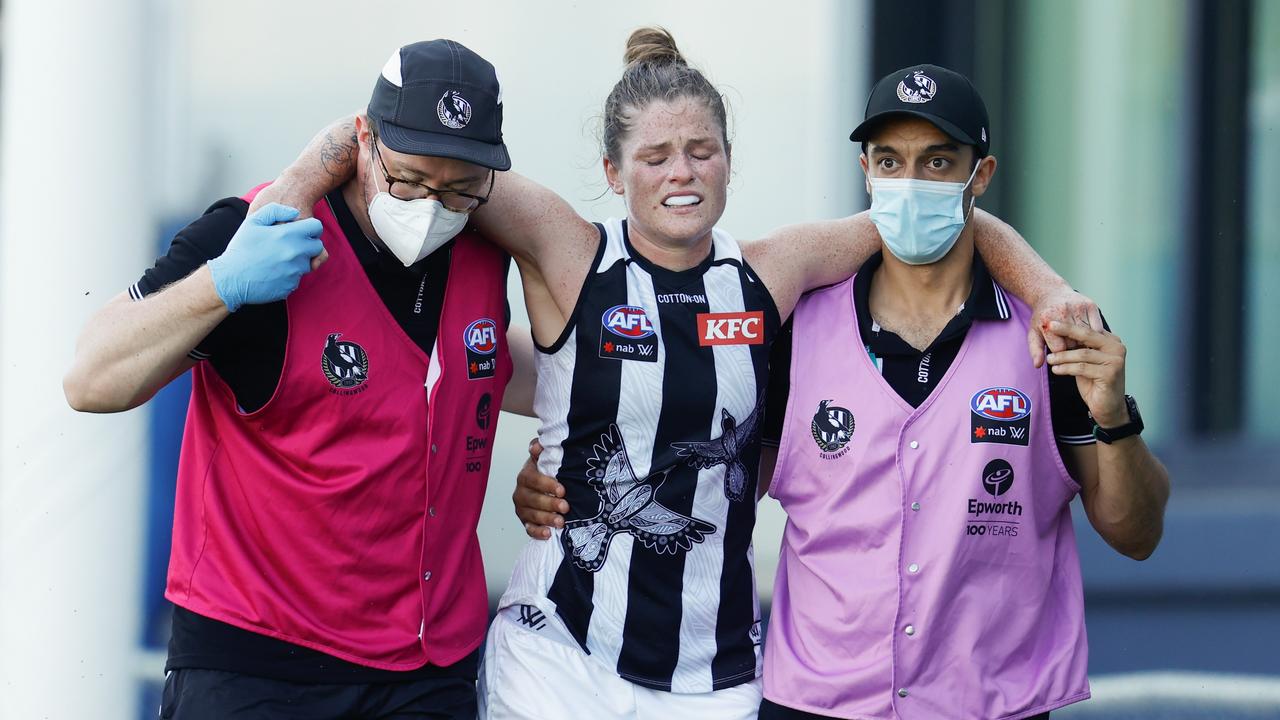 Collingwood skipper Bri Davey suffered her second ACL tear earlier this season. Picture: Getty Images
Sheahan said the club would continue to look after all players that are injured in the AFLW program.
"Our staff don't just see them through the AFLW season and then handball them to someone else. They will get everything that they need to recover, to not only go back to work, but to get to the point where they can play sport again.,"she said.
"Our players have access to our club psychologist, our strength and conditioning staff, our rehab physios, our dietitian, our players development manager 12 months a year. They are there to support our players the entire time, even though their contracts aren't 12 months of the year.
"They will not want for anything."
AFLW TEAMS
Tuesday, February 8
ST KILDA V WEST COAST
Trevor Barker Beach Oval, 5.10pm
Saints
B: Lucas-Rodd, Ott
HB: Jakobsson, Van Dyk, Priest
C: McDonald, White, Phillips
HF: Guttridge, Shierlaw, Matin
F: Shannon, Greiser
Foll: Cutting, Dillon, Richards
Inter: Meyer, Xenos, Vogt, Watt, Friend
Em: Saulitis, Burke
In: Matin, Greiser, Friend
Out: Vesely (Rested), Burke (Omitted), Burke (Omitted)
Eagles
B: Gooch, Ward
HB: Thomas, McDonald, Smith
C: Kelly, Swanson, Bowen
HF: Gibson, Gilmore, Schmidt
F: Laurie, Davison
Foll: Lakay, Lewis, Hooker
Inter: Collier, Atkins, Bullas, Hill, Kelly
Em: Bennett, Rowley
In: Gooch, Ward, Gibson, Davison
Out: Bresland (Omitted), Caulfield (Omitted), Guard (Omitted), McCarthy (Injured)