AFLW player Deni Varnhagen announces she's pregnant with partner Jarrad Duthie
AFLW player Deni Varnhagen, who joined a legal fight against SA's Covid vaccine mandate, has announced she's pregnant, expecting her first child with partner Jarrad Duthie in October.
AFLW player Deni Varnhagen has announced that she's pregnant, expecting her first child with partner Jarrad Duthie in October.
The 29-year-old, who made headlines late last year when she joined a legal challenge against SA's Covid-19 vaccine mandate, said planning a family has played a role in her crusade.
"Wanting to start a family was really important to Jarrad and I and it played a huge role in why I made the difficult decision to step away from footy and nursing last year due to the mandates," she said told the Sunday Mail.
Varnhagen took to Instagram yesterday morning to announce the news by posting a photo of herself and Duthie with the caption "A little bit of me + a little bit of you. We can't wait to meet you in October little babe".
The Adelaide Football Club were quick to follow up the announcement with a statement of their own saying Varnhagen would be put on the inactive list for the upcoming AFLW season.
"We are thrilled for Deni and Jarrad and it's obviously a very exciting time for them," Crows Women's Head of Football Phil Harper said.
"Deni was a member of our inaugural squad, a two-time premiership player and she's contributed greatly to our women's football journey, and we look forward to seeing her enter this new phase in her life.
"She is hopeful of circumstances allowing her to one day return to play at the elite level and Deni remains part of the Crows family."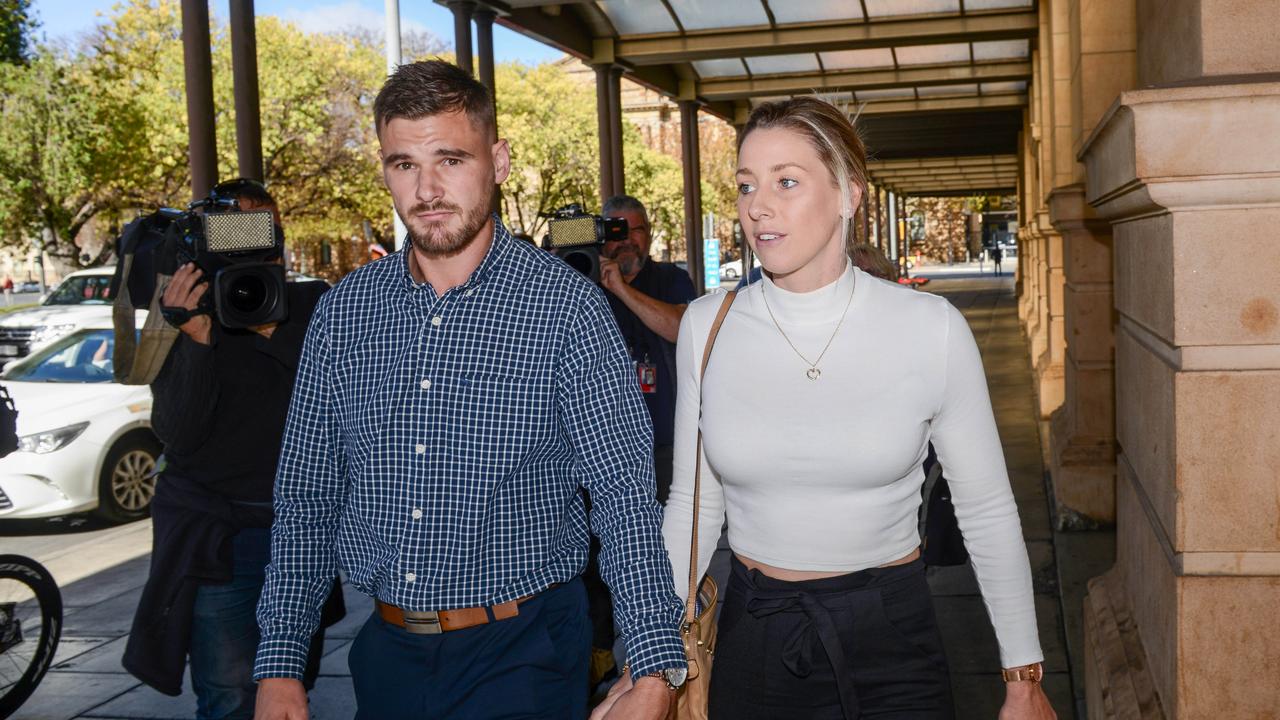 Nurse and AFLW player Deni Varnhagen leaves the District Court with her partner Jarrad Duthie, May 2022. Picture: Brenton Edwards
Varnhagen spent the most recent AFLW season on the inactive list. Picture: Supplied
Varnhagen at training, October 2021. Picture Dean Martin
Varnhagen spent the most recent season, in which the Crows claimed the premiership by defeating Melbourne in the Grand Final, on the inactive list after not meeting the requirements of the League's Covid-19 vaccination policy.
Varnhagen, who has also been absent from her day job as a nurse with SA Health, has hit headlines over recent months thanks to her vaccine mandate challenge hitting the courts.
Just weeks ago it was reported that changes to the state's Covid-19 laws may render the footballer mandate challenge "moot" and expose her to a hefty legal bill.
Originally published as AFLW player Deni Varnhagen announces she's pregnant with partner Jarrad Duthie