'Elite will be the new norm': The AFLW pathways breakthrough that will redefine the game
The AFLW's future has been a constant talking point all season, but the game's next generation are already on their way with skills that will make what is currently 'elite', tomorrow's new norm, writes SHANNON GILL.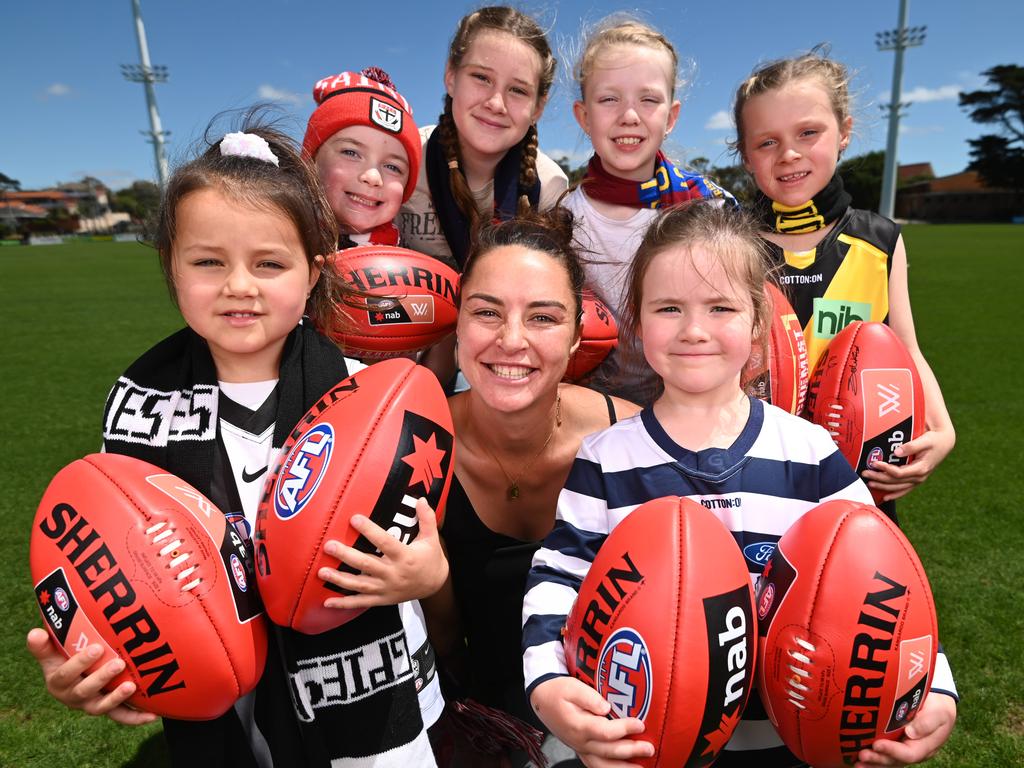 The AFL is starting to see the result of pouring more resources into developmental pathways for girls. Picture: Tony Gough
The eureka moment came a few years ago at Metricon Stadium.
Kids from all over country Queensland had found their way to the Glitter Strip.
And for Fiona Sessarago, the Gold Coast Suns head of women's football, she found more than 17 years spent working in pathways with AFL Queensland coming to the fore.
Because right there in front of her, played out in real time, were the fruits of giving young girls the same level of coaching as their male counterparts.
"We had the under 13, under 15 and under 18 girls state championships all playing on Metricon Stadium, and the under 15 game was the most exciting to watch," she recalls.
The younger girls playing in that under 13 grand final had played football uninterrupted and with structured coaching from their first kick of a Sherrin. For Sessarago, it fundamentally changed what she watched.
"It was a more tactical game; the younger girls were really clever with what they did with the ball, and it was more advanced than the older kids. I walked away so enthused about what these girls would be like with another three years of coaching."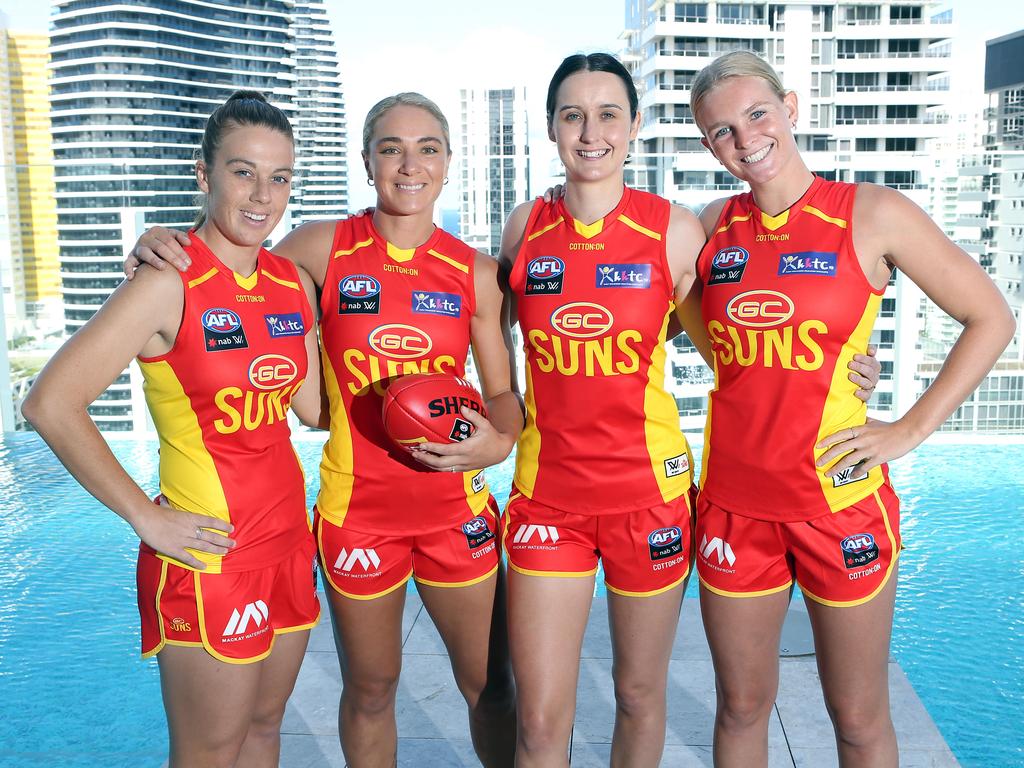 The Suns AFLW leadership group: Jamie Stanton, captain Hannah Dunn, vice-captain Bess Keaney and Serene Watson, pictured at the season launch. Player development has come in leaps and bounds on the Glitter Strip. Picture: Richard Gosling/Getty Images
*****
Not a week has passed of this 2022 AFLW season without critical debate about its future. Lack of scoring, injuries, part time players risking their livelihood, the suitability of summer, the gap between the best and the rest and whether the talent depth is enough to handle the next expansion have spawned their fair share of headlines.
While some of these are valid and in need of urgent redress (and some seem more confected), those closely involved in the game have a more optimistic view of the future.
Their excitement is based on the talent bubbling beneath, as players now entering AFLW are the first generation of girls that have had an obstacle-free path to a football career.
Collingwood premiership-winner and coach of the Eastern Ranges NAB League girls' and boys' squads Travis Cloke is also a believer.
"The 19-year-old girls coming through the system are really good, but now I've seen the 14 to 17-year-old girls that are coming next, and wow. They can run, play at different game speeds, change lanes and kick inside 45 – it will change the game."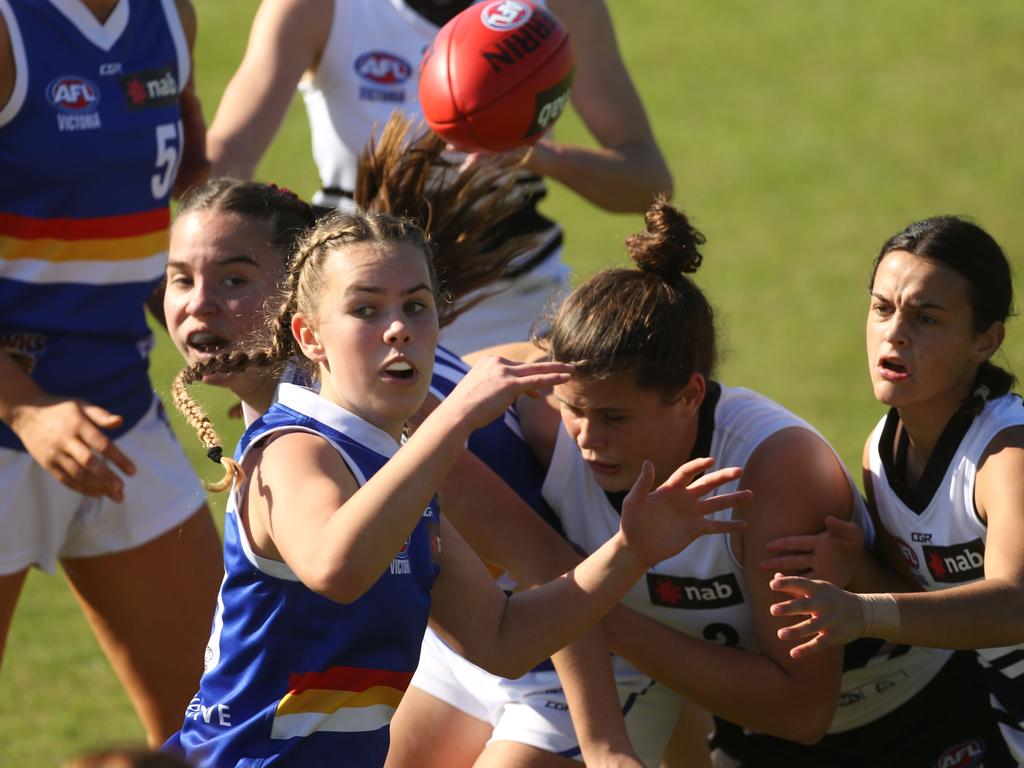 Tarni Brown for the Eastern Ranges in last year's NAB League Girls semi-final. Picture: Stuart Milligan
*****
Like Sessarago, Jess Smith is one of the quiet achievers of footy, riding the bumps long before women's footy was seen as a viable career path. It was at La Trobe University in Melbourne where she started a women's footy section to the university club, then worked her way through voluntary and full-time administration. Today her role as national female talent manager consists of building the pathway for all future AFLW players.
"Clearly that first generation of AFLW stars didn't have access to a structured pathway," Smith says. "A lot of that generation played as children but often stopped by their teens and then found their way back into playing in senior community football footy, almost by accident. Now young girls have a seamless path."
A pathway is only as good as the pool of players it must call upon, and the AFLW's impact over the past five years has grown that pool beyond any optimistic projections.
In 2010 there were just 205 national community girls and women's teams that provided the basis of players for AFLW's inaugural 2017 season.
The effect from there has been staggering – by the time AFLW launched in 2017 there were 1690 teams and after two years of competition there were 2500 teams. Conservatively there may have been a pool of just 4000 players hitting adult age for the first seasons of AFLW, but soon that pool will be more than 50,000 playing structured women's and girls' footy with AFLW as a northern star.
"It's really natural for girls to now say they want to play AFLW and now some of the best athletes around have footy as their number one choice", says Smith, with the constant breaking of speed, endurance and jumping records at the national combines providing the numerical evidence.
The five-year effect is also significant because those players who are entering AFLW in 2022 via the draft were in their early teens in 2017, typically the age where girls would drift away from footy through lack of teams and encouragement.
These days not only is there a stack of women's teams for a young girl to join in her teenage years, but the community leagues now place an importance on female football that means junior representative games are afforded the same prestige as boys, whereas previously they were ad hoc at best.
It's then at an under 15 level that development squads and, in a Victorian context, the NAB League pathway kicks in. While this differs to a degree state by state, it's here that the greatest development has occurred in recent years.
The NAB League for boys (formerly known as the TAC under 18s) was replicated with a girls' competition in 2017. Initially the girls played a five-game season, but in 2022 that has steadily grown to ten games and game time has increased to 20 minutes per quarter.
All 13 NAB League boys' teams now have a girls' team as well, but it was just before Covid that the coaching panels at these clubs came together across boys and girls programs to provide the same level of coaching. It's here that the system has turbo charged player development.
An elite young player in Victoria who may be identified by their regional development team typically spends three years in that system before hitting draft age. Over those three years there will be six months of elite training a year (November-April) with full-time and part-time coaches shared by the boys and girls.
Cloke, as coach of the boys and girls Eastern Ranges squads, tries to treat them equally as the system continues to show the strides made.
"I run the exact same training session for the boys and girls," he says. "And I set the same standards as a coach, because they now have the footy education to cope with it. Stoppage work, connection inside 50, rebound 50s, it's all the same."
A NAB League Girls match from February. Resources have improved in recent years, allowing budding players to get a more elite experience while training and playing. Picture: Cameron Grimes/AFL Photos
The maturity level of teenage girls compared to the boys also allows Cloke to introduce what may have been previously thought too advanced.
"One thing I've found is the girls process things quicker than the boys when you're coaching them. It doesn't mean they can execute like the boys yet, but they understand why we're doing something and how it relates to a game situation more quickly, which is really exciting for coaches."
Three nights of training per week, at an average of two hours per session, means that across those three years there are approximately 450 elite coaching and training hours received in the NAB League system today. This doesn't consider the development gained by the best of the best, who step out and play in the bulked up NAB League girls season.
Post-2017 the resources have finally matched the passion of women's football administrators, and budding stars are now getting a vastly increased and sophisticated experience.
*****
While this newly minted system in Victoria is ahead of some other states, Sessarago says the system in Queensland is thriving too.
"AFL Queensland was the first state to appoint a development officer focused on women's football," she says.
"By the time we were properly setting up the boys' pathways and academies, girls' footy had already become a Queensland priority. And now you're seeing that model being used around Australia."
The evidence lies in the last three drafts, where 12 players have been drafted to the Suns from the local Bond University women's program, and in all 35 Queenslanders have been drafted by the Suns or Lions in the last three years, an overwhelming endorsement of the talent pathway and the academy system.
But when it comes to drafts and talent pathways, it's the Suns' number one pick of 2021 straight out of the NAB league, Charlie Rowbottom, that is the greatest glimpse of what the new sophistication will bring.
Charlie Rowbottom is an example of what a sophisticated pathway can produce. Picture: Quinn Rooney/Getty Images
"Charlie is a true footballer," Sessarago says. "She's come through the new pathway in Victoria, she's had the opportunity to be part of the NAB League and the national academies, and she's been ready to play since day one. Her skills and football IQ are among our best and she's only played a handful of AFLW games".
Rowbottom is the younger sister of Sydney Swans midfielder James, and one of the first examples of a player that has grown up with AFLW being a natural choice (she was 13 when the league commenced).
She earned a rising star nomination in her second outing and is the poster child for those 450 hours of footy finishing school – or a pathway similar to that enjoyed by boys for decades.
"We now have players coming in that have been playing since they were eight years old with structured competition and then elite coaching," Sessarago says.
"Kicking, handballing, marking and ground balls are the basics, but they are at a different level than those that came before who didn't benefit from that continuity."
Cloke says that what is termed elite in the AFLW game will soon be the norm for the next generation.
"When I watch AFLW I see those game IQ characteristics in the best players, but I'm now seeing that knowledge and understanding in most of the girls that are training in my NAB league squad.
"The same is likely happening across Australia because we've really got serious about this pathway."
*****
Debate has raged about how further AFLW expansion will dilute the talent pool, but Cloke is confident that the talent exists to more than fill the void.
"I'm not in that boat that expansion is going to harm the game," he says.
"The girls that are going to get drafted later this year from the pathway are worthy of playing AFLW football right now, so player supply is increasing rapidly."
While there is confidence the talent pool will cope with expansion, the challenge may be more on how to distribute that talent. Administrators have the levers to address the parity issue through the draft, so bigger draft concessions for the lowly and expansion teams must be tempting given the rivers of gold sitting in the pathway.
As for the game itself, Smith says the evidence in the NAB Girls league signals a more open and free-flowing game.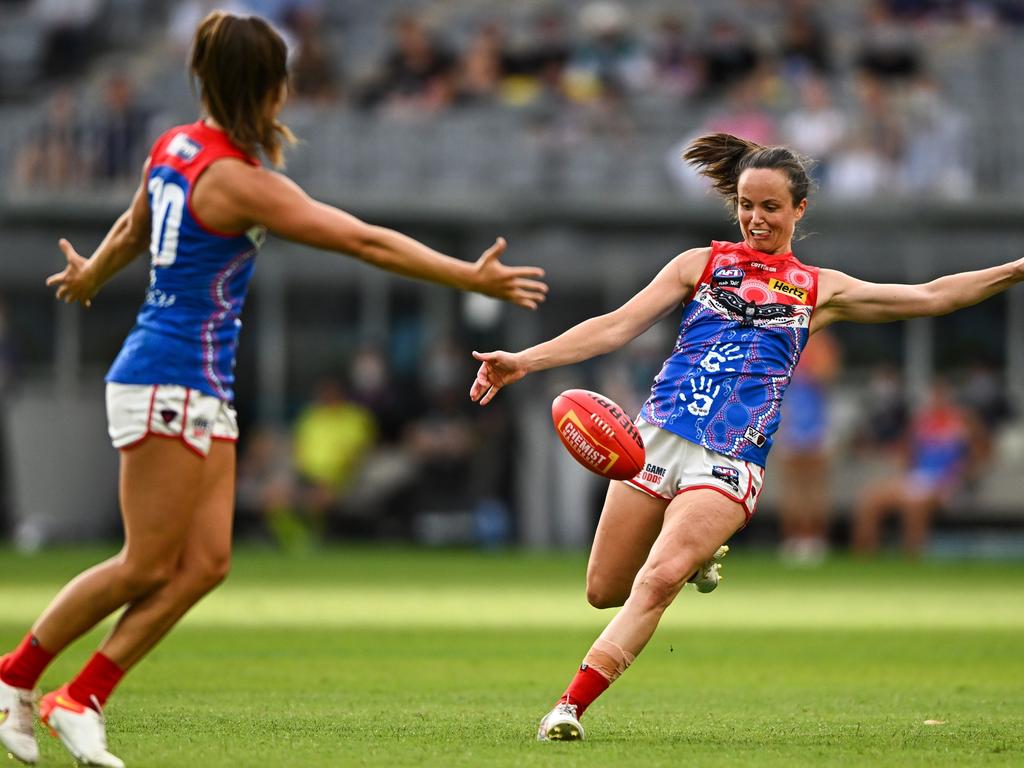 Daisy Pearce is a player who has succeeded in AFLW without coming through a traditional pathway. Picture: Daniel Carson/AFL Photos via Getty Images
"Between 2019 and 2021 we've had reductions in stoppages, less repeat stoppages, more uncontested marks and more ball won in open space, which logically would lead to higher scoring if that trend continued into AFLW."
Sessarago agrees with the trend but warns against comparisons to the men's game.
"It will continue to evolve, it will be faster, and there will be less turnovers as the skill level continues to rise, but I don't necessarily think it will become a replica of the men's game. You look at basketball or soccer or hockey, and the men's and women's games are quite different, so it will develop its own style."
Sessarago harks back to that representative match a few years ago as she forecasts where the game might go next.
"The girls we now have coming through academies at under 15 and under 16 level are absolute 'footy heads'. Their footy IQ and the way they use that in match situations is the most exciting thing to look forward to over the next few years."
And with professionalism looming, the focus of the next generation only narrows further.
"Daisy Pearce never went through a talent pathway and has had the most amazing career, so kudos to those that have done it," Smith says.
"But we are going to see much better prepared athletes entering AFLW in the future which will lift standards of the game."
"We are no longer talking about 'athletes', we are talking about pure footballers," Cloke adds. "And if it's 2026 when the players go full-time, this next generation is ready because they're training like that now."