Alastair Clarkson floats new stadium for Hobart amid hopes for Tasmania expansion
Legendary coach Alastair Clarkson has spent the past two days in Hobart as the Apple Isle eyes an AFL team. Here's what he's been up to.
A brand new Hobart stadium hosting an AFL team, other sports and events will transform the city and benefit the entire region has been the message from league heavyweight Alastair Clarkson.
Clarkson, a four-time Hawthorn premiership coach, has spent the last two days in Hobart meeting Premier Peter Gutwein, Head of AFL Tasmania Damian Gill and other stakeholders in his role as a consultant for the state's task force and believes a new stadium will be an AFL stipulation to the state finally achieving its dream.
Stream every match of every round of the 2022 Toyota AFL Premiership Season Live & Ad-Break Free During Play on Kayo. New to Kayo? Try 14-days free now.
He has just returned from the United States where he has been studying stadium economics and sports administration with experts and administrators in some of the most prestigious universities and biggest clubs and leagues in world sport.
Clarkson said doubters only had to look at the impact of Optus Oval in Perth and the redeveloped Adelaide Oval had on their host cities to see what could happen in Hobart.
"The principles and modelling very similar," Clarkson said.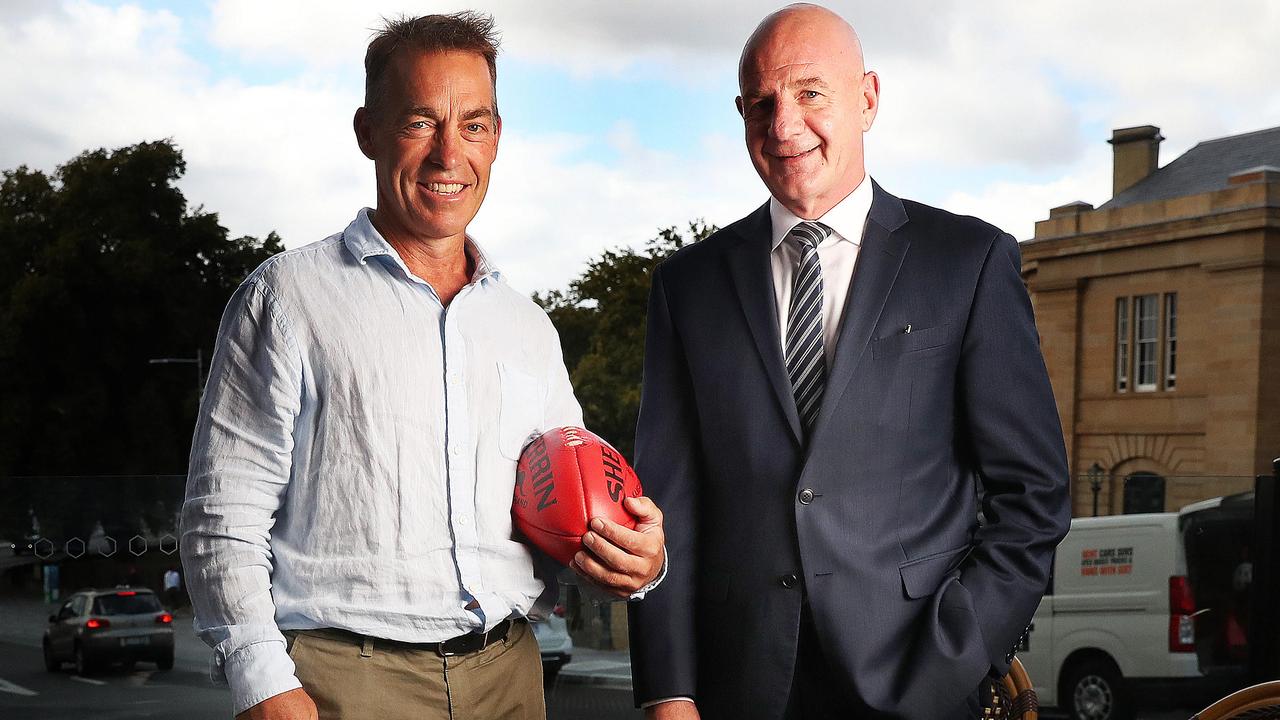 Premier Peter Gutwein with former Hawthorn Football Club coach Alastair Clarkson in Hobart. Picture: Nikki Davis-Jones
"With Perth and Adelaide, we've seen the impact on both those cities.
"We don't have to look too far to see economic prosperity whether you follow the game or not as Adelaide and Perth are great models of that and Hobart has the chance to be the next capital city in Australia to enjoy the benefits of a new stadium."
Clarkson said he saw first hand the change the building of two stadiums in San Francisco for the Golden State Warriors and the San Francisco Giants on a previously run down, derelict area of the city called Mission Bay.
"It was just too significant for a developer to do it but with some government support and private equity, they have built these two magnificent stadiums there," he said.
"Now they've got a children's hospital, light rail, restaurants and now it is nearly the trendiest place in San Francisco to live.
"It doesn't matter if you like sport or not, everyone is the benefactor of the economic prosperity that's gone to that region of San Francisco."
"Tassie has got unique opportunity, you've got a blank sheet of paper.
"You've got a supportive government and you've got an unbelievable passionate island of people which is over 500,000 that is going to be jumping on board this team on the competition."
Clarkson believes it must be inner city to reap the most rewards, but the government has previously ruled out Macquarie Point, the most obvious site, as a venue.
Mr Gutwein said Clarkson's input was positive and welcome.
"Alastair made me aware of his thoughts for a stadium and high-performance facilities to support our teams playing at the highest level," Mr Gutwein said.
Clarko is helping Gutwein and Tasmania in its quest to establish an AFL club. Picture: Nikki Davis-Jones
"We also talked about football structures, talent identification, development pathways, education and engagement with the Tasmanian football community."
Clarkson is looking at short and long term, with the set up of a talent academy and pathways vital to bring talent in in the immediate future should the state secure a licence, while schools will be vital to the long term prospects, which will not only benefit the new team.
He said dealing with "curriculum cram" was the key.
"There is so many demands on school principles to provide so many areas of the curriculum that the thing getting pushed out too easily in my view is sport," he said.
"That is having all sorts of social ramifications for us, whether it is to do with obesity, mental health, social issues, health and wellbeing issues, that we want to try and get sport back into schools and we can use football as a vehicle.
"It is not to be finding elite level talent, it could be an umpire, an administrator or a volunteer — it is a love and appreciation of sport.
"Give kids to play all kinds of sport, they are going to pick the ones they love most."
He said the arrival and success of the JackJumpers should have caught the AFL's attention and it was not about stealing children away from basketball, but giving them a choice, especially in a sport with such a storeyed history in the state.
"Too often Tasmania has been the easily forgotten state of this nation," he said.
"It has got a history as storied as any state in this country, it has got a great story to tell and the football heritage in this state is outstandingly strong.
"The sooner we can recognise that and get granted a licence you'll see Tasmanian people jump on board and support this team."
Originally published as Alastair Clarkson floats new stadium for Hobart amid hopes for Tasmania expansion