Concussion victim Kade Kolodjashnij interviewed in league probe into Paul McCrory allegations
The AFL is now pressing hard for ex-players to share their head-knock experiences as it ups the ante in its investigation into Florey Institute brain researcher Paul McCrory.
Concussion victim Kade Kolodjashnij has been interviewed as part of the AFL's Paul McCrory concussion investigation as the league reaches out to head knock victims offering to reassess their issues.
Kolodjashnij told the Herald Sun in March he was "gobsmacked" that the AFL-linked concussion doctor believed his concussion issues were neck and migraine-related and allowed him to return to play in 2018.
He is one of at least five players who were given treatment after McCrory was banned by Australia's medical regulator in 2018 from conducting specific head-related tests.
Instead he remained advising AFL patients, with the AFL tasking Queen's Counsel Bernie Quinn to lead an independent review of his work, research and advice for the AFL.
Watch every blockbuster AFL match this weekend Live & Ad-Break Free In-Play on Kayo. New to Kayo? Try 14-Days Free Now >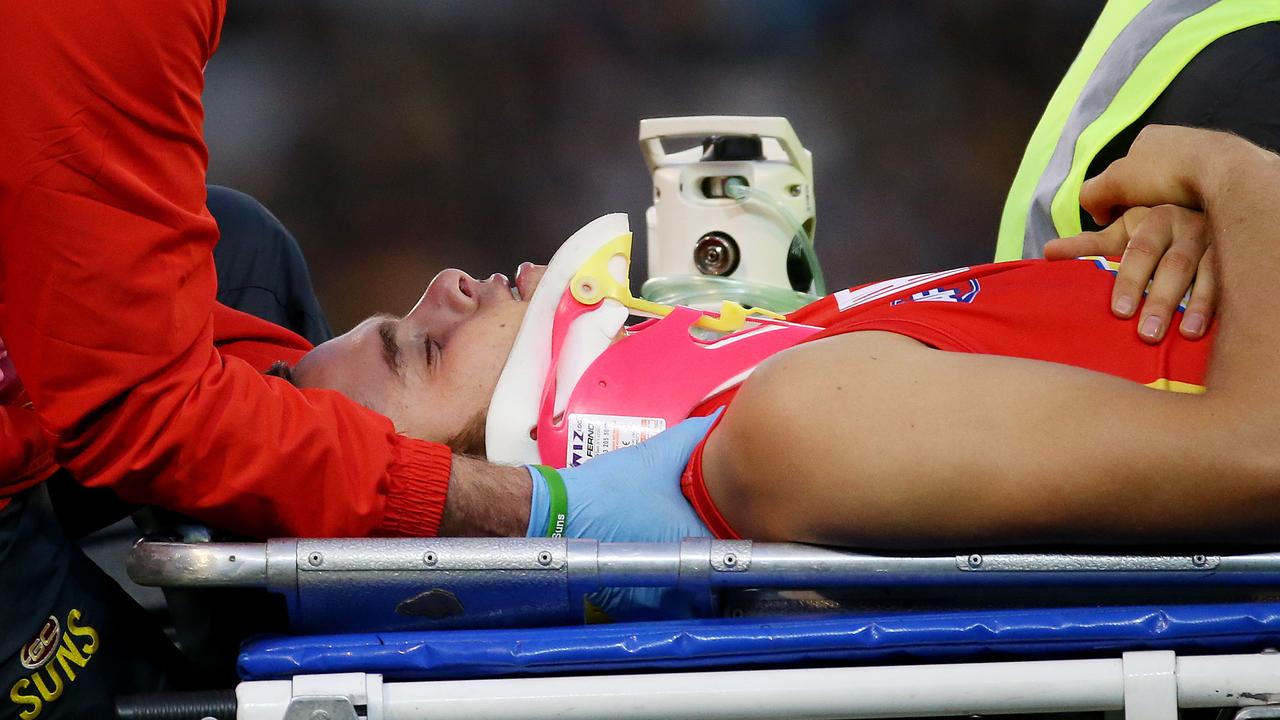 Kade Kolodjashnij says he was happy to talk to the AFL about his concussion experiences.
West Coast concussion victim Daniel Venables has just returned from a month of intense rehab in the AFL.
He and father Peter, who joined him on the trip, believe he has wasted the past three years of his life battling concussion symptoms instead of being rehabilitated after McCrory prescribed him only antidepressants.
The league is now reaching out to ex-players like Kolodjashnij through its past player concussion program and doctor Pip Inge asking players if they would like more treatment or a reassessment of their issues.
Kolodjashnij told the Herald Sun he was happy to talk to the AFL about his experiences, which he believes saw him clearly misdiagnosed.
At one stage he was concussed three times in a week, while in another incident he was stretchered off after a knee to the head but despite symptoms continued to train and played two weeks later.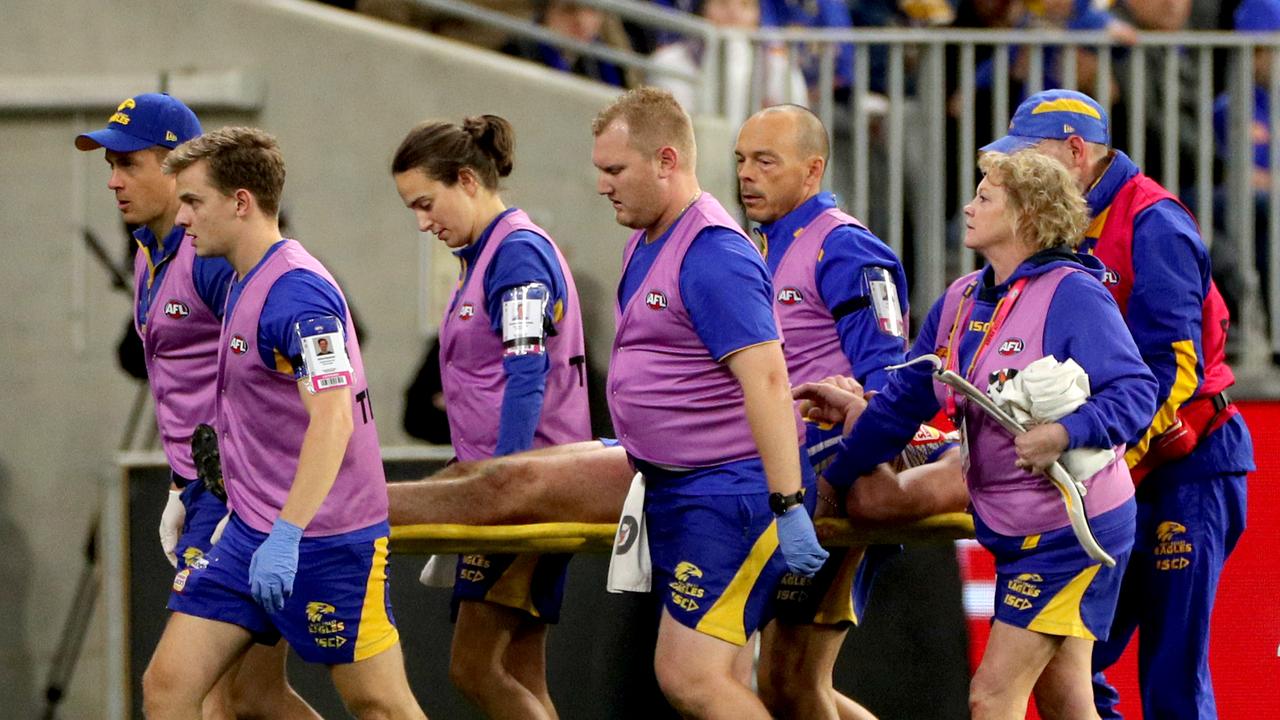 Daniel Venables has just returned from a month of intense rehab in the AFL.
"They contacted me a few months ago. I think it was Bernard Quinn, who was doing an investigation into Paul McCrory. It was clearing up my experience with Paul McCrory and my experience throughout my whole career," Kolodjashnij said on Thursday.
"They were good and listened to what I had to say, they didn't ask too many questions.
"They just said they were looking into the allegations and a lot of the review is about the plagiarism side of things and what sort of advice he did give to the AFL at the time.
"They were keen to get a few players in to share their experiences, they wanted to listen to it from a player's perspective."
Venables told Channel Seven on Wednesday he "100 per cent" felt let down by the AFL given their lack of intensive treatment.
Venables was sent home after suffering an onfield seizure and suffered brain bleeds but had to admit himself to hospital after a horrific car-crash style concussion.
"I wasted a lot of time, the most important part of my rehab," he said.
"Yeah, for sure (I could be playing footy). "There were a lot of red flags looking back on it, and it's shattering."
Stewart's 'dirty act' slammed by concussion victim
By Chris Robinson
Tom Stewart's hit on Dion Prestia was a "dirty act" that deserved a longer suspension, according to retired Eagle and concussion victim Brad Sheppard.
Geelong defender Stewart copped a four-week ban after running past the ball and collecting Prestia, leaving the Richmond midfielder dazed and requiring several minutes to be helped from the field with the assistance of trainers.
Sheppard retired prematurely late last year aged 30 after suffering delayed symptoms from two concussions late in his career, joining former West Coast teammate Daniel Venables in having his career ended due to head trauma.
Brad Sheppard was an All-Australian in 2020 but forced into retirement just 20 games later due to concussion. Picture: Michael Klein
Speaking about the Stewart bump, Sheppard said he felt for Prestia and believed Stewart's penalty had been too lenient.
"You never think in today's game that players are going to go past the ball and to cause severe head trauma to yourself. We don't know about the long-term future of Dion," Sheppard told SEN.
"Reports are that he's tracking OK, and I hope for his sake, he is tracking OK. Because going through those experiences and symptoms, it is a scary time for him to be going through right now – not only for himself, but for his family and his partner and for the football club as well.
"I think those actions, regardless of the person themselves… it's a dirty act on the footy field."
Sheppard, who was named in the All-Australian side at the end of 2020 before being forced to retire just 20 games later, said he "thought we had gone past those days" when it came to bumps past the ball.
"Whether he meant it or not… I don't think Tom Stewart for one moment had him lined up from 100 metres away. I think in that moment, he saw him there and he collected him high," he said.
"But it was a conscious decision to go through with the act, and I think four weeks is a little bit light."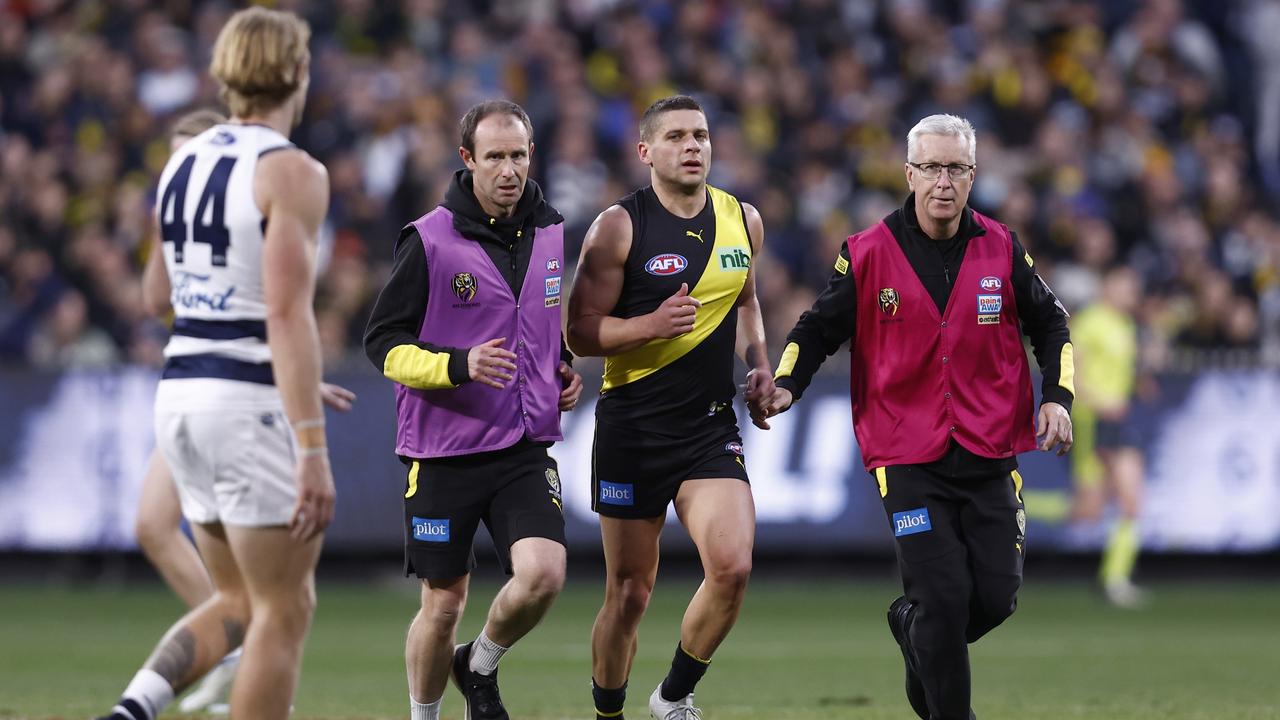 Brad Sheppard believes Tom Stewart's four game suspension is 'a little light' for his hit on Dion Prestia. Picture: Getty Images
Earlier this year, Sheppard mounted a case for a mandatory 30-day lay-off for concussed players to be introduced, which would mark an increase of almost triple on the current 12-day hiatus.
It comes as more details of Venables' plight emerge, including American medical experts voicing their concern at the nature of the rehab plan from doctors after he headed overseas for additional help.
'Extreme concern': Untold cost of three hours of concussion failure
- Jon Ralph
American medical experts have expressed alarm at the lack of a comprehensive rehab plan handed to concussion victim Daniel Venables by his treating doctors as he seeks international help to reduce the symptoms of his head trauma.
West Coast premiership player Venables is in America for an intensive rehabilitation program with the Neurological Wellness Institute as he awaits a decision on his AFL compensation settlement.
The doctors in America believe fluid on his brain could be one of a number of issues they hope to rectify to improve his quality of life after his 2021 retirement.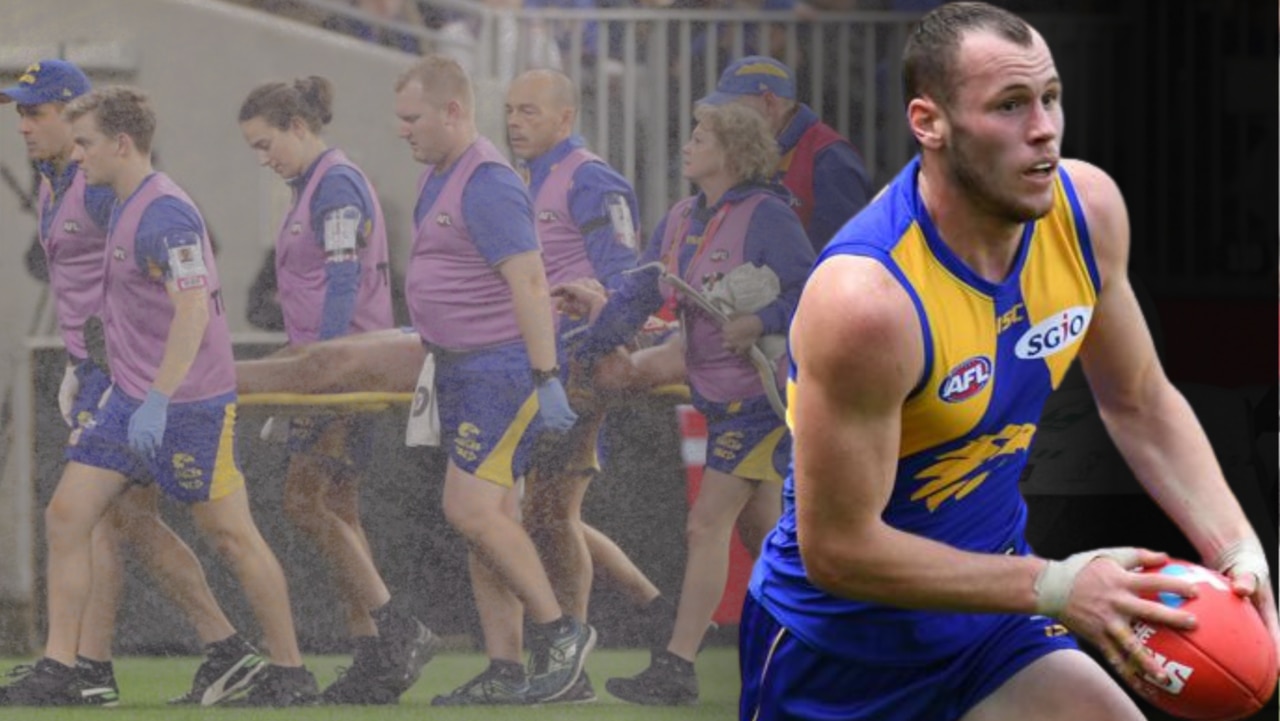 Daniel Venables has suffered long-lasting concussion effects.
Venables was treated by the AFL's concussion expert Paul McCrory and put on antidepressants after he suffered seven brain bleeds in a 2019 on-field collision.
McCrory was later found to be treating AFL patients including Venables despite an agreement with Australia's medical regulator not to conduct neurodiagnostic procedures, nerve conduction studies or electromyography from 2018 onwards.
Concussion campaigner Peter Jess is pushing Venables' compensation claim with the AFL and said his American doctors were shocked at the inaction from his treating doctors including AFL-linked expert Paul McCrory.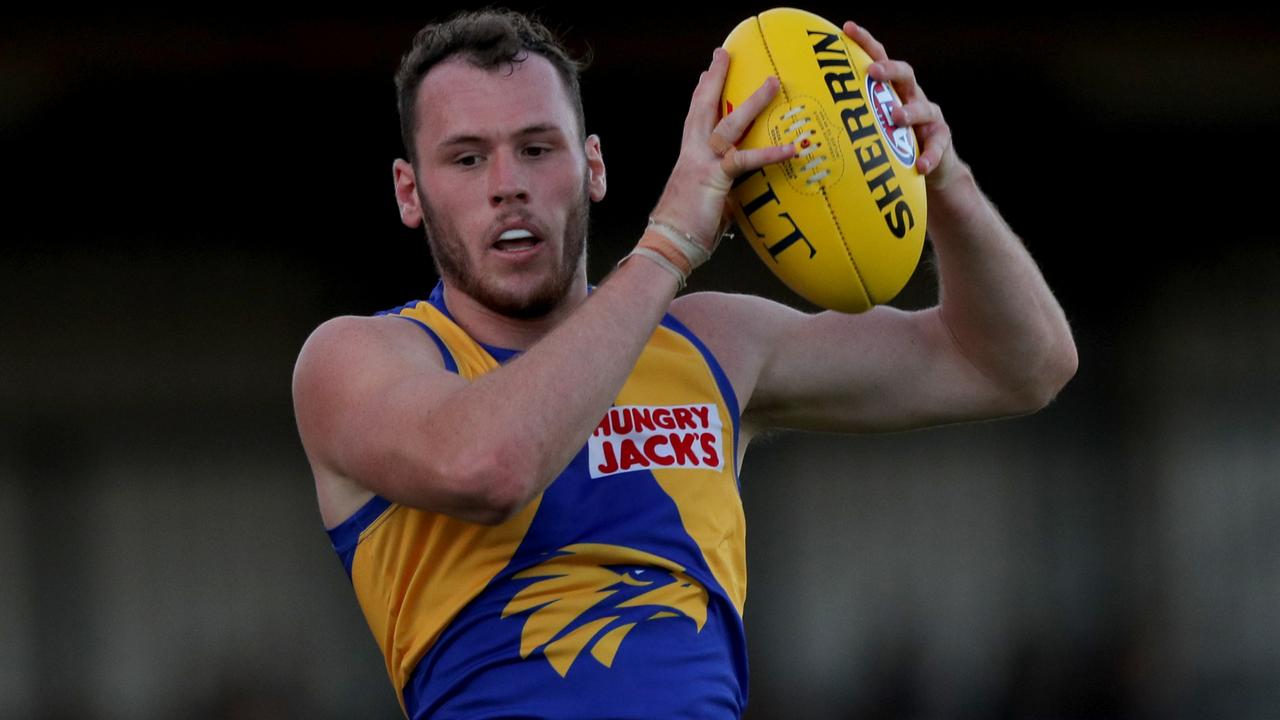 Daniel Venables was forced to retire after a horror concussion. Picture: AAP Images
"Their biggest issue was the treatment regimen with Paul McCrory. He said your life is going to revolve around being on antidepressants. There was no sense of a rehab program, no sense that Daniel was able to mitigate his symptoms?" Jess told the Herald Sun.
"Talking to other people who have been through this situation with brain trauma Daniel decided to receive treatment at the Neurological Wellness Institute under one of their key treatment doctors in David Traster whose specialty is these types of brain traumas.
"One of the tests is concerned with pressure on the brain and whether he had fluid on the brain and he is doing further tests in that area.
"Dr Traster is extremely concerned about the diagnosis from Paul McCrory as he further reviews the structural and functional integrity of the brain over the next week or two.
"Daniel was sent home by West Coast's doctors after the game and then took himself to hospital later that night. What these guys are concerned about with this injury is the first three hours are critical.
Venables played in West Coast's 2018 premiership. Picture: David Caird
"As we know there was no proactive intervention in those first three hours that could have mitigated damage. He should have immediately been transferred to the emergency department of the hospital. It has created a whole sub-set of issues."
Venables was hit in a sickening collision in round 20, 2019 but despite a seizure on-field and 20 minutes unconscious was sent home before complaining: "My head felt like it was just going to explode".
He now has constant migraines and pressure on his neck and cannot work, studying one subject per semester as he battles with his quality of life.
Father Peter told the Herald Sun this year his son went into a deep depression after taking the prescribed medicine before taking himself off the drugs, stating: "I need to get off this, it's tearing me down".
The treatment is being funded with the assistance of West Coast and the AFL
It came as Jess urged the AFL to put in place more comprehensive plans to help players who retire through concussion.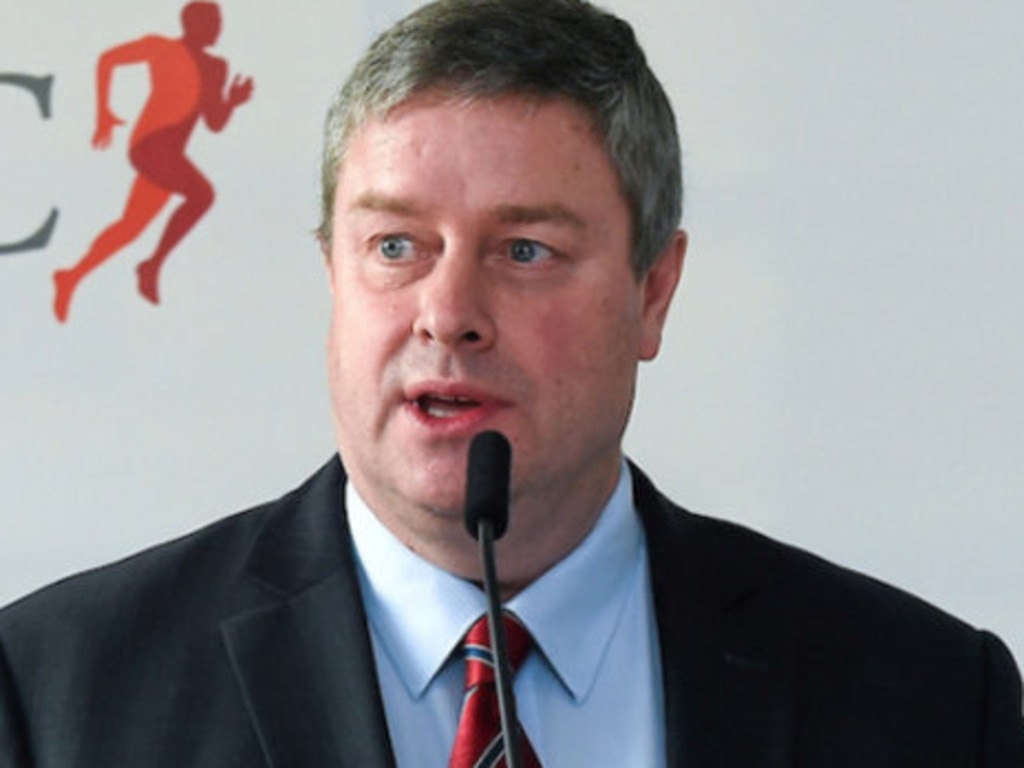 Paul McCrory. Picture: Supplied
"The American experts will give him a rehab plan that will hopefully assist him. What we know is you never get back to the same as what you were. But it might mitigate some of his circumstances," he said.
"This is what the whole thing is about, trying to get guys back to normal. If not back to normal to a new normal that gives them quality of life."
The AFL has launched an independent inquiry into McCrory's conduct amid allegations at least five players were treated by him after 2018 despite an agreed Australian ban.
As recently as August Florey Institute expert McCrory published a paper in a prestigious English medical journal downplaying the links between head knocks and neurodegenerative brain disease CTE.
The AFL would not comment on Monday night, saying a review of McCrory's conduct was underway.
Originally published as Concussion victim Kade Kolodjashnij interviewed in league probe into Paul McCrory allegations