Ann Rulton obituary: Goodbye to 'the great woman' of VWFL footy, a tireless and passionate pioneer
A 10-pound Pom with the courage to live as an openly gay woman in the 1970s, Ann Rulton turned her formidable will on Aussie rules football and did incredible things, writes PAUL AMY.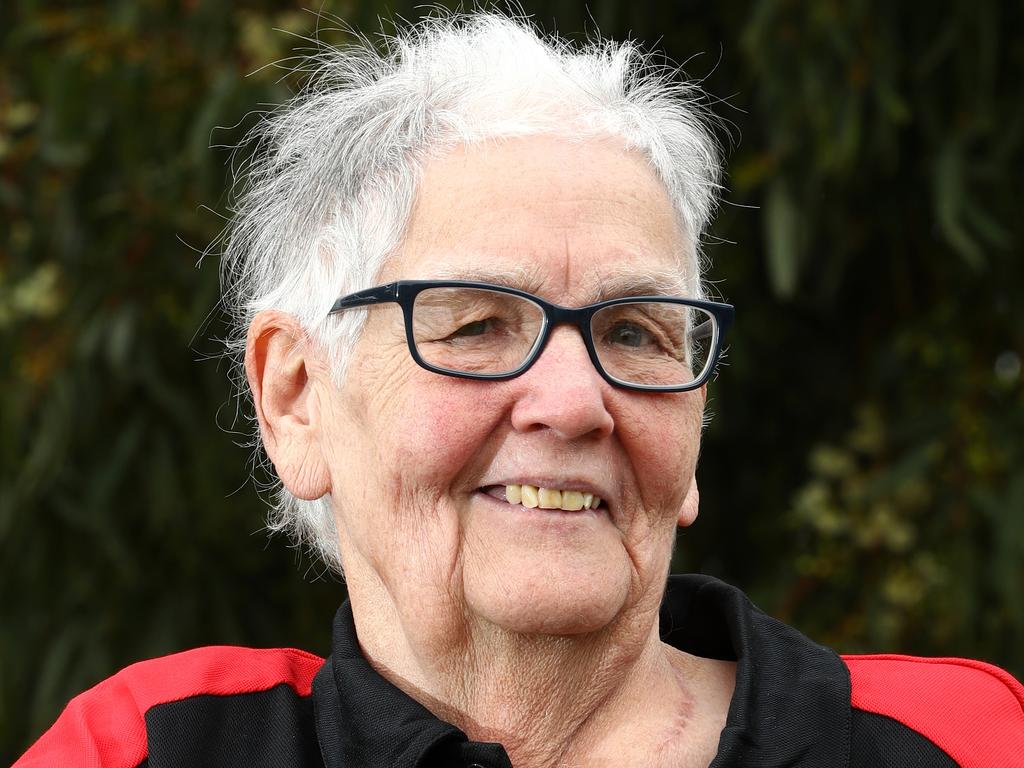 Vale Ann Rulton, a pioneer for women's Aussie rules. Picture: Mark Dadswell
When the AFLW staged its first awards night in 2017, guests received a gold pin to mark the inaugural season of the national competition.
Carlton star Brianna Davey, the Blues' best and fairest, attended the event at Melbourne's Docklands, as did her parents, Rob and Paula.
At the end of the night, the Daveys picked up a spare pin on their table.
Soon after, they gave it to someone they believed had contributed so much to Brianna's football at St Kilda Sharks and to the women's game in Victoria.
They gave it to Ann Rulton.
Rulton didn't play football. She was never a coach.
And yet, in the days after her death last month at the age of 76, everyone said the same thing: she was a champion of women's football.
At one club, they even hold her up as an "immortal''.
Never best on the ground, this hardworking, high-spirited woman was instead among the best contributors off it, starting at a time when only a few female teams existed.
"I had a lot respect for Ann,'' Rob Davey says.
"She did a lot for women's football.
"I always remember when 'Bri' got to St Kilda. Ann was a bit of a hard nut. She looked at Bri and said, 'What number do you want?' Bri said she usually wore No.1. And Ann said, 'You're not getting No. 1, I'm keeping that for someone special'. Bri said, 'Yeah, all right, whatever'. And after the first game, Ann walked up to Bri and said, 'Here's your No. 1'.
"She obviously thought Bri was special. And I thought that was pretty nice. So that's why I decided that if anyone deserved one of those pins – and by the way, they're not solid gold or anything, but they're a little bit historic – it was Ann Rulton.''
*****
With much straight-talking and a few witty asides, Ann Rulton told her story to News Corp in 2017.
She arrived in Australia from the UK in 1968, after the death of her father.
After she found a job in the office of a dry-cleaning business, a co-worker asked her which team she supported. "Tottenham Hotspur,'' she replied.
That wouldn't do, he said. She needed to follow an Australian rules team. He supported St Kilda and she decided to do the same.
Rulton had come out as a "10-pound Pom'' and intended to stay for two years.
She stayed for good (in 1969, her mother, Betty, and sisters Susan and Barbara also migrated to Australia), settling in the Elwood area, working in accounts and living as an openly gay woman.
"It would have been hard for her to do that in the 1970s but she didn't care. She basically said, 'This is me, this is who I am','' Rulton's great friend and fellow women's football stalwart Leesa Catto says.
"She lived the exact life she wanted to lead. And good on her.''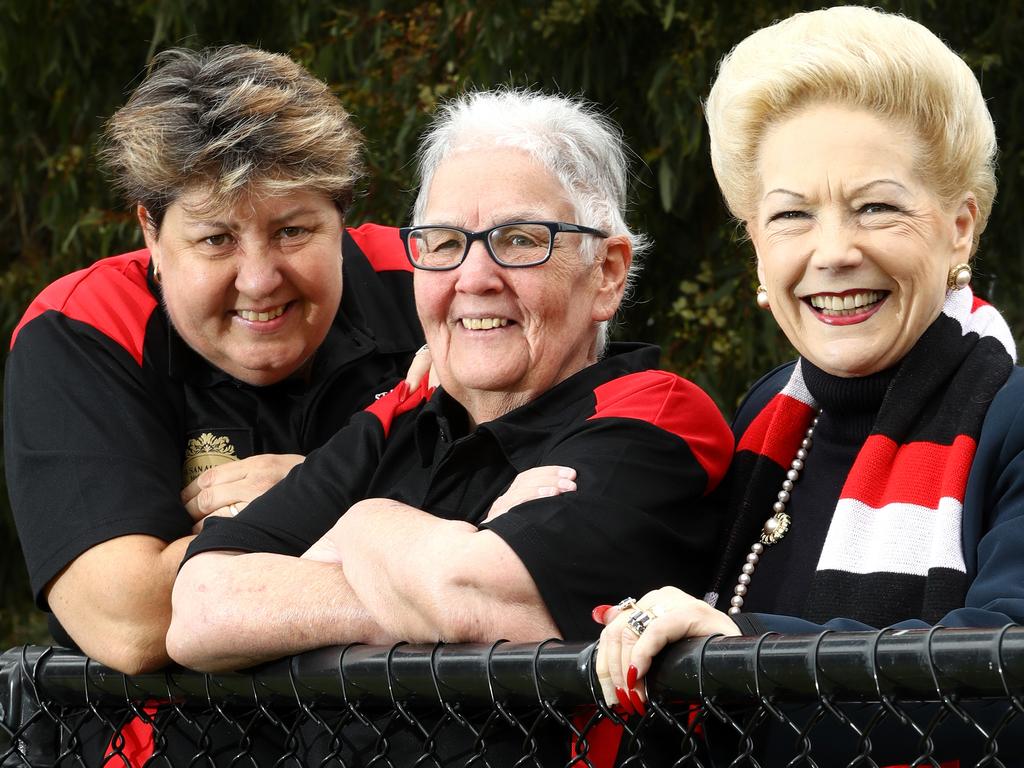 Rulton with good friend Leesa Catto (l) and Susan Alberti. Picture: Mark Dadswell
Rulton's involvement in football began at her local senior club, St Kilda City.
This was 1991 (years later, City made her a life member and one of its first "Immortals'').
At that time, the Victorian Women's Football League had four teams: Ballarat Lions, East Brunswick Scorpions, Fairfield Falcons and Fair Park Panthers.
Encouraged by Falcons players who had set up a football display at the St Kilda Festival, St Kilda City decided to form a women's team.
It took off as the St Kilda City Sharks in 1992, with Rulton one of the key officials.
Later, after the Sharks were well established, she was asked to help the Fairfield club through a testing period.
She was there for six years, serving as treasurer, team manager, running the canteen and bar, even marking the ground.
Fairfield morphed into Darebin Falcons, who became a power of the league and the home of six-time league medal champion Daisy Pearce.
"She was a doer,'' Falcons great Sal Rees says of Rulton.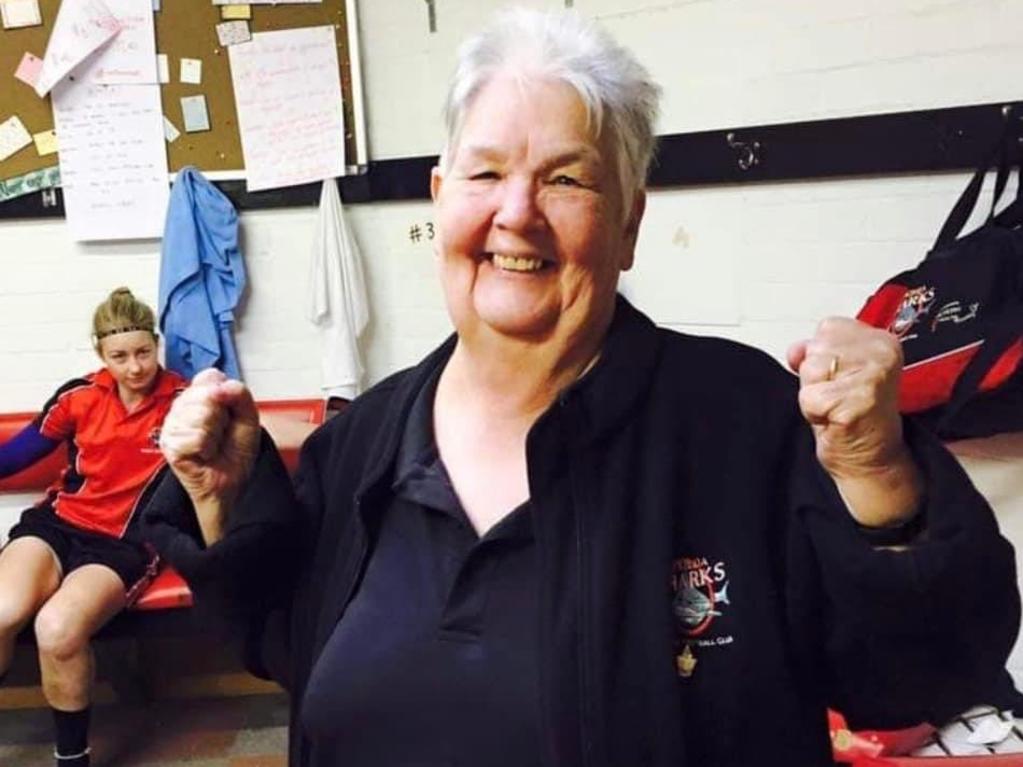 Rulton was a passionate women's footy pioneer and a life member of the St Kilda Sharks. Picture: Supplied
Rees lifted women's football into the headlines when she nominated for the 1995 AFL national draft.
It was about bringing attention to the female game.
"Back in the '90s, it had a really negative stigma in the community,'' Rees says. "I wanted to make the point that women's footy did exist and we loved the game as much as anyone else and we wanted to make it better. That's why we valued the Ann Rultons so much. They were prepared to work towards that.''
The Falcons made Rulton a life member, an award she had already earned at St Kilda City and the VWFL.
The Sharks, where she returned in 2005, gave her the same honour in 2015.
At league level, she worked on the executive with Debbie Lee, who was a star player while also president of the VWFL.
Lee, now running women's football at the Western Bulldogs, calls Rulton "the great woman''.
"She loved to be around people. She had a great sense of humour and she had a love of the game,'' Lee says. "Loved community, always giving back. She wasn't a player, she wasn't a coach, she was a volunteer administrator and gave up copious amounts of her time for others.
"She'd keep you in line, too. On the executive, she was in charge of finance and she was very diligent in terms of her operation around that. Reliable, loyal, selfless, all those words. We were really lucky to have her.''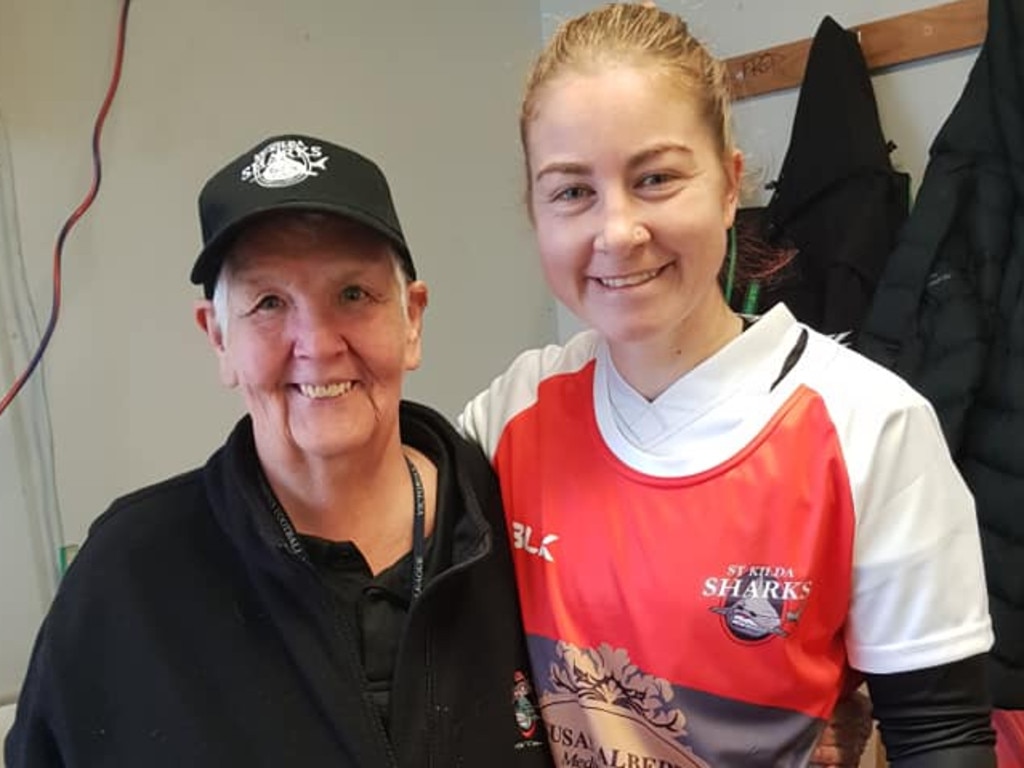 Ann Rulton with Penny Cula-Reid during her time at the Sharks.
Lee says the likes of Rulton and Catto made a "huge contribution'' to Victorian women's football "and unfortunately they haven't got the acknowledgment they deserve around the AFLW''.
She says Rulton helped keep women's football going "at a time when no one really cared about it''.
"Everyone loves it now. But it wasn't always cool to play women's footy,'' Lee says. "Now it's where it needs to be. The work of people like Ann and Leesa advanced the sport, absolutely.''
*****
When AFL Victoria moved to take over the VWFL, Rulton initially opposed it.
She doubted the state body would run women's football with the care and passion of the volunteers who had been doing it for years.
She was the only VWFL executive member to record a "no'' vote, but she later encouraged the handover and was chuffed to see women's football take off. When Rulton took over the VFWL finances, she was given an exercise book and a pen; when the change went through at the end of 2013, she handed over $150,000 to AFL Vic.
As the VFLW took flight, it did so with the VWFL's Ann Rulton Award to recognise the club volunteer of the year.
"Ann was a straight-shooter; she spoke from the heart and told you how it was,'' former AFL Victoria women's football manager Darren Flanigan says.
"She cared about women's footy, was very parochial about it. She always had the best interests of it at heart.''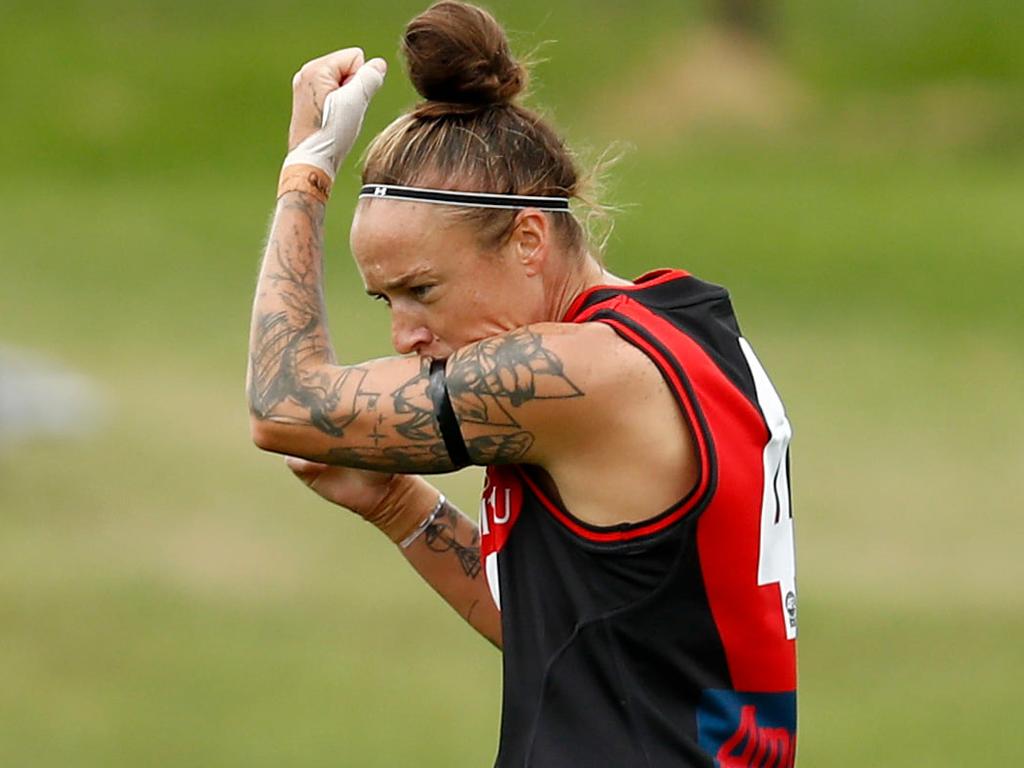 Mia Rae-Clifford wearing a black armband in tribute to Ann Rulton during an Essendon-Carlton VFLW match. Picture: Supplied
Rulton attended the inaugural AFLW match at Carlton in 2017. Of course she did. "There's no show without Punch, isn't that what they say?" she said in 2017.
She very much enjoyed watching Davey play for the Blues and Moana Hope for Collingwood.
Both had played with St Kilda Sharks, which two weeks ago marked 30 years of football with a function at St Kilda Town Hall and named an all-stars team.
There were plenty of good names in it: Jenna Bruton in the backline, Davey in the centre, Shannon McFerran and Belinda Bowey on the wings, Phoebe McWilliams, Jasmine Garner and Hope in the forward line.
And they also named a team manager.
It was another job for the indefatigable Ann Rulton.
St Kilda Sharks on Ann Rulton
"What an incredible lady.
"For three decades Ann Rulton played a pivotal role in the growth and development of the women's game.
"She never kicked a ball or coached a team, but is revered by so many in the football community for the time she has given to our great game.
"Ann was a long-serving committee member for the old VWFL (Victorian Women's Football League) and spent countless hours working behind the scenes to grow and develop the league.
"For Ann the AFLW was a dream long before it became reality and without her hard work and contribution, we wouldn't be where we are today.
"Ann did so much for the league and the greater football community, but the St Kilda Sharks was always home.
"She was there for our very first season in 1992 and our last in 2021. She loved the club with all of her heart and was the glue that held it all together.
"Ann Rulton was the backbone of our great club.
"She was our longest serving committee member and held many off field roles at the club, often doing the jobs that few others wanted to do."
- St Kilda Sharks will host a tribute to Ann Rulton at the Peanut Farm.