Bailey Smith's first interview: 'I went days without getting out of bed'
After images and videos of his drug taking were leaked, Bailey Smith says he is ready to be accountable and get help.
Bailey Smith has revealed in his darkest times he couldn't get out of bed, go to training or even talk to anyone.
In an incredible tell-all interview, the Western Bulldogs star has opened up about how he turned to partying to deal with his mental health battles, including "chronic anxiety", exacerbated by last year's devastating grand final loss.
However he said it was almost a relief now that a video and images of his drug taking had been leaked, and he was ready to be accountable and also get help – something he urged other men to also do.
Smith described his parents and girlfriend Gemma Dawkins as the "best support", also offering a special mention to Bulldogs coach Luke Beveridge, who he revealed was the first from the club to text him saying "here to support you, we'll get through this".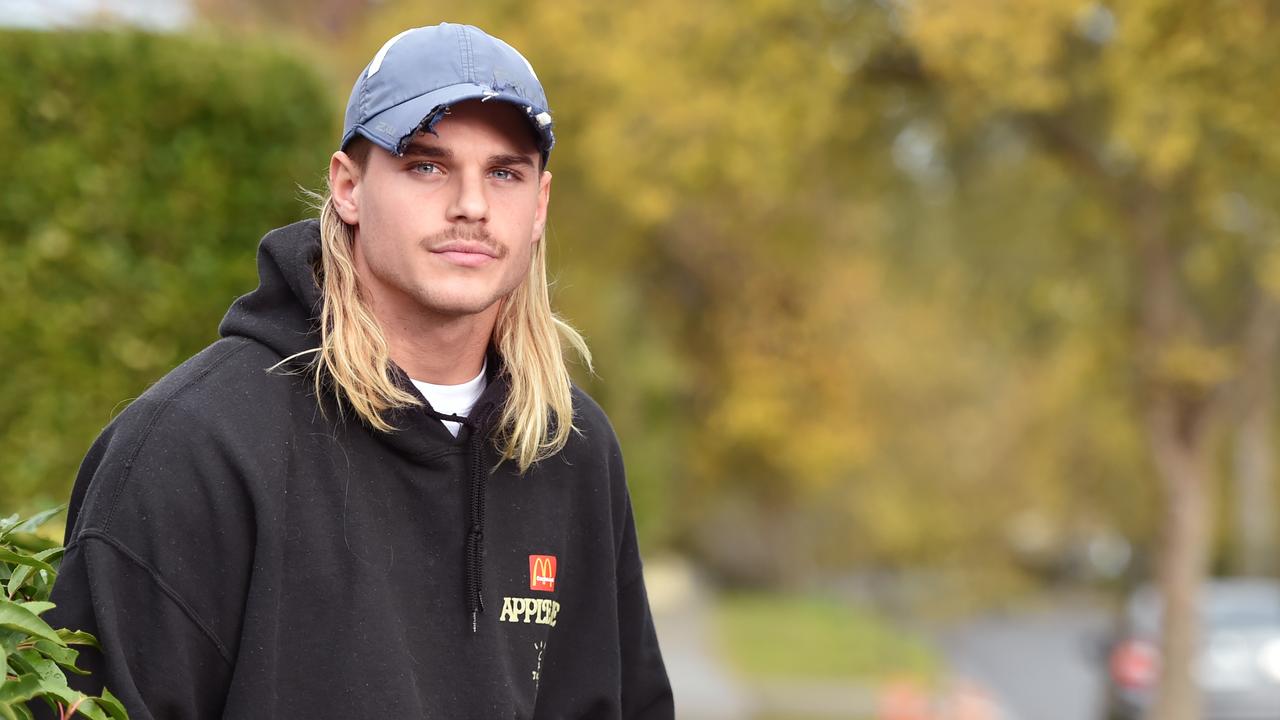 Western Bulldogs player Bailey Smith talks exclusively to the Herald Sun after the white powder scandal. Picture: Nicki Connolly
"And I've got my psychologist, my doctor at the footy club, which is great for me. Obviously the Bulldogs have been great in supporting me," he said.
After revealing the shattering aftermath of the grand final loss to the Demons was a trigger for his mental deterioration when the video surfaced on Saturday, the 21-year-old said distance from family and worrying about the next season led to a string of poor decision making.
"I just had to take that month off, and I didn't know what my future looked like from there," he said.
"I didn't know if I'd ever get back to good form, or get back on the straight and narrow."
The period he took in the Gold Coast, where he spent a month and the video was taken, was saturated with crippled mental health.
Smith admitted the thought of leaving AFL altogether does "cross your mind".
Footage of Smith partying in Perth emerged on TikTok. Source: TikTok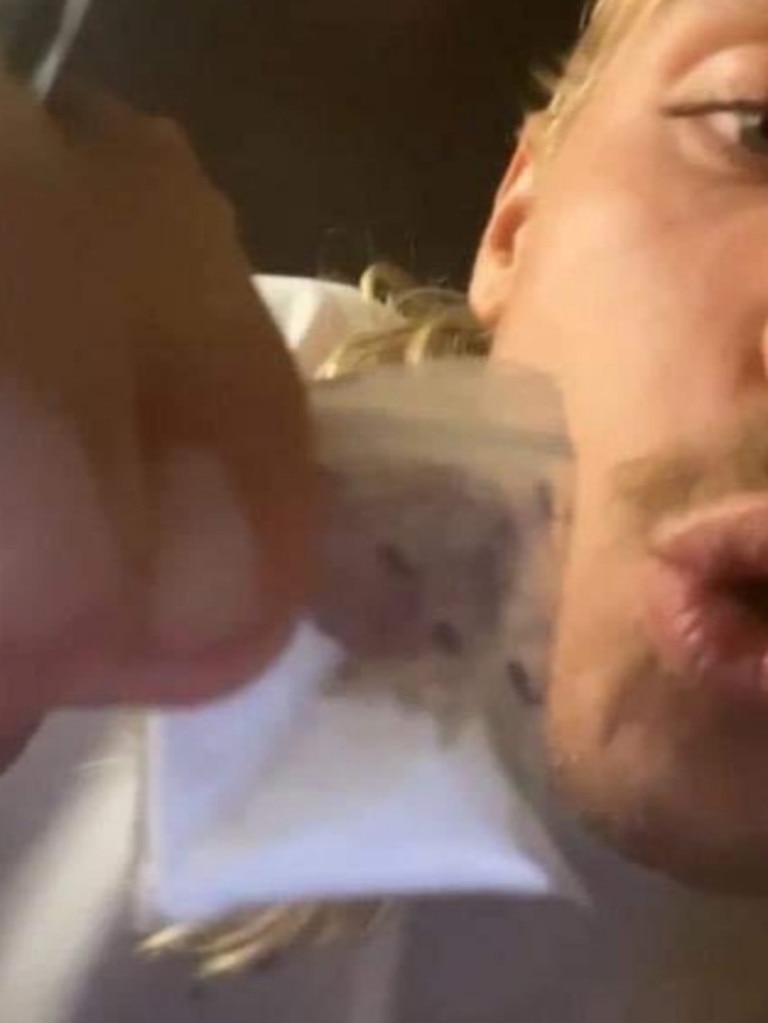 Smith was filmed holding a bag of white powder.
However he said he never wanted to abandon the game because he "can't live without it".
"But there have certainly been really dark days," he said.
"Even now, I haven't brushed my teeth in two days just because of this stuff.
"It does hit me, and I do get waves of chronic anxiety and it's difficult.
"I reckon I went days without eating, even brushing my teeth, leaving my bedroom, I couldn't talk to people (after the Grand Final).
"I didn't go on my phone or anything, but that's just what it was.
"I didn't do any training, anything like that – I couldn't even get out of bed to go to training.
"I'm sure lots of people have experienced that, and it's not an excuse to why I acted the way that I did, but it certainly does provide context as to why I made such a stupid decision like I did."
Smith said he found it hard to resist the alluring party lifestyle in the whirlwind of 2021.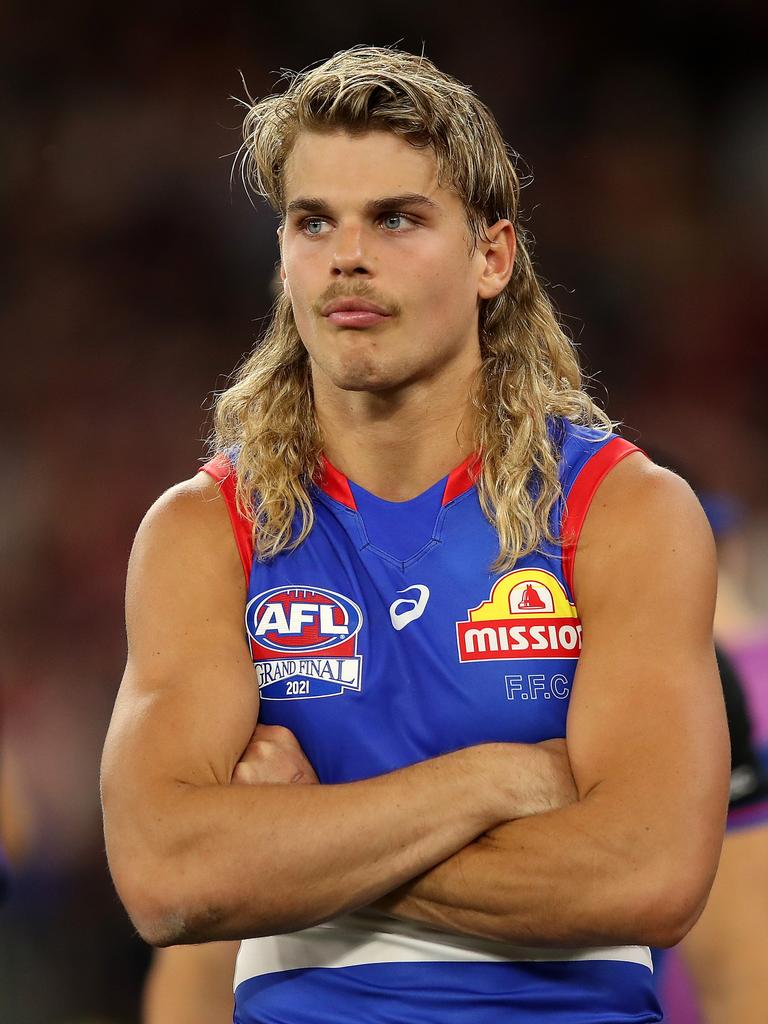 Smith took the Bulldogs' 2021 Grand Final loss against the Demons hard. Picture: Getty Images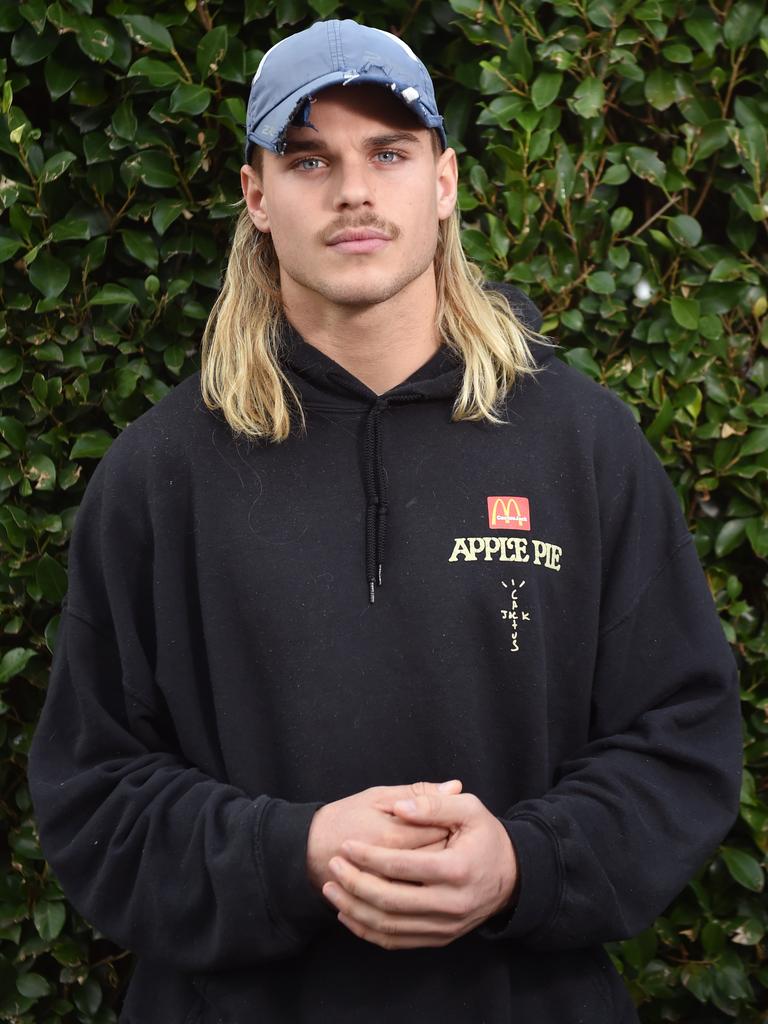 Smith says he's 'ashamed' of that period of his life. Picture: Nicki Connolly
"It is a reality of what lots of people are like; the party life which I've tried to steer clear from a lot this year, and got sucked into last year," he said.
"This is good for people to see the path they don't want to go down.
"Lots of people growing up can fall into the wrong crowds and fall into doing stupid stuff."
Smith said anyone – no matter how successful they were – was vulnerable to the seduction of the party scene.
"I want to inspire people if they've made the wrong decisions or are struggling.
"There's always rock bottom, but you can always pick yourself back up from there.
"I own it, I don't shy away from it … but it's hard to own up to that when it's such an embarrassing thing.
"It's a period of my life where I feel ashamed.
"I'm extremely remorseful, embarrassed … it's something I've got to live with."
An advocate for mental health, Smith said his struggle with anxiety and depression was "not an excuse" for his behaviour, but he felt it "provided context" as to why he made a "stupid decision".
"Have the courage to talk to your loved ones and even the people you don't want to be vulnerable to, so you don't spiral out of control as I have," he said.
"Lots of people think 'mental health' is a cop out, or you're just 'playing the mental health card'.
"But I really dislike people when they say that because clearly, they haven't faced it before.
"Mental health is a complex sort of beast and it affects people in every way – so you can't judge."
"It's easy to just label someone as being weak or – even myself being an idiot party boy, or arrogant or whatever, who just thinks he can do anything. But you'd be surprised how much it really can take control of you and warp the decisions you make.
"Hopefully I can rebuild my image and work on myself and be a better human for the people around me."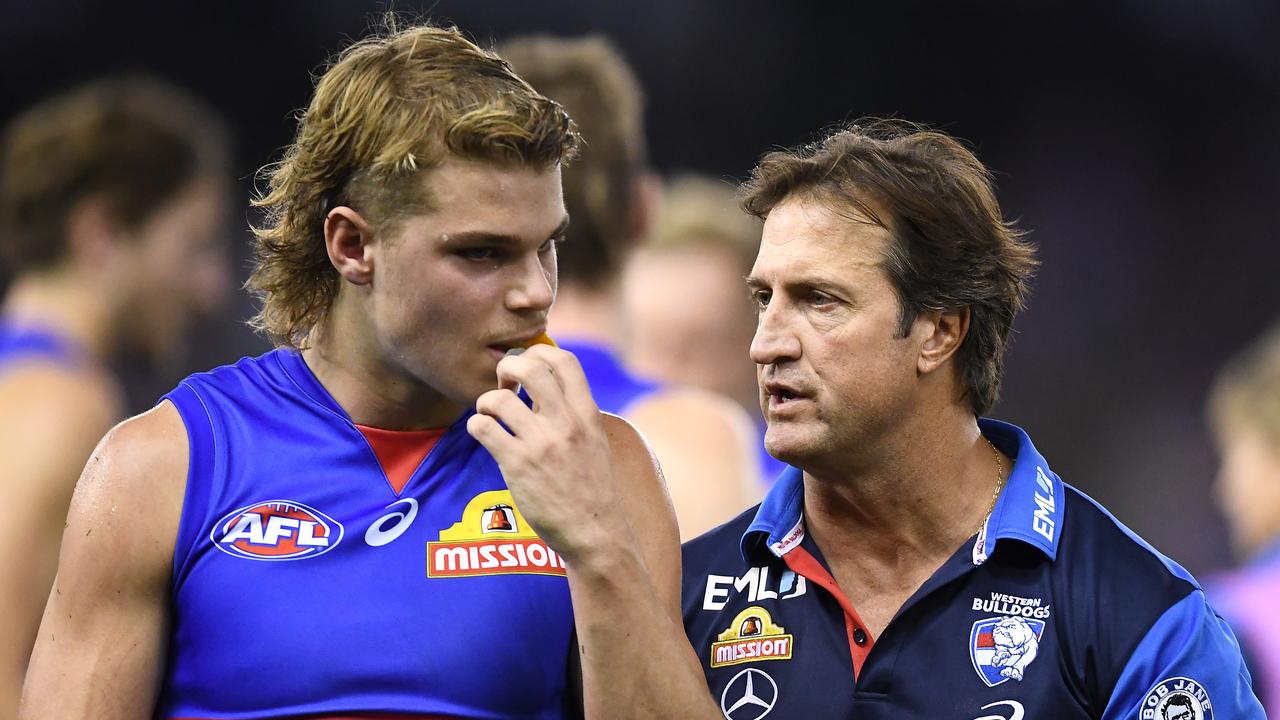 Western Bulldogs coach Luke Beveridge has says his priority is to support Bailey Smith. Picture: Getty Images
On Monday, club coach Beveridge spoke at length after an early arrival at Whitten Oval, saying his first and foremost priority was to care for Smith.
"We're here to help him and support him," he said.
"None of us are forecasting the outcomes of the meeting with the AFL tomorrow – I'd rather be silent on that.
"I'd rather we just help Baz process this and deal with it."
He added he did not want the star midfielder to receive further sanction by the football club, on top of the disciplinary action he will inevitably cop from the AFL.
The premiership coach also sensationally called for the league to scrap its illicit drugs policy on the basis that it "none of us really think it works".
"Ultimately the clubs, the people, the constituents are here to help and support players and essentially any player with a clinically diagnosed mental health challenge will never be exposed to the policy anyway."
He said the policy provided little to no value and raised questions of transparency within the league.
Originally published as Bailey Smith's first interview: 'I went days without getting out of bed'