Breathe again: Inside Brisbane Lion Harris Andrews' new calm approach to defence
Brisbane Lions vice-captain Harris Andrews has sometimes had trouble keeping his cool on the field – but a new method of thinking is helping elevate the 25-year-old to one of the best in the league, writes COURTNEY WALSH.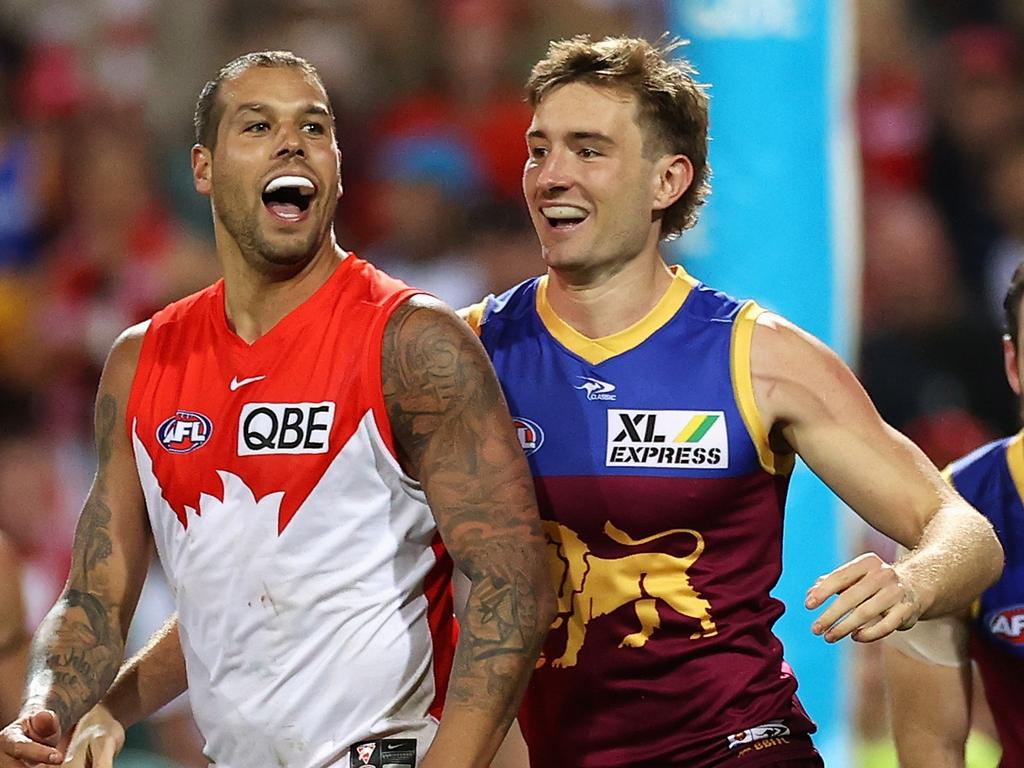 A new breathing technique is helping Harris Andrews keep his cool when dealing with the AFL's biggest names. Picture: Cameron Spencer/Getty Images
Despite Brisbane's brilliant start to the season, there have been times when key defender Harris Andrews has had cause to blow his stack.
The Lions' only loss for the season occurred when Andrews was shoved in the back by Cat Tom Hawkins late in their round four clash, allowing the Coleman Medallist to mark and kick the sealer when a free kick should have been paid.
On Easter Thursday at the Gabba, Brisbane's vice-captain had cause to feel crucified when he was penalised 50m for waving his arms after giving away a free kick against Collingwood.
That incident sparked an outcry across the AFL about what type of behaviour actually constitutes dissent against umpires, so innocuous was the Lion's reaction to the free kick.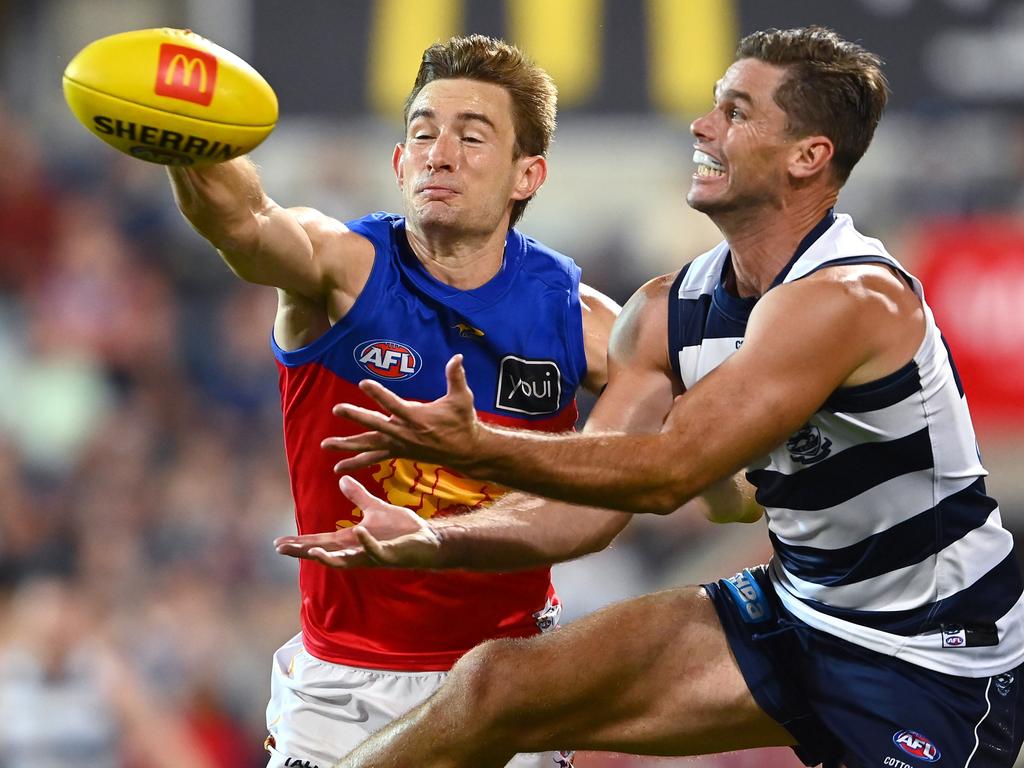 Harris Andrews spoils from Tom Hawkins during their pivotal clash. Picture: Quinn Rooney/Getty Images
But rather than lose the plot, and to his credit, Andrews took a deep breath and refocused on the task at hand.
As strange as it might sound given its necessity to life, breathing correctly is a skill Andrews and other Brisbane players are trying to master under the tutelage of a specialist coach.
At the urging of coach Chris Fagan, the Lions recruited Rachel Vickery, a woman known as 'The Athlete Whisperer' in sporting circles, to work with players this season.
She has previously assisted NRL clubs Melbourne Storm and Sydney Roosters, along with the Golden State Warriors in the NBA, and Andrews is among the converts.
"She just talks about different breathing techniques. It can be everyday breathing," Andrews says.
"But certainly in heated situations in a game, just being able to reset is important. We feel like your breathing has a large impact on your actual mindset.
"Say you are dealing with a little bit of adversity – it might be a decision from an umpire or when your teammate goes down with an injury – just being able to slow your breath down a bit is important.
"(It is something) I had never really tapped into before. Things would go wrong for me and I would probably get a little bit wound up and a little bit heated. The feedback I'd had in the past was that I needed to chill out a little bit.
"My teammates … the feedback I get is that they love the passion I show but being able to harness that passion is important.
"Some of the strategy is around breathing and being able to rely on the guys around me (because) one of my teammates might read some cues from me that I am starting to get a bit hot under the collar and he will come by and say, 'It's all good mate. It's all right. Just take it easy. Breathe.'
"And that helps me, because … you can get caught up in the moment."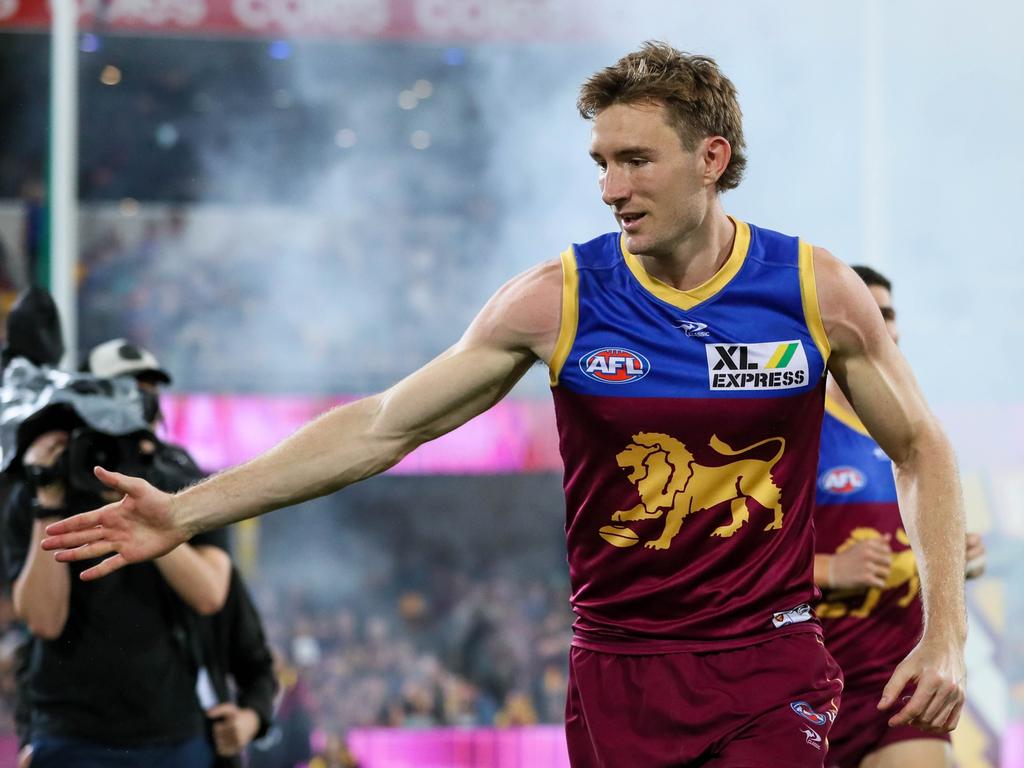 Harris Andrews says he received feedback that he "needed to chill out a bit". Picture: Russell Freeman/AFL Photos via Getty Images
During the pre-season, Fagan described the assistance provided by Vickery, who has also worked with Navy Seals and other military personnel, as a "one percenter".
"You can wait for finals games' experience to rub off on the players or you can try and give them a few tools to help them in those tough periods," he told the AFL website.
"Part of it is being able to control your emotions and your breathing in those pressure moments, but also being able to control your breathing throughout a game so that you have more energy left at the end.
"There is enough evidence around the place that if you do your breathing properly, that can be one of the fringe benefits.
"I'm not sure that all of our boys will embrace everything she says, but we do these things hoping maybe half the group will and that will help us going forward. It is not a group thing, it is an individual thing, and hopefully it might be able to help in some (tough) moments."
The evidence to date in 2022 is strong, particularly with Harris, who earlier this year described his gratitude to Brisbane for taking a chance on a "very skinny 17-year-old working at Domino's and eating a lot of crap food" by inviting him to their youth academy.
The 25-year-old's success in maintaining an even keel has been a significant factor in the Lions recording their best start to a season since they were Fitzroy back in the VFL in 1948.
No player in the competition has spent more time on the ground this year than Andrews, who also sits in the top 10 in terms of marks taken in 2022.
A statistical breakdown rates Harris the seventh-best in the AFL when it comes to disposing the footy effectively in 2022 and he is inside the top 10 in terms of "one percenters", namely the defensive acts coaches rate highly.
He also sits in the top 20 competition-wide when it comes to contested marks, intercepts and marks per game.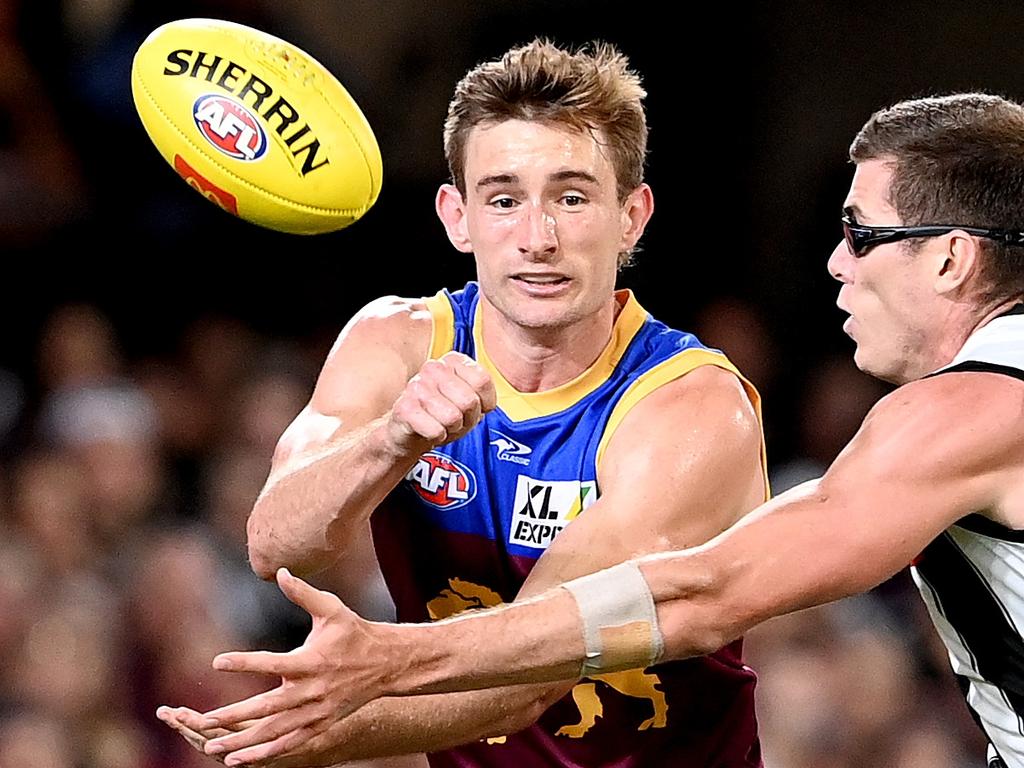 Harris Andrews sits seventh for disposal efficiency in the AFL. Pictures: Bradley Kanaris/Getty Images
The drive Andrews is providing from defence for Brisbane, who sit second on the ladder with eight wins from nine matches ahead of a clash against Hawthorn in Launceston on Sunday, has helped the Lions become the most potent attack in the competition.
The Lions are averaging 105 points per game this year, the sole side in three figures, and have the third-most miserly defence behind Melbourne and Fremantle, conceding just under 70 points a match.
Andrews says the decision to embrace a new approach stemmed from his disappointment at a dip in form in 2021.
A dual-All Australian in defence in 2019 and 2020, there was a negligible difference in terms of his statistical output in 2021, but raw numbers do not always tell the full story, he says.
"It's a little bit of a gut feel thing. I felt that some forwards were able to sort of get on top of me a little bit and get a hold of me, which didn't sit well with me, because I want to hold myself to a really high standard," Andrews says.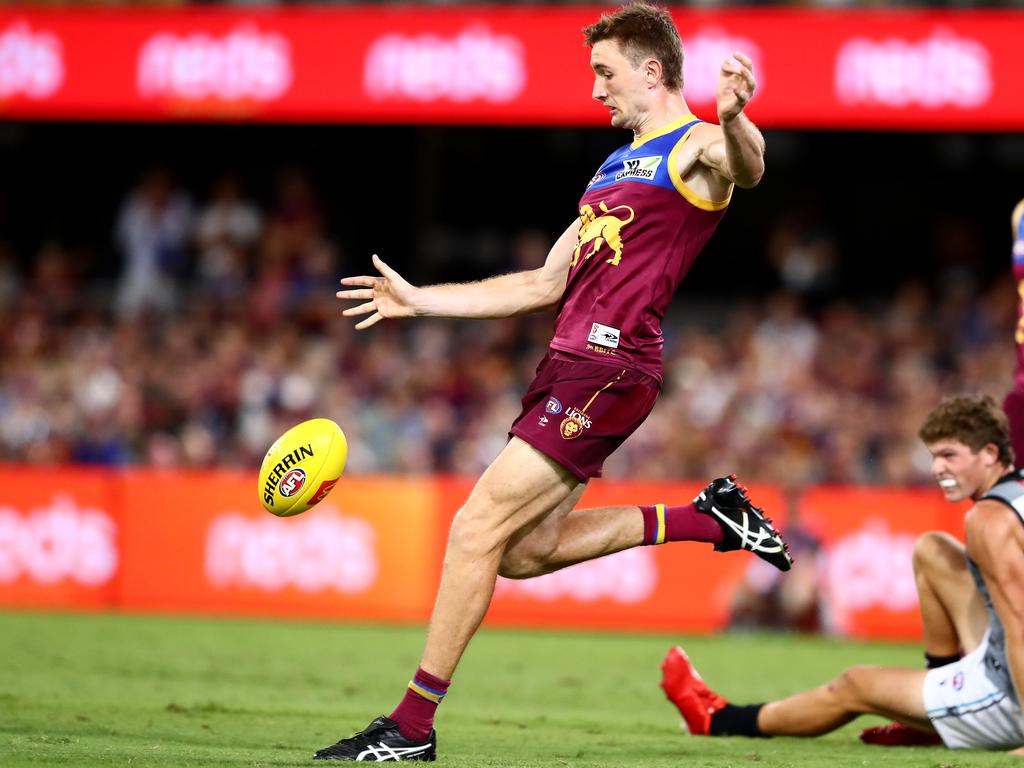 Harris Andrews has been back to his best in 2022. Picture: Chris Hyde/Getty Images
"I guess for me, like being able to reflect on that and understand there are going to be times that is going to happen, (because it is) just the nature of the beast, unfortunately.
"But my ability to respond in games and make changes is something that I feel like I can really improve on and it's been great over the last probably six months, over the off-season and pre-season, where I've put some things in place.
"Whether that's a bit more thinking about things, mental preparation for games, different little strategies that I can use in the game to get myself back to being in a neutral zone, being in a good mindset, (that is) super important."
Elevated to Brisbane's vice-captaincy aged 21, personal development and guidance from more experienced Lions is something Andrews has sought out to assist his leadership.
Daniel Merrett, who played 200 games for Brisbane, provided an early example to follow, with the amount of time he spent preparing his body each week "eye-opening" for Andrews.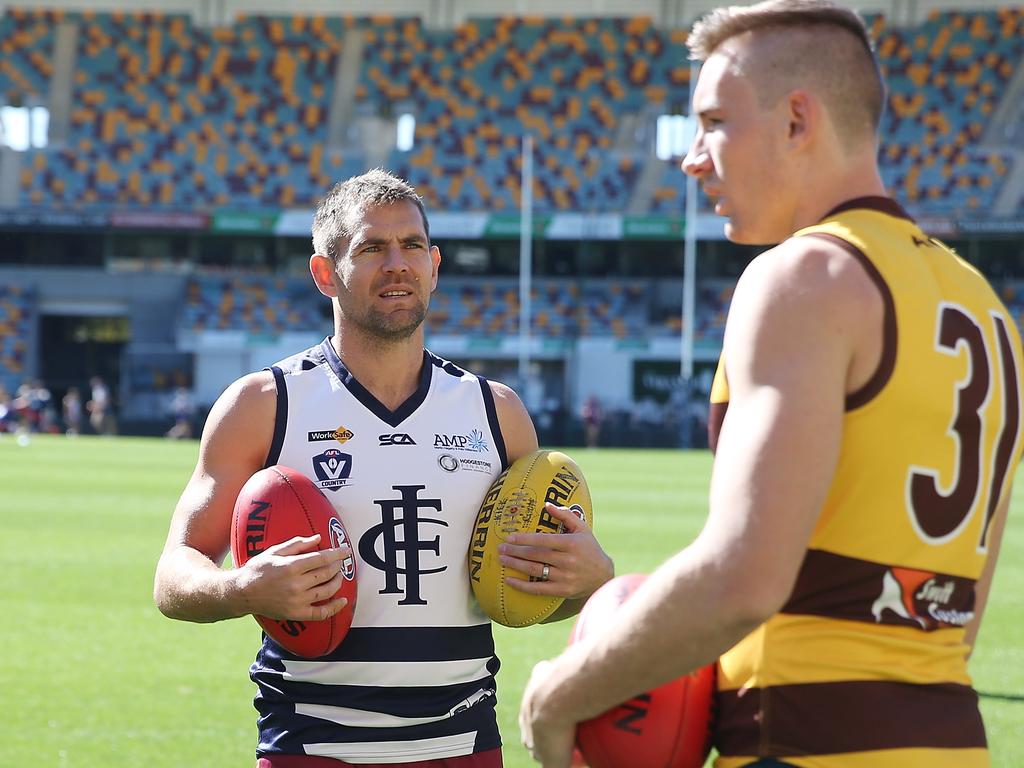 Luke Hodge's leadership was the perfect guide for Harris Andrews to model his vice-captaincy on. Picture: Chris Hyde/AFL Media/Getty Images
The decision by Brisbane to recruit Hawthorn's three-time premiership captain Luke Hodge at the tailend of his career also helped the younger Lion to develop as a leader and defender.
"Hodgey came up here and I was able to get a really good look at being able to help other people around me get the best out of themselves," Andrews says.
"Hodgey was really great about that, being able to … show leadership and being able to demand more from teammates, all that sort of stuff, which is super important to do as a leader.
"I recognise that Luke Hodge will probably go down as one of the all-time great leaders and his ability to view the game is as good as anyone.
"I guess I can be half as good as what he was then I'd be bloody stoked with that."
Andrews has provided able support as a deputy to Brisbane captain and fellow Queenslander Dayne Zorko and believes the leadership combination is working well.
The Lions have played finals for the past three years but Andrews is mindful that there is no time like the present to pounce.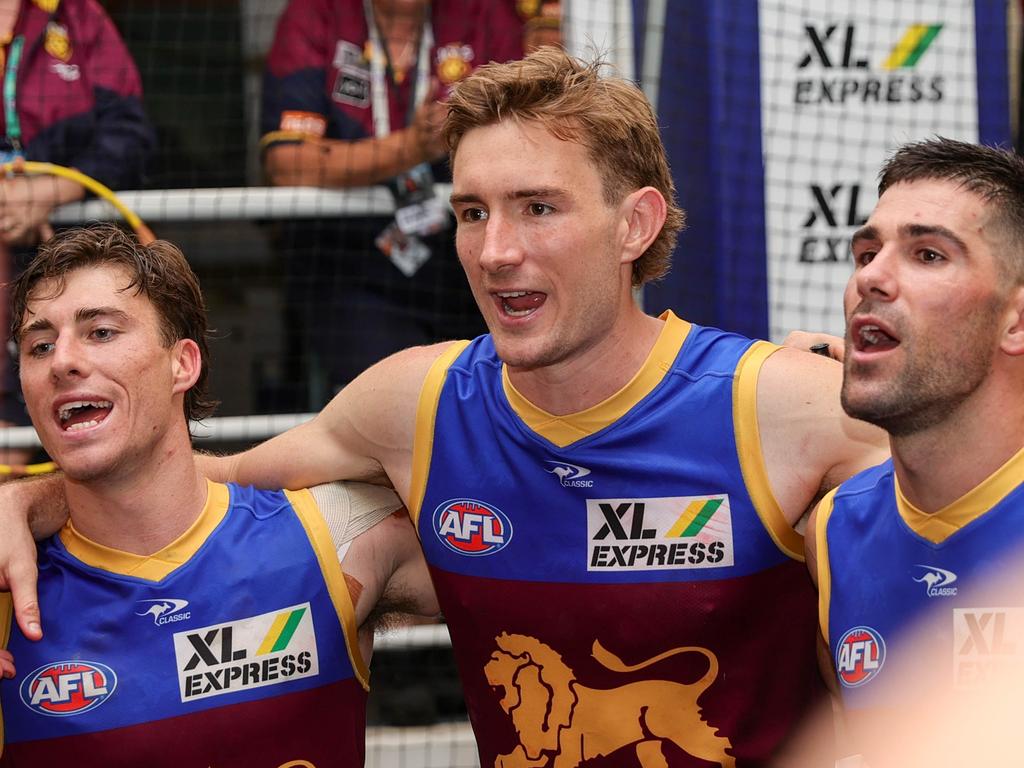 Andrews and the winning Lions have their eyes set on a premiership assault. Pictures: Russell Freeman/AFL Photos via Getty Images
He points to the importance of making the most of having experienced players like Daniel Rich around the club as examples for younger Lions to follow.
"I've obviously been vice-captain under Zorks for the last few years and he does an awesome job of being able to lead in his own way. I feel like we really complement each other well," he says.
"It's gotten to a point now where I'm eight years in and we have had a really good three years of playing finals. And now I'm just super hungry to go to that next level.
"I'm still quite young but the thing is I can just see potential in this group … and just see how much room we have to grow. I'm getting a little bit impatient.
"I just want to keep driving those younger guys to keep improving and try and fast-track that development to try and get them in the same space as a lot of those older guys like Richie and Ryan Lester and Zorks and JL (Jarryd Lyons), those guys who are coming towards sort of the back end of their careers.
"We're all in it to try to achieve the ultimate goal of winning a premiership."