Ex-Brisbane player Cam Ellis-Yolmen on leaving AFL due to Covid vaccine mandates and life in QAFL
Former Brisbane player Cam Ellis-Yolmen has spoken for the first time since walking away from the AFL due to vaccine mandates, detailing the reasons behind his decision and the sleepless nights he had in the lead up.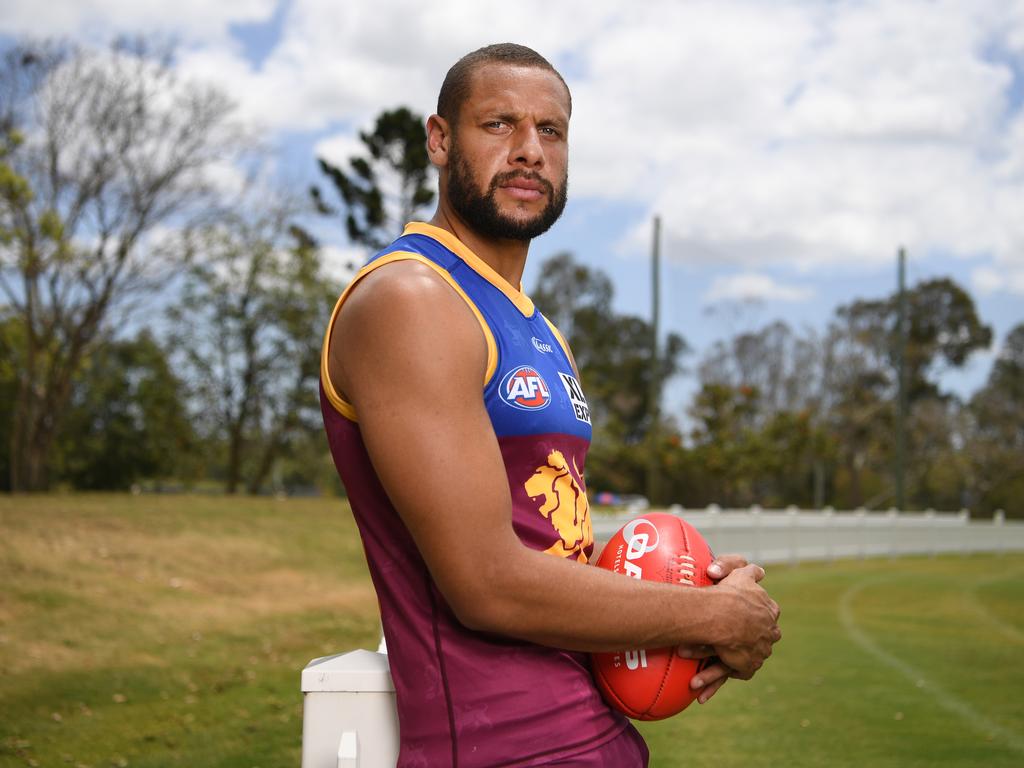 Former Brisbane Lions player Cam Ellis-Yolmen has spoken for the first time since leaving the AFL. Picture: AAP Image/Dan Peled.
Former Brisbane Lions player Cam Ellis-Yolmen stands by his decision to walk away from the AFL on the back of the league's vaccine mandates but hopes the door may open again for a return to the top level one day.
Speaking publicly for the first time since leaving Brisbane in January, Ellis-Yolmen detailed the reasons behind the decision, the sleepless nights he had in the lead up to the AFL's deadline to meet Covid protocols and why he has no regrets about his choice.
It comes as he prepares to play for the Labrador Tigers, who have also signed Lachie Henderson, in the QAFL.
"It was pretty tough. I have stood strong against it for a while," Ellis-Yolmen said.
"The club has always known and it came down to putting my health first. I didn't think I needed the vaccine.
"I have never taken the flu jab. The Lions were very supportive of my decision. They didn't try to persuade me and were always respectful about how I thought and what choice I was going to make.
"Ultimately it came down to putting my health first. Their hands were tied with the AFL in the end and there was a due date put in place for January 21 so I had to make a decision. I made the one I thought was right for me.
"To be honest I never thought it would come down to having to make a choice between getting the vaccine and walking away.
"It is sad that a few boys and myself have had to make that type of decision, especially on our own health.
"I was happy to do whatever we had to do for the last two years to play AFL when it came to quarantining and staying away from the public."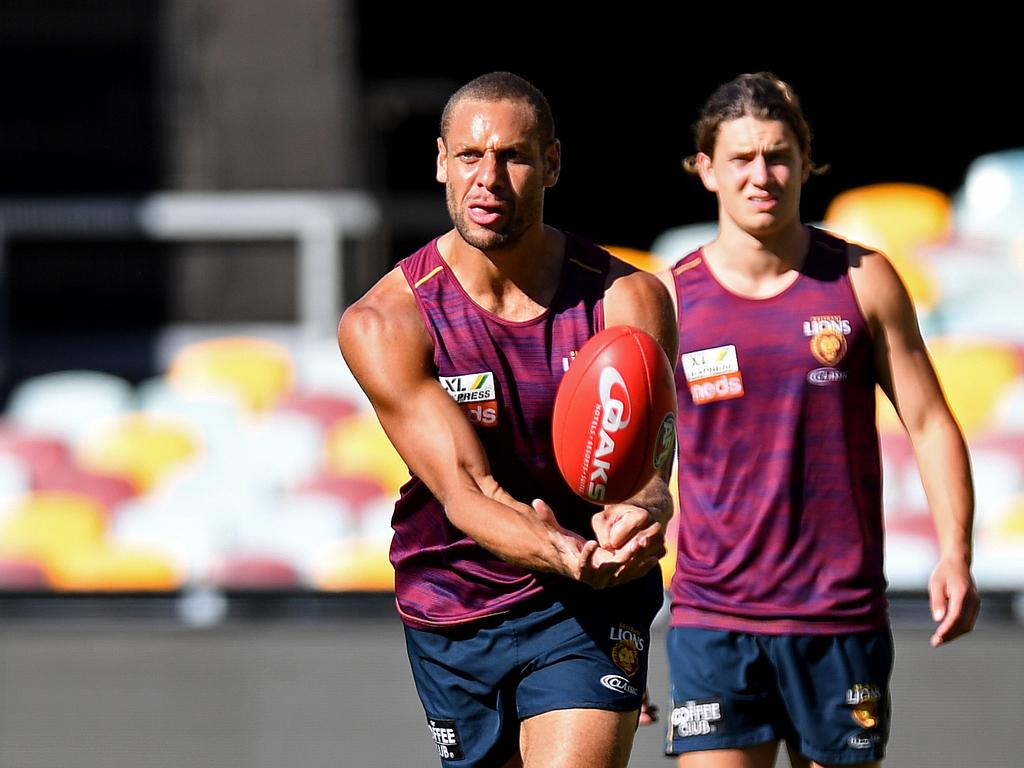 Cam Ellis-Yolmen says the Lions were always supportive of his choices. Picture: Bradley Kanaris/Getty Images
The 29-year-old, who played 48 AFL games between stints at the Adelaide Crows and Brisbane Lions and had a contract in place with the Lions for 2022, opened up about the emotions he felt in the days leading into the deadline.
"It was a very tough call," he said.
"I didn't sleep for the two nights prior. My mind just kept ticking over and in one ear you are just like 'take it and be fine and go against what you believe' but you couldn't pay me any money in the world to get it. Once you take money away from it the decision was made.
"I knew I'd be fine outside of footy. I have had a lot of support around me and that made my decision so much easier.
"I'm very happy with the decision and I still stand by it. I don't regret it."
Ellis-Yolmen believes he is by no means an anti-vaxxer and that those closest to him didn't judge him for his decision.
"You get tagged as an anti-vaxxer but I'm not against any vaccines," he said.
"If you think you need it and want it then go ahead. I'd never hold it against anyone. I have family members who have got it and I don't look at them differently and they don't look at me any differently. That is the way it should be for everyone.
"It is a medical choice. Hopefully we get to a point where we have gone from a pandemic to an endemic and we can live with it without restrictions and mandates."
Ellis-Yolmen said he still had a deep hunger to play at the highest level and hoped one day mandates would change and he could feature in the AFL again.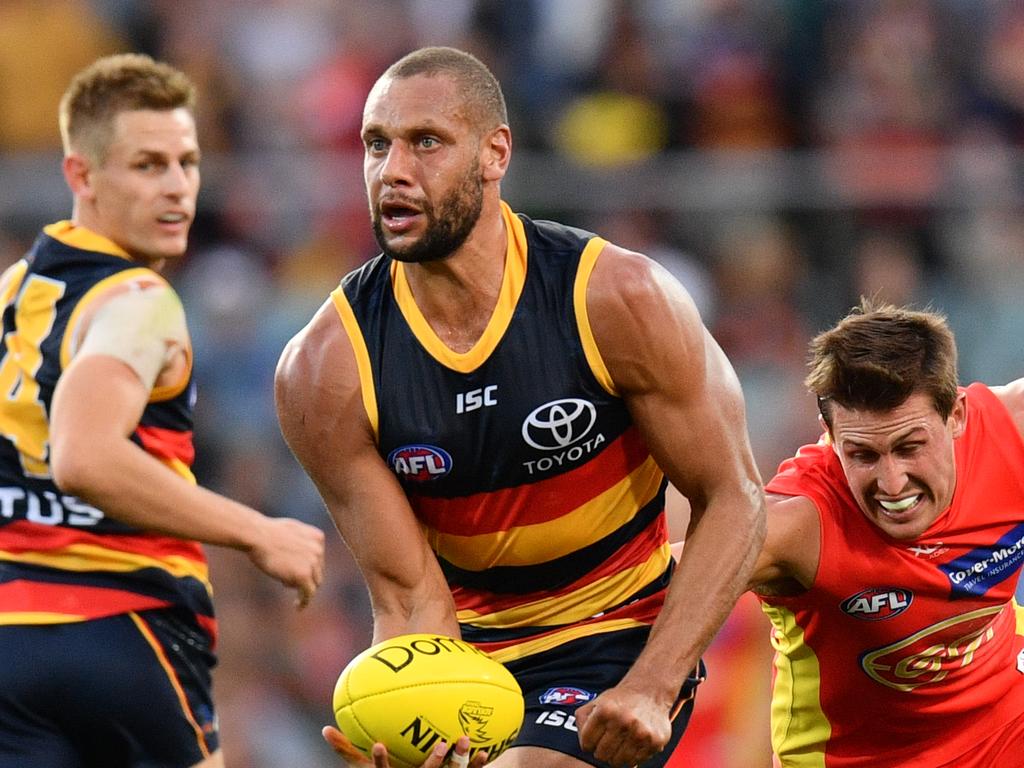 Cam Ellis-Yolmen was with the Crows prior to joining the Lions. Picture: Daniel Kalisz/Getty Images)
"Absolutely. I did over half of the AFL pre-season and I am fit and firing to go," Ellis-Yolmen said.
"The hunger is still there and I want to play good footy at Labrador. I am naturally competitive, I have always been like that. I still want to be that competitive player that I was at AFL level and hopefully I can bring some of those standards to Labrador and help elevate my teammates.
"Who knows, Australia is changing so quickly. The mandates on our firefighters was lifted so there are changes being made."
Ellis-Yolmen said he spent two weeks back in Adelaide reconnecting with family, a trip that helped him "decompress" after a tough period.
"I hadn't been back there in a while because of Covid," he said.
"I didn't tell many people I was going and just caught up with the people I love the most.
"My cousin and I went away for three days on the Yorke Peninsula where there was no phone reception.
"I have always gone out there surfing and fishing. It was great to decompress after the hard decision I had to make.
"It was important for me to have that family support, be around them and spend time there to take my mind off everything that was going on in Brisbane."
Ellis-Yolmen connected with Labrador at the end of January after speaking to Tigers recruit Andrew Boston, a former Southport Sharks VFL player who played against Ellis-Yolmen last year.
He joins a growing list of AFL players who have signed with QAFL clubs, including former Carlton defender Liam Jones.
He will likely play midfield and forward for the Tigers and said Labrador had enabled him to make a smooth transition from the AFL to QAFL.
"I am really happy to still be on the east coast. I really didn't want to leave Queensland because I love it here.
"Everyone at the club has been very welcoming. The boys are firing through the colts and different grades. They are fighting for spots and there has been some good competition."