Sacked Podcast part 1: Andrew Demetriou opens up on the Carlton salary cap scandal, his playing career and being sacked by North Melbourne
Andrew Demetriou had heard the rumours for years. But now he had the proof. Carlton was rorting the salary cap and he was going to make sure the club was punished.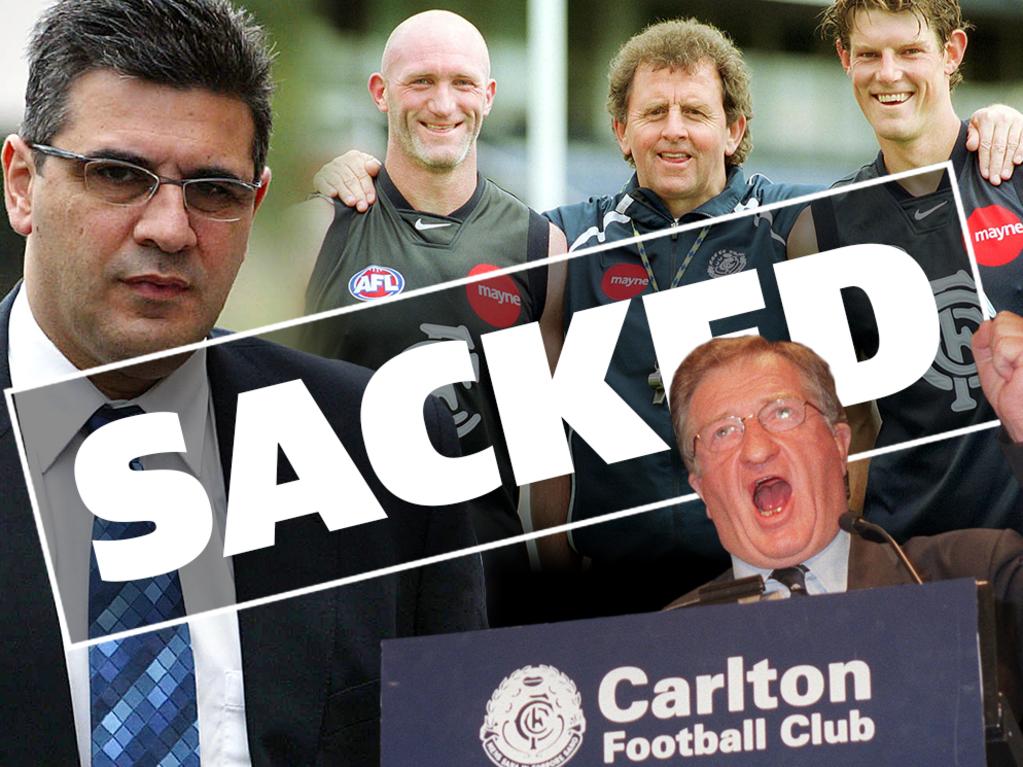 Andrew Demetriou had heard the rumours for years. But now he had the proof.
Andrew Demetriou's feet hadn't long been under his desk at AFL headquarters when the spectre of systemic salary cap cheating shot to his attention.
He had heard the rumours — from afar — for years.
He knew clubs had used a series of moratoriums to wipe off numerous past indiscretions.
But in his new role as AFL football operations manager Demetriou — and the AFL investigations team — had become privy to information in the early 2000s that one club had still been arrogantly thumbing its nose at the rest of the competition.
That club was Carlton.
The transgressions were on a scale that shocked Demetriou, allegations of blatant cheating at a time when rival clubs had put their brown paper payment bags away.
Speaking exclusively to the Herald Sun's Sacked podcast, Demetriou has for the first time revealed it was his recommendation that the AFL Commission adopted when it slugged Carlton with the most severe salary cap penalties in the competition's history.
"I had been at the AFL for a couple of months and a lot of the Carlton stuff started to unfold," Demetriou said.
"We were privy to information that was pretty damning for the club.
"They were coming up to a draft where they were (potentially) going to get (Brendon) Goddard and Daniel Wells.
"The penalty was pretty severe based on a recommendation from me as general manager of football operations, mainly because some of the charges were very serious."
In the two decades since those 2002 penalties, the Blues have "won" four wooden spoons and played only six finals matches.
That elusive 17th premiership remains a distant dream.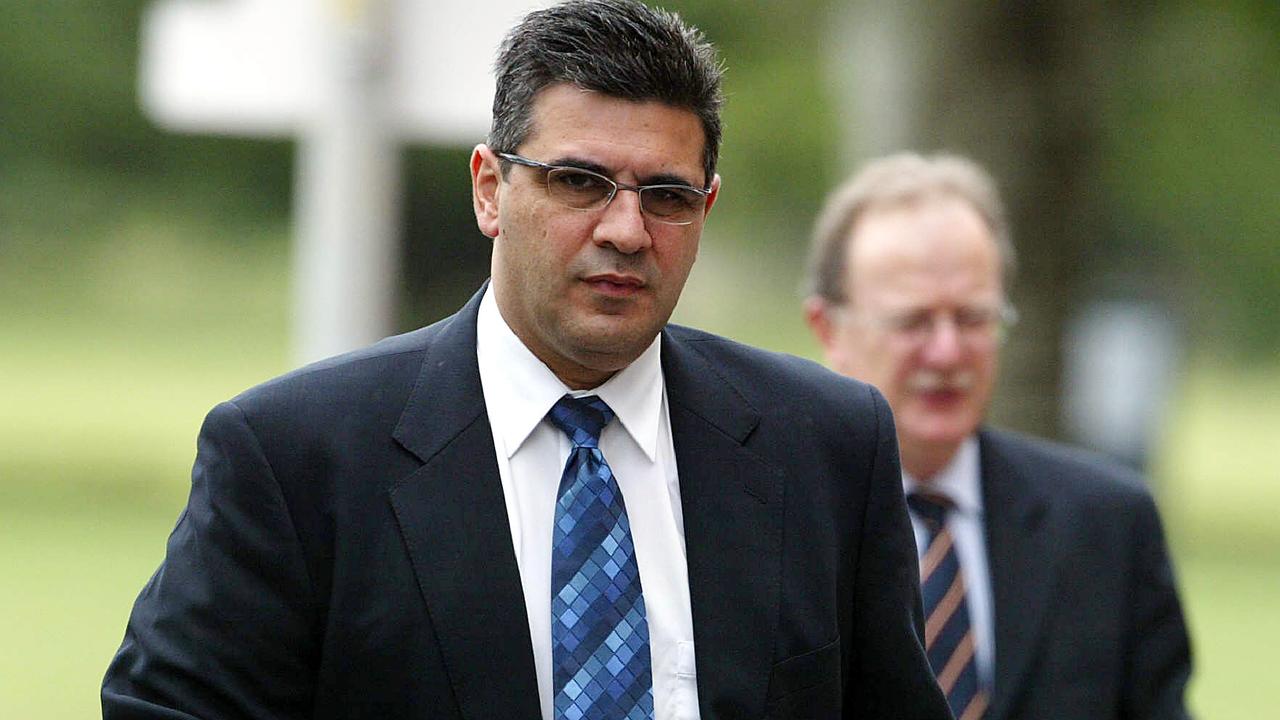 Andrew Demetriou and the AFL came down hard on Carlton.
Some blamed the AFL's heavy punishment for the mire in which the once-mighty club has found itself for most of this century.
Denis Pagan, the incoming coach who inherited the mess, told Sacked in 2020 "the (penalties) ruined so many people's careers with the decisions that (Andrew) Demetriou, (Graeme) Samuel and Wayne Jackson made.
"They just crippled the club," Pagan said. "I don't think the AFL realised how draconian the penalties were."
Carlton was fined $930,000, lost all its picks in the 2002 national draft (including first and second picks), all picks in the 2003 pre-season draft and its first and second-round selections in the 2003 national draft after being found guilty of making payments outside of the cap to four players – Craig Bradley, Stephen Silvagni, Stephen O'Reilly and Fraser Brown.
Almost two decades on, Demetriou has doubled down in his belief that the penalties were not only justified, but necessary to set a precedent.
"At the time, it's what they deserved.

"People are entitled to disagree with it. My former chairman, Mike Fitzpatrick, who I'm close to, always believed it was a harsh penalty.
"He wasn't at the AFL (then). He's a Carlton man through and through and he still believes to this day (it was too harsh). We often argue about it.
"I can accept that some people think it was harsh, but they were pretty harsh breaches of the rules.
"The late John Elliott was president at the time and he wasn't interested in owning up to any of the salary cap (breaches) … I've got a lot of respect for John, but I just don't think he had respect for the rules, and in turn little respect for the other clubs."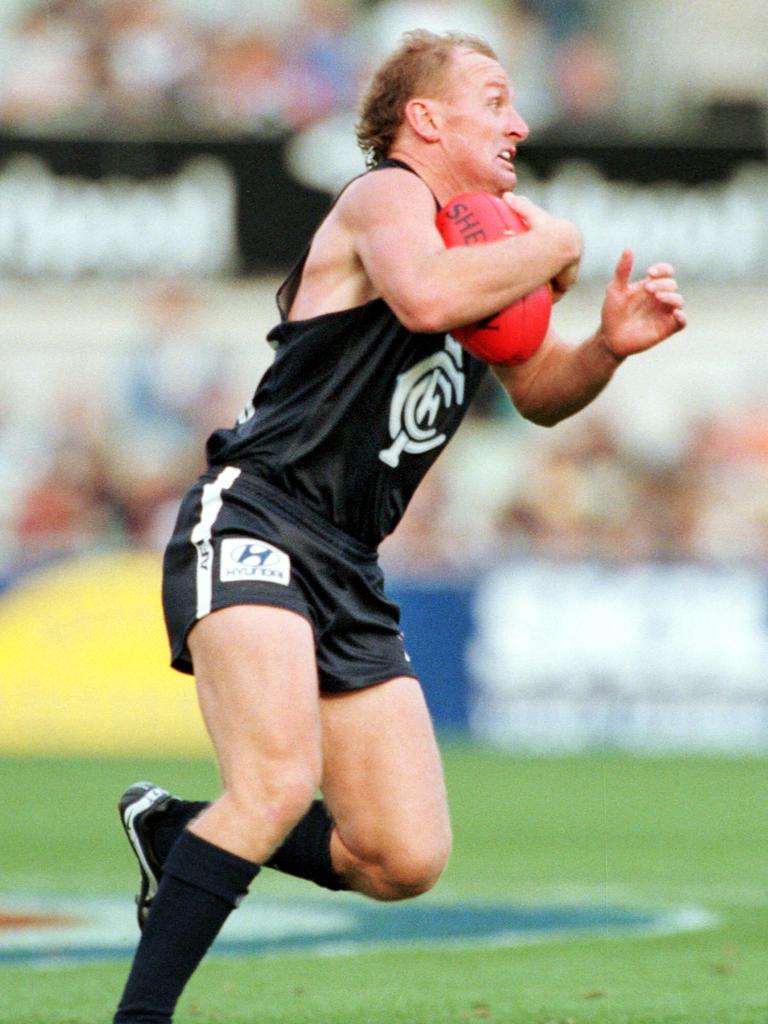 Craig Bradley.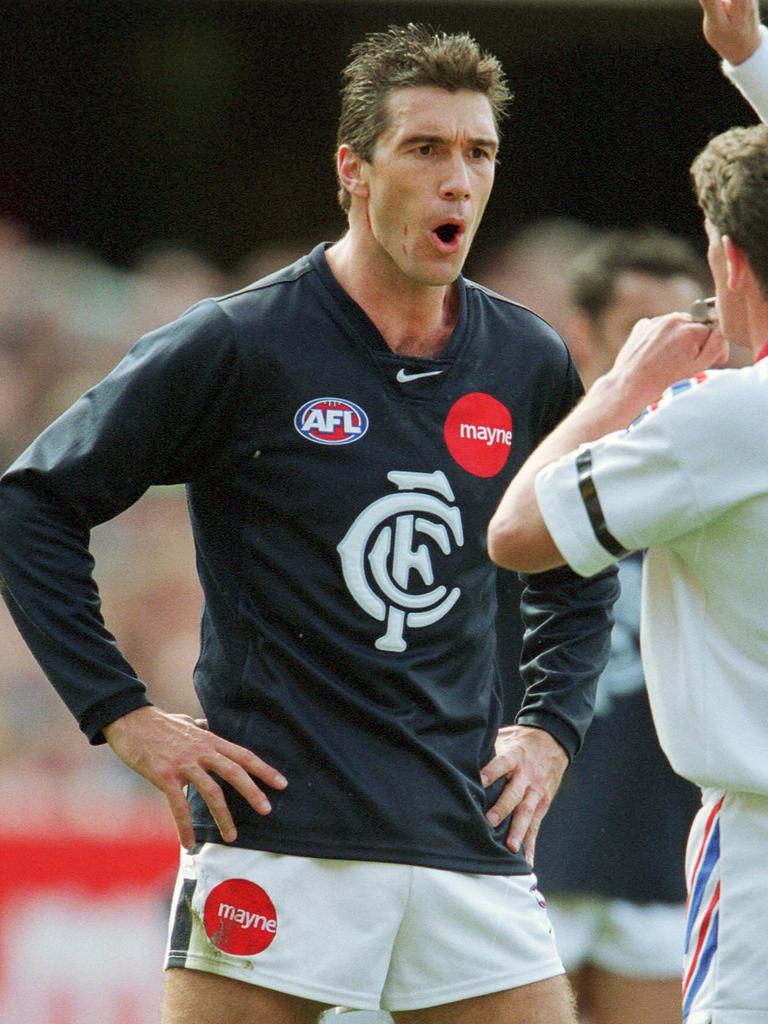 Stephen Silvagni
But Demetriou has some sympathy for Carlton supporters, as well as for Elliott's successor Ian Collins.
"I really felt sorry for Ian Collins because he came into the club at that time as president mainly to mitigate the sanctions because he had a good relationship with the AFL," he said.
"But the AFL was sanctioning the club, not sanctioning the individual.
"The penalty was significant and it affected them for years. In some ways, it could still affect them now, not just with the draft picks, but future draft picks and monetary sanctions.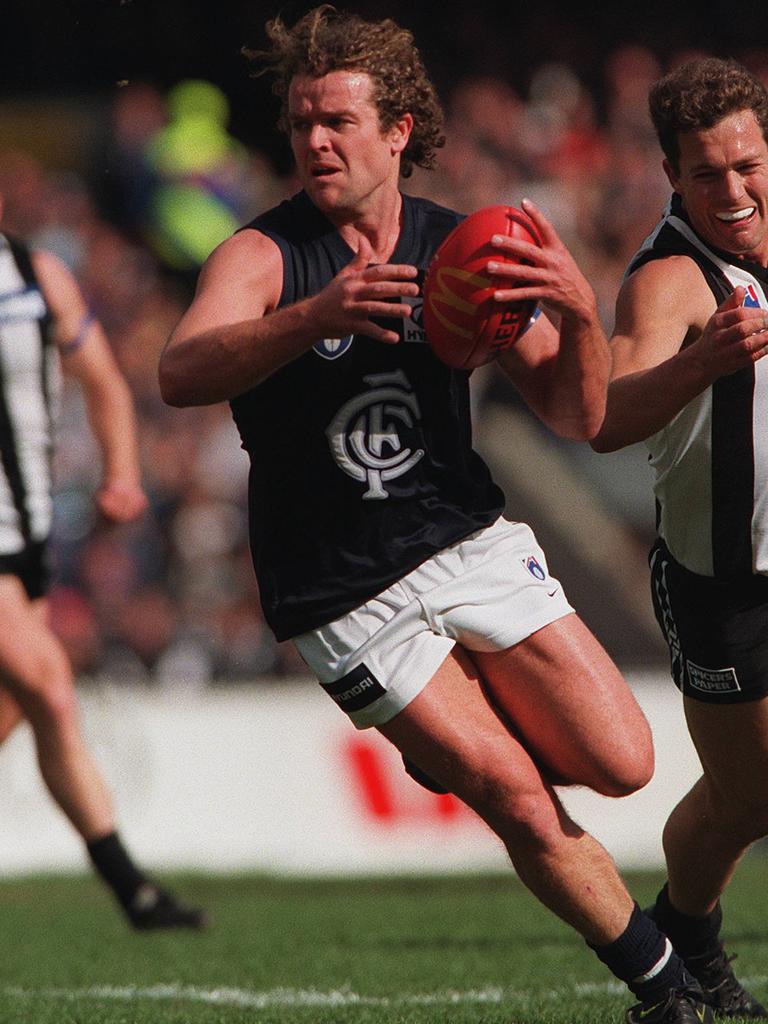 Fraser Brown.
"The biggest loser out of all that was the supporters because (they) don't have a say in what happens in a salary cap, and in some ways, the players.
"Some players knew what was going on; but other players were just getting paid … fairly.
"The supporters pay their memberships and buy their merchandise and watch and support their club. They had to deal with the fallout and no success for a number of years.
"It's terribly heartbreaking for them.
"The only salary cap charges I can remember since were the Adelaide Crows with Kurt Tippett … but it wasn't of the magnitude of the Carlton one.
"It (the Carlton penalties) sent a message."
FAMILY TIES
Demetriou learnt from an early age that anything is possible, if you were prepared to work for it.
It's a belief he has carried through every stage of his 60 years – from his playing days with North Melbourne and Hawthorn, his time as a student and teacher, through his years in business, in his time at the AFL Players' Association and on to two game-changing roles with the AFL.
He and wife Symone have endeavoured to impart this advice to their four children – Francesca and Alexandra (18), Mattea (15) and Sacha (12).
The lesson came from watching his parents, Tony and Chrysi, toil long hours in the family's shop – Tony's Fish and Chips – while raising four sons, of which Demetriou is the youngest.
"Watching our parents work very hard instilled some wonderful values in us and their values are ones I endeavoured to put through my whole professional life, and with our children, of which we are very proud," he said.
"My parents came out (from Cyprus) separately in 1951. My father came out with very little money and no English language on a six-week boat trip. (He) stopped at Fremantle and could easily have got off, but ended up in Melbourne.
"My mother came separately to join her brother.
"They married and had four sons and worked incredibly hard in the fish and chip shop in Bell St, Coburg. We lived (for a time) in a two-bedroom house behind the shop."
His three brothers – Jim, George and Phiv – shared one bedroom, while Andrew shared a bedroom with his parents before the family moved to a bigger place in Rose St, Coburg.
"I've got fond memories of growing up in the area, particularly the kids we grew up with," he said. "We played footy in the Woolworths car park in winter and cricket in the summer.
"We knew all the local kids. We had migrant kids, a lot of Australian kids, a lot of Italians and Maltese and Greek. It was a real working-class area."
Andrew Demetriou at North Melbourne.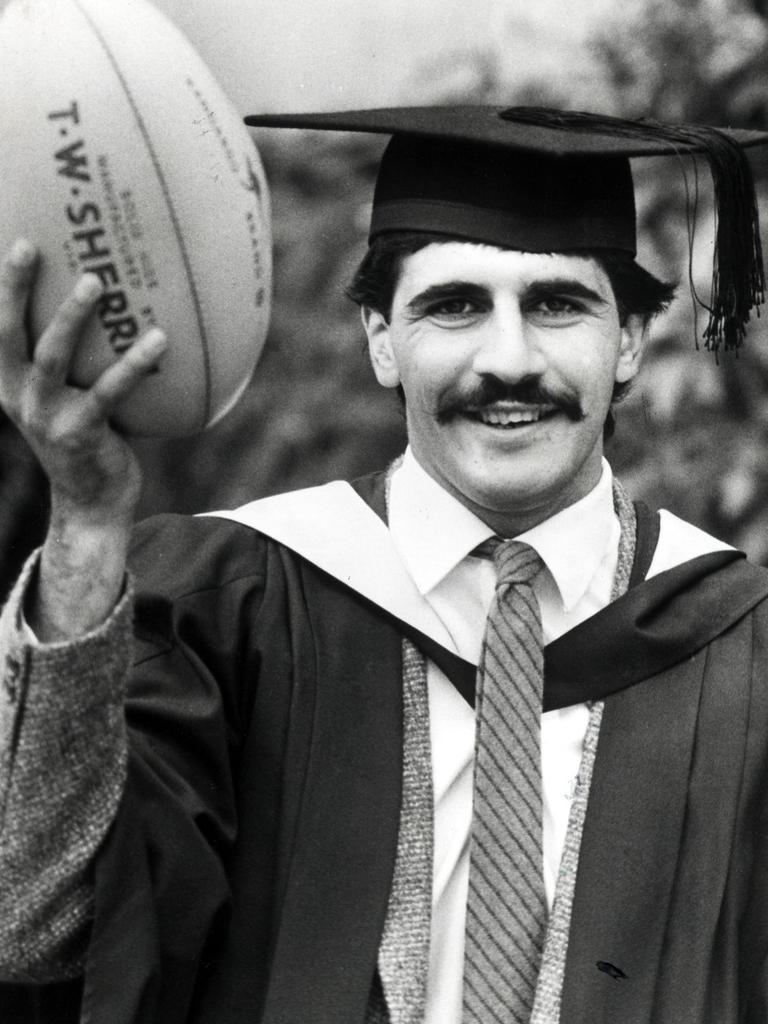 Demetriou after graduating from La Trobe University.
FOOTY TALES
Football played a big part in Demetriou's early years, even if his parents never had the time to come and watch their four sons play.
His brother Jim played nine games for Essendon in the mid '70s before he broke his leg tripping on a sprinkler at Waverley.
All four Demetriou brothers played in one game for Pascoe Vale, prompting father Tony to take a rare day off to see his boys.
Andrew recalled with a smile: "We had a famous game where the four brothers played together in a game. There was a bit of a punch up with some other club.
"My father was running onto the ground. He's in between someone who was pushing him and saying, 'You can't do that'. He got suspended I think from attending an EDFL game."
BECOMING A KANGAROO
Demetriou was invited to play in a practice match with Carlton, believing he was in the Blues' zone.
The truth was the family's move to Rose St had taken him from Essendon's zone to North Melbourne's catchment.
"I actually went (to Carlton) and played OK and they told me to come back on Monday," he recalled.
"I met Alex Jesaulenko and they said to me: 'We've just found out you're in North Melbourne's zone, you live on the wrong side of the street'."
Carlton told him to go to Kangaroos' training and "fall over, kick on your left foot and be a bit of a d***head", as part of a Blues ruse to get North Melbourne to show him the door.
It didn't fool then North Melbourne under-19s coach Ray "Slug" Jordon.
"At the end of training on the first night, Slug said 'Don't even waste your time trying to leave here. You are in our zone; we've seen you (can) play'."
Demetriou was selected for his first league game in Round 7, 1981, against Footscray at Waverley, the day one of his brothers was scheduled to be married.
"It was the worst possible time because my brother got married that day," he said. "I was meant to be a groomsman. He got married at the Oakleigh Greek Church.
"I couldn't really say I'm not playing footy. So I played (the Bulldogs) and they (his family) came to the game at half-time.
Andrew Demetriou in action for North Melbourne.
"Then we all went back to the reception, because Greek weddings can take a fair while."
Demetriou undersells himself as "an unobtrusive, battling wingman" who played 103 games for the Kangaroos from 1981-87 and was an emergency for Victoria in a state game.
"I was very, very lucky to play in the teams that I played in," he said.
"We had the Krakouer brothers … Ross Glendinning, Keith Greig, Malcolm Blight, Wayne Schimmelbusch, Gary Dempsey … I used to pinch myself."
His mum saw him play only one match — the 1982 semi-final loss to Hawthorn.
"It was Dermott (Brereton's) first game, and that coincided with the only game my mother went to," he recounted.
"I was knocked out, leaving myself exposed when chasing Rodney Eade. I think it was Leigh Matthews. It was an incredible shirtfront, a very fair bump.
"I don't think the concussion rules were effective in those days because I came back on and I don't remember anything about the game.
"My mother never went to another game."
SACKED BY THE ROOS
Demetriou turned up for the Kangaroos' guernsey presentation day in 1988. Instead of being handed his regular No. 28 jumper, he got sacked.
"I got called into Ron Joseph's office and he said: 'You are no longer required!' It was about as straight and simple as that."
He thought for a time about joining Mick Malthouse at Footscray, but ultimately chose the power team of the 1980s, Hawthorn.
His two seasons at Glenferrie (1988 and 1989) were premiership years, but he managed only three senior matches.
"I played OK in those games, but it was hard to break into that team.
"I was playing in the seconds with guys like Richard Loveridge and others who were trying to break through. I was in awe of how good Hawthorn was as a team."
He didn't play a senior game in 1989 — his final year of VFL football.
But if that famous Hawthorn-Geelong Grand Final had been a draw — the injury-battered Hawks staved off the fast-finishing Cats by six points — Demetriou might well have played in a replay.
"If the (1989) Grand Final had been a draw I was probably a rough show to get a game (the next week) because there had been so many injuries."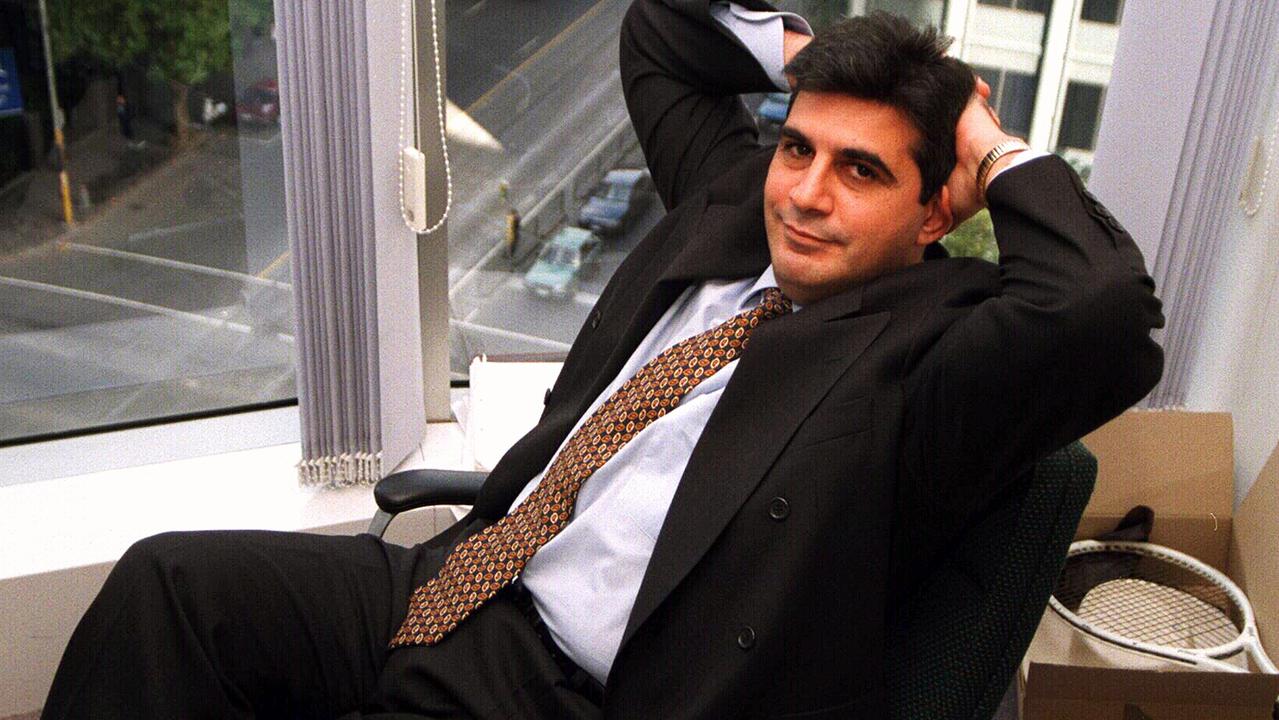 Andrew Demetriou early in his career while working at the AFL Players' Association. Picture: John Hart
RACISM
Having grown up in a multicultural region, Demetriou never took offence when he was called a "Wog" as a kid.
It was same when he was nicknamed "Kapil" in his playing days because his moustache made him look like Indian bowler Kapil Dev, or when Dermott Brereton called him "Gomez" because he thought he looked like Gomez Addams out of The Addams Family.
"I understand it is offensive now, but it didn't affect me growing up," he said.
"The kids we grew up with were … from all mixes and all ethnicities.
"But the world has changed now. You can't say those things anymore.
"I know my parents were offended when they got called names. Early on, at primary school, if I got called a name, it would end in fisticuffs."
But he could see how racism impacted Jim and Phil Krakouer at North Melbourne.
"Their skills were exquisite, they were just beautiful to watch," he said. "(But) I saw things on the footy field where they got abused, which was horrendous."
He's proud of the example the AFL set on a range of social issues before, during and after his time in the organisation, particularly its industry-leading stance on trying to eradicate racism on and off the field, which started back in the mid 1990s, before his time.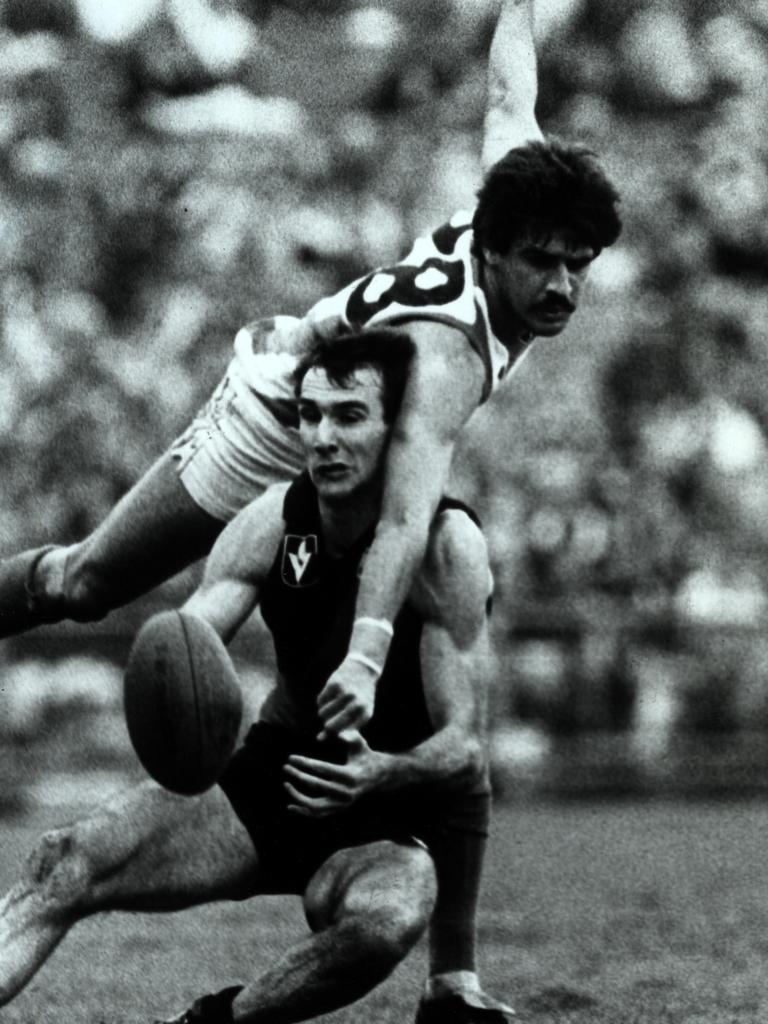 Demetriou in the 1983 preliminary final.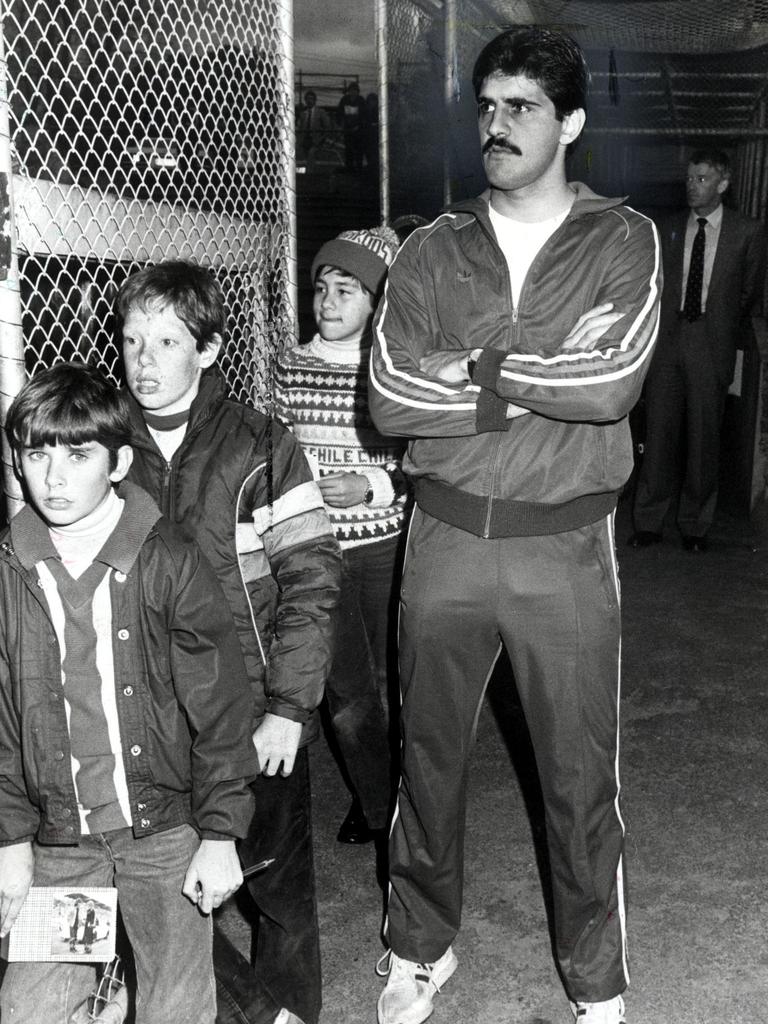 Demetriou with fans at North Melbourne.
DEAL OR NO DEAL
Demetriou was a fierce negotiator, but dismissed suggestions that he could be a bully.
"I think it's folly to suggest that people in executive roles … sit down and only ever have cordial conversations and sing Kumbaya," he said.
"It's what happens in business. You sit down, you thump the table, you play mind games and you negotiate and you bluff and you play chess.
"You're trying to get the best outcome.
"I don't think there's any time I've never endeavoured to get the best outcome for the league.
"(But) I've never tried to dud anyone.
"I've always said a healthy negotiation is one where both parties walk away thinking they've been fairly treated."
Almost eight years after he left AFL headquarters, Demetriou was asked if he had repaired any of the relationships that might have been challenged in his time in football.
He offers a recent chance encounter with former North Melbourne teammate Grant Thomas, who was his most trenchant critic when he was St Kilda coach, as an example.
"I saw Grant Thomas at St Andrews Beach Brewery (on the Mornington Peninsula) the other day and we had a big bear hug," he said.
"Grant hugged me.
"I think it's just one of those myths that's (been) perpetuated. I didn't have any toxic relationships with people to the point where I wouldn't speak to them.
"I mean, life's too short."