Short-priced Melbourne Demons could learn from David Parkin's 1995 Carlton team
The Melbourne Demons have a cruisy run for the next couple of weeks but as legendary Carlton coach David Parkin explains, even a small dip in attitude can take you straight from the top to rock bottom.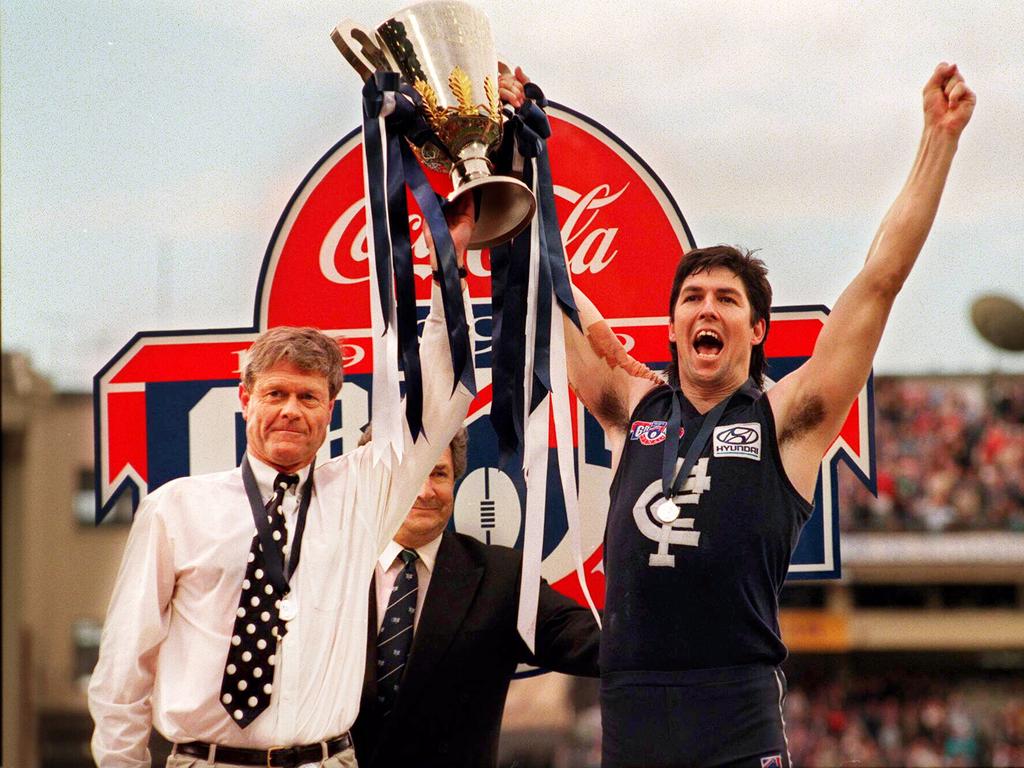 David Parkin hoisted the premiership trophy after coaching Carlton through a dominant 1995 season, but the year wasn't without its hiccups. Picture: News Corp Australia
With the bedraggled West Coast Eagles and North Melbourne as opponents over the next fortnight, all-conquering Melbourne may break records to be the shortest-priced favourites in AFL history.
And while no clear-thinking fan would tip against the Dees at this point, if there was any complacency in the camp, Simon Goodwin might be best to call on the wisdom of legendary coach David Parkin.
He knows you can go "from the best team in the competition to the worst team in the competition in two weeks".
Parkin coached Carlton's record-breaking team of 1995, which inexplicably had a mid-season lapse against lowly teams that threatened to derail their season. He tells CodeSports he sees some parallels with the 2022 Demons.
"I went through their list last week and Melbourne has probably 26 players who you'd say are very experienced, very competent and very committed, and there is no other team in the competition that has anywhere near that," Parkin says.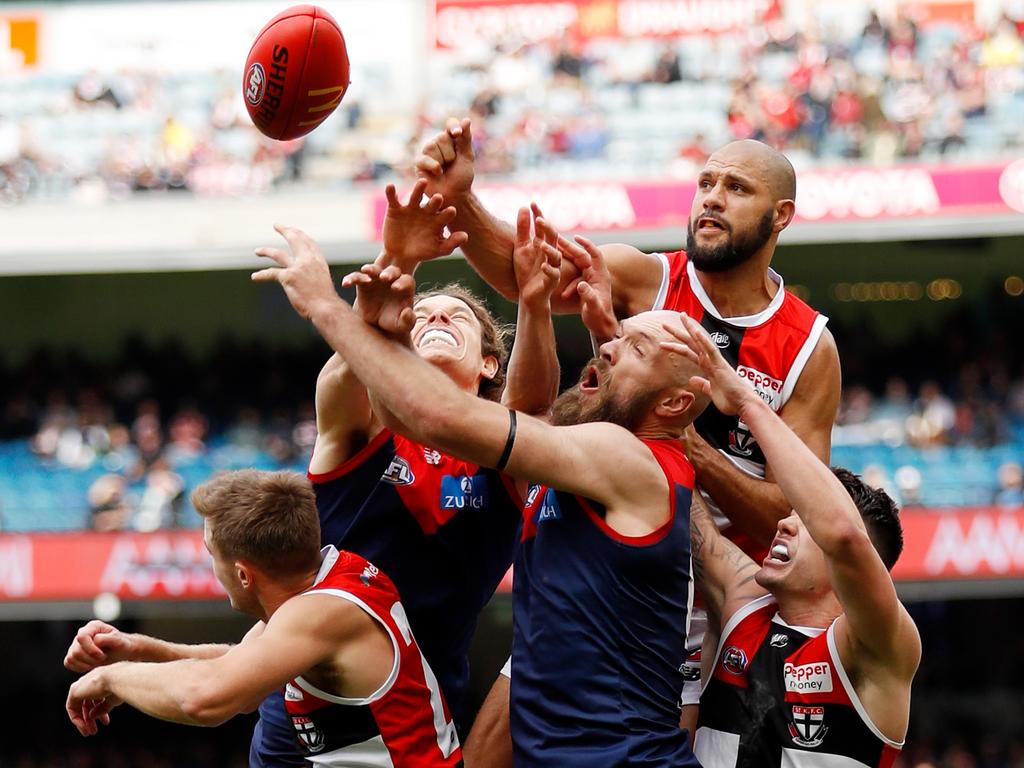 Melbourne are the last undefeated team of the 2022 season. Picture: Dylan Burns/AFL Photos via Getty Images
"If they do lose one or two, they have desperate and talented guys ready to take their spots."
But he believes Melbourne will lose matches at some stage this season, no matter how talented their squad is, providing some hope for the Eagles and Roos.
"I think Melbourne would want to go through undefeated, but I can't see it happening in this day and age," Parkin says.
"When you're playing every week for 22 games, people underestimate the degree of difficulty for an individual to produce their expected top-line performance every week. It is unrealistic.
"You just hope you've got so many good players, that if 25 per cent of them aren't playing at their optimal level, the talent across the other 75 per cent can get the job done, because the opposition don't have the talent to match it."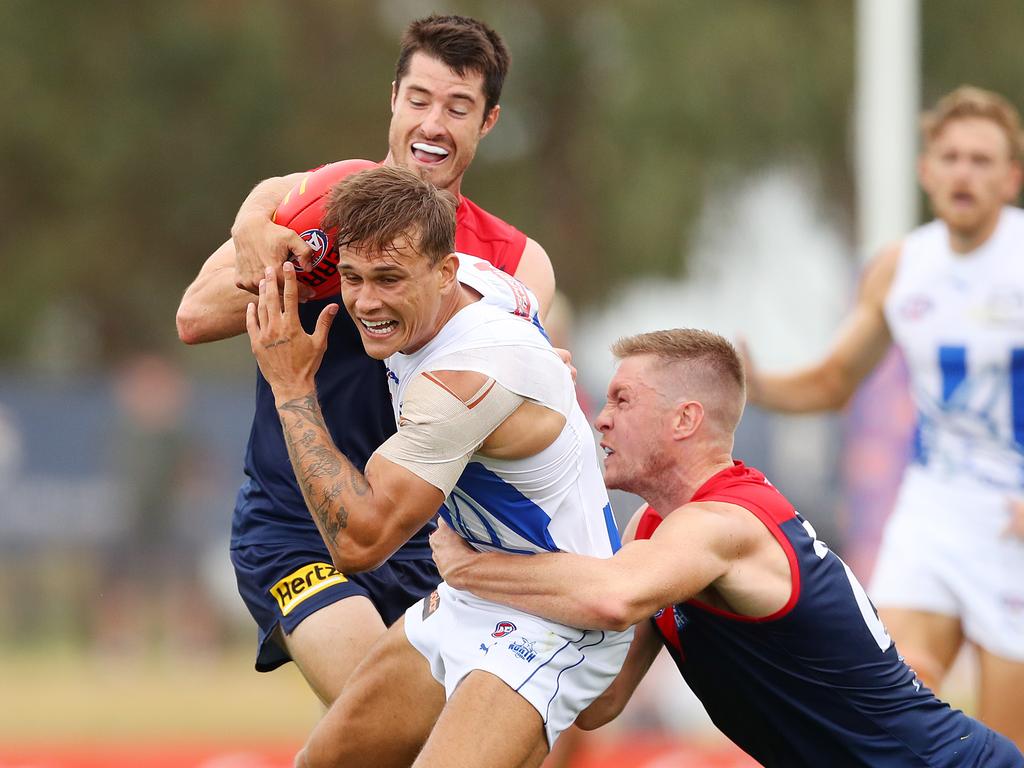 The Kangaroos were thumped by almost 100 points in a pre-season practise match with the Demons. Picture: Kelly Defina/Getty Images
*****
The 1995 Carlton team of veteran stars was in a similar sweet spot and Parkin knows the difficulty of producing excellence every week.
Intent on retribution for their finals exits in 1993 and 1994, they opened the season with a stunning seven consecutive wins to sit atop the AFL ladder with a percentage of 166.5. In the process they'd knocked off the reigning premiers West Coast and four other teams who would go on to play finals that year.
"That year (1995) was probably a first in Australian sporting history, in that the whole process was player-driven. I was convinced by our psychologist Anthony Stewart that the players needed to be empowered. I didn't know what the word was; I was the most autocratic, dictatorial coach there ever was," Parkin says.
The Carlton Blues were dominant premiers and champions of the 1995 AFL season, despite two mid-season slip ups against bottom sides. Picture: Tony Feder/Getty Images
"He said, 'Your way has failed, you've had the team to win it two years in a row, finished up the top of the ladder, but been beaten in the finals so it has to be worth a shot'.
"So, we gave ourselves over to a process that gives up the coach's power. It was the most profound learning experience of not only my coaching career, but my life.
"We also happened to have the 16 or 17 most experienced, committed and competent players the competition has ever seen in one team at one time, which was perfect for the process."
Despite the early dominance, the Blues were about to fall to some of the more infamous upsets in the games' history when they took on lowly Sydney and St Kilda in consecutive weeks, something that Goodwin's Demons might read up on in preparation for the next fortnight.
Eight goals to the newly acquired Tony Lockett saw the Swans trample the Blues by 72 points in what was the boilover of the season. But it would get worse.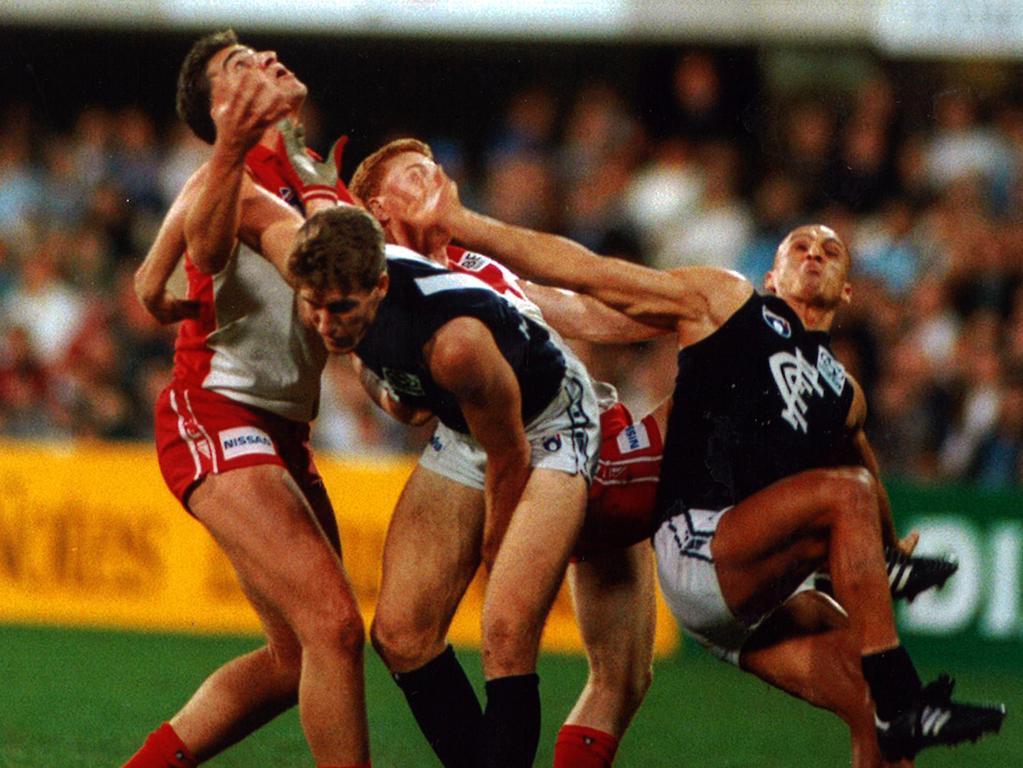 Sydney upset league-leaders Carlton in a 72-point thrashing midway through the year. Picture: News Corp Australia
*****
Parkin believes it's the nature of the game that makes upset losses possible.
"It's a difficult game to play, so it's impossible to get 23 players heading in the same direction all the time," he says.
"I watch all the other invasion games around the world, but ours is a step ahead because it is totally unpredictable. The ball can bounce in any direction when it hits the ground with five blokes each predicting differently, one will be right and sometimes that's all it takes to set the tone for a day."
The Blues would take on St Kilda next. The Saints were sitting last on the ladder, surely lightning couldn't strike twice?
In an embarrassing day, the Blues would not manage a goal until the 17-minute mark of the third quarter and were thrashed by 56 points. It prompted Parkin to declare it was "one of the saddest Carlton days".
The football world, so impressed by its early-season form, wondered if this was more than an aberration. Parkin used the fortnight-long horror show to revitalise his seasoned pros and says even the best sides need the occasional jolt to keep focus.
"We were beaten by vastly inferior sides, but it became the trigger for what happened for the rest of 1995," Parkin says.
"Our losses resulted in a recommitment. We'd been a winning team for a long time in the years before that, so two in a row to the bottom teams shocked us into that evaluation before it was too late.
"Those losses in retrospect were helpful at the time to get that recommitment to the process Anthony had set for us in the pre-season.
"And it might be the same for Melbourne, they won't be concerned if they lose one or two, as long as it's not games they're playing in September."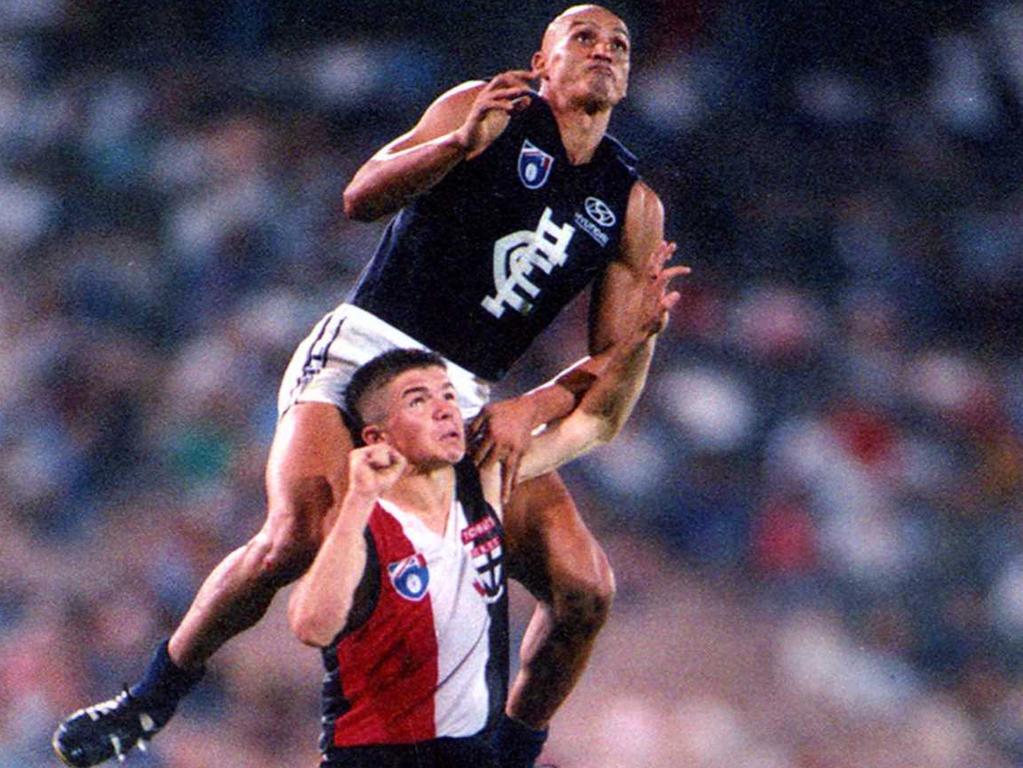 The Blues failed to get on top of last placed St Kilda after their demoralising defeat to Sydney. Picture: Nicole Garmston/News Corp Australia
*****
The following week Carlton brought back captain Stephen Kernahan from injury, destroyed Hawthorn by 102 points and never looked back. This would be the first of 16-straight wins, punctuated by 10-goal beltings of North Melbourne and Geelong in the preliminary and grand finals.
Parkin and Kernahan would hold the Premiership cup aloft and be crowned one of the greatest single-season teams of all-time, the mid-season meltdown a distant memory.
"They'd had huge disappointments in previous years, so it was very enjoyable to see the players get what they deserved and had driven.
"Of all the teams I coached, the two that I remember taking ownership and providing input that you're most proud of as a coach are the 1995 team and the 1986 team at Fitzroy (that reached the preliminary final). They both drove from within, but Carlton in 1995 had more talent."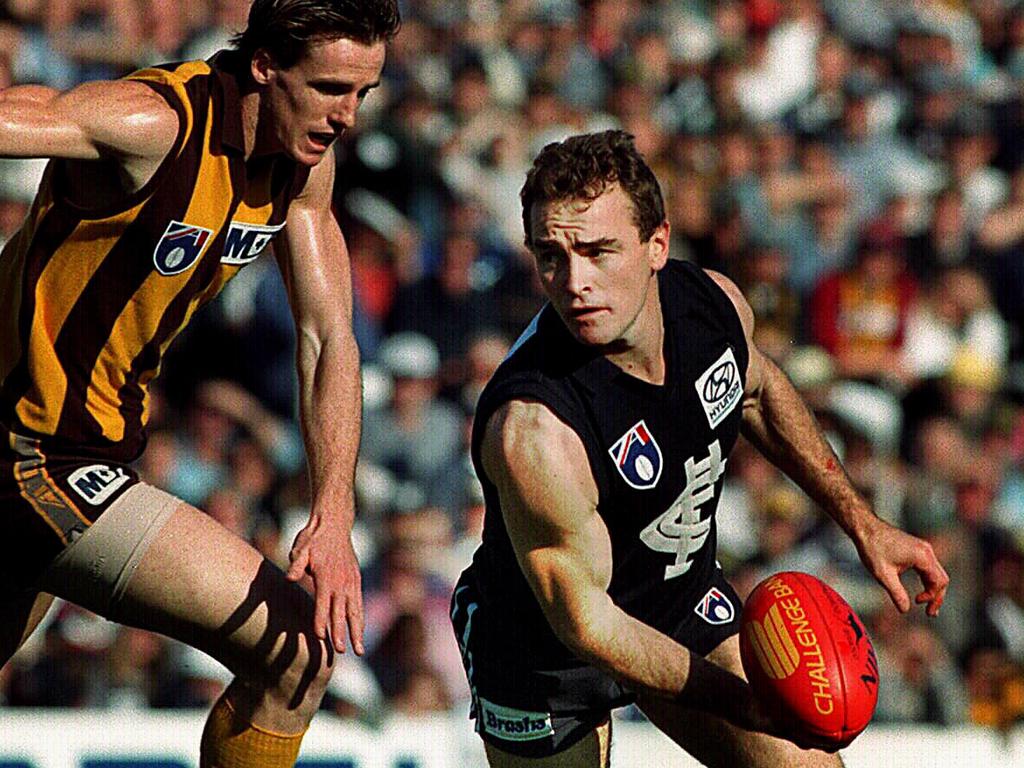 Carlton bounced back after their shock losses to devastate Hawthorn by more than 100 points. Picture: News Corp Australia
*****
Despite the playing and coaching ties that bind Parkin to Hawthorn and Carlton, he has enjoyed Melbourne's rise, tracing it back to his childhood support of the club.
"My father was a Melbourne member, he worked in the bank with (Demon legend) Ian Ridley, so I used to go in on his ticket as a kid and then I started buying my own membership in my teenage years," he says.
"I've had a membership and been a supporter of sorts for 70 years. They were my first club, so I kept buying that membership even when I was playing and coaching at other clubs.
"I've followed them with great interest, and what they've done, against the backdrop of the last four or five years, is quite exceptional.
"From the outside, Mark Williams deserves a lot of kudos, he has been able to provide balance in that coaching group."
While Hawthorn is rebuilding, he believes the resurgent Carlton are still a few years away from being serious contenders. Parkin thinks his heart may beat red and blue later this season.
"I'd be delighted if they won it again this year. They've been through a lot."