Why a resurgent Carlton could change the landscape of the AFL
Carlton's bluster and swagger has long lied dormant, but after a 3-0 start to 2022, the power of the club is beginning to become evident again, writes DANIEL CHERNY.
Michael Voss has made an immediate impression as coach of the Blues. Picture: Michael Willson/AFL Photos via Getty Images
"I'm not ready for Carlton to be good."
It was a quip on the other end of the phone, part of a freewheeling chat I had last week with a former AFL player still working in footy.
He has had affiliations with several Victorian clubs over the years and is all too aware of what it looks like we are being confronted with.
He's not the only one.
We are all starting to sense it around town. It's not a full blown bandwagon yet, but the signs are pointing that way.
Maybe it's a Facebook post from an old friend you'd forgotten even had an interest in footy. Perhaps it's spotting a Blues scarf in the wild, after years of being hidden away.
The fingers are twitching. There is tumbling and turning. The eyes are being rubbed. The giant is waking up from a decades-long slumber.
Yes, it is only three rounds. But Carlton have surged to the fourth line of premiership betting. Good money is pointing to this being real.
If there was cautious optimism when reigning premiers Melbourne were rolled in the final pre-season match, then the seal was broken when Richmond were devastatingly cast aside in the final quarter three weeks ago.
The lid untwisted when the Western Bulldogs were put to the sword in the first half of round 2, and then came off completely when Hawthorn were dismantled early in round 3. That the Hawks hit back and the Blues only hung on by a point is all that saved the lid from being tossed away for good.
Charlie Curnow of the Blues marks against Hawthorn. The win put Carlton 3-0 to start the season. Picture: Robert Cianflone/Getty Images
*****
Carlton supporters have borne witness to enough false dawns over the past two decades they should not get completely carried away.
But with a fixture of modest challenges to come in the next five weeks or so, a finals return, and maybe much more, looks no pipe dream.
For a club that won more premierships than any other across the first century of the VFL/AFL, it is remarkable how foreign it is to footy fans – Carlton or otherwise – under the age of 25, for the Blues to appear as a genuine premiership contender.
Indeed, even for them to not be completely abject is noteworthy. A club that didn't win a wooden spoon until 2002 now has five, the most recent being 2018, and hasn't made an AFL preliminary final since 2000.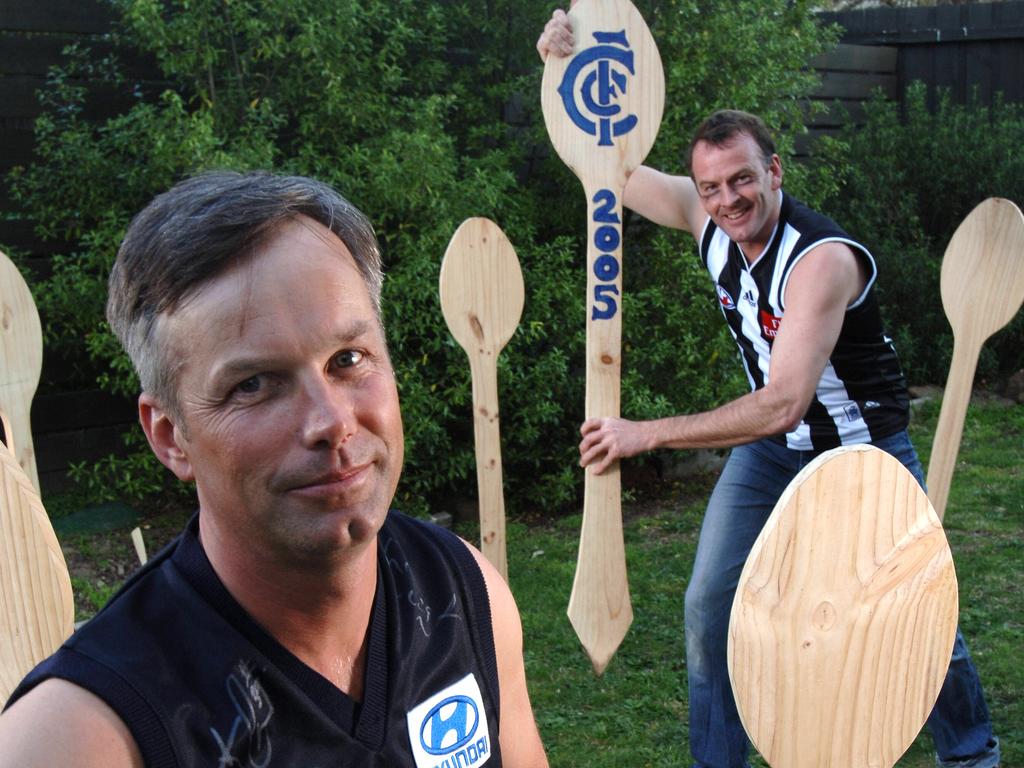 Wooden spoons are plentiful in Carlton's cabinet – fan Don Thomson (Collingwood) erected a wooden spoon montage on the front lawn of mate Ron Gazdowicz (Carlton) in 2005.
There were a smattering of finals appearances either side of 2010. But by and large the Blues have been the butt of jokes in recent times, not least during an ugly back half of 2021 when a lumpy football department review ultimately led to the sacking of coach David Teague amid myriad personnel changes.
The club has historically been epitomised by brash and arrogant leaders like George Harris and John Elliott, whose traits could rub off onto the Blues' vast supporter base. After all, this was the club that tried to buy North Melbourne and treated the likes of the Western Bulldogs and St Kilda with contempt.
And yet Carlton fans of my vintage (I'm 31) have been accustomed to perennial failure, spawning mockery and self-deprecation. Their favourite footy memories are pretty lame. Winning an elimination final here or there, some Brendan Fevola heroics, even a pre-season premiership or two.
But the Blue monster never died. It has merely been lying dormant.
Carlton had more than 81,000 members last year, despite being middling to horrendous on the field for the best part of a decade. It is a massive club.
It says everything about the Blues' ultimately ruthless core culture though that Cain Liddle, the chief executive who led Carlton back from financial decay, was sacked. You can work all the off-field wonders you like. It's what happens on the park that really counts.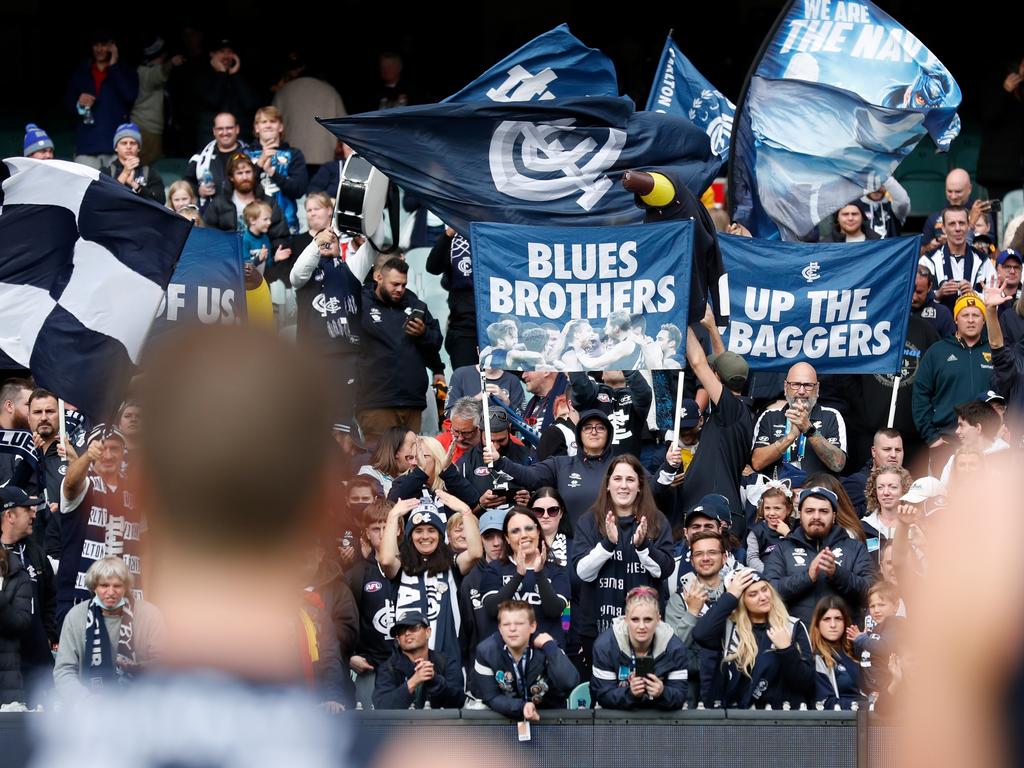 Carlton fans are out in full force. Picture: Michael Willson/AFL Photos via Getty Images
At a time where the AFL and other sporting bodies are battling to win back fans to venues in the same pre-pandemic numbers, the Blues and Hawks drew more than 66,000 to the MCG last Sunday.
If Carlton keep winning, the ground where Michael Voss' side is scheduled to play six home matches this season may not be big enough to cater for the broad Bluebagger church.
*****
Club great, former captain and 1995 premiership star Anthony Koutoufides is mindful of not getting too swept up in the hype.
But he concedes he is excited, and expects the football world to soon realise just how powerful a force Carlton really is.
"I walked into the most powerful football club. I got the last 11 or 12 years of it. It sort of fell away my last five years," Koutoufides says.
"I grew up as a Collingwood supporter and I was in admiration of Carlton. I didn't really understand until I got there, the culture. A magnificent culture, great leaders, and of course premiership players everywhere. Finals was the only thought we had.
"When I first walked in, I knew from afar the success that they had. But you walk in and you really understand how powerful [they are], big supporters, very wealthy supporters, prominent people of society.
"I think we just knew everywhere we went, there would be supporters everywhere. That included even at training, there were so many that used to turn up.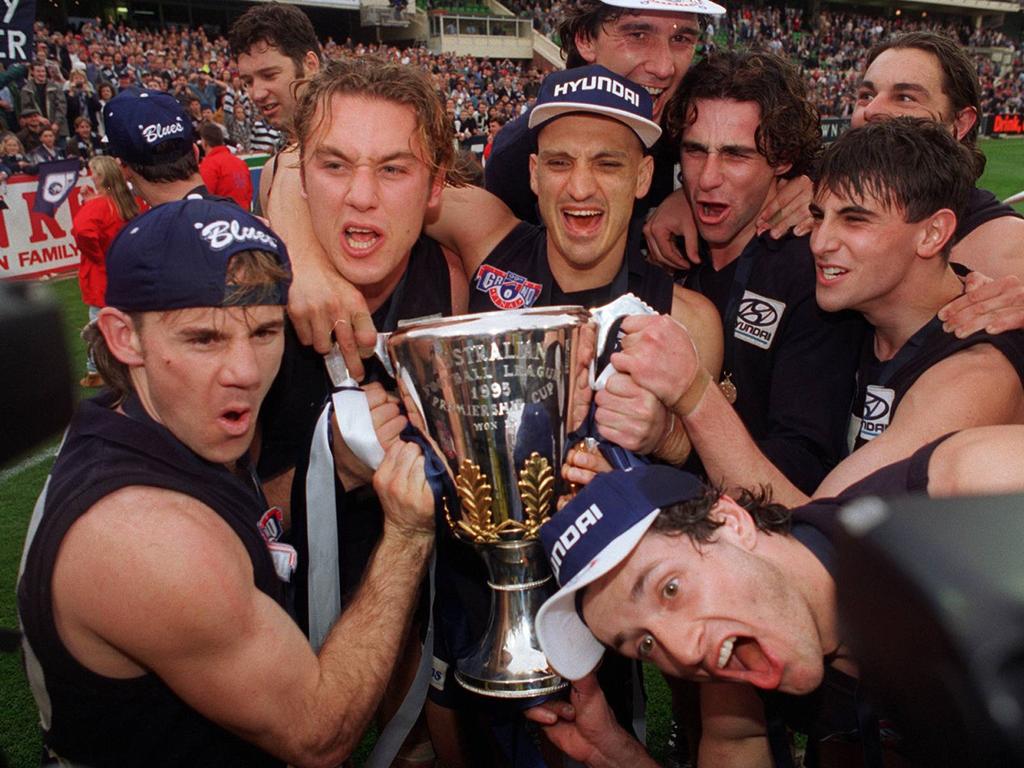 Anthony Koutoufides and teammates celebrate the 1995 Grand Final win.
"I haven't heard so much excitement in a long time. I'm excited too myself, because it's been so long. My son Lukas loves following them, he's 11, he hasn't seen anything. There really is an excitement.
"We don't want to get carried away, but what a start to the year. We couldn't have asked for any more. It's going to be really exciting to see Carlton back up there again.
"You can see the power of the football club, and it's only just the start of it. If they can get on a roll, anything's possible."
Koutoufides gives the example of another reignited powerhouse club to point to what could soon be coming.
"I didn't realise Richmond had so many supporters until their success came.
"Players in the last so many years don't really understand the power of Carlton. No matter where we travelled, whether it was WA, South Australia, Tasmania, it didn't matter, we just had so many fans, supporters that would follow us everywhere."
A generation ago, Carlton legends probably wouldn't have bothered even trying to temper expectations.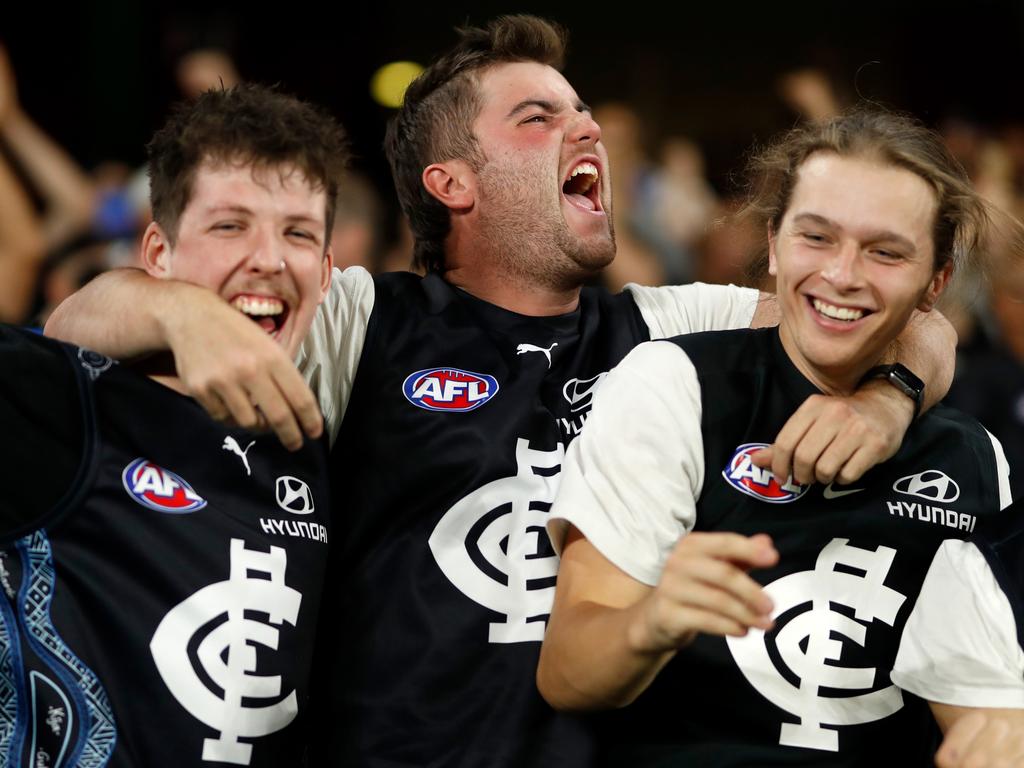 Carlton fans are cautiously optimistic about 2022. Picture: Dylan Burns/AFL Photos via Getty Images
But the scars of the salary cap saga, coaching calamities, botched drafts and trade periods and promises of success which never arrived have Koutoufides taking a bit of froth off the top, for now.
"In the last couple of years I thought they were bubbling, I thought they were potentially a finals contender both years but they didn't quite get there. But there's been something bubbling and now it seems to be coming together," he says.
"If they can make finals, it'd be great. It's been such a long time since we've won a premiership. We've seen other teams do it. Richmond were one example, Western Bulldogs, Melbourne of course the recent example.
"Pressure is part of footy. I'm sure the players would be OK with it. All they've really got to do is concentrate on the week ahead, they can't look too far forward. Things in footy can turn very quickly too."
But with a system that looks sustainable, stars on every line and an increasingly impressive support cast, such wariness may prove conservative. It's hard to imagine this isn't serious.
Ready or not, Carlton are good, and they might be a lot better than that.