Wreck It Ralph: The eight reasons to love Carlton's resurgence
Like the Western Bulldogs of 2016, the Tiger Train of 2017 and Melbourne of last year, Carlton is quickly becoming everyone's second team. Jon Ralph explains why.
Carlton fans would be sickened to think anyone else might leap on the bandwagon after all these years.
They believe they have a mortgage on their own pain after all those bottom six finishes, all those kids lost to rival supporter bases and false rebuilding dawns.
Now they are at least having that conversation with those kids again – "Can I buy you a Charlie Curnow jumper? Want to go to Collingwood-Carlton this week? – they don't want anyone else on their turf.
And yet like the Western Bulldogs of 2016, the Tiger Train of 2017 and Melbourne of last year, they are quickly becoming everyone's second team.
Why? Well they just have so many damned good stories to tell.
Here are eight of the best Navy Blue stories in order, even if you might make up your own mind about why you are learning to love the Blues.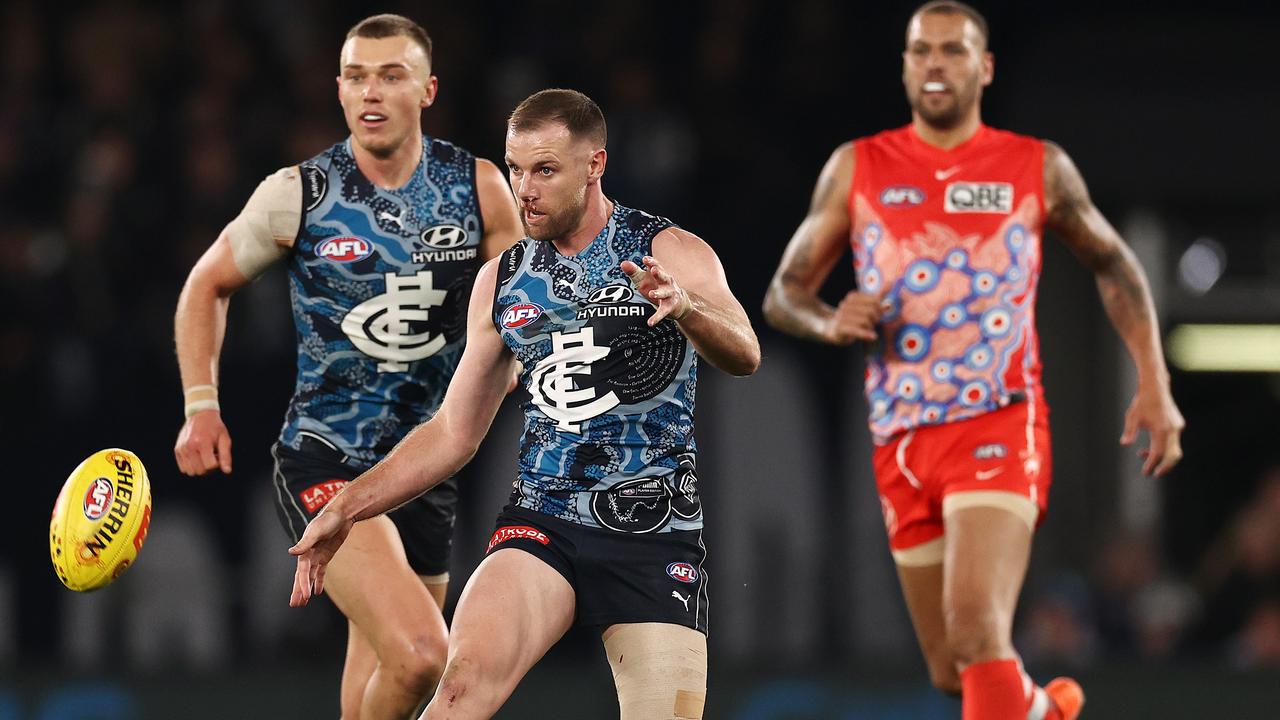 Sam Docherty's return has been incredible. Picture: Michael Klein
1. SAM DOCHERTY
In August last year Sam Docherty was told by his doctor the cancer that had been removed from his testicle was back and had spread to lymph nodes, stomach and lungs.
Right now the stage 3 cancer patient is a likely All Australian defender for the 2022 season.
Read that paragraph as many times as you want until it sinks in because it's simply preposterous.
I asked cancer survivor Mark Allen what it feels like when the oncologist tells you your cancer is back.
"When the docs tell you it's spreading through your body you know it's a lottery," he told the Herald Sun on Monday morning.
"Your life becomes a lottery. That is the best way to describe it. You are going to win or you are going to lose and that's an ugly feeling. Stage 1 is them finding it, Stage 2 is it being on its way through your body, Stage 3 is it's in your lymph nodes, for me Stage 4 was when it was in my lungs and my bowels. So that's it."
For what it is worth Marko has kicked cancer's arse too.
When I called he was living his best life – in Noosa watching the PGA Championship playoff before ducking out to Noosa Springs to play 18 holes.
His view on Docherty's remarkable turnaround: "It is just upside down. He has turned cancer on its head."
2. CHARLIE CURNOW
Go on, admit it. You never believed Charlie Curnow would get back to this level.
If you did, you were deluded because even his former coach David Teague knew his body would never allow him to reach the highs of his seven-goal effort the round before his career-threatening injury run began.
"He will probably never be a player that will be able to do what he used to do in the sense of preparation, but he'll do enough to be able to play AFL football to a high standard," Teague said in March 2021.
On July 2, 2019 fitness boss Andrew Russell said of a simple medial ligament injury the week after that seven-goal haul: "We think he will miss three or four weeks".
It kickstarted a torrid three-season period where he had as many as six incidents that included surgery after a basketball accident and a recurrence when he slipped on tiles at his home.
The dislocation and patella fracture injury had you thinking of horror stories of players like Adam Cooney and Tom Scully who were never quite the same or had their careers curtailed given the scope of that injury.
I texted Cooney on Sunday night about whether he believed Curnow would ever get back to his best.
"Amazing considering how many surgeries and issues he's had," he replied.
"I had real fears that he would come back and be half the player he could be given what I went through. Once my knee was cooked it was tough to get through all the training and try and put the weight back on in the quad area so credit to him that he's been able to work through all that and be at the top of his game. Love to see it."
Curnow is out of contract next year as a free agent, as are Harry McKay and Jack Silvagni.
So are Tom De Koning, Zac Fisher and Sam Docherty.
How much will Curnow be worth by then as a free agent if he can keep his body intact?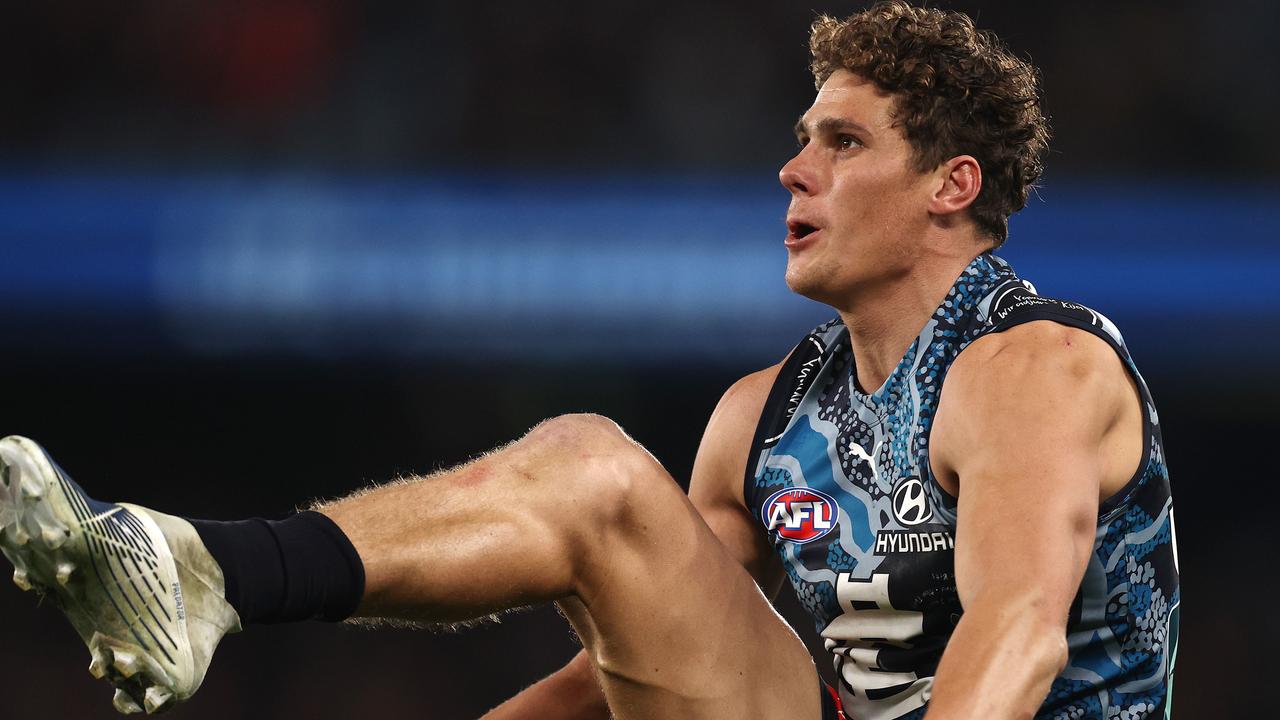 Charlie Curnow has reached an exceptional level. Picture: Michael Klein
3. LIAM STOCKER
From the very moment he was drafted he has had the eyes of the football world on him.
The Blues were the first club to use live pick trading to secure the No. 19 pick they needed to secure the talented midfielder.
Interviewing him on draft night in 2018 it was apparent how self-aware and mature he was as talked about how Richmond had whacked him in between the eyes with a "confronting" interview about his lack of fitness.
Since then he has battled for opportunity and waged a war against a serious anxiety issue.
He opened up about his mental health for a Beyond Blue video recently about the battle with anxiety that has at times caused him to consider self-harm.
"I hadn't enjoyed any of my first two years and it got to the point where football wasn't necessarily detrimental to me but football could no longer save me," he said.
"My plan was to retire and forget about football. I thought that me escaping football was me escaping my mental health problems."
Battling the injury issues that have rarely left him this year he has played only two games in 2022 but against the brilliant All-Australian Tom Papley on Friday he kept him to one goal their 47 minutes head-to-head.
4. JACK SILVAGNI
Imagine your dad getting sacked because the club didn't believe he could handle the conflict of interest with you at the club.
That probably was never the case – or more to the point only part of the reason for Steve Silvagni's departure – but it was at least the public explanation.
As the Blues said on December 4, 2019 as they moved on list boss Silvagni: "The difficult decision to not enter into a new contract with Silvagni … centred around the increasing complexity of having two sons on the playing list."
"The situation is not only a conflict for the club's GM List Management and Strategy, but equally for those who work in and around him in the football department.
"Having the most senior list management staff member unable to participate in an increasing number of discussions and decisions relating to both list management and match committee is a situation that is not in the best interests of Carlton."
Silvagni is having a career best year as a forward-ruck playing 32 per cent of ruck time since round 4.
He has career-high disposals, marks, goals, uncontested possessions and actually doing a fairly reasonable Shaun Grigg impersonation as a back-up ruck.
As legendary football journo and one-eyed Blues fan Ron Reed tweeted last week: "The more I see of Jack Silvagni these days the more certain I am that he will end up an authentically serious player in the family tradition. Did wonder about that for a while."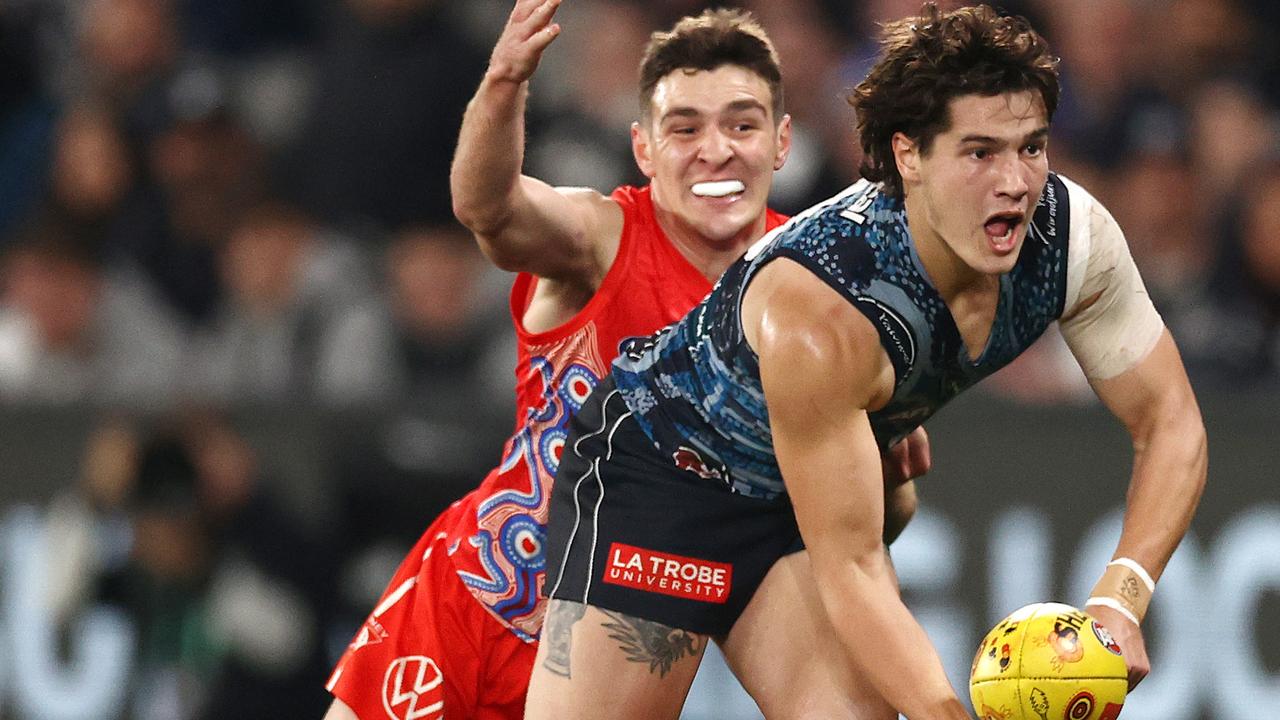 Liam Stocker in action against the Swans. Picture: Michael Klein
5. LOCHIE O'BRIEN
We use euphemisms for players not seen to go as hard as we would like.
Not sufficiently robust.
Aware of the traffic around them.
Not as competitive as they should be.
So let's not beat around the bush. O'Brien was seen to be soft-ish in his 35 games in his two seasons, a No. 10 draft pick drafted with a left foot was his only real weapon.
He was chosen in only six of 39 games in the two Covid years and yet finally this year he has found his spot as a hard-running wingman playing in the Ed Langdon model.
He is deep in defence spoiling in a marking contest and then a moment later linking up at half forward as he uses the athletic gifts that made him a 400m and 1500m schoolboy champion.
And yes, he is putting his head over the ball when it is his turn, out of contract but surely in demand at Carlton if not other clubs in coming months.
Just a thought: if Carlton can get that type of performance out of O'Brien surely there is an identical role for Jaidyn Stephenson at North Melbourne instead of starving him at half forward?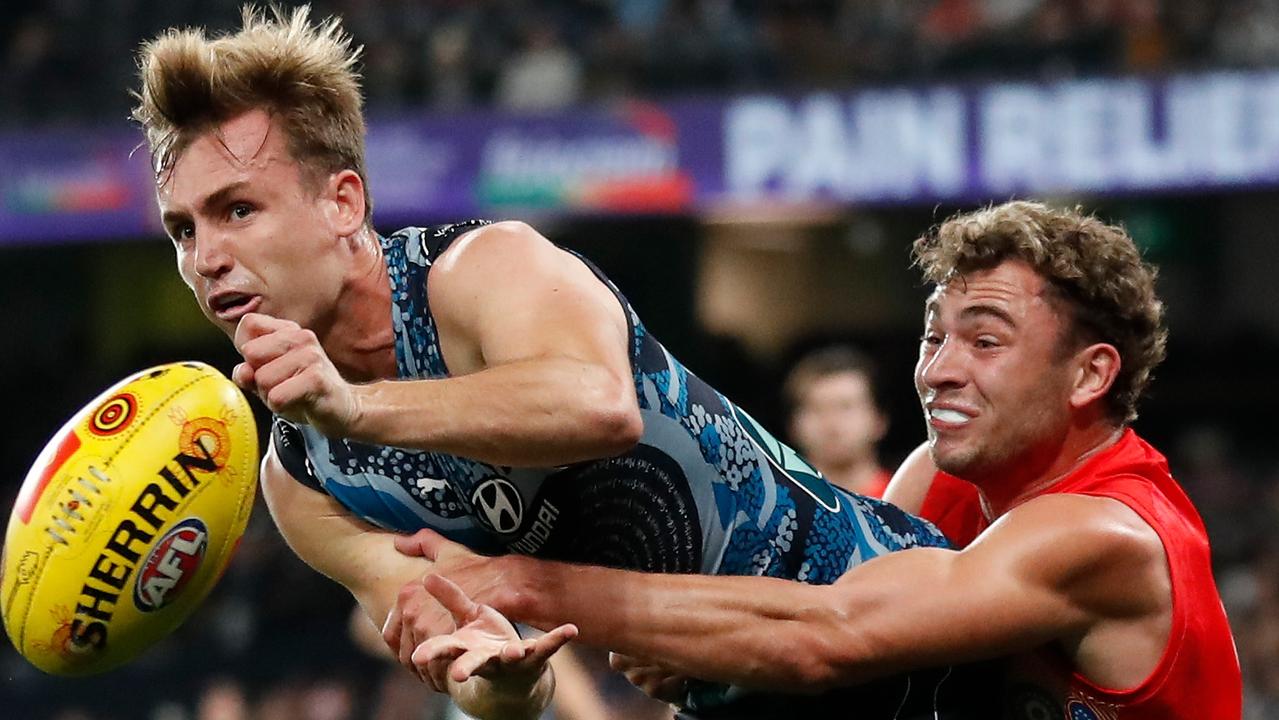 Lochie O'Brien continues to make big improvements for the Blues. Picture: Getty Images
6. MATT KENNEDY
Matt Kennedy's career has been so close to the scrap heap twice in the past 18 months.
He was literally delisted on November 18, 2020.
The Blues pledged to put the ex-Giants midfielder on the rookie list but the suspicion was he was another GWS experiment gone too soon after Liam Sumner, Kristian Jaksch, Rhys Palmer, Jed Lamb, Mark Whiley, Jarrod Pickett, Tomas Bugg,
By Round 13 last year he had played only three games for 16 total disposals in the seniors.
They couldn't go with him again, could they?
Of his 23 games since then 12 have been exceptional with 90 ranking points or better and he's not a one-trick pony.
Without Harry McKay against Sydney he took valuable early marks at half forward and finished with 21 possessions at 85 per cent efficiency, had 13 contested possessions, kicked a goal, had three direct score assists, 11 score involvements and five tackles.
That is a beautiful set of numbers for a player who just secured his football future with a new three-year deal.

7. PATRICK CRIPPS
Patrick Cripps jokes that when he goes home to West Australia every punter in the supermarket or pub is a Dockers or West Coast recruiter as they attempt to lure him home.
And yet every time you called those close to Cripps and raised the prospect the message was this: He isn't going anywhere.
He has long said his only desire was to build something special at Carlton, a remarkable slice of loyalty to the club that drafted him then spent so many years mired in mediocrity.
Last year he signed a six-year deal that left something on the table for the next breed as the Blues chase a Lachlan Sholl or Karl Amon type and endured withering criticism despite playing through a broken back.
Remember all those missed shots at goal you wished he nailed, the worries his career might be cut short by the battering he has taken.
He is getting across the ground like never before, has kicked a remarkably accurate 14.5 for the season and is the Brownlow Medal favourite.
You don't need a line of stats or a football expert to know he's back.
You know it because you can see the strut is back in his step.
Like it is for all Carlton fans.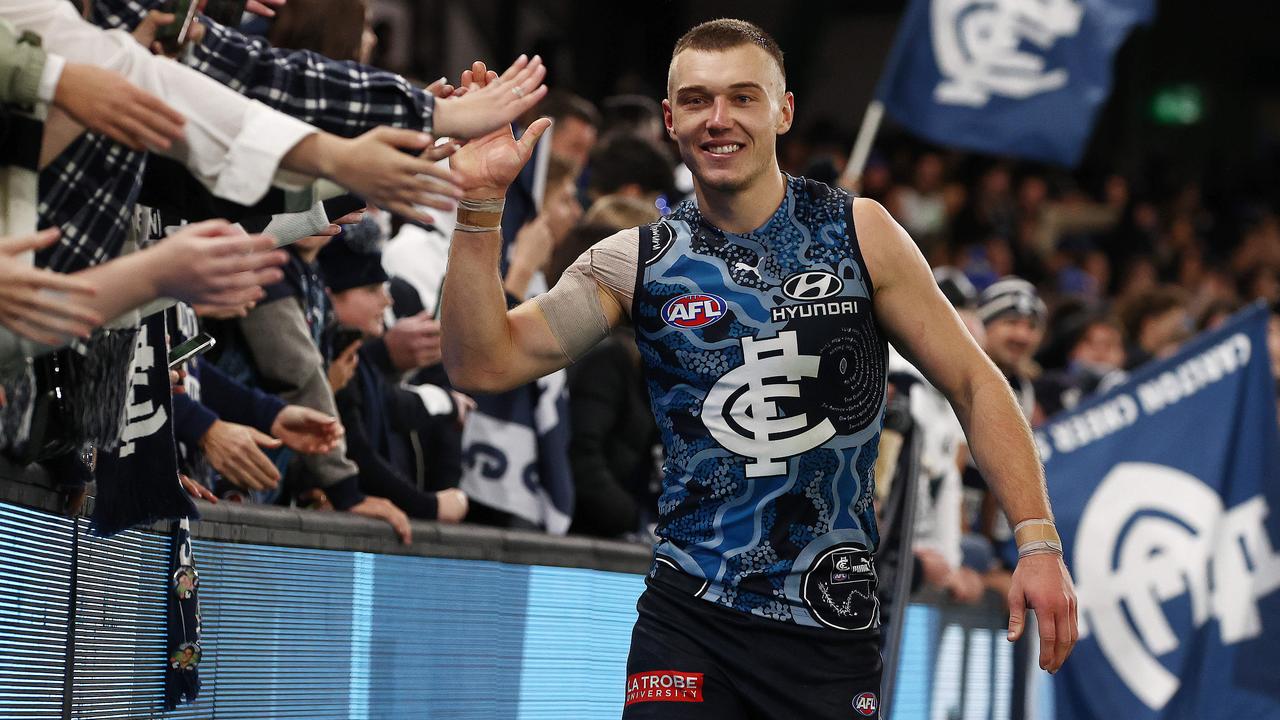 Patrick Cripps is back to his best form. Picture: Michael Klein
7. TOM DE KONING
Blues fans loved Matthew Kreuzer.
The "Kreeuuuuuzer" chant.
The Tractor rumbling along as he cleared a path for his mids.
Tom De Koning is a very different player to Kreuzer – still sitting on the bench as a Carlton coach – but like the former No. 1 pick he is the perfect mix of tap ruckman and marking forward.
For all of his potential Kreuzer never kicked more than 13 goals in any season (his first and second seasons) but in De Koning the Blues have a 22-year-old with the world at his feet.
When Sydney were coming late he took four huge contested marks in the last term, one of only five players this year alongside Aaron Naughton, Todd Marshall, Tom Lynch and Mitch Lewis.
No wonder Geelong went at him so hard to reunite him with brother Sam a few years back.
8. MICHAEL VOSS
Michael Voss doesn't need your pity.
If he hadn't coached again he would only have been one of footy's most inspirational captains, a Hall of Famer, a revered figure involved in many of the game's great moments (the Scott Burns bump, the 2001 Grand Final sealer against Essendon).
But it is still some kind of story after a failed coach went back to work for eight seasons to erase his weaknesses.
He has the caring touch, the ability to lead an entire club, the desperation to play a contested brand above all else, the tactical nous to then layer the defensive edge that could turn Carlton from a handy finals side into a premiership contender.