Champion Data analyses the reasons behind Melbourne Demons' sudden form slump
Before Round 11, the Demons juggernaut rolled on. Since then? A stunning drop. SHANNON GILL and Champion Data break down why.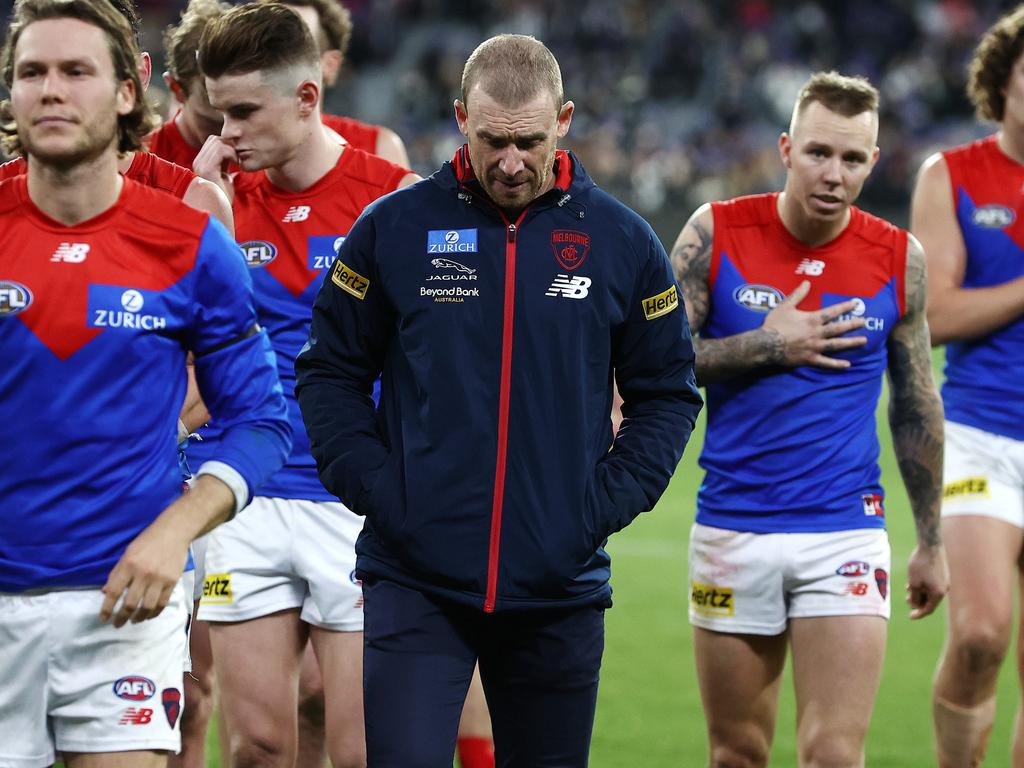 Simon Goodwin has work to do getting Melbourne's premiership defence back on track. Picture: Michael Klein
With 10:50 left on the clock of the first quarter of their Round 11 game against Fremantle, life was good for those of the red-and-blue persuasion. Fremantle were seen as a stiff challenge, but after a tight opening Melbourne had kicked the first of six straight goals. And all that followed a drought-breaking premiership followed by ten consecutive wins to start 2022.
As we now know, much off-field drama was to follow.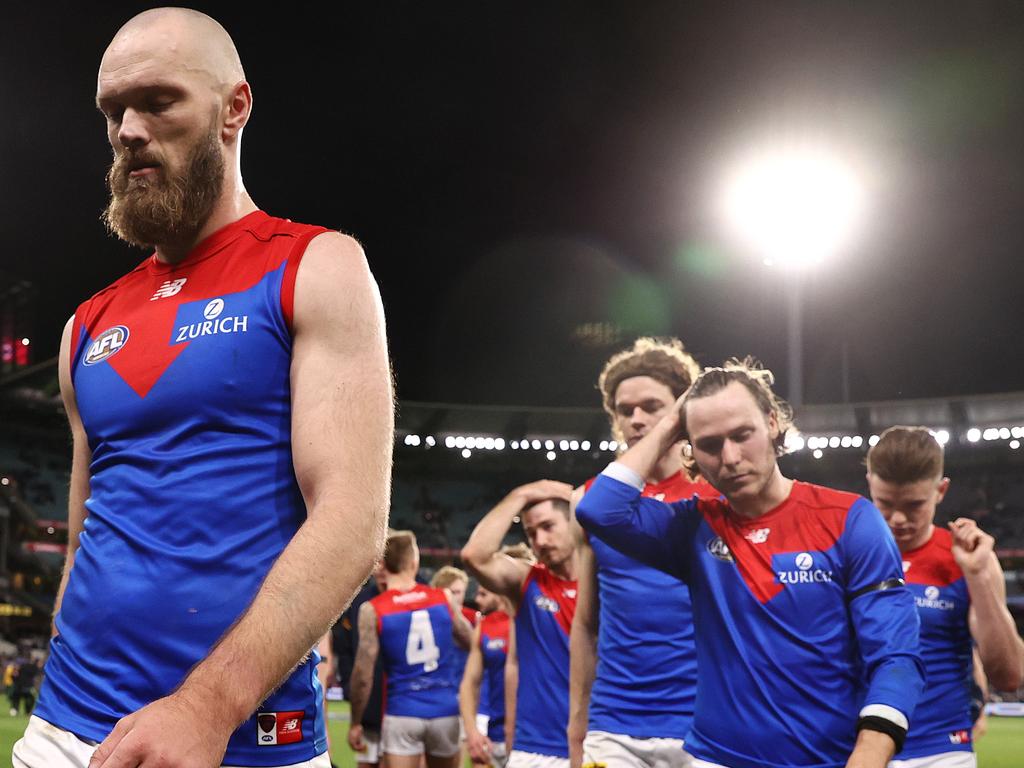 Injured Melbourne skipper Max Gawn leads his team off the MCG after losing to Collingwood. Picture: Michael Klein
Steven May's concussion.
Entrecote-gate.
Injuries.
Old board squabbles resurfacing.
But, perhaps of most concern to Dees fans, Melbourne went off the premiership rails on the field approximately half an hour after May was subbed off. A loss to Fremantle was followed by two more carbon copy games; comfortable early leads before being overhauled and rendered impotent for most of the second half.
May is due to return for Melbourne's moment of truth this Thursday night against Brisbane, but is it as simple as May being the difference? Champion Data has delved into the Dees' woes to see what's changed at Melbourne.
SINCE MAY'S DAY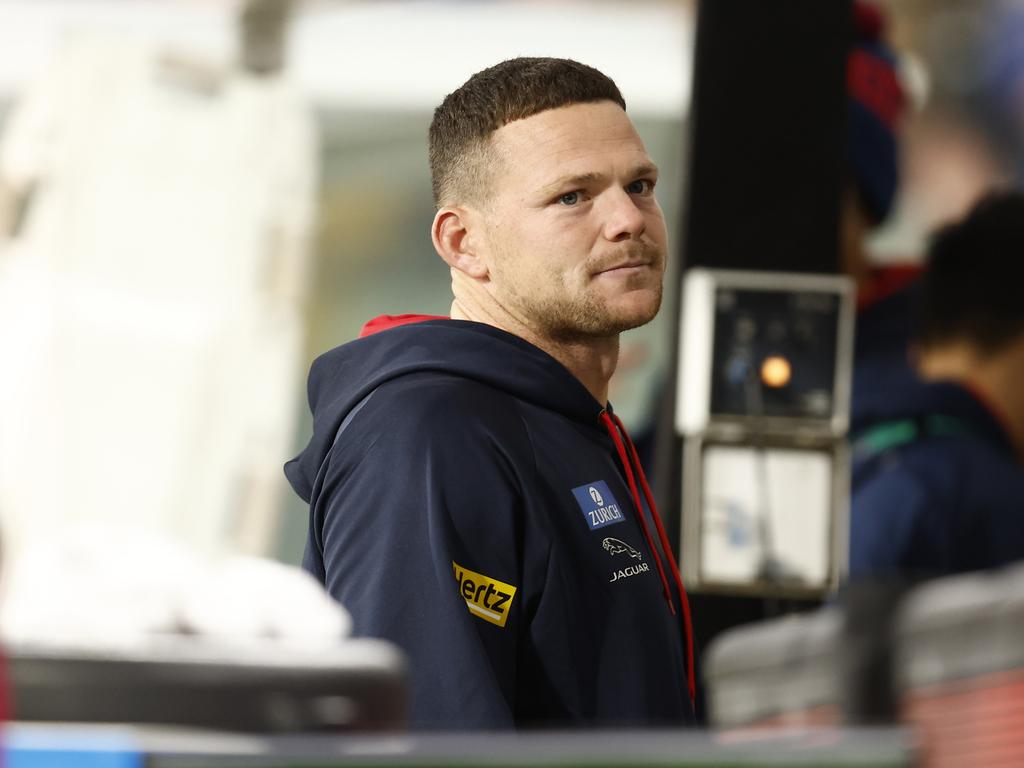 Steven May on the interchange bench after the concussion that started a downward spiral for the Demons. Picture: Darrian Traynor/Getty Images
May is a star, albeit a star who should pick less popular restaurants to conduct full and frank feedback sessions for his teammates. Or not do it at all.
He was an All-Australian in 2021, and looked certain to repeat in 2022, after being desperately unlucky to miss in 2020. In all, it's been Two-and-a-half years of the best key defender play you could imagine.
Naturally Melbourne's defence has suffered since his injury then suspension.
Pre-May's concussion, Melbourne were the best ranked defence in the AFL.
From Round 11-to-14, they're ranked 14th.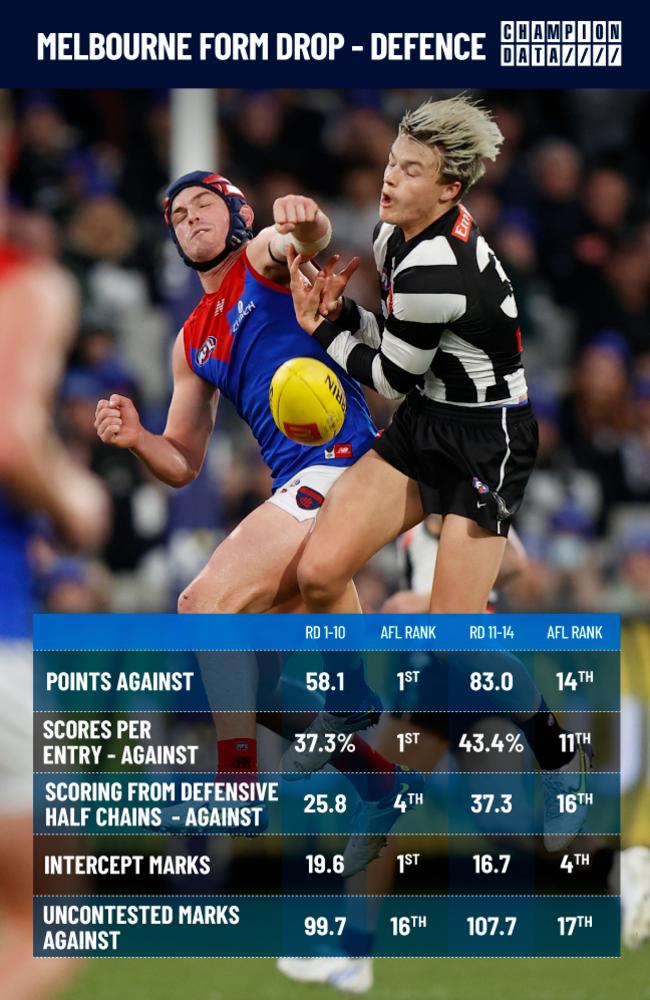 Since May's concussion Melbourne's defence has been challenged.
But there is nuance to this.
Intercept marks have only slipped marginally, while there's been little change to the uncontested marks against. But the scores per entry against and scores from defensive chains against have slipped significantly.
This speaks more to the structure that May brings in his 'goalkeeper' role and his leadership in marshalling defenders ahead of him.
It hasn't helped that Harrison Petty has battled in-game injuries and suspected concussion over the three games, while reinforcement Daniel Turner was also subbed out with concussion against Collingwood.
They've battled reasonably manfully given May's absence and in-game disruptions.
It's a different story in the forward line.
MAXIMUM FORWARD RETURN?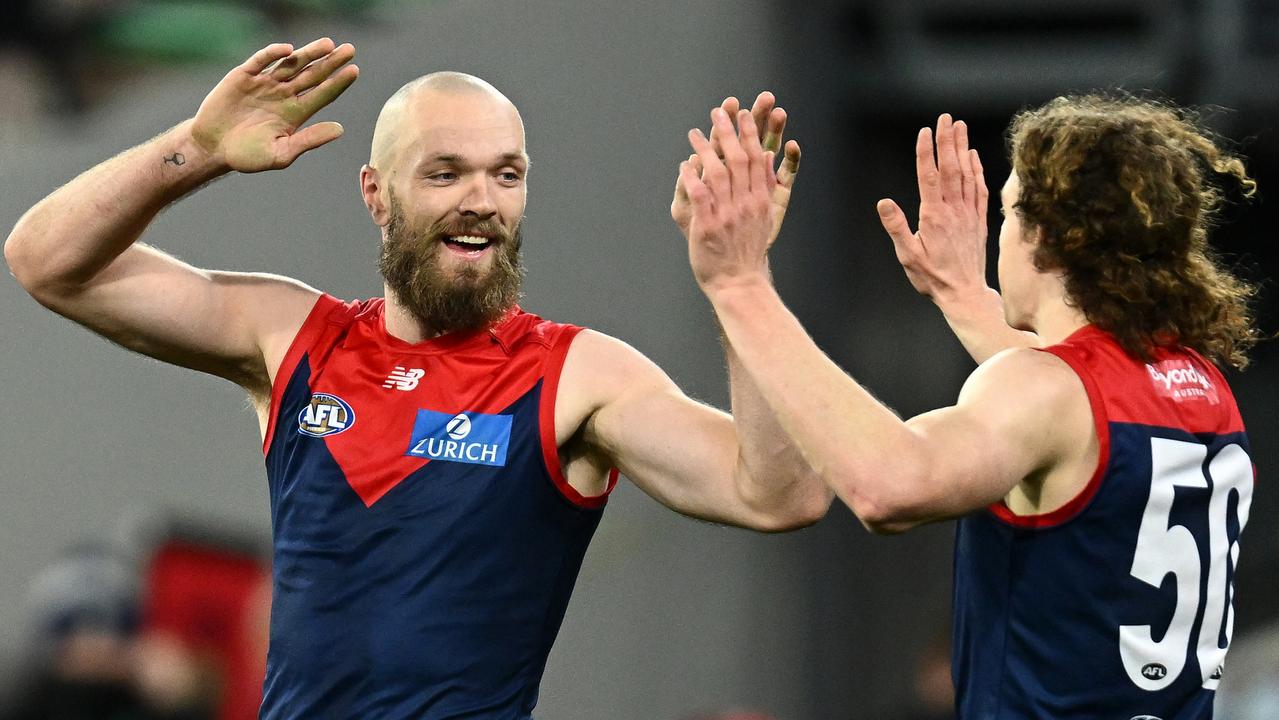 The Demons have targeted Max Gawn and Ben Brown up forward more without the results to justify. Picture: Quinn Rooney/Getty Images
The real issues for Melbourne are when going forward, and it may be an old problem.
The depths of 2019 and the handbrake on its 2020 campaign was its inefficiency going forward. Over the last three weeks the Dees have plunged to being the worst attack in the league.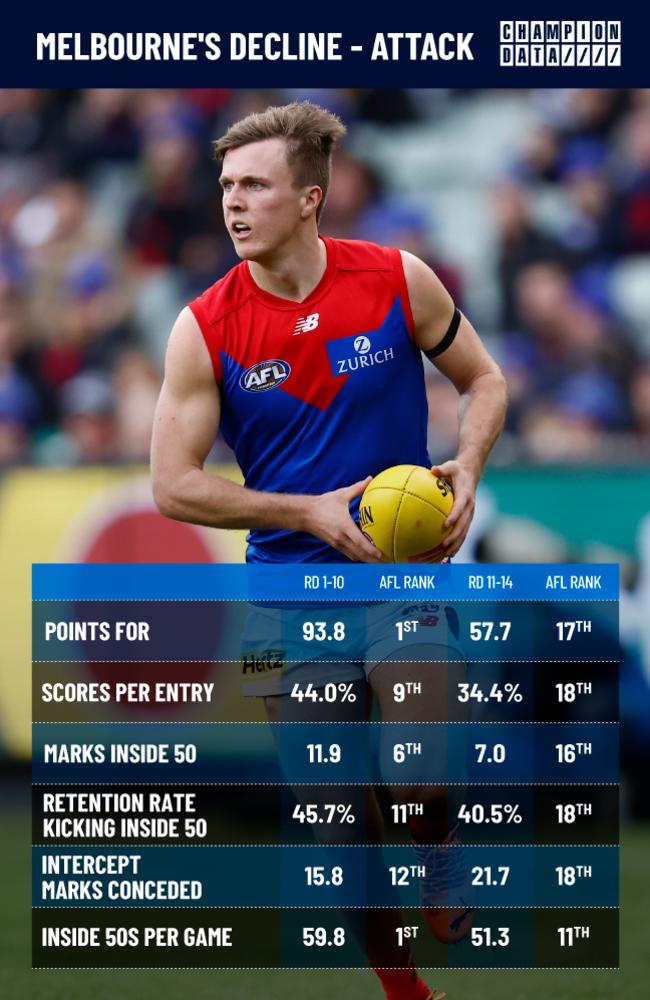 The Demons entries into forward 50 have become wasteful over the last three games.
The hallmark of the 2021 success was the ability to find a range of targets forward of centre with high percentage chip kicks. Over the last three weeks Melbourne marks inside 50 have gone from 6th to 16th in the league. It's part of a trend back towards forward inefficiency this season that is now being exploited.
Five goals in the preliminary final and much-improved forward craft has seen Max Gawn deployed forward more often this year. But that might actually have worked against the Dees.
Of the top 50 most used Inside 50 targets in the league, Gawn is sitting 47th for the percentage of times his team scores when he is the target (33.3%). It's worse reading when Melbourne's most used target, Ben Brown, is sitting at 46th (34.2%).
Long kicks to their tallest targets is not providing the scoring power that melbourne needs in 2022.
This is not so much a knock on Gawn, who has been herculean in the ruck most weeks, but more that the Demons are not being imaginative going inside 50.
Under pressure, it can be easier to go to their leader and consistently excellent ruckman more often when he's stationed inside 50, but it's not paying off.
Bombing long to their two tallest targets in Brown and Gawn is not working when you compare the results from finding Bayley Fritsch (48.3%) or Tom McDonald (42.3%).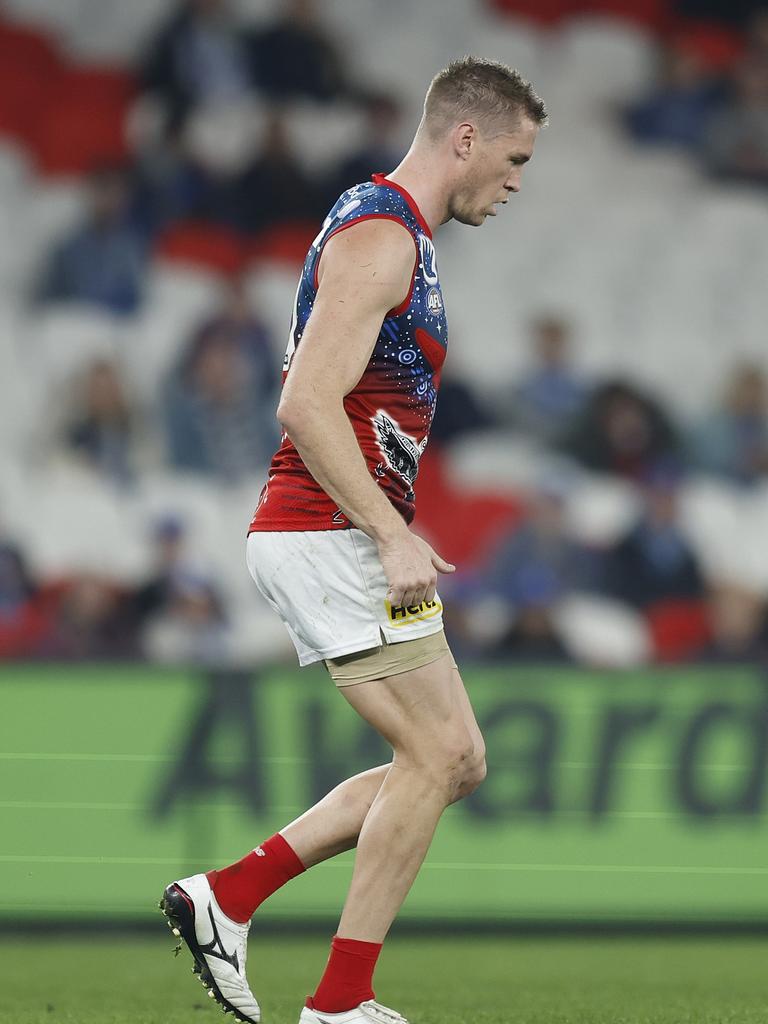 The loss of Tom McDonald to injury has hurt the Demons. Picture: Mike Owen/AFL Photos/via Getty Images
McDonald can be a whipping boy for some Melbourne fans, but his forward craft is underrated and his absence has been significant over the last three games. Melbourne has not only lost 1.7 goals per game, but also a more versatile target that they score more efficiently through when compared to Brown and Gawn.
With Gawn and McDonald out injured it could force Simon Goodwin to look at a smaller, less predictable forward line. The reduction in tall targets might force those kicking inside 50 to be more creative or less 'boring', as former Demon Jordan Lewis put it this week.


THE MIDDLE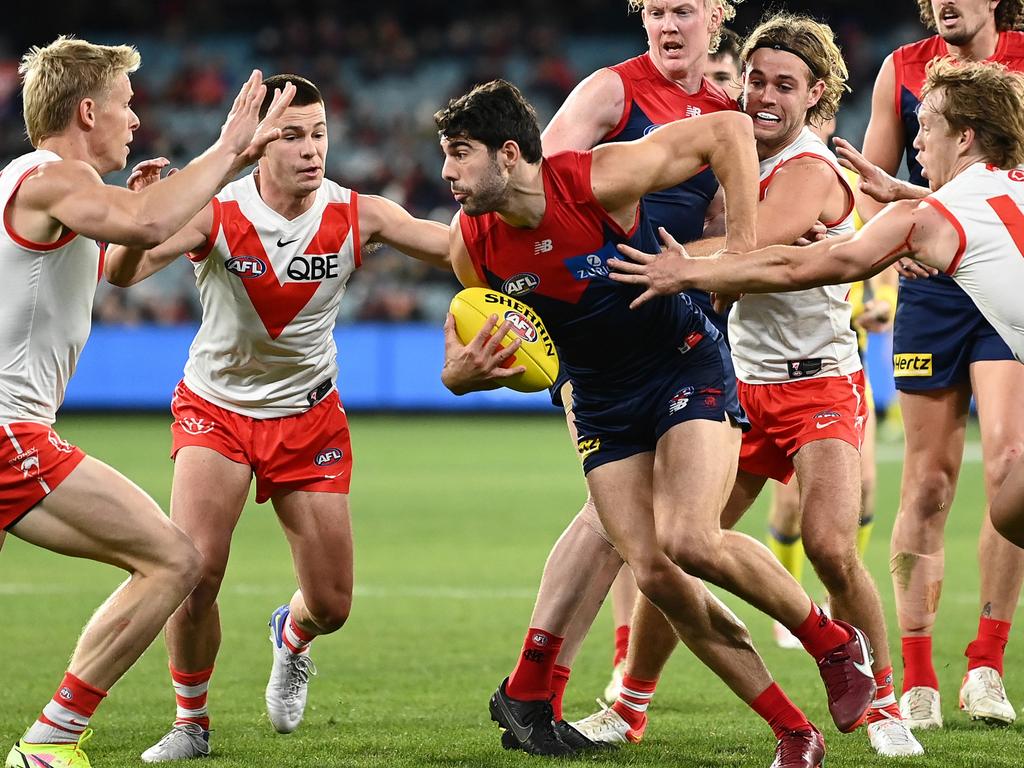 Christian Petracca's output is down as the Demons have been swamped over the last three games. Picture: Quinn Rooney/Getty Images
The middle of the ground is far from blameless in this equation - the highest profile example being Christian Petracca going goalless through the three losses while slipping substantially in overall player ratings.
Melbourne were best in the AFL for contested possession through to Round 10, averaging +16.7 per game. From Rounds 11-to-14 they're 13th and averaging -3.3. Clearance differential has also fallen from third in the AFL across Rounds 1-to-10, to 16th since Round 11.
The last three weeks has seen a host of players down on their Champion Data ratings averages, and they're all over the ground.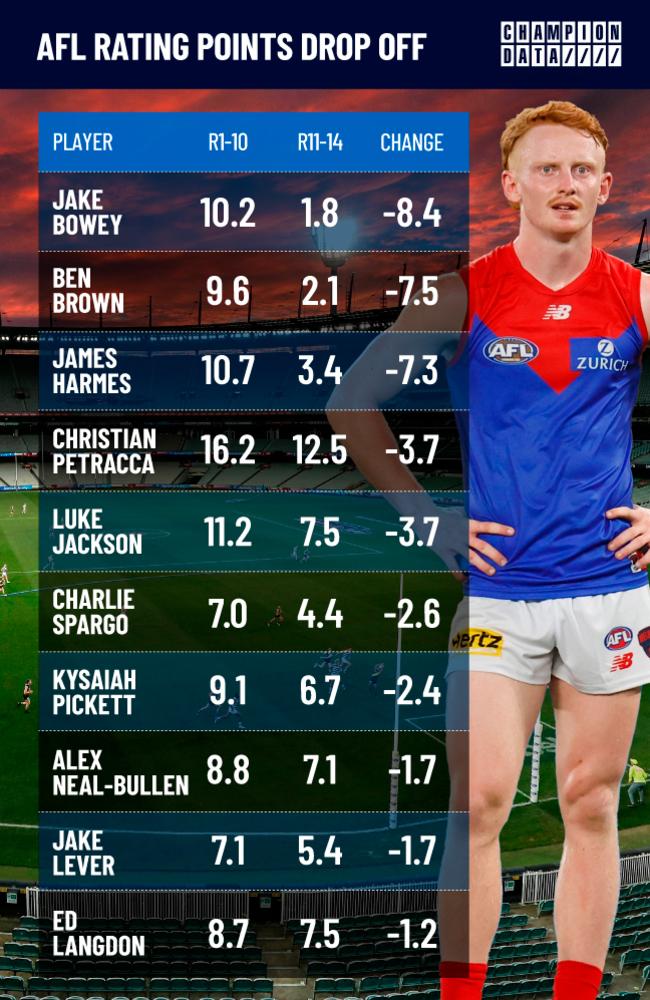 A collection of Melbourne players have dipped in output over the last three games.
The likes of Bowey, Harmes, Spargo, Pickett, Neal-Bullen and Langdon provided the constant run, pressure and improved ball use between the arcs through 2021 and early 2022 that complement the Gawn-Oliver-Petracca holy trinity.
Their performances helped drive a premiership and their collective slip in output over the past three games has contributed to the forward woes.
***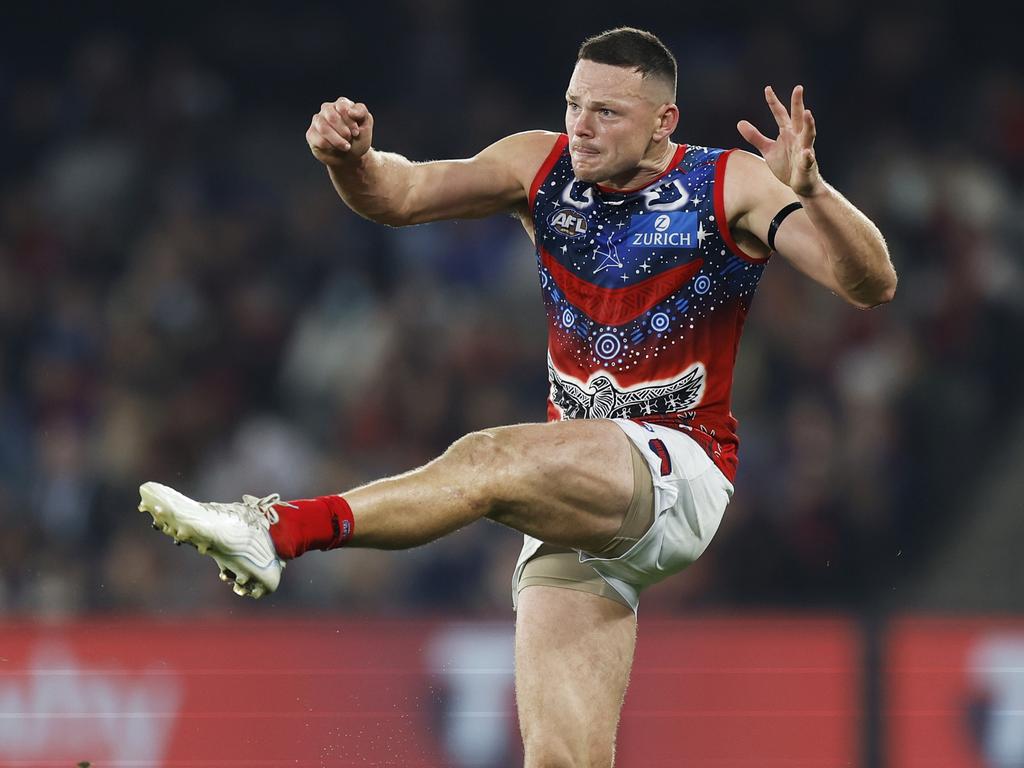 Steven May's return will boost the Dees, but it won't solve all the issues that Champion Data have identified. Picture: Mike Owen/AFL Photos/via Getty Images
May's return this week will provide a much-needed boost in a range of areas. His precision kicking outside of defensive 50 is often overlooked, and the confidence he gives others to play more attacking games and create scoring chains from defence (see Jakes Lever and Bowey) is invaluable.
But it will take a lot more than May's return to right the Demon ship, particularly given the loss of Gawn and the longer term absence of McDonald. VFL ruckman Majak Daw is also injured, meaning Luke Jackson will be asked to shoulder the vast majority of the ruck load, robbing the Dees of another tall forward option.
But necessity can be the mother of invention. An enforced smaller forward set-up for a month may help right the wrongs of 'long bombs to Max and Ben'.
If Goodwin can re-tool the forward line from this week and get his mids attracted to smaller moving targets when streaming forward, the premiership tilt will be back on track. It may even be strengthened by having another dimension when Gawn returns.
If not, it could be a season wasted.