Champion Data player ratings reveal a surprise candidate for mantle of best player in the AFL
Assessing the AFL's top player can be subjective and swayed by sentiment. SHANNON GILL and ADAM TREACY crunch the numbers.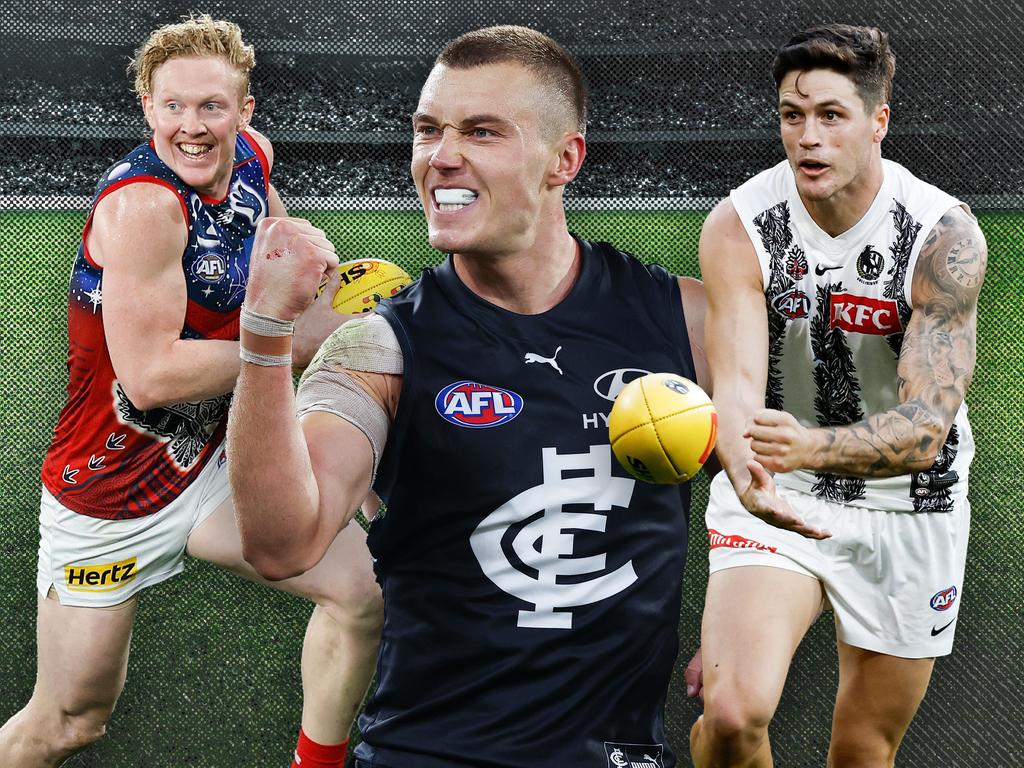 Ask anyone who the best player in the league is and their answer will likely be swayed by emotion and club allegiances, so we turned to Champion Data.
Who is the best player in the AFL?

Ask the fans and their answers are inevitably skewed by club loyalty, passion and misty water-coloured memories. Ask the experts and they are often influenced by personal and professional allegiances.

To cut through the emotion and subjectivity, we've referred to Champion Data's player rating; the most sophisticated method of assessing player performance in Australian football.

Champion measure all recorded player involvements by evaluating their impact on the current state of play. Players are rewarded for winning the ball out of a contest, consistently moving the ball to a more dangerous position, or disrupting opposition ball movement. Players are penalised for average or negative ball use, including inaccurate shots at goal.

Here's what the data tells us when evaluating the best player in the game.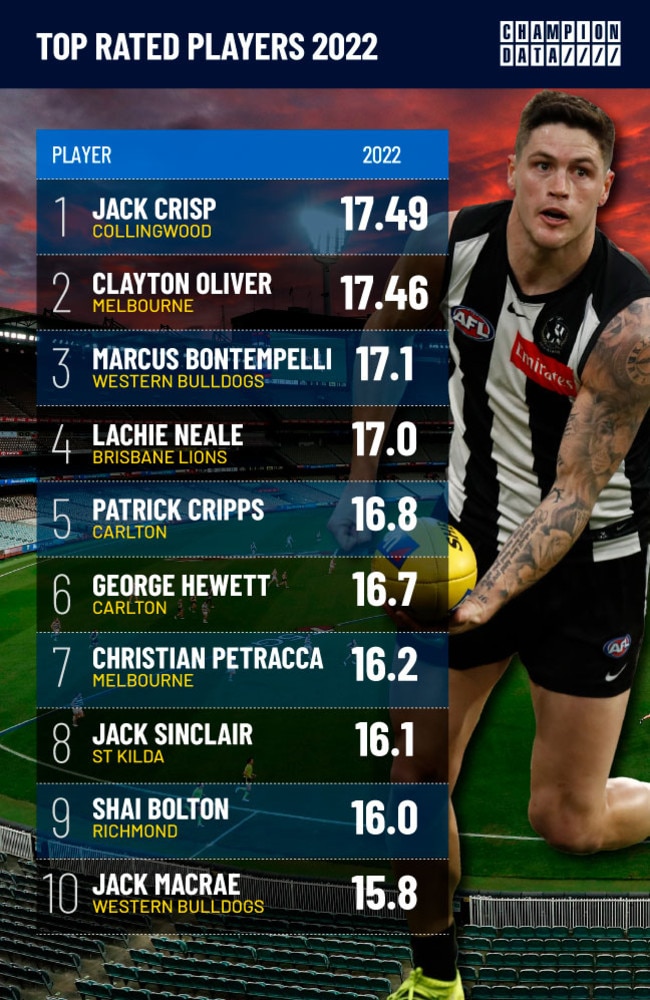 What the data tells us.
Jack ahead of the pack
Jack Crisp. Bet you did not expect to read that name in this story, did you?
To anyone but Collingwood fans, Crisp's is a name you would swiftly dismiss in this discussion. And while we are not exactly making a case for him, it is worth giving him an honourable mention.

Jack leads the league in Champion Data's player ratings. He has Clayton Oliver covered by 0.03 rating points this year, an extraordinary feat.

The key for Crisp is his pressure. He has applied the second-most pressure of any player this year and ranks third behind Bailey Smith and Christian Petracca among midfielders for metres gained.

Is Crisp the best player in the AFL? No, but he is having a season that is worthy of greater recognition.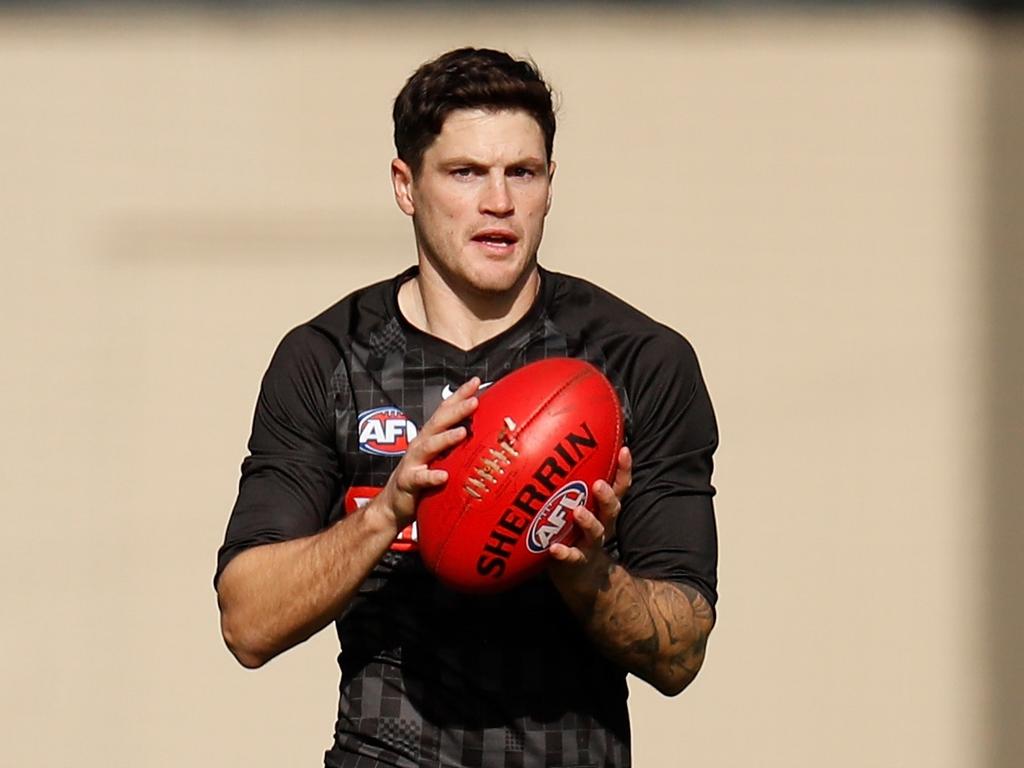 Jack Crisp may not yet be a household name, but his star at the Magpies is on the rise. Picture: Michael Willson/AFL Photos via Getty Images
Clarry has tongues wagging
Clayton Oliver was last year's AFL Coaches Association player of the year and has elevated his game in different ways in 2022.
He is averaging career highs in disposals and clearances, but also in uncontested possessions, score involvements, assists and metres gained. His place at the pointy end of the Champion Data ratings reflects a slight shift to a more outside player in 2022 where his creativity has flourished. His average of 491 metres gained is a sizeable jump from his previous best of 422 in 2021. Which is not to say he is letting his contested game wither – Oliver still sits second in the AFL for contested possessions.
The only possible knock on his season so far is that his one goal is a career low. But when he sits within the top six in the league for assists and score involvements, Melbourne teammates and fans are not complaining.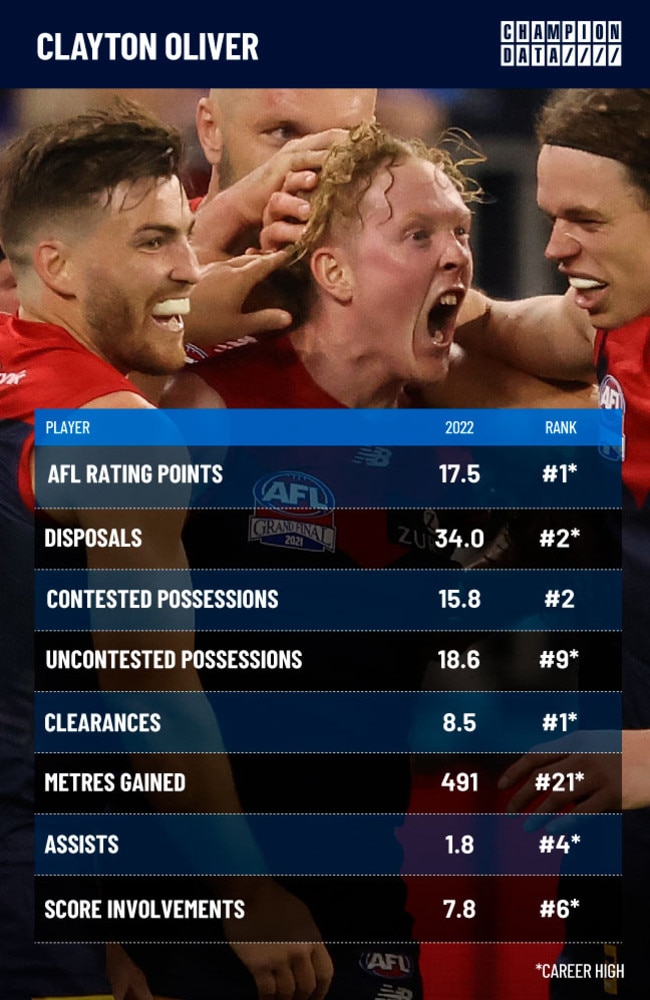 Clayton Oliver is thriving in 2022.
Patrick Cripps
After a couple of less threatening seasons, Cripps has burst back with a vengeance in 2022 as the Blues have evolved into a bona fide top four team.
Per 100 minutes of game time, Cripps leads the AFL player ratings; an early exit through injury against the Gold Coast Suns the only reason he doesn't sit above Crisp and Oliver on the overall rankings.
He has slowed over the last two weeks, but his numbers in comparison to Oliver per 100 minutes of game time make for interesting reading: dead level on contested possessions and very close in most others. Oliver is gaining more ground as per the more creative role he is playing.
But the added dimension of Cripps as a goal kicker (he's already kicked more goals in a season than ever before) outshines Oliver on the scoreboard.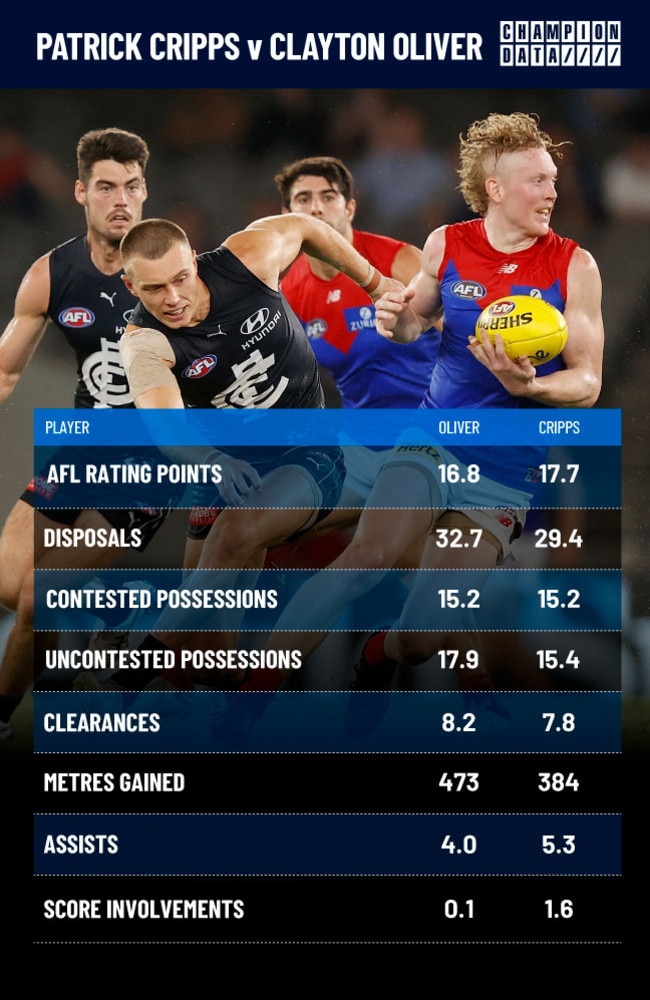 Cripps is outshining Oliver on the scoreboard.
Who are the other contenders?
The players next in line to the throne are names that probably won't surprise you.
Marcus Bontempelli has had a seriously impressive season. He is the third ranked player in the league and it is hard to find someone who doesn't rate him as one of the game's best.

Christian Petracca also deserves an honourable mention. You could argue his best is better than anyone's but his consistency is ever so slightly down when comparing him with premiership teammate Oliver.

Brisbane's Lachie Neale is another player in scintillating form. The midfielder is back to his Brownlow-winning best and will take some beating this year. Neale is averaging 31.4 disposal disposals, 16.8 of which are contested. Add 7.8 clearances to that mix and you get a mix of elite numbers. There is no doubt Neale belongs in this conversation.
Lachie Neale will likely be in contention for his second Brownlow (having won in 2020) after another strong start to the season at Brisbane. Picture: Bradley Kanaris/Getty Images
So, what's the verdict?
It's no surprise the coaches rate all four highly, sitting within the top eight vote getters.
It's splitting hairs but the combination of offensive spark, high possession numbers and winning the contested ball places Oliver and Cripps ahead of the pack so far.
Specifically, Cripps' fightback to again be one of the most dominant players in the game in parallel with Carlton's rise is a wonderful redemption story.
The added punch of his goalkicking gives him just a slight edge over Oliver as at Round 10.
But beware: Oliver seems to be gaining momentum as the season wears on.
Perhaps this argument won't be settled until they meet head-to-head in September.