Champion Data: Statistics reveal the best defensive negators in the AFL and their true value to their teams
Which defenders are most effective at blunting opposition forwards? SHANNON GILL crunches the numbers with Champion Data.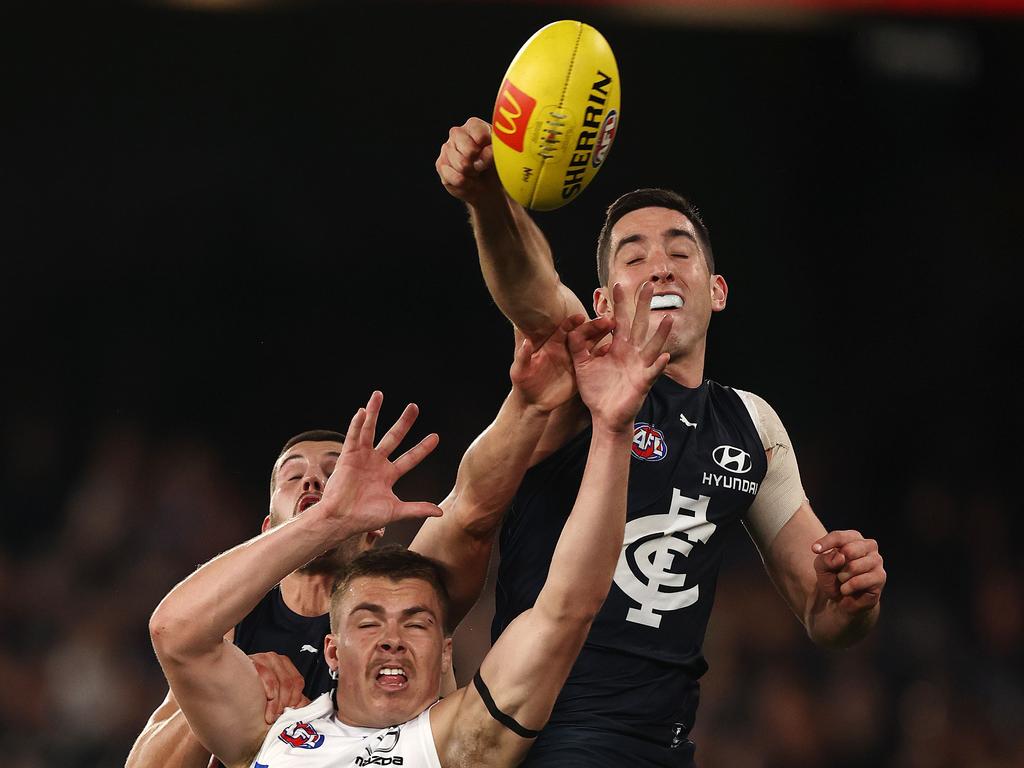 Carlton key defender Jacob Weitering knows how to make life tough for forwards. Picture: Daniel Pockett/Getty Images
Coaches often talk of system and collective defence being more important than individual match-ups.
It can all be a bit prosaic for those that hark back to days of a key forward and key defender taking each other on "mano-a-mano". The defender wasn't expected to get the ball, as long as the forward didn't. They were there to negate.
Despite the team defence mantra being king in the modern era there is still a need by key defenders to, well, defend – especially when they spend time isolated on the guys the ball gets kicked to most.
Champion Data has uncovered who are the best negators in the AFL, the key defenders that forwards never get an easy kick against.
Outside of the confines of team defence, it's not necessarily who you would expect.
Negating expected output
Our first measure is Champion Data's player ratings, and which key defenders dent their opponents ratings most. Tom Clurey leads the way here. His opponents come in with an average player rating of 8.1 but, when they're playing on Tom, that rating drops to 4.0.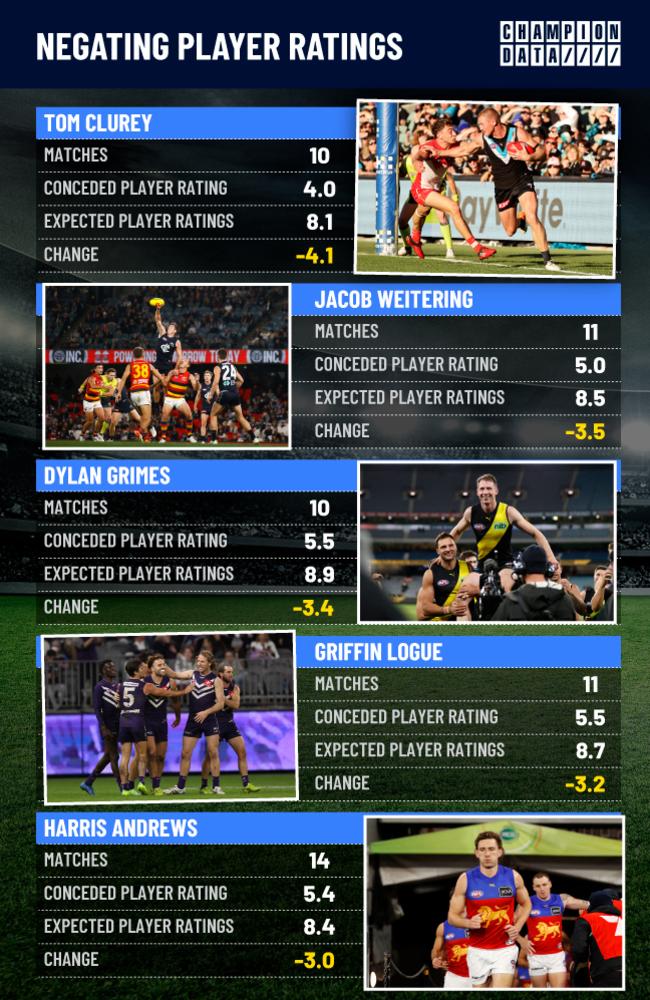 Tom Clurey reduces an opponent's expected Champion Data Player Ratings.
In a key forward post where disposals may be low, but effect is high, the ability to keep a key forward away from the ball is valuable. While the intercept markers get most of the plaudits in defence, Richmond fans know the value of their skipper Dylan Grimes. When you play on Grimes, on average, you're having a quarter of your regular disposals eliminated.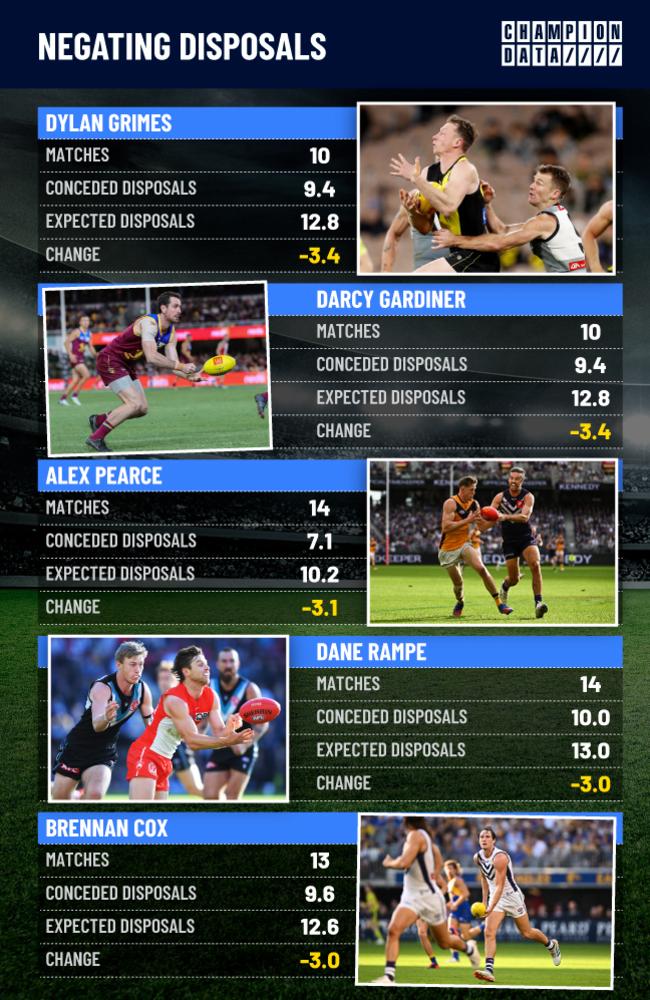 Dylan Grimes is the league-best at reducing expected disposals among key defenders.
A name that appears in all tables leads the list of players most successful at denying shots at goal. When you play Jacob Weitering in 2022 your shots at goal are cut by nearly a third, heaping greater pressure to make those rare chances count.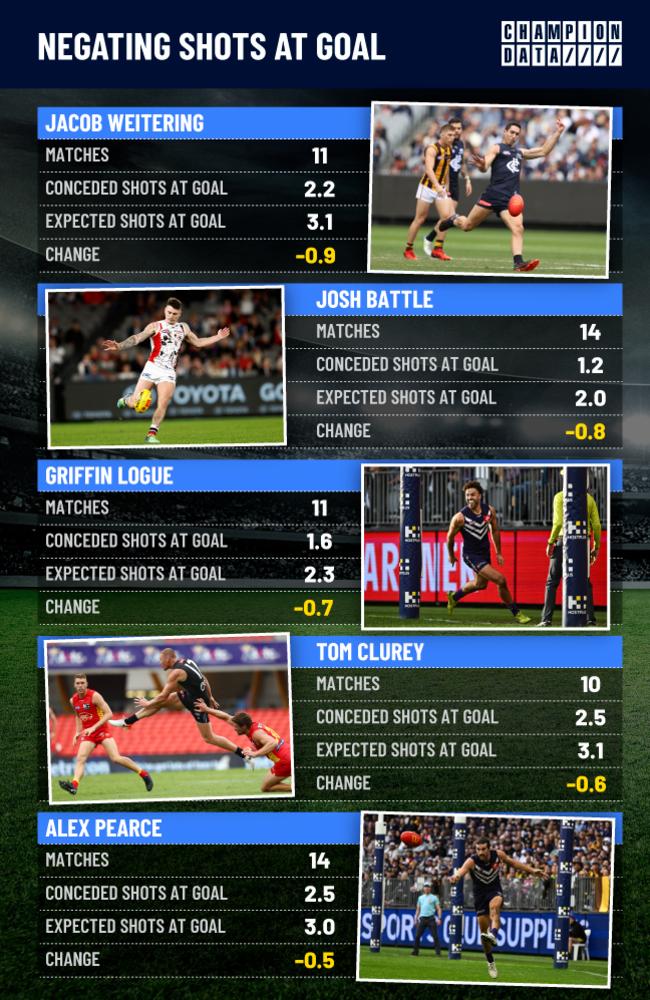 Jacob Weitering has been miserly in allowing shots at goal from opponents in 2022.
Griffin Logue appearing in multiple tables is also a point of interest. In a testament to his defensive skills, he was deployed forward in a negating role on one of the leading key defenders who revels in team defence, Steven May. Ironically it was to get May to play a more accountable one-on-one role.
Try to get your head around a negating defender being sent to negate another defender, so he plays more like a negating defender!
Burying the lead
Team defence where players can zone off and create packs of players makes marking almost impossible for key forwards. Forwards want the ball out in front of them in space on a lead like all those century-kicking full forwards of yesteryear.
The lack of space in a forward 50 today makes the traditional forward lead-up play rarer, but more valuable when it occurs. Those that defend that well are even harder to play on.
Once again, Weitering leads the way.
Even when you're on the lead, you'll only take a mark a third of the time with Weitering on your tail.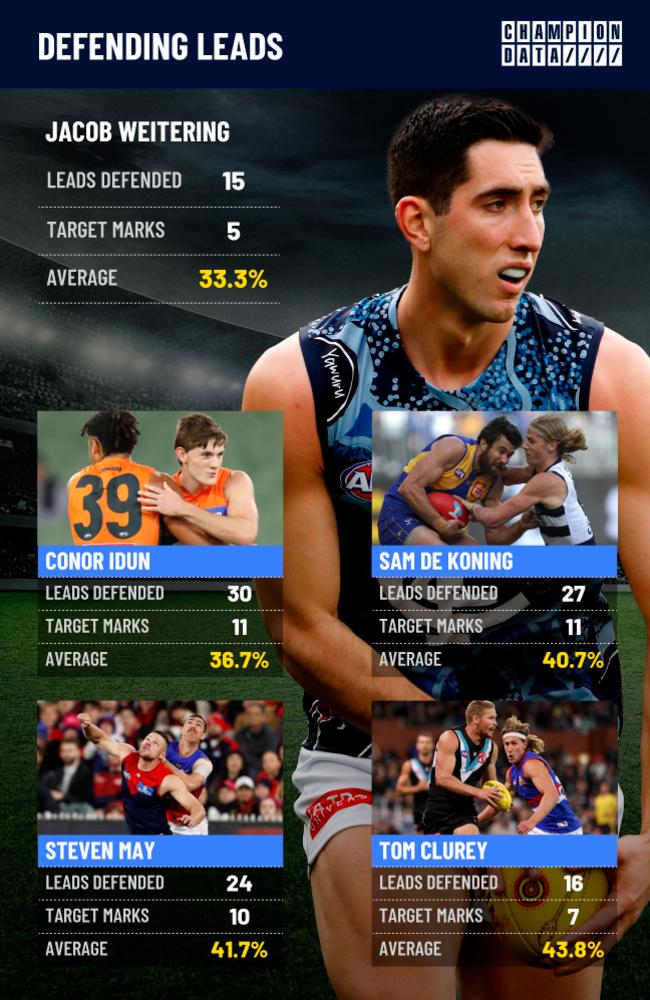 Jacob Weitering's ability to defend the lead is better than all other key defenders in 2022.
Weitering, Grimes: Great forward stoppers
Across a range of statistics, Champion Data rates Weitering and Grimes the best negating key defenders in the game for 2022. This is evident when you break down the statistics of their opponents over the season so far.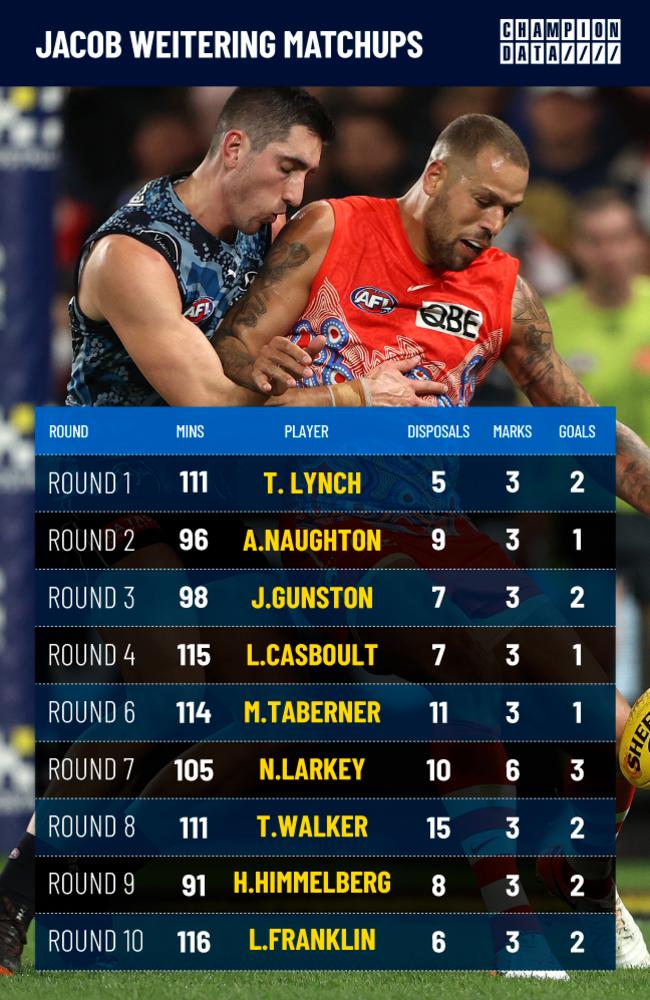 Weitering's 2022 season opponents.
Weitering is playing more like a traditional full back than perhaps anyone else in the AFL this year. He's playing a full game on the leading big forward target and shutting them down, without the switches that often happen in other defensive setups.
Missing since early in their Round 11 game, Carlton would be encouraged by their ability to stay afloat in recent weeks without their defensive lynchpin. One reason is that Lewis Young has taken up the negating slack with a massive 55 spoils since Weitering went down.
Another sign of encouragement is that the most prolific games against him have been from Nick Larkey (North Melbourne) and Taylor Walker (Adelaide) in lowly teams. When he plays against finals contending teams, his record of blanketing their big forward threat is perfect.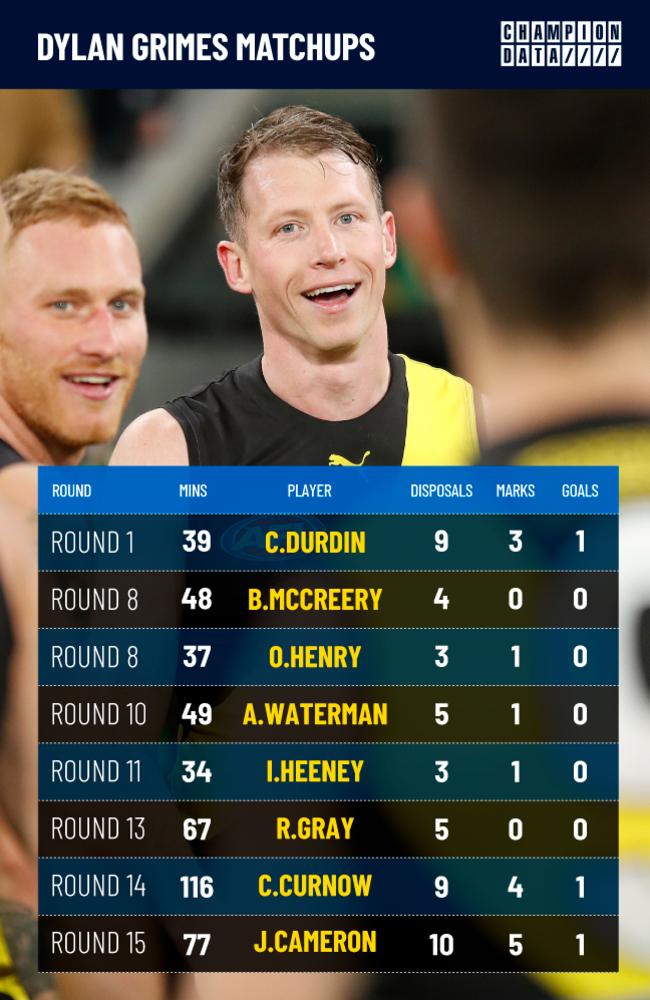 Grimes' opponents in 2022.
Grimes has always been a key defender with the adaptability to also play on the smaller, more agile target. This is evident from playing on Jeremy Cameron or Charlie Curnow one week, and then Robbie Gray or Isaac Heeney the next. This results in his match-up times being less some weeks – the smaller the player the more switching occurs during a game, particularly when compared with Weitering.
This does not make him any less effective than Weitering, though.
The last two weeks has seen him play on the two form key forwards in the competition. He kept them quiet. When Cameron moved up the ground to find more ball last week, Grimes showed his versatility by switching to the smaller Gryan Miers.
Negate vs Attack?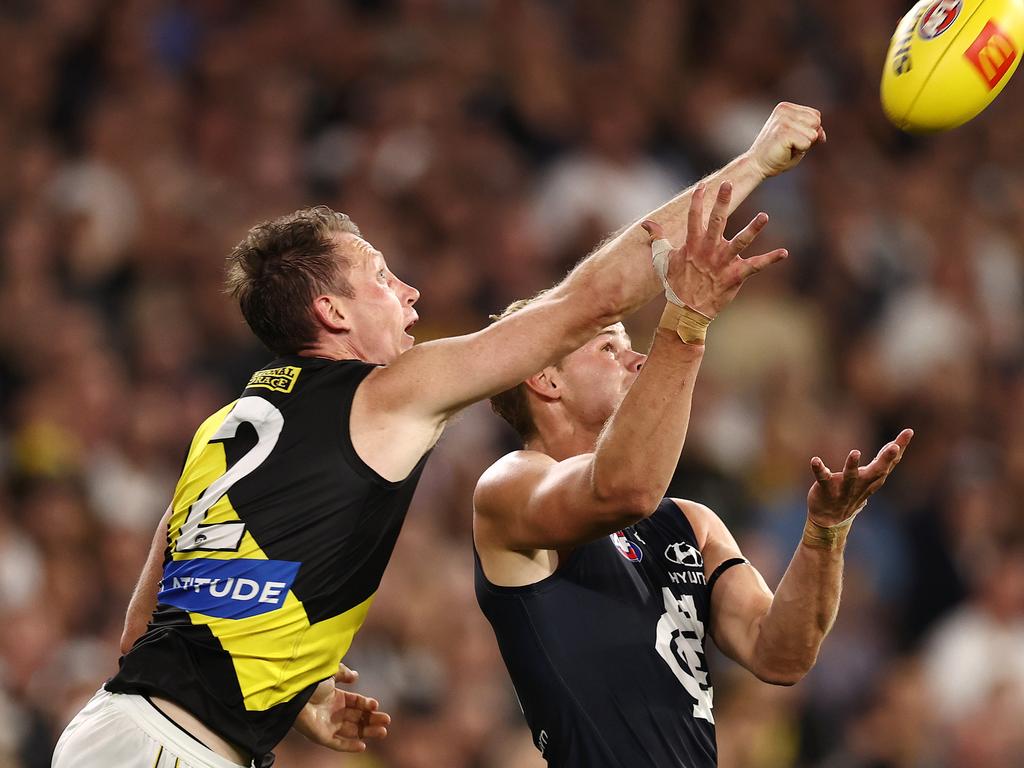 Dylan Grimes spoils Tom De Koning. Picture: Michael Klein
In a traditional sense, Weitering and Grimes are the best key defenders in the AFL in 2022.
But the notion of team defence clouds the issue.
Negating is always valuable but the dimensions to a key defender's game have changed. No longer is it the sole job of the running half back to set-up play from defensive 50. The big fellas need to do that, too. The start of attack often starts when the ball gets kicked high into the forward 50 when a defender can mark and then release the ball quickly.
May, last year's All-Australian full back, is not outstanding at negating his direct opponents' possessions and goal-scoring. In fact, the expected goal figure of 1.3 of May's opponents actually lifts to 1.6 when they line-up.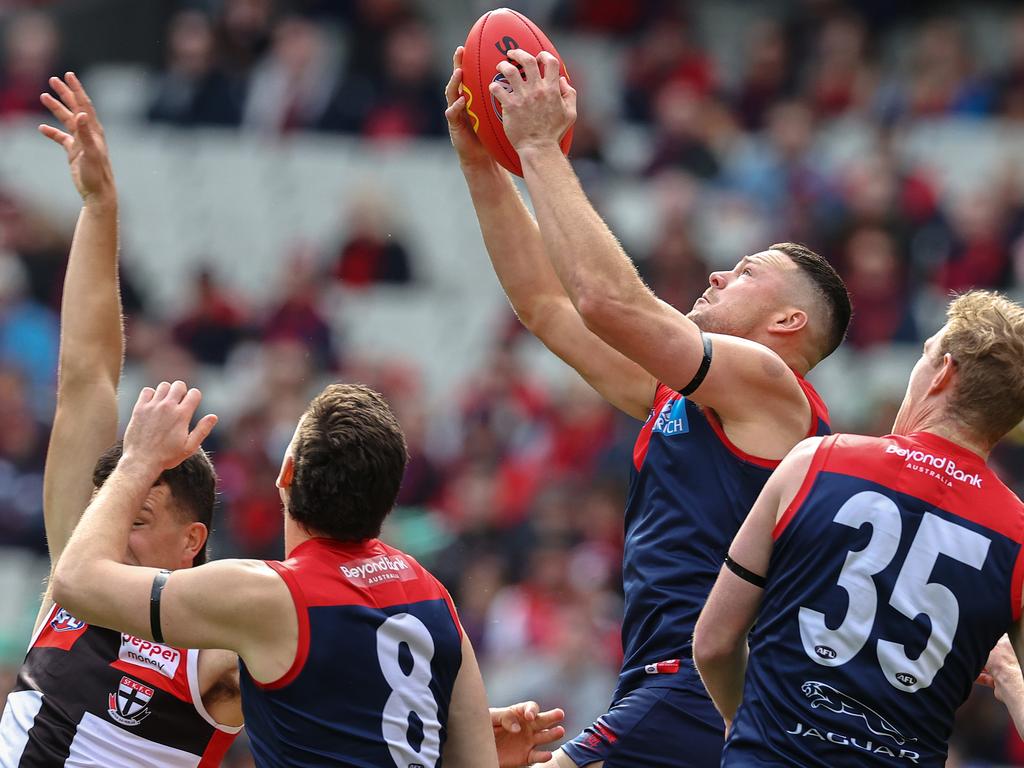 Steven May controls the air when the ball goes inside 50. Picture: Michael Klein
But when the ball gets kicked into the air to a 1v1 contest, May is the master.
In that situation, he has won possession 19 times in 2022 and his opponent has won the ball just twice. Weitering is going 13-10, a more standard result for key defenders, while Grimes is May-like with his 14-4 record.
Those wins negate, but also set-up attack.
Winning time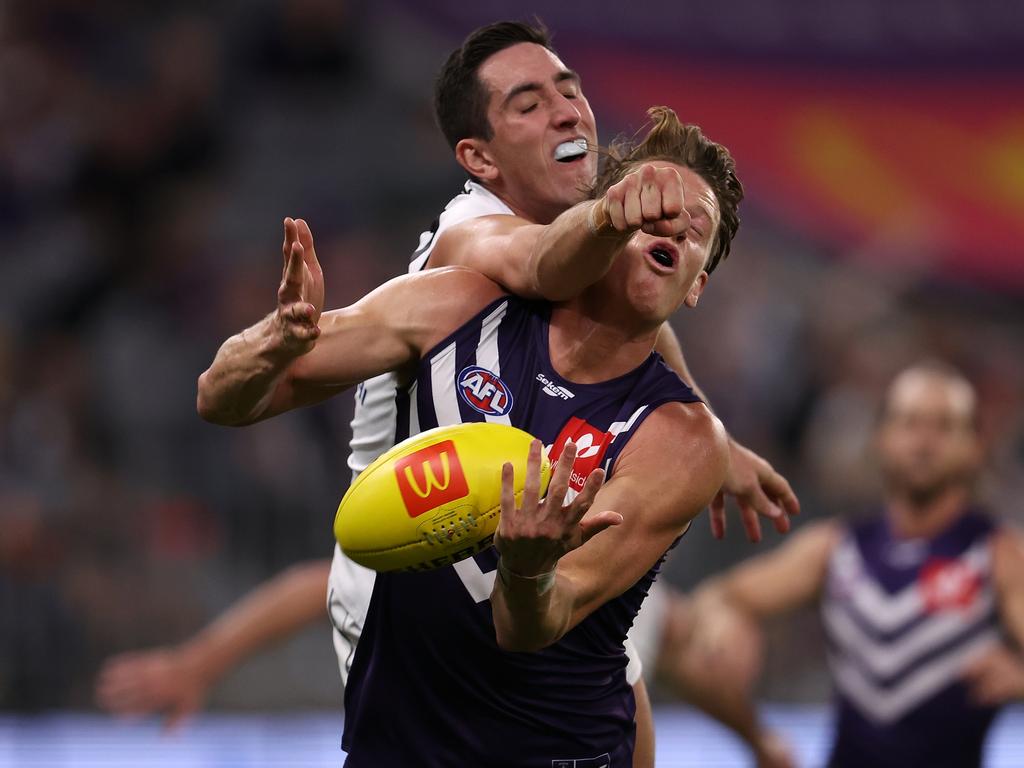 Weitering spoils Matt Taberner. Picture: Paul Kane/Getty Images)
What can't be argued is the effect Weitering, Grimes and May have on their teams.
Melbourne is 11-0 with May in the team and playing a full game. They are 0-3 without.
Carlton is 8-2 with a full game from Weitering and 2-2 without.
As for Grimes, hamstring injuries restricted him in his first game of the season and then put him out midway through his second game, both losses. When he returned, Richmond were faltering at 2-4 but, since his inclusion, have gone 6-2 and revived dreams of a deep finals run.
Midfielders may get the plaudits, but negating defenders are just as important when it comes to winning.