Champion Data: The Demons once again lead the competition as the intercept mark kings
As we saw with the Demons' 2021 premiership, risk-taking can define a season. ROB FORSAITH and ADAM TREACY run the rule over which teams are excelling – and which are lagging behind – in the all-important intercept mark stat.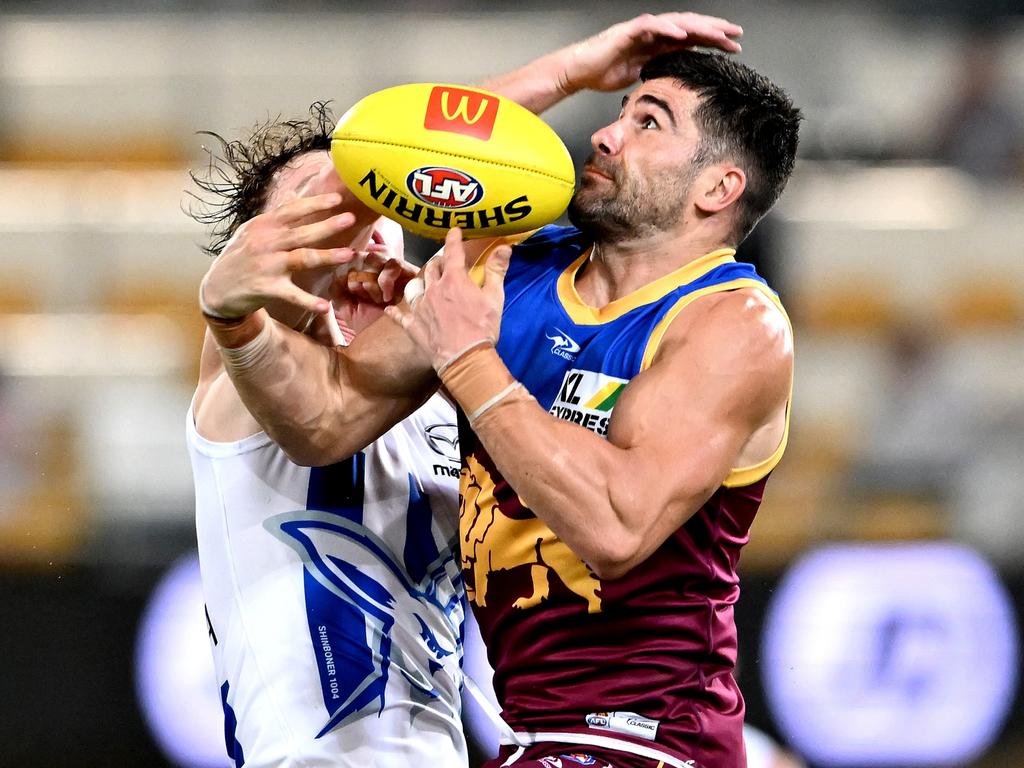 Brisbane's Marcus Adams has taken 24 intercept marks so far this season. Picture: Bradley Kanaris/Getty Images
The intercept mark has become one of the most important skills in the modern era, as Melbourne demonstrated so profoundly in their march to the 2021 premiership.
It rewards those capable of speed-reading the play – and the risk takers that can change the course of a game or a season.

We have charted the league's impeccable interceptors in the opening five rounds, analysing both teams and individuals. It is a ladder you want to be on top of, as the Demons' dominance shows.
The return of the king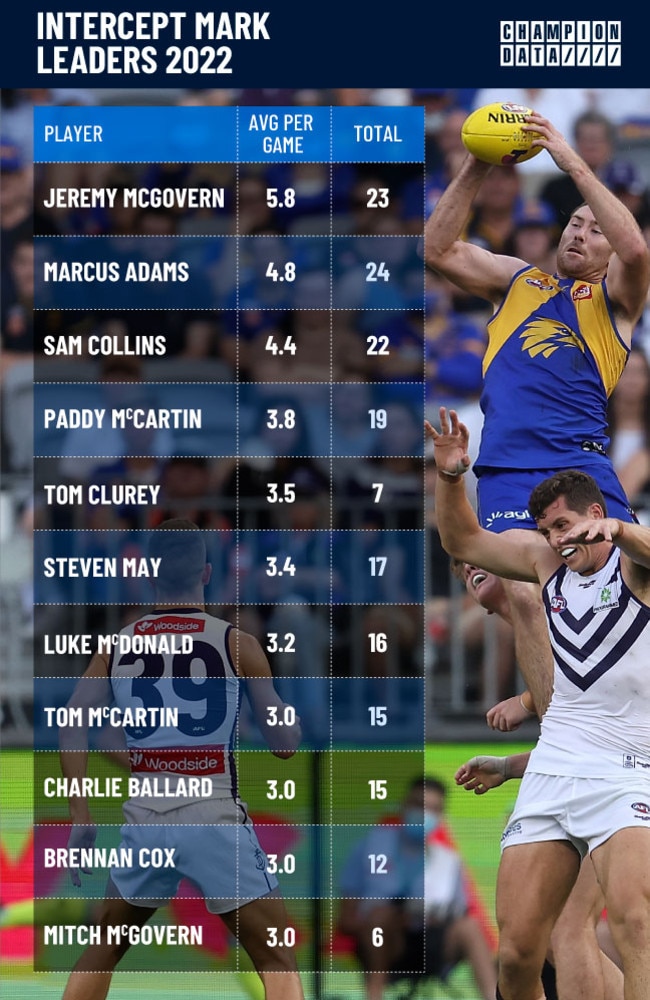 Source: Champion Data
Of the various woes that Sydney exposed so ruthlessly last Friday night, the absence of talismanic star Jeremy McGovern was perhaps the most glaring for West Coast.
The Eagles conceded eight goals before scoring, having been forced to omit McGovern because of Covid protocols.
The defender had been the shining light in a largely bleak stretch for the club, returning to what coach Adam Simpson described as "career-best form".
Simpson is on the money.
McGovern underwent hip surgery at the end of 2021, having been bothered by adductor and knee injuries during a stop-start season. The keen fisherman, who confessed to ripping out the beating hearts of fish and eating them after earning the first of four consecutive All-Australian blazers, has reclaimed his place among the league's elite.
McGovern has averaged 5.8 intercept marks per match in 2022, clunking 23 in total. He is on track to break the record held by Jake Lever, who clutched 94 intercept marks in 2021 (4.3 per game).
The 30-year-old was particularly clinical against Collingwood, where both coaches judged him best on ground in the Eagles' only win of the season. Simpson's side has dearly struggled, imagine how poorly they might have fared without McGovern's leadership, incisiveness and athleticism.
The challengers to the throne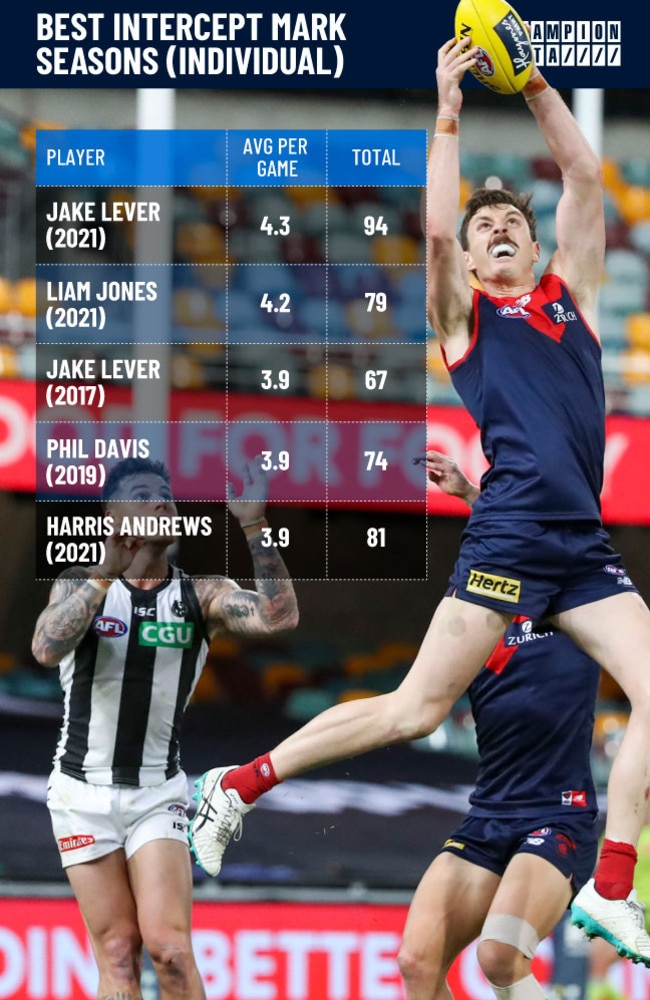 Source: Champion Data
Lever, who missed the opening three rounds because of a foot injury, and Steven May remain a key part of what makes Melbourne so dangerous.
But it is Brisbane's Marcus Adams and Gold Coast vice-captain Sam Collins who, like McGovern, are on track for record-breaking seasons.
Adams has taken 24 intercept marks, while Collins has managed 22. The duo's capacity to crash packs is reflected in the fact they have, like McGovern, averaged two contested marks per game in 2022.
The combination of Adams, who ranks third in the league for overall marks this season, and Harris Andrews has helped Brisbane develop one of the league's best back lines.
It is testament to the hard work of Adams, whose career threatened to be derailed by multiple injuries after he was drafted at age 22. It has also enhanced the Lions' status as the best kind of destination club, with the former Western Bulldog joining Joe Daniher and Lincoln McCarthy in finding form and fitness after a fresh start in Brisbane.
Collins somehow remains a largely unheralded force despite being crowned the Suns' club champion in 2020. The 27-year-old is another story of persistence, having been delisted by Fremantle and found his way onto Gold Coast's list via a VFL stint with Werribee.

Collins' numbers are particularly impressive given he routinely plays on the opposition's most potent forward, having matched up on Max King and Harry McKay in the past fortnight.
Rounding out the top four is Paddy McCartin. The former No. 1 draft pick has been a revelation in his long-awaited comeback from concussion, excelling alongside brother Tom. Sydney's defence has been a central part of their 4-1 start.
The dynamic Demons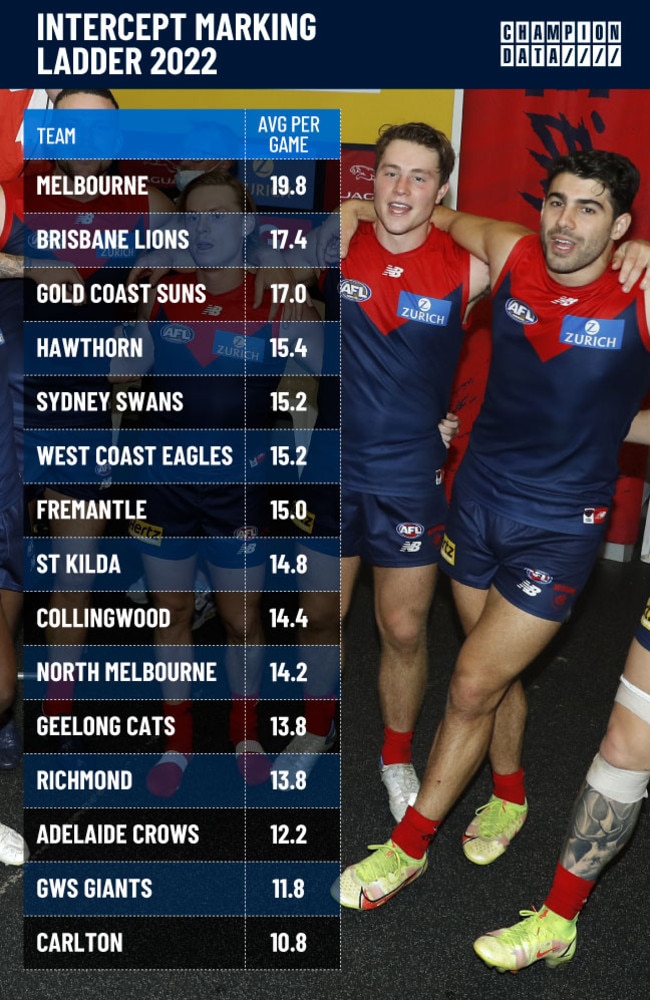 Source: Champion Data
Melbourne remains the league's best in the business, boasting a web of talented interceptors led by Lever, May, Angus Brayshaw, Max Gawn and Luke Jackson.
The Demons have picked up exactly where they left off after having the best intercept marking season on record last year. The 2021 premiers averaged 20 intercept marks a game last year and are on track for a similar result in 2022, currently averaging 19.8.
The next best season by a team is Richmond in 2018, who averaged 19 intercept marks and were in the middle of what would become a Punt Road dynasty. Close behind them is North Melbourne in 1999 (average of 18.3), who also went on to win the premiership. Can you see the pattern?
Historically, teams attempt to replicate the game style of the previous year's premier. Intercept marking is up pretty much everywhere around the league. Except over at Lygon Street …
The battling Blues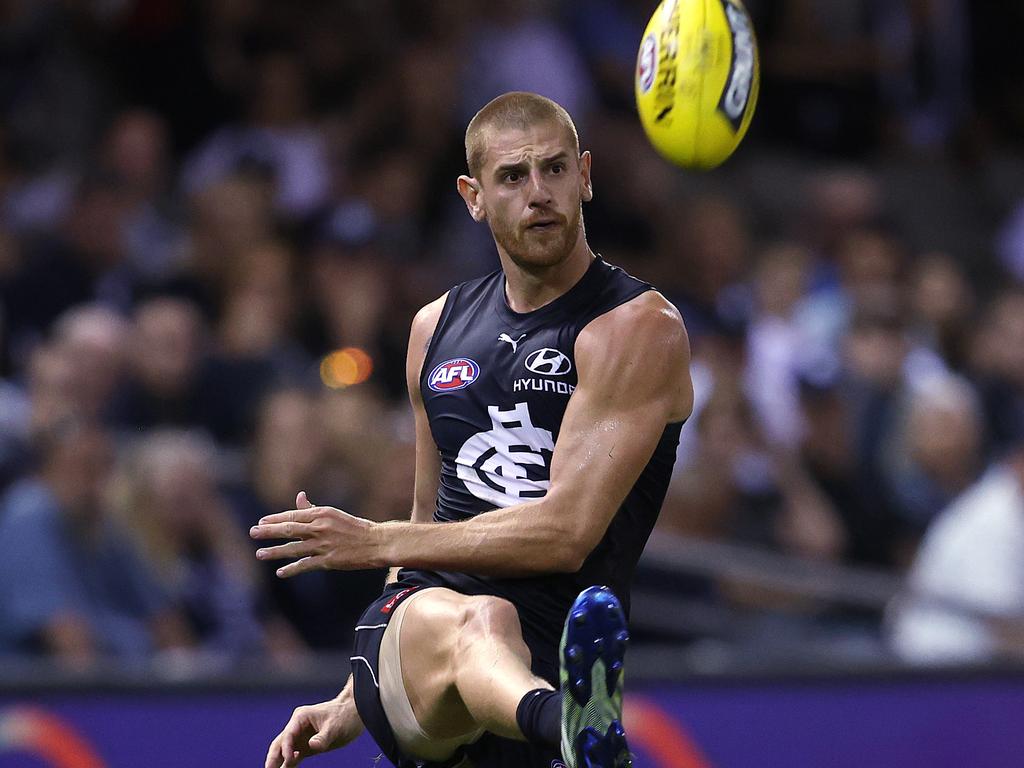 Liam Jones' retirement has had an impact on Carlton's intercept marks. Picture: Michael Klein
The lid is well and truly off at Carlton (we're as guilty as anybody, having already flagged a return to finals), but there is one alarming trend that has the potential to define how far the Blues go this season.
Carlton are averaging the fewest intercept marks by a team since 2014 at 10.8. They ranked fourth in the league for this measure in 2021 with 17.6 per match.
Liam Jones ranked second in the league last year for intercept marks with 4.2 per match. Unfortunately, Jones then retired after choosing not to follow the AFL's vaccine mandate. Mitch McGovern, the younger brother of Jeremy, filled Jones' void with aplomb in the opening two rounds but has since been sidelined with a hamstring injury.
Carlton will have to call upon their defenders to step up if they want to be looked at as a real premiership contender this season. They've scraped through with some narrow wins of late, but the floodgates could open against stronger opposition if things aren't tightened up down back.
The Crystal Ball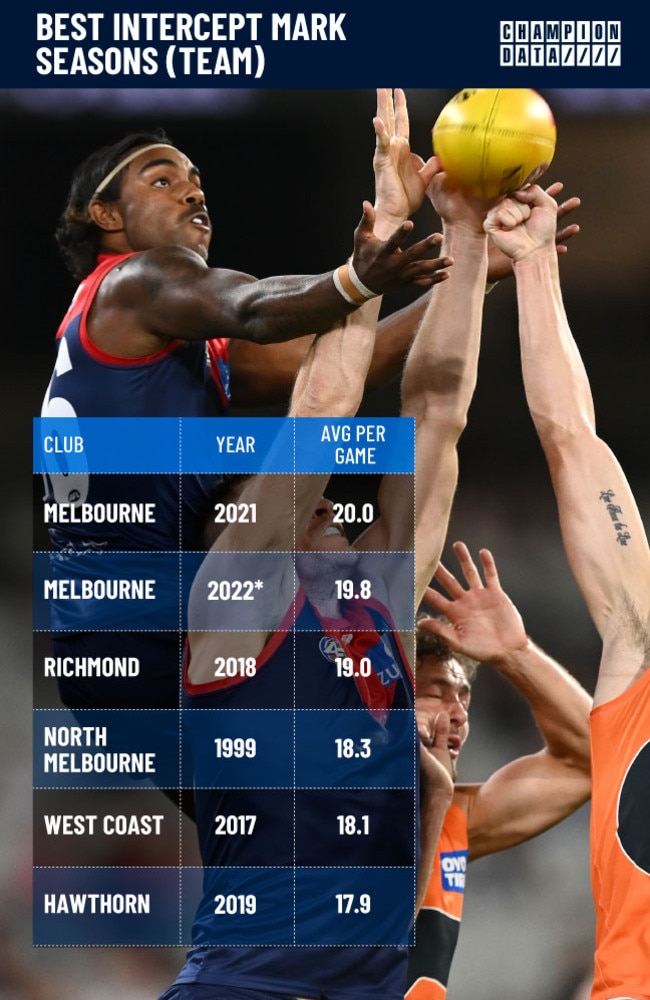 Source: Champion Data
Intercept marking has been trending up over the past decade, especially among teams around the top of the ladder, and the league is on track for a record-breaking year in 2022.
It might be taking it a step too far to say intercept marks win premierships (although Leo Barry could easily argue otherwise), but it's safe to say a healthy average can take your team deep into September.
If the finals started tomorrow, the Dees look unstoppable. But it's a long season, many teams have fallen short of the ultimate goal after having similar starts.