Champion Data: The numbers and the accuracy behind the AFL's snap set shots revolution
Footy purists may squirm but 'The Stevie J' phenomenon has well and truly caught on. CHAMPION DATA reveals why the snapped set shot is here to stay and which players have mastered the art.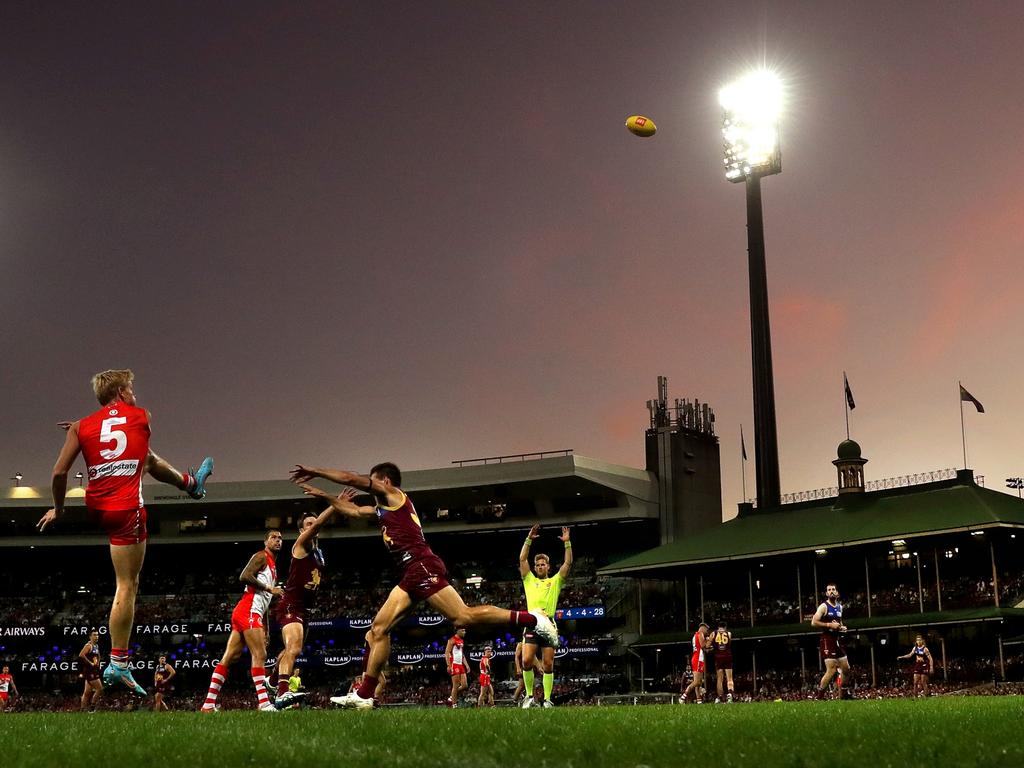 Isaac Heeney snaps a goal in Sydney's Round 7 loss to Brisbane. Picture: Phil Hillyard/NCA
In the fields of history, a revolution is a radical change in the established world order.
On the footy field, a revolution is a radical change to the established style of play, usually sparked by a rule change or a player. The change is usually criticised for an extended period until it dies a slow and painful death or, occasionally, rivals adopt the skill and the revolution is born.
Over the past 10 years we have witnessed a quantifiable rise in the dark art of the snapped set shot… and remarkably accurate results.
The AFL's sharpshooters and scatterguns
League-wide set shot goal accuracy is at 49 per cent, the highest it has been since 2017. It is tracking significantly better than the previous four seasons. Brisbane currently lead the league at 57.9 per cent, Sydney (56.0 per cent) are second this year after topping last year's ladder (52.1 per cent).
Reigning premiers Melbourne are remarkably 17th this year and were 14th last year at 45.6 per cent. They are seemingly an anomaly, as the rest of the league's best teams are in the top 10 for goal kicking accuracy.
Rivals will be praying for Melbourne's accuracy to stay low given how dominant they've already been.
Port Adelaide are on track to collect the wooden spoon in this statistic (42.2 per cent), while St Kilda have slipped to 10th (47.8 per cent) after a wayward score of 4.18 scuppered their hopes of defeating Port in Round 7.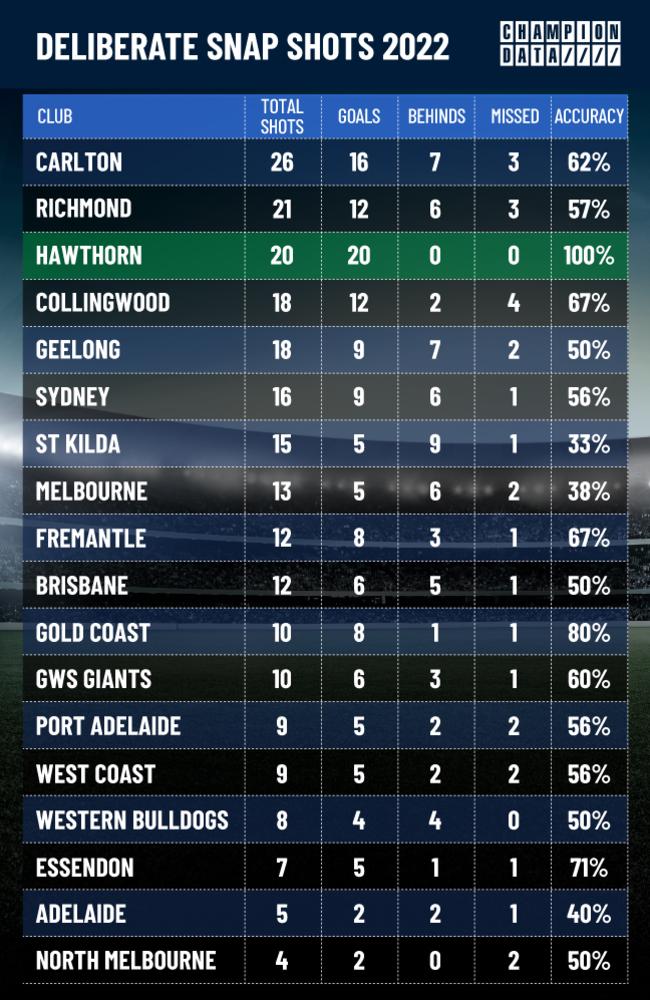 Carlton lead the ladder in deliberate snaps this season.
What has changed?
If you watch a lot of footy, you'd be able to recall countless times a former great-turned-commentator or special comments expert analyses the set shot routines of current players after they spray a seemingly easy kick for goal.
You can hear the disbelief in their voices. The rage. The lack of empathy is hard to disrespect as the likes of Jason Dunstall and Brian Taylor have the career accolades to back up their frustrations.
Change is always met with resistance, and in the AFL it is rarely a smooth transition.
Cats fans would coin this 'The Stevie J' revolution.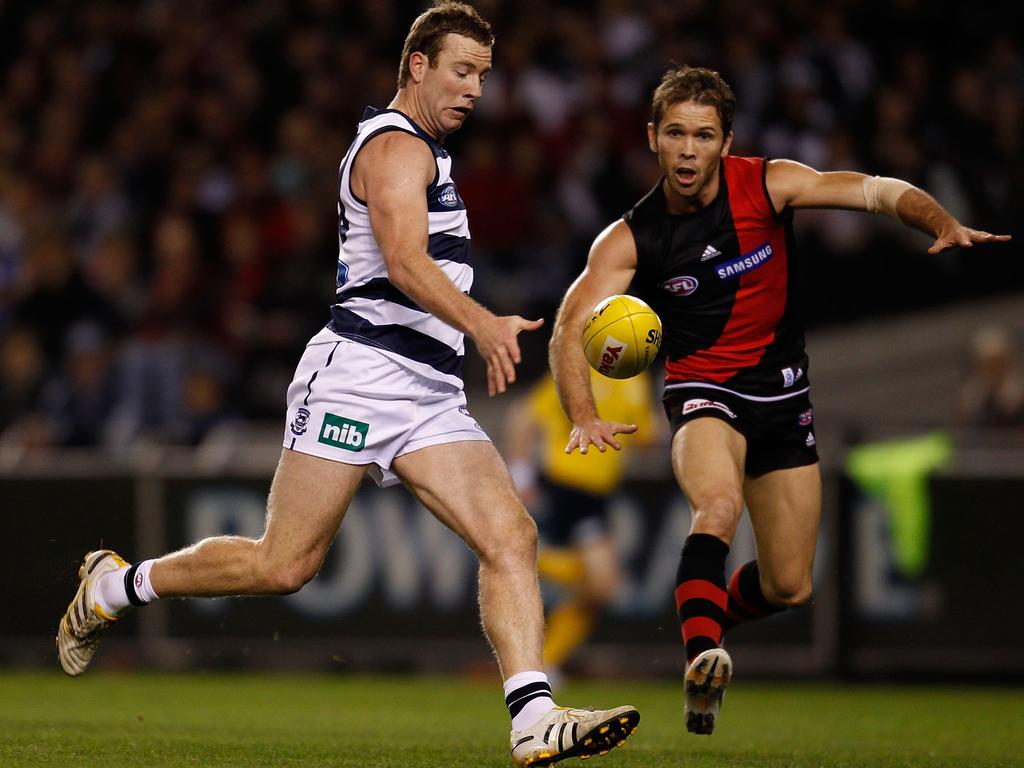 Geelong's Steve Johnson frequently used the snap in the Cats' forward line. Picture: Scott Barbour/Getty Images
We can trace it back to Geelong's premiership-winning dynasty, when superstar Norm Smith Medallists Steve Johnson and Paul Chapman routinely turned their bodies sideways, away from goal, and snapped the Sherrin towards the big sticks. Some of the Cats' other forwards followed suit; Tom Hawkins remains a notable snapper.
Fast forward a decade. We aren't quite at the point where a snapped set shot barely raises an eyebrow; but more and more players are doing it. While some footy purists still squirm at the sight of it, the proof is in the pudding; and it seems that the more the stigma lessens, the higher the accuracy gets.
If we break down the stats, there is a recent uptick in set-shot accuracy, but also a trend of players feeling more confident to snap goals from a set shot.
There have been 3.7 snapped shots per match in 2022, an all-time high. To put that number in context, it has more than doubled since 2016. In 2010, there was an average of just 0.9 snapped shots per game
Players are prepared to use the snapping technique from less acute angles and, recently, it's been a winning formula.
Players like Collingwood's Jamie Elliott have been snapping from closer and closer to the front of goal. Picture: Michael Klein/NCA
The sides that frequently snap
You won't find the Stevie J-Curve in any textbook (nor the how-to-play apps presumably used by most children learning the game now), but it is impossible to downplay its impact on modern goalkicking.
Johnson is now an assistant coach at the GWS Giants, who rank 12th in the league this season for total snapped set shots. Ironically it is Hawthorn, whose coach Sam Mitchell often had prime seats for the Stevie-J Show, that has embraced his approach to goalkicking to great success.
The Hawks' record is perfect too.
Mitchell's men have attempted to snap goals on 20 occasions after winning a free kick or clutching a mark. They have nailed all 20 shots, with a combined nine of those goals coming from veterans Luke Breust and Jack Gunston.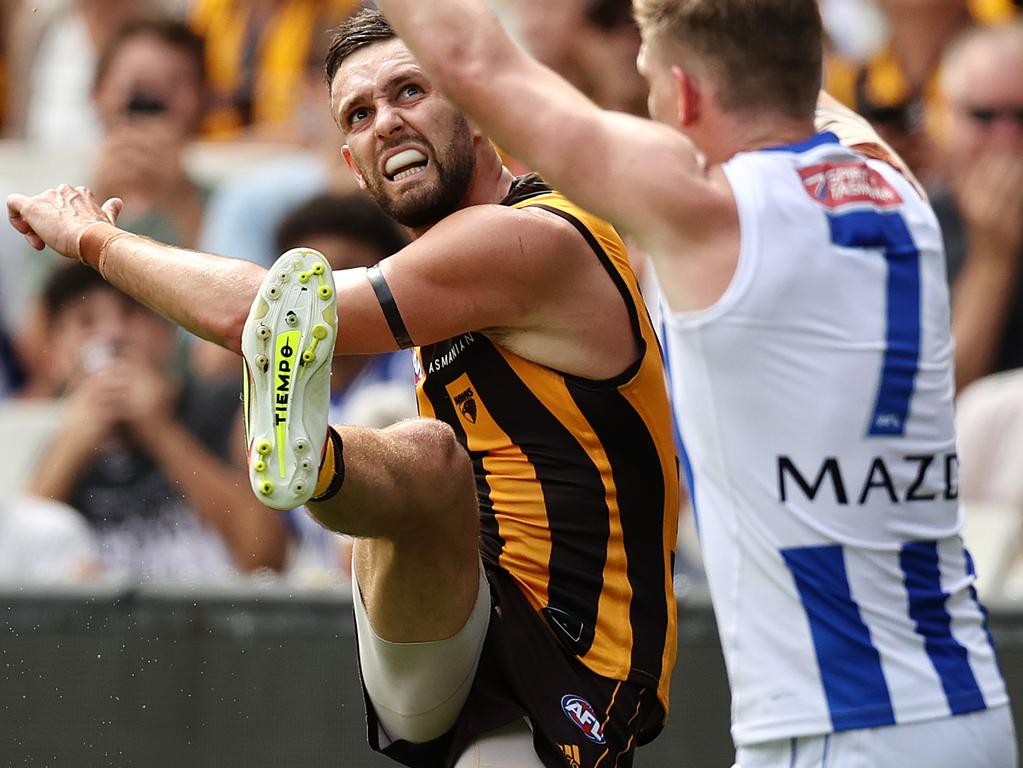 Jack Gunston has helped the Hawks to a perfect record on snaps through the 2022 season. Picture: Michael Klein/NCA
The Hawks also rank fourth on the ladder for overall accuracy from set shots. Is it a coincidence?
Potentially; we can't definitely say whether this is a case of causation or correlation. But we can dispel the myth that snapped set shots are ruinous when it comes to goalkicking accuracy.
Carlton, Richmond, Hawthorn, Collingwood, Geelong and Sydney are the top six clubs most likely to snap the ball when lining up a set shot. Five of those teams also rank in the top six in terms of overall accuracy, while the Cats (eighth) aren't far behind.
Of course, not all set shots are created equal. The players and teams snapping from a tighter angle are more commonly rewarded – and the overall probability of a goal is lower from these positions.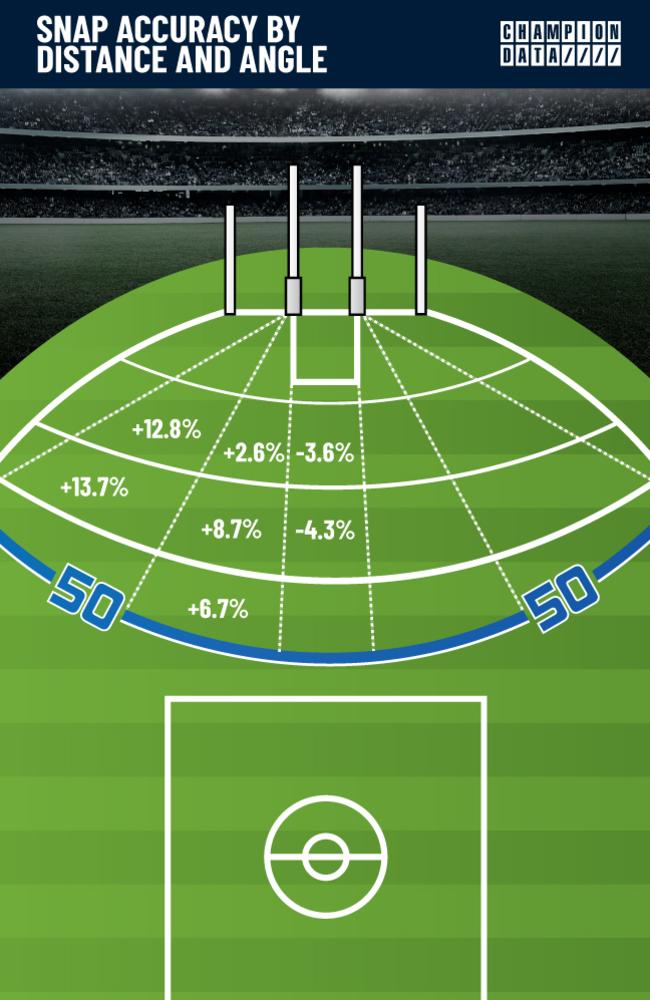 Snap accuracy by distance and angle.
Harry's half-moon and the Curnow crescent
The Steve Johnson baton has since been passed to reigning Coleman medallist Harry McKay. McKay is arguably almost as well known for snapping the ball as clunking contested marks.
"I know optically that it's not great for a few of the elder statesmen around the league, but I think it's something to get used to," McKay noted during his charge to last year's Coleman medal.
"If you look at the stats where blokes kick around the corner, we hardly miss."
We wouldn't quite go that far, but data on this year's most experienced practitioners of the much-maligned art is encouraging. And Carlton coach Michael Voss is clearly on board with the new normal.
McKay has seven goals from 11 snapped set shots, a haul that represents approximately two thirds of his 17 goals for the season. Blues teammate Charlie Curnow (six goals from nine attempts this season) is second for most snapped set shots in the league.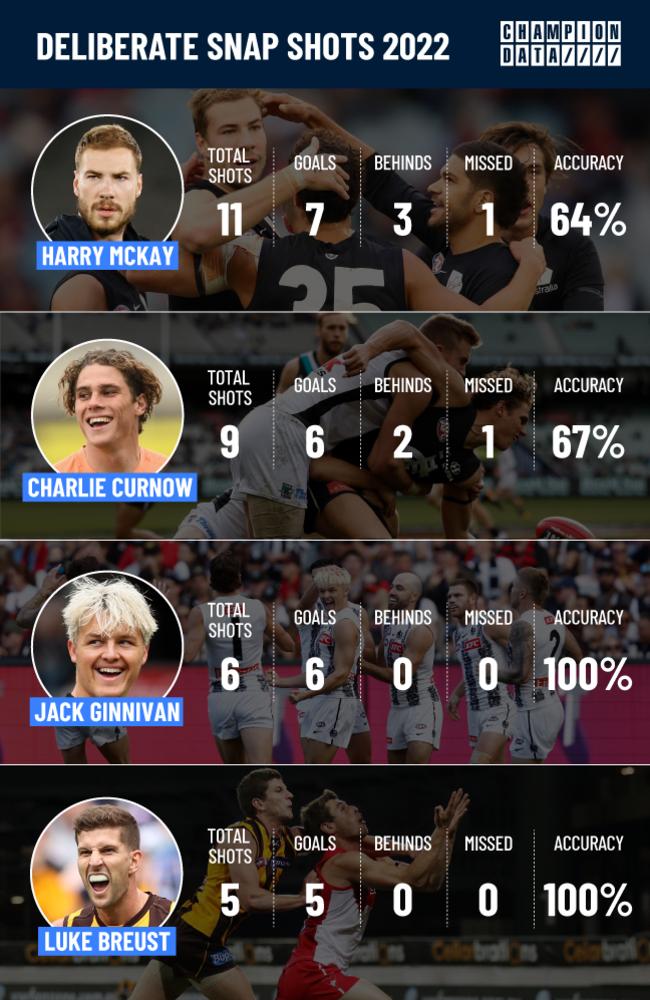 Young gun Jack Ginnivan hasn't missed a snap attempt in the 2022 season.
The clinical class of Breust and Gunston has recently shone, but this year's sharpshooting snapper is Collingwood's Jack Ginnivan. Ginnivan has not missed in six attempts, including the goal that prompted the divisive 19-year-old to shush Essendon fans.
You can be almost certain that criticism of Ginnivan's approach will come at some point this season. But, unlike the teen's victory celebrations, there is evidence that underlines why he is right to break with tradition when it comes to this.
If you are a footy purist, lover of the drop punt or you just cannot stand the snap at goal, it might be time to rethink your take, the revolution is coming, and it could win your team a premiership.