Champion Data: The ruckmen on a roll and one AFL team bucking the trend
Once dismissed as dinosaurs, ruckmen can be incredibly influential on the game yet debate rages over the true value of hitouts. ROB FORSAITH and CHAMPION DATA crunch the numbers.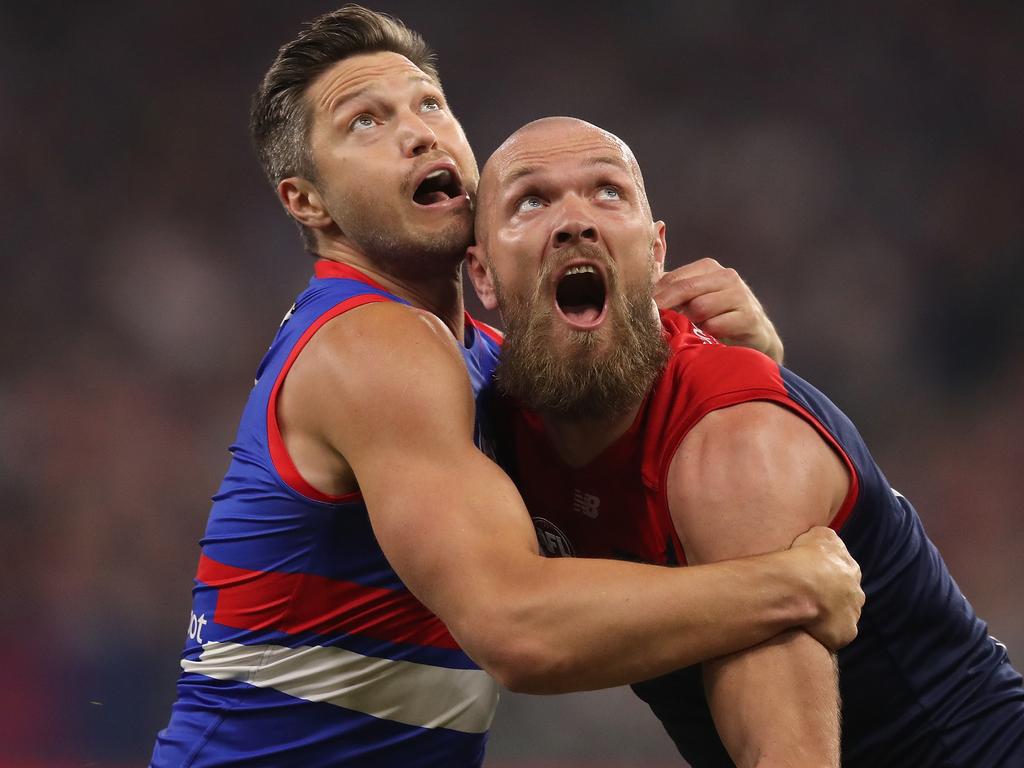 Do big men now rule the AFL? Picture: Will Russell/AFL Photos via Getty Images
Leigh Matthews, as eminent as any voice in the game, referred to hitouts as being a "useless" statistic in 2014.
A broader debate about the value of ruckmen started long before the eight-time premiership-winner first entered the coach's box or commentary booth.
Once dismissed as dinosaurs, it is hard to envisage Max Gawn or any modern-day ruck prowling even the most creatively-scripted Jurassic Park reboot.
Gawn is rightly regarded as one of the most important and influential players in the league, while Jarrod Witts headlines a list of impressive counterparts.
Do big men now rule the AFL? Champion Data has helped us try to find an answer, while also forensically proving why Matthews is bang on the money.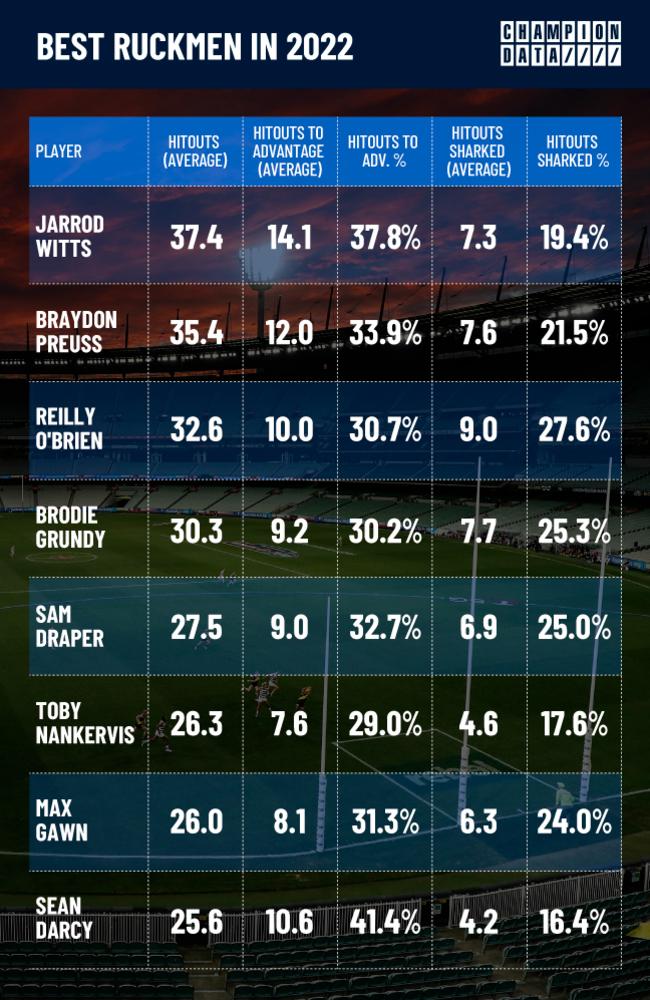 Best ruckmen in 2022. Source: Champion Data
Hitouts are old hat
Getting first hands to the ball is a fairly key part of every ruckman's job, but not every hitout is created equal. A pinpoint thump forward can shift momentum and create a goal, while a misguided tap is a risky gift to the opposition (all the more so since the 6-6-6 rule was introduced).
To get a better idea of a ruck's performance, you need to look at hitouts to advantage (HA) and hitouts sharked (HS) by the opposition's midfielders.
Witts tops the league in both hitouts and HA this season, averaging 37.4 and 14.1 respectively. The only ruck with a superior HA percentage (from the list of those averaging at least 23 hitouts per game) is Sunday's opponent, Fremantle giant Sean Darcy.
Darcy's sample size is smaller because he has been restricted to five games in a stop-start campaign.
Gawn ranks seventh in hitouts, reflecting the fact Luke Jackson has shouldered plenty of the workload, while approximately one in four of his taps have been snaffled by the opposition. That sounds high, but you need to consider the congested chaos surrounding a ruck contest.
Marc Pittonet, Darcy, Todd Goldstein, Toby Nankervis, Peter Ladhams and Witts are the only rucks to achieve a HS percentage under 20. Pittonet, whose knee injury represented a major blow to Carlton, is the best of this lot at 12.6 per cent.
Oscar McInerney and Darcy Fort have both had more hitouts sharked than to advantage this year. It is particularly surprising given the strength of Brisbane's midfield, led by 2020 Brownlow medallist Lachie Neale.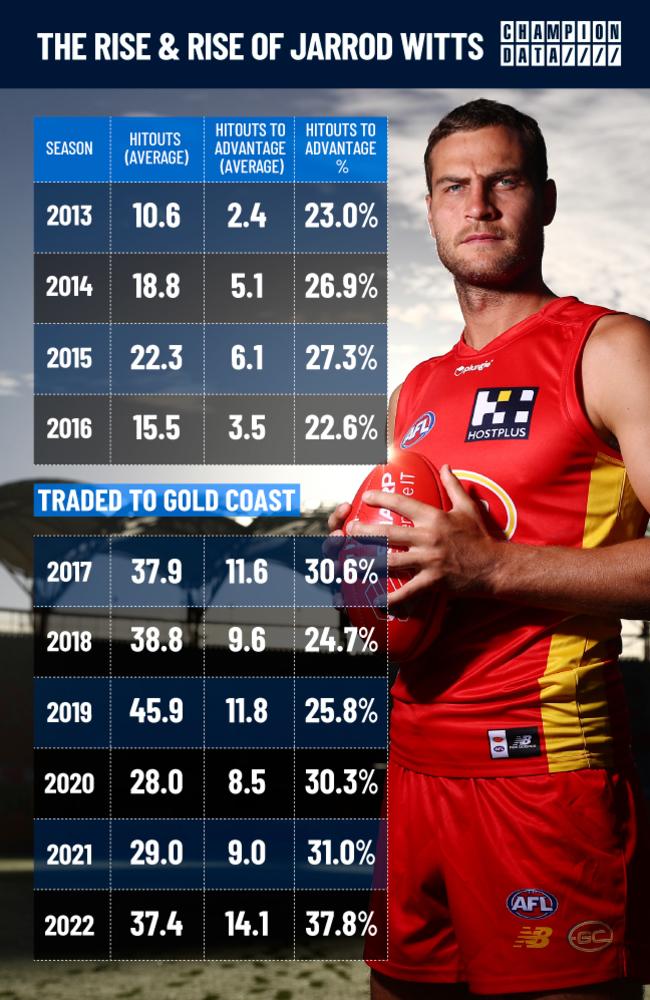 The rise and rise of Jarrod Witts. Source: Champion Data
Witts challenging Gawn's reign?
Gawn will collect a fifth-straight All-Australian blazer if he is awarded the honour at season's end, having been named captain of the side in 2021.
It would be foolish to cast doubt on that happening, but Witts has clearly risen from remarkable beginnings to become the league's form ruckman.
The Suns co-captain famously played rep cricket alongside Pat Cummins at underage level; he was a rugby-loving teenager in Sydney before Collingwood swooped with a contract under the now-defunct NSW scholarship scheme.
Witts' importance to the Suns was perhaps most telling last year, when he underwent a season-ending knee reconstruction after three rounds, and he has since gone to another level.
The 29-year-old is also a prime example of why a mountain of hitouts does not necessarily equate to an elite ruckman.
It is Witts' total of 113 HA from eight rounds that suggests he is on track for a truly spectacular year; the only players to have registered more at this point of a season are Gawn (2016, 2018 and 2019) and Dockers great Aaron Sandilands (2018).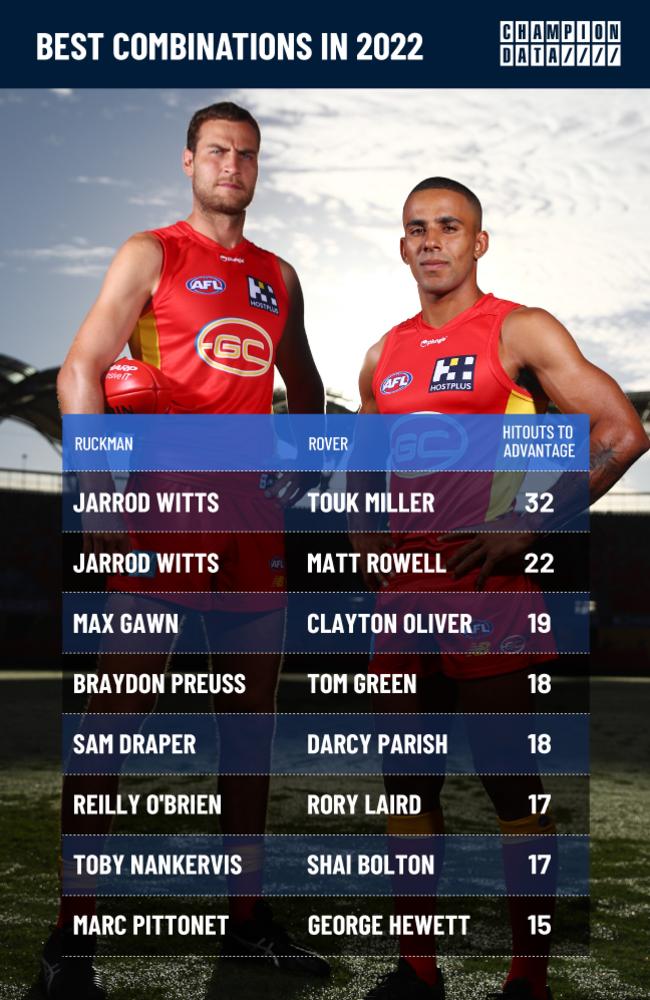 Best combinations in 2022. Source: Champion Data
Luck, rucks' will or ruck whispers' skill?
It is footy's version of the chicken-and-egg paradox. If a ruckman completes a HA, is that a result of his skill or a teammate's nous? It is near impossible to answer. Your view might be shaped by the club you support or whether you've ever flung yourself into a ruck contest, let alone all manner of cognitive biases.
There is no denying that Witts has formed a potent combination with young guns Touk Miller and Matt Rowell, the cornerstones of what Stuart Dew hopes will become an elite midfield.
One theory is Miller and Witts' league-best combination is a by-product of a longer association; after years of working together you learn a colleague's tics, strengths and weaknesses.
But the partnership of Pittonent and George Hewett, traded to the Blues after the 2021 season, does not support it. Likewise Braydon Preuss, who endured an injury-cursed first season at GWS last year, delivering the Sherrin to Tom Green on 18 occasions.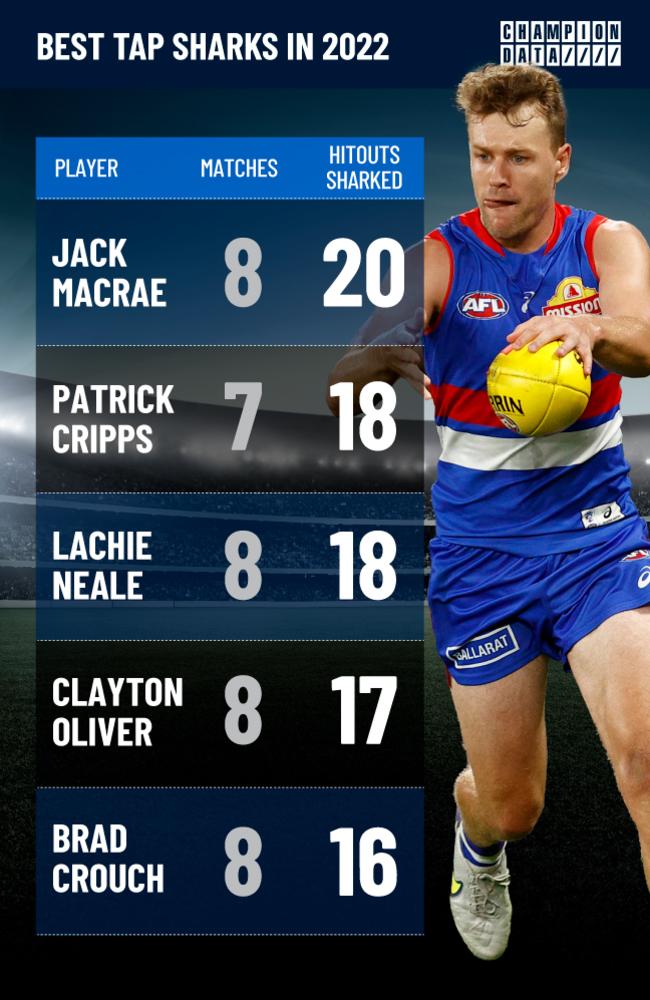 Best tap sharks of 2022. Source: Champion Data
The prolific pickpockets
No midfielder can expect the ball to be routinely delivered on a platter, no matter how good their ruckman is. The art of reading the opposition's intent is a skill in itself.
Western Bulldogs ball magnet Jack Macrae is the most adept, having sharked a league-best 20 hitouts.
Patrick Cripps and Neale, the duo widely regarded as this year's leading Brownlow Medal contenders, are joint second when it comes to snatching possession after their opponents win a ruck contest.
Cripps' 18 sharked hitouts have come from seven games, while he was substituted off with a hamstring injury during the Blues' round-four loss to Gold Coast.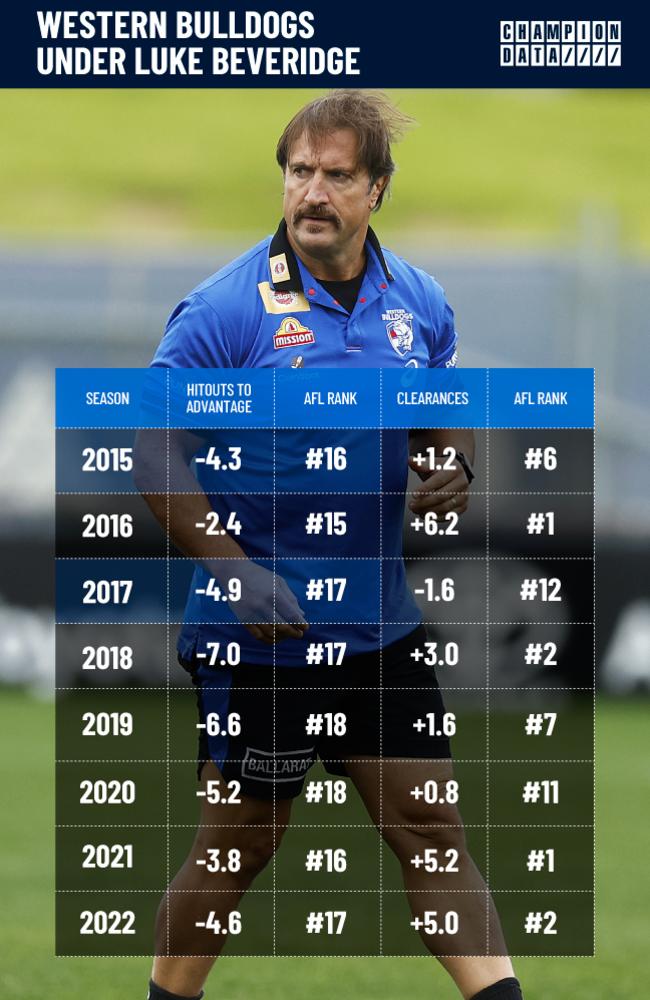 Bulldogs under Luke Beveridge. Source: Champion Data
The curious case of Bevo's Bulldogs
Tim English's recent stint on the sidelines has further highlighted the Bulldogs' ruck depth as an area of concern. The club ranks 17th for HTA this season, but that is a trend predating English's selection in the 2016 draft.
The Bulldogs have repeatedly finished among the bottom four teams for HA since Beveridge was appointed coach. They have also finished in the top two for clearances in four of those eight seasons.
Far from being exposed, the Bulldogs won the 2016 premiership with Jordan Roughead (now a key defender at Collingwood) as their first ruck. The club's clearance numbers are undeniably strong.
It is proof that ruckmen don't matter, right?
Not quite. It is worth noting that 2016 was the season that prompted the league to ban the 'third man up' tactic. Bulldogs gun Marcus Bontempelli was among the players who made a habit of crashing ruck contests, prompting administrators to institute the rule change.
And – like hitouts – clearances represent a wide variety of things. A hurried clanger is not a bullet-like pass to a leading forward.
The Bulldogs notably won the clearance count in four of five losses this season.
Beveridge's side also won the clearance count throughout last year's charge through September until hitting the imposing roadblock that is Gawn. If you're looking for evidence of the value of a ruckman, watch that grand final or Sunday's showdown between Witts and Darcy.