AFL 2022: Collingwood players pose with Aboriginal flag in strong statement on Australia Day date
A year ago Collingwood was at the centre of a storm around its 'Do Better' racism report. Now the club has taken a stand on Australia Day, with a US-born star leading the charge.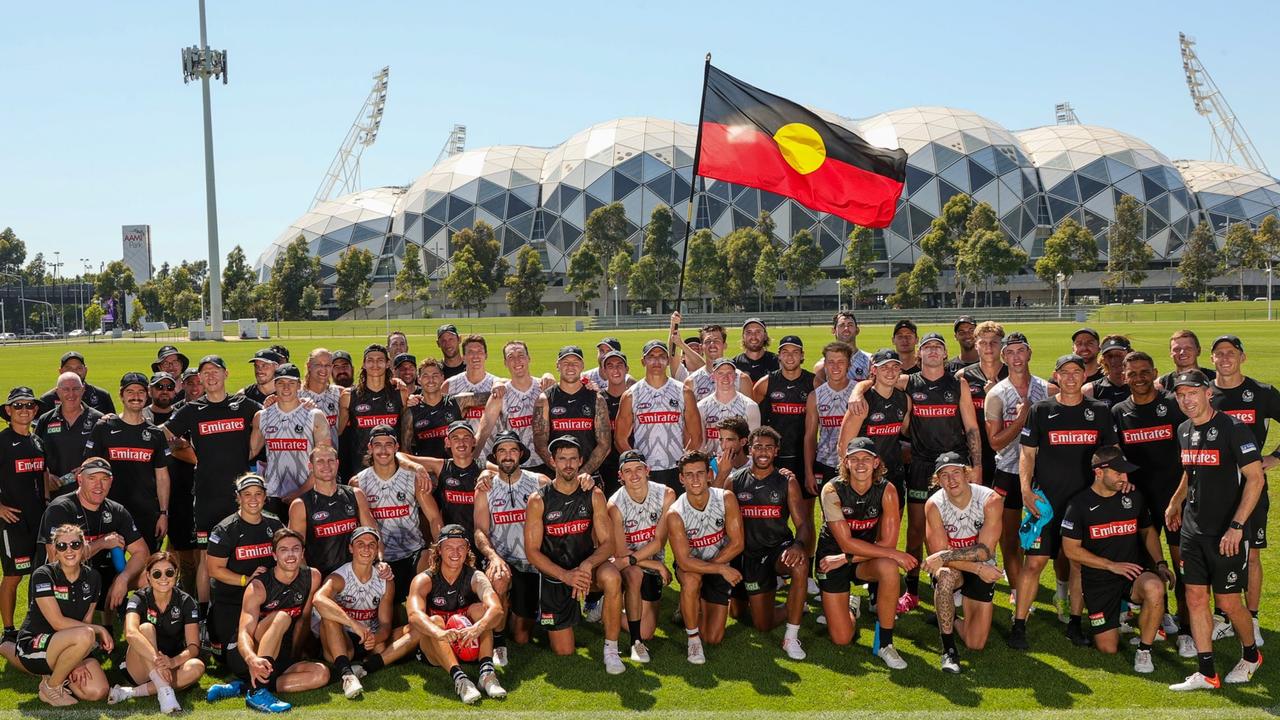 Collingwood players pose with the Aboriginal flag on January 26.
Collingwood forward Mason Cox delayed his Australian citizenship ceremony as the Magpies led the charge for the Australia Day date to be moved.
The American-born big man has signalled his intention to become an Australian citizen, but baulked at the opportunity to be sworn in on the increasingly divisive national day.
"I was asked to be sworn in on Australia Day, but I thought it was culturally insensitive to be celebrating becoming Australian on such a day," Cox tweeted on Wednesday.
"Hopefully I can organise something with the AFL at a more appropriate time."
It came as the Magpies posted a photo of its players and coaches posing with the Australian Aboriginal flag on Wednesday.
Collingwood, which was forced to confront historical issues of racism when the independent "Do Better" report was released last year, also voiced its support for a country that is "inclusive of all".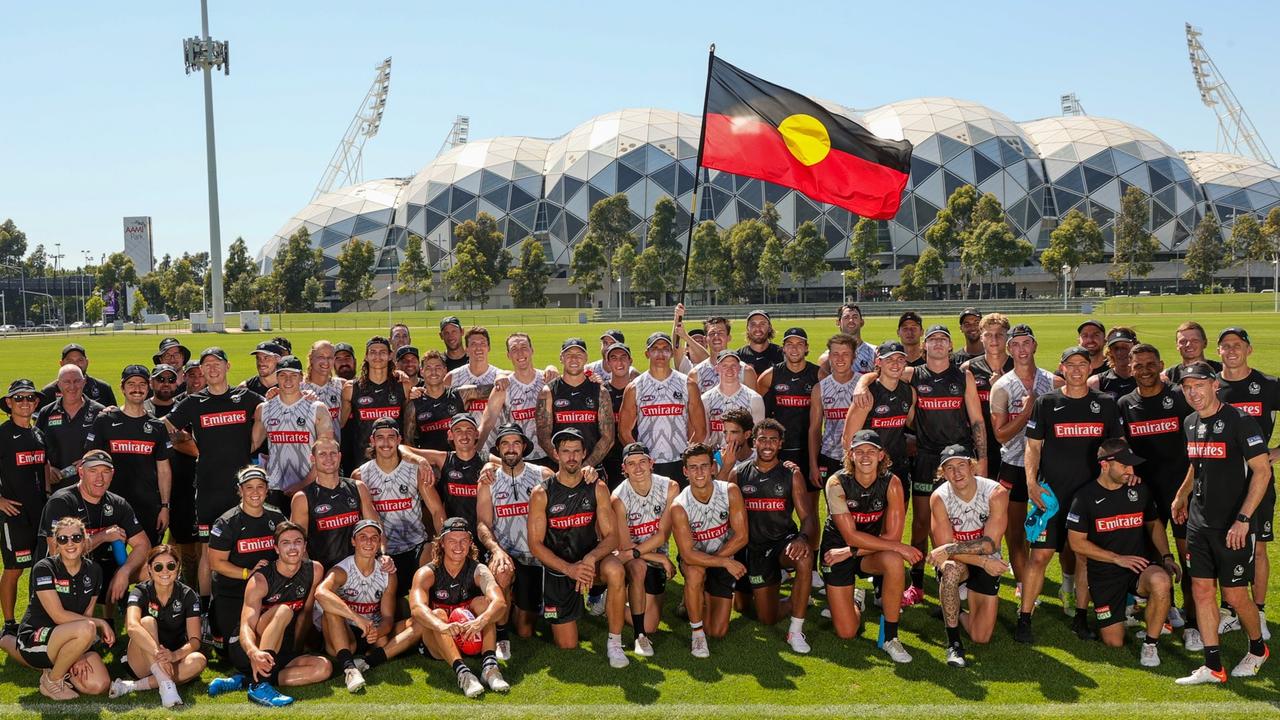 Collingwood players pose with the Aboriginal flag on January 26.
January 26 continues to be a polarising date for Australia Day. It marks the 1788 arrival of the First Fleet at Sydney Cove and the raising of the Union Flag by Arthur Phillip, signalling the start of a British colony on land occupied by Aboriginal people for more than 60,000 years.
"The Collingwood Football Club acknowledges that today represents a day of sadness and sorrow for many of Australia's First Nations people," the club statement said.
"Freeing the Aboriginal flag is a great example of leadership roles that our institutions can play in supporting matters that are important to our people.
"As a club, we are committed to working towards a day where all Australians can celebrate together.
"This will acknowledge the true story of this great country and be inclusive of all.
"Always was, always will be."
The Richmond Football Club believes that if we listen deeply, we can start to build a more understanding and united community.

Today, rather than debate, we invite you to listen, question and think about the bigger issues.

Join us https://t.co/CxGlDkTRpXpic.twitter.com/4XW4K26p0C

— Richmond FC 🐯 (@Richmond_FC) January 25, 2022
Carlton said in a tweet it "supported a continuing discussion" on the issue.
Adelaide, Brisbane, Essendon, GWS Giants, Gold Coast, Hawthorn, Melbourne, North Melbourne, Port Adelaide, Richmond, St Kilda and the Western Bulldogs all also posted messages preaching equity for all and a re-examination of Australia's history.
Always was, always will be.

Today, and every day, we stand with our Indigenous brothers and sisters in acknowledgement of the past and in hope of the future we're building, together. pic.twitter.com/B9toslIUex

— St Kilda FC (@stkildafc) January 25, 2022
Former North Melbourne two-time premiership star Corey McKernan also used Twitter to call for a date change.
"It's more than reached tipping point when you're unsure to proud (sic) on Australia Day and then not feel like you're being offensive to the Indigenous community (which it clearly is)," he tweeted.
"Surely it's this simple, we are all mates and if it's offensive to our mates then change it?"