AFL 2022: Collingwood makes call on Jordan De Goey's future with the Pies
Collingwood has handed down its decision on the future of their superstar after in-principle resolution to his US court case.
Collingwood will welcome stood-down star Jordan De Goey back to the club on Friday.
The Magpies' board announced on Thursday night that they would be reinstating De Goey after considering the in-prinviple resolution to his US trial for assault and harassment.
In a statement, Collingwood said the 25-year-old would return under club imposed terms that he has agreed to.
De Goey has been stood down since the incident, which took place in New York in late October.
All roads had been pointing to Jordan De Goey being given another chance to redeem himself in Collingwood colours.
The Magpies had held off on making an announcement on the stood-down star's future, as they awaited the outcome of his US trial for assault and harassment.
The Magpies are to welcome back Jordan De Goey to the main training group on Friday. Picture: Michael Klein/NCA
In a December video presentation to members, new president Jeff Browne called it "a complex situation".
"Right at this moment, I would be backing management to continue to handle that," Browne said at the time.
"You just have to wait and see — be supportive, but be very forensic in analysing the facts."
Collingwood officials have been in constant communication with De Goey to support the 25-year-old since standing him down over the incident at the end of October.
New Magpies coach Craig McRae has been speaking regularly to him, catching up earlier this week.
Although De Goey has been training solo since returning to Australia in November and unable to enter Collingwood, he is said to look quite fit.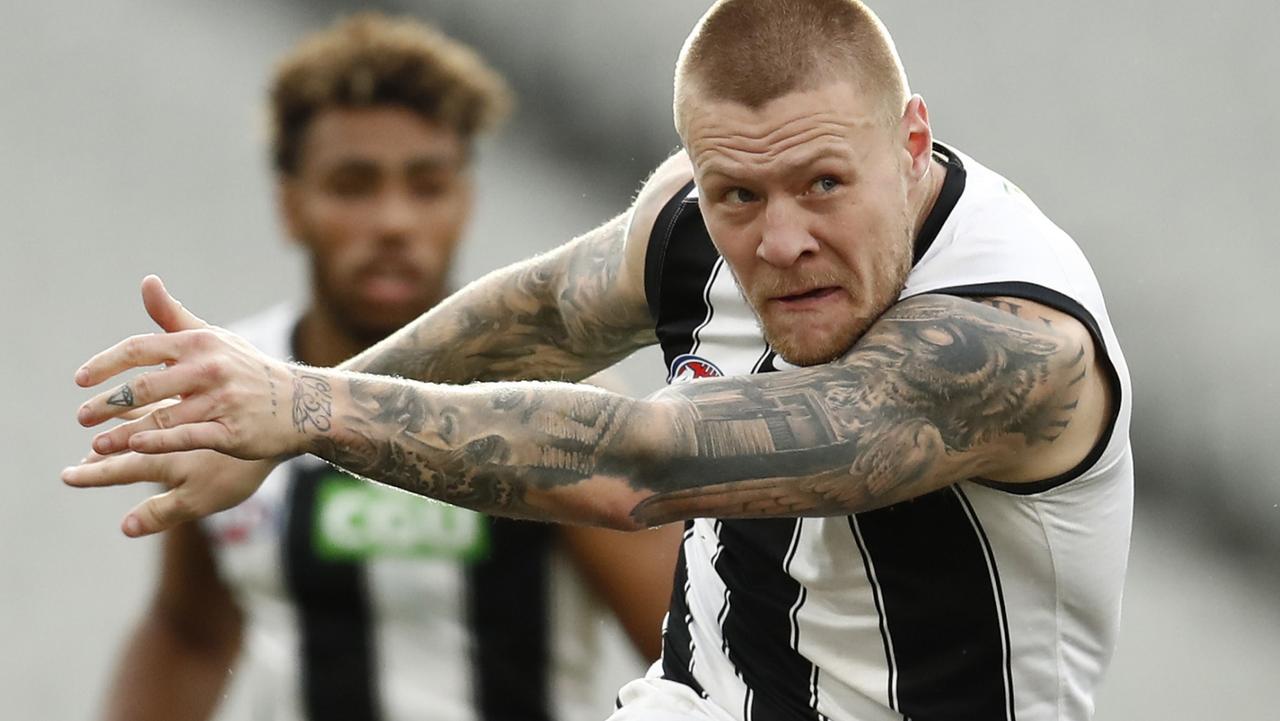 De Goey has been training away from the main group but is believed to be in good condition. Picture: Darrian Traynor/Getty Images
The forward/midfielder, who previously pleaded not guilty, appeared from Melbourne via videolink in a New York court on Wednesday.
Now that De Goey has been reintegrated, the Magpies will be hoping to quickly move forward from the latest in a string of off-field issues to hamper the club in the past few years.
The 2014 No.5 draft pick is out of contract at the end of the season.
Pies legend: 'Load of crap' that rivals wouldn't want De Goey
Collingwood great Tony Shaw says the club will be keeping a close eye on Jordan De Goey while he is stood down awaiting the outcome of his court case.
De Goey has not been able to train with the Magpies or enter the club since being charged with harassment and assault over an incident at a New York bar in late October.
Shaw said although he was not at Collingwood, De Goey would be adhering to a club fitness plan.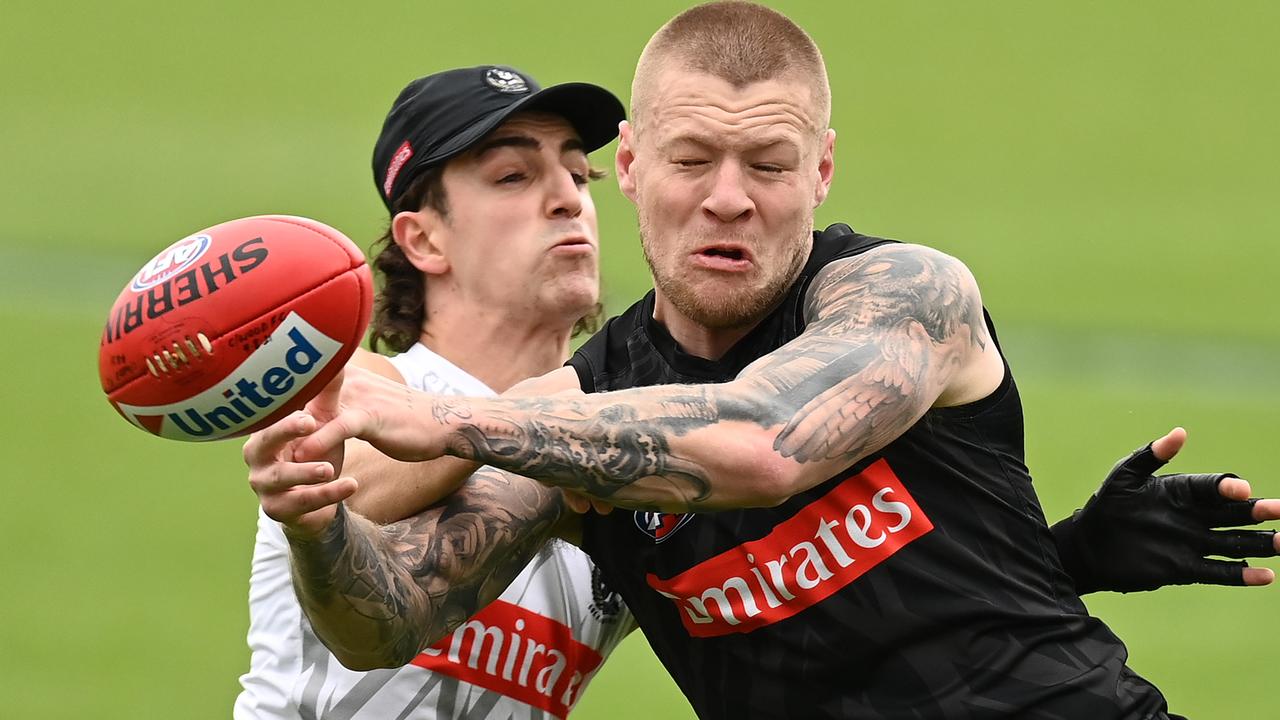 Collingwood would be monitoring Jordan De Goey's training very closely despite him being away from the main group. Picture: Quinn Rooney/Getty Images
"He'd be training with someone associated with the club or Collingwood would know what he's doing, he'd have a plan and they'd be watching him like a hawk," the 1990 premiership captain and former Magpies coach told News Corp.
"You can't let him go by himself and just think he's going to train enough by himself because he'll be miles behind everybody else."
De Goey will likely be offered a plea deal for a downgraded harassment charge that will lessen his penalties.
He has previously pleaded not guilty.
Shaw expected Collingwood to keep the 25-year-old, whom he described as a matchwinner and one of its best three players.
"Some people are saying to move him on, well if you move him on, I tell you what, there'll be 17 other clubs jumping to get him," he said.
"Everyone's saying clubs wouldn't touch him, but that's a load of crap.
"They'd be saying they could change him and if anyone says anything different they're probably derelict in their duty to making their club better."
De Goey is out of contract at the end of this year and is coming off a fourth-placed finish in the Copeland Trophy.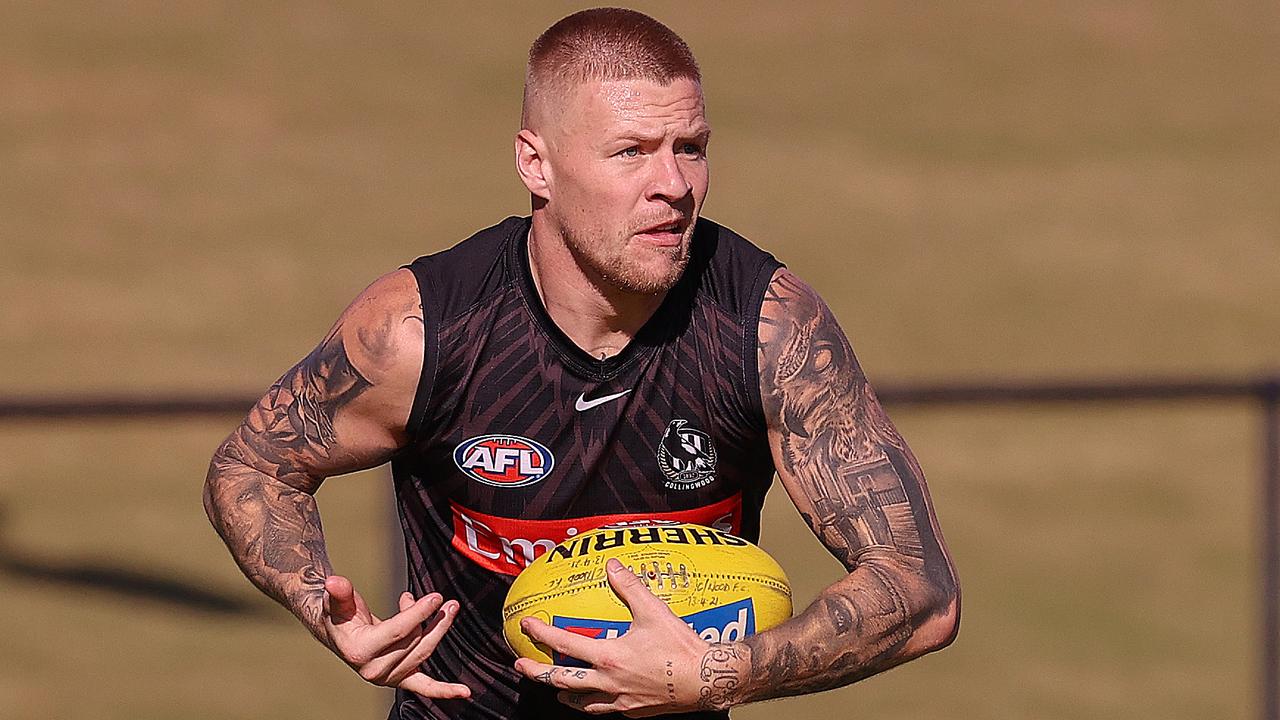 Collingwood great Tony Shaw expects the Magpies to keep their matchwinner. Picture: Michael Klein/NCA
Shaw said the forward/midfielder owed Collingwood, not the other way around.
He said if De Goey returned to the Magpies, he needed to decide if he wanted to "pull his head in" or "be one of those blokes that looks back and goes 'if only'."
"Hopefully, if he plays well, he's going to get a good contract and if he wants to leave, good luck to him," he said.
"But I think the club's done the right thing by him on a number of occasions, they're still sticking with him and I think they've got to stick with him.
"I don't think there'd be another chance."
Collingwood premiership midfielder Mick McGuane disagreed with the Magpies' decision to stand De Goey down, believing they should have "been patient and let it play out".
"They're saying they're continuing to support the player, well why not bring him in and keep him around his mates and the routine and structure required to be an AFL player," McGuane said.
"Are they doing the right thing by ostracising this young man, when we live under a common law of presumption of innocence over guilt?
"How do they recover from that emotional detachment and get back on a trusted playing field?
"Some blokes move on and forgive and forget, others don't forget."
McGuane said Collingwood would know "matchwinners don't fall out of trees"
If De Goey remained at the Magpies, McGuane expected him to hit the ground running and have a strong season.
"Then he holds the upper hand in contract talks," he said.
Why Pies are stalling on huge De Goey call
Collingwood should wait until the outcome of Jordan De Goey's US court case before making a call on his future, a leading lawyer says.
The Magpies are stalling a decision on De Goey as they await findings from the stood-down star's assault and harassment trial, which has been adjourned until January 28.
Former Collingwood director David Galbally AM QC said the club was right to wait for the facts to be put before the New York court because they would help the Magpies determine the seriousness of De Goey's conduct.
Galbally said news at Wednesday's adjourned hearing that the prosecution would likely offer a plea deal for a downgraded harassment charge was positive for De Goey.
But it still loomed as a "very big call" as to whether the Magpies keep or cut the star.
"You can't be dealing on the basis of 'what if' or 'this might have happened', it's got to be dealt with what it is … and Collingwood will just look at the facts as they are,"
Galbally, of Coulter Lawyers, told News Corp.
"Once Collingwood has got all that information, it will be up then to the club to determine its position.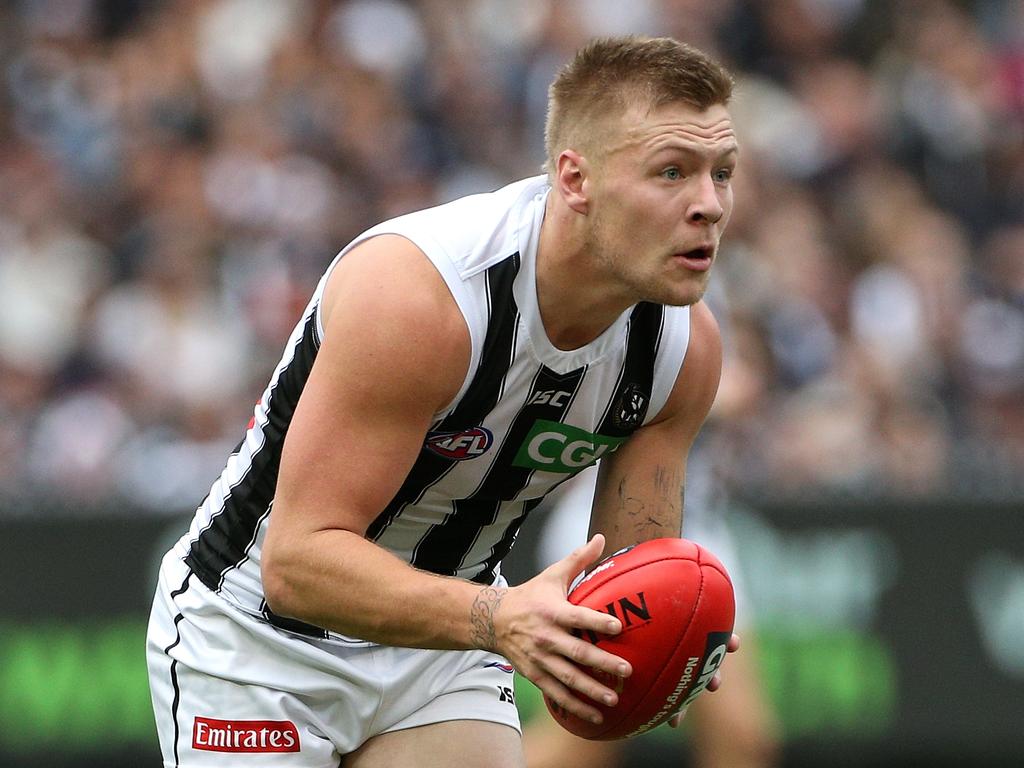 Jordan De Goey remains in limbo. Picture: Hamish Blair/AAP Image
"They will look to see what the court's reasons are for the penalty that is ultimately imposed.
"Whether or not they regard the affair to be significant and serious enough to warrant the justifiable termination of his contract or whether they take the view that the conduct is such that they're prepared to put him on a 'good-behaviour bond' where any transgression whatsoever and you'll immediately be dismissed.
"It's a very difficult decision to make.
"I wouldn't want to be in (Magpies president) Jeff Browne or the board's position – this is the future of probably Collingwood's best player."
Collingwood stood De Goey down after he was arrested over an incident at a rooftop Manhattan bar on Halloween and spent a night in jail.
The 25-year-old, who previously pleaded not guilty, appeared from Melbourne via videolink in a New York court on Wednesday.
Galbally expected the club would want to deal with the matter as soon as the case was over.
He said if he was De Goey's manager, he would be hanging on every word of the trial's outcome and use the potential charge downgrading to push his case to return to the Magpies.
Wednesday was the second adjournment of the case in the past six weeks.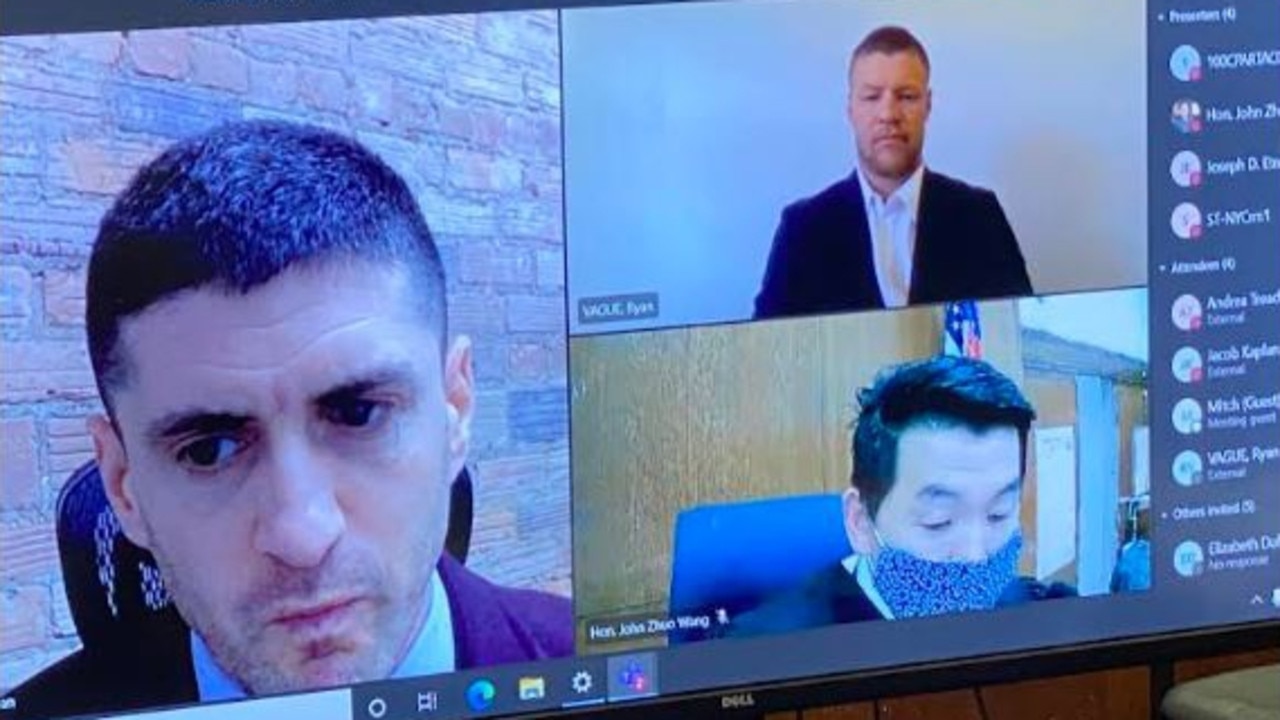 Jordan De Goey appears in a New York court via video link. Picture: Megan Palin/Supplied
Galbally expected it to be decided at next Friday's hearing.
On Wednesday, Collingwood said it would continue assessing the course of the case and awaited an outcome that would "allow for a complete review of the facts and any potential consequences".
"Until that time Jordan will remain stood down," the club's statement said.
"Collingwood officials have met with Jordan on a number of occasions and he will continue to be paid in full while stood down."
De Goey travelled to the US to train for six weeks in October to try to get in the best shape of his career, undertaking fitness sessions in California.
Initial forcible touching charges were dropped in the days after the New York incident and he returned to Australia in November.
De Goey, who has played 118 games for the Magpies and is coming off a fourth-place finish in last year's Copeland Trophy, will remain on supervised release.
Galbally said accepting a plea deal would make returning to the US problematic for De Goey because he might not be granted a visa for some time.
Originally published as AFL 2022: Collingwood makes call on Jordan De Goey's future with the Pies