Champion Data: Collingwood should be feared after Craig McRae's dramatic Richmond-like changes
Be afraid AFL, Collingwood are coming. So what has Craig McRae done to have his side surging? SHANNON GILL reveals the dramatic Richmond-like changes.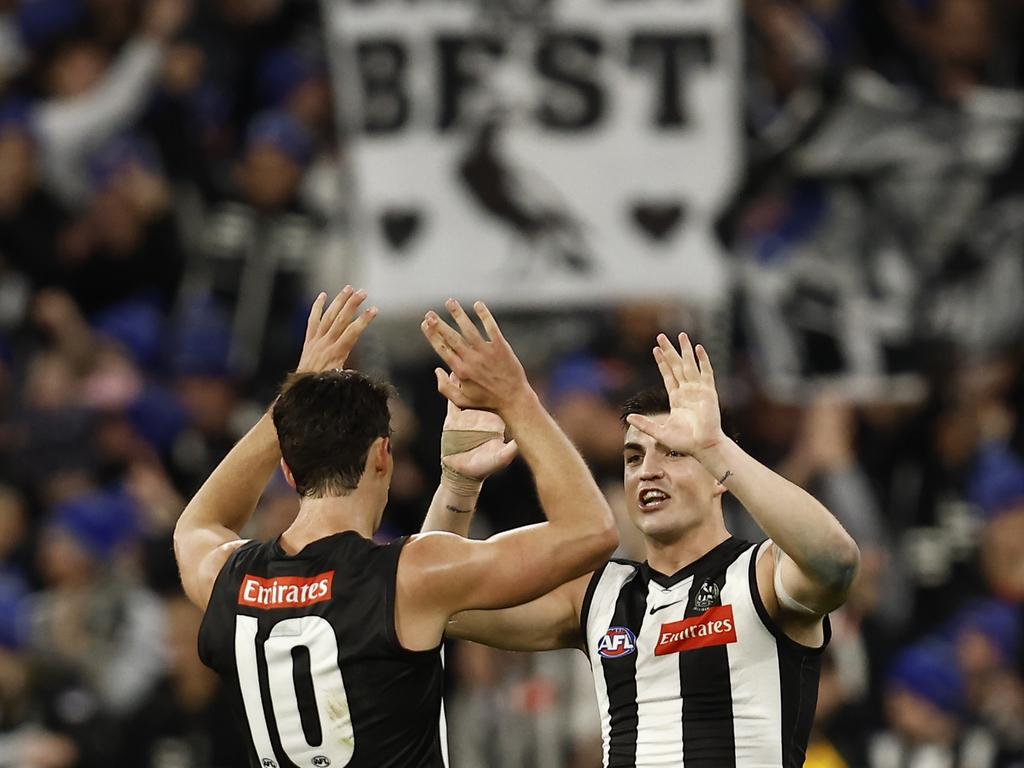 Craig McRae's renovation of Collingwood's game-style has seen it catch fire. Picture: Darrian Traynor/Getty Images
Be afraid AFL, Collingwood are coming.
Four straight wins, three against bona fide top four aspirants, has them sitting in the eight and charting with a bullet.
Only a month ago, the Pies were sitting in 11th place after a Friday night spanking from the Bulldogs, the consensus being that they'd found their natural level for 2022. Yet Fremantle, Carlton and now Melbourne know that this team can more than match it with the top end of the competition.
But what has changed over the past month that's turned Collingwood into a giant-killer? There has been improvement in that period but Champion Data has found that under new coach Craig McRae, Collingwood's game-style has been remodelled across the entire season.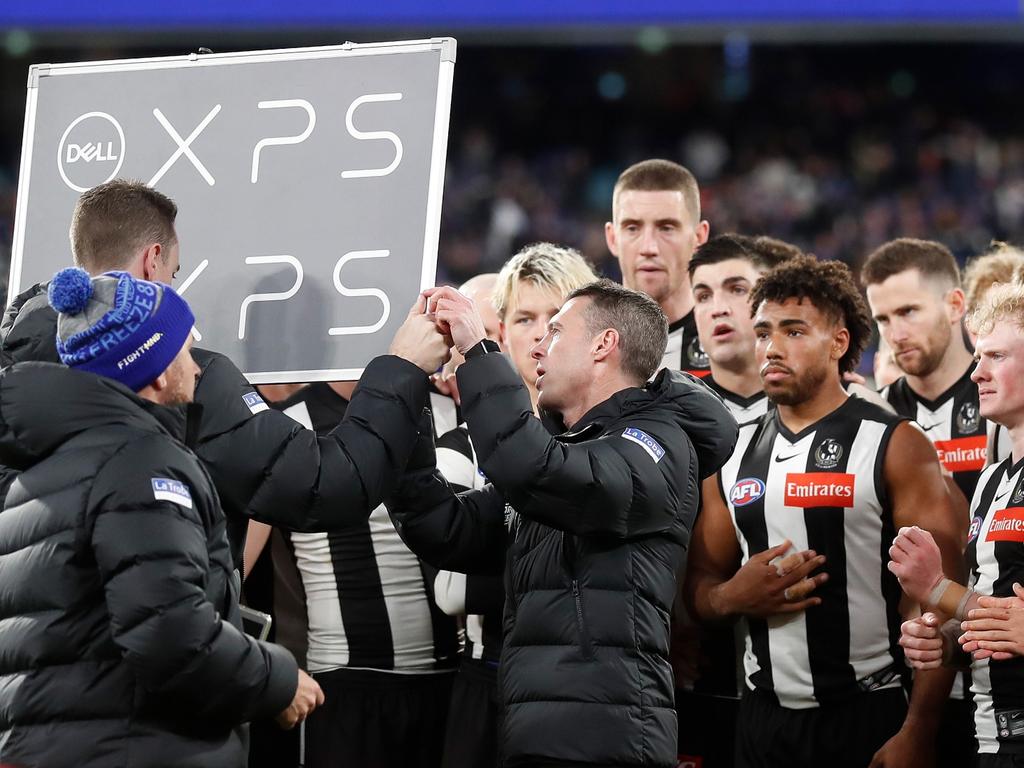 Craig McRae has implemented a distinctly new game-style at Collingwood. Picture: Michael Willson/AFL Photos via Getty Images
A new Collingwood
Craig McRae and his coaching team have thrown the magnets around and given new or slightly different roles to a host of players.
Jack Crisp is the most obvious one, moving into the midfield and having a career-best season, but no less than nine players have changed their position under Champion Data's definition.
A change can be as good as a holiday for some players and as we'll see later, there has been marked improvement from many of the Pies, including those given new roles.
One of the reasons positional changes have been made is that McRae, as you'd expect of a new coach, has brought a distinctly new game-style to Collingwood. Given McRae's previous position as an assistant coach at Richmond during their 2017, 2019 and 2020 premierships, it's not surprising that it leans on the winning formula established at the Tigers.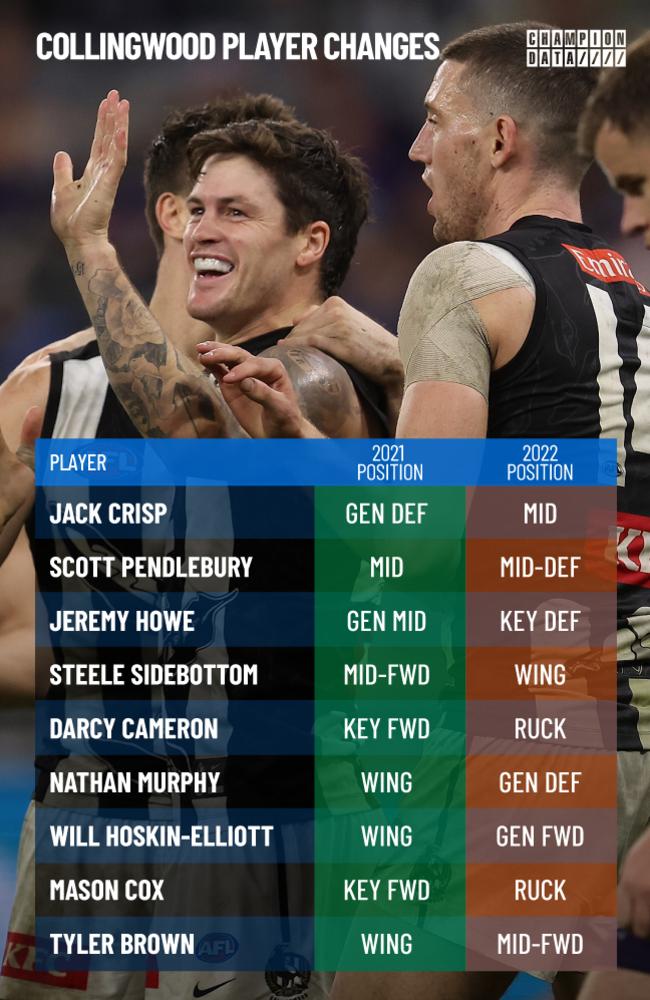 A host of Collingwood players are playing different roles in 2022.
Run and gun Pies
Richmond's success was built on a low possession, forward territory game. McRae's Collingwood look eerily similar. They are moving the ball quicker, more directly and with less touches.
And it's not been subtle.
It's been dramatic.
In 2021, they ranked first in the AFL for short kicks and second for marks; indicative of a team that is holding possession to minimise risk. The theory being, we'll score less but we're better equipped to defend that way.
In 2022, that philosophy has been flipped on its head.
Amazingly, Collingwood is now last in the AFL for short kicks and 15th for marks. It's a seismic change in how the team plays.
This is complemented by increases on the league table for using the corridor out of the defensive 50 (ninth to fifth), and for playing on from a mark (eighth to third).
Last year, they were slow and methodical. Now, they are running and gunning.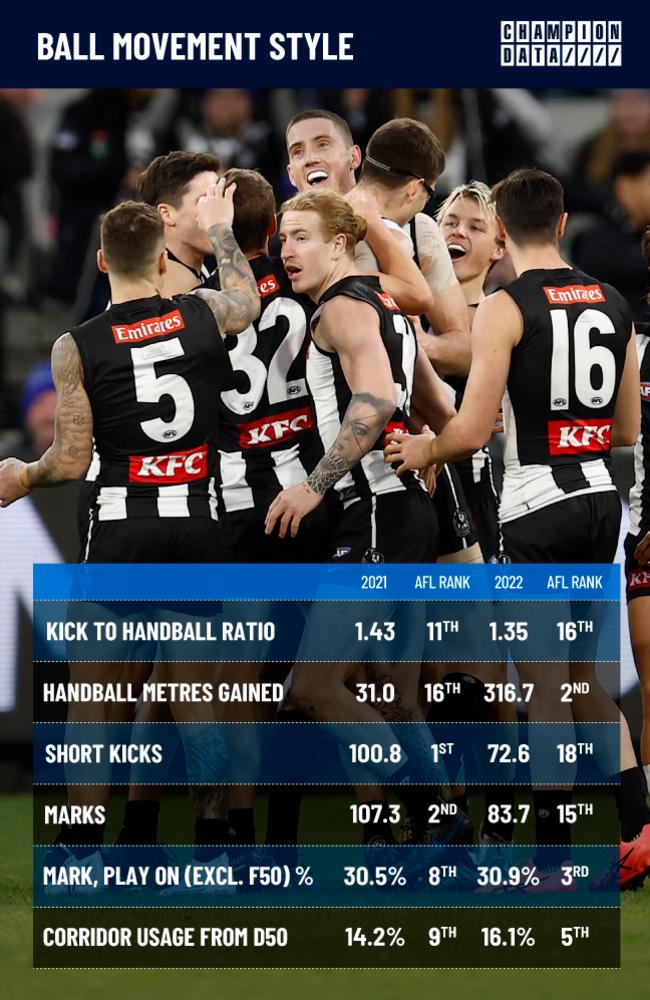 Collingwood's style of ball movement has been flipped on its head.
One of the great indicators of attacking football in 2022 is handball metres gained.
The original attacking use of a handball was to quickly move the ball forward to a teammate in space, but now handball is often used sideways and backwards as a means to buy time, and momentarily escape tackle pressure. Metres gained from handballs may provide the true reflection on the value of handball possessions.
This is another area where Collingwood have dramatically changed, going from 16th in the league to second for handball metres gained. An extra 280 metres per game is covered by the use of Magpie hands this season, another indication of the 'go forward' mantra.
These types of handballs are the domain of the creative and the impactful, so given the new mantra, it's no surprise to see Collingwood players sitting No. 1 and No. 2 in the AFL for metres gained, miles ahead of their nearest competitors.
The aforementioned Crisp is relishing a midfield role where he is Champion Data's second-highest rated player in the AFL for 2022, while Pendlebury has spent a career as the architect of Collingwood forward movements. This time, he's doing it from a defence-mid role.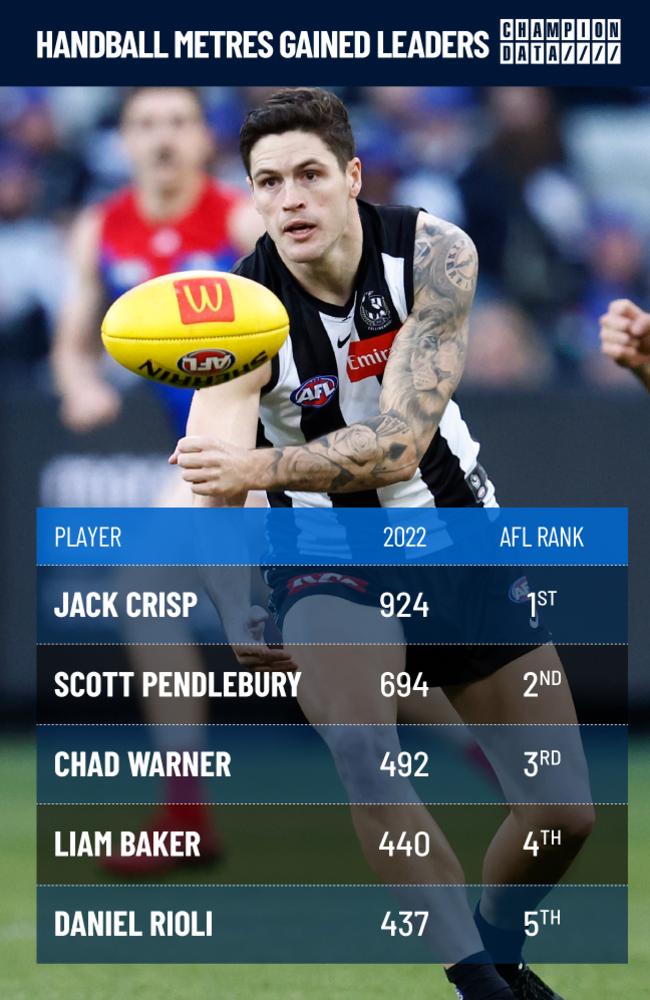 Crisp and Pendlebury lead the league by a wide margin on handball metres gained.
What about defence?
The balance of attack and defence is the great conundrum for coaches. How often have we heard coaches talk of teaching one then the other to their team?
For a team that is attacking more, it might be expected that defence would suffer. But on Queen's Birthday Monday, the Collingwood defenders took uncontested marks at will, usually a sign that pressure around the ground is high. Champion Data statistics back this up; Collingwood's pressure rankings have changed as dramatically as their ball movement.
It has been a great insurance policy against their more high-octane play with the ball. While their scoring has gone from 16th in the league (70.8 points per game) to seventh (85.8 points per game), they have stayed at 11th in the league for points against. In isolation, being ranked mid-table for defence may not be impressive, but to do so while freeing up your entire game to trigger offensive change? That's quite an achievement.
The energy from the frenzied movement forward is continuing when the opposition have the ball.
The increase is ball movement risk has been offset by a rise in pressure by the Pies.
A new freedom for players
For all the talk of a changed game-style, it has no relevance if your players aren't executing and thriving within it.
Freeing the shackles for a more instinct-based attack will always initially garner favour with players but the honeymoon is short if results don't frank the changes.
So far in 2022, Champion Data player ratings are showing that Collingwood players are thriving under McRae.
Ten players have made significant improvements on their player ratings of last season, while the past month has seen even more dramatic gains made from 2021 levels by players, including more established ones.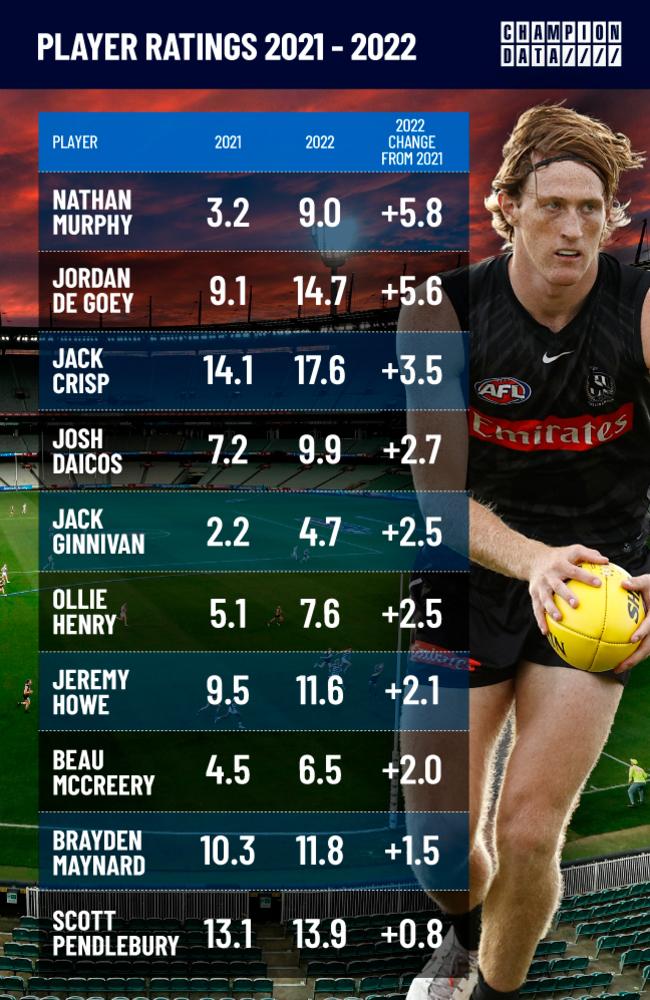 Collingwood players have lifted their Champion Data ratings points in 2022.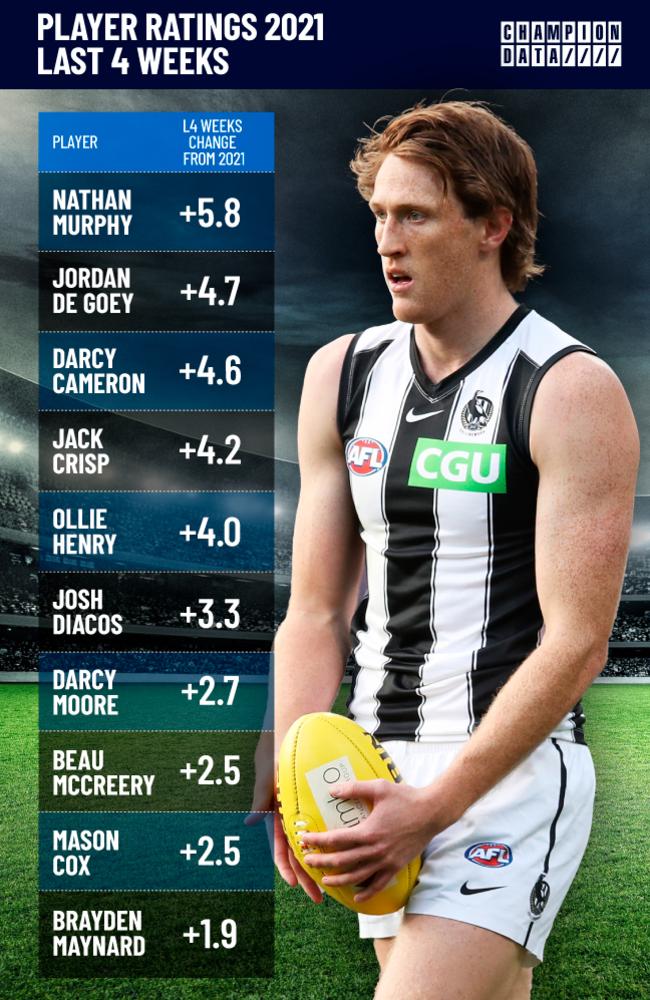 The improvement has been more pronounced over the four match winning streak.
Build it and they will come
McRae has taken the Richmond blueprint and retooled his new team to fit it, while encouraging creativity and flair.
Players have been freshened by a change in roles, they're being encouraged to take the game on more and subsequently, their own individual contributions are improving.
That their overall defence is not suffering is an indication that the new coach may have found the right ingredients to rejuvenate his playing list.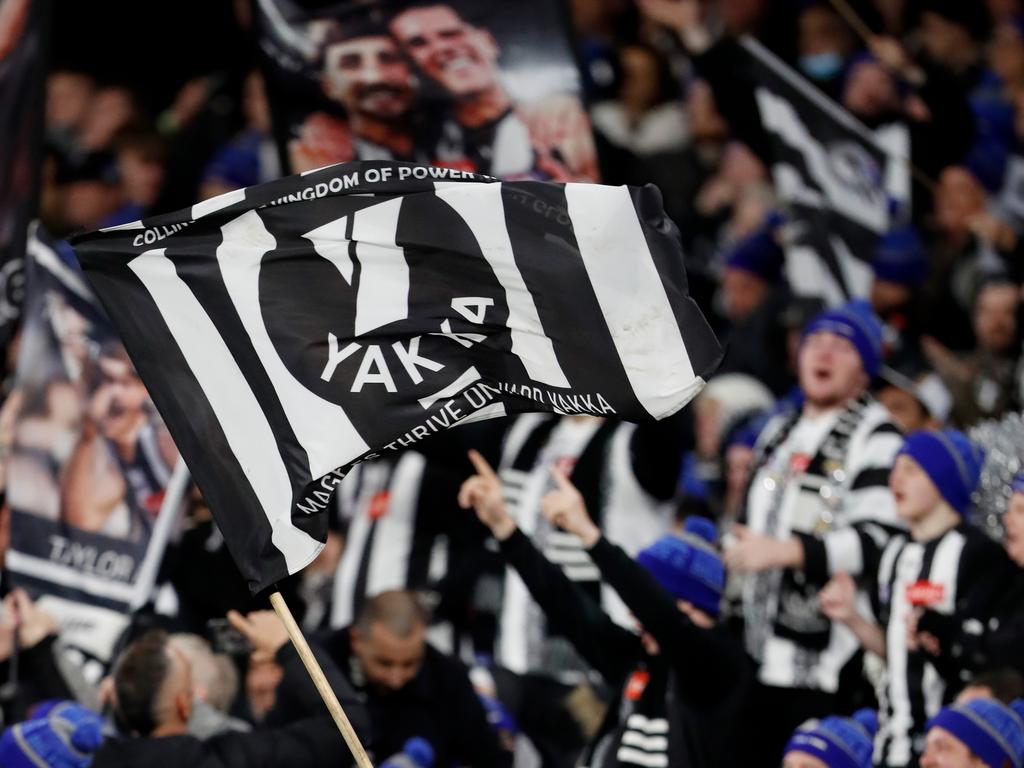 Collingwood fans celebrate the win over Melbourne. Picture: Dylan Burns/AFL Photos via Getty Images
It's an intoxicating mix for the Collingwood army.
Despite the league-wide talk of low crowds, the eight Collingwood matches at the MCG this year have averaged more than 58,500. It's another major vote of confidence in McRae's brand of football.
If the Pies keep playing this style and producing these results, they and their crowds will rise through to September.
Champion Data may not be able to quantify the influence of 60,000+ Collingwood supporters in the MCG but every other AFL team will fear it.