John Bourke could have been a Collingwood great but for the terrible price of one infamous act
The words still haunt John Bourke: 'You've got to take the boy off'. Ex-teammates say that he would have been a Collingwood great had his career not been destroyed by the terrible price of one infamous act, writes PAUL AMY.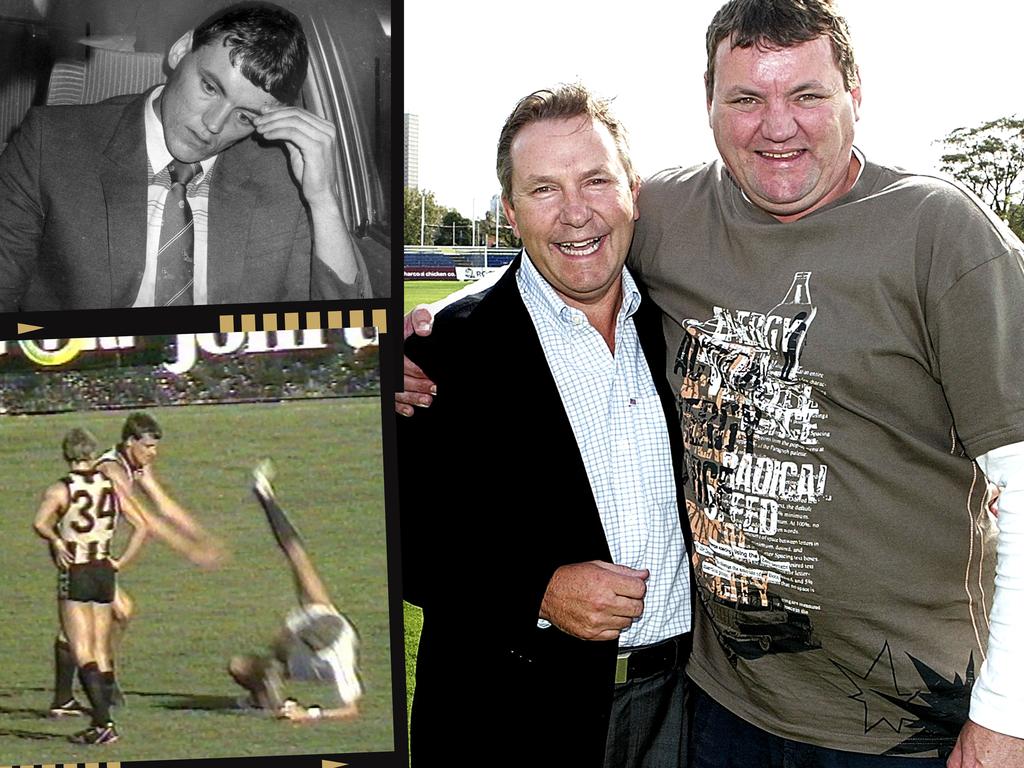 John Bourke's career was derailed by a moment of madness.
John Bourke shook his head as he sat at a table cradling a drink.
He said he didn't want to talk about it.
It happened, what, almost 40 years ago?
No point going over it now.
He said he wouldn't be doing himself any favours.
It would only get people talking about "the incident''.
And they talked about it enough already.
It was a Sunday a few weeks ago and John Bourke was at the Cramer St ground in Preston, attending a past players' day for the VFL Bullants.
It was a great turnout – one of the best they'd had at the club, everyone said – and former players were wearing name badges.
To supporters of the old VFA, there were recognisable names everywhere.
'Big H', the great Harold Martin.
Geoff Austen.
Graeme Bux.
Mick Warren.
Shane Halas.
Jamie 'Spider' Shaw.
Adrian Marcon.
And John Bourke, who was wearing a blue shirt and a red Preston FC cap.
Collingwood's John Bourke was found guilty of kicking umpire Phil Waight during a reserves game against South Melbourne in 1985. He always insisted it was a trip. Picture: News Corp Australia
Bourke was a young star with the Bullants and he went to Collingwood in 1985. Everyone at Preston had high hopes for him. They thought he could kick a lot of goals for the Maggies.
"The incident'' came that year at the Lake Oval, when in one action he tripped and pushed field umpire Phil Waight to the ground in a reserves match against South Melbourne.
Waight had earlier reported Bourke for kicking Swan Pat Foy.
Channel 7 was televising the game and Ray 'Slug' Jordon was with Sandy Roberts in the commentary box.
At the sight of Bourke tackling Waight, Jordon blurted: "Oh, he just whacked the umpire! Hey! That's unbelievable.''
Roberts chipped in: "Well, this is sensational. The umpire has gone down. There are a number of others coming up to talk to him (Bourke). Surely we've got to get the Collingwood runner out here and get him off the ground for a spell.''
Jordon, with words that echo down the years: "You've got to take the boy off.''
As he jogged from the ground, Bourke jumped the fence to confront a spectator who, he later said, had taunted him with the words, "It's the last game you'll play, c—''
"He's given him one too,'' Jordon said. "He's done well.''
Bourke received a 10-year suspension over the episode with Waight. It was later reduced to six years. He received an eight-match ban for kicking Foy. No action was taken over the spectator but he's always denied putting a finger on him.
*****
Those words from Slug Jordon – "You've got to take the boy off'' – will always be associated with John Bourke.
His mates say he still hears them often.
Which is a shame, according to Adrian Marcon and Shane Halas.
They were Bourke's teammates in the 1983 and 1984 Preston premiership sides coached by former Collingwood captain Ray Shaw.
At the past players reunion a few weeks ago, Marcon told a supporter that Bourke was an enormous talent.
In fact, he said, he could have played 300 games of league football.
Marcon is happy to repeat the assertion.
Marcon, one of the best small men of his day in the VFA and whose son Adam played for Richmond in the AFL, says the emerging forward's suspension at the age of 22 took away his best years in football, a pity for Bourke and the game.
Bourke was leading the league reserves goalkicking and edging towards a senior debut when he had a "mind explosion'' that day on April 28, 1985.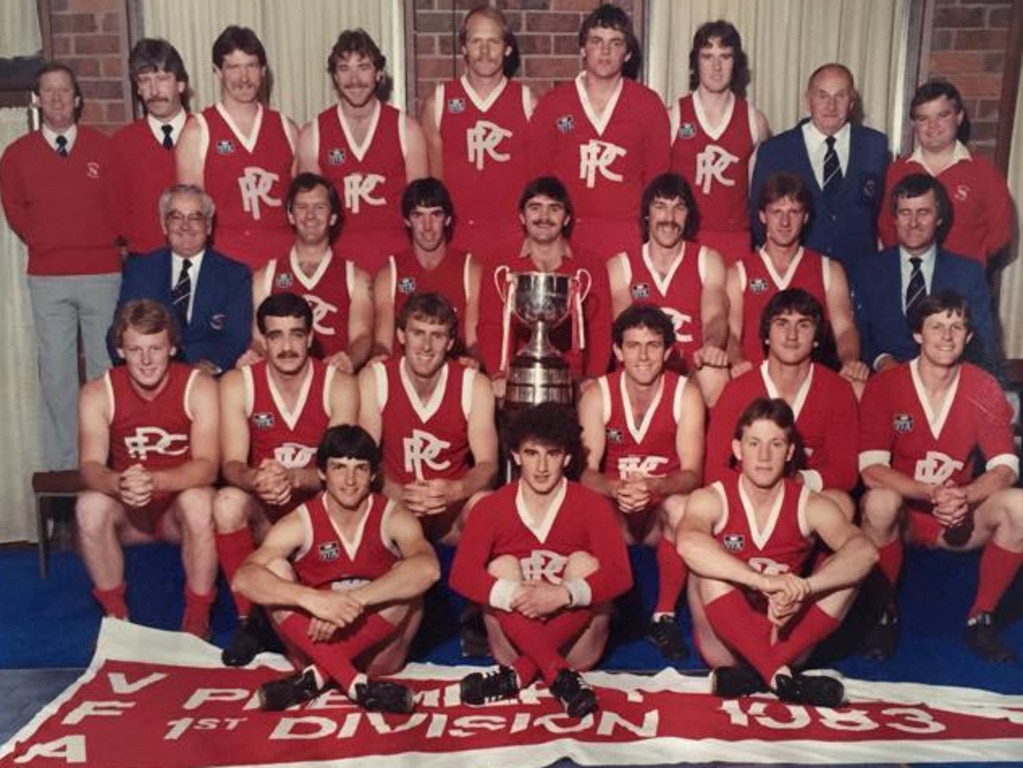 Preston's 1983 VFA premiership team, featuring Shane Halas (back row, 4L), John Bourke (back row, 4R) and Adrian Marcon (seated, middle).
"Out of anyone I played footy with, Johnny Bourke had the most potential,'' Marcon says.
"He was 6'4, 6'5, he had long arms, played centre half forward, full forward. He would have played 300 games for Collingwood. He was tough, another Tony Lockett.
"I played Under 19 football with him at Preston, I played senior football with him at Preston. I played with him for four or five years, and he dominated at the level. Jamie Shaw was fantastic obviously – he was a gun – but I thought Johnny Bourke was potentially … if he hadn't got reported, he would have played a lot of VFL/AFL football.
"I reckon it's time to clear the air a bit with Johnny and let people know what he was like as a footballer. He was a fantastic footballer.''
He calls Bourke a "good fellow, real good, tells it how it is'' and says he "had that bit of mongrel in him that they all used to have back then''.
"I put him in the Carl Ditterich, Jeff Sarau class of toughness. Sort of take no prisoners. He was as tough as nails, mate. Harold Martin was another one. Johnny Bourke was like them. That's why the Preston footy club was so successful in the 1980s, because blokes like Johnny Bourke and Shane Halas, they made the little blokes like me and Joe Lumicisi and Gratz Salvador walk tall.
"If anyone laid a finger on us, those blokes backed you up like you wouldn't believe. Clubs knew they would cop a whack if any of our little blokes got any flak, that's for sure. I was lucky to play footy with those blokes.''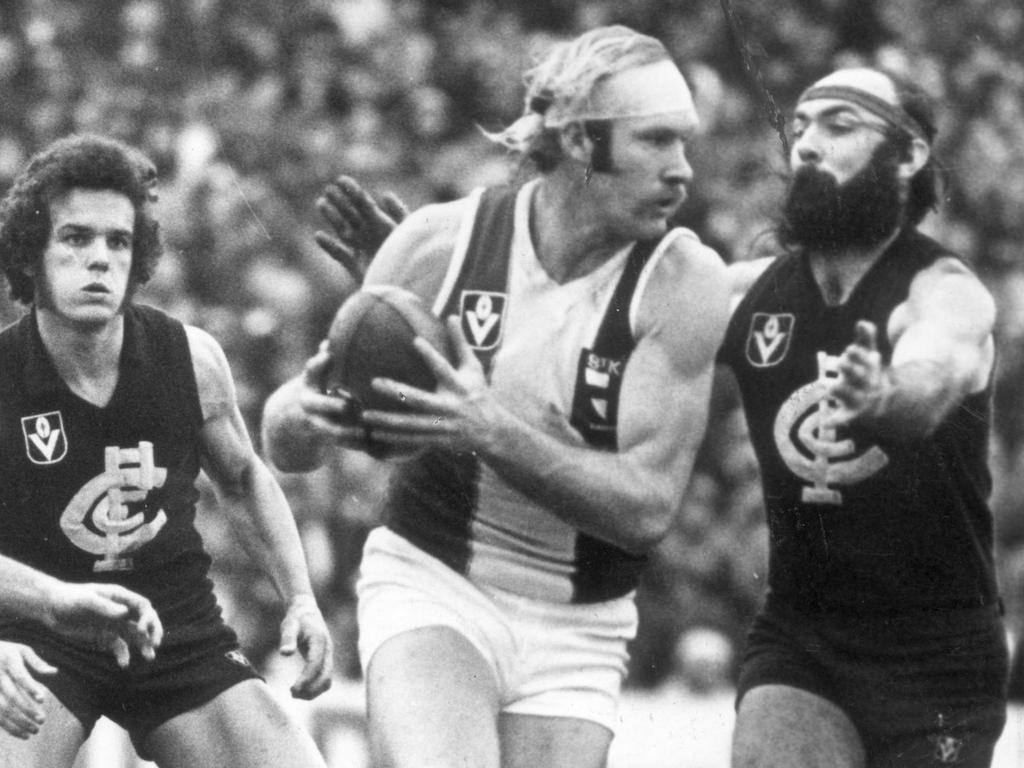 Former teammates liken John Bourke to tough enforcers

Carl Ditterich (pictured) and Jeff Sarau; even the mighty Tony Lockett. Picture: News Corp Australia
Shaw's Bullants were a brilliant side.
Bourke booted six goals against Geelong West in the 1983 grand final and five against Frankston in the 1984 decider.
He and Shane Halas made a formidable forward combination, Halas shorter than Bourke but tremendously skilled and as hard as a brick.
Halas also went to a league club in 1985, joining Fitzroy.
He played 11 games before his knees began to buckle under a workload far greater than he was used to in the VFA.
Like Marcon, he believes Bourke would have played a lot of league football, recalling that he was "flying at the time, he was really fit and playing good footy''.
"For a 6'4 bloke he could really move around and take a mark and he was pretty reliable around goal,'' Halas says.
"We all thought he'd go on and have a really good career.''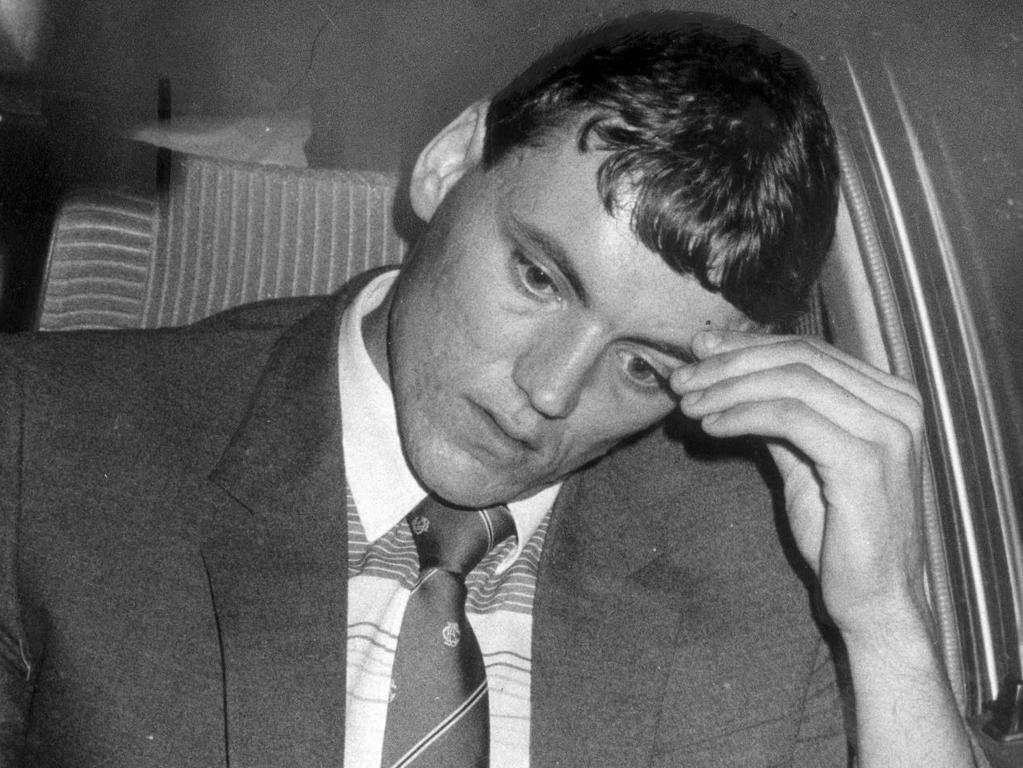 Adrian Marcon expects that his former teammate John Bourke (pictured) would have played hundreds of VFL/AFL games, had the incident not been reported. Picture: News Corp Australia
Bourke was playing in the Preston Under 19s when Martin first came across him.
Like Halas and Marcon, Martin had a high opinion of him, saying Bourke was a "big boy, with long arms and a beautiful kick, a long kick''.
"That silly incident that happened and wrecked his league career, before that he was just about to break into Collingwood's side,'' he says.
"A real shame for him. Geez he was a good player.''
*****
John Bourke might have said all he wanted to say in 2005, when Herald Sun reporter Mark Stevens brought Bourke and Phil Waight together 20 years after the incident.
They met at the old Lake Oval. Waight flew down from Brisbane, where he was selling real estate. They posed for pics.
"I'm sorry, mate,'' Bourke said to the umpire he had sat on his backside.
"It was a silly thing to do. I'm so pleased to be able to have a chat. Umpires can't be touched. Umpires shouldn't be seen as the enemy.''
Bourke told Stevens what he has maintained for 37 years, that he didn't kick the umpire. It was a trip.
"I put my leg behind him and pushed him over,'' he said.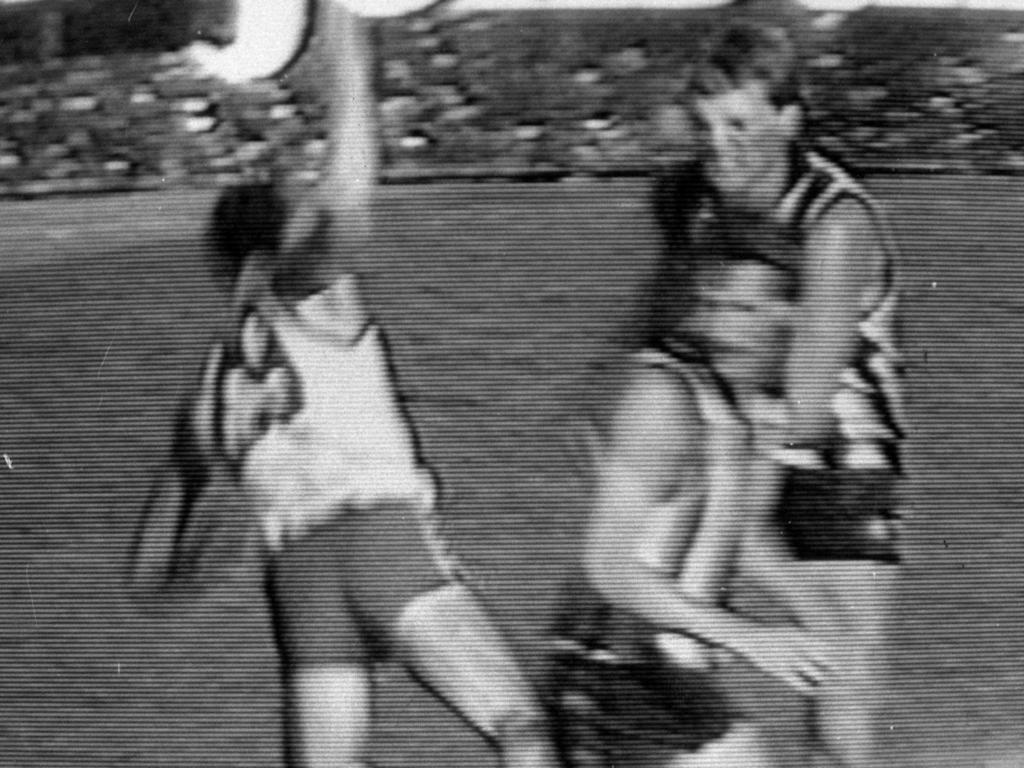 Prior to the incident, umpire Phil Waight had issued John Bourke with a warning for kicking Pat Foy. Picture: News Corp Australia
He said he was stunned at the 10-year suspension, believing it would be something more like two years (as he left the tribunal hearing Bourke had told reporters, "It has killed me, fair dinkum … I didn't kick him. I pleaded not guilty''.
Waight said: "He was having a bad day. I've got no doubt he (Bourke) was really, really frustrated.
"After I booked him for kicking Pat Foy, John had no problems talking about it. It was then he realised he could be out for six to eight weeks, whatever it may be. Then he came back to me. I said, 'Let's just leave it and we'll worry about it during the week'. The next minute, I'm on the ground. I was thinking, 'What the hell's going on here?'''
He said he bore no animosity towards Bourke. In fact, he said, he felt sorry for him.
"It just destroyed his football career…'' Waight added.
Indeed it did, Shane Halas says.
Halas makes a few points about the Bourke case.
At Preston, teammates could sense when Bourke was becoming frustrated – "He had a little bit of a temper,'' Halas says – and would steer him away from potential trouble and settle him down.
He had no such support at Collingwood. It was a few games into the 1985 season (Bourke did a run with the Collingwood reserves in 1984) and his teammates would have been unaware his fuse could be short.
Halas believes Bourke was becoming annoyed at his inability to break into Collingwood's senior team despite his strong form in the reserves, and the kicking report against Foy and the prospect of a long suspension caused him to lash out at Waight.
Phil Waight and John Bourke have since made amends. Picture: News Corp Australia
In the previous round the right-footer had booted eight goals and was named second-best in a 32-point victory over the Essendon reserves.
He kicked four goals in round three against Melbourne.
But that season Collingwood had recruited Brian Taylor from Richmond and he had made a rollicking start at the Pies (he went on to a season haul of 80).
The prospect from Preston was going to have to bide his time.
As for the suspension, Halas thinks the tribunal wanted to "make a guinea pig'' of Bourke and send the message that no one could touch the umpires.
If Phil Carman got 16 weeks for headbutting an umpire, he says, there is no way John Bourke should have got 10 years for what was a trip.
"I'm not saying he shouldn't have got weeks, but 10 years is a long time. Not a good look for the game, but would you give it 10 years? It's a lifetime, isn't it?'' Halas says.
"It's someone's career. It's all over, it's gone.''
He wonders if there would have been so much publicity if the TV cameras weren't running.
*****
The case also went through the courts after police laid an assault charge. Bourke received a good behaviour bond.
Just before Christmas in 1990, Bourke, after three years of trying and with the support of Preston diehard and former Victorian Premier John Cain, had his suspension reduced.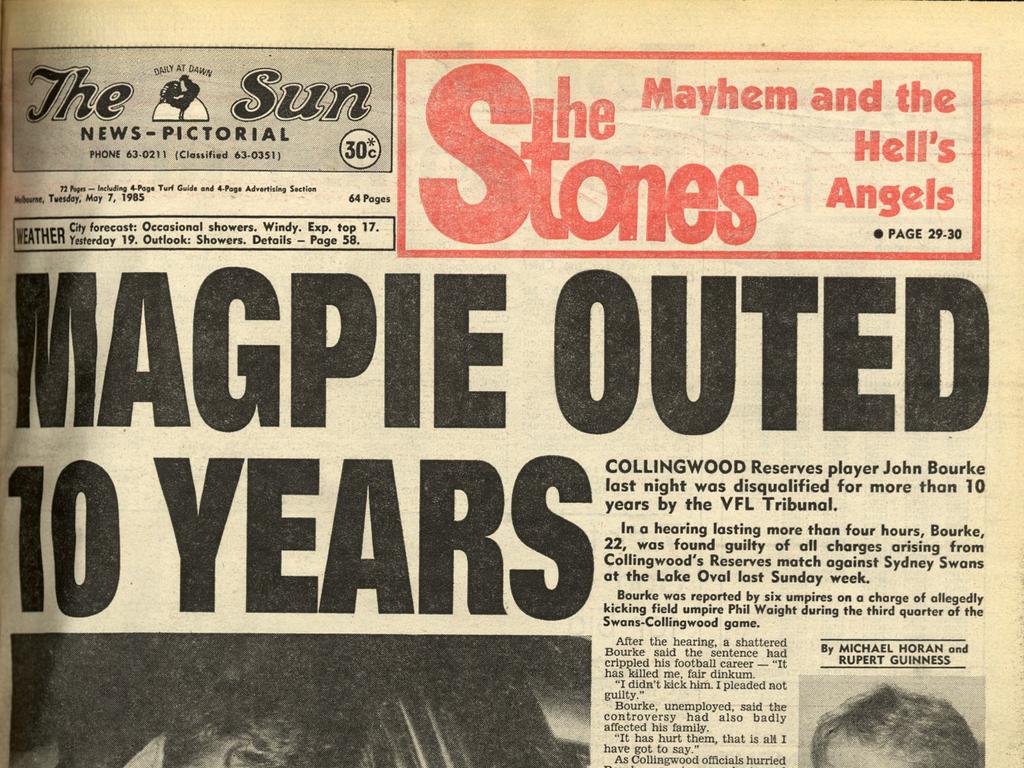 John Bourke's 10-year ban made headlines around Australia. His sentence was eventually reduced. Picture: News Corp Australia
AFL tribunal chairman Neil Busse called him in to AFL House and, after a 45-minute talk about the case, commuted the remaining four years of his ban to a suspended sentence.
"That was good for him. But all his good footy was gone by then,'' Halas observes.
Bourke was delighted with Busse's decision and spoke about returning to Preston.
But he was 28 and wound up in the Diamond Valley league. In his return to football he won North Heidelberg's best and fairest, good going for a fellow who hadn't played since 1985.
He also had stints at Bundoora and Heidelberg, where he is still involved.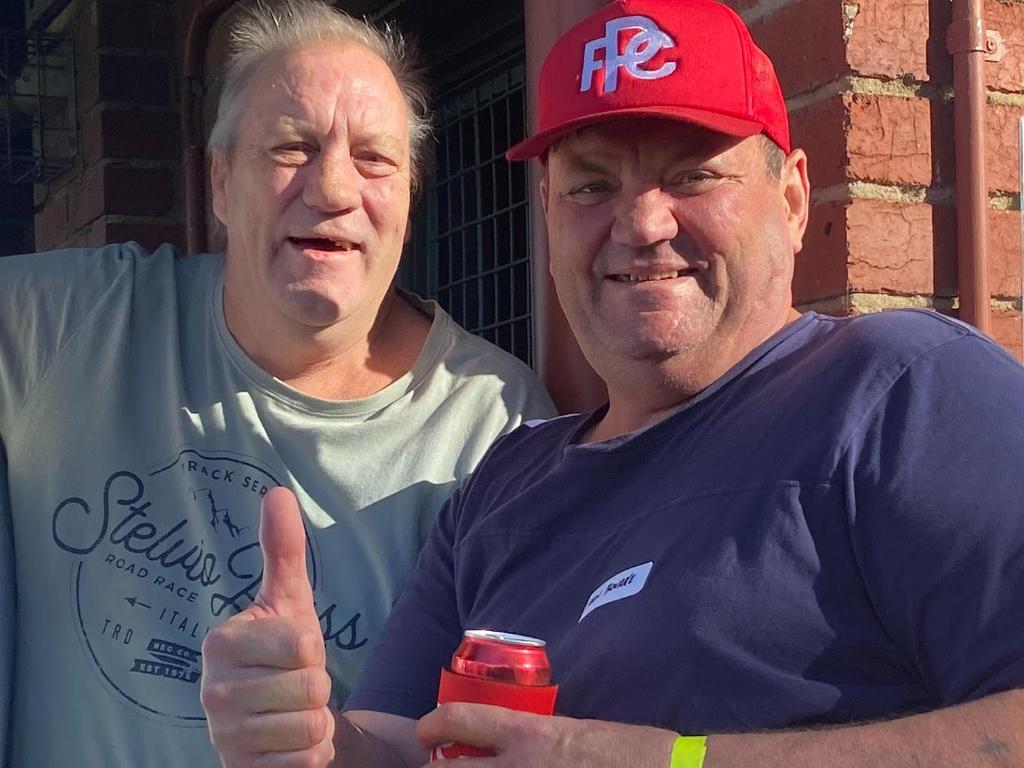 John Bourke (R) with Jamie 'Spider' Shaw at the past players' day for Preston Football Club.
Halas and Bourke are great mates as well as former teammates.
"He's a ripper bloke. The most loyal bloke you'd ever meet. Once you're in his system you're there for life. Then again if you do the wrong thing by him, it will be see you later,'' Halas says.
He says Bourke hears those words – you've got to take the boy off – "all the time''.
"He gets pulled up in the street still now and they say, 'You're the bloke who smashed the umpire and jumped the fence'.
"It's so frustrating for him. He has to live with it every day. It's ridiculous.''
Despite their long friendship, Halas has never spoken to Bourke about the episode.
"I've never sat down and actually talked to him about it, said what about this and that? It's been talked about enough. It comes up all the time and he doesn't like talking about it, so I've never gone there with him.
"I'd much rather talk about his footy, because we had those premierships at Preston when he was young and he could really play footy.''