Robbo: Jack Ginnivan's Anzac Day emergence is good for footy
The peroxide-blond hair. The beaming smile. The huge goal celebrations — and sticking it up the crowd. It reminds us of one of footy's great entertainers, writes MARK ROBINSON.
They'd like his footy and his spunky presence, no doubt, and his ability to deliver on footy's most precious day says plenty about his character for the occasion.
But the hair?
Not that Jack Ginnivan would be too fazed.
He is not one to be weighed down by what other people think.
"I'm just trying to be myself out there and lucky enough today that I had a good game," he said post-match.
"I've had it (confidence) since I was a young kid. I love being competitive and I love when people doubt me.
"It gives me the edge to go out and show them what I've got. That's how I deal with it."
Ginnivan delivered another wonderful football story on Anzac Day.
The boy's just 19 and in another world at another time, he probably wouldn't have been be at the MCG, instead on a battlefield far, far away.
On the biggest stage kicked five goals in the 15.3 (93) to 12.10 (82) win. The last Collingwood player to do that on Anzac Day was Paul Medhurst. He, too, won the medal for best on ground.
Ginnivan is a breath of fresh air.
He's a rookie draft selection from 2020 and now an Anzac Day medallist.
He set the match alight early — after what was a staggeringly moving acknowledgment of the Anzacs in the pre-match — by kicking the first goal of the game.
Not overawed by the occasion, he led and marked in the forward pocket when no one else was making an option and, despite the nerves coursing through his veins, he casually kicked around the body and nailed the goal.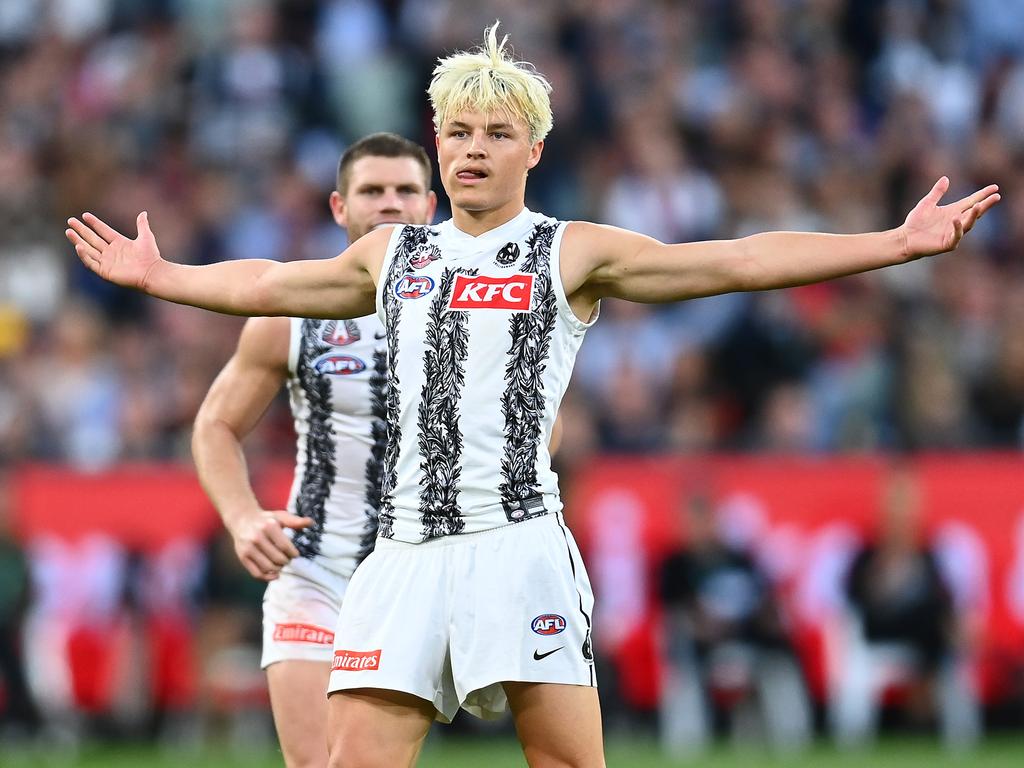 Jack in the box has a big bag of celebrations — the 'Get Around Me'. Picture: Getty Images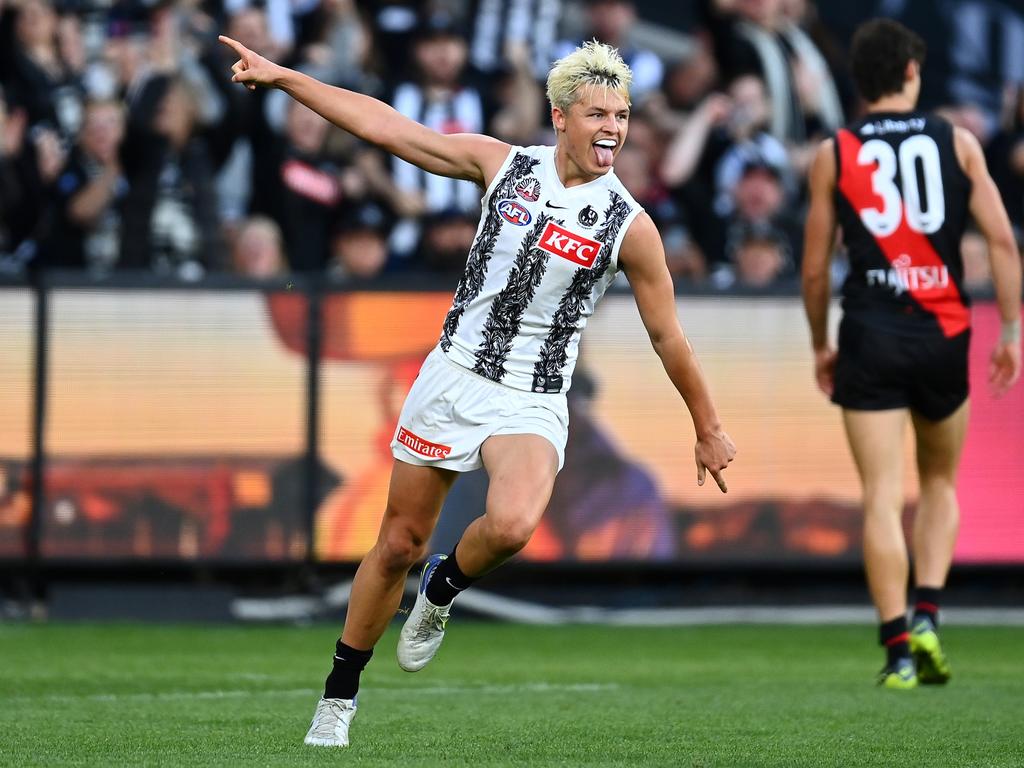 The 'No-Look Pointer'. Picture: Getty Images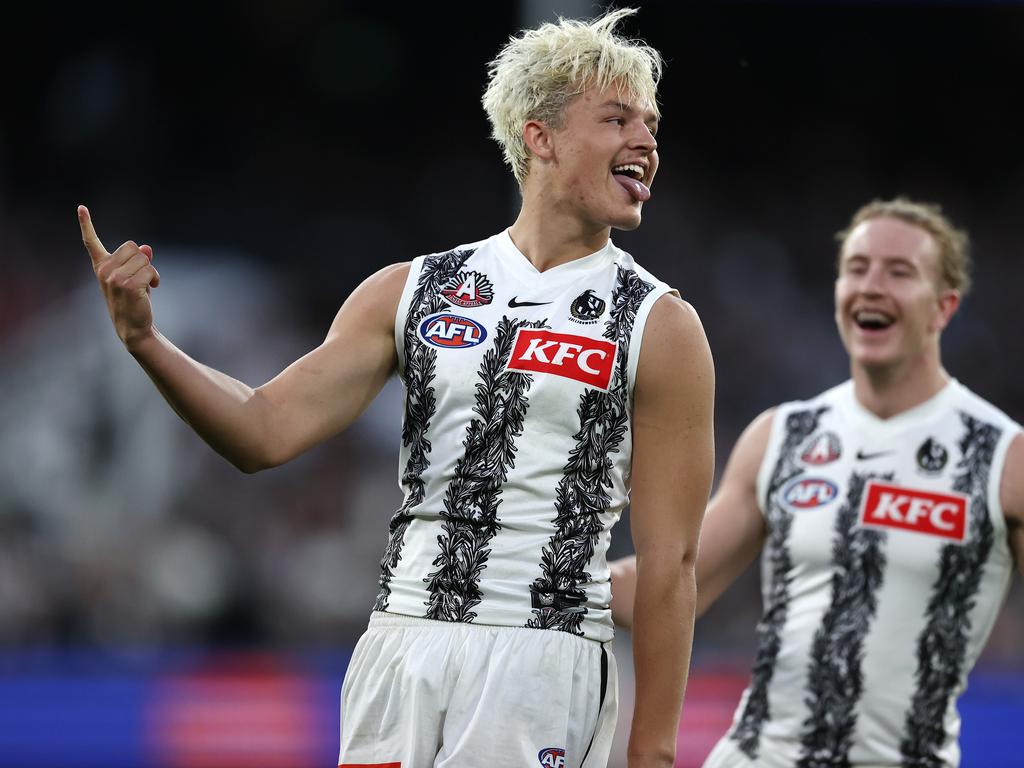 The 'Give It A Whirl'. Picture: Michael Klein
Not only did the young man make plays, he understood the importance of that first kick.
"I've watched a few (Anzac games). I remember when Paul Seedsman won — he was one of my favourite players, so that was pretty cool," Ginnivan said of winning the medal.
"Obviously Pendles and Sidey have won them. It's obviously pretty significant. But it hasn't sunk in yet. I haven't kicked five yet, so that was pretty special."
A crafty, cheeky forward, Ginnivan plays beyond his years and, and from afar, it's difficult not to think he's loving every minute.
He's taking baby steps as a footballer, but is leapfrogging much of the competition as a personality.
Fair play to him. He's walking the walk.
He shushed the crowd when he kicked his second goal in the second quarter, which was so Jason Akermanis. And that's not a criticism.
In the third quarter, he poked out his tongue and danced away when he kicked a third and fourth goal in time on.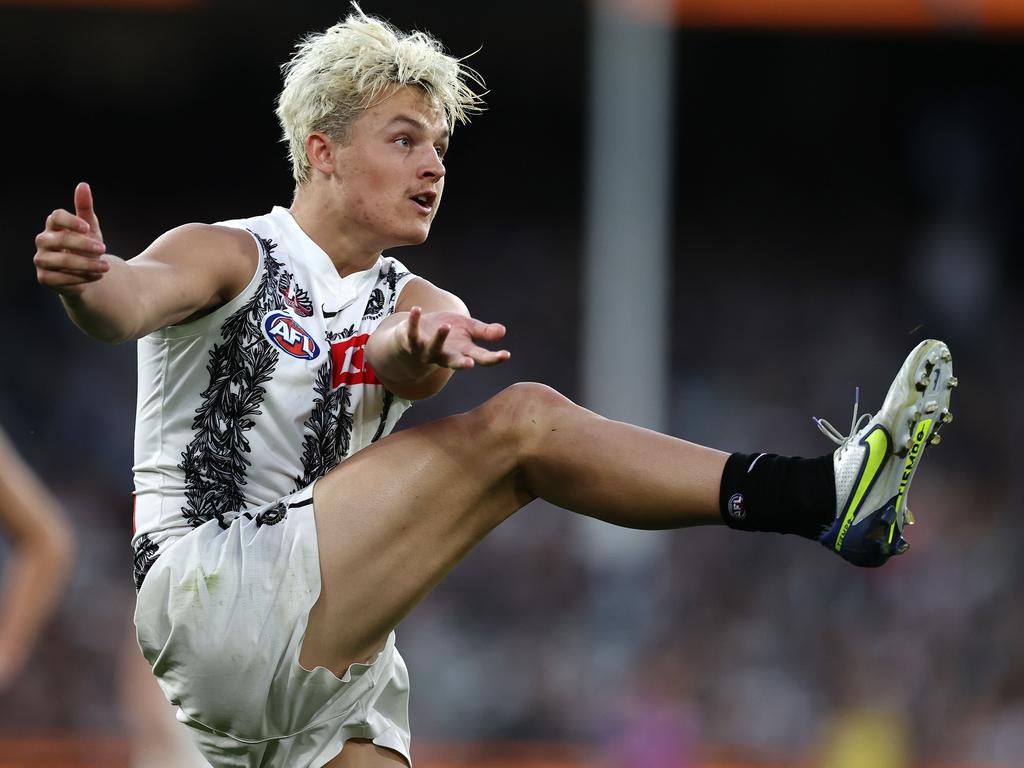 Ginnivan had his kicking boots on with five goals. Picture: Michael Klein
Forget his song and dance routine, they were clutch goals in an ever-tightening match.
People have argued that less of Ginnivan is better, but that's nonsense.
In world of wokeness and rules and process and systems, Ginnivan is his own man and good luck to him.
When he kicked his fifth goal in the final quarter, the man of the match award was his if the Magpies could hang on and win.
They did, and they are now 3-3 and in eighth position on the ladder.
The Pies have been accused of playing too much ballistic footy too early in games, and running out of gas by the end. But Anzac Day wasn't like that.
It was a struggle and they hung tough to win. Aren't they the best wins?
The Bombers were much better.
Essendon chairman Paul Brasher said at the official Anzac Day luncheon on Monday that his Bombers were embarrassed last week against Fremantle.
Anzac Day his embarrassment was replaced with frustration — they wasted so many chances on goal.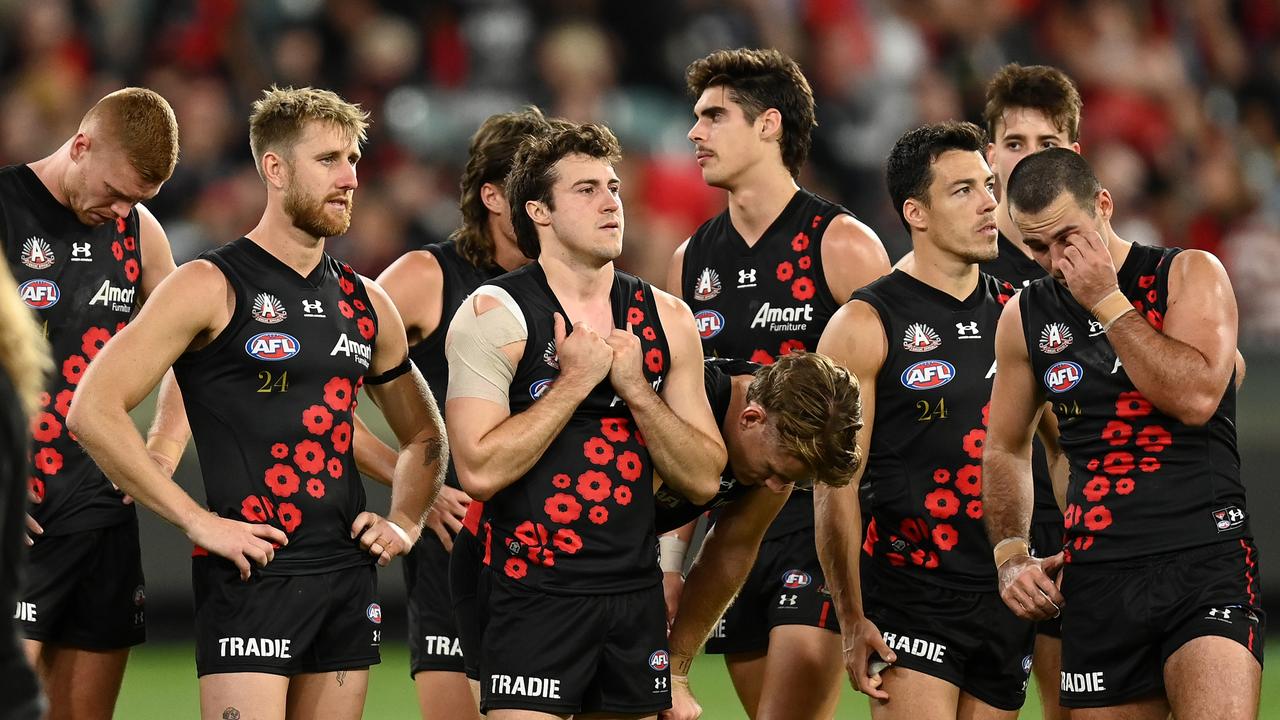 Essendon's finals hopes are in tatters. Picture: Getty Images
The Bombers are now 1-5 after six rounds and in its 150th-year celebratory season, finals are miles off.
Perhaps last year's finals finish was a fluke — because even though, on Anzac Day, they had more grit about their performance, they desperately need more players.
The second quarter was their problem quarter.
They overused the ball and occasionally lost shape forward of the ball, and when they did manage to get shots on goal, they were too wayward.
Archie Perkins kicked the first and last goals of the second quarter for Essendon, but in between those majors Peter Wright kicked one out of bounds, Darcy Parish marginally fell short from 50m, Matt Guelfi missed when he should've off loaded to a teammate 15m from goal, Alec Waterman missed another and Jake Stringer kicked a point from near the boundary line.
Scoreboard pressure, as AFL great David Parkin first coined it, will never go out of fashion.
If the second quarter was about missed opportunity and people wondering why Darcy Parish was not being tagged, the third quarter delivered moments of wonderfully desperate footy — from both teams.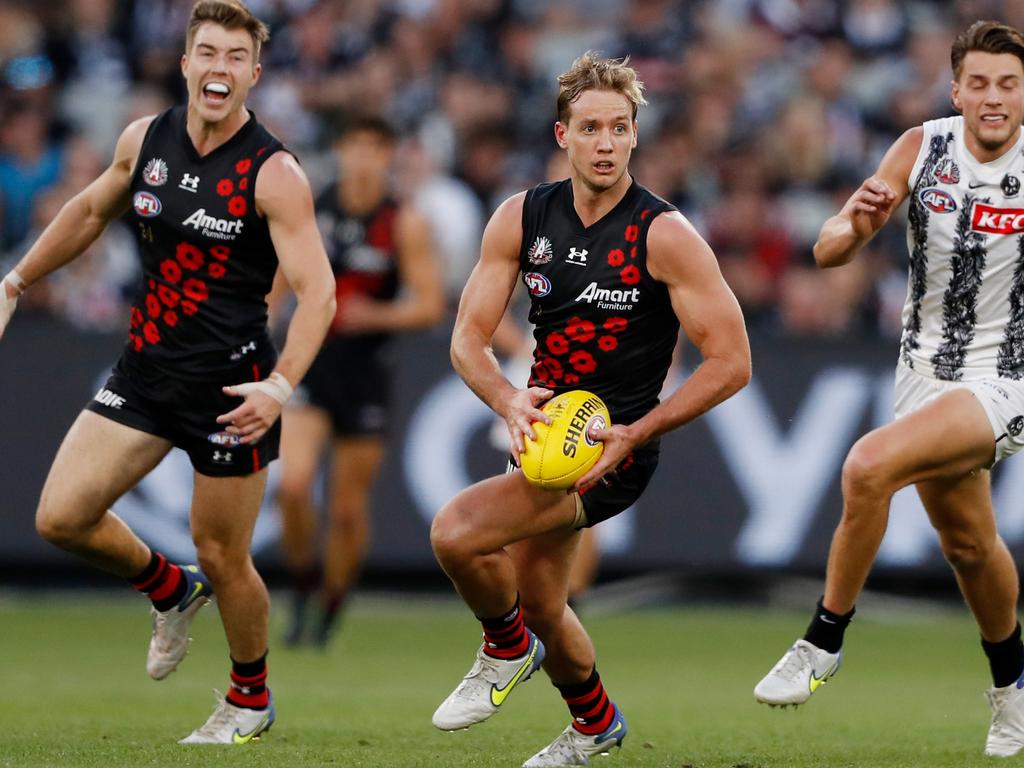 Darcy Parish found a mountain of footy. Picture: AFL Photos/Getty Images
Parish had 30 possessions at half time, and 44 for the game, but other than his clearance work (he had 12 clearances) much of his work is link play.
Of his 44 touches, he had just three inside-50s.
The Bombers surged in the third quarter, yet still the Magpies stayed with them, and when the Pies surged in the last quarter, the Bombers came up short.
Alec Waterman kicked clutch goals, and so did Guelfi and Wright in the final quarter.
Rousingly, Brodie Grundy's tackle on Jake Kelly, which was arguably his best individual moment of the season, led to Taylor Adams kicking a goal from 50 to give the Pies a 17-point lead.
When Grundy kicked the winner with three minutes to play, which was just his second goal of the season, the popular ruckman grabbed and shook his jumper and bellowed uncontrollably.
The Pies are giving a yelp which is good for footy, and a young man named Jack from Castlemaine with his bleached blonde hair is loving every minute of it
Originally published as Robbo: Jack Ginnivan's Anzac Day emergence is good for footy