Damian Cupido remains a wandering giant of local footy long after burning his promising AFL career
Damian Cupido held a deep, burning regret over squandering his AFL career by age 24. He's since wandered everywhere in local footy and is still kicking huge bags of goals, writes PAUL AMY.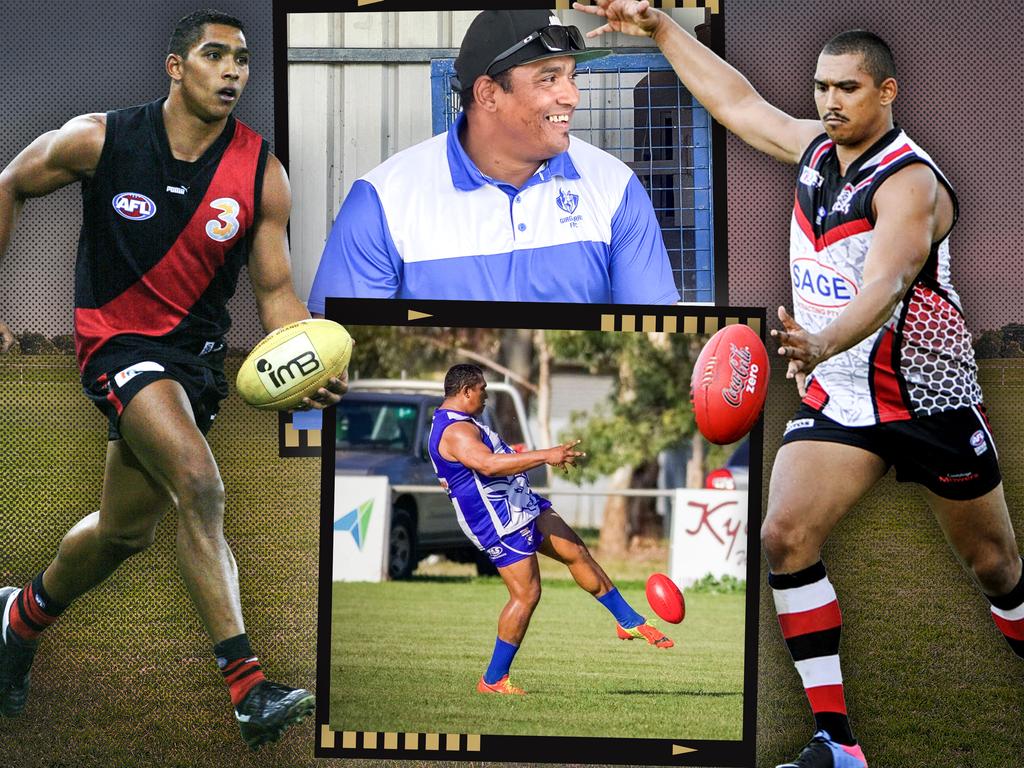 Damian Cupido's AFL career ended in 2005 at the age of just 24, but he's still kicking goals as a talented 40-year-old journeyman. Bottom picture credit: Jacob Deedman, Digital Journey Photography
To catch one of football's great wanderers, you have to head to the Goulburn Valley in central Victoria.
It's a relatively straight run from Melbourne: get on the Hume Highway, turn on to the Goulburn Valley Freeway at Seymour, cut across to Murchison, and travel through Rushworth and Stanhope, passing roads named Two Tree, Old Lead, Haystack and Wild Paddock.
A town called Girgarre is a few minutes past Stanhope.
It has a memorial hall, a small post office, a petrol pump, a park and a population of "a few hundred'', according to the locals.
And it has a recreation reserve, which is where you'll find Damian Cupido standing in the goal square in the blue and white jumper of the Girgarre Kangaroos.
It's the latest home of the former Brisbane and Essendon forward, still kicking goals at the age of 40.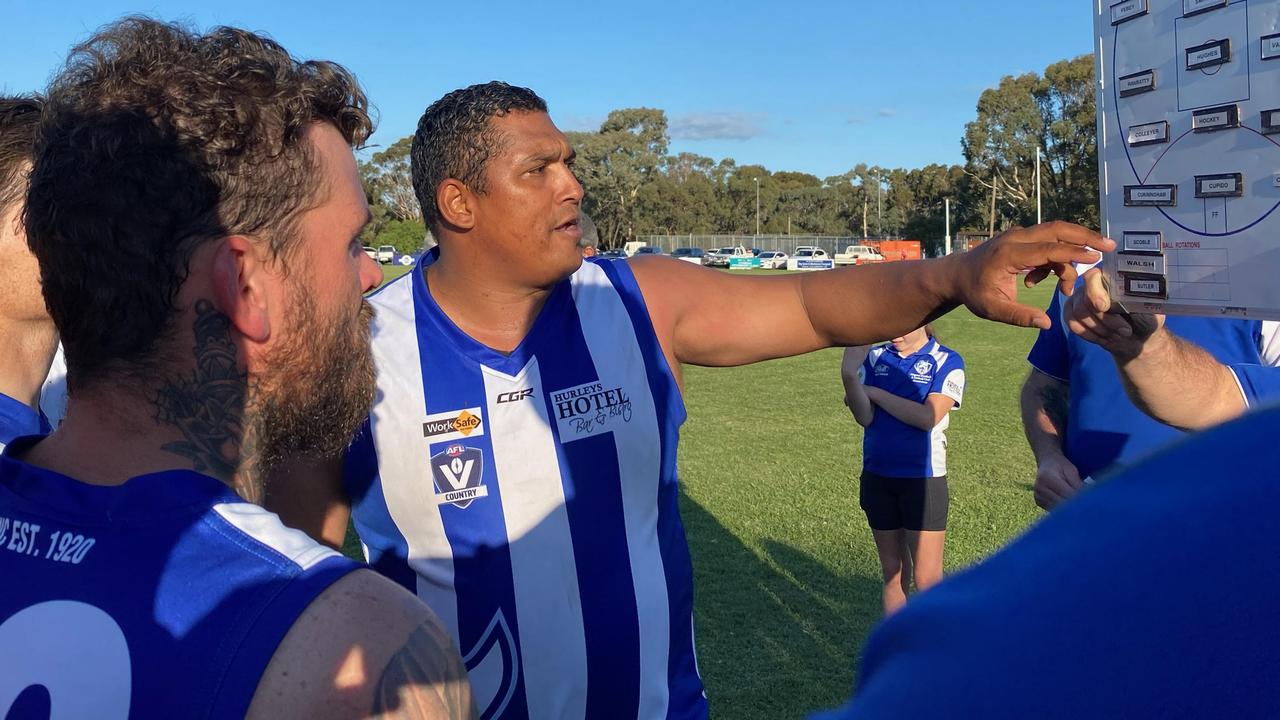 Damian Cupido talks tactics with his Girgarre Kangaroos teammates during their big win over Longwood at home. Picture: Paul Amy
Cupido has been everywhere, man.
The way he puts it, he's "ping-ponged'' around Victoria playing football for the past decade, seeing a lot of the state.
"They call me a journeyman,'' he says.
He has to think hard to name the clubs he's played with and in what years.
"Let's see,'' he says. It's a long list.
In his prime, his phone was always ringing and there were offers of jobs to go with good money to play football.
Newspapers took to calling him a "gun for hire'', a have-boots-will-travel player.
Now he's the playing coach of Girgarre, a dairy-farming community about 20 minutes from Shepparton, in the Kyabram District Football League.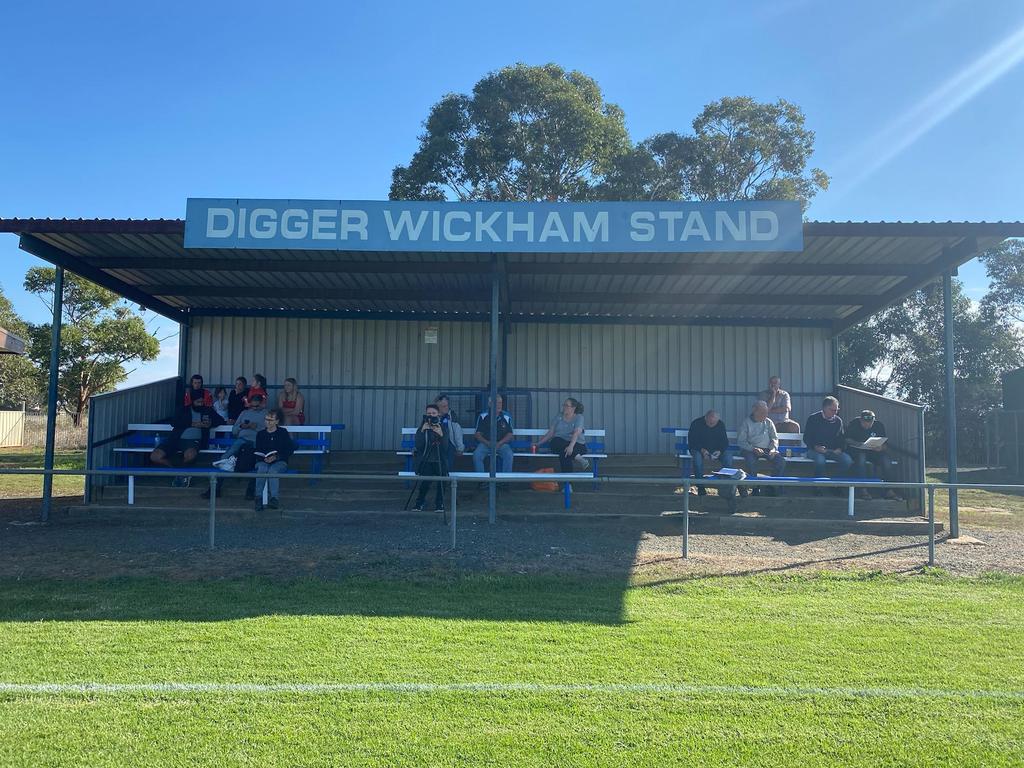 The scene for Girgarre vs Longwood. Picture: Paul Amy
On Saturday, he led the Kangaroos on to the ground against battling Longwood, plonked himself at full forward, kicked 16 goals and gave away four to grateful teammates. He was part of a 155-point win.
Five Girgarre life members watched on from the small Digger Wickham Stand, nodding in approval as Cupido, as immovable as a mountain, pushed aside opponents to mark.
"He can play a bit,'' one said.
The standard of the football and the setting were a long way from the AFL scene he thinks he should have occupied for at least 150 matches.
With his sweeping and swooping left foot, strength and a splash of speed, Cupido had talent to burn.
And burn it he did, never marrying application to his abundant ability.
A player that his Under 18 coach at the Eastern Ranges, Barry Prendergast, describes as "the most talented junior I ever coached'' was gone from the AFL after six seasons and 53 games.
Damian Cupido should have done much better.
He knows it, and it took him a long time to accept that he squandered those silky skills.
*****
Cupido was born in South Africa and his parents, Garth and Valda, brought their family to Melbourne in 1988, settling in the eastern suburbs of Melbourne.
Young Damian had played soccer in South Africa but he picked up football quickly, going through the junior teams at Croydon.
He was also an accomplished cricketer, playing a First XI match for Premier club Fitzroy-Doncaster when he was a teenager and taking two wickets with his spinners. His first scalp? Former Test batsman Wayne Phillips.
Cupido fixed his focus on football with the Eastern Ranges, where he went through the under-age sides and made an Australian Under 17 team that toured Ireland.
Damian Cupido is also a talented cricketer. Picture: Matt Carty
Prendergast, later Melbourne's recruiting manager, coached him in those Eastern teams.
"A super talent, incredibly talented,'' Prendergast says.
"He had that beautiful left foot, he was a really smooth mover with a long stride. He didn't look quick, but he was quick and he had a great set of hands too, really clean, and he could do some really special, X-factor things.
"Having said that, he was a kid you needed to keep on the straight and narrow, a real personality, confident. In some ways it was his strength, in some ways it was his weakness. You had to make sure he wasn't getting ahead of himself.''
More than 20 years later, Prendergast still remembers a match at Dandenong when Cupido took a mark at the 50m and waltzed on to his right side, not his natural left, to kick a goal.
"I thought to myself, 'Yeah, this kid can really play','' Prendergast says. "I mean, really play.''
Cupido was 17 when Brisbane selected him at No.6 in the 1999 national draft, behind Josh Fraser, Paul Haselby, Aaron Fiora, Matthew Pavlich and Leigh Brown.
The Lions were starting on the road to a hat-trick of premierships under Leigh Matthews and Cupido was on the fringes of fabulous teams.
Cupido was drafted by the Lions as Brisbane embarked on its hat-trick of premierships.
There were six games in 2000, seven in 2001 and a shoulder injury that kept him off the ground for most of 2002.
And then there was a trade to Essendon involving Blake Caracella.
Cupido wanted it. He believed he was in the "next-best basket'' at Brisbane. His family supported Essendon – Garth Cupido had taught top Bombers forward Matthew Lloyd at St Bernard's College – and he felt he was "ready to play''.
And he played brilliantly at times for the Dons in 2003, booting 39 goals from 23 games, including five against Collingwood on Anzac Day.
He's since told many people he should have won the best-afield medal that went to James Hird.
James Hird and Damian Cupido in celebration mode for Essendon.
So who could have seen that a career just starting to crackle would soon be over?
Cupido had six appearances in 2004 and 11 the following season.
Then he was delisted at the age of 24.
There had been warnings from the Bombers to smarten up.
His former manager, Liam Pickering, remembers having a meeting with Cupido and Bombers coach Kevin Sheedy, at which Sheedy told his charge what he needed to do to get the best out of himself.
Early in 2005, Sheedy had sent Cupido back to the VFL, telling reporters: "He wasted Brisbane's time and he has wasted Essendon's time and he will waste his own time now, until he gets his act together and is professional about his footy.''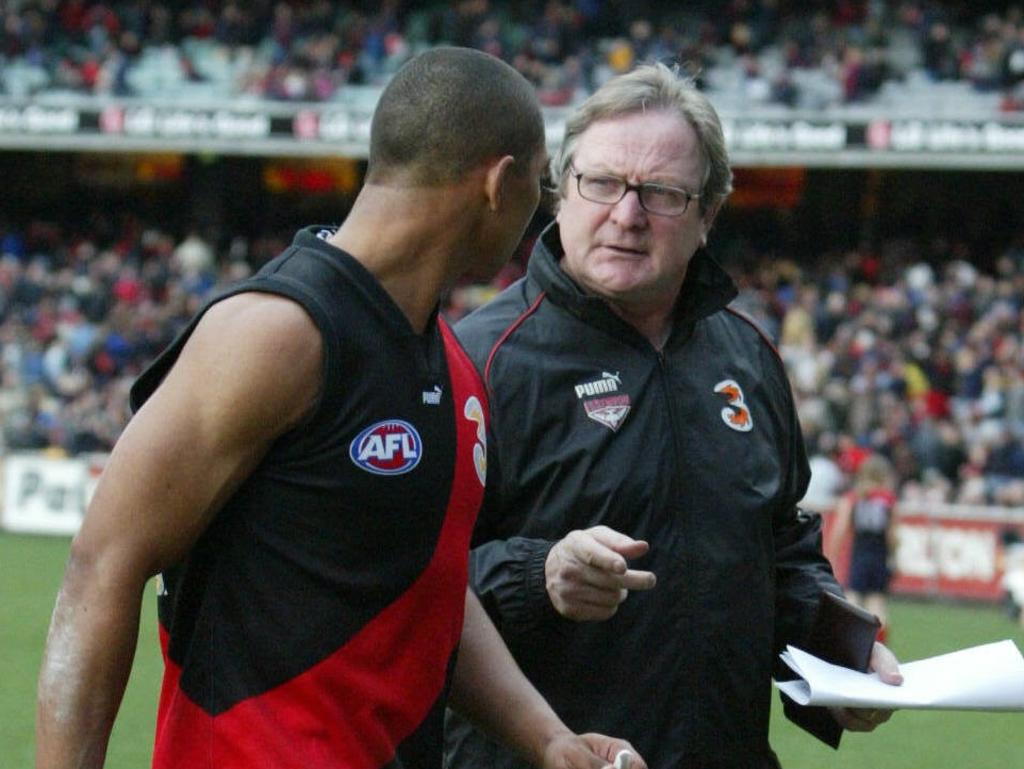 Legendary Essendon coach Kevin Sheedy sent Damian Cupido back to the VFL in 2005 and his AFL career was soon over.
Cupido acknowledges he had gotten by on his natural talent.
It had been enough to get him into the Eastern Ranges and then drafted to Brisbane inside the top 10 and contracted to Essendon for three years.
But talent alone wasn't enough. There was no grit to go with his ample gifts.
"Everything came easily to me as a kid. I was always the first picked for all the junior representative sides and that sort of thing,'' Cupido says.
"I never really knew how to work hard because I never had to, because I'd been that talented junior.
"When you get to the AFL, that's when you really need to scrap and claw and fight for everything you get. And I had never done that. Yeah, lack of hard work and dedication really hurt me, I think, 100 per cent.''
Damian Cupido had all the talent in the world but lacked the dedication to cement his place in top flight footy. Picture: Stuart McEvoy/AAP Images
He wonders if there was enough support for him.
"It was nothing like it is now. You see players today get chance after chance after chance and I think, 'How lucky are these guys?'
"It was more of a cutthroat thing back then. You had to look after yourself more. I'm not blaming anyone, it's just the way it was.''
Still, Cupido says he was under the impression that he would be given at least another year with the Bombers – "I was thinking I'd get myself right with injuries and be ready to bounce back (in 2006)'' – and he was surprised to be let go.
He says it took a long time for him to come to terms with the fact that he played far less elite football than he should have.
"Up until recently … I've actually let go of that,'' he says.
"It burned a hole … I had a huge hole within me for however long, just with that deep regret. I know I should have been a 150-plus games player and it affected me for a very long time, that feeling of, 'I should have done better'.
"For a few years after I got delisted, I tried to get back in the system, up until I was 26, 27. Then I came to the realisation I was pretty much done.''
Sweeping left foot and talent to burn. It took a few years for Damian Cupido to accept the fact that he'd been delisted.
John Longmire was Cupido's first manager, handing him on to Pickering when he joined the Sydney Swans coaching staff.
Pickering regarded his client as a prodigious talent.
"What happened with him leaving the AFL, it comes back on him, unfortunately,'' he says.
"He had that much ability, that kid. But the penny didn't drop. He didn't have the professionalism to be an AFL footballer.
"We had numerous meetings about it when he was at the Bombers. And the frustrating thing is he'd say, 'Yeah, yeah, yeah, no worries', and then unfortunately he wouldn't put in the work. It was disappointing with the talent levels he had.
"Because Damian Cupido should have played 200-plus games. And what did he play in the end? What, 50? He didn't get anywhere near out of himself what he should have. And that was on him. It wasn't on anyone else. Just him. It went in one ear and out the other.''
Pickering laughs as he recalls the story about Brisbane coach Matthews talking to Cupido in a team meeting. Matthews apparently told him he could have the best highlight reel in the history of the game, but it would last no more than 30 seconds.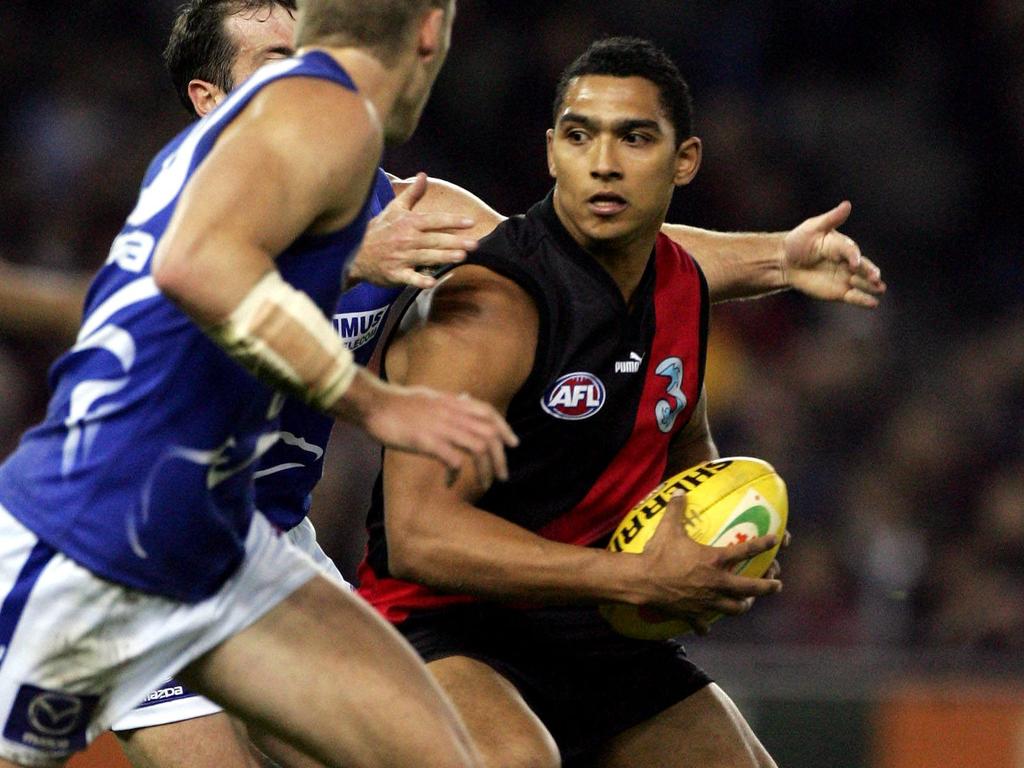 'He didn't have the professionalism to be an AFL footballer,' says ex-manager Liam Pickering.
Prendergast followed Cupido's career closely. He watched the Anzac Day bag of goals for Essendon and believed his former Eastern player was "finally getting there, being a star of the AFL that he should have been, with all that talent''.
Later, he received a call from someone from Essendon asking if he would be prepared to talk to Sheedy about the left-footer.
He understood that Sheedy and the Bombers were frustrated with their half forward and seeking advice on how to handle Cupido.
Prendergast was ultimately disappointed with Cupido's career and suspects he was drafted too early.
"He was young and young in the head … even though he was talented enough to be drafted as a 17-year-old, you have to wonder if he was mature enough to go into an AFL environment, particularly to an interstate club,'' Prendergast says.
"He might have got there too quickly for where he was, maturity-wise.
"It's a journey, the AFL. You've got to work hard. There's ups and downs. It's not all beer and skittles. Is there a more polite way to say he might have got ahead of himself? Because I always liked Damian. I still find it hard to believe he was out of the system by the end of 2005.''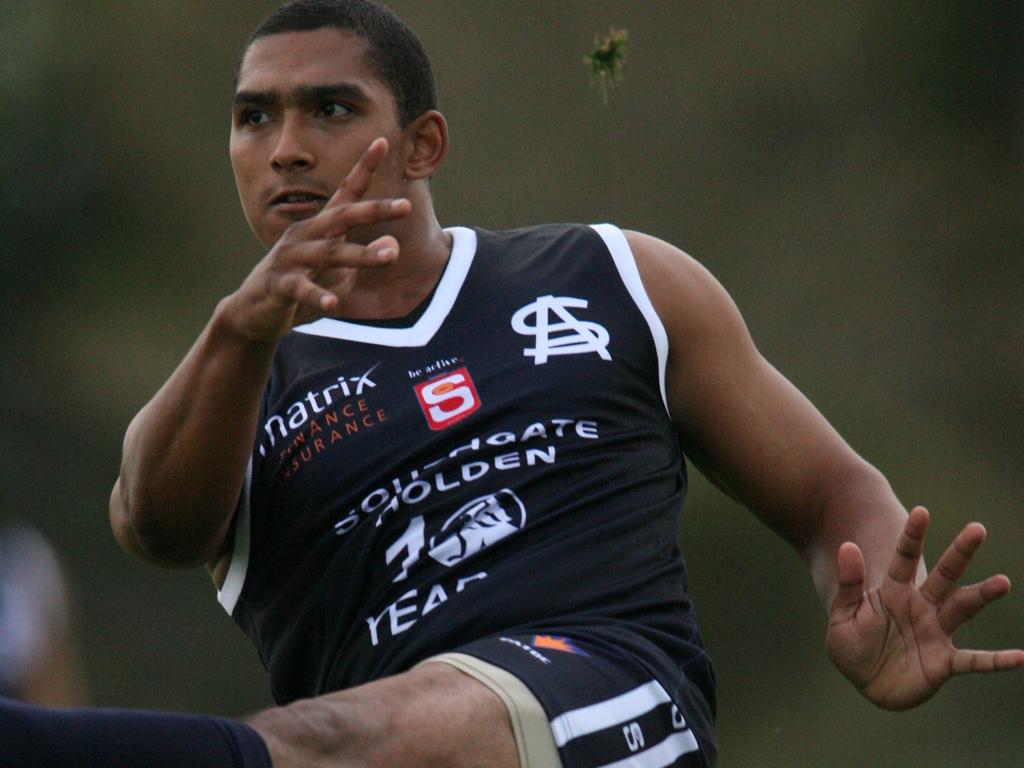 Damian Cupido in action for South Adelaide in the SANFL during 2006. It was a dramatic fall from grace from which his career never recovered. Picture: Stephen Laffer
After his delisting, Cupido crossed to the SANFL, joining South Adelaide in the hope of playing well enough to win a third AFL listing.
Pickering remembers that clubs were still interested in him, but questions about his application hovered like a hospital handpass.
The football manager from one Melbourne club flew to Adelaide to watch him. He walked into the ground, assessed Cupido as being unfit and walked straight back out.
Cupido later moved to West Adelaide, where he was stood down after it emerged that he had a gambling problem.
"That was a hiccup in my life,'' he says. "I struggled with it. I got over it. It took me a couple of years.''
And after he dropped out of the state league he began to "ping-pong around everywhere''.
It started with North Albury in 2010.
From there he returned to his home club, Croydon. Then it was on to Mt Evelyn, Ouyen United, Rumbalara, Airport West, Bacchus Marsh, Bairnsdale, East Burwood, Henty, Brock-Burrum Saints and now Girgarre (he was also going to line up for Corowa Rutherglen in the 2020 season that never went ahead).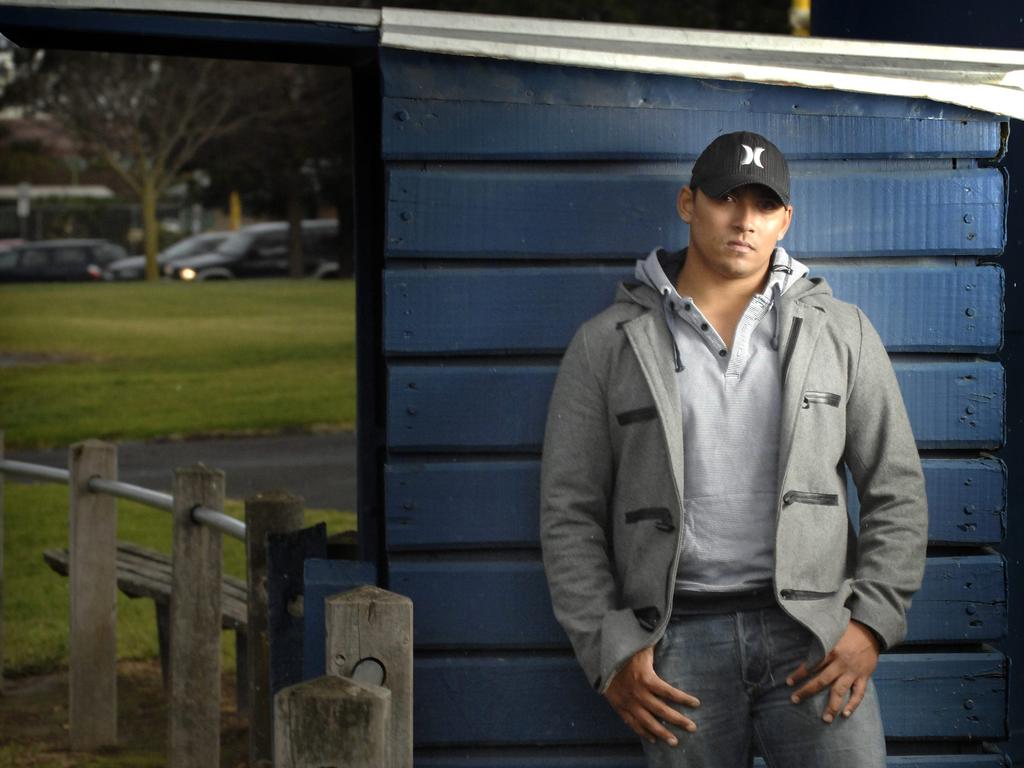 Damian Cupido in 2009 back at the Croydon Football Club, where he played at as a junior.
"I've seen a lot of Victoria, put it that way,'' Cupido says.
"I've lived the life of a semi-professional footballer, pretty much getting paid to play footy, and wherever I've landed I've got work.
"Footy's always led me somewhere. I've loved it, it's been great. I understand clubs want me for my goalkicking talents but I've got experiences out of it as well. I've had a great country-footy career, so it's a win-win in my eyes. I've made some great friendships over the journey with different people in different places.''
He adds: "All the clubs I've played for, they rang me. I didn't pick up the phone once.''
Twice, he played for two clubs in one season, most notably in 2016 when he was coaching Airport West; only to fall out with club officials and leave a few games into his tenure.
"I didn't agree with the way the club was being run, so I decided to resign at round 4 and go to Bacchus Marsh,'' he says.
Cupido also had a stint with Southern District in the Northern Territory league, when he booted a record 140 goals from only 13 matches.
The ton in the Top End set his phone pulsing with offers from clubs all over the country.
"It put me back on the radar,'' he says.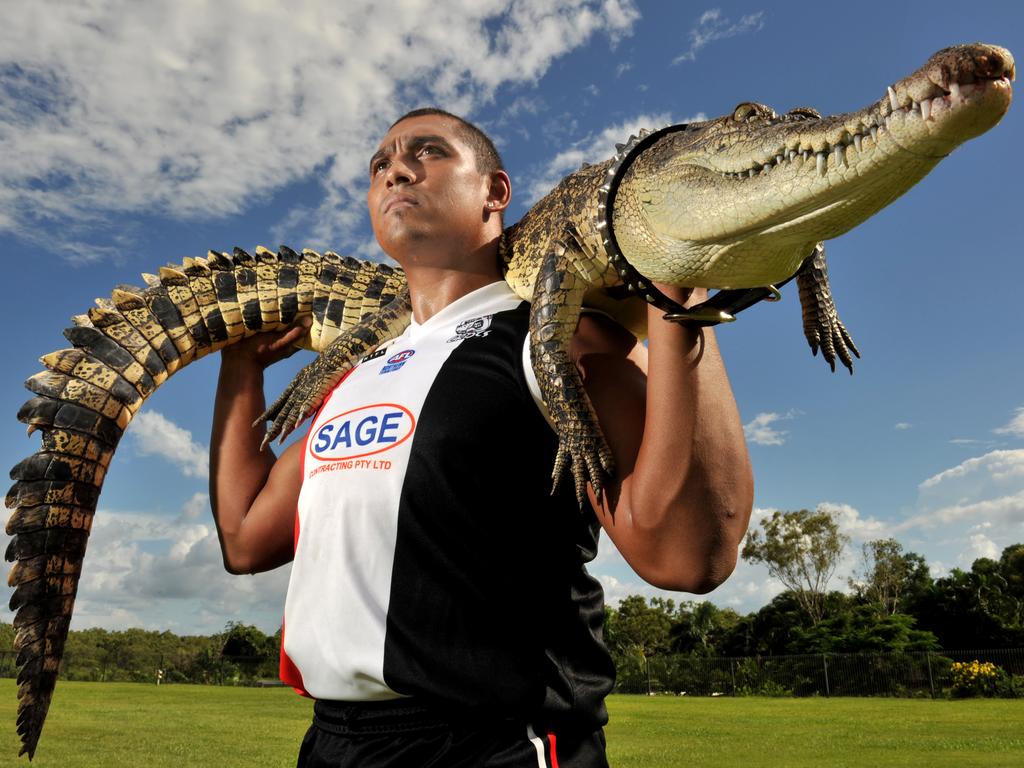 Damian Cupido carries a crocodile on his shoulders for a photo shoot during his time as a prodigious goal-kicker at the Southern District Crocs.
He kicked another century at Ouyen United, then took on the coaching role at Rumbalara in the Murray league. 'Rumby' won the flag in 2014.
Another ton came at Henty; wherever Cupido has played, he's kicked a lot of goals.
And the mere mention of his name attracts a lot of commentary.
When a photograph of him was published recently on social media, there were almost 400 replies; some noting that he didn't fulfil his potential, others expressing admiration for his talent, a few joking about the number of clubs he's had, a few more commenting on his weight.
Cupido says he used to take offence at the jibes but now they're "water off a duck's back''.
"Someone told me a while ago, the day I stop copping shit is the day I should hang 'em up, because I wouldn't be doing much,'' he says.
*****
Since 2014, Cupido has lived in Shepparton with his partner and two daughters, working as a labourer and machine operator for One Stop Civil, a civil construction company.
He says he's an "old man now, in footy terms''.
Soon, the phone will stop ringing.
Wanting to play closer to home, he joined Girgarre. He says he's landed at an excellent club, as well -supported as any in the league, with generous sponsors and a strong committee.
Two weeks ago, 160 meals were served in the rooms. Girgarre has no pub, and the football and netball club serves as the social hub of the district.
Formed in 1920, the Kangaroos last won a flag in 1991. They last played in the finals more than 20 years ago.
Damian Cupido in the rooms after a big win over Longwood. Picture: Paul Amy.
President Matt Graetz says the club was well aware that Cupido had been bouncing around clubs and competitions, and did its "due diligence'' after interviewing him for the coaching position.
It heard nothing to deter them from making arguably the most high-profile appointment in the club's long history.
"He's been great. He's come with a lot of experience and ideas, and we've married them with our thoughts and it's working really well,'' Graetz says.
"I know a lot of clubs are secretly wishing it doesn't work, people saying it won't last and he'll do this and that.
"He's done everything right. We couldn't be asking any more of him. He's coming with enthusiasm every week.''
Cupido says he's enjoying coaching. He'll be doing it next year too, having signed a two-year deal. His wandering days might be over.
"I'm in a great space. Life's good. Can't complain. I'm still able to do what I love doing, play footy and coach and kick a few sausage rolls,'' he says.
"Even though things didn't pan out the way I wanted them to from an AFL perspective, I still feel blessed. When you stop and think about it, I've had a great journey, haven't I?''