Doctor SuperCoach: Make or break calls over keepers in your forward line
Judgment Day is looming for AFL SuperCoaches, so who is a keeper and who needs the chop in your forward line? DOCTOR SUPERCOACH analyses four key players.
It's the crucial time of year where coaches look to build towards the byes, upgrade to guaranteed premiums and cut off dead weight.
But how do we know who might be a keeper and who needs the chop?
This week in Doctor's Orders, the expert team at Doctor SuperCoach analyse four key players in the forward line that have a question mark over their status as a keeper.
Nic Martin ($383,900 – Average 90.6 – BE 30)
In what has been a rather dismal year for the Dons, Nic Martin has been a shining light for Essendon fans and SuperCoaches alike.
Since his five goal, 27 disposal debut, the Bombers' new wingman hasn't missed a beat, averaging 90.6 SuperCoach points with a season low score of 71. He is staring down the barrel of a potential Rising Star award come season's end – but is he a keeper in SuperCoach land?
It would be quite a story to have locked in a forward keeper at the start of the season at $102,400; however, like every other rookie since the inception of SuperCoach, Nic Martin will have his time to be traded. That doesn't have to be anytime soon, though. With a rolling average of 96 (BE 30), he still has money to make and is scoring nicely for most coaches at F6.
The next few weeks are some of the more important ones of the season and the goal of this period is to come out of the byes with a full premium team and 5-8 trades remaining for any injury woes. If you're in relatively good shape to achieve this and have a few extra trades, you might cash in on Nic Martin before the dreaded round 12 bye, which he shares. Or, like most coaches, he might be used for your final upgrade, as the reliability of his on-field scoring should dissuade you from trading too early.
Verdict: Either way, he's not a keeper – but upgrade around him first.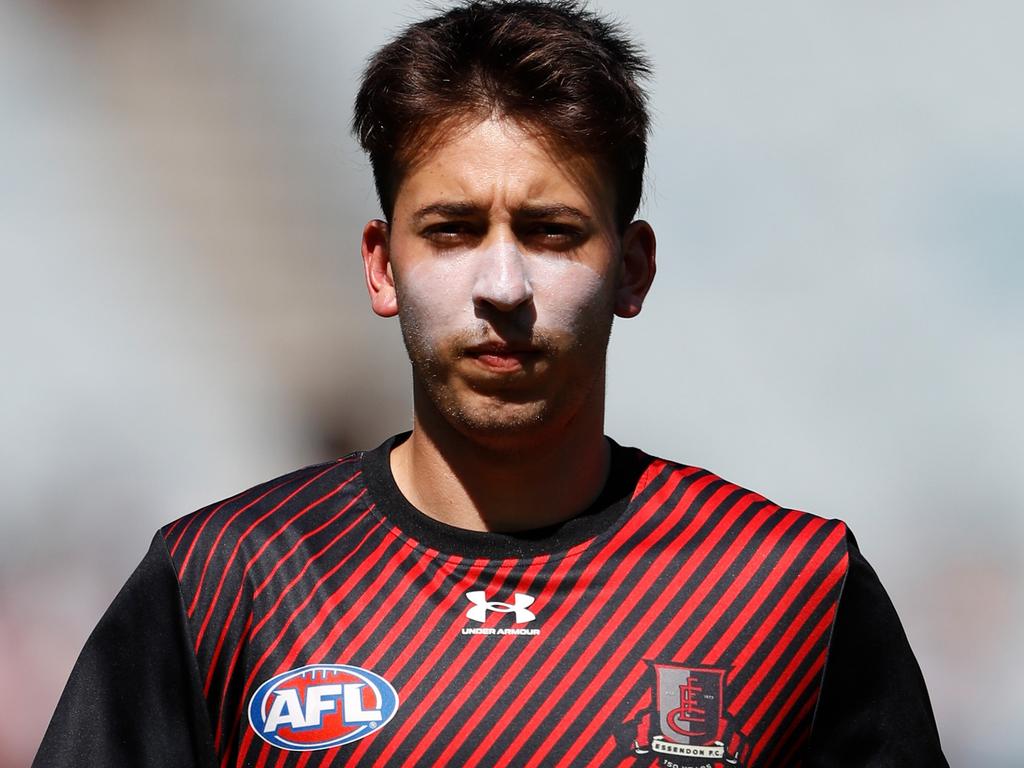 Essendon's Nic Martin. Picture: Dylan Burns/AFL Photos via Getty Images
Will Brodie ($466,600 – Average 98.6 – BE 82)
We always knew, when given time in the midfield, that Will Brodie would be a genuine jet. It wasn't predicted by many, however, that his place in our SuperCoach forward line would likely be permanent and that's exactly what it is shaping up to be.
His time in the midfield has been consistent throughout the season, at more than 60% centre-bounce attendances, and he has only demonstrated to Dockers coach Justin Longmuir what an asset he is in that position; averaging 27 disposals and posting SuperCoach tons in half of his games thus far.
The return of Nat Fyfe, in what is expected to be 2-4 weeks, may impact Will Brodie's time in the centre but to what extent is unclear.
Verdict: If he continues in this role, consider him a keeper. Don't jump the gun and trade too early.
Fremantle's Will Brodie. Picture: Daniel Carson/AFL Photos via Getty Images


Stephen Coniglio ($452,000 – Average 94.6 – BE 86)
After having made almost $200k this year and posting his lowest score of the season over the weekend (70), Stephen Coniglio has left coaches with a decision to make. Coaches must decide if they hold on to the MID/FWD until year's end, in the hopes he'll be a top-six forward, or liquidate the cash that's been made and trade to a bona fide premium.
It's a unique case, this one. In rounds 1 and 2, Coniglio attended more than 50% of centre bounces, which resulted in scores of 80 and 99 points respectively. The following week, he attended only 12% of centre bounces and scored a season-high 149 points. In round 7, he attended almost zero, and posted a 108, so the question must be asked: in what role does Coniglio perform best?
With his centre bounce attendances trending down to zero, it would typically be warning signs for owners. Luckily for coaches, he's not going to leak too much cash over the next few weeks provided he can continue to operate somewhere near his average, meaning we can watch him closely for some time to come.
His 70 points on the weekend could be symptomatic of a very poor overall GWS performance, so don't rush to trade him out just yet; but be ready to pull the trigger before his round 12 bye, if his break-even creeps too high.
Verdict: There aren't exactly obvious F6 premiums busting down the door to replace him. It's a 'wait and see' – but he's a likely stepping stone, especially if Tim English is fit and firing.
GWS's Stephen Coniglio. Picture: Phil Hillyard
Zak Butters ($383,900 – Average 86.8 – BE 105)
What a delightful pick Zak Butters appeared to be after posting scores of 114 and 136 in his first two rounds. In fact, approximately 7000 coaches corrected to Butters before round 3 in the hopes he'd be their forward line value pick of the year – but for those coaches especially, it wasn't meant to be.
Since then, the Port Adelaide midfielder has posted one score above 100 and has averaged 74 SuperCoach points with four scores in the 50s. Port fans will tell you that factors such as gastro, injury and bad form explain his poor scores, but maybe he just isn't the pick we hoped he would be.
The test for Zak Butters this weekend is North Melbourne, a team he should score well against. If he shows bad form again and posts a sub-ton, it's probably time to cut your losses. If he bounces back with a great score, you can probably afford to reassess around his bye (round 12).
Verdict: He's not looking like a keeper but give him another week.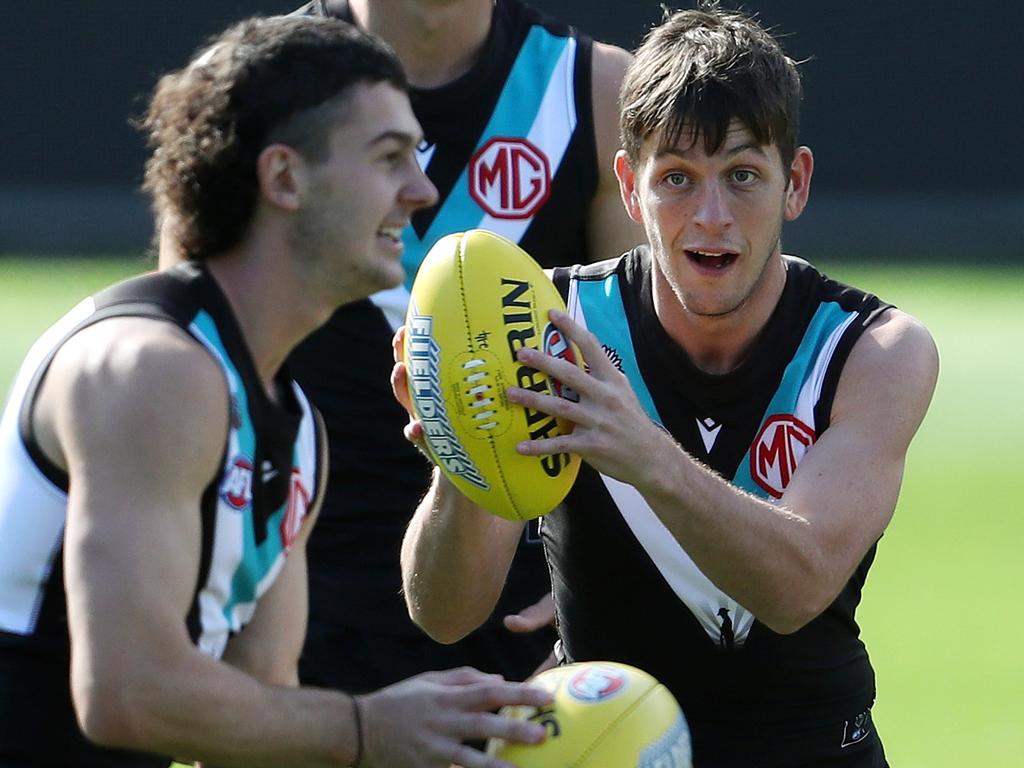 Port Adelaide's Zak Butters (R). Picture: Sarah Reed/Getty Images
– If you enjoyed this content, check out the Doctor SuperCoach podcast, found on all podcast platforms or from here: @DoctorSupercoachLatestEpisode | Linktree