Draft Watch: All the news and stats from NAB AFL Academy game
Recruiters from all 18 clubs were on hand to see the best young guns from around the country play for the NAB AFL Academy. Who solidified their place as a top pick?
Tough inside midfielder George Wardlaw has helped solidify his spot as a top-three prospect for this year's AFL draft after shining in a key match attended by scouts from every club.
Wardlaw received the medal as the NAB AFL Academy side's best on ground in its exhibition match against Collingwood's VFL side on Saturday, racking up 18 disposals, an equal game-high five hardball gets and eight tackles.
A 181cm midfielder from the Oakleigh Chargers, Wardlaw is a contested ball-winning beast who models his game on Melbourne's Clayton Oliver and puts a high emphasis on pressure and tackling.
Wardlaw, who turns 18 in July, possesses great breakaway speed and power and also put on show his marking ability with a strong contested grab in a large pack of players during the final quarter.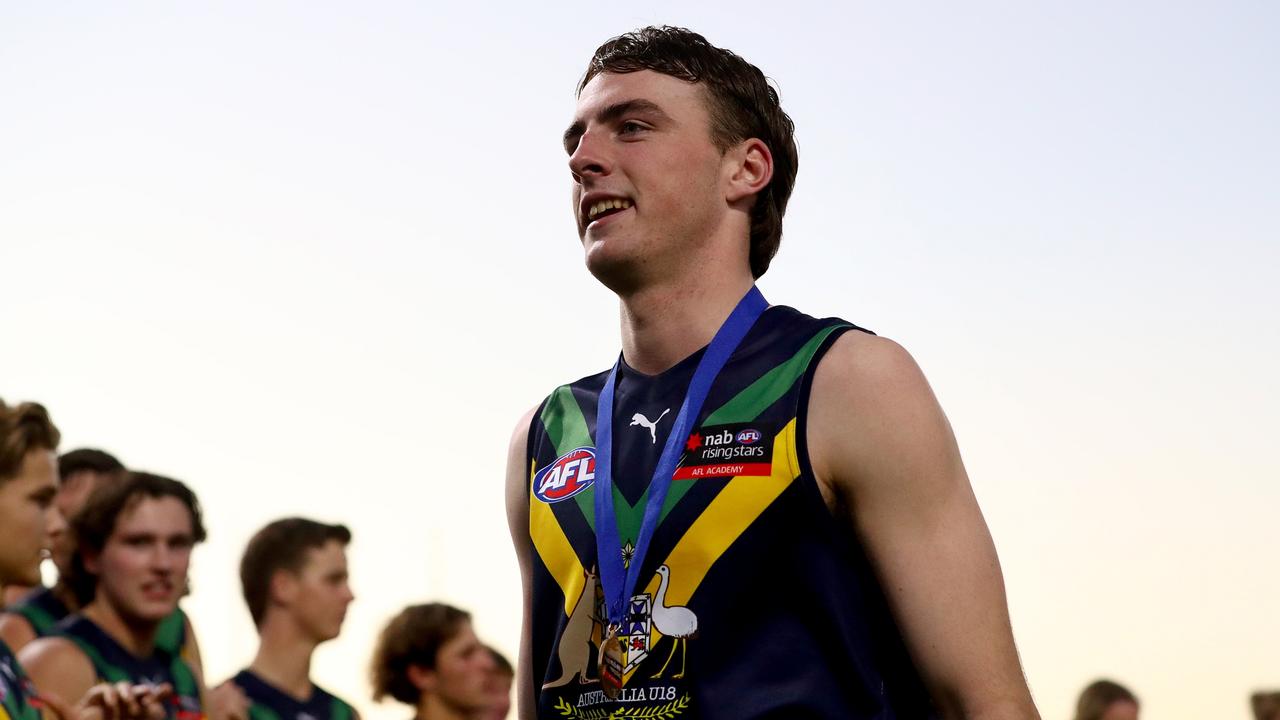 George Wardlaw received a medal as the best on ground for the AFL Academy side. Picture: Getty Images
"Certainly in the second half, particularly the third quarter, he lifted around the ball and did some did some really, really good stuff," AFL Academy coach Tarkyn Lockyer said of Wardlaw.
Fellow top-three draft prospects Will Ashcroft (24 disposals, four clearances, one goal) and Elijah Tsatas (17 disposals, one goal) also led the way on the big stage in a 10.6 (67) to 6.9 (45) loss for their side.
A Brisbane Lions father-son prospect, Ashcroft racked up the ball at will through the middle and showed off his quick and clean hands, sound kicking skills and strong running ability.
He logged 15 of his disposals in the second half.
"He had some really good run and carry through the middle of the ground – which was terrific – among other highlights throughout the day," Lockyer said.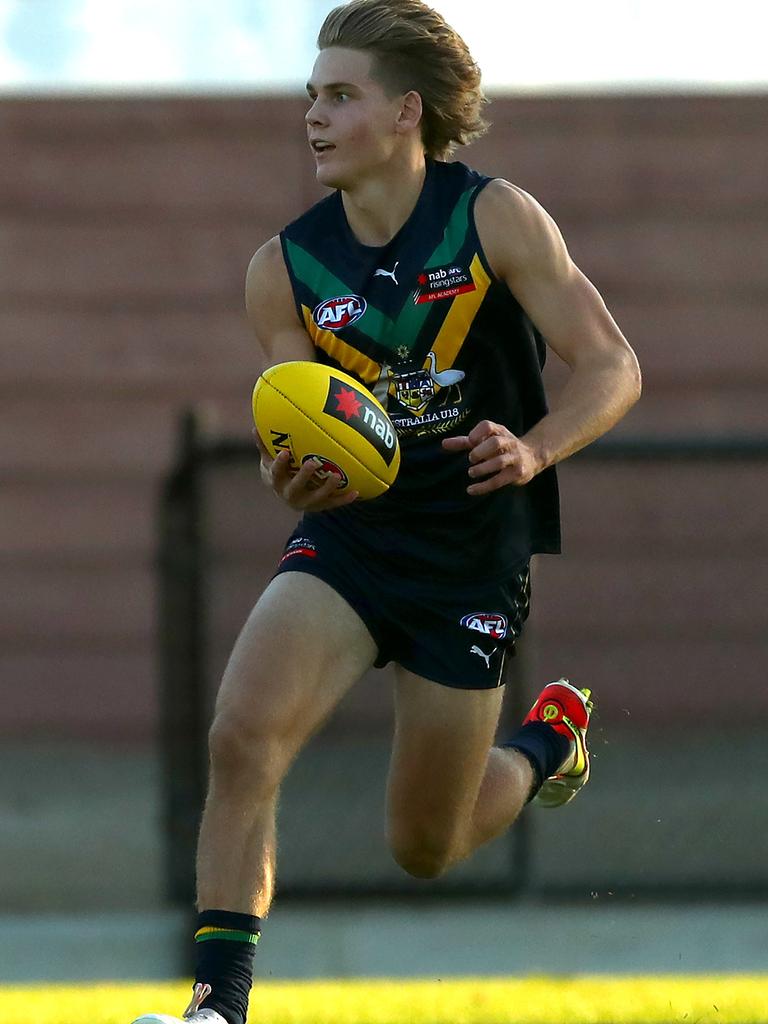 Brisbane father-son prospect Will Ashcroft racked up a team-high 24 disposals. Picture: Getty Images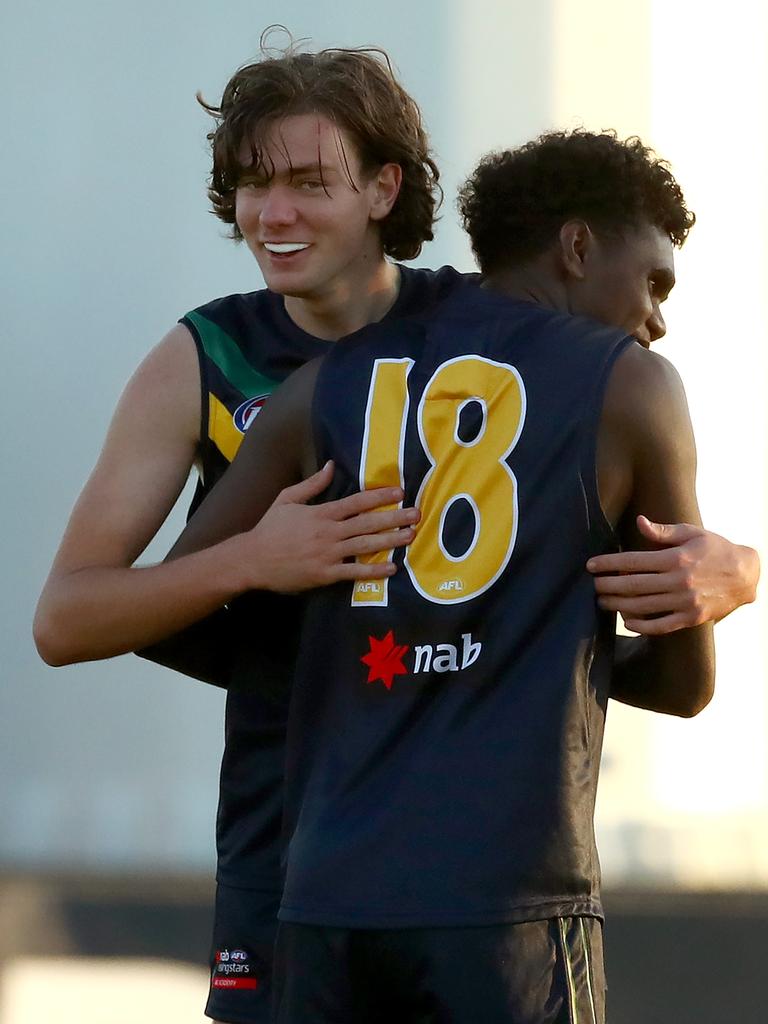 Matthew Jefferson and Anthony Munkara celebrate a goal for the AFL Academy side. Picture: Getty Images
Other players to catch the eye in the clash included hard-at-it Geelong Falcons onballer Jhye Clark (19 disposals, six tackles), West Australian key defender Jedd Busslinger (12 disposals, four marks) and Essendon Next Generation Academy member Anthony Munkara.
A 186cm forward, Munkara hails from the Tiwi Islands and is a player with silky skills, good speed, serious agility and a good pair of hands above his head.
He did not have a huge influence on the game overall, but kicked a goal in the last quarter and showed enough glimpses throughout the match to excite recruiters.
"There's a little bit to work with there," Lockyer said.
"For Anthony to come here and get the opportunity, the learning that he'll take away is going to be incredible for him."
The match also featured Collingwood AFL-listed players including Callum Brown, Trent Bianco and Finlay Macrae.
Brown was Collingwood's best player on the day with 31 disposals.
The Magpies also played Murray Bushrangers ruckman-forward Toby Murray, who is a mid-season draft prospect.
The brother of former Collingwood player Sam Murray, the 200cm big man began the year as a key forward but has flourished as a ruckman over the past month.
He played only limited game time, but showed some good signs in the ruck with six disposals, 14 hitouts and a goal.
Murray played in both of the Colgate Young Guns games after receiving nominations from eight AFL clubs.
The match was played across four 25-minute quarters, with no time-on.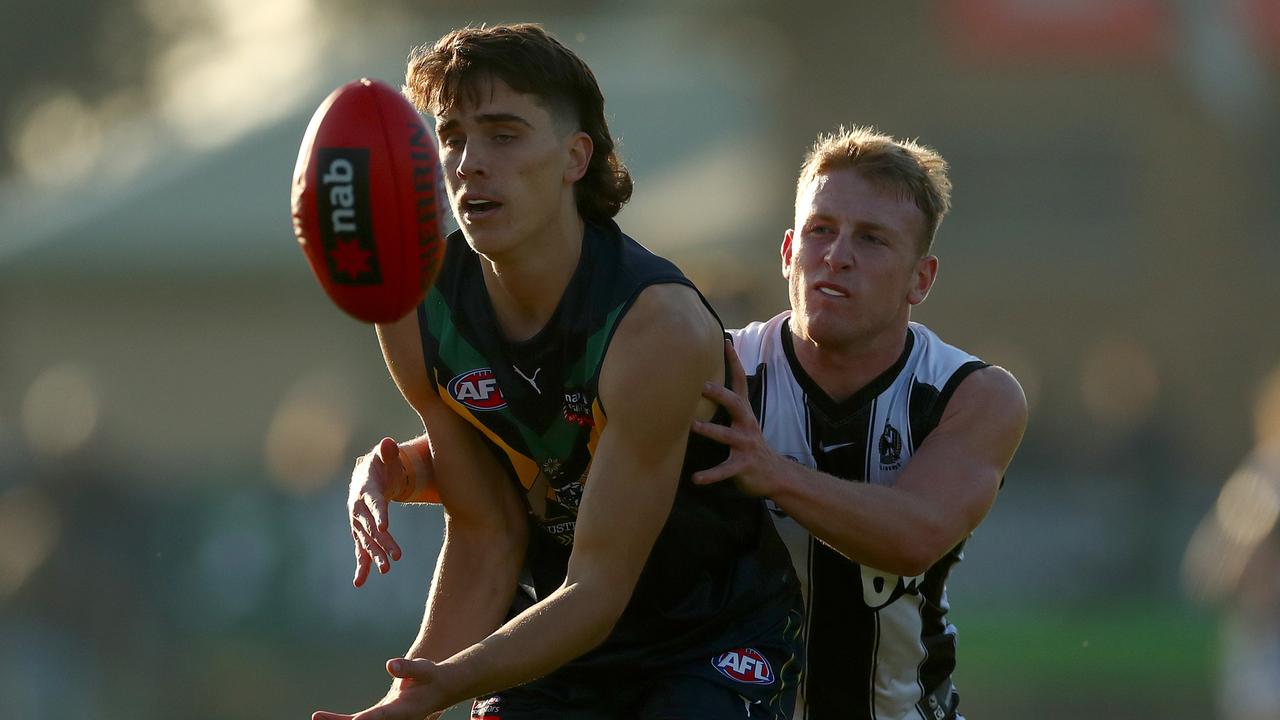 Luke Teal showed some good signs down back for the AFL Academy side. Picture: Getty Images
SUPERCOACH SCORES
AFL ACADEMY TEAM v COLLINGWOOD VFL
126 – George Wardlaw
110 – Jhye Clark
109 – Will Ashcroft
97 – Jed Hagan
91 – Judd Busslinger
77 – Adam D'Aloia
76 – Jaspa Fletcher
76 – Jackson Broadbent
67 – Henry Hustwaite
65 – Oliver Hollands
63 – Anthony Munkara
62 – Harry Sheezel
61 – Mitch Szybkowski
58 – Elijah Tsatas
58 – Max Michalanney
54 – Lachlan Cowan
51 – Jason Gillbee
48 – Luke Teal
48 – Elijah Hewett
46 – Matthew Jefferson
43 – Aaron Cadman
37 – Alwyn Davey Jnr
30 – Tom Scully
20 – Harry Lemmey
Originally published as Draft Watch: All the news and stats from NAB AFL Academy game