Mark Robinson: Eddie Betts the latest Indigenous betrayal in Aussie Rules, Eddie Betts reveals he told AFL everything about Crows camp
Eddie Betts' harrowing story has a place beside Nicky Winmar's salute at Victoria Park, Michael Long's stance against racism at the MCG and the maltreatment and abuse of Adam Goodes.
Football woke under a shroud of shame on Wednesday.
A lot of it hangs over the AFL as the presiding body.
And the Adelaide Football Club as the presiding club.
And the Players Association. And SafeWork SA.
All those bodies put up the most dismissive of signs — Nothing To See Here — after all of them investigated the now notorious Crows camp.
Watch every blockbuster AFL match this weekend Live & Ad-Break Free In-Play on Kayo. New to Kayo? Start your free trial now >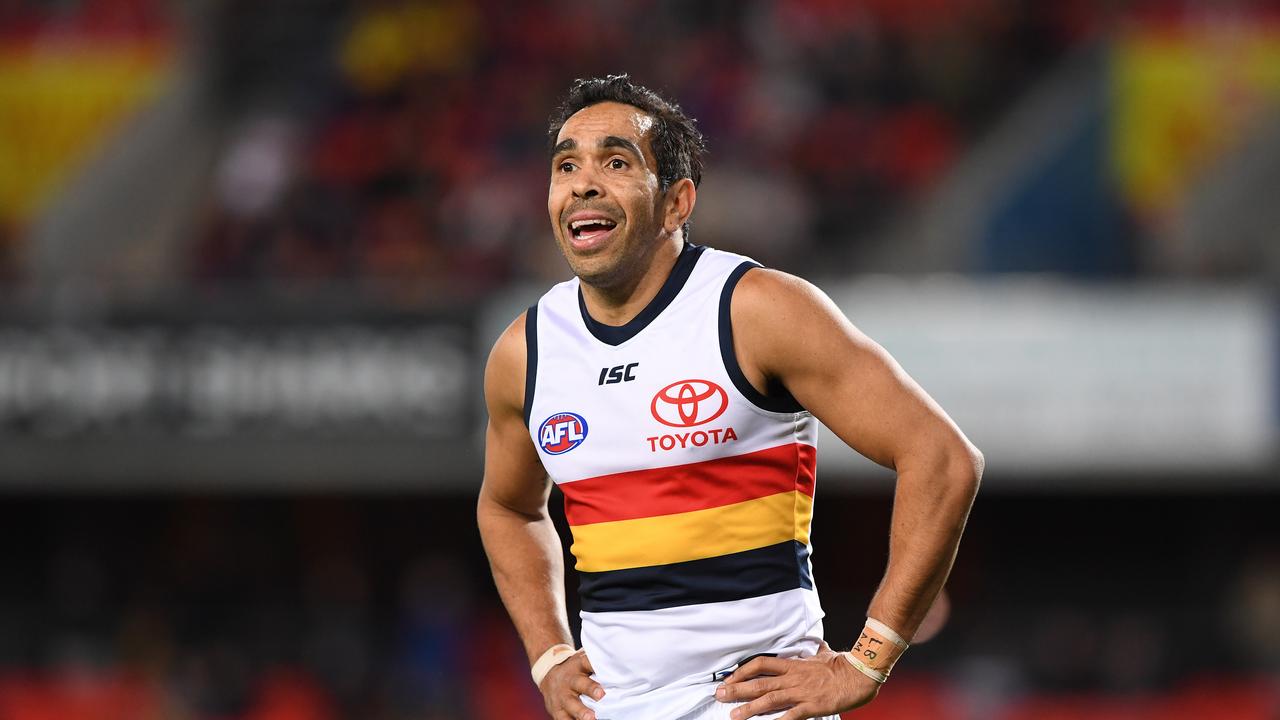 Eddie Betts has revealed his side of the story from the Crows camp saga. Picture: AAP Image/Dave Hunt
Nothing to see? What a crock of sh**.
Eddie Betts opened the eyes of the football world to yet another betrayal of our Indigenous footballers and their beliefs.
Betts' account of what he – and other Indigenous players at the Crows – were subjected to was racially insensitive and frankly disturbing human behaviour.
This day, this harrowing story, has a place beside Nicky Winmar's salute at Victoria Park, Michael Long's stance against racism at the MCG and the maltreatment and abuse of Adam Goodes.
It's repulsive to think that these four giants of the Indigenous community are remembered not only for their outrageously skilled contribution to Australian Rules. But also they were tasked with opening Australia's eyes to the inequities, abuse and insensitivities they have endured over their football journey as proud Indigenous men.
The AFL stands accused of being grossly inadequate and the Players Association grossly pathetic.
The Crows, well, just gross.
If Betts told them all exactly what he's written in his book, how possibly could the AFL not take firm action against the Crows?
Did the AFL not believe Betts?
Betts, who flew to the Gold Coast on Wednesday morning, confirmed to the Herald Sun that he spoke to the AFL integrity department at the time.
Betts also expressed his dismay to the club.
"I did tell AFL integrity and I expressed everything to them," Betts said on Wednesday.
He added: "It was a weird time when it all happened ... we were in post camp mode."
So, Betts told the AFL and the Crows everything and because no laws were broken and no AFL rules were broken, there was no punishment?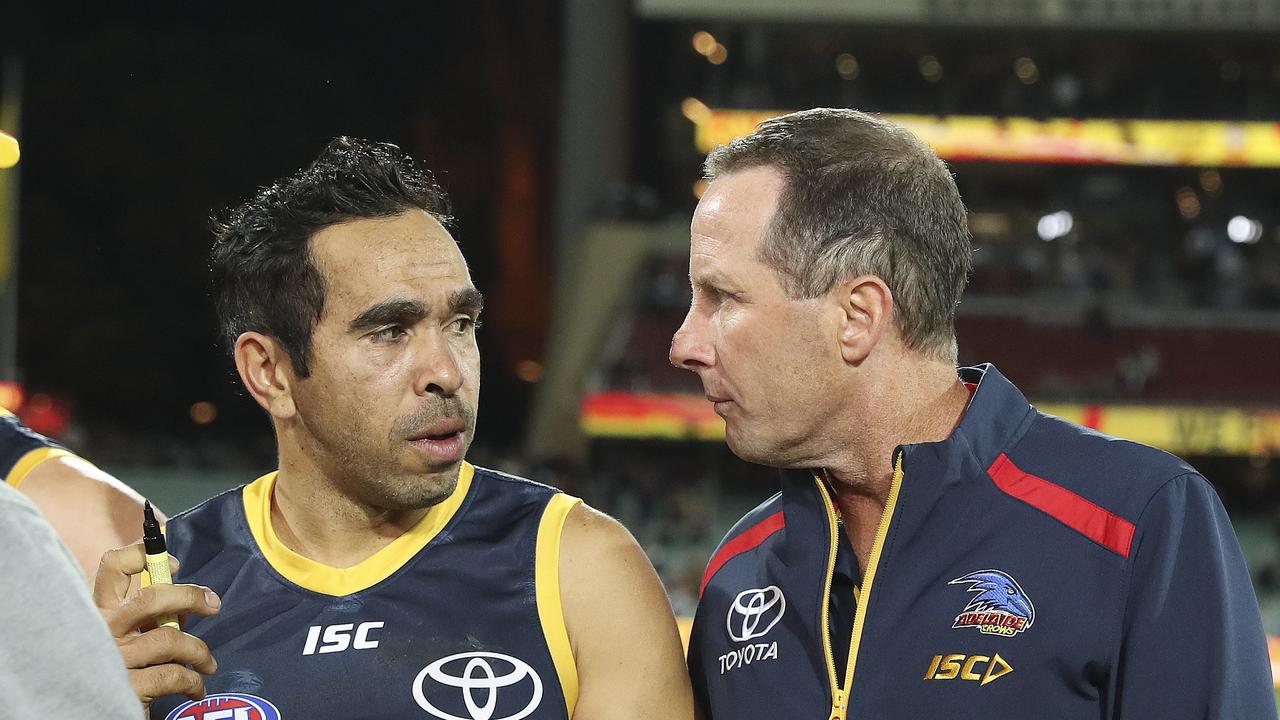 Eddie Betts went to the AFL with his concerns. Picture: Sarah Reed
What about punishment for the pain, hurt and distress that it caused, which Betts has displayed.
The AFL champions Indigenous culture and have made strong decisions in the past 18 months, such as employee Indigenous welfare people at all clubs, but they dropped the ball on Betts, as they did with Goodes.
Goodes finally received an apology from the AFL, several years after retirement, so we await how long before the AFL apologises to Betts and others.
Beyond the apology, whatever the AFL says will be too little and too late.
Colleague Michael Warner wrote a book called The Boys Club about how the AFL has handled integrity situations over the past 20 years and a chapter on the handling of Betts specifically, and the subsequent denials and dismissive tones, would be a worthwhile addition.
Brand protection comes to mind as it always has when the full truth emerges.
And the full truth is a group of Indigenous players were left distressed and in pain.
The Crows should be ashamed. There are vivid recollections of officials standing in front of cameras swatting away questions and denying culpability, when all the while Betts was at home telling his wife how he was told he wouldn't be a good father because he grew up only with a mother.
Football can be a type of Secret Men's Business and footy camps and mission statements and storytelling are worthwhile and intrinsic elements in binding and creating trust within the group.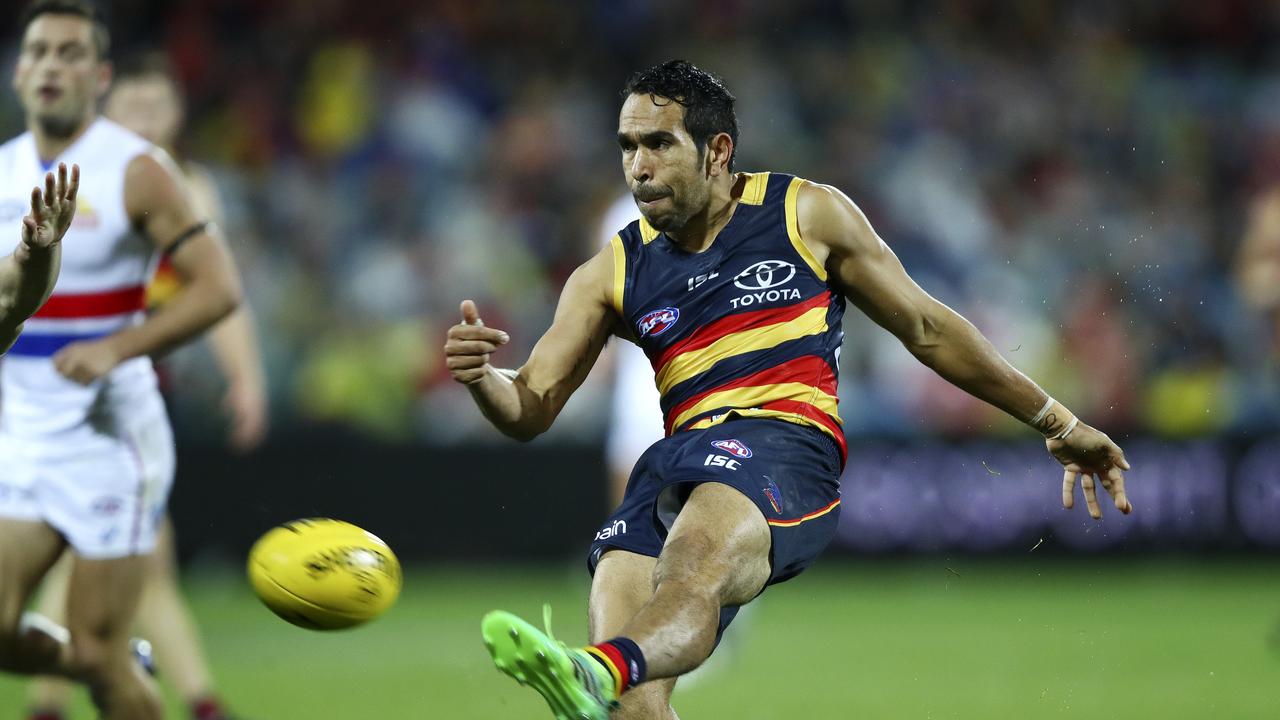 But this was next level.
Even the former AFL footballers who exude the ultimate masculinity of football have said it is next level — and they aren't even Indigenous.
In rainforest Gold Coast, where the camp took place, it conjures images of Lord of The Flies, where the players existed with spears and sticks in an environment of divide and conquer and humiliation.
No wonder the team blew up afterwards. When you have white leaders such as Tex Walker and Rory Sloane embracing the camp, and black leaders, such as Betts, loathing it, respect begins being chipped away.
Hindsight is prevalent in times of crisis,but when a club employs an external body to test and torment the minds of your players, surely the club investigates the hows, whos and whats beforehand.
Clearly, the Crows let down their Indigenous players at the time.
And so did the AFL afterwards.
It was culturally and morally wrong what happened and, worse, after Betts revealed everything, the Crows and the AFL hid in the hills.
The Players Association, meanwhile, has been shown to be a deaf regime, at least on this occasion. Because if it knew what Betts and Co endured, and didn't kick up enough of a stink, it's fair to ask: What does the PA stand for?
Work has been done since to ensure a similar camp won't happen again, but that doesn't whitewash what happened to Betts, nor will it be forgotten.
That work includes chief executive Gil McLachlan meeting senior indigenous players at least four times a year to work through any issues across the clubs and the league
The AFL says that as a result of the discussions, it mandated for the 18 indigenous player managers to be taken on at all clubs.
Still, sadness and shame hangs over football today.
Originally published as Mark Robinson: Eddie Betts the latest Indigenous betrayal in Aussie Rules, Eddie Betts reveals he told AFL everything about Crows camp