Eddie Betts Crows camp latest: AFLPA says players silenced, set to reopen Crows camp probe
Rory Sloane says he is sad to hear of the negative effect the Crows camp had on Eddie Betts but stands by the positive comments he made about his experience at the time.
Former Crows and Carlton champion Betts had wanted the league to say sorry to players who were on the Gold Coast in 2018, believing his voice was not heard during the initial investigation when he told it "everything".
Three years ago, the AFL's probe determined there were failings in the manner Adelaide identified, implemented and managed the camp, but no violation of industry rules.
"Clearly we're sorry to Eddie and anyone who's (been) caused suffering from that camp," McLachlan told Channel 7.
"We've seen how much it hurt Eddie and frankly some of the stuff that went on was a disgrace.
"Clearly, we're hearing him, hear his pain and we're sorry."
Betts's memoir, The Boy from Boomerang Crescent, was released this week and harrowing revelations about the impact the Collective Mind-run camp had on him.
AFL CEO Gillon McLachlan has apologised to Eddie Betts. Picture: Getty Images
The AFL Players' Association will potentially pressure the league to reinvestigate the camp if more shocking information emerges from upcoming interviews with the 2018 Crows' squad.
AFLPA chief executive Paul Marsh told SEN the industry and Adelaide had let Betts down.
Watch every blockbuster AFL match this weekend Live & Ad-Break Free In-Play on Kayo. New to Kayo? Start your free trial now >
The players' body hoped Betts speaking up would empower former teammates to do the same.
"We want to get to the bottom of whether other players had similar experiences," Marsh said.
The AFLPA will begin reinterviewing soon but there is no specific timeline.
Marsh said Crows players staying tight-lipped made it difficult to judge if he was satisfied with the initial AFL investigation's outcome.
He conceded his organisation could have tried harder when it initially looked into camp methods used during the camp.
"Players are silent on this issue for fear reasons, some had good experiences, but it's made this issue quite a difficult one," he said.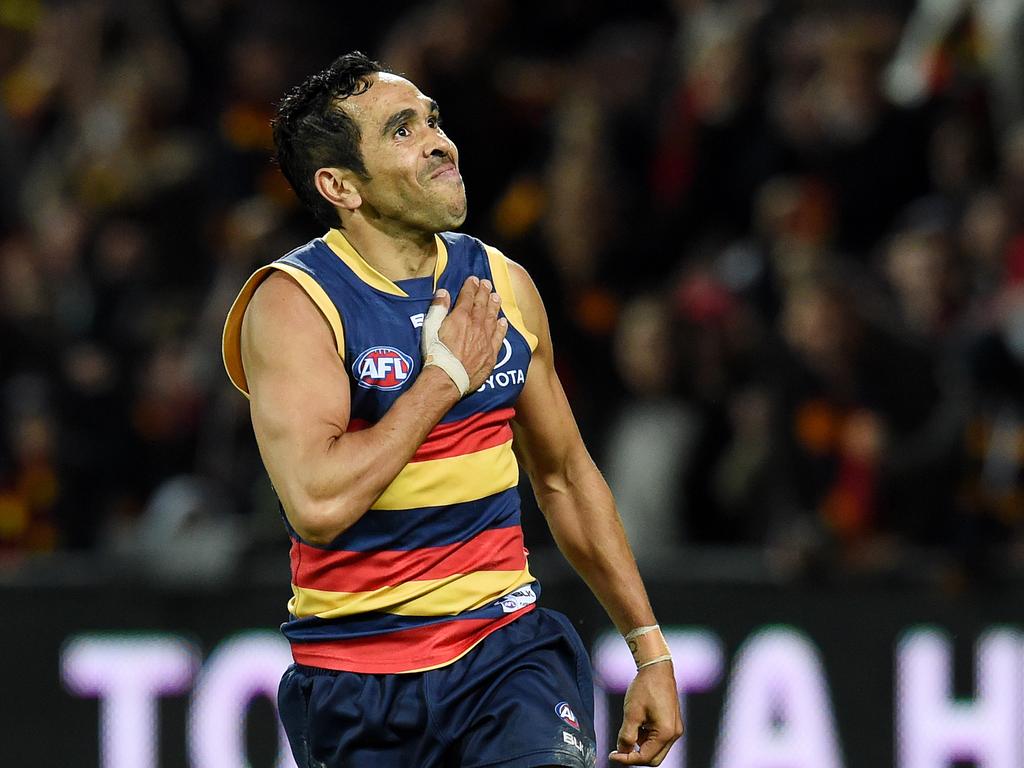 Eddie Betts wanted an apology form the AFL. Picture: AAP
Marsh said he was unaware of some details in Betts's book, including camp organisers misusing deeply personal information during activities.
Adelaide captain Rory Sloane was in the same group as Betts but he said he was not aware of the taunts he received until after the event.
"It makes you very sad that that's what he experienced," Sloane said on FIVEaa.
"Eddie's been a great friend and teammate over the years, and you don't want someone hurting at the end of their career from this camp especially."
Asked whether the club's leaders did enough at the time, Sloane said there were many conversations about how to help everyone and they sought apologies from the camp directors.
"You put your captain hindsight hat on and of course you would've loved to do some things better," he said.
"I thought I did my absolute best at the time."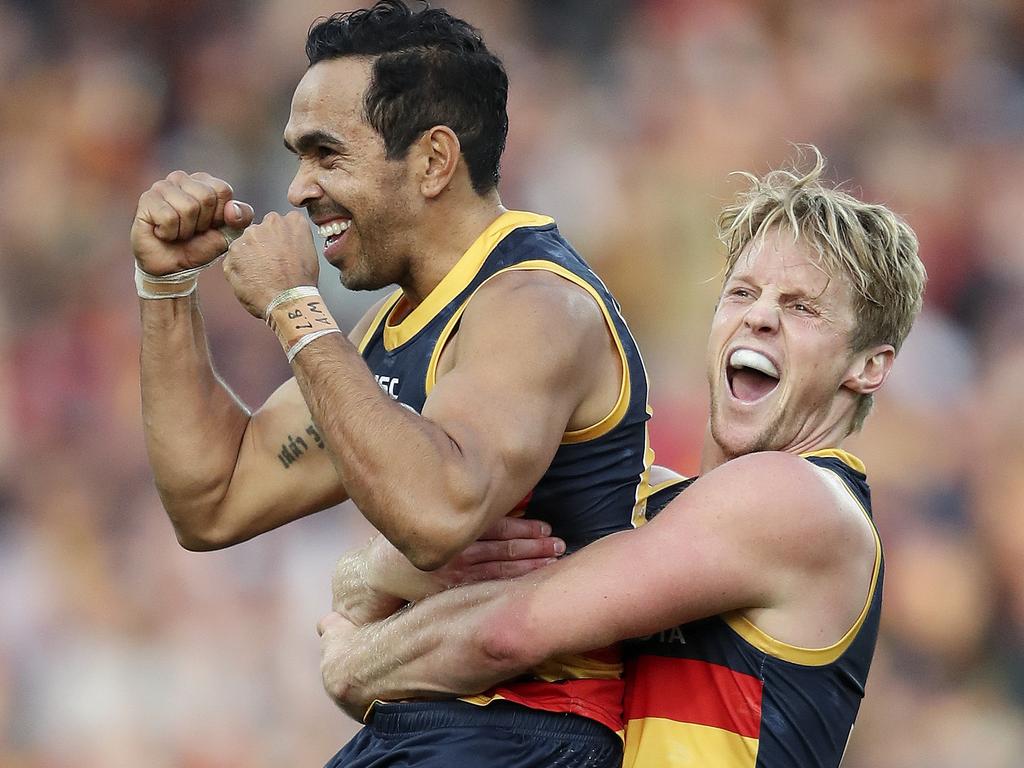 Eddie Betts and Rory Sloane were teammates at the Crows. Picture: Sarah Reed
Sloane came back from the camp in 2018 saying it "absolutely, 100 per cent" had made him a better husband, son and teammate.
On Thursday, the 32-year-old stood by those comments.
"People experience different things in all walks of life and my experience was different to Eddie's," said Sloane, who was teammates with Betts from 2014-19.
"I think that's completely fine and completely normal."
Crows chief executive Tim Silvers apologised to Betts on Wednesday on behalf of the club.
The AFL's initial statement acknowledged the hurt Betts, his family, his community and all Indigenous players experienced as a result of the camp, but did not include an apology.
Betts told AFL360 on Wednesday night that saying sorry was easy for the league to do.
"It was not just about the Aboriginal players, there were a lot of players hurting," he said.
Danger sickened by Eddie Betts' shocking revelations
The AFL Players' Association will reinterview Adelaide Crows players in the wake of Eddie Betts' harrowing pre-season camp revelations, believing they felt pressured to remain silent about their experiences.
Betts told News Corp on Wednesday he had "expressed everything" to the league's integrity department after feeling shameful, traumatised, brainwashed and disrespected from the Gold Coast sessions in 2018 run by Collective Mind.
The AFL has defended its investigation since Betts revealed explosive details, such as an instructor saying he would be "a s**t father as I was raised only by a mother", in his new book.
The players association said it was "extremely concerned" about the revelations, admitting much of it was new to them.
In The Boy from Boomerang Crescent, the indigenous champion wrote about how he considered the activity with a camp instructor psychologically and culturally unsafe but "this wasn't the worst of it either".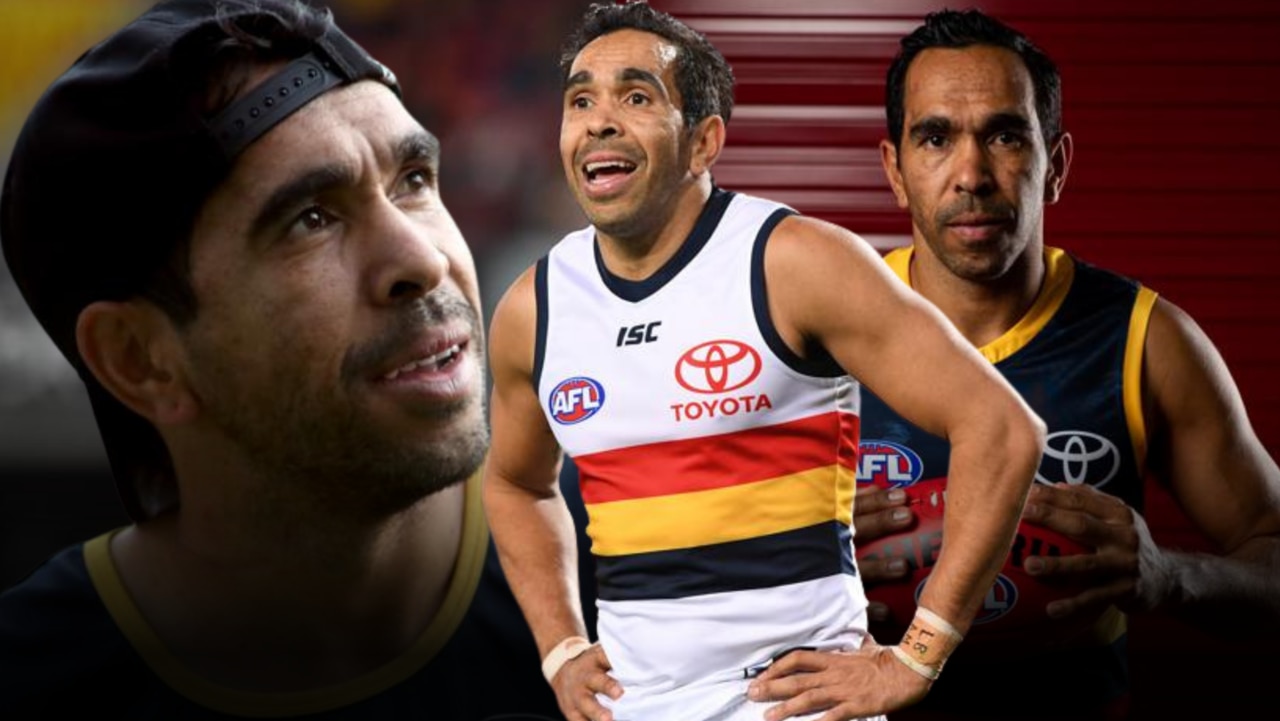 The AFLPA has reopened its probe into the controversial Crows camp, amid traumatising allegations from former Crow Eddie Betts.
Crows chief executive Tim Silvers publicly apologised to Betts on Wednesday morning, saying he was saddened by what he had read.
An AFL investigation in 2018 concluded that although there were failings in the way Adelaide identified, implemented and managed the camp, there was no violation of industry rules.
AFL Players' Association president Patrick Dangerfield described the revelation in Betts' book as "sickening"
"It's really concerning," Dangerfield said.
"I have known him for a really long period of time, but I have never really sat down and gone through blow-by-blow his experience at the camp, it was more at different stages it's been 'Are you OK? Can I help with anything?'
"Certainly reading some of what went on, it was sickening, really."
Once teammates at Adelaide, AFLPA president Patrick Dangerfield has come out in support of Betts. Picture: Sarah Reed
AFLPA chief executive Paul Marsh said he was extremely concerned for the players' "psychological safety".
"What we now believe is clear from our discussions with those players and the information contained in Eddie's book is that players felt pressured into remaining silent about the details of the camp," Marsh said.
"We commend Eddie on the courage he's shown in telling this story and are troubled by the ongoing hurt caused to Eddie and his family."
Betts, who retired last year after 350 games, including 132 for the Crows, claimed the camp impacted his mental health and form during the 2018 season.
In a statement on Wednesday, the AFL said its investigation into the camp led to improved governance and compliance relating to the protection of Crows players, officials and staff, including further investment into their integrity department.
It also prompted the AFL to introduce an approval process for any club pre-season camps or activities run by external providers.
Eddie Betts detailed shocking moments from the infamous Crows camp. Picture: AAP
"The AFL acknowledges the hurt Eddie Betts, his family, his community, and by extension all indigenous players experienced as a result of Adelaide Crows pre-season camp in 2018," the league statement said.
"Over the last 15 months the AFL CEO (Gillon McLachlan) has had regular conversations with a senior indigenous players group which provides a sounding board for key industry and club decisions impacting our indigenous players."
SafeWork SA confirmed it had considered Betts's allegations in its investigation into the camp, which last year concluded that the club had not breached the Work, Health and Safety Act.
Silvers said he had texted Betts to check on his welfare and planned to speak with him formally later this week.
Labelling Betts a Crows legend and saying his family, including wife, Anna, have been an integral part of the club, Silvers had "some confidence" they would return one day.
"It's obviously hurt him in a number of ways," Silvers said.
"People's welfare and wellbeing are paramount to our club.
"Anyone who leaves our club and doesn't have a positive experience, we are sorry.
"We'd love to see Eddie, Anna and his family back at our club."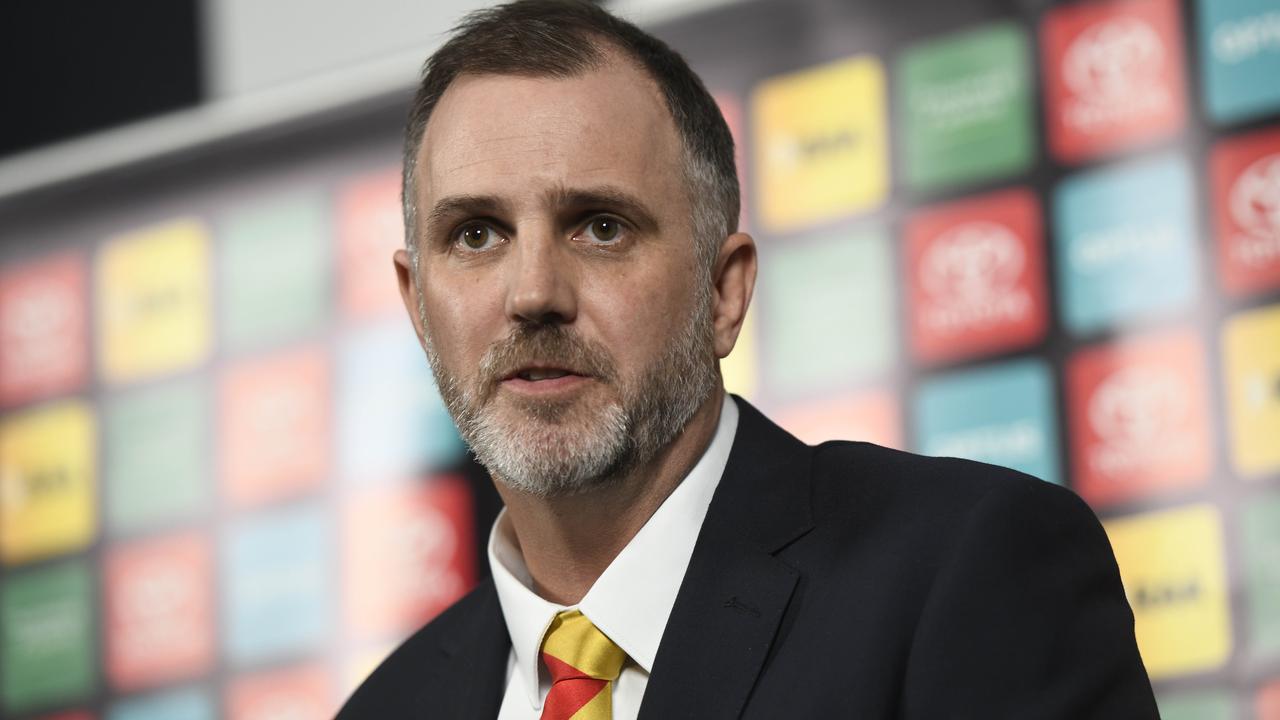 Tim Silvers apologised to Eddie Betts over the Crows camp. Picture: Naomi Jellicoe
Silvers deflected a few times during Wednesday's press conference to the fact he was not at the club at the time of the camp, including when asked if the club now conceded parts of it were not safe and what specifically the Crows could have done better.
He arrived at the start of last year as one of Adelaide's "new pillars" since the fallout from the 2017 grand final loss.
Senior coach Matthew Nicks, football manager Adam Kelly and chairman John Olsen were other leaders brought in to rejuvenate the club after sliding from runner-up to nonfinalist.
One of the few off-field leaders who had remained, football director Mark Ricciuto, received Silvers' backing.
Adelaide's squad was addressed briefly on Wednesday morning about Betts's comments.
Silvers said present-day players' experiences from the camp differed and had not been raised a lot since he joined the Crows at the start of last year.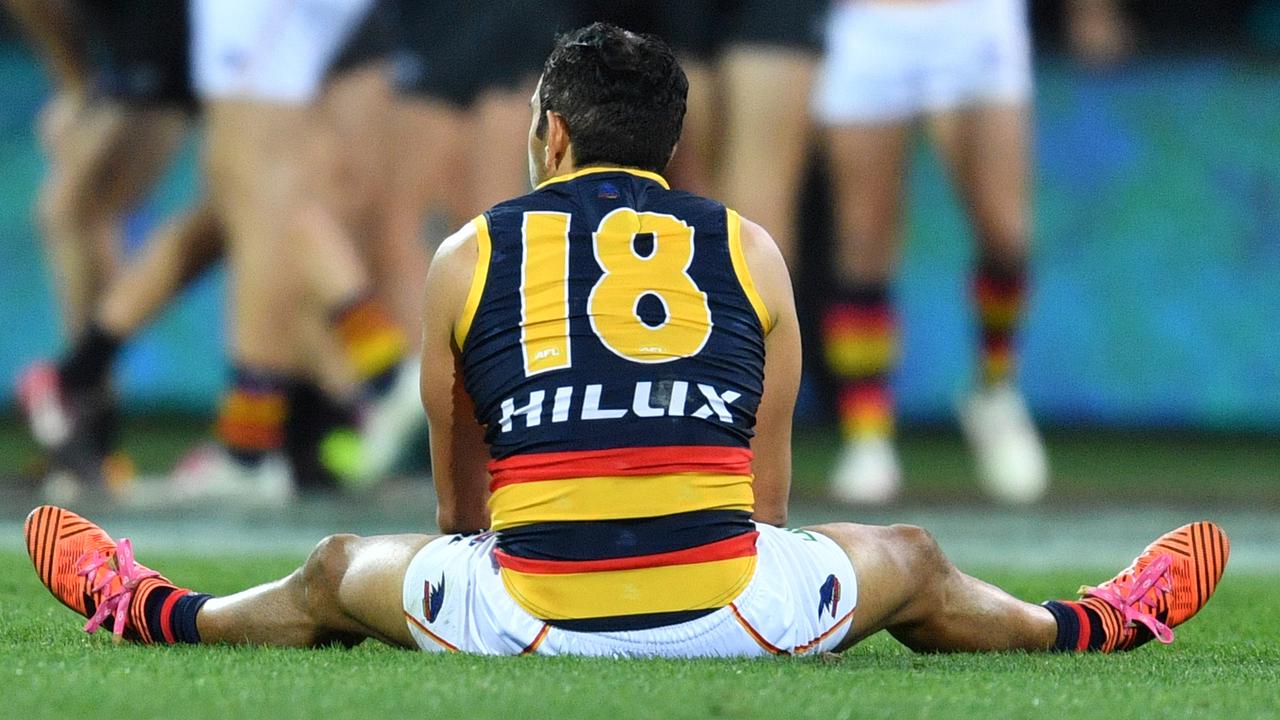 Adelaide's squad was briefly addressed about the revelations from Eddie Betts Picture: AAP Image
"There's an acknowledgment – there's no doubt – we think maybe we could have done a few things better, but we're trying to move past it," he said.
"This information came to light last night we will deal with this, but I think we are moving the right direction."
Silvers said he would look into and speak to Betts about his claims that he was dropped from the leadership group for voicing his concerns about the camp.
"That was new information," he said.
Reflecting on why Adelaide needed resilience training given it made a grand final two years after coach Phil Walsh was killed, Silvers said clubs were always looking to try to get better.
"This one probably wasn't the right move at that time," he said.
Collective Mind was contacted for comment.
Eddie Betts left for Carlton a year after his camp experience. Picture: AAP
Ricciuto hopes Betts is 'getting over' camp horror
Crows football director Mark Ricciuto said he hopes Eddie Betts is "getting over" his experience at the Crows' infamous pre-season camp, which the former Crow has revealed to have been a culturally insensitive experience that will stay with him for life.
In his new book, The Boy from Boomerang Crescent, Betts details his harrowing experience at the club's 2018 pre-season camp and says the "shame" he sustained on the camp will be with him "for the rest of my life".
The book details the lead-up to the camp, in which Betts says he divulged sensitive information to a counsellor about his traumatic upbringing, which was then used against him during a physically and mentally testing task involving abuse from teammates.
Ricciuto – is the only senior off-field figure who was involved at the time who still remains at the club since the camp – maintained that "player welfare is always No.1, no matter what is going on", and said on Wednesday morning that he hoped Betts "is moving on".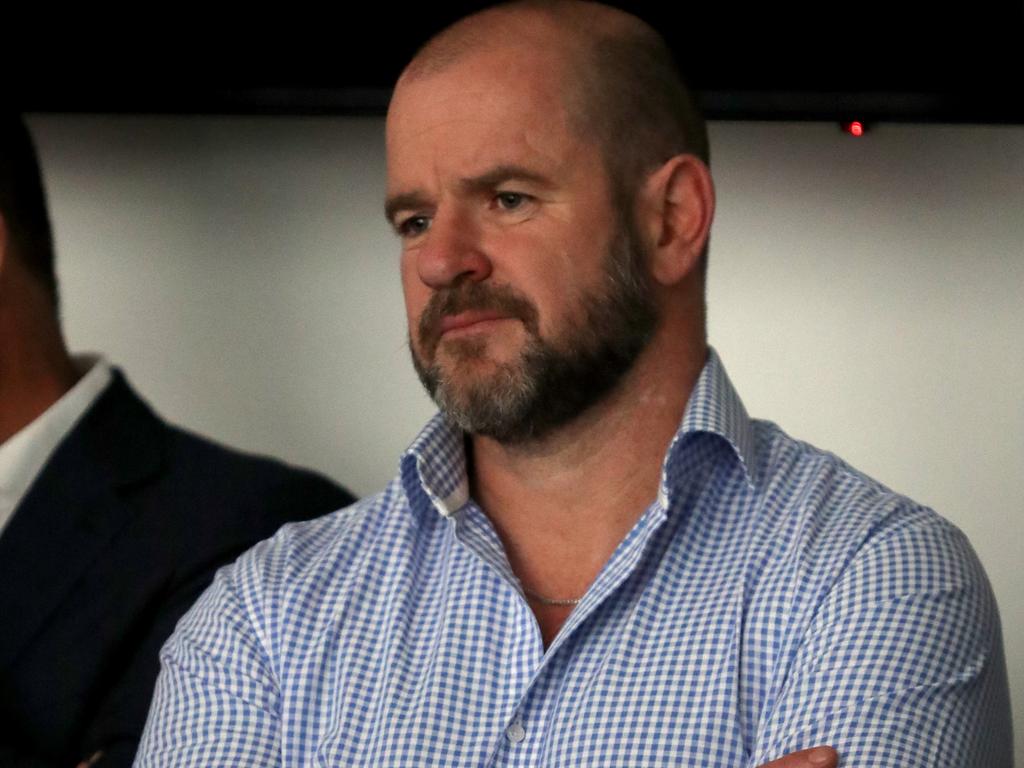 Former Adelaide player and football director Mark Ricciuto. Picture: AAP Image/Kelly Barnes
"It's sad to hear Eddie write that, because he's been one of the greats of the football club," Ricciuto said on Triple M in Adelaide.
"I'm not sure if there's anyone that's thrilled the crowd more than Eddie Betts – Tony Modra's up there, and those two are in another bracket, really … unbelievable players at the football club.
"Player welfare is always number one, no matter what's going on. You always want everyone to be happy and all that. It's very sad that Eddie's written that, and I think the club's been on record at times to say that they've acknowledged that it wasn't handled perfectly.
"It had all good intentions, but it didn't go perfectly. They've acknowledged that.
"We all love Eddie, and hopefully Eddie's getting over that. That was four years ago – certainly the club's moved on from that and is looking towards the future and have made a lot of ground since back then.
"It's come up in Eddie's book and that's fair enough, and hopefully Eddie's moving on as well and the club can move on to bigger and better things."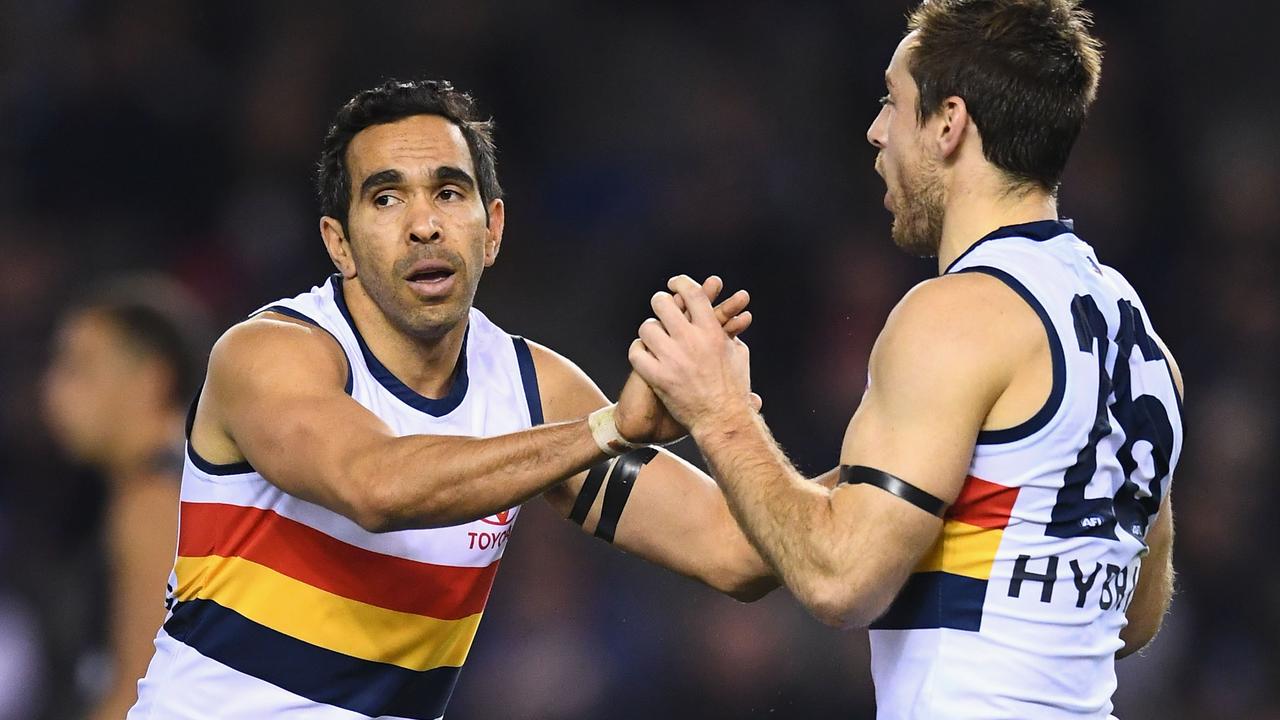 Eddie Betts says he was 'distressed' by the Crows' pre-season camp. Picture: Quinn Rooney/Getty Images
Adelaide's inaugural senior coach Graham Cornes told News Corp on Wednesday morning it was unfortunate Betts had a negative experience, but said it was time to "move on".
Cornes, who is one of South Australian football's greatest figures after a champion career in the SANFL, has defended the merits of the camp.
"These sorts of camps have different impressions on different people because lots of guys thought it was positive," Cornes said on Wednesday.
"It has already been scrutinised. There have been four different reviews of it – by eminent institutions. It doesn't mean to say Eddie wasn't impacted by it.
"But it was four years ago, what's the point of regurgitating it now?
"It is time to move on. The club has moved on. The indigenous component was convened by an Indigenous elder.
"The AFL Integrity Unity has looked at it twice. So has SafeWork SA."
Originally published as Eddie Betts Crows camp latest: AFLPA says players silenced, set to reopen Crows camp probe