Essendon forward Harry Jones details the challenges of a turbulent year with injuries
One of the brightest lights at Essendon last year, it seemed for a while like nothing was going right for Harry Jones, even when he was helping out at VFLW training! DANIEL CHERNY reports.
It started out with soreness in his foot.
Then before Harry Jones knew it, he hadn't played in a winning AFL side in almost a year.
Jones was one of several bright spots in Essendon's 2021 season, making his debut in round one and kicking 20 goals from 16 games.
But the last of those goals came in the club's round 17 win over Adelaide on July 9 last year.
A stress fracture in his foot was treated conservatively before season-ending surgery denied him the chance to play in the Dons' first final.
As Melbourne went in and out and in and out of lockdown, Jones remained on the outer.
Eventually he got his foot right. But then his ankle started playing up and delayed the start of his season by a month.
He came back through the VFL in mid-April, and then hurt it again.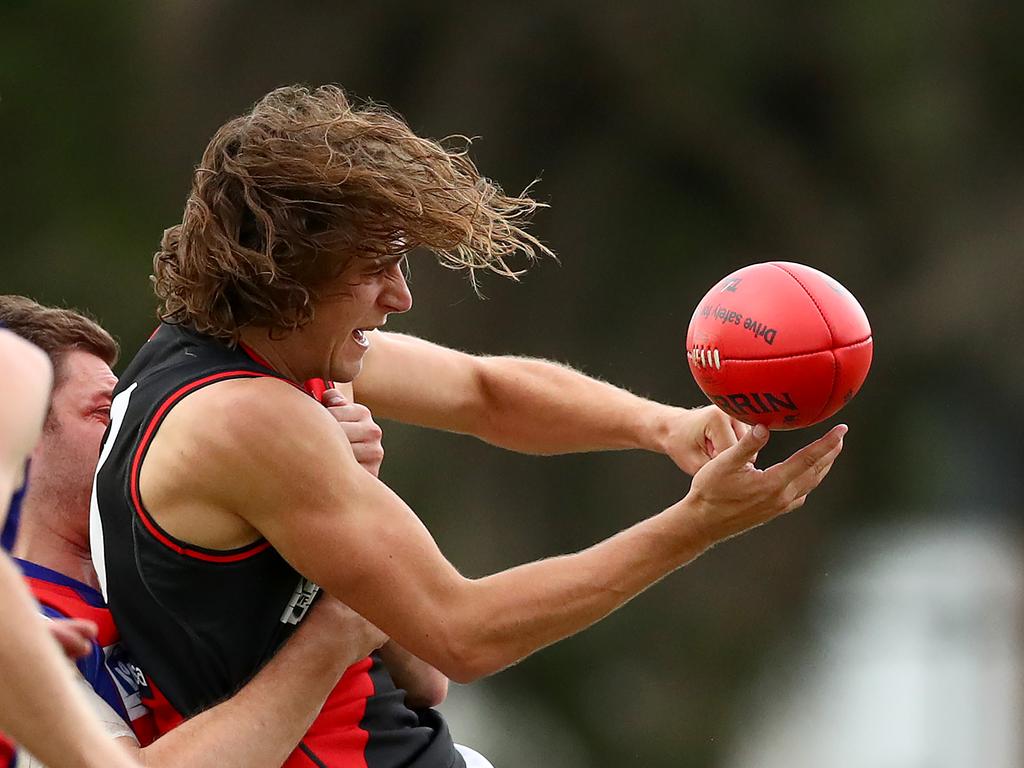 Harry Jones started his 2022 season in the Bombers VFL side. Picture: Kelly Defina/AFL Photos/Getty Images
So bad was his luck that he even suffered an ankle setback while helping out at a training session with the club's VFLW side.
Months later, he can at least see the funny side.
"I rolled it a little bit. It was a little tweak. It wasn't too bad. I played that week, but it was an annoying one," Jones says.
"Just helping down at the VFLW and I tried to show 'em how to pick up the ball and kick a goal and I just rolled on it, which is very frustrating and annoying."
On Friday night, Jones, playing his third AFL game for the season, finally played in another winning side, kicking two goals in the Bombers' upset 35-point win over St Kilda.
"Finally" was the overarching feeling most associated with Essendon, who have been put through the wringer through a wretched first half of the season.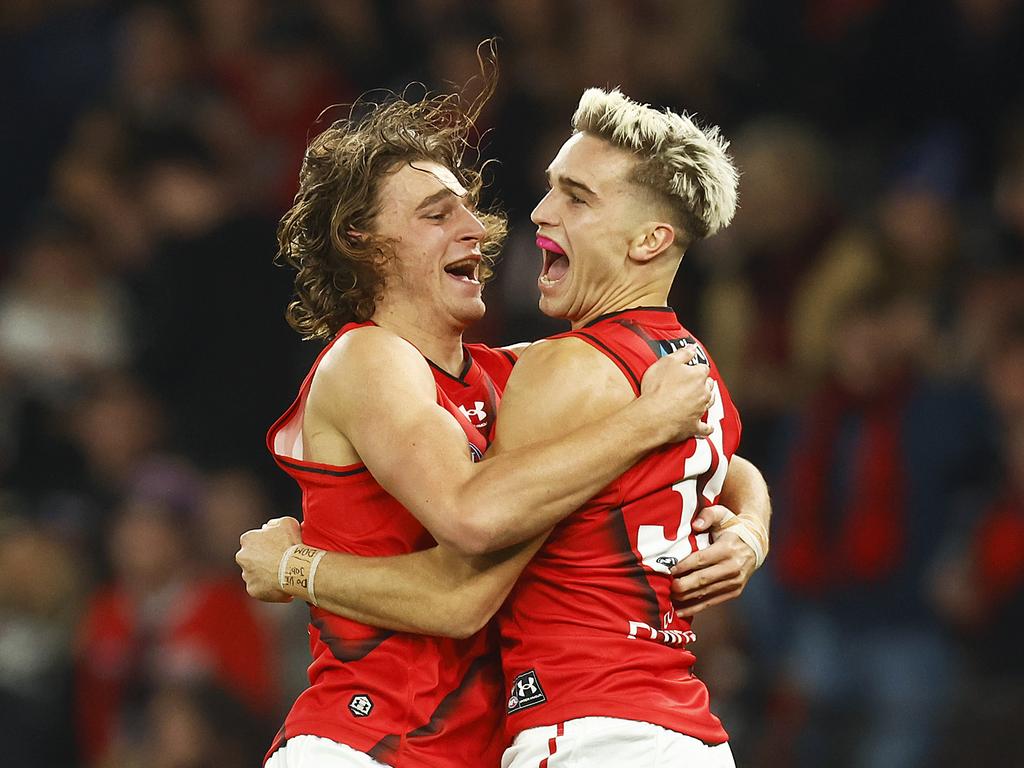 Jones secured his first AFL win of the season in the Bombers surprise victory over the Saints, scoring two goals in the proces. Picture: Daniel Pockett/Getty Images
"How good's a win! They've been few and far this year, but we're building … to get a win, and to play back to that exciting footy that we've been trying to build on is awesome. Nothing beats a win," Jones says.
But for the 21-year-old, it was particularly welcome. This had been a long time coming.
"It's good to finally be here and live in the moment and enjoy it," Jones says, reflecting on a treacherous road to recovery.
"It's been a bit of a nightmare to be honest. But the support group we have and the rehab group that we have at Essendon were great and got me through it," he adds.
"I got sort of back, and re-hurt my ankle, and I kept injuring it. So it was a little bit frustrating but to finally be back out here and get some continuity with training, playing, running, confidence in the body, awesome.
"You're always bleeding when you're watching on the sidelines but it's finally good to get out there and play, play in a win.
"I'm the best I've felt in a long time. Each game I'm playing is better and better. I reckon I'm going to get to the end of the season and not want it to end."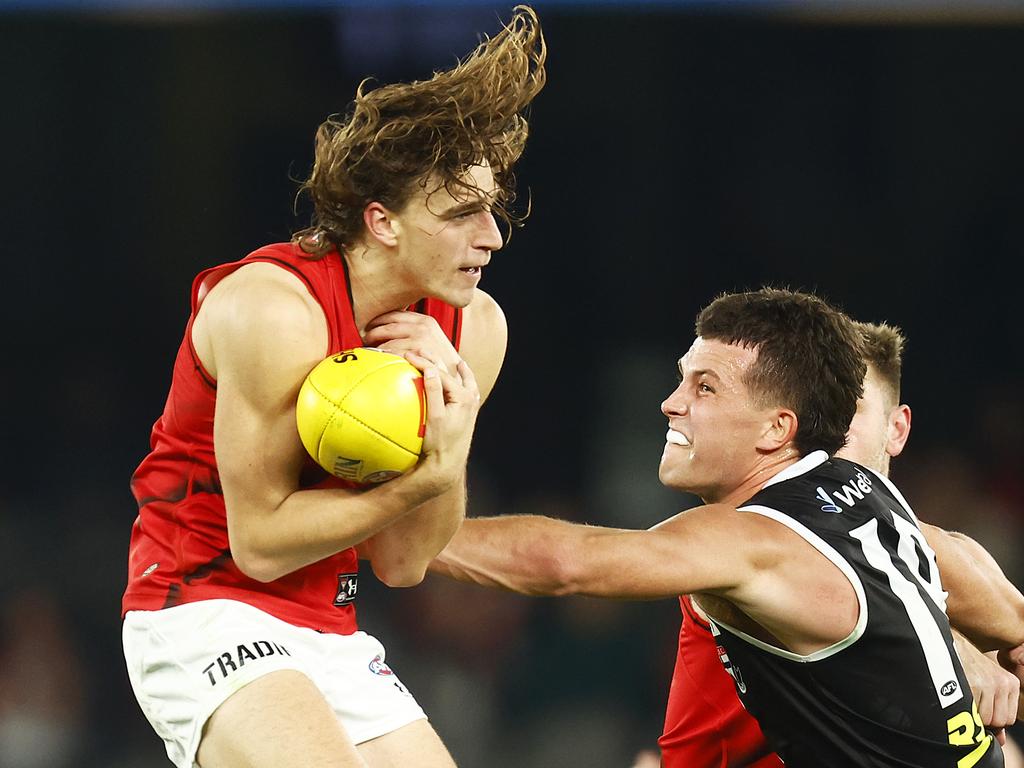 The Bombers fought off a third quarter resurgence when St Kilda scored four goals to level the scores. Picture: Daniel Pockett/Getty Images
There was a silver lining though to his injury woes.
Jones concedes now that he had become too football-centric, and time forced to focus on other areas of his life have been welcome.
"Just even stepping away from footy and focusing more on my personal life was great. It's hard not to be involved.
"I think I learnt from that period, not being so involved in footy, doing other stuff outside of footy, not getting so engulfed by it."
Having said that, he moonlights with the club's women's program, not put off by that earlier misstep.
"Doing a bit of coaching for the VFLW and AFLW. Just going down to training, chipping in.
"The club asked if I was interested in that and were happy for us to come down and help the girls with their craft and whatever they need."
Jones has been getting a taste of what a post-playing career in coaching may feel like in working with Essendon's AFLW and VFLW sides. Picture: Robert Cianflone/Getty Images
With Jake Stringer also back and firing, the Dons' forward line again looks to have the venom displayed for much of 2021, when they surprised the footy world to make the finals in coach Ben Rutten's first official season as senior coach.
Hard conversations were had in recent weeks and Jones, who as a childhood Essendon fan was "starstruck" at the club's 150th anniversary commemorations last week, hopes that mid-year soul searching and the win over the Saints' are the start of bigger and brighter things for the club.
"It's just being honest with each other. Keeping each other accountable for things, we want to play our way and do what we want to do … not shying away from it."
Rutten remains under the pump, but Friday night's win undoubtedly eased the pressure valve.
"[It's nice] just to get a bit of confidence and a bit of belief for the work we've been putting in," Rutten says.