Essendon news: Zach Merrett exclusive column on Bombers review, season 2022
Zach Merrett was having a quiet drink in his mid-season break when he heard about the Bombers launching a review. He reveals his reaction in an exclusive column.
My immediate reaction was a little bit of surprise.
It's always interesting when these things come up because we're already such a review industry, and as players we review everything.
Watch every blockbuster AFL match this weekend Live & Ad-Break Free In-Play on Kayo. New to Kayo? Try 14-Days Free Now >
Every game and every training session is analysed, and we're reviewing constantly individually about where we sit from week to week.
You're judged all the time, so for me personally it didn't seem like a big deal.
And also because as players we must have trust.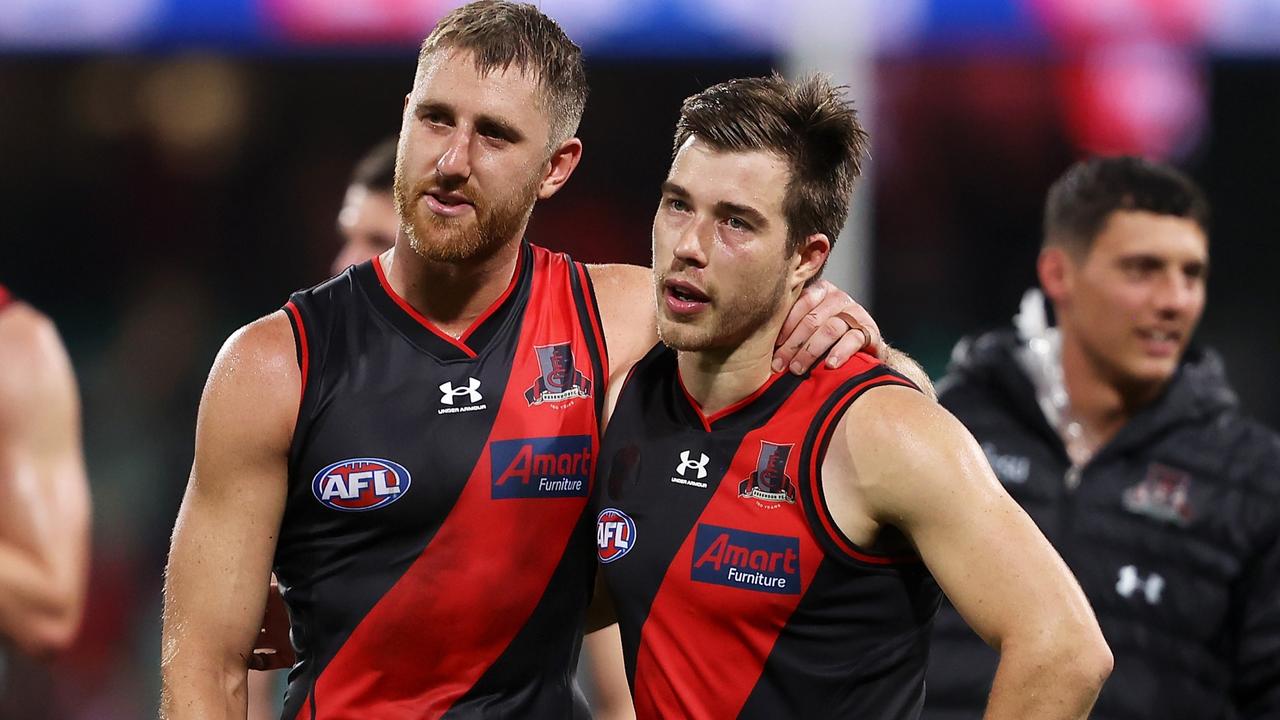 Dyson Heppell and Zach Merrett after Essendon's loss to Sydney this year.
I know it can seem like a big deal when an internal review becomes public, but I think it's just about working out where we can improve across the board and that's a good thing.
The first half of the season was clearly disappointing and there's no shying away from that, and our bye week was a good opportunity to hit the reset button.
We obviously want to win every game, but I feel like the wheel has begun to turn.
I'm sure our fans want to see consistent effort, which has to become a mainstay for our group and instilled into our young players moving forward.
Hopefully on the back of that we'll see our team playing with more freedom, while consistently showing up in the contest.
We want that to change and we want to give the fans some excitement.
I'd love to be able to pinpoint the reason why we're at 2-9, but I think we probably thought it would just flow on from last year and we tried to add on a few aspects that potentially weren't fully established at the expense of some fundamentals.
We've also had a lot of personnel change from last year.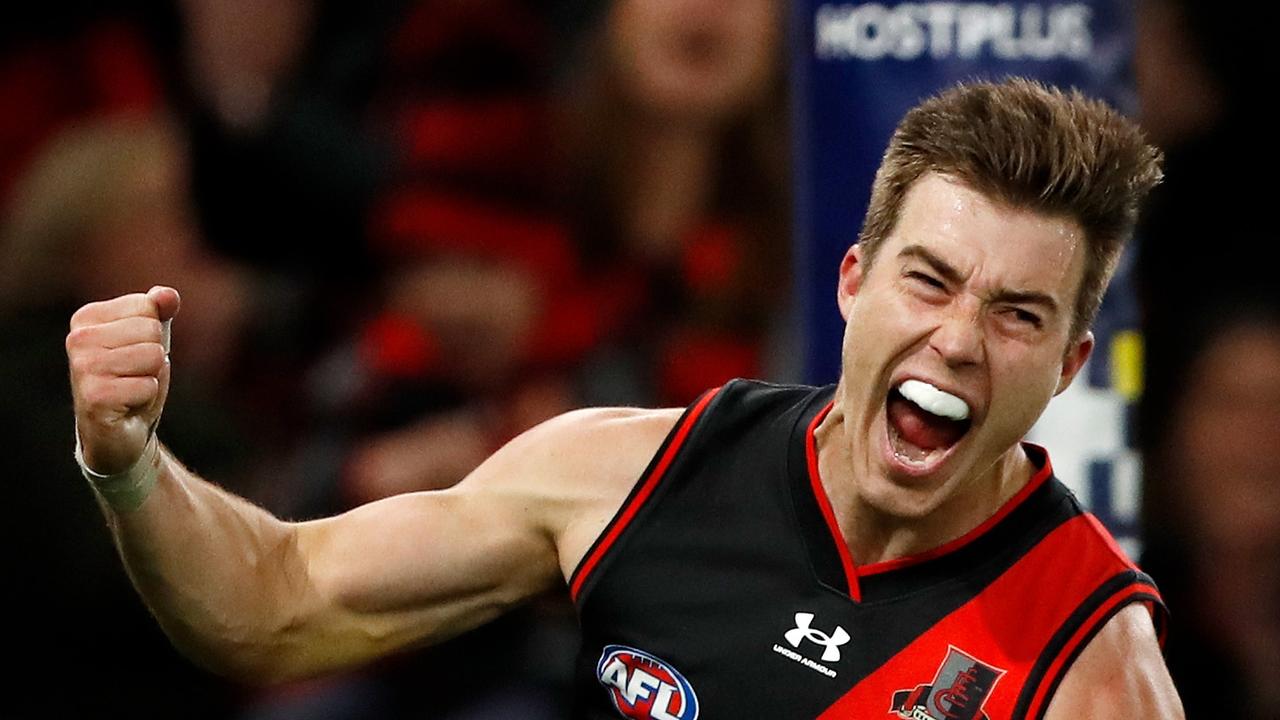 Zach Merrett says Essendon is hoping to play with greater freedom for the rest of the year.
In the Dreamtime at the 'G game we had 12 different players from last year in the team that night, so that's a big turnover.
The flip side of that has been the emergence of the likes of Ben Hobbs and Zach Reid in particular, along with some performances from Archie Perkins that have been very exciting to watch.
We're getting some really good games into our young group.
It hasn't been showing in our results to date, but I feel like we're putting a lot of work in during the week and I'm sure at some point we'll bear the fruits of that effort.
Early on this season we went away from our pressure, which was our core fundamental from last year, and it's something we're trying to get consistently back to as it was our hallmark in 2021.
We know that when you're 2-9 at a big club there are obviously going to be storylines written about you and a lot of media coverage.
I'm surprised we're in this position and obviously I'd much rather be 9-2, but we just need to drive home some fundamentals and try to establish some good habits across the board for all our players.
Not that we're using age and experience as an excuse, but we're also realistic with where we sit and there's a lot of belief about where we're going.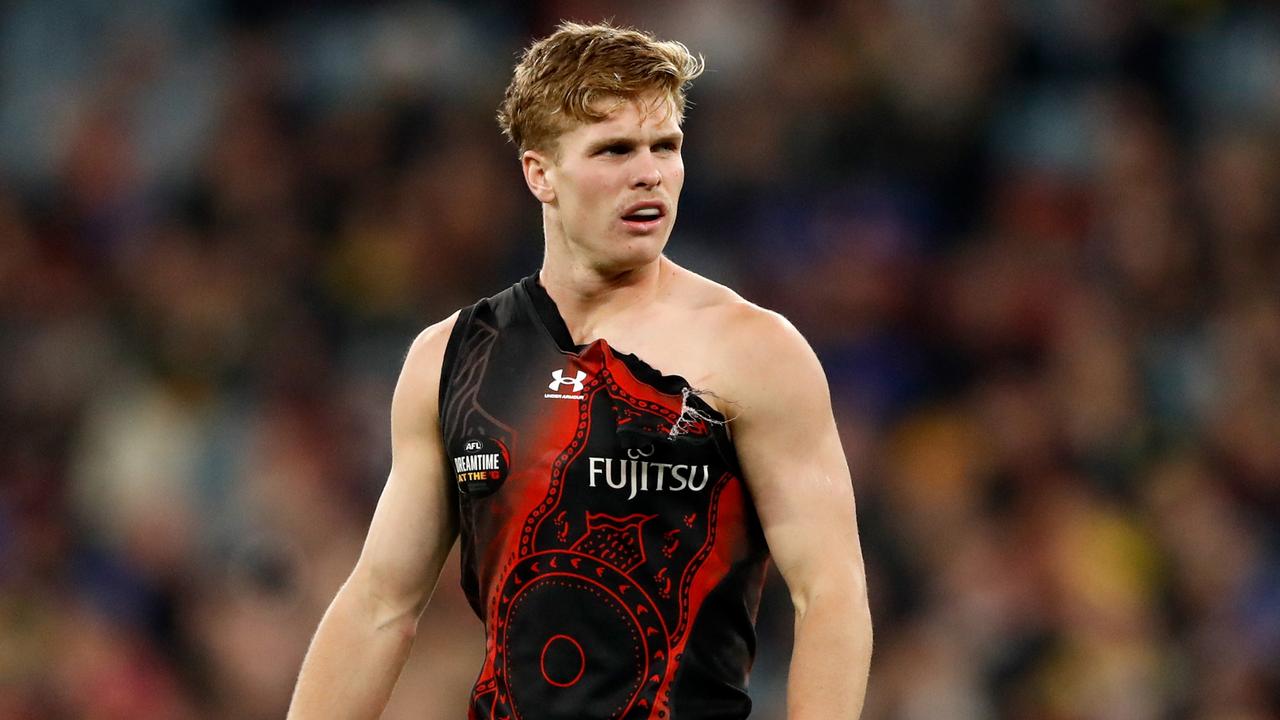 Essendon's top pick Ben Hobbs has gained valuable experience.
It is just how quickly we're going to get there, and the mentality is to just keep building day by day.
There are a few areas we've tried to hone in on the past few weeks around our contest and defensive areas.
We were the highest team for scores against the first seven or eight rounds and were conceding on average about 100 points, which clearly doesn't stack up.
The past month we've kept teams under 80 and then under 70, so that's a big tick and a step in the right direction.
It's still not a win and four premiership points, which is what we want, but hopefully it's a reflection of where we're trying to get to and the work we're doing midweek.
There's still a way to go, but it's a good start.
This week means a lot to us and to be able to play in Essendon's 150-year celebration is a big deal, but it's probably even more meaningful for all the people that have come and gone before us.
We're very understanding of the significance, and obviously Carlton plays a big part in that being such a big club as well, so it'll be a really special night for both clubs.
Originally published as Essendon news: Zach Merrett exclusive column on Bombers review, season 2022