'Inevitably someone will probably lose their job': Inside AFL football department reviews
With Essendon conducting another football department review, DANIEL CHERNY takes a closer look at the machinations of such probes and how underlying politics can make things worse before they get better.
With Essendon announcing an internal review, we look at what clubs usually get out of them.
There are few more loaded or charged phrases in the AFL lexicon than the words "football department review."
Its mere mention is enough to send shivers down the spine of coaches, recruiters and high performance staff.
Reviews tend to come at times of perceived underachievements. While it is true there is always an element of reviewing performance within football clubs, boards and executives don't tend to make a big song and dance about run of the mill, annual reviews.
There are the smaller reviews that happen almost as a matter of course. Then there are the grand daddies of the genre, like the famous tide-turners which precipitated dynasties at Geelong and Richmond a decade apart. In more recent times, Adelaide (2019) and Carlton (2021) both had much-publicised reviews in which external groups – Fremantle great Matthew Pavlich was incidentally part of both probes – interviewed widely across those clubs' respective football departments. Big dominoes fell at both clubs, most notably Crows football boss Brett Burton and Blues senior coach David Teague.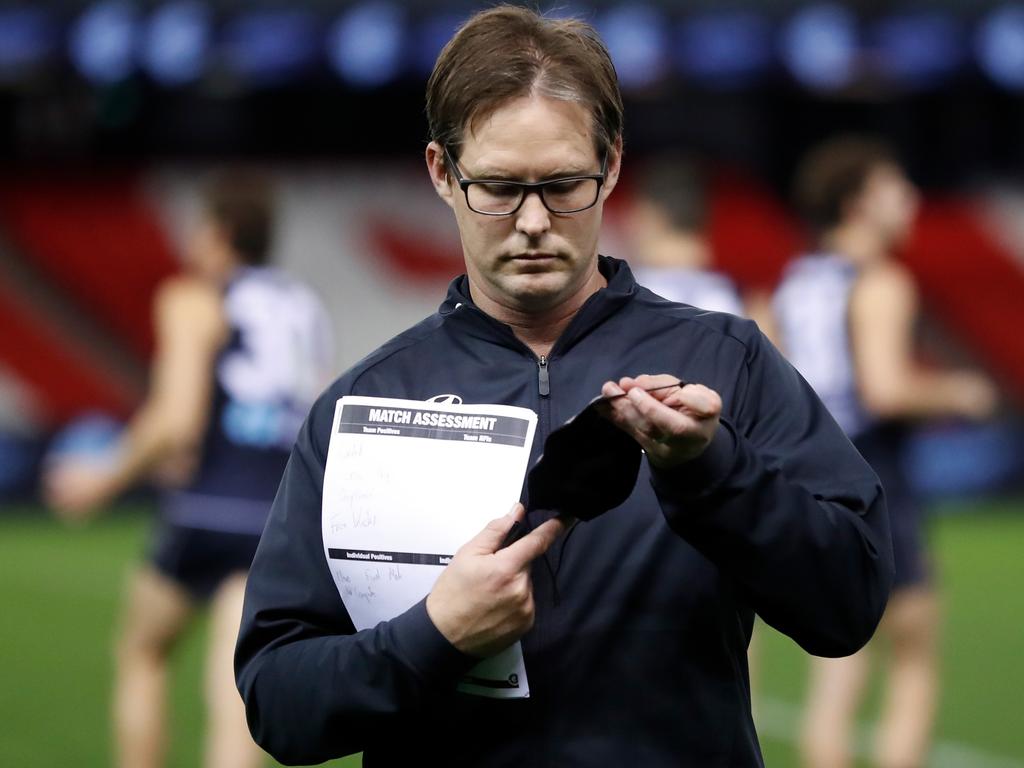 David Teague did not survive Carlton's review. Picture: Michael Willson/AFL Photos via Getty Images
Reviews have been in the news again over recent weeks after Essendon president Paul Brasher initially rejected calls for an externally-driven review, before subsequently announcing an internally-run review of the football department, led by chief executive Xavier Campbell in association with directors Sean Wellman, Kevin Sheedy and Simon Madden.
In a move criticised in some quarters, including by club great Matthew Lloyd, Brasher pre-empted elements of the review, suggesting that senior coach Ben Rutten was safe and that any change was likely to be incremental and done through addition rather than subtraction, an interesting assertion against a backdrop of a football department soft cap.
It also came less than two years after Brasher led another review after a turbulent 2020 campaign. Football department chief Dan Richardson was a casualty on that occasion. The Dons are intimating the review this time around will be more akin to St Kilda's this time 12 months ago. Saints high-performance chief Matt Hornsby departed the club at the end of 2021 after a year in which St Kilda struggled with player availability. Perhaps that is an ominous sign for Essendon counterpart Sean Murphy.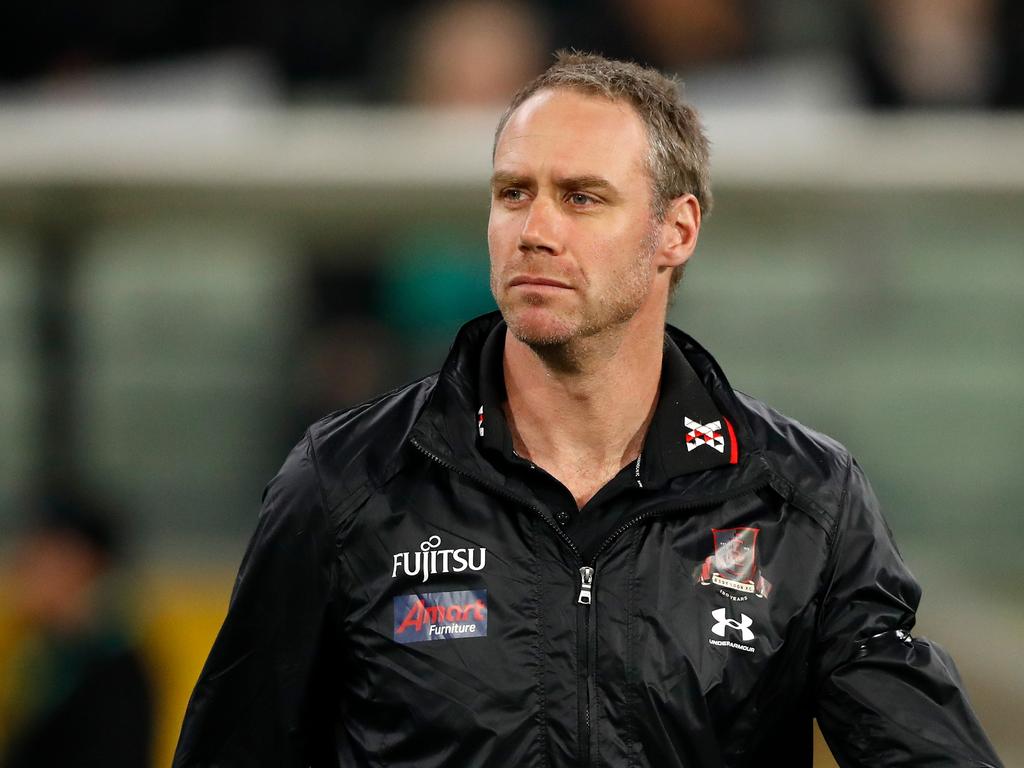 Coach Ben Rutten appears to be safe after comments made by Brasher. Picture: Dylan Burns/AFL Photos via Getty Images
Clearly, reviews have the potential to destabilise. When clubs make announcements about reviews they are generally signposting the need for some sort of change.
Tim Gabbett is a high performance consultant with a background in sports science, having worked at the Brisbane Broncos between 2007 and 2010. In 2019 he was part of the group that reviewed the Crows' football department on the back of a second-straight season out of the finals following a grand final in 2017. In between times of course, was the controversial Collective Mind camp, whose baggage haunted the club for years afterwards.
Gabbett says that there are several key areas which must be nailed when implementing a review.
"From the club's point of view, you need some pretty clear terms of reference," Gabbett says.
"Because what can happen is you can pick at a scab and it can open right up. Teams and clubs need to be pretty clear about what they want reviewed.
"I think the other thing clubs need to do is make sure they find the right people to evaluate the right areas.
"I think a trick is, you make sure you get people who understand the areas that they're evaluating so that someone doesn't end up evaluating things they don't understand."
Tim Gabbett has worked with both the Brisbane Broncos and the Adelaide Crows.
For the people actually running the review, Gabbett says there are often immediate signs of the nature of underlying issues at the club.
"If you've been around it long enough, you can see it, and smell it as soon as you walk into the place," he says.
"I think part of it is knowing that environment, knowing what to look for and just knowing what winning looks like, and what non-winning looks like."
The debate about internal vs external reviews rages on. In one corner, there are those who claim that if a board is not there to govern or review, then what else is its role? By contrast there is a perspective that those on the inside can be too close to the problem, or even the problem itself, and will act in self-preservation.
Gabbett sees merit in both approaches but suggests that if there are repeated issues, external reviews may be preferable.
"I think it depends on the organisation. If you have fallen a long way, then it probably does help to have an independent set of eyes. As long as they're there for the right reason. You don't want that independent set of eyes being someone who wants to move someone on so they can move into a high level job.
"That can happen sometimes. People can have perverse motivations for doing things.
"You've got to be thinking club-first.
"If you get to a point where it's a full-scale review, then probably there have been some things that have been missed, or some standards that have dropped over time that haven't been checked."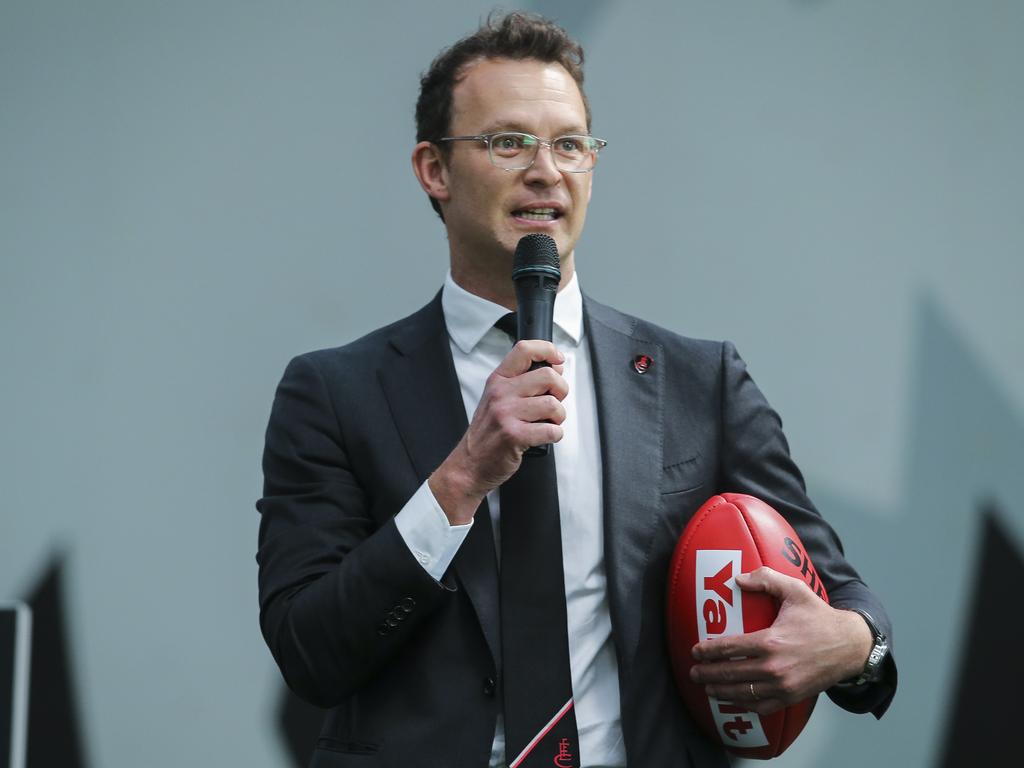 Essendon FC CEO Xavier Campbell is leading the review. Picture: Wayne Taylor/AFL Photos via Getty Images
Gabbett notes that those running the review are unlikely to be popular, but that it comes with the territory.
"It's never a nice feeling when you identify a problem, or you've confirmed a problem that perhaps the executives have suspected. Because you know that inevitably someone will probably lose their job on the back of it. You've got to think about what is the best thing for the club," Gabbett says.
"It's understandable if people feel a little defensive around it. All you can do is emphasise to the people in front of you that you're there for the right reasons. That's not necessarily a problem if they are defensive, that just shows that they do care. It's just the way that they are displaying that emotion is not particularly friendly.
"It can be turned around quickly. I'd actually like more clubs to do reviews when they're winning because winning can hide a few things as well. It's actually a healthy practice."
Speaking this week at a Sherrin promotional event, Crows captain Rory Sloane echoed the sentiments around normalising the idea of a review.
"It's probably pretty normal for me," Sloane says.
"That sort of chat I have around the end of most years, around what can we do better as a footy club and where can we look to get better. So for me it was a very normal discussion. "