AFL Round 11: Sam De Koning deserves to win Rising Star award, says Cam Mooney
Nick Daicos and Jai Newcombe have stolen the spotlight but a triple premiership star believes a fresh-faced Cat paying $16 is ahead in the Rising Star race.
Triple premiership star Cam Mooney says brilliant young Geelong defender Sam De Koning deserves to win the Rising Star award despite still lacking an official nomination.
De Koning is sure to be nominated on Monday after another stellar display against Adelaide, with the 21-year-old having played all games this year after only one career game last season.
His claims have been championed by key position players Garry Lyon and Jon Brown, with Fox Footy special comments expert Mooney adamant he should be in front for the prestigious award.
Jai Newcombe and Nick Daicos are equal favourites at $2.50 with TAB behind Nic Martin ($5), Jason Horne-Francis ($6) and De Koning ($16).
Watch every blockbuster AFL match this weekend Live & Ad-Break Free In-Play on Kayo. New to Kayo? Try 14-Days Free Now >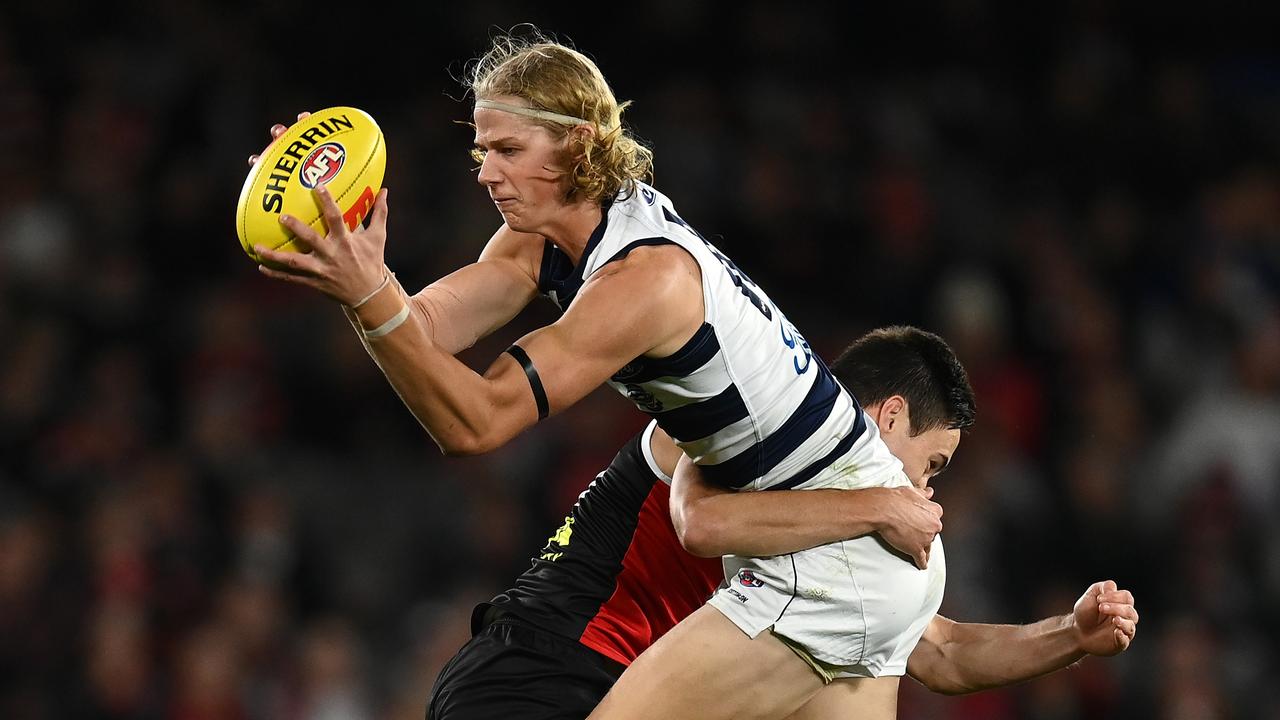 Sam De Koning deserves the Rising Star award, according to Cam Mooney. Picture: Quinn Rooney/Getty Images
Mooney won two of his three premierships and played 210 games at Geelong and said watching him live on Saturday made clear his precocious talent.
"He is holding down the key position back role against the number one forward, he's one of the best one-on-one players in the comp at the minute and his intercepts are through the roof," he told the Herald Sun.
"And he is only 21. I think personally it's between him and Daicos and to hold down a key-position defensive role makes him No.1 if he continues to have a good year.
"If he tires and starts getting slaughtered it could be a different story but I would be shocked if people didn't realise how hard it is for a young kid to be the No.1 key back and what it allows Geelong to do is play (Mark) Blicavs in the ruck, he's been absolutely enormous."
"He is the No.1 defender, he's playing on the number one forward so there might be days when he gets touched up but he hasn't yet."
Coach Chris Scott said on Sunday locking in De Koning as a key back for the next 12-14 seasons gave the club a huge advantage because it could then draft the best available talent rather than searching for key backs.
Scott can sense the opportunity in the second half of the season, with Geelong taking on the Western Bulldogs on Friday night before a flood of quality players return post-bye.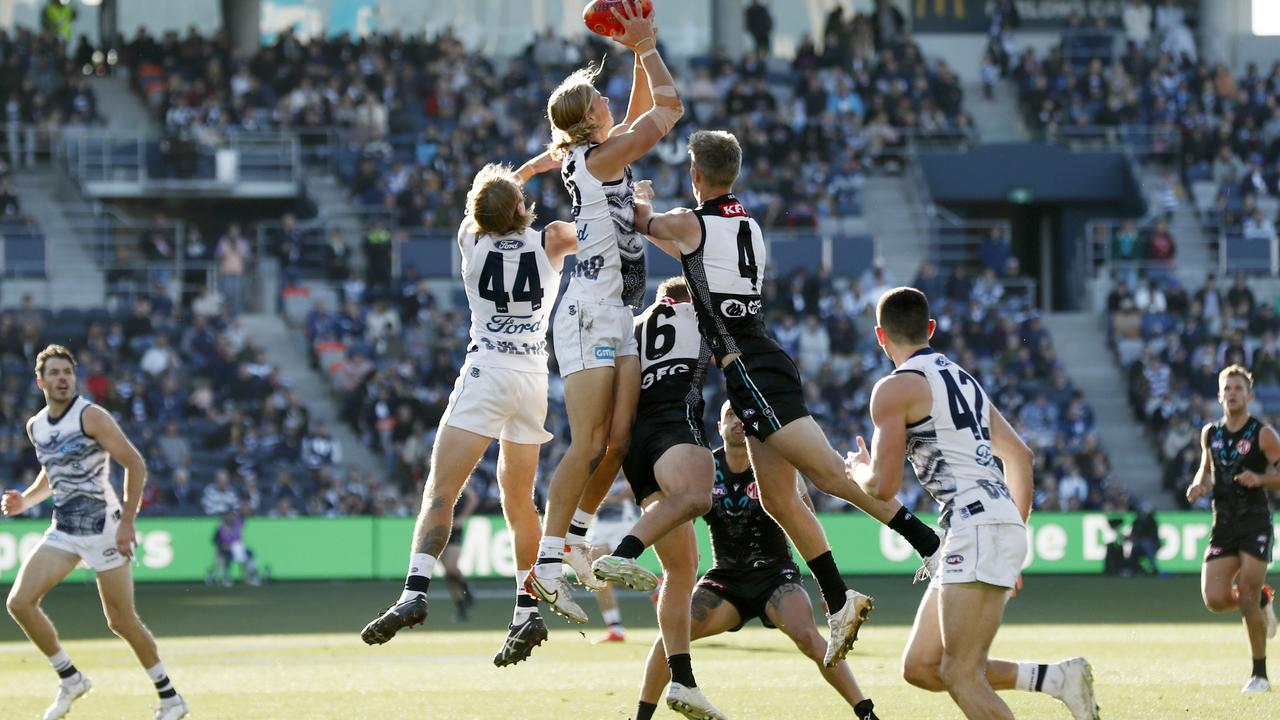 De Koning flies high to take another strong grab in defence. Picture: Darrian Traynor/Getty Images
Patrick Dangerfield (calf), Sam Menegola (knee), Jack Henry (foot) and Rhys Stanley (ankle) could all be available, with Esava Ratugolea (ankle) and Jon Ceglar (foot) both a month away.
Mooney said the 7-4 Cats had so many options given the strong defensive core and De Koning's new-found ability.
"The beauty of Tommy Stewart is he is there defending him, one of the best wingmen in the game and telling him when to come off and when to stay. His closing speed is enormous for a guy over 200cm, he has that brilliant reach. He is going to be one of the best key defenders in the game for the next few years if he keeps going the way he is going.
"If Paddy (Dangerfield) takes his next month to get himself really fit that is a massive bonus for Geelong if they keep winning. Menegola comes back in after the bye and Jack Henry as well.
"If they can get through next week against the Dogs and go into the bye 8-4, after the bye they are going to be looking really strong."
Star Cat hailed 'best defender in game' after Crow show
— Mark Hayes
Twice Adelaide challenged, twice Geelong retaliated more efficiently.
That's the simple summation of a 42-point Cats victory at GMHBA Stadium on a day when the Crows were gallant, but ultimately insufficiently polished.
Impressive snapped goals by Tyson Stengle and Zach Tuohy were surpassed by a couple of pieces of magic from Jeremy Cameron, who was the standout forward on the ground, especially when it mattered.
But, as has so often been the case in 2022, the standout best afield was at the other end of the ground with Tom Stewart easily the most influential player.
The halfback, remarkably left to his own devices across halfback almost throughout the match, had an equal career-high 40 disposals, with a career-high 16 marks and no fewer than 17 of his touches the result of interceptions.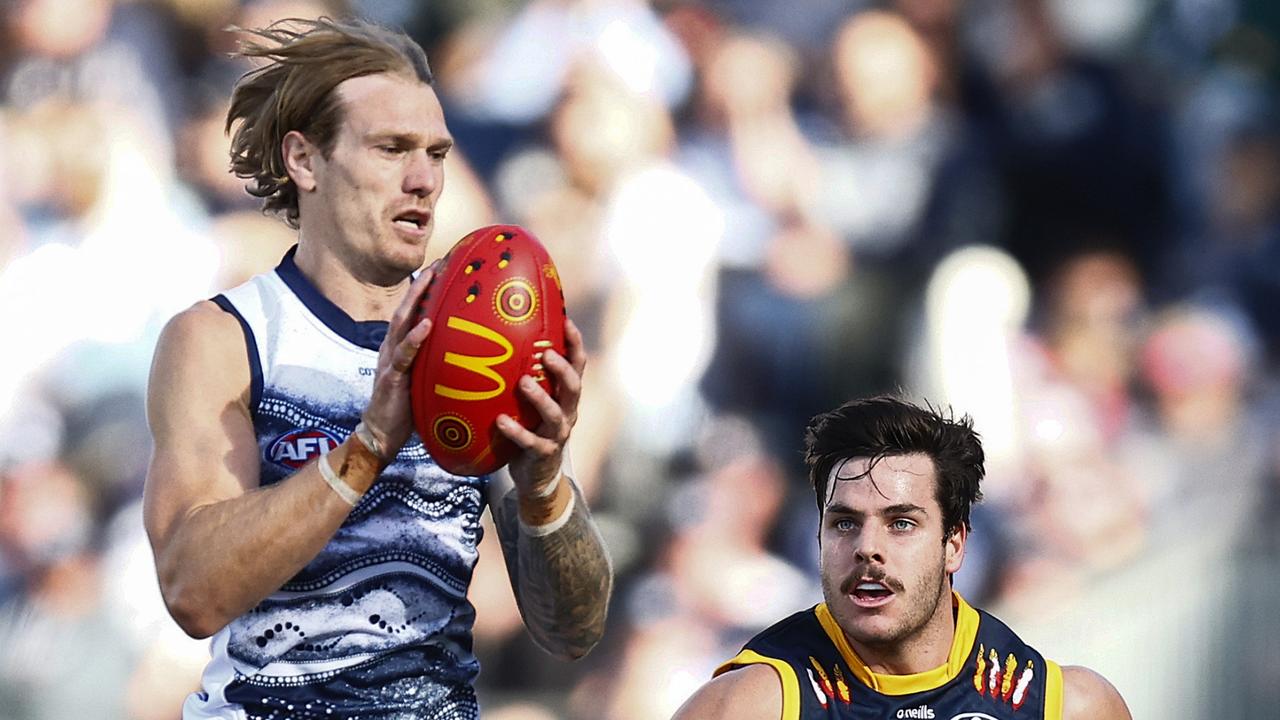 Tom Stewart was dominant for the Cats.
But it wasn't just a matter of roaming free; just ask Wayne Milera and Ned McHenry, both victims of fierce Stewart clashes right in front of the Cats members, who were generous in their praise of their defensive maestro and rose to applaud as he interchanged moments after splitting McHenry.
Because his toes rarely touch the hallowed Brownlow-rich turf of the midfield, Stewart will never win the AFL's best-and-fairest medal.
Extraordinarily for someone who has averaged 27.5 disposals in his 10 games this season, there were 42 players with shorter Brownlow odds with the TAB before the weekend.
Even surrounded by household names in the blue and white hoops, he's become the onfield general as much for his clear thinking and incisive actions, which must surely have him - at very least - in the conversation for the most important players for their club.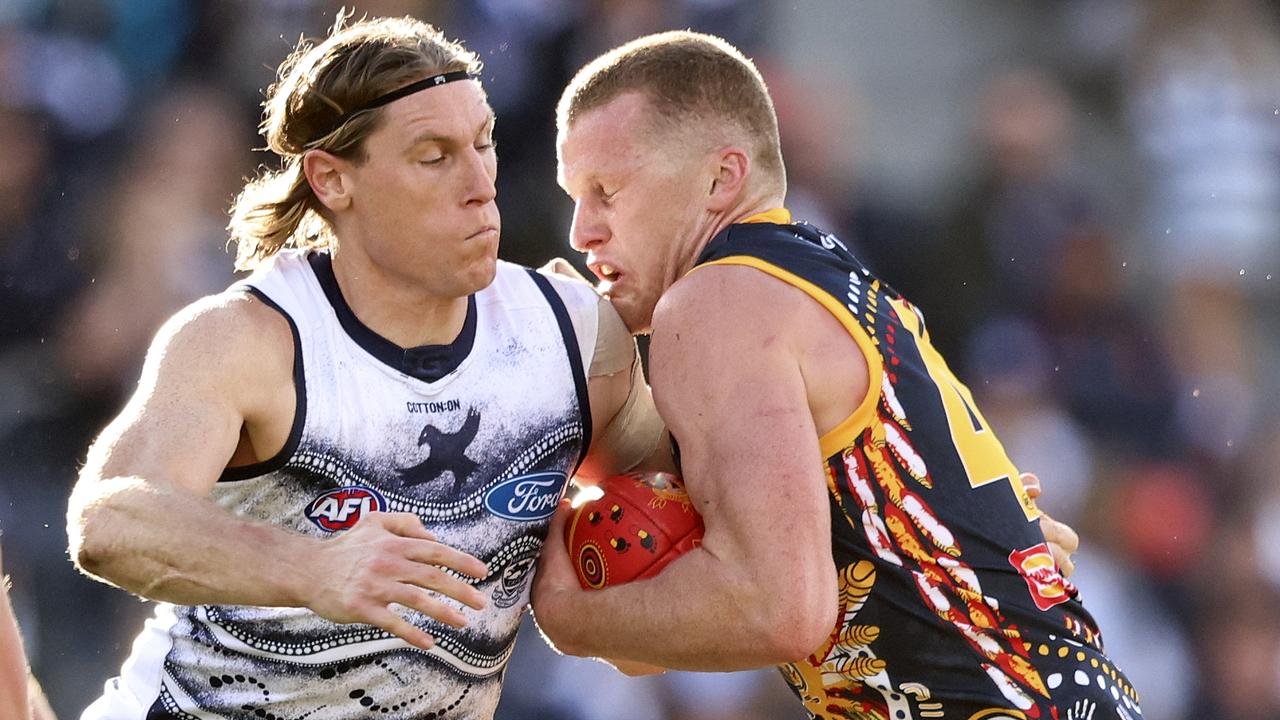 Mark Blicavs crunches Crows ruckman Reilly O'Brien.
Adelaide received typical effort from Rory Laird, Matt Crouch and Ben Keays.
But kicking into Geelong's half-back trap was never the answer and when the Crows did manage to pierce the first layer, their inaccuracy with the next kick was costly.
The Crows almost blanked the Cats from the opening, dominating territory in the first 15 minutes, yet did not score until the maligned Darcy Fogarty snapped truly 12 minutes into the second quarter, his first major in five games since Round 1.
The Crows kicked four goals on the trot on either side of half-time and closed to within eight points having trailed by as much as 34 points just before the main break.
But it only sparked the Cats into action and from that point the dominance was damning for the visitors, finally capped off by Cameron.
Geelong's intensity continued almost to the final siren with an impressive 101 tackles, with Tom Atkins' 17 an extraordinary effort.
It's the first time Geelong has had back-to-back wins since Round 4 and has them edging into a safer zone in the tightly contested top eight.
THE LATE CROW
With leading goalkickers Taylor Walker and Josh Rachele both out, the Crows needed a few things to go right early up forward to lay the foundations of a potentially winning score.
This was given every chance as a theory when Adelaide enjoyed a solid 10-minute block of non-stop action at their end of the ground after the opening two minutes.
But in that time, a goal was called back for marking interference, an apparent mark at the top of the goalsquare was ruled touched, two set-shots were missed and another couple of more ambitious attempts went astray.
Naturally, as top teams tend to do, the Cats goaled from one of their first F50 entries subsequent to that stretch and the moment – if not the match – was lost.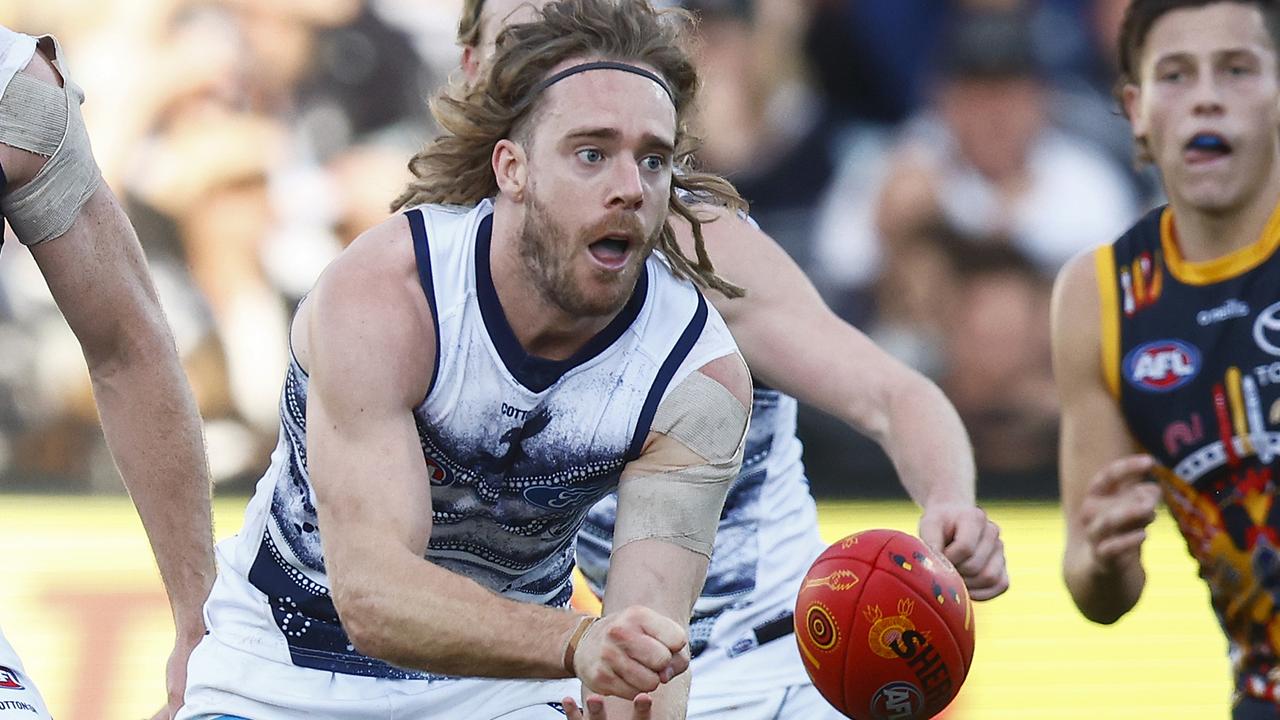 Cam Guthrie dishes out a disposal.
RISING UP, SURELY
There'll be howls of disbelief from G-town this week if Sam De Koning isn't made a nominee for the NAB Rising Star award.
De Koning, younger brother of emerging Carlton big man Tom, has also been living in the statistical shadows of his defensive partners Zach Tuohy and the scintillating Tom Stewart.
But even with his long frame still developing, the 21-year-old is holding down a key defensive post with aplomb after just 11 games – including today against Adelaide.
Before facing the Crows, he'd lost just 14 per cent of one-on-one contests this year, including being the No. 1 ranked player in the AFL in that key during the past six weeks.
With little fanfare, he's played no less than 94 per cent game time each week since Round 5 and you can already hear the adulation building in the Geelong grandstands as he impacts contests.
He has future fan favourite written all over him, not unlike another tall blond No. 16 who used to play at the Cattery.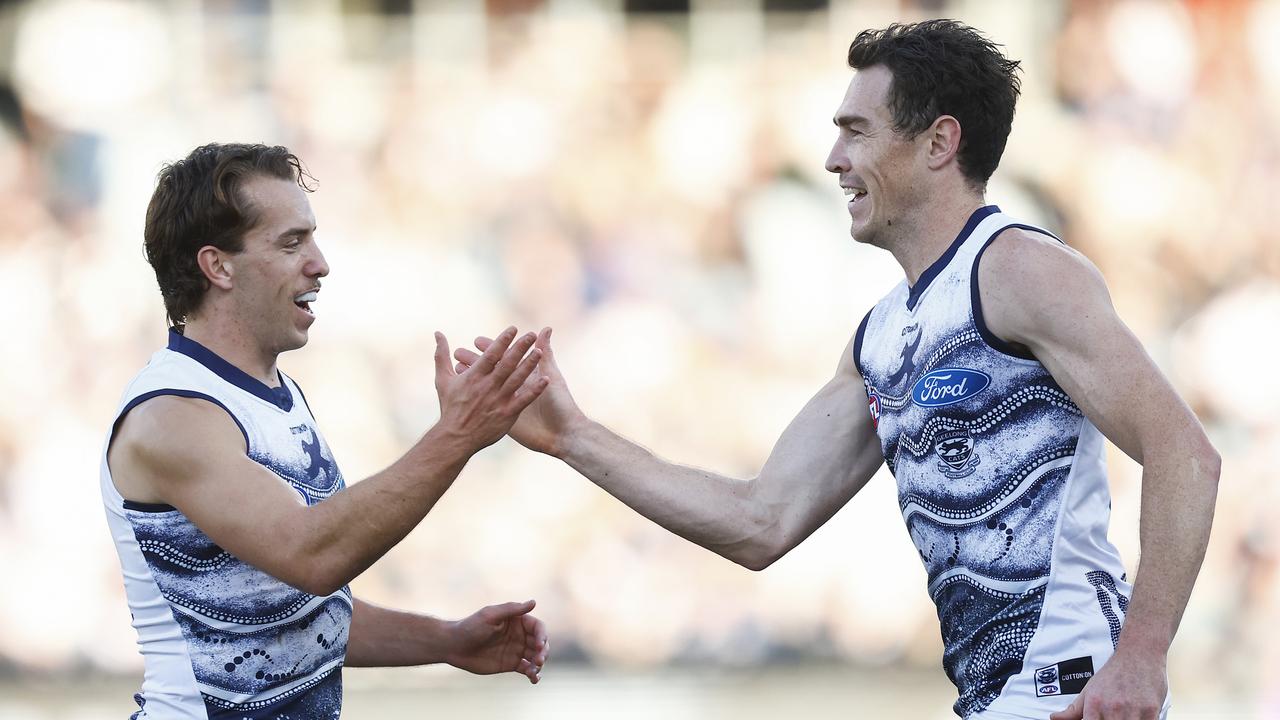 Jeremy Cameron and Francis Evans celebrate a goal.
NO IFS, ANDS OR …
Emerging Crows backman Jordon Butts had his day end prematurely after copping one of the least accurate terms in football, "friendly fire".
Nick Murray seemed to soar over a pack midway through the third term, unable to mark having been sufficiently high to take all the attention.
But when the pack cleared for a bounce, it was his teammate Butts who became the focus, lying motionless until the play moved away.
The towering 22-year-old left the ground under his own steam a couple of minutes later, but his day was ruled complete when he failed a concussion test in the rooms and he was subbed out at the final change.
GEELONG
2.4 (16) 8.5 (53) 11.5 (71) 15.7 (97)
ADELAIDE
0.6 (6) 3.7 (25) 6.11 (47) 7.13 (55)
MARK HAYES' VOTES
3: Stewart (GEE)
2: C.Guthrie (GEE)
1: Cameron (GEE)
BEST:
Geelong: Stewart, C.Guthrie, Cameron, Blicavs, De Koning, Atkins.
Adelaide: Keays, Hately, Laird, Crouch, O'Brien.
GOALS:
Geelong: Cameron (4), Stengle (3), Miers (3), Hawkins (2), Selwood, Tuohy, Close.
Adelaide: Fogarty (3), McAdam, Soligo, Keays, McHenry.
INJURIES:
Geelong: nil
Adelaide: Murphy (nose), Butts (concussion)
CROWD: 19,051 at GMHBA Stadium, Geelong.
STEW-SATIONAL CAT LAUDED AS AFL'S BEST BACKMAN
Geelong coach Chris Scott lauded the "sensational" Tom Stewart as the game's best defender and primary reason for his team's 42-point victory over a plucky Adelaide at GMHBA Stadium.
Stewart was everywhere, racking up an equal career-high 40 possessions, leaving Scott in awe and his counterpart Matthew Nicks without an answer.
And with Adelaide dominating clearances in particular Scott said he was relieved to have Stewart to stem the tide at half-back and ultimately gain 874m in a clear best-afield performance.
"Tom was just sensational today. If we didn't have him behind the ball and they were winning the stoppages (like that), then it would have been really difficult for us," Scott said.
"I'm biased, but I think he's the best defender in the game. I well and truly live in a filter bubble, I understand that, but (by any measure) he's improving and probably the best description, is he's coming off a very, very high base.
"So he's important for us. He was crucial for us last year to lose him going to the finals – it was a was a big loss and I think we're seeing exactly what a loss that was right at the moment."
Scott also praised 10-gamer Sam De Koning, who continues to blossom as a key defender with Mark Blicavs pushed into a regular rucking role in the absence of several Geelong big men.
"I'm trying to keep the lid on it a little bit," Scott said trying to hide a sly grin about the man who was ranked No.1 in the AFL in the past month in one-on-one contests.
"(He recently) played a game where I thought supporters down here were for the first time going, we love this guy now, already.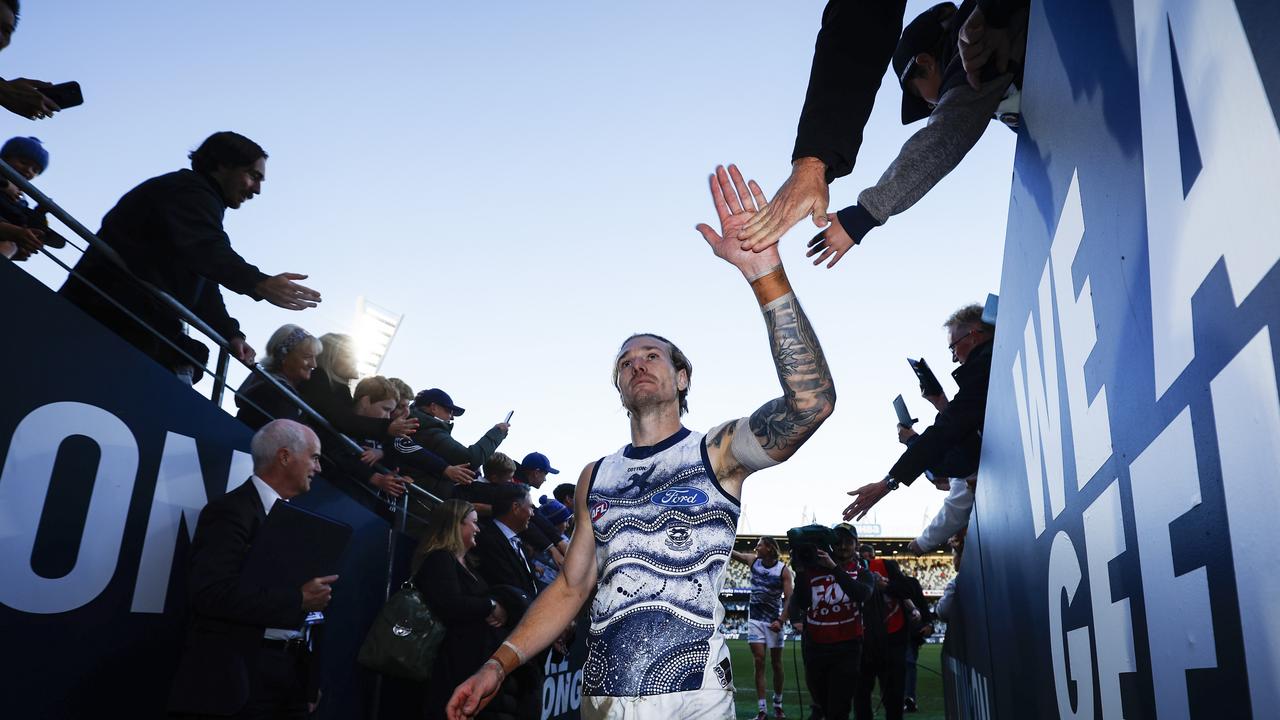 No wonder the Cats fans applauded Tom Stewart.
"But we're gonna love him a whole lot for the next 10 years.
"The trajectory for `DK' I think will be lumpy, as it is for most young, key defenders.
"But there are some star young key forwards in the comp at the moment and I suspect that (as we saw) a couple of weeks ago when I thought he had a great contest against Max King ... and I likened it to Glenn Jakovich and Wayne Carey.
"That might be a little bit of an exaggeration because they're two of the greats.
"But I think Sam has the potential to be one of those guys that people go to the footy to see, which is a little rare in the back half."
Nicks said his team was "shattered" it had been unable to topple Geelong after slashing a 34-point deficit to eight points midway through the third team.
But the Crows boss didn't bemoan his charges' effort, instead the woeful inaccuracy in front of goal that has plagued their past month of footy.
Hauls of 9.12, 9.15 and now 7.13 have cost them any chance of victory against Brisbane, St Kilda and now Geelong, respectively – and Nicks admits it's extremely frustrating.
"We were right in it up to that point (in the third term), probably had our opportunities, especially early, where we didn't put scoreboard pressure on and that cost us," he said.
"Unfortunately that's a couple weeks in a row now that we've let ourselves down.
"From a scoring shots point of view, we gave ourselves a chance but we weren't polished enough today.
"They're opportunities that we all believe, if we knock through, you get yourself in a really good position to contest.
"But they (Geelong) are so potent (that) when they go forward … they'll punish you whereas we weren't able to do that."
"You sit with the group at the end and they're shattered because they know they can pinch these games and win these games, but we're not getting it done at the moment.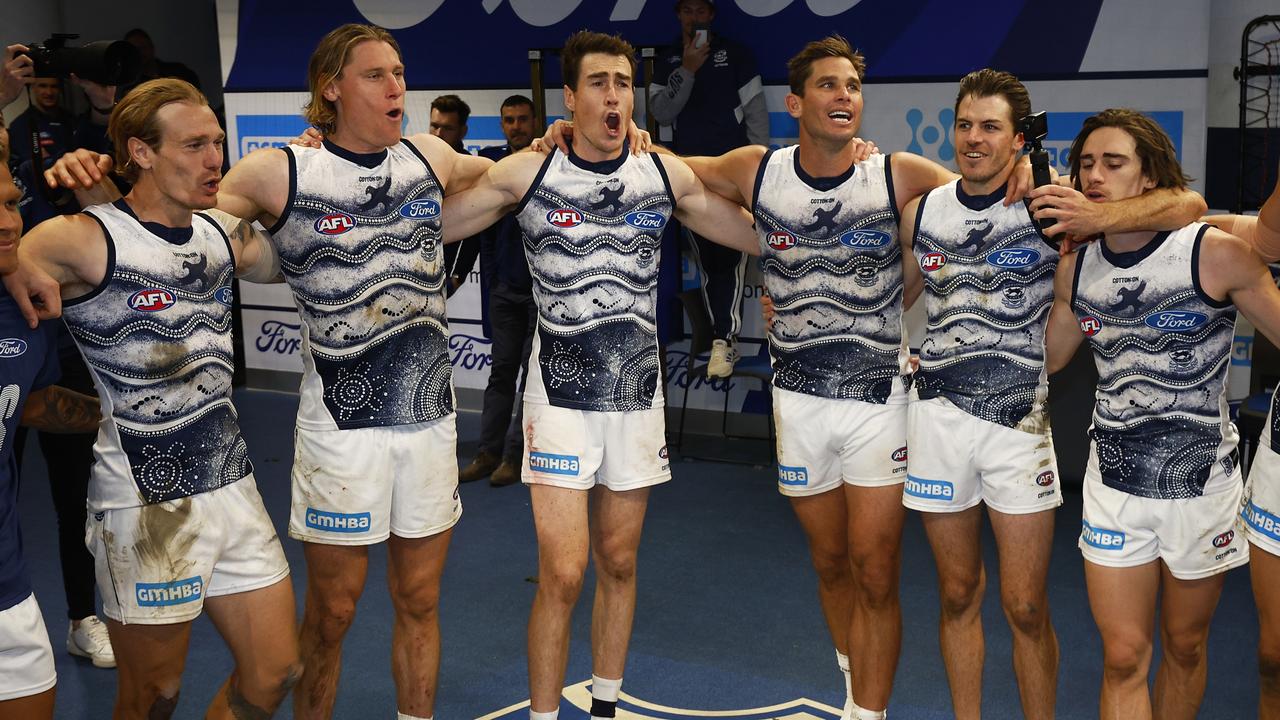 om Stewart, Mark Blicavs, Jeremy Cameron, Tom Hawkins, Isaac Smith and Gryan Miers of the Cats sing the team song.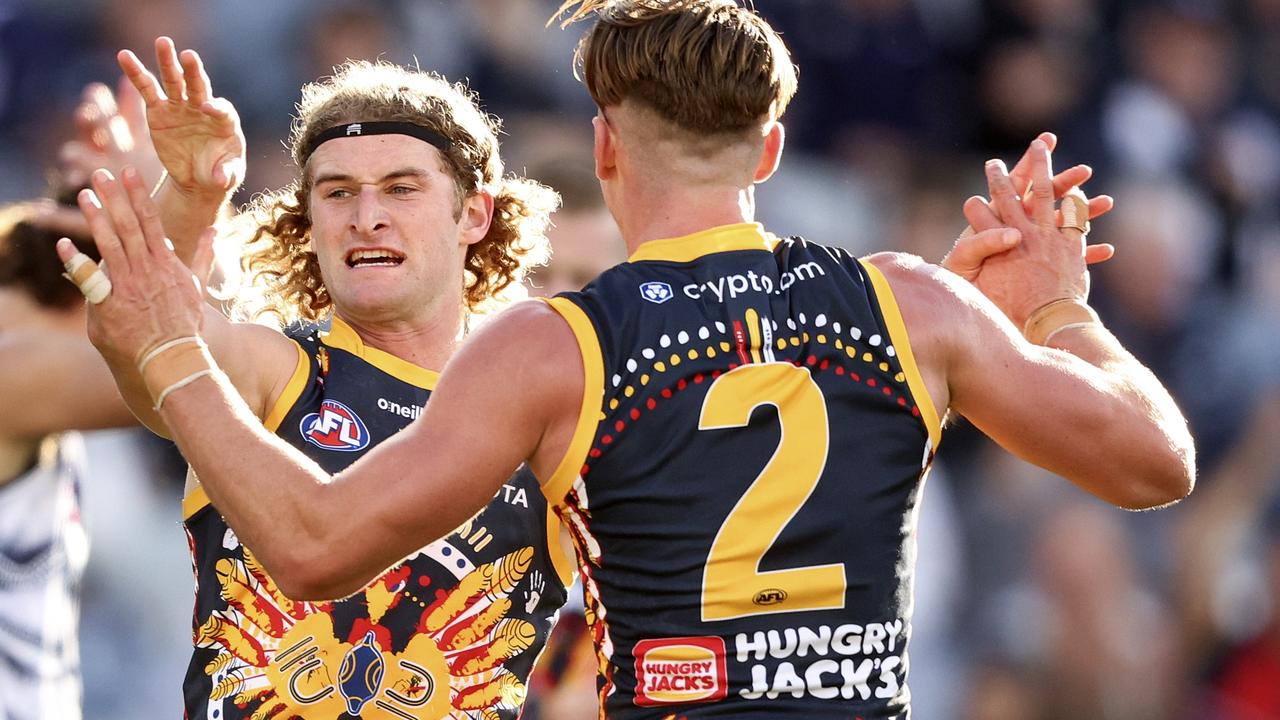 Sam Berry and Ben Keays celebrate a goal.
SCOTT'S NEW GEELONG DEAL REVEALED
Jon Ralph
Geelong has finally formalised a two-year contract extension with Chris Scott at a time when rival clubs have started scouting the market for elite experienced premiership coaches.
Scott had a handshake agreement with the club that he would coach on until 2024 after a summer of talks but his actual signature remained elusive.
The 2011 premiership coach would have preferred the club not announce the deal and they chose the most low-key manner on Friday in celebrating him passing the legendary Reg Hickey for most wins as Cats coach.
The club's statement with congratulations from CEO Steve Hocking included the statement: "Signing to Geelong for the 2023-24 seasons, Scott will become the clubs longest serving coach".
Watch every blockbuster AFL match this weekend Live & Ad-Break Free In-Play on Kayo. New to Kayo? Try 14-Days Free Now >
Scott's tenure will hit 14 seasons and while the Cats' team is still full of veterans the influx of young kids means for the first time this does not seem a make-or-break season.
The form of Sam De Koning, Francis Evans, Brandan Parfitt, Tyson Stengle, Gryan Miers and Cooper Stephens has the Cats transitioning to the future.
Hocking said the club's winning percentage of 69 per cent over Scott's time _ including 185 wins _ spoke for itself.
"At Geelong we are a team of all that celebrates our wins together – and we are excited to celebrate this significant achievement with Chris. I don't think there's much doubt that Chris is one of the best coaches in our game, and we're really pleased to have him here in Geelong," he said.
"We've seen an almost complete turnover in our list over the last decade, without access to the top of the draft and we've remained competitive year in, year out".
"Chris has been a significant part of that, continuing to unlock excellence, and his record speaks for itself."
Veterans Joel Selwood and Tom Hawkins are expected to play on next year with their management and the club happy to wait until later in the year to formalise new deals.
With Jeremy Cameron still having three more seasons on his five-year deal the Cats will be expected to contend again in the coming seasons while still blooding more kids.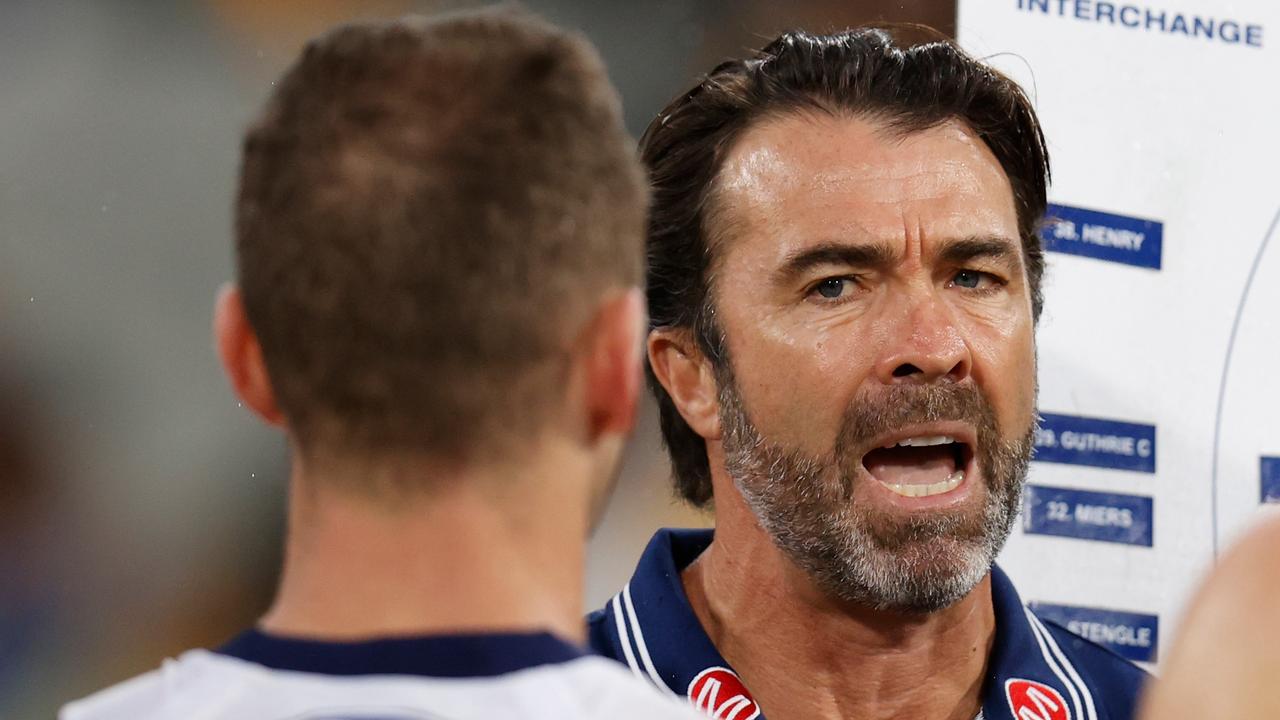 Chris Scott has extended his stay at Geelong for another two years.
CROWS IN NO RUSH ON SEEDSMAN RECOVERY
Simeon Thomas-Wilson
Adelaide senior coach Matthew Nicks says he hopes wingman Paul Seedsman can play footy next year after his serious battle with concussion but says the Crows just "want to make sure he has a healthy life".
The 30-year-old was concussed prior to Christmas after copping a knee to the head in a marking contest during training at West Lakes.
On Thursday he along with Rory Sloane – who is recovering from a ruptured ACL – was added to the Crows inactive list.
Following this Seedsman told the Crows website that he hadn't given up on playing footy again despite his six-month battle with concussion symptoms – but he was focused on getting his "life back on track".
He revealed he retreated from socialising and suffered constant headaches and nausea following his concussion.
Nicks said it would be far too much an ask for Seedsman to play again this year.
"Seedo is a fantastic member of our footy club and a fantastic person and the last thing we are going to do is put him at risk," he said.
"So at this stage with him not being able to train consistently and not being able to get back into the gym it is almost looking at the road back.
"He needs almost a pre-season … he is progressing well, and I am mindful of my language, he has his moments but he is progressing well.
"He is in a good headspace at the moment but it will take time just from a physical perspective of where he needs to be and then from a mental perspective.
"It is unfortunate but we aren't going to push it."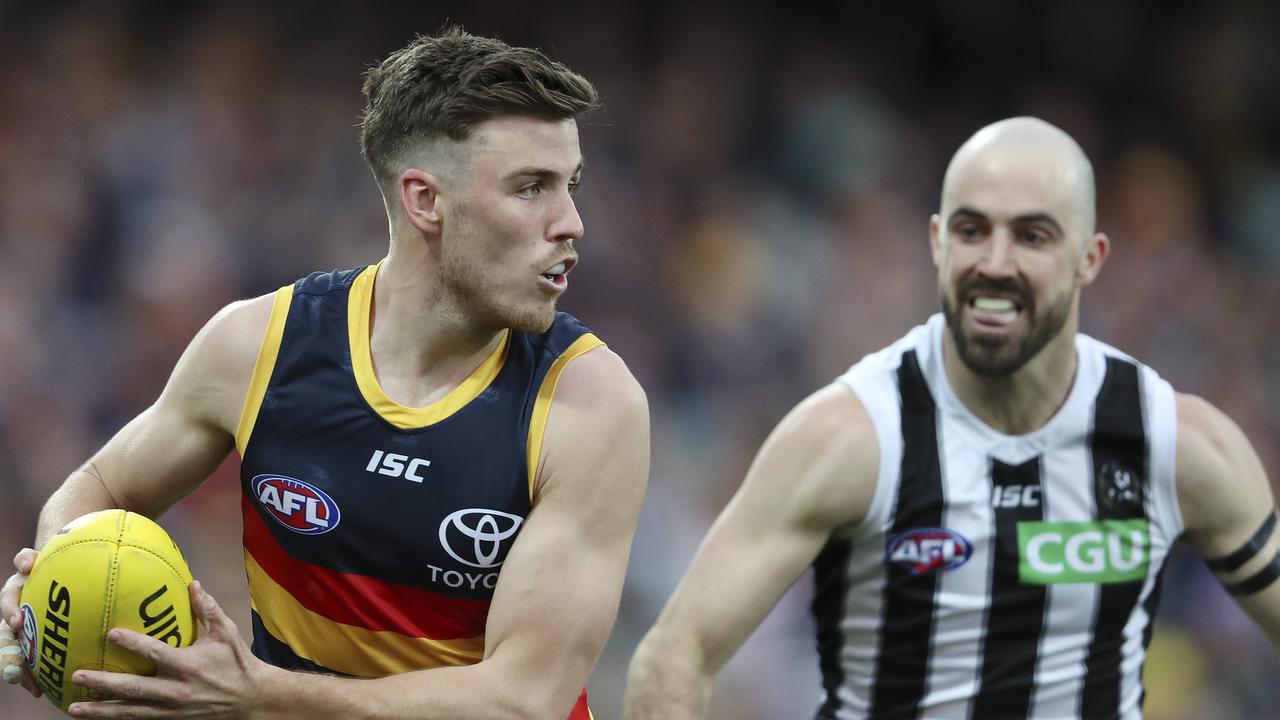 Adelaide is hopeful Paul Seedsman will play again next year.
Seedsman is contracted until the end of 2023.
Nicks said as much as they would love to have Seedsman back on the field in 2023, ultimately they would have to make the right decision for his health.
"We will do everything we can to try and get him right for next season, because he is so important to our group," he said.
"They are all the conversations, similar to what we have with any players who have a long term injury.
"Paul Seedsman is a human being and we want to make sure he has a healthy life.
"I'm optimistic, I'm not an expert in the area so I'm not confident at all, but speaking to him it is what he wants to do, he wants to come back and play footy."
Seedsman has returned to Adelaide after a second-stint in Melbourne visiting specialists about the symptoms he is still experiencing.
Nicks said the Crows were working on how to keep Seedsman involved with the group for the second half of the season.
STAR CROW BREAKS SILENCE ON CONCUSSION HELL
Adelaide wingman Paul Seedsman has revealed he retreated from socialising and suffered constant headaches and nausea following a concussion late last year.
Seedsman says he hasn't given up on playing footy again despite his six-month battle with concussion symptoms, but he was focused on getting his "life back on track".
Seedsman was concussed prior to Christmas after copping a knee to the head in a marking contest during training at West Lakes.
He hasn't been able to train fully since and had to wear sunglasses while running outside because of light sensitivity.
Watch every blockbuster AFL match this weekend Live & Ad-Break Free In-Play on Kayo. New to Kayo? Try 14-Days Free Now >
Paul Seedsman runs laps at training in sunglasses in February. Picture Emma Brasier
He has twice visited specialists in Melbourne and on Thursday the decision was made to put him on the inactive list for the rest of the season.
Seedsman, 30, is contracted until the end of 2023.
"I haven't given up, the long-term picture is I want to return to football," he told the Crows website.
"I love playing football but first and foremost I want to get life back on track and to be doing the normal things of day to day living."
Seedsman said he had endured some dark days as he dealt with symptoms.
"It just played with my moods, not wanting to do anything or be around people," he said.
"But I think it was derived from the constant headaches and nausea, dizziness, all these different factors from the concussion that the place I'd almost seek comfort was laying down."
Seedsman said despite having to go on the inactive list he was feeling a lot better.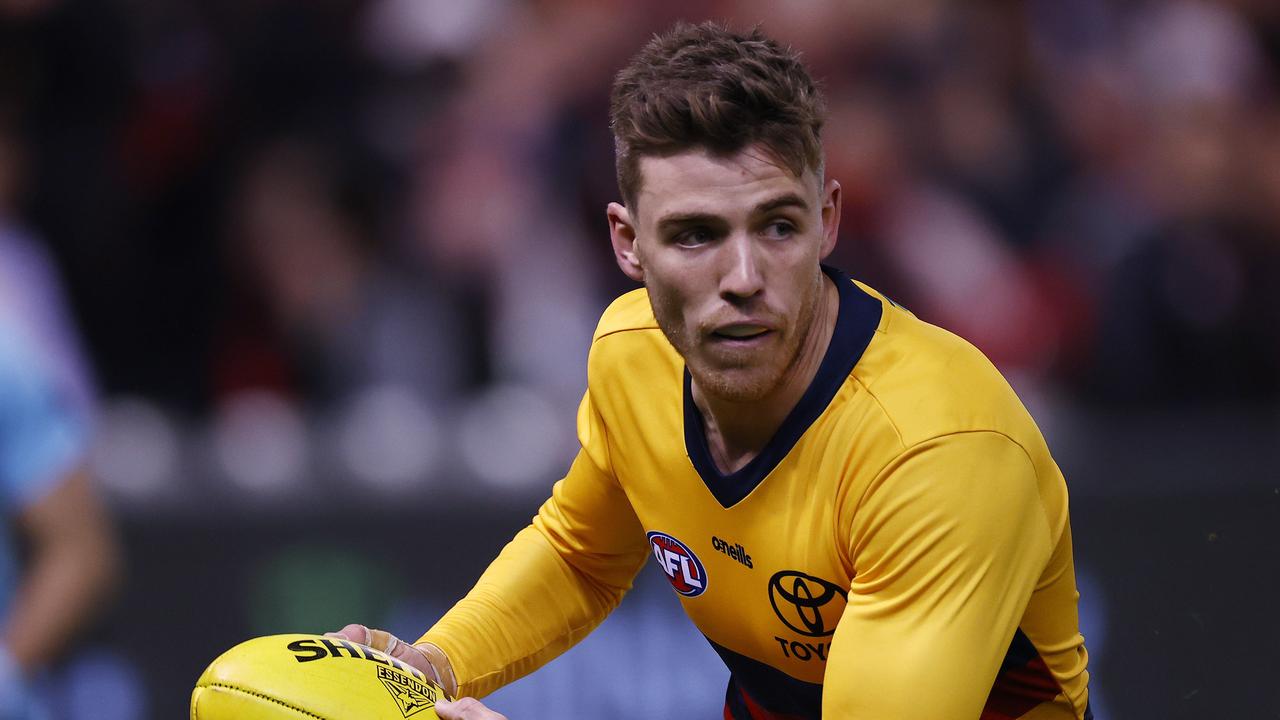 Seedsman says he is improving. Picture: Michael Klein
"I've had some good relief from that and I'm doing some work with a neuro physio and making some improvements in those areas and I've included light weights and running duties again which has been nice," he said.
"That's in its infancy stages but I'm going for a lot of walks and playing golf as part of my rehab which also helps my ability to work my ocular motor skills by tracking the ball.
"That's been the biggest improvement – I'm doing life a lot better and feeling better in myself, I feel a lot more normal.
"I can catch up and go for dinner with my mates and I want to be around people again because for a long period of time there I didn't – and I couldn't. I'd struggle to be around people for long periods and engage in conversations.
"I'm not there yet but I almost feel my life away from football and being an athlete is getting a lot closer to normality.
"Then the other ones are slowly starting to come along with it, it's a fine balance of getting the concussion, physical and mental aspects of my recovery trending forwards.
"And I feel we've got a good balance now, albeit a lot slower than I would have wanted, it's at least progress."
Originally published as AFL Round 11: Sam De Koning deserves to win Rising Star award, says Cam Mooney