'Footy factory': East Sandringham's secret to building stars
Fifty AFL-listed players have come from a small club in the South Metro junior league, and their key to success is obvious, writes PAUL AMY.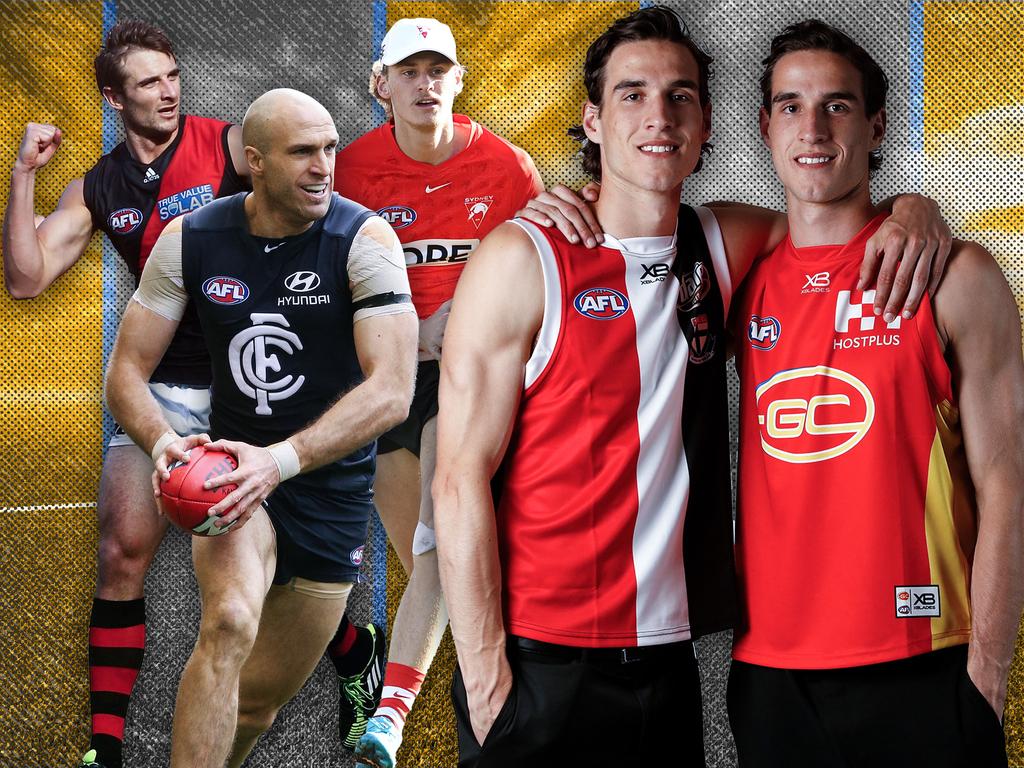 East Sandringham has produced some absolute gems over the years.
The 2022 AFL mid-season draft has proceeded to pick No.11, to be used by the Sydney Swans.
They've been linked with a few players, but they opt for emerging half-forward Hugo Hall-Kahan.
He's from the Sandringham Dragons and Haileybury College.
But before then he was from a club that has produced a remarkable number of AFL-listed players. Fifty at least, officials say.
Hall-Kahan hails from East Sandringham, the 'Zebbies' of the South Metro junior league, taking the nickname from the Sandringham Zebras of the VFL.
Formed in 1948, their teams play on a small ground off Duncan St, and from little things, big things grow at Chisholm Reserve.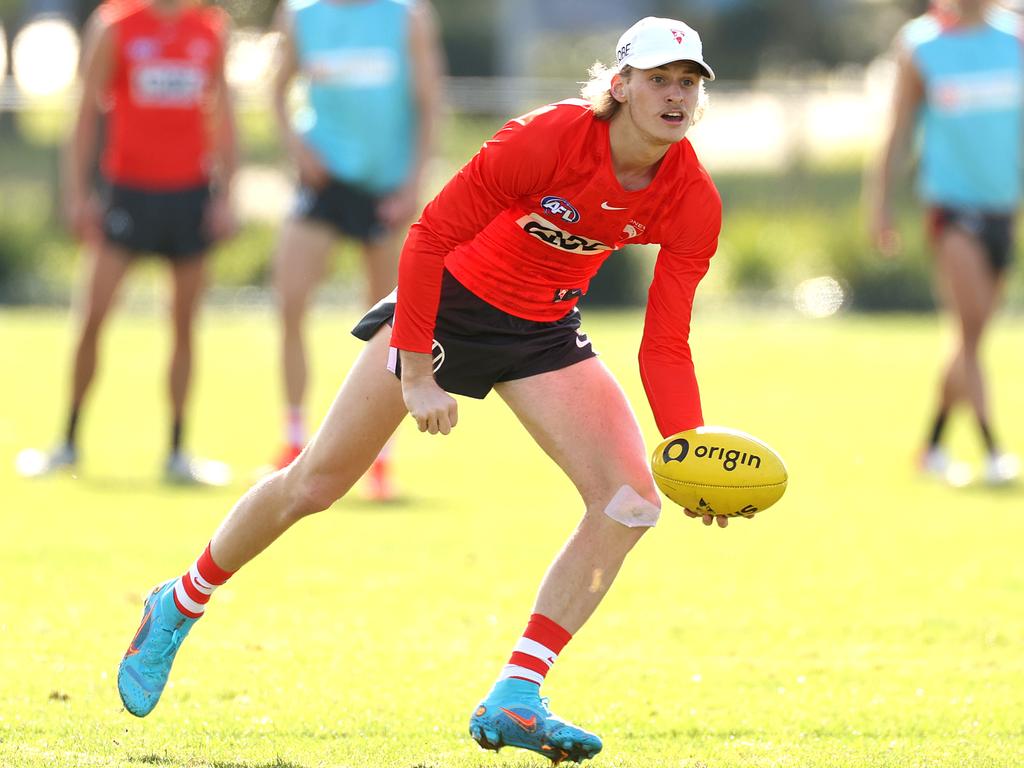 The Swans' Hugo Hall-Kahan once played for East Sandringham. Picture: Phil Hillyard
In 2012 then-president John Hine called the Zebbies a "footy factory'' for the AFL.
He made the comment a couple of days after Jobe Watson was presented with the Brownlow Medal and his father, Tim, had recalled Jobe's days playing at East Sandy.
Tim Watson described it as a "great little club''.
"We enjoyed that time as much as any we had when our kids were participating in sport. Fantastic place," he says.
Two years earlier, another former East Sandringham junior, Chris Judd, had won his second Brownlow.
In 2011 Shane Valenti – who played 15 games for Melbourne – also brought pride to the Zebbies by becoming a dual JJ Liston Trophy recipient in the VFL.
In the year of Watson's medal triumph, East Sandy also had Sydney premiership defender Ted Richards, Melbourne's No.1 national draft pick Jack Watts, and Matthew and Robbie Warnock on AFL lists.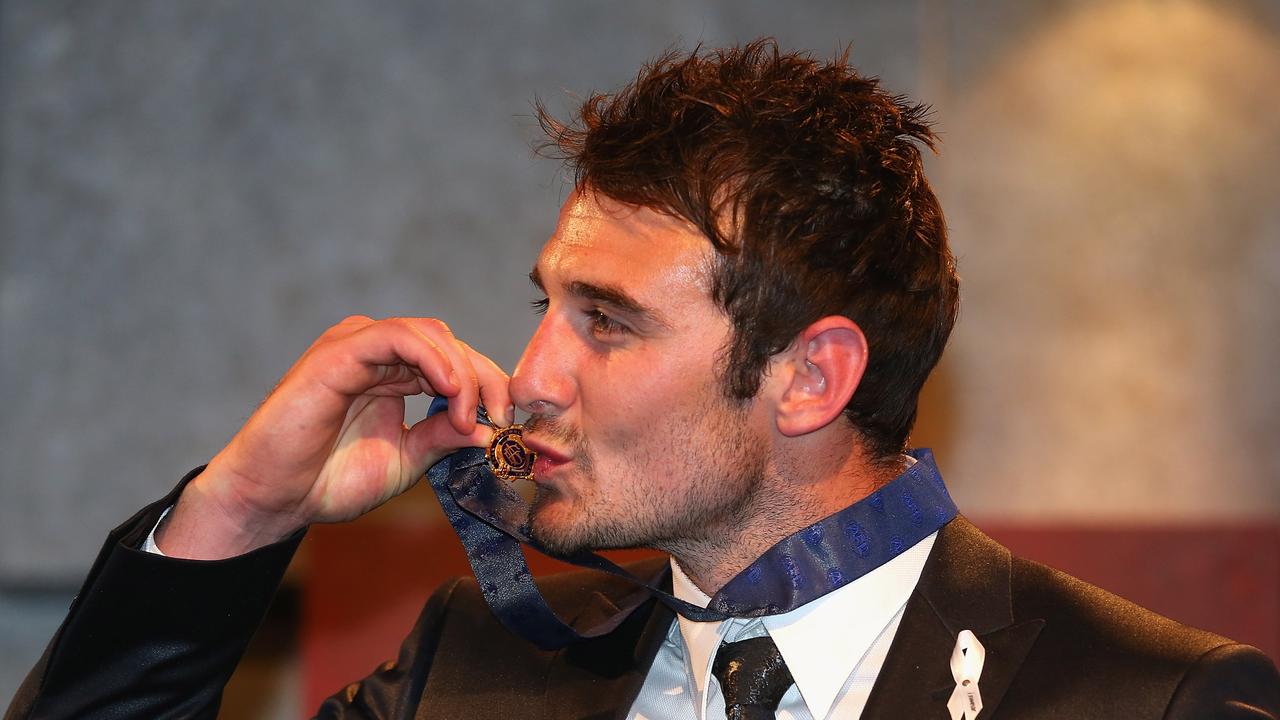 Brownlow Medal winner, former East Sandringham star. Picture: Quinn Rooney/Getty Images
More Zebbies have came through in the decade since, including Max and Ben King, Karl Amon, Jayden Hunt, Charlie Constable, Louis Butler, Liam Stocker, Archie Perkins and, on the female side, AFLW pair Isabel Huntington and Bella Eddy.
East Sandringham has not kept record of how many of its players have made it to the highest level.
But there are many notable names on the two honour boards in the social rooms.
They record best and fairests from 1973 to 2011, and there are league players as well as VFA/VFL players, including David Pledger, the late Adrian 'Floppa' McKenzie, Sam Anstey, Danny Corp, Sam Monaghan and Jack Noone.
There were others in the 1950s and 60s, including Stephen Rae (St Kilda and Richmond) and Shane Grambeau (St Kilda and Melbourne).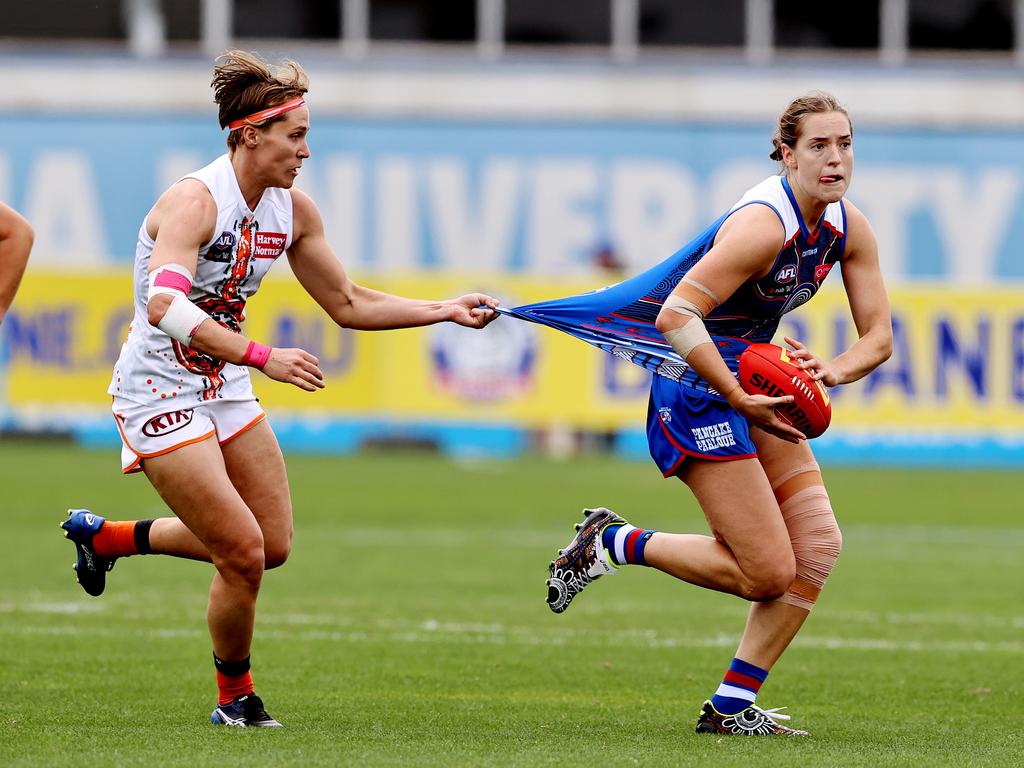 East Sandringham has also seen success in the women's game, with Issy Huntington playing for the Bulldogs in the AFLW. Picture: Michael Klein/NCA
*****
East Sandringham president Andrew Charlton shakes his head as he runs an eye over the honour boards.
Chris Judd's name forms a six-step ladder on it: He won the best and fairest every year from under 9s through to under 14s.
Each year the Zebbies present the Chris Judd Perpetual Trophy, recognising the "most outstanding junior achievement'' (and young Blue Stocker won it three years before he was drafted in 2018).
Judd, future Adelaide and St Kilda forward Fergus Watts and Ted Richards all topped their teams' vote counts in 1994.
Charlton is in his first season as president but, with sons James, Will and Sam playing, he's been around the club for quite a few years, coaching Auskick and then under 8 and 9 teams.
He's proud of the roll-call of league players and of the many premierships won over the years.
Chris Judd with another East Sandy junior who grew into an AFL player, Collingwood's Nathan Murphy.
"It's an amazing achievement,'' he says.
He says it's a happy by-product of striving to be a "family-focused'' club.
"We're all about participation,'' Charlton says.
"We try to be as inclusive as we can. It's really about getting kids out there, helping them stay fit, active, make friends, give them a good, healthy environment and good coaching. Any success that comes in terms of wins and losses and having players drafted is an added bonus, not the focus of the club.
"I don't think there's ever been a high-pressure atmosphere along the lines of, 'You've got to make the AFL'. It's more about having fun and doing your best.''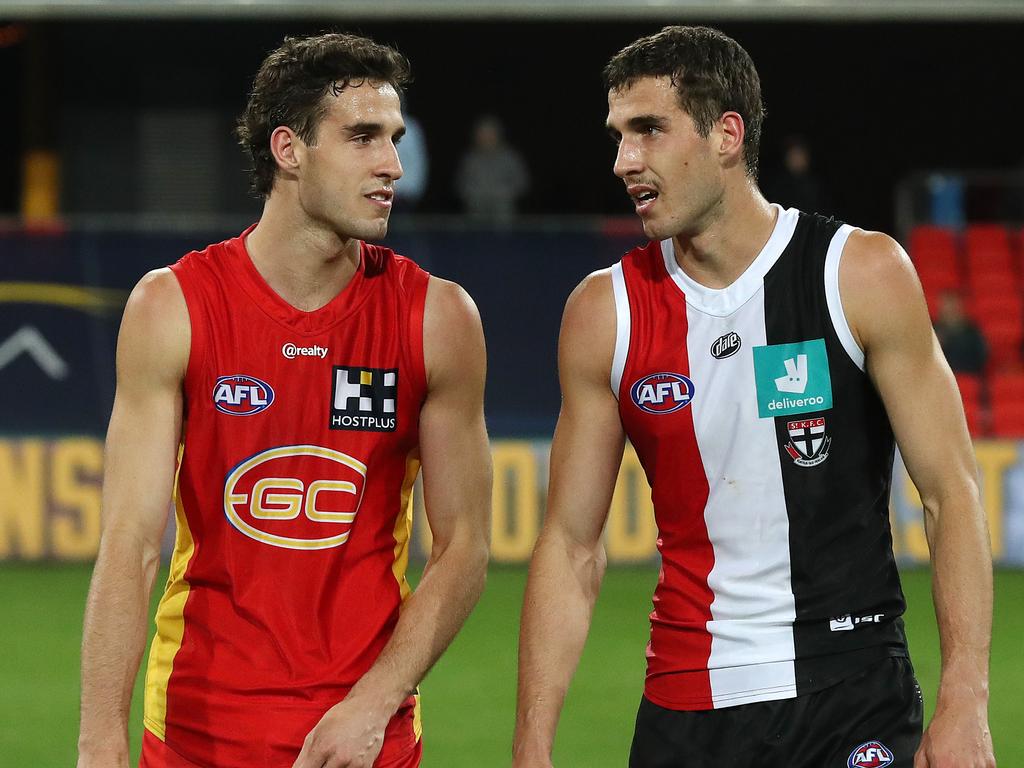 Both King brothers came up with East Sandringham. Picture: Michael Klein
Former West Coast and Carlton champion Judd is one of the coaches this season, looking after an under 11s team. He's back at the junior club where parents with sons playing in other teams would hang around to watch him scorch across the ground.
Over the years a string of other former league players has coached Zebbies sides.
Ex-Port Melbourne VFA player Robbie Critch, another East Sandy junior, coached Watson for two years.
He said at the time of his former charge's Brownlow win that a strength of the East Sandy was that they had no senior affiliation and therefore poured everything into their facilities and support for players and coaches.
Three years ago AFL talent manager Kevin Sheehan called the Sandringham Dragons' region a "hot spot'' for talent.
Aside from East Sandringham, Hampton Rovers, East Brighton Vampires, Brighton Beach and Beaumaris operate strong junior clubs in the bayside area.
"There are a lot of kids around here,'' Charlton says.
"It's a highly populated area for young families so there's a constant supply of players. We all try to get the lion's share from the schools in our area and it generally works out that way. There are one or two clubs who take the recruiting side of it seriously. We like our kids to be locals who want to come down here because it's the club they know and love and their friends are here.''
Former Zebbie Max King at a clinic at the club in 2021.
******
Behind the glamour of players reaching the AFL is the grit of hard work to keep East Sandringham going season after season.
This year the Zebbies have 17 sides of their own and five combined teams in the older age groups.
Putting them on the ground every week requires what Charlton calls a "major effort''.
He heads a committee of 10 – there's also a vice-president, secretary, treasurer, registrar, child safety officer, team manager co-ordinator, sponsorship manager, social media and communications officer, and a Covid compliance officer.
The club also has a paid part-time administrator in Jane Barnes (whose sons John, Tommy and Sam play with the Zebbies) and a co-ordinator for the Auskick co-ordinator program held on Saturday mornings.
"It's run like a small company,'' Barnes says. "It's really hard work.''
Aside from being president, Charlton is the age-group co-ordinator for the middle age groups, overseeing the process ahead of the season of assembling teams, coaches and managers. And his wife, Kylie, just happens to be in charge of sponsorship.
Getting volunteers is no easy task.
"There are fewer people putting their hand up to help out, and so a lot more is being left to fewer people,'' Charlton says.
"I'm not exactly sure if that's how it is. But that's how it feels. We've still got a couple of roles left on the committee. We can't fill them.''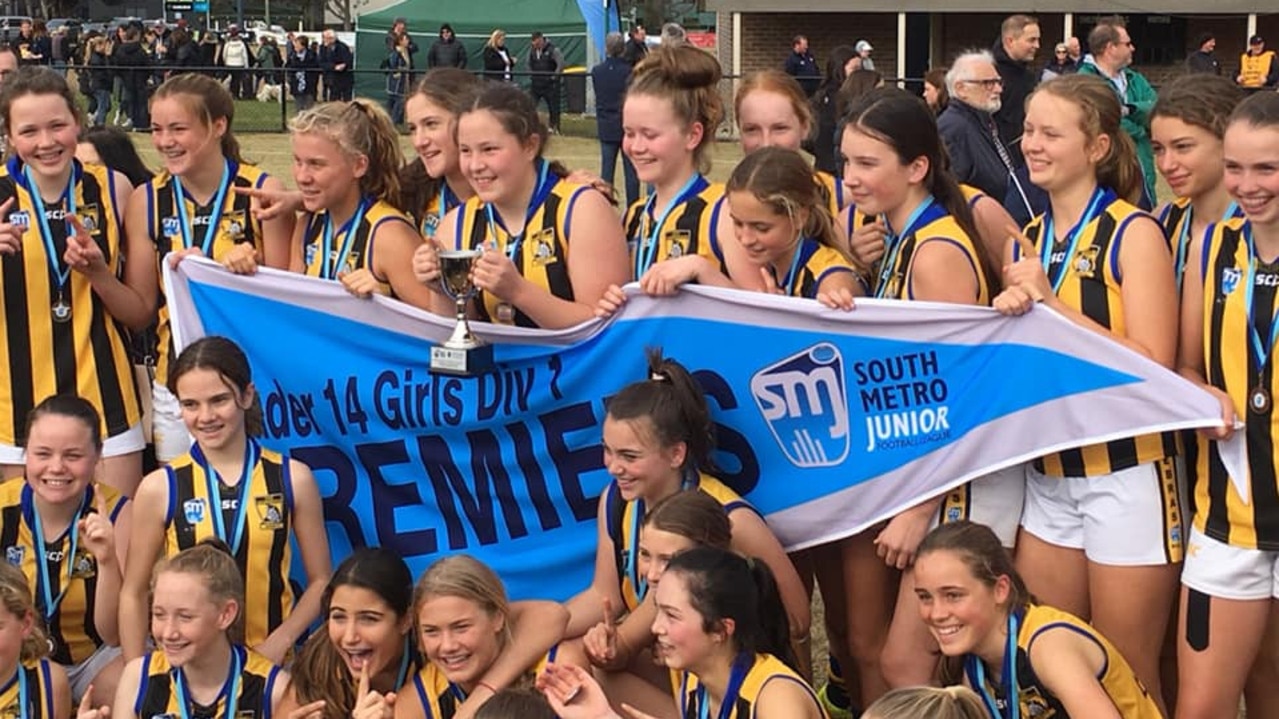 East Sandringham won the Under 14 girls in 2019. Numbers have dropped on the women's side of the club since the pandemic.

Female football is an area of focus for the new president.
There are two girls teams this year. Numbers have dropped off since Covid, and school competitions have had an impact too, with players reluctant to play two games on a weekend.
"Ideally you'd love to have as many girls teams as you have boys teams. That's not where we're at currently. That's a huge opportunity for the club,'' Charlton says.
He's also keen to see more women coaches at East Sandy.
He says the most important thing a coach can do, particularly in the lower age groups, is make players smile.
******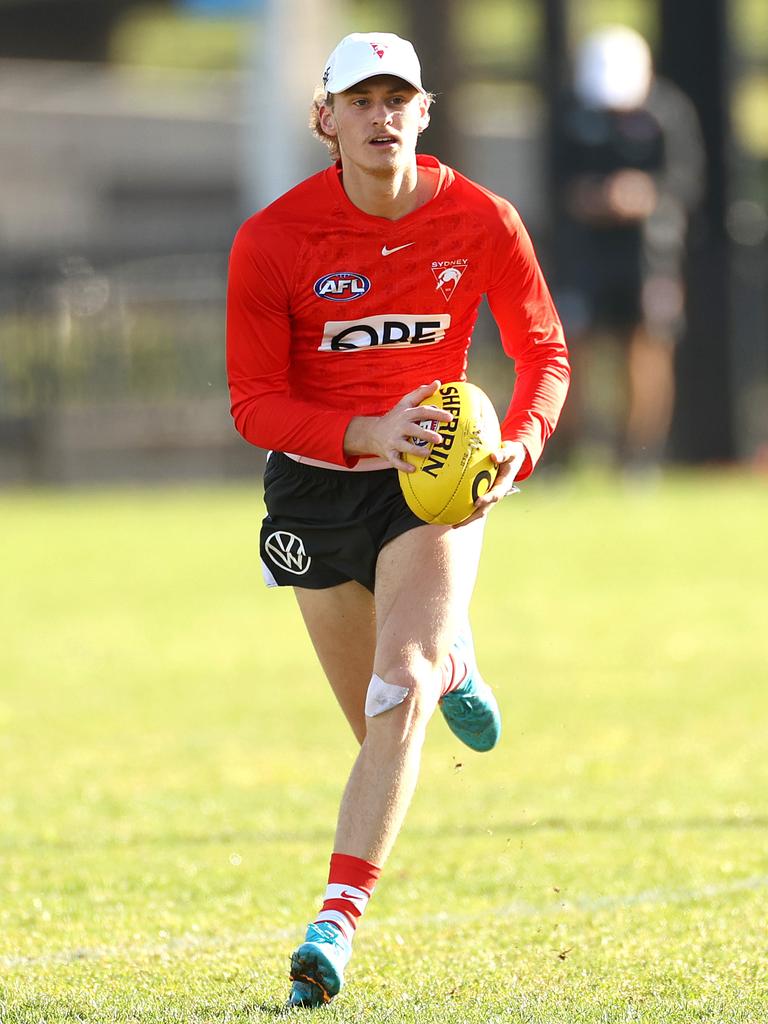 Hugo Hall-Kahan could not have a bad word to say about the Zebbies. Picture: Phil Hillyard
Hugo Hall-Kahan, the latest East Sandy player to be drafted to an AFL club, counts as one of the Zebbies' most decorated players.
He won five consecutive best and fairests and in 2015 was captain of an under 12s premiership team coached by former AFL defender Max Hudghton.
Greg Kahan says his son "absolutely loved it'' at East Sandy.
"I think it's a brilliant family club. They get everyone involved,'' he says.
"They look after all the kids, good, bad and ugly, which is how you want it. It was a super time there. Great for all the players, a lot of camaraderie. The boys went away making friends for life. Couldn't give you a bad word about that place and nor could Hugo. It gave him a great grounding in football.''