Footy tipping: Herald Sun Round 9 experts tips
Carlton will be out to play the role of party pooper when Leon Cameron coaches his last game. Can the Blues defy our tipsters? See who the experts are picking for Round 9.
The Round 9 forecast is for a GWS victory.
At least that's according to Channel 7 meteorologist Jane Bunn, who leads the Herald Sun's expert tipping by three after eight rounds.
The Giants will have extra incentive this round to send Leon Cameron out a winner after he announced the Blues clash would be his last game as coach.
At 6-2, Carlton will be trying to maintain its top-four spot and prove it can win without injured Coleman medallist Harry McKay.
SCROLL DOWN TO SEE WHO ALL OUR EXPERTS HAVE PICKED FOR ROUND 9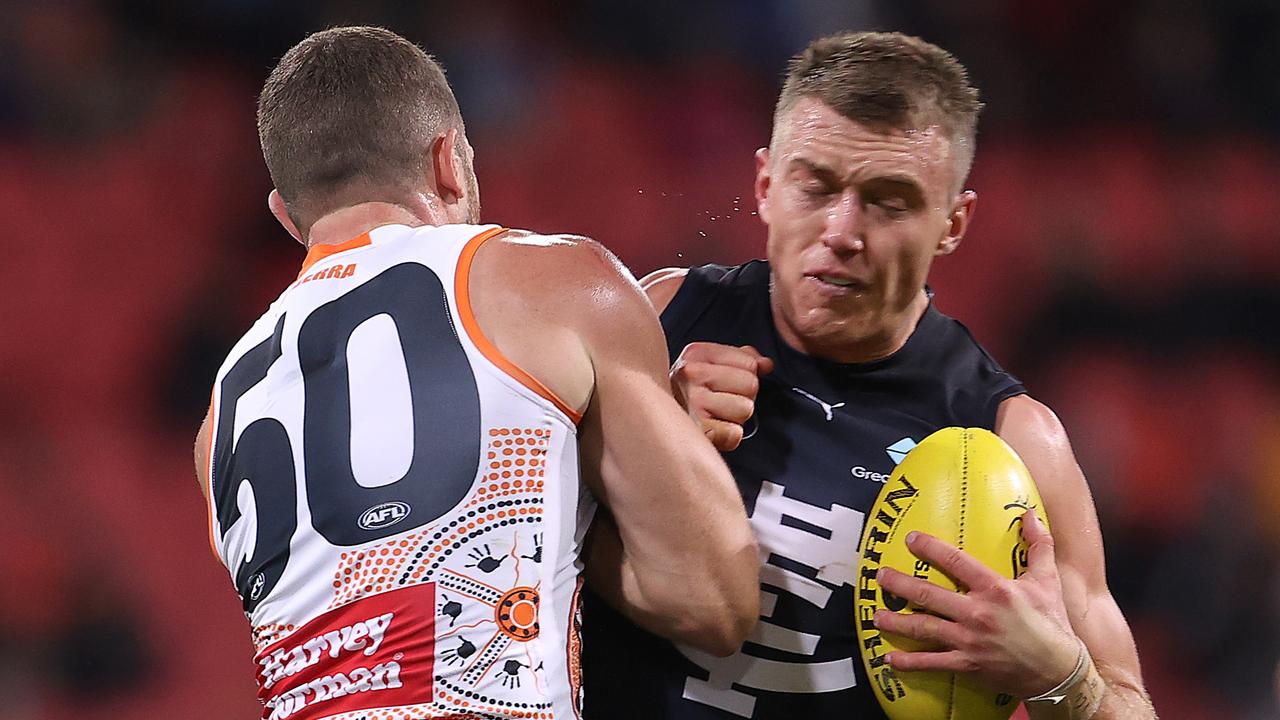 Patrick Cripps and Carlton will be trying to spoil Leon Cameron's farewell.
Jane Bunn 54
Western Bulldogs 10
Richmond 20
Port Adelaide 20
St Kilda 3
Sydney 10
Brisbane Lions 10
Fremantle 6
GWS Giants 10
Melbourne 30
Last Week 6
Jay Clark 51
Western Bulldogs 20
Richmond 18
Port Adelaide 40
Geelong 6
Sydney 35
Brisbane Lions 24
Fremantle 30
Carlton 12
Melbourne 100
Last Week 6
Scott Gullan 51
Western Bulldogs 7
Richmond 28
Port Adelaide 33
St Kilda 1
Sydney 25
Brisbane Lions 44
Gold Coast 2
GWS Giants 3
Melbourne 99
Last Week 6
Glenn McFarlane 51
Western Bulldogs 1
Richmond 15
Port Adelaide 25
Geelong 2
Sydney 6
Brisbane Lions 12
Fremantle 6
GWS Giants 1
Melbourne 50
Last Week 6
Tim Watson 51
Western Bulldogs 10
Richmond 24
Port Adelaide 16
Geelong 6
Sydney 8
Brisbane Lions 21
Fremantle 7
GWS Giants 12
Melbourne 43
Last Week 7
Sam Landsberger 50
Western Bulldogs 1
Richmond 21
Port Adelaide 13
St Kilda 8
Sydney 31
Brisbane Lions 28
Fremantle 6
GWS Giants 7
Melbourne 55
Last Week 6
Lauren Wood 50
Western Bulldogs 9
Richmond 20
Port Adelaide 28
Geelong 11
Sydney 7
Brisbane Lions 22
Fremantle 10
Carlton 9
Melbourne 35
Last Week 7
Simeon Thomas-Wilson 49
Western Bulldogs 11
Richmond 25
Port Adelaide 16
St Kilda 6
Sydney 18
Brisbane Lions 21
Fremantle 6
GWS Giants 9
Melbourne 57
Last Week 5
Mark Robinson 49
Western Bulldogs 18
Richmond 37
Port Adelaide 12
Geelong 12
Sydney 30
Brisbane Lions 28
Fremantle 11
Carlton 22
Melbourne 78
Last Week 7
Jon Ralph 48
Western Bulldogs 1
Richmond 5
Port Adelaide 49
Geelong 6
Sydney 53
Brisbane Lions 35
Fremantle 2
Carlton 4
Melbourne 33
Last Week 6
David King 47
Collingwood 6
Richmond 14
Port Adelaide 11
Geelong 8
Sydney 22
Brisbane Lions 26
Fremantle 6
GWS Giants 9
Melbourne 42
Last Week 5
Kath Loughnan 47
Collingwood 4
Richmond 15
Port Adelaide 20
St Kilda 6
Essendon 2
Brisbane Lions 22
Fremantle 8
GWS Giants 14
Melbourne 46
Last Week 6
Ebony Marinoff 47
Western Bulldogs
Richmond
Port Adelaide
Geelong
Sydney
Brisbane Lions
Fremantle
GWS Giants
Melbourne
Last Week 5
Gerard Whateley 47
Western Bulldogs 6
Richmond 24
Port Adelaide 10
Geelong 2
Sydney 1
Brisbane Lions 20
Fremantle 12
GWS Giants 1
Melbourne 60
Last Week 6
Rebecca Williams 47
Western Bulldogs 10
Richmond 15
Port Adelaide 14
Geelong 7
Sydney 11
Brisbane Lions 14
Fremantle 13
Carlton 8
Melbourne 19
Last Week 6
Chris Cavanagh 46
Western Bulldogs 1
Richmond 18
Port Adelaide 48
Geelong 1
Sydney 18
Brisbane Lions 42
Fremantle 18
GWS Giants 1
Melbourne 60
Last Week 6
Sarah Jones 46
Collingwood 7
Richmond 20
North Melbourne 1
Geelong 10
Essendon 8
Brisbane Lions 14
Fremantle 18
GWS Giants 12
Melbourne 68
Last Week 7
Mick Malthouse 46
Collingwood 12
Richmond 13
Port Adelaide 19
Geelong 24
Sydney 1
Brisbane Lions 25
Fremantle 4
Carlton 3
Melbourne 40
Last Week 4
Liz Walsh 45
Western Bulldogs 12
Richmond 15
Port Adelaide 9
Geelong 6
Sydney 22
Brisbane Lions 25
Fremantle 6
GWS Giants 9
Melbourne 35
Last Week 7
Graham Cornes 44
Collingwood 9
Richmond 17
Port Adelaide 14
Geelong 6
Sydney 25
Adelaide 6
Gold Coast 12
Carlton 18
Melbourne 37
Last Week 5
Dermott Brereton 43
Western Bulldogs 10
Richmond 18
Port Adelaide 15
St Kilda 12
Sydney 35
Brisbane Lions 24
Fremantle 5
GWS Giants 10
Melbourne 65
Last Week 4
Mick McGuane 43
Western Bulldogs 10
Richmond 37
Port Adelaide 39
Geelong 12
Sydney 17
Brisbane Lions 22
Fremantle 18
GWS Giants 2
Melbourne 53
Last Week 6
James Hird 42
Western Bulldogs 6
Richmond 15
Port Adelaide 20
Geelong 11
Sydney 7
Brisbane Lions 12
Fremantle 6
GWS Giants 9
Melbourne 20
Last Week 6
Matt Turner 41
Western Bulldogs 8
Richmond 15
Port Adelaide 18
Geelong 6
Sydney 7
Brisbane Lions 12
Fremantle 6
GWS Giants 9
Melbourne 20
Last Week 6
Chloe Molloy 40
Collingwood
Richmond
Port Adelaide
Geelong
Sydney
Brisbane Lions
Fremantle
GWS Giants
Melbourne
Last Week 6
Sally Capp 35
Collingwood 15
Richmond 16
Port Adelaide 23
Geelong 9
Sydney 19
Brisbane Lions 42
Gold Coast 7
Carlton 12
Melbourne 61
Last Week 5
Kiss of Death 24
Collingwood 13
Hawthorn 13
North Melbourne 13
St Kilda 13
Essendon 13
Adelaide 13
Gold Coast 13
Carlton 13
West Coast 13
Last Week 3
Originally published as Footy tipping: Herald Sun Round 9 experts tips