Burning questions facing West Coast and Fremantle as AFL season nears midway point
West Coast Eagles premiership player WILL SCHOFIELD has tackled the burning questions facing both Western Australian teams midway through the AFL season, with big decisions looming.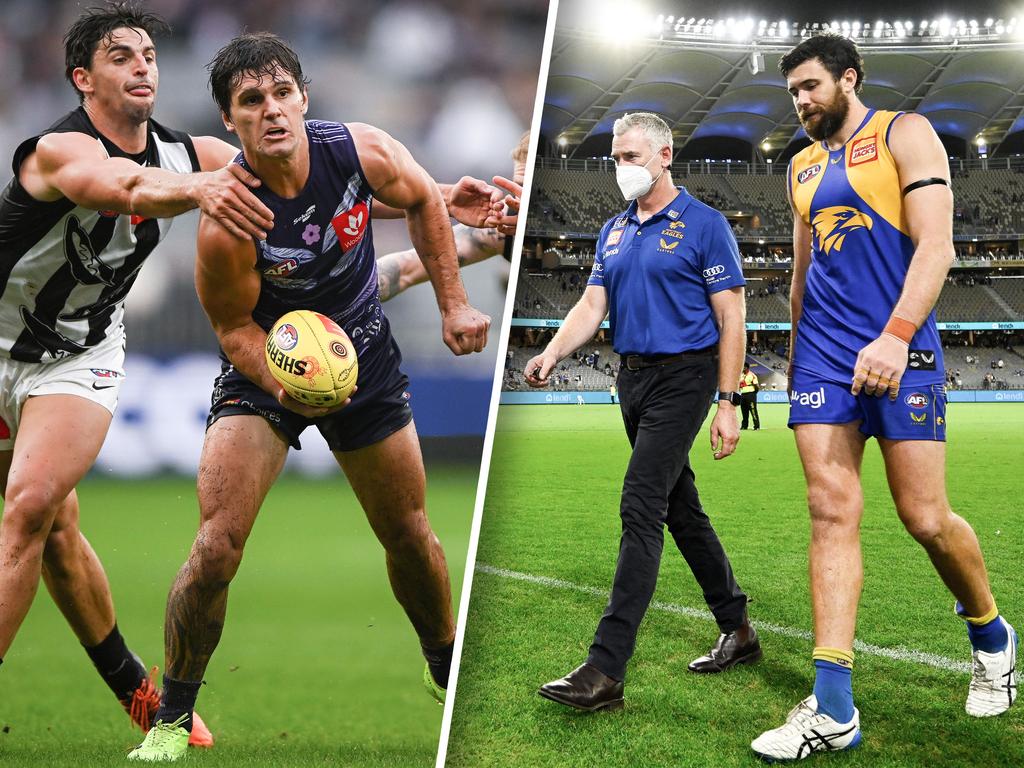 Will Schofield runs his eyes over Fremantle and West Coast as winter arrives.
We're only 10 rounds into the AFL but it's starting to become pretty clear how the hopes and dreams of West Coast and Fremantle in 2022 are starting to shake out.
There's still plenty to play for for both clubs, but for very different reasons.
West Coast
How do the Eagles keep Luke Shuey out of the medical room?
After returning from injury against GWS on the weekend, it was disappointing to see Luke Shuey subbed out midway through the final term. Coaches, teammates and fans all held their collective breath as the dreaded medical sub was yet again activated for the captain. There is no one on this earth more frustrated with Shuey's injuries than the man himself. Just put yourself in his shoes for a moment.
Captain of the club, which isn't going well on-field, unable to get out on the park and influence games like he knows he can. Shuey leads by example. He is not a motivator by voice, but an actions-based leader. When times get tough, he goes to another level on field and inspires his teammates with his ability to extract the ball from contested situations and burst away with speed.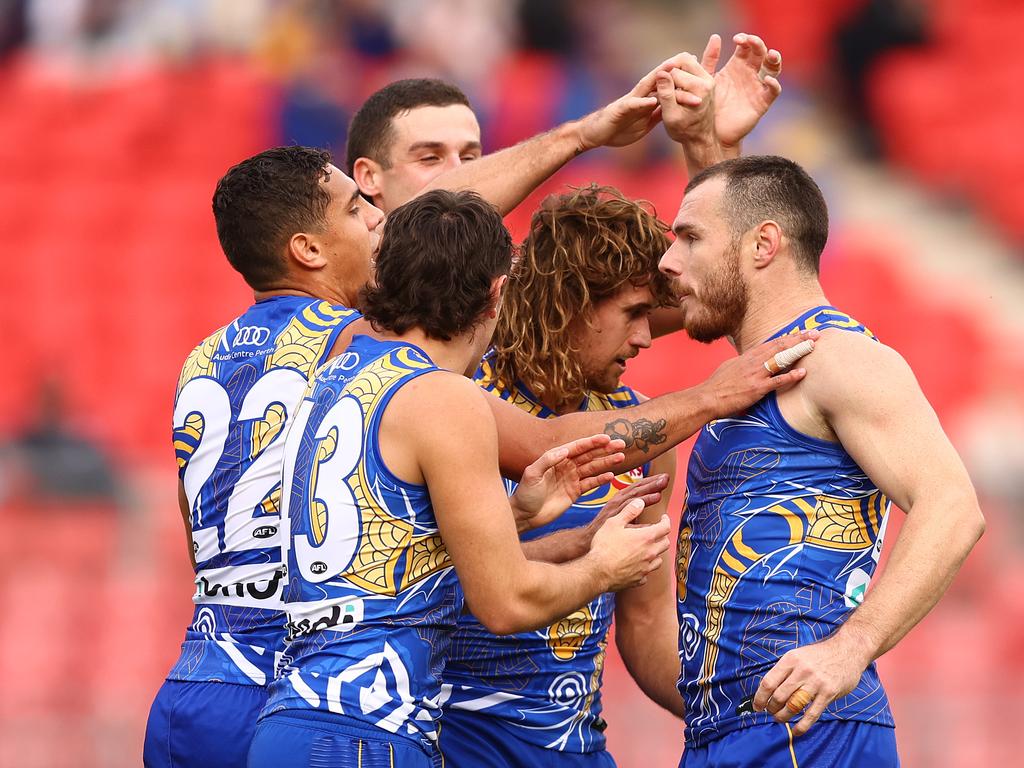 Luke Shuey's return to the Eagles was disappointingly brief in the team's round 10 loss to the Giants. Picture: Mark Metcalfe/AFL Photos/Getty Images
His body isn't letting him do that at the moment.
Watching Shuey's performances closely, it looks to me like he is trying very hard to carry the club on his shoulders and lead the way out of the darkness that has become season 2022. I actually think he is trying too hard. His defensive efforts, chasing, tackling and harassing have actually been the features I've noticed the most in his game when he's played. All great characteristics, but shouldn't be the thing he is focusing on. Others in the group need to lead the way in that area of the game, so he can focus on what he does best, winning the football and being an elite stoppage player.
There might be a left of field solution. You won't hear this often from me but he is one midfielder in the competition that I would trust playing in the backline. Perhaps a move behind the footy may release some perceived pressure for Shuey, both mentally and physically, letting the game come to him a little. He is one of the most competitive people you will ever meet, a great trait to have as a backman. He gets grumpy when he loses contests too, also an important characteristic to have.
Who knows, it may even extend his playing days by a year or two.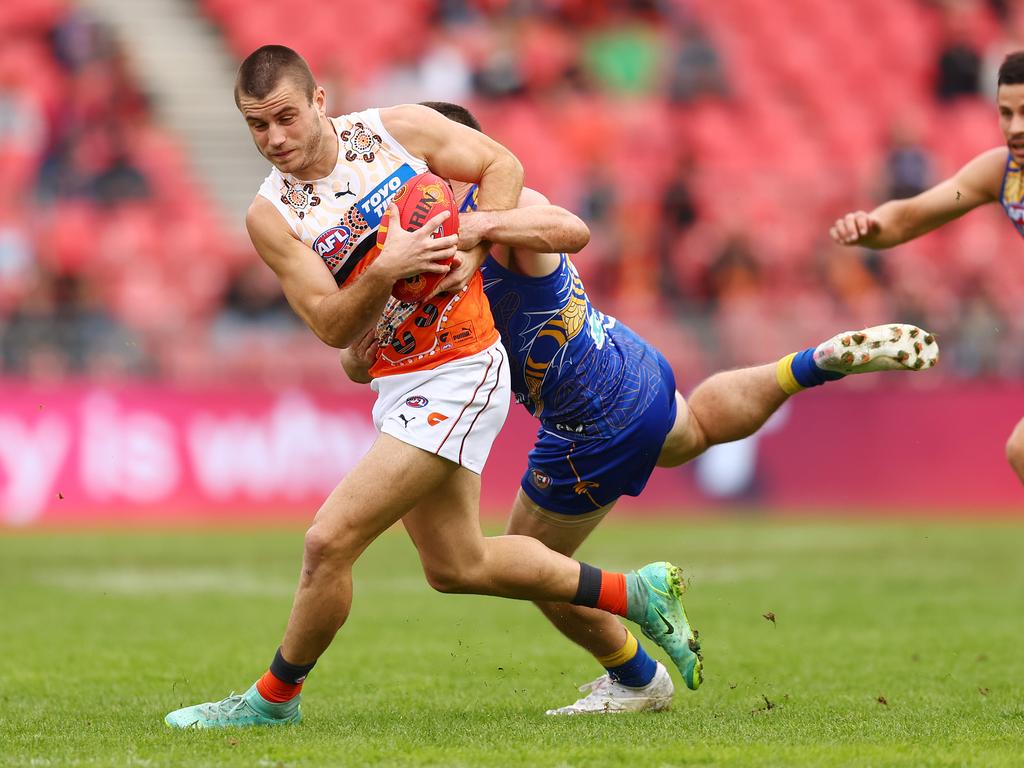 Will Schofield believes Luke Shuey's defensive skills may be called into play more frequently as the Eagles midfielder enters the later years of his career. Picture: Mark Metcalfe/Getty Images
What reinforcements do they have on the way, if any?
The Eagles do have some cavalry returning but don't expect the ins to drastically change the Eagles' on-field success. There is a lot of hard work to be done to turn that around.
Elliot Yeo is set to return via the WAFL this week after an extended layoff with concussion. Dom Sheed looks set to join him as well in the West Coast reserves. Sheed is an often overlooked important missing piece for the Eagles who was set for a huge year before going down with an ankle injury in the pre-season. Josh Kennedy will return after some time on the sidelines resting a swollen knee. He has been managing the injury for most of the season. He should have had a rest earlier but there was literally no option but to keep playing given the Eagles' existing injury list.
Liam Ryan, Jack Petruccelle and Willie Rioli all look likely to miss another fortnight with soft tissue injuries and Shannon Hurn looks set to miss another few weeks with a calf problem.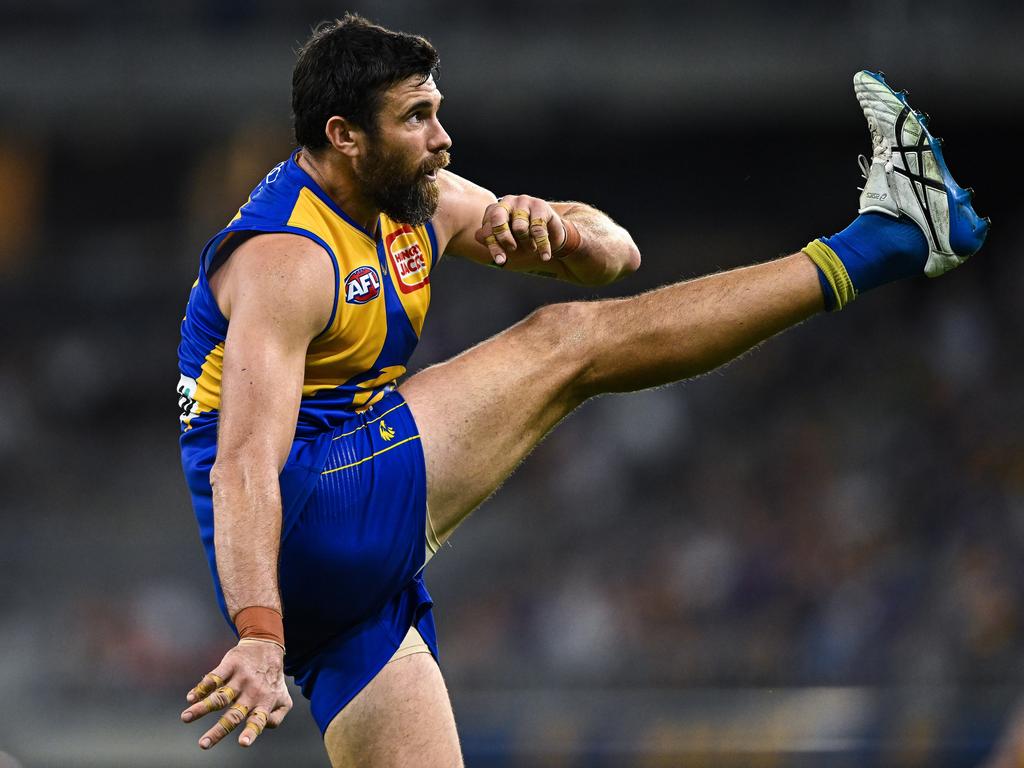 Josh Kennedy will make a return for the Eagles after being sidelined for a swollen knee. Picture: Daniel Carson/AFL Photos via Getty Images
Is it time to cotton wool the team?
On the back of Oscar Allen being shut down for the remainder of 2022, when is the best time to start resting players, rather than risk further injury or long-term damage?
It's always a difficult topic to broach when a team is not performing. It's not tanking when this happens, it's smart list management and future-planning both for the club and individual players' longevity.
Nic Naitanui would be right at the top of this list. By the time he has fully recovered from his knee injury it may be best to leave him in the garage for the rest of the year. Luke Shuey would be on this list as well. As would Liam Ryan and Willie Rioli, given their interrupted seasons so far.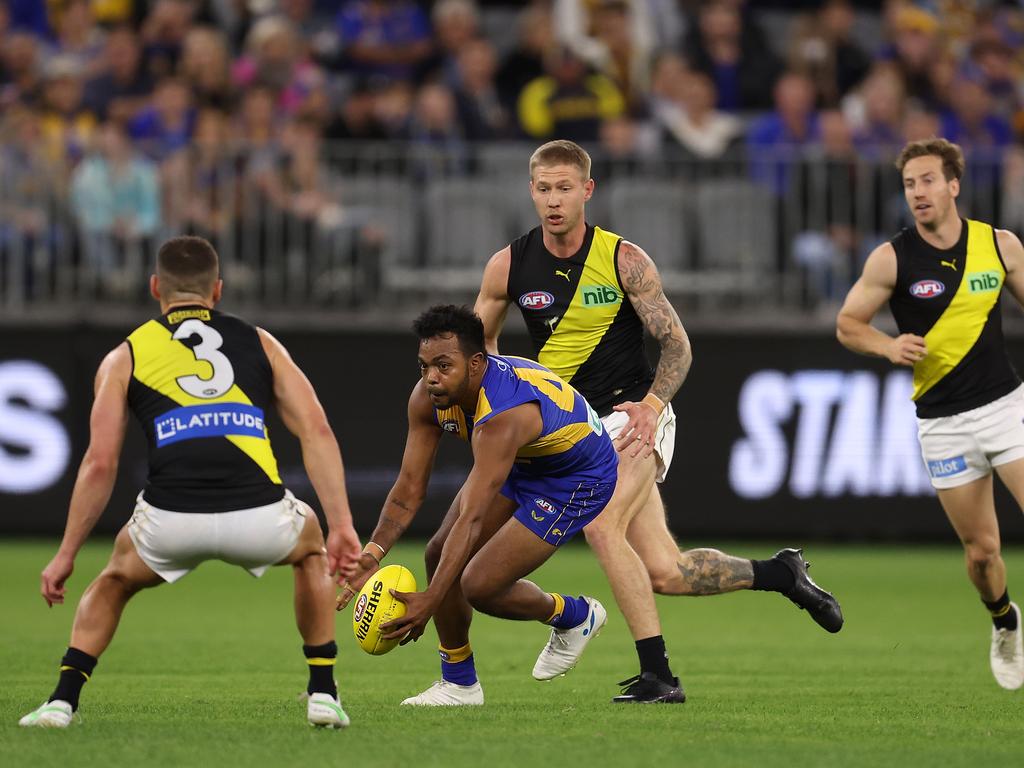 Willie Rioli has had an injury interrupted start to the 2022 season. Picture: Paul Kane/Getty Images
We aren't there yet, but after the byes, decisions will start to be made on players carrying injuries and if they need surgery or rest. With finals out of the question, it is smarter to send players requiring surgery in early so they can get a head start on pre-season for 2023.
It will be a case-by-case call on each player, with the priority still being getting games into younger players as that's the only real way the club will improve.
Fremantle
How to fix Fremantle's ability to score?
In Fremantle's three losses this season, they have failed to score more than 60 points. It doesn't matter how well you defend, you can't win games of football without scoring. The answer is not necessarily just one thing that will fix their offensive issues, but there are three major improvements and fixes that will go a long way to improving their output.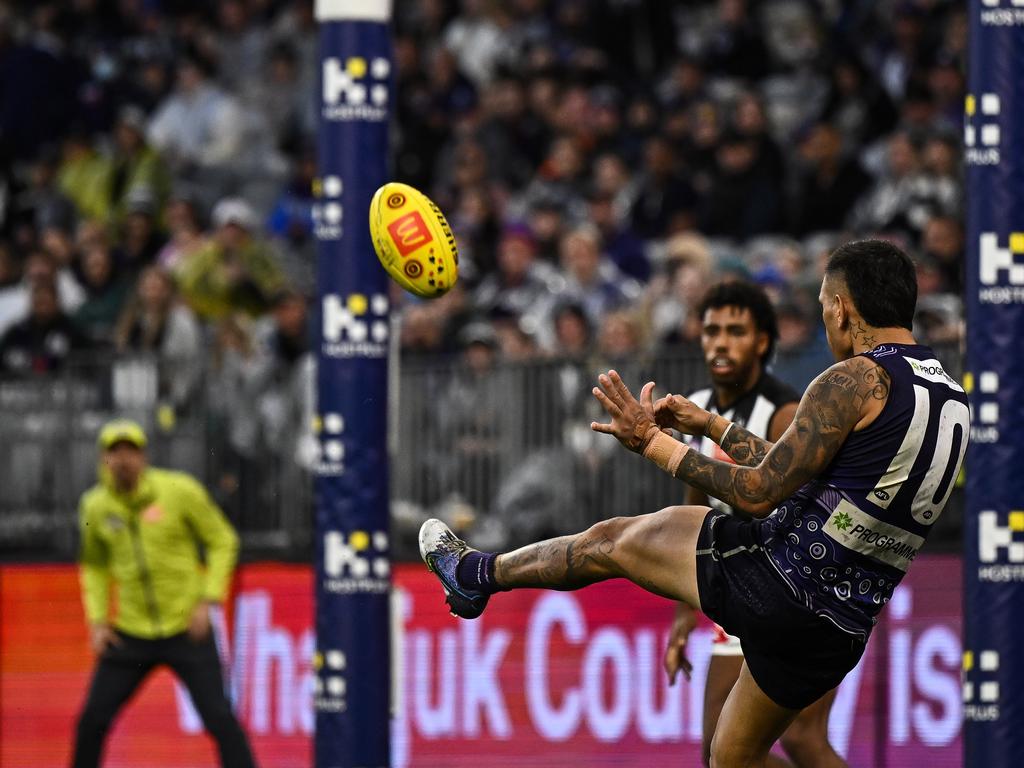 Michael Walters scores one of the six goals the Dockers managed in their round 10 loss to Collingwood. Picture: Daniel Carson/AFL Photos via Getty Images
Ball Movement
Funnily enough ball movement has a lot to do with the way you defend as a team. The more pressure you can put on the opposition and the quicker you can win the ball back actually makes it easier to move the ball when you do win it back and thus easier to score. So instead of getting to work on their ball movement, Fremantle should be focusing on their defensive systems, structures and effort in order to create more opportunities and importantly, opportunities from good positions to score.
The Dockers need to find clever and quick disposals if they want to create better scoring opportunities, Schofield believes. Picture: Paul Kane/Getty Images
Connection
Which brings me to my next fix. Connection between midfielders and forwards when bringing the ball inside 50. This isn't as easily applied as it takes time and understanding to improve in this area, which is hard to teach and more of a learned skill over time. The Dockers know they have a system that works, when they play well they score heavily and quickly, it's just ensuring when they are under pressure the forward and midfielder are on the same page.
Fyfe
The third and final fix is a personnel change. I've always said Nat Fyfe should play as a midfielder – he's the best in the competition when fit, two Brownlow Medals and a swag of other awards support this. But with the recruitment of Will Brodie and the improvement of Andrew Brayshaw and Caleb Serong coupled with the experience of David Mundy, Fremantle have the depth around the ball to pursue the luxury of Nat Fyfe as a full-time forward.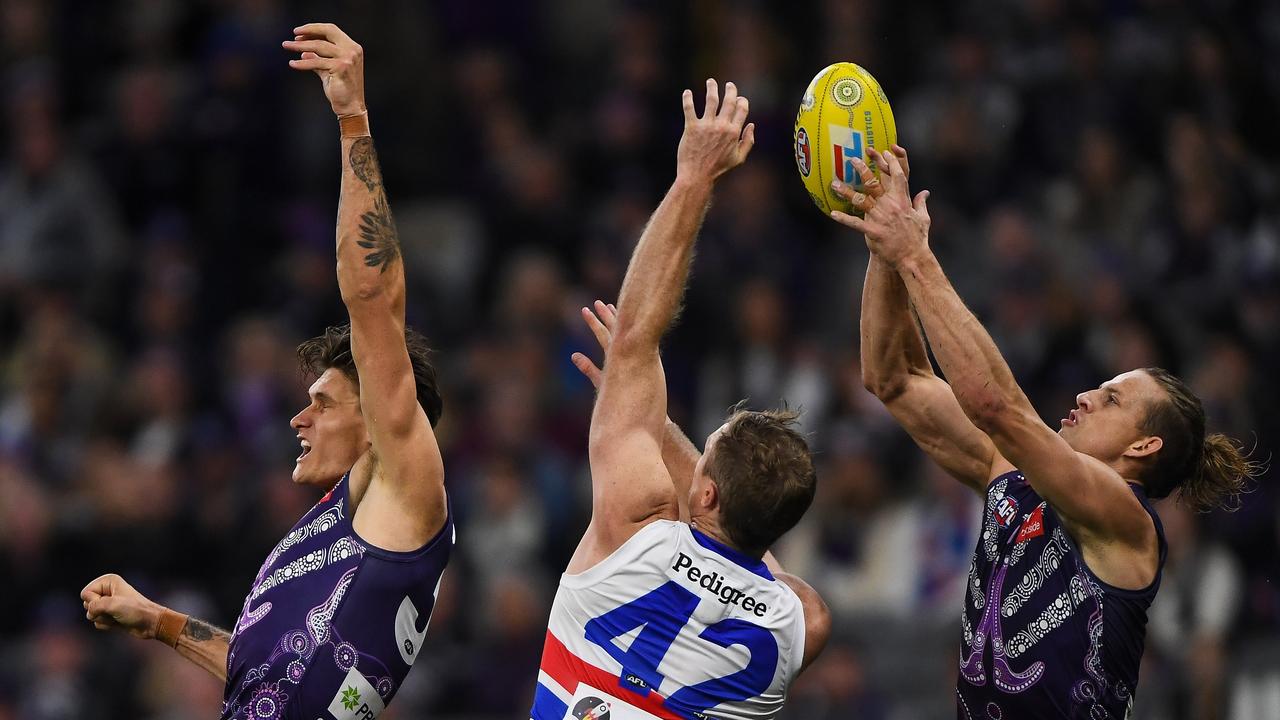 Schofield believes a fit Nat Fyfe is still one of the AFL's best players, but could do more for the Dockers in a midfield role. Picture: Daniel Carson/AFL Photos via Getty Images
Fyfe has every trait to be a great forward, let's just hope he spent a little time during his rehab on his set-shot routine. He kicked six goals 21 behinds last season, a skill he'll need to improve on if given the green light as a forward. A hidden benefit of playing Fyfe forward is he would likely draw the best opposition defender each week – tough for Fyfe, but great for Matt Taberner.
Why can't Fremantle play in the wet?
It seems a strange scenario that a team playing in a national winter competition is struggling to play the game in the wet. But here we are. There are many reasons that affect a team's ability when the heavens open. A different mindset and mentality is required. Western Australian teams just aren't used to the weather like other teams are, but more often than not it comes down to technique.
The Dockers may find their poor wet weather record exposed as rain continues to hammer the eastern states. Picture: Jono Searle/AFL Photos/via Getty Images
You do need to adopt a different technique when playing in the wet. Flatter hands when marking, more care with your kicks, when picking up ground balls you must stay lower and spend more time below your knees. Tackling is harder to execute and ball retention in tackles is important, so you don't cough the ball up to the opposition.
All of these can be practised, but in the west it's more difficult given the lack of rain. It was a regular occurrence at West Coast to soak footballs in detergent-loaded water to practise with a slippery ball. Maybe the detergent eskies need to come out at Fremantle this week?
How close is Nat Fyfe to returning?
It looks like Nat Fyfe could return as soon as next week, with his availability based on his ability to get through training. The Dockers have likely taken a very cautious approach with Fyfe, a luxury given the side's success, but he is probably ready to go right now. With some small concerns appearing after back-to-back losses over the last fortnight, the timing is now right for Fyfe to return. And no, that will not be via the WAFL. Sixty minutes of Fyfe at AFL-level is more valuable than most players can provide with full minutes, so when he returns it will be via the AFL only.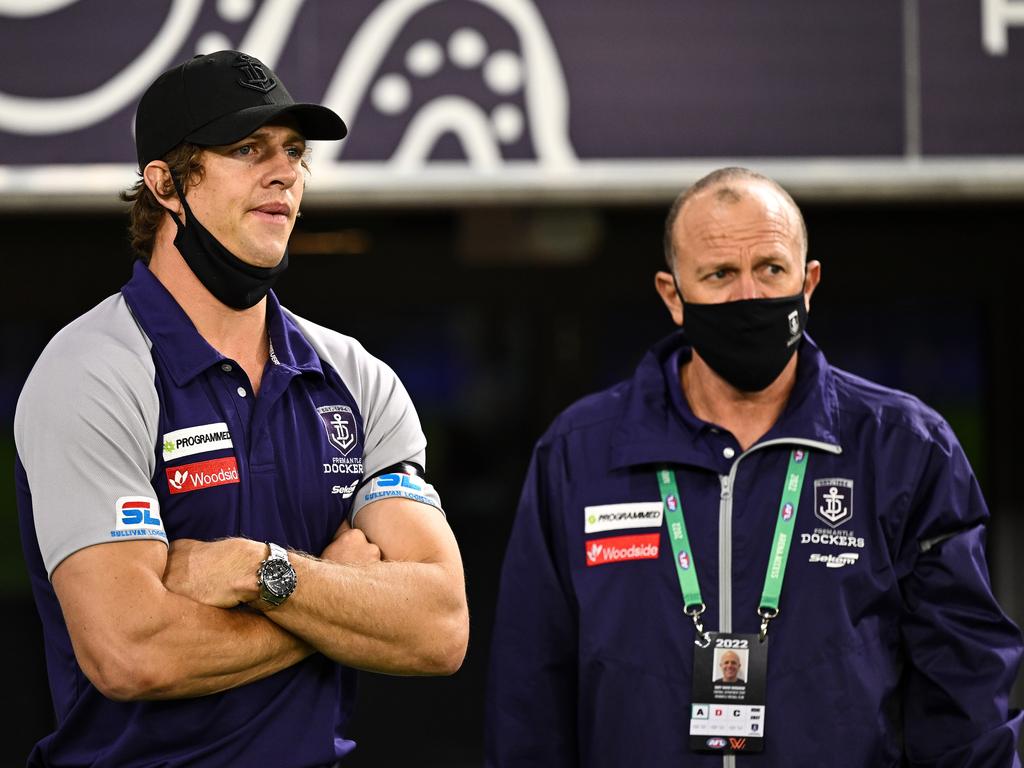 After losing their last two matches, the Dockers will be eager to have dual Brownlow medallist Nat Fyfe back in contention as soon as safely possible. Picture: Daniel Carson/AFL Photos via Getty Images
Do Fremantle's finals and premiership aspirations hang on Fyfe's return?
Probably not. But they'd certainly look even brighter with their captain in the team. A fit Nat Fyfe would be a scary prospect for any team waiting to play the Dockers.