'Just an honest battler': David Mundy's lasting Fremantle Dockers legacy
David Mundy's retirement announcement was short and sweet and without theatrics. Because despite his incredible impact on Fremantle, his sole focus is still on a premiership, writes WILL SCHOFIELD.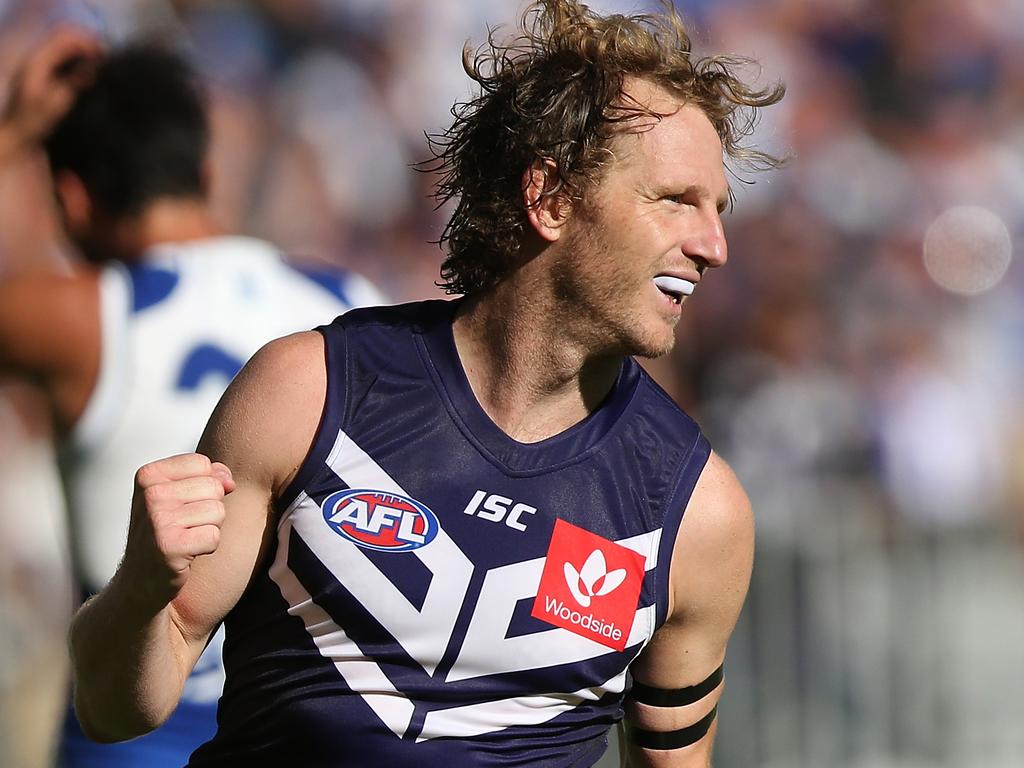 David Mundy is hanging up the boots at the end of the season. Picture: Paul Kane/Getty Images
Nothing lasts forever, but you can try.
Vanessa Amorosi's Shine rings in my ears as I think about the incredible career of David Mundy. It feels like he's played for as long as the Dockers have been in the league. To be honest, it's not that far off.
Of the 236 players to have pulled on the Fremantle jumper since their inception in 1994, Mundy has played with 147 of them. The guernsey Fremantle wore in Retro Round against Melbourne completed the full set for Mundy. He has now officially worn every jumper the club has ever run out in.
The career that seemed like it would never end is drawing to a close. Almost.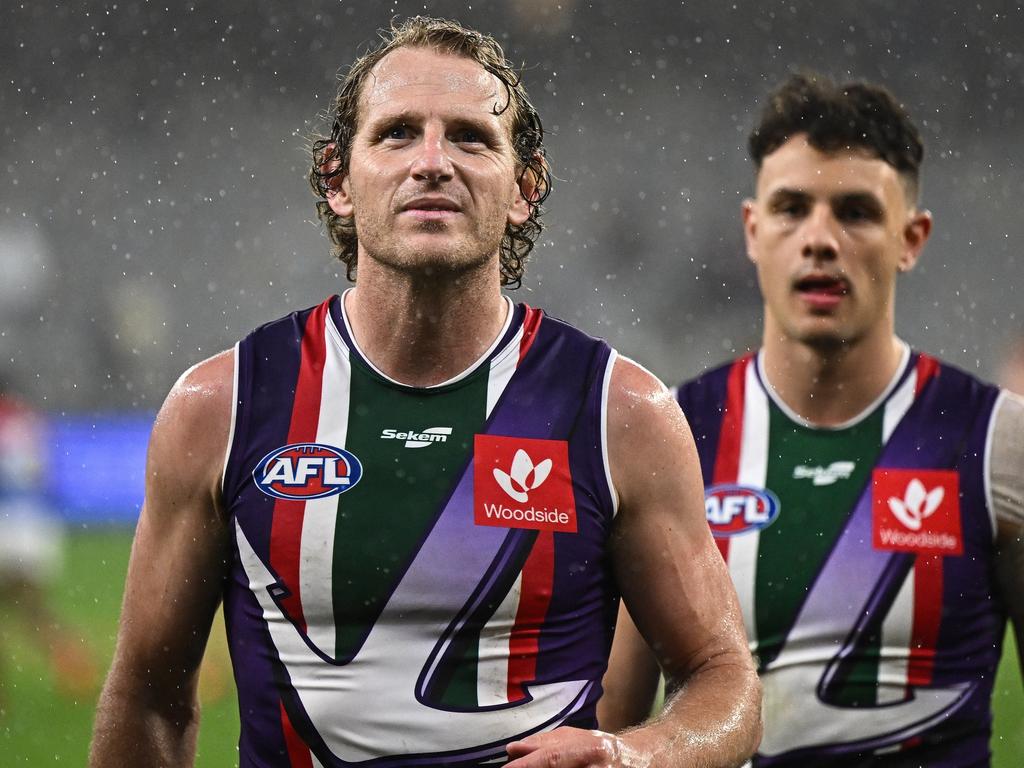 David Mundy completed his Fremantle jumper set last weekend. Picture: Daniel Carson/AFL Photos via Getty Images
At season's end, David Mundy will hang up the boots. The question is, will they be hanging alongside a premiership medal he so desperately wants?
I've seen some retirement speeches over my time. I've even given one myself. They are never easy to watch or be a part of but usually a good time to reflect on the career of the retiring player. That moment in front of your peers, the playing group, coaches and support staff is a special moment. It also can be a little self-serving, but that's what it's meant to be.
Not for Mundy. After 371 games and counting, he spoke for under a minute. It speaks to his character as a person and a player within the Fremantle group. He knows his role and he is still chasing success. Even at age 37.
Fremantle ruckman and 2021 Doig medallist Sean Darcy sat in the room as Mundy stood up in front of the group. Darcy admits he didn't know what was happening. He didn't have very long to figure it all out either. Mundy made things quick.
"I reckon no longer than 40 seconds he was up there," Darcy says.
"I've sat through a couple of retirements, they go for 10 to 15 minutes, tears, the works. Dave was in and out. He said, 'Thanks to the football club, for the physios and every member of the support staff. You mean so much to me. To the boys, yeah, this is my last season. I don't want to make it about me. We've got bigger fish to fry', then off he went and sat down.
"He hates talking about himself."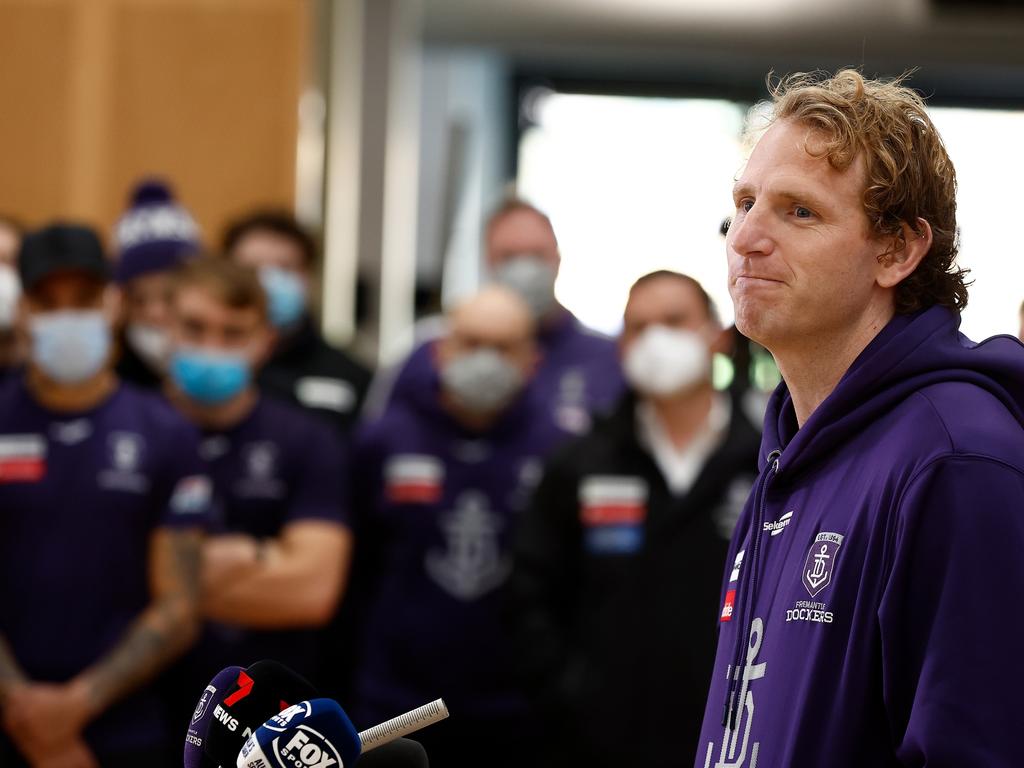 David Mundy would not have enjoyed his retirement press conference. Picture: Paul Kane/Getty Images
In the showers after his presser, Darcy spoke with Mundy, and he wasn't that thrilled with all of the attention.
"He said he hated every minute of just talking about himself," Darcy says.
"A lot of the reporters were asking him, 'What's your favourite memory? What's your favourite teammate? What do you want to be remembered as?'"
Mundy's answer: "Just an honest battler."
"He's anything but an honest battler," laughs Darcy.
"It's crazy. He's like he's 36, 37 years old, he's genuinely old. We often talk about it, because his kids are around nine years old and some of the boys joke, Barra will play with his son if the kid goes all right."
Darcy, still young in football years, speaks proudly and genuinely about the impact Mundy has had on the group over his time at the football club.
"He's unbelievable really. He's a guy who just never seems to be sore, he's always out there. We had a little 2km session after the game this week, most senior blokes sort of threw out the 'bit sore', 'bit banged up' lines. He's out there running around.
"Around the boys. Everyone loves him. He's one of the best blokes, shares his knowledge, he just cares about everyone. And on the field. You see what he does there."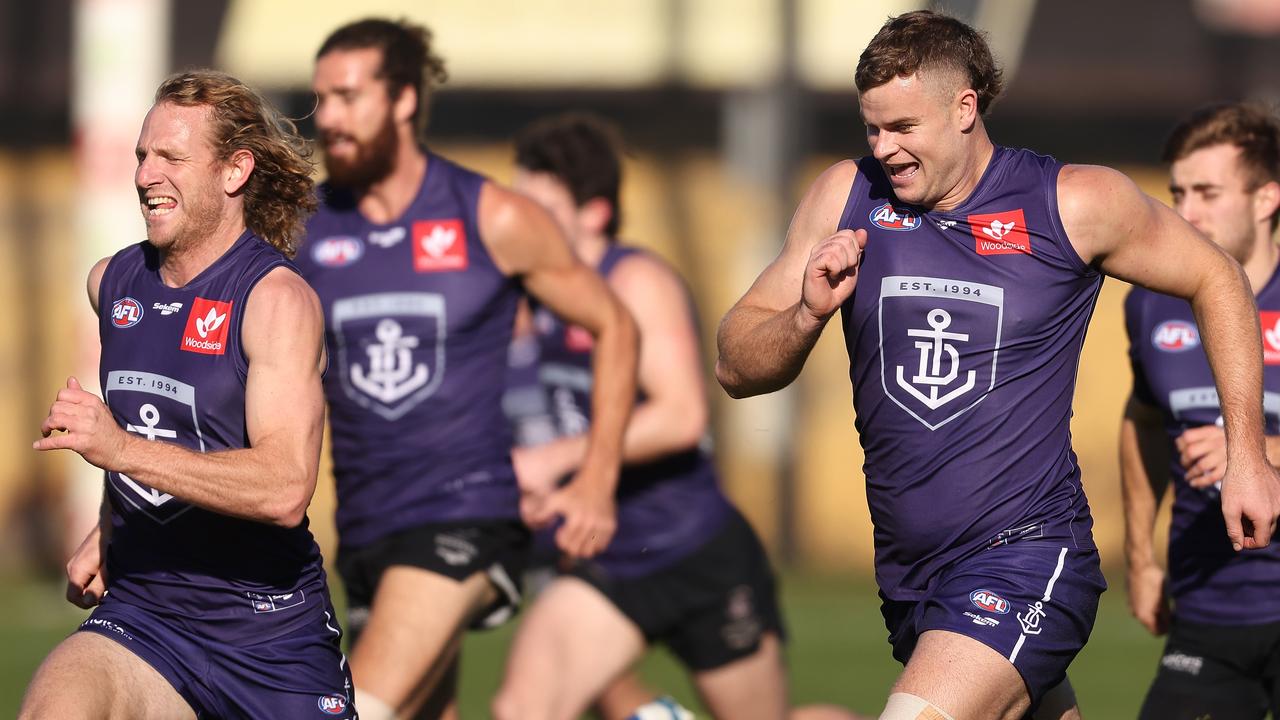 David Mundy (left) still leads the way at training, according to Darcy (right). Picture: Paul Kane/Getty Images
Is he the best-ever Docker?
"He'd have to be up there. His sustainability over his career has been unbelievable. He was telling us today, last year, 20 Brownlow votes or whatever he polled, that was his best year," Darcy says.
"That's just unheard of, absurd. Even just things like when you get to that age, surely you pull the 350 card. He was doing the time trial with us in preseason and things like that. Unbelievable really.
"I can't speak highly enough about him."
Football clubs are wonderful things, you build relationships that are like family. The connection you have with teammates is something that will never truly be replicated outside the four walls of the club. Footy clubs are also great levellers. Whenever things seem down, there's usually a shoulder to lean on somewhere. At the same time, if anything is going a bit too well, there is a group of guys waiting to bring you back down to earth.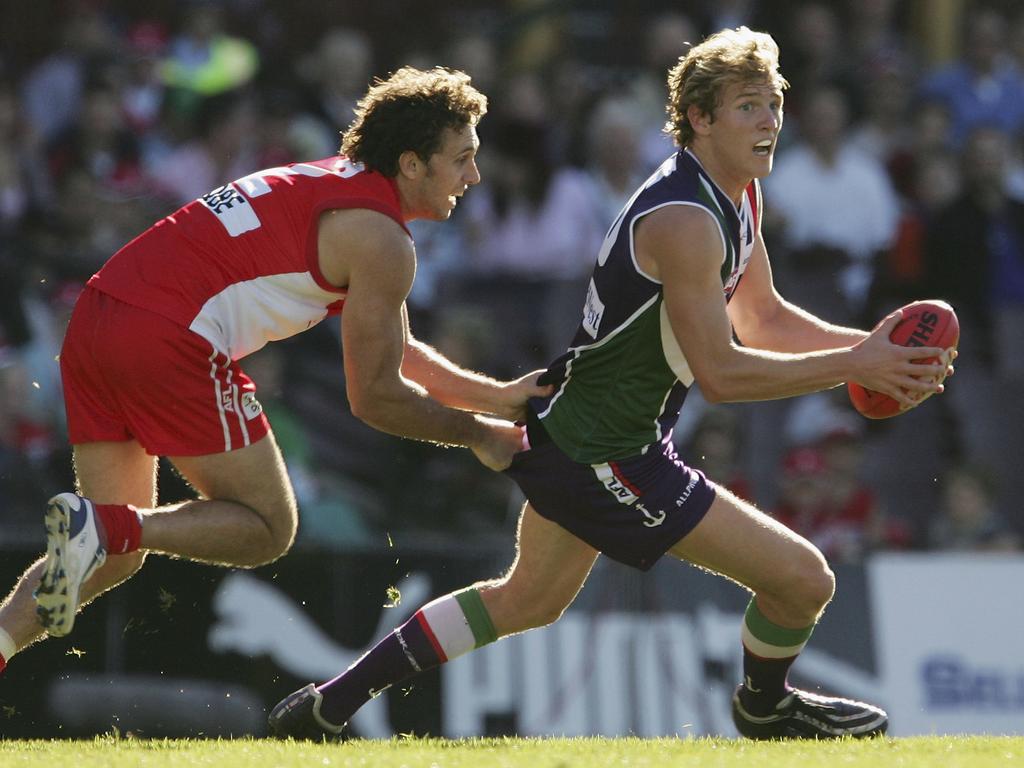 David Mundy has been playing for the Dockers since 2005 after being drafted in 2003. Picture: Adam Pretty/Getty Images
Mundy has been at a football club for 19 years, so what's the knock on him?
There's always something.
"He's a genuine tight-arse," Darcy says.
"You'll never get a coffee or beer off him. Covid was hard for him because when we travelled, we weren't allowed to go into the Virgin lounge and that's when he'd get people coffee. If we had a goal-keeping competition and he lost, he'd go to the free coffee bar in the lounge and deliver the coffee around to the boys.
"I never seen Dave buy a coffee. He gets the pods from the club for free."
Given what Mundy has put into the Fremantle Dockers, he deserves a few free coffees.