'No rules': Behind the Demolition Derby, WA footy's most brutal match
In 2000, Shaun McManus and his Dockers were given one directive as they approached a derby with the Eagles: Be 'physical as f**k'. What happened next set the tone for a decade, writes WILL SCHOFIELD.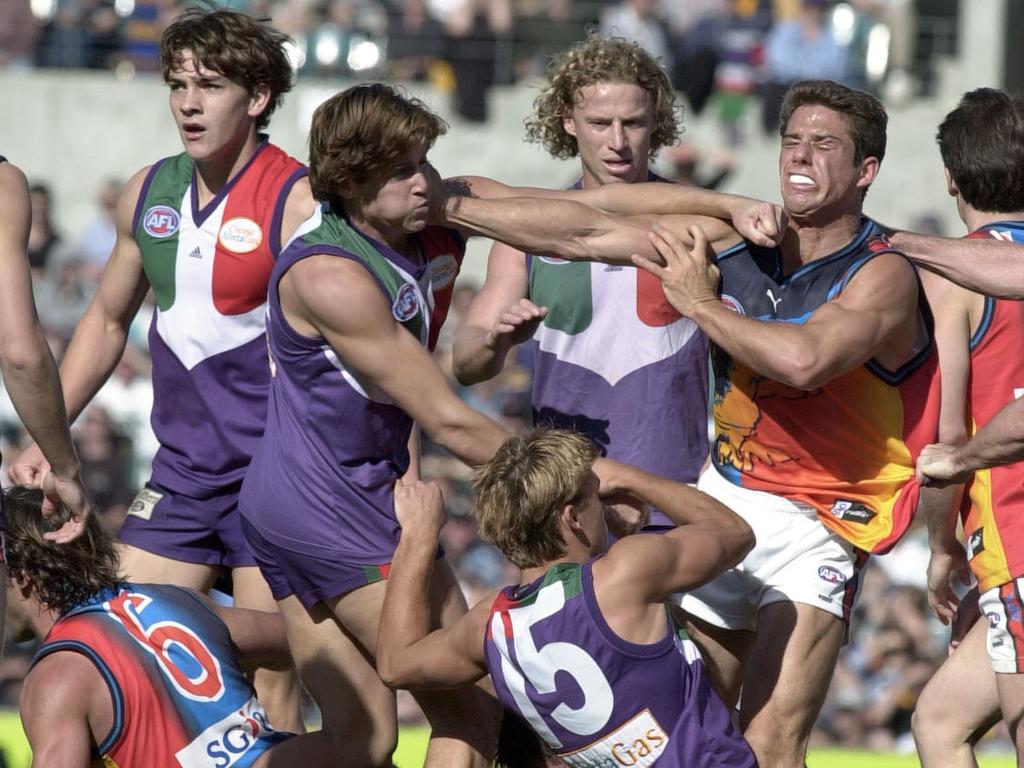 It was chaos in the Demolition Derby. Picture: Tony McDonough/ALLSPORT
The demolition derby of 2000 would be the beginning of the changing of the guard and a key moment in Western Australian sport.
A talented and skilful West Coast list came up against a hard and tough Fremantle outfit.
Fremantle were tired of being bullied by their 'big brothers' and this was the game to change it all.
It would set the scene for most of the decade, and Fremantle co-captain at the time Shaun McManus was right at the coal face.
The scene was set before the demolition derby even began.
"I did a press conference on the Thursday before the game," McManus, who finished his career with 228 games for Fremantle and is considered one of their club legends, remembers.
"Through conversations with the coaches at the time, we were going to come out and be as physical as f**k so I made a point of referencing that publicly. This was going to be the hardest game, drawing a line in the sand. It's going to be physical, it's going to be all that sh*t."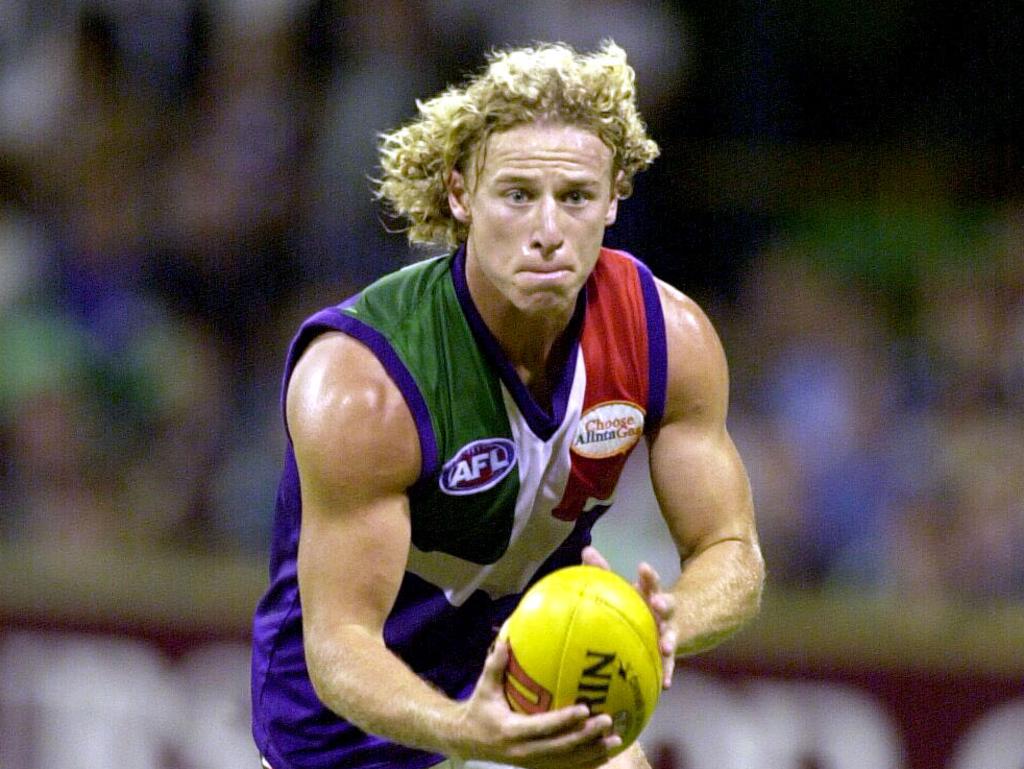 Shaun McManus played 227 games for Fremantle. Picture: Tony McDonough/ALLSPORT
That was what was said publicly, but what were Fremantle saying behind closed doors?
"We had conversations obviously leading up to the game that there were no rules," McManus says.
"If you get involved in a fight or it just happens to come about there's going to be no rules here and you can just go for your life.
"Damian Drum (Fremantle coach) will deny this, but the club definitely gave you an idea that if you were fined that there was going to be a coterie group that would help us out with the payment to the AFL."
We've seen bounty-gate type contracts across other sports but never in the AFL. It would certainly be quite a story if Dockers players were indeed paid for their troubles in one of the most heavily fined games in AFL/VFL history.
So did they?
"Of course not mate, not one cent," McManus laughs, "I got fined a f***ing sh*t load mate."
"My fine was four-and-a-half grand, it was the highest one because I'd been done for melees in the past."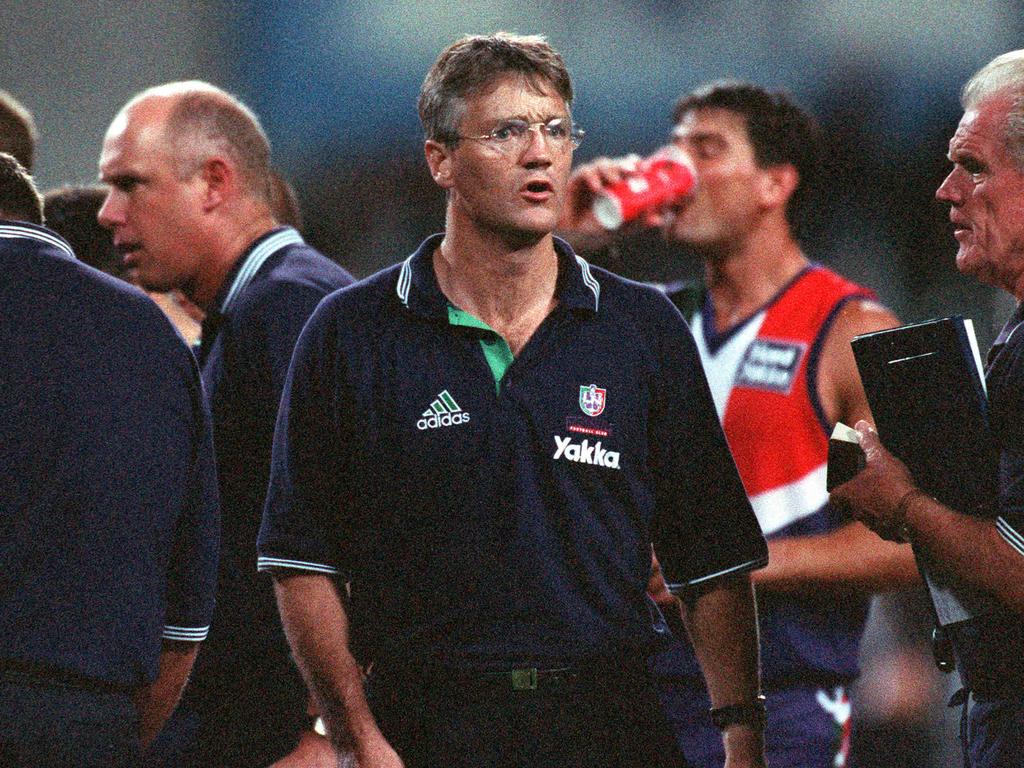 Damian Drum: "Just f***ing make sure it's super physical". Picture: Ian Cugley
It was more than an ambush planned by the Dockers. It was all out war, the entire team had been mobilised and it was very clear they were there for a fight.
Before the game, Drum was speaking to McManus and Adrian Fletcher, co-captains at Fremantle at the time.
Drum had them in a side room making sure they were clear on their objectives for the day: "Make sure if any of the young guys get into it, make sure you're f***ing in there flying the flag. Just f***ing make sure it's super physical and smash in as hard as you can."
Mid-conversation the room door burst open, McManus remembers.
"I remember this so clearly, Heath Black, and he's only young at the time, he comes in he goes, 'Excuse me Drummy, just going to let you know I'm going to smack Phil Matera today'."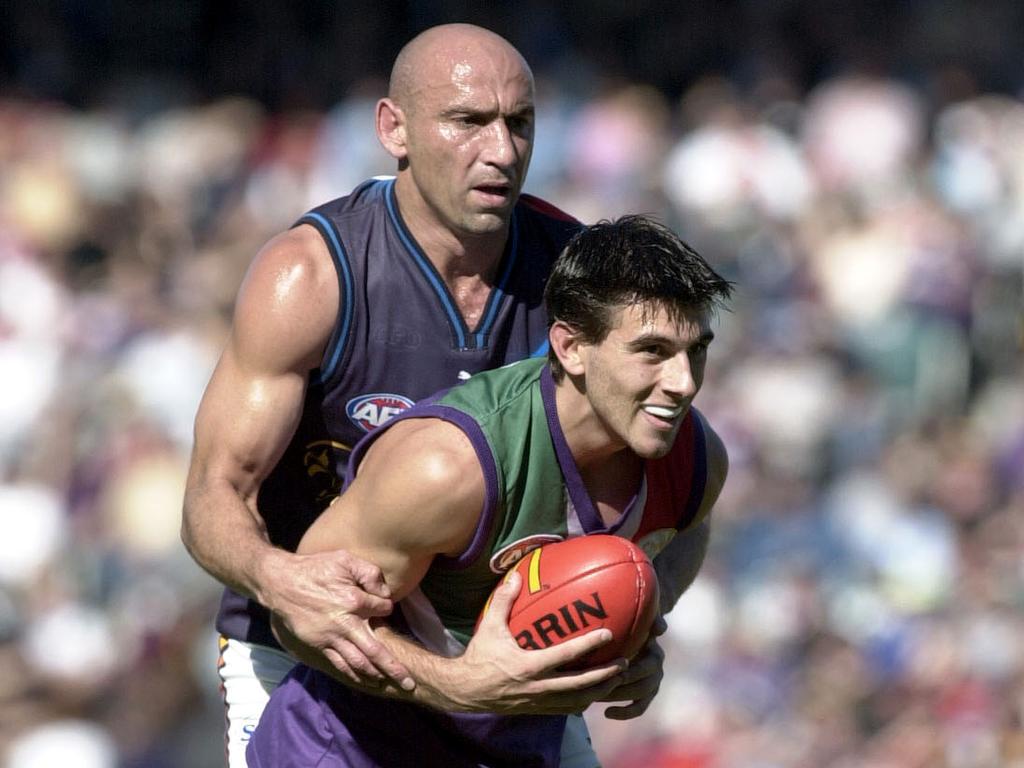 Heath Black wanted to lay one on Peter Matera. Picture: Tony McDonough/ALLSPORT
Fortunately for Matera, Black did his groin in the first quarter and didn't return.
The main melee was a big one, and almost all the players on the field were involved.
"Everyone just piled in, absolutely piled in," McManus says.
"We had no rules, we were allowed to get involved and it was just a perfect opportunity to jump in.
"Phil Reid seemed to be the guy that everyone was picking on.
"I don't know why it was Phil, he seemed to piss everybody off. I was an East Fremantle boy and so was he, but he was the first guy I got into a headlock and onto the ground. Then later on Dale Kickett belted him a few times. And then Brad Dodd punched him in the head and got two weeks for that as well. Obviously Dale got seven or nine weeks or something along those lines, it was pretty hectic."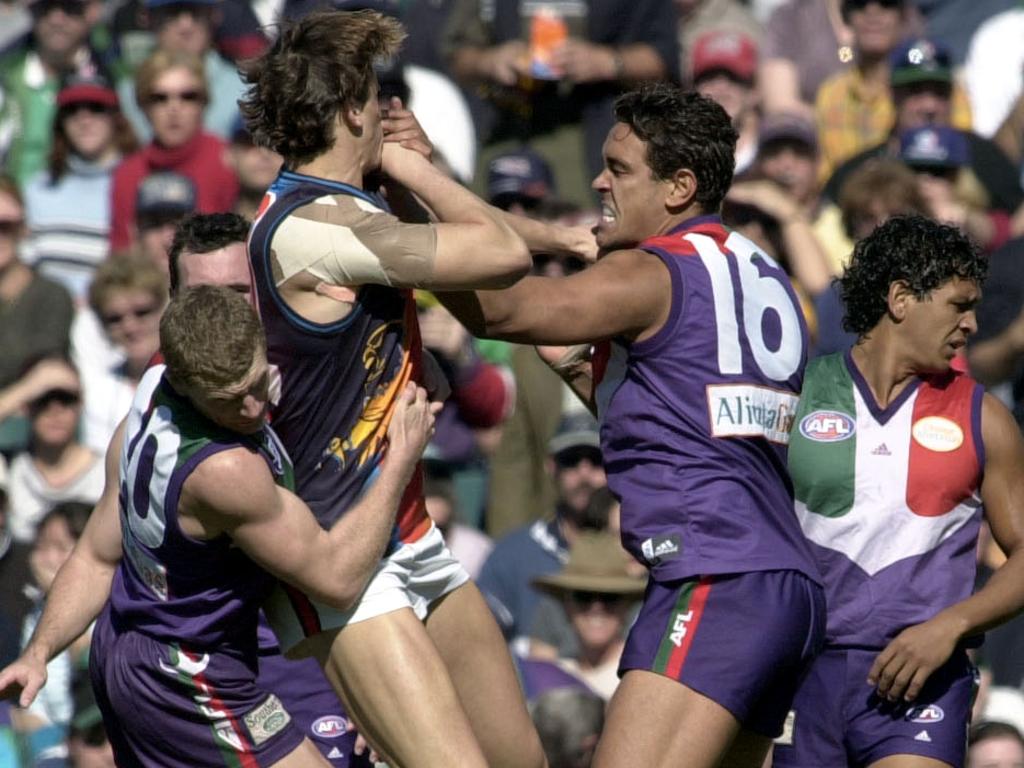 There was no love lost in the Demolition Derby. Picture: Tony McDonough/ALLSPORT
A Sunday game, both sides had to front the tribunal the next day.
"It was pretty funny," McManus says.
"When we turned up to the tribunal on the Monday, they did that video link call and all the rest of it, so we're all in there. Dale Kickett's in there for striking, Brad Dodd's in there for striking, I'm in there for a headlock … all on Phil Reid.
"Phil walks in … he's got two black eyes. It looked like he'd been smashed."
Needless to say Reid's physical appearance didn't help the Dockers at the tribunal. Kickett received a nine-match suspension, Dodd two weeks and McManus fined $4,500 (among numerous other player fines).
The demolition part of the game took away from what was one of the greatest ever derbies. It had everything.
"The Eagles were up by six goals and then we came back, we've got a couple of bits of momentum going our way," McManus says.
"Troy Cook ran through Mitchell White like you've never seen, he f*cking killed him. It was unbelievable.
"Cook was as hard as a wall and the ball was between him and Mitchell White coming out from the backline deep at the end of Subiaco. One person is running harder than the other and Troy just cannons into him and just f***ing flattens him. He gets the ball, handballs it and we go on. We kick a goal to bring it within three and then the whole joint goes off, the roof is just coming off the joint.
"There must have been under a minute to ago and we had a boundary throw in at West Coast's end. I remember standing next to Benny Cousins and I was saying, 'This game's been unbelievable' and he was smiling his head off.
"Sure enough within 20 seconds or so I think we got a second ball up in that area and the siren went. We all went bananas.
"On reflection it was just an absolutely mad game."
It was a hard-fought win for the Dockers, a game which took it out of both sides. The following week both teams were well-beaten.
Catch the full chat with Shaun McManus on BackChat here: