The three-week stretch that will define the Fremantle Dockers' run to the finals
'Flagmantle' is on shaky ground after dropping out of the top four. WILL SCHOFIELD talks to Dockers coach Justin Longmuir about the team's plans to right the ship.
Justin Longmuir is clear in how his Dockers can emerge from their current slump. Picture: Dylan Burns/AFL Photos via Getty Images
The Fremantle Dockers find themselves in a mini form slump as the finals beckon.
A draw and two losses in their past three games doesn't leave much wiggle room for them if they still have top four aspirations.
But there's time to turn things around. News that this season will be club legend David Mundy's last only adds fuel to the fire.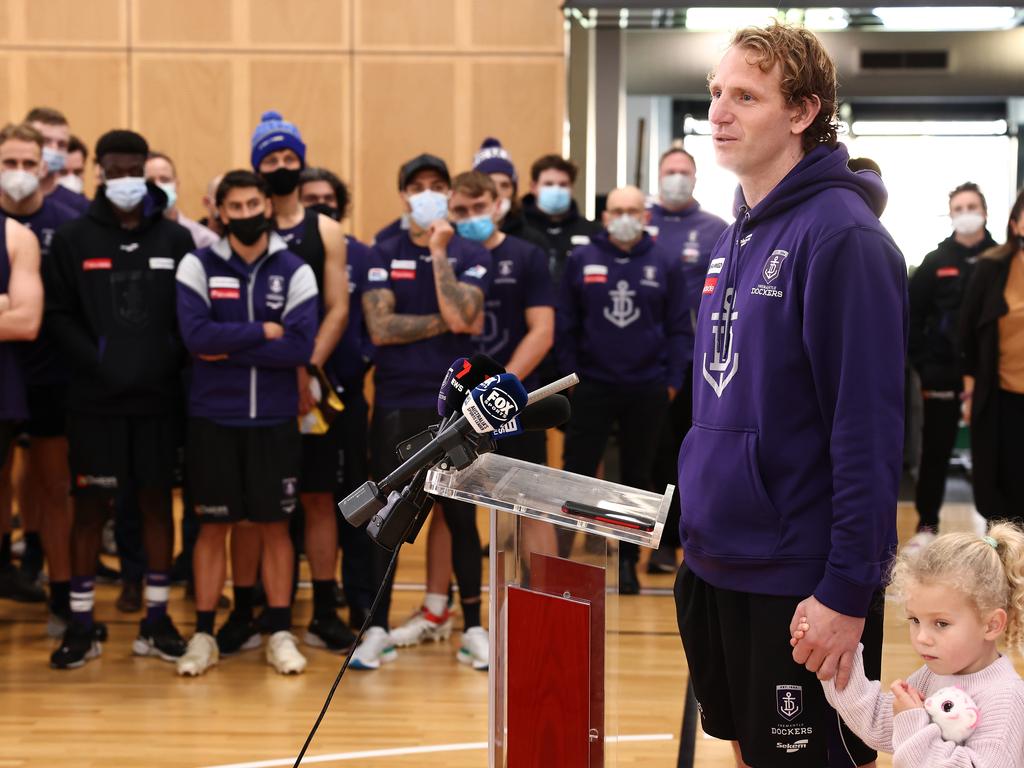 Mundy with daughter Edie at his retirement press conference on Monday. Picture: Paul Kane/Getty Images
The contest, intensity, ball movement and field position are the big-ticket items for Dockers coach Justin Longmuir going forward.
"I thought (Melbourne) brought better intensity to the game than us from the start," Longmuir reflects after last Friday's no-show against the defending premiers.
They have their work cut out for them to turn things around quickly in what shapes as an incredibly important three-week stretch in the club's history.
"They got on top of the contest and got field position. We really struggled to buffer that. Felt like once the scoreboard pressure mounted, we just sort of succumbed to that and didn't play with enough freedom."
That freedom Longmuir speaks of is what has made Fremantle one of the most exciting teams to watch this season. When they move the ball with speed and take the game on from turnover, not many sides can match them.
That exciting ball movement seems like an obvious thing to address, but often it can be a complicated area to change, especially in the middle of a game.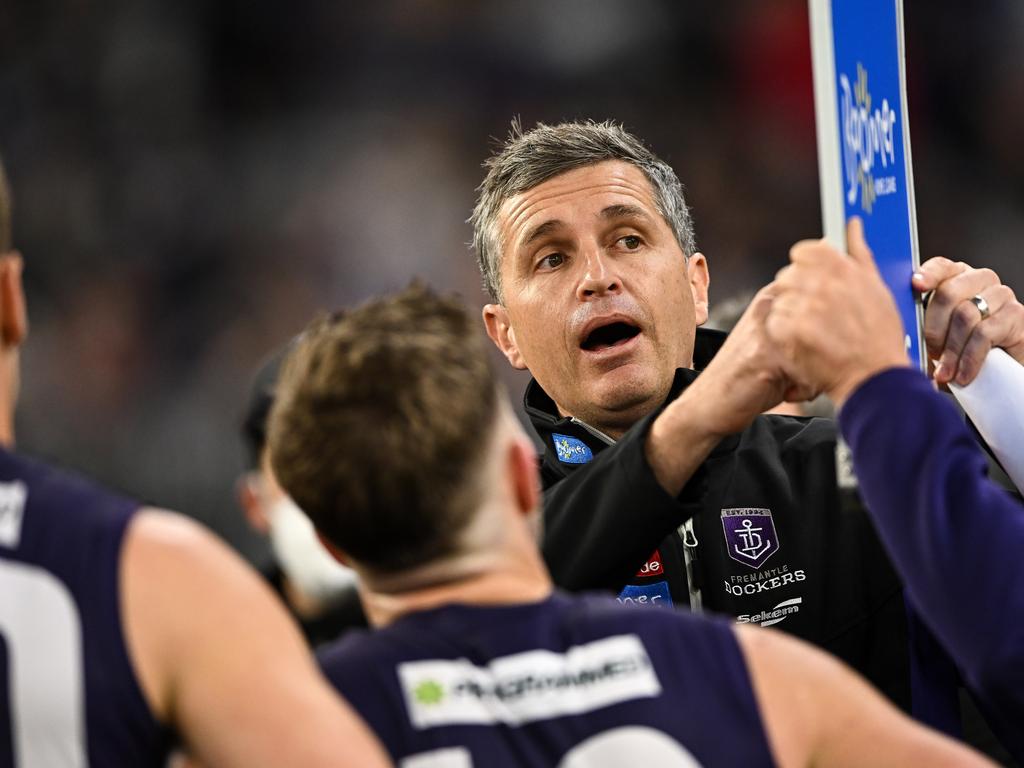 Longmuir addressing his Dockers during the loss to Melbourne last Friday. Picture: Daniel Carson/AFL Photos via Getty Images
"I think we really struggled with the separation between fast play and getting speed on the ball and slow play. And when you're held up there's a few things you probably need to do to make sure you engage defenders. But we just didn't strike the balance right."
What are those few things, you ask? In the end it comes down to working together as a team offensively. Plenty has been said about Fremantle's ability to defend this season, but with the ball in possession you need to work just as hard.
Running the right angles, not getting in each others' space, working into dangerous positions and making the opposition make key decisions while defending are all things the Dockers will be hoping to improve. There is nothing worse as a defender than an opposition player constantly being dangerous, always in a position to receive the ball. It keeps you alert and often doesn't allow you to set up as a defence.
That's what Fremantle's slow ball movement creates at the moment. Time for the opposition to set up and defend them, which in turn makes it hard to score.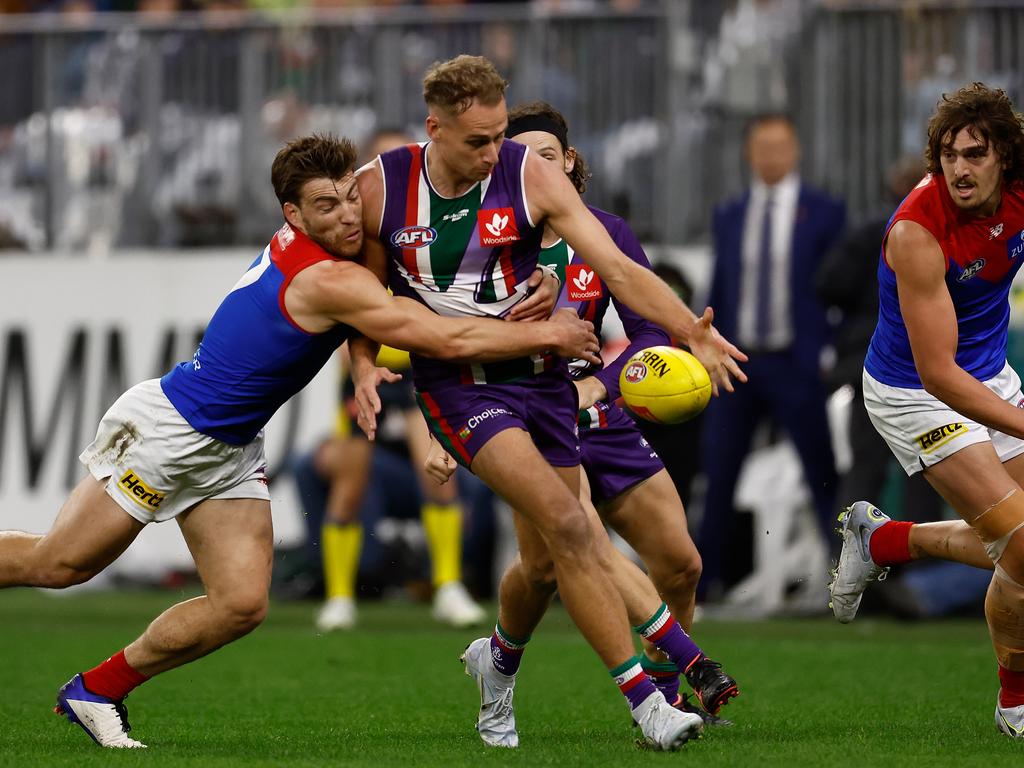 Melbourne made it particularly hard to score last Friday holding Fremantle to 39 points. Picture: Paul Kane/Getty Images
How do you move the ball quicker, then? Is it the player with ball in-hand or the receiver? Longmuir has a foot in both camps.
"I think it's both. I think as far as the energy the ball carrier shows, if it's good energy and intent to get the ball moving, I think that forces others off the ball to really go to work."
Fremantle's scoring has also been an issue over the past few weeks.
"We need to get away from playing safe all the time and see if we can get back to the ball movement we were showing earlier in the year, where we just trusted ourselves with ball in hand and then took the game on a little bit more."
"Everyone is talking about our scoring being down, but our inside-50s are down as well on the early part of the year. So we need to make sure we're getting our forwards plenty of supply and you can do that by defending your front-half a lot better than we are."
Ball movement is always an obvious thing when it's not working to its optimum. You can see when a team is moving the ball too slowly or too fast and becoming rushed.
The contest is something that's harder to pinpoint, but is usually the most important thing. If you can't win the ball at the contest, it makes it very hard to do much else.
Winning the hard ball in and under the contest, being clean with your hands, making sure you execute fundamentals of the game like handballing and tackling. Getting these little things right go a long way to victory week-in, week-out and it's something Fremantle are certainly striving for consistency with.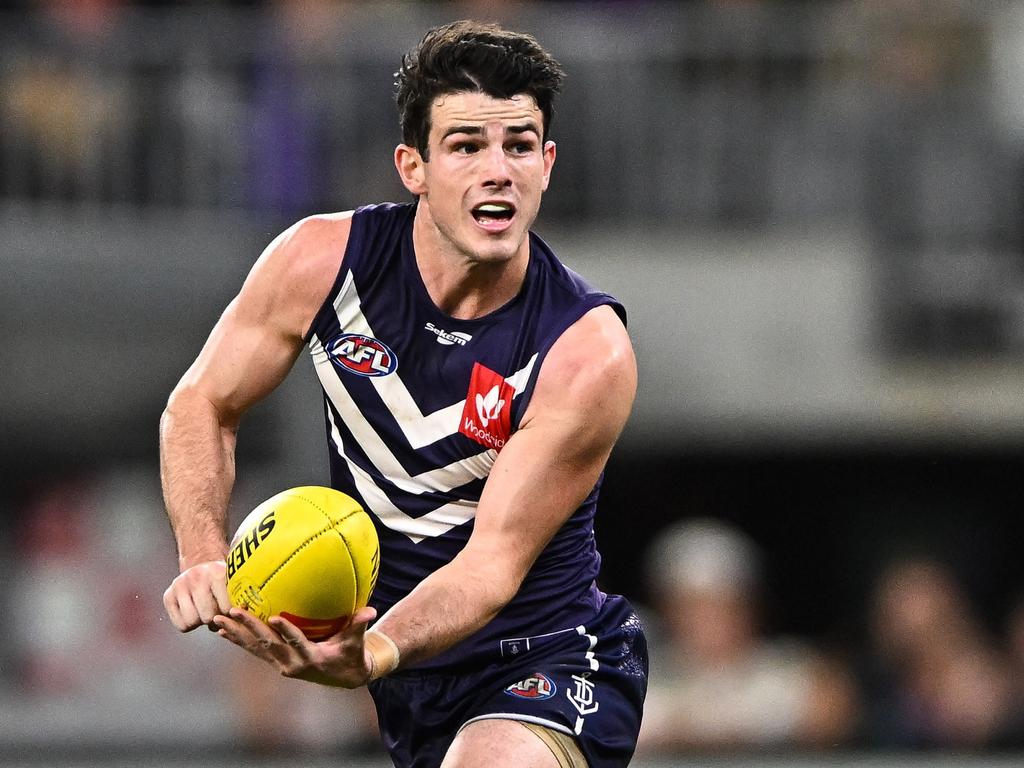 Andrew Brayshaw has been a leader in all departments for the Dockers. Picture: Daniel Carson/AFL Photos via Getty Images
"We're probably lacking a little bit of confidence at the moment to trust ourselves, just take the ball and drive and hang on to the footy for a little bit longer. I think that buys you a little bit of time to better your execution," Longmuir says.
"It's a really tricky one. If you don't get the contest right in footy, it's hard to make too many changes on the periphery."
So pretty simple really. Fix the contest and ball movement and Fremantle have all the parts to be a very successful side.
Easier said than done, but that's what makes the good sides great – when they can identify what's not working and fix it.
So how do Fremantle get back to their best?
"The best thing to do when players are out of form or teams are out of form is to really simplify your focus. And probably to revert back to what we do when we play our best footy," Longmuir says.
"Really leaning on the leaders to make sure that we're bringing energy when we come to the football club, because the only way we're going to find a way out of this slump is together."