All the news as Geelong Cats take on St Kilda in round 21
Geelong will closely monitor Patrick Dangerfield this week after another injury issue but his absence showed a key reason why the club is premiership favourite.
The depth that has kept Luke Dahlhaus out of the Geelong side for most of this season is a weapon that is boosting the club's flag hopes, the veteran Cats says.
Dahlhaus was a very late inclusion for Geelong before Saturday night's win over St Kilda when Patrick Dangerfield pulled himself out of the game due to calf tightness.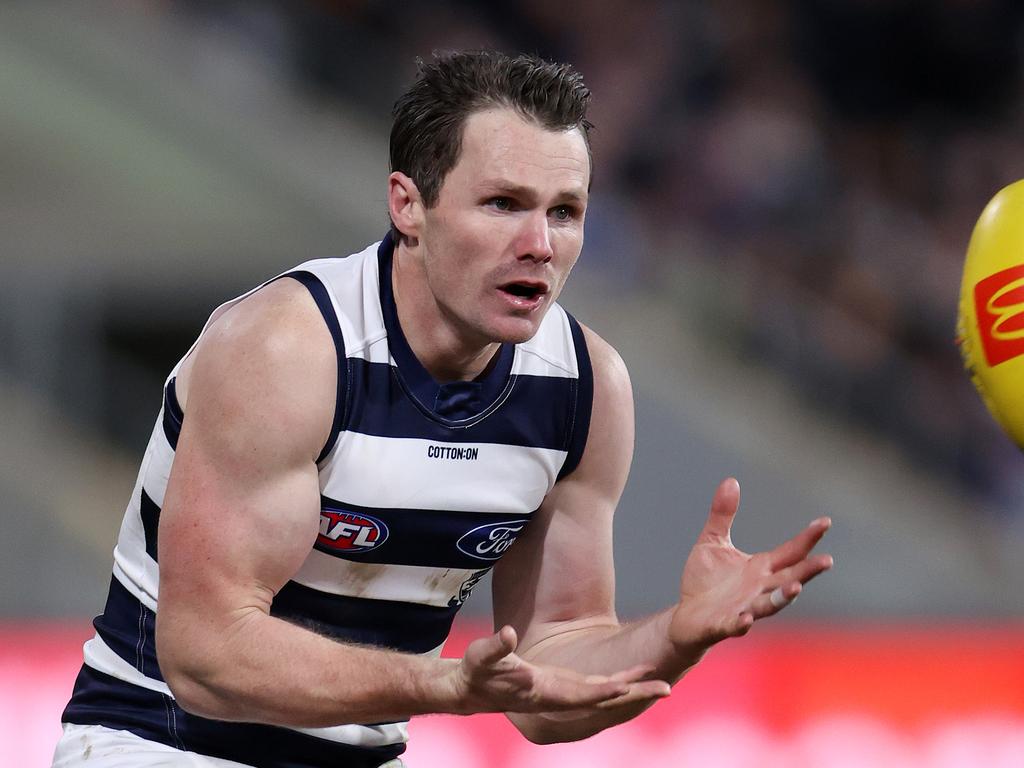 Patrick Dangerfield missed the win over St Kilda. Picture: Mark Stewart
That was the final of a series of changes, with Mark Blicavs (managed) removed from the team and Jonathon Ceglar made the medical-sub, allowing Zach Tuohy and Sam Menegola to enter the side.
The Cats will closely monitor Dangerfield over coming days on his calf, an injury that has held him out of the side several times this year, but the decision not to play was precautionary.
He trained in full during the week before the game only to feel tightness in the warm-up on Saturday night.
The superstar midfielder was walking freely around the Geelong rooms post-match, with a compression bandage on his right lower leg and he is seen as likely at this stage to face Gold Coast on Saturday.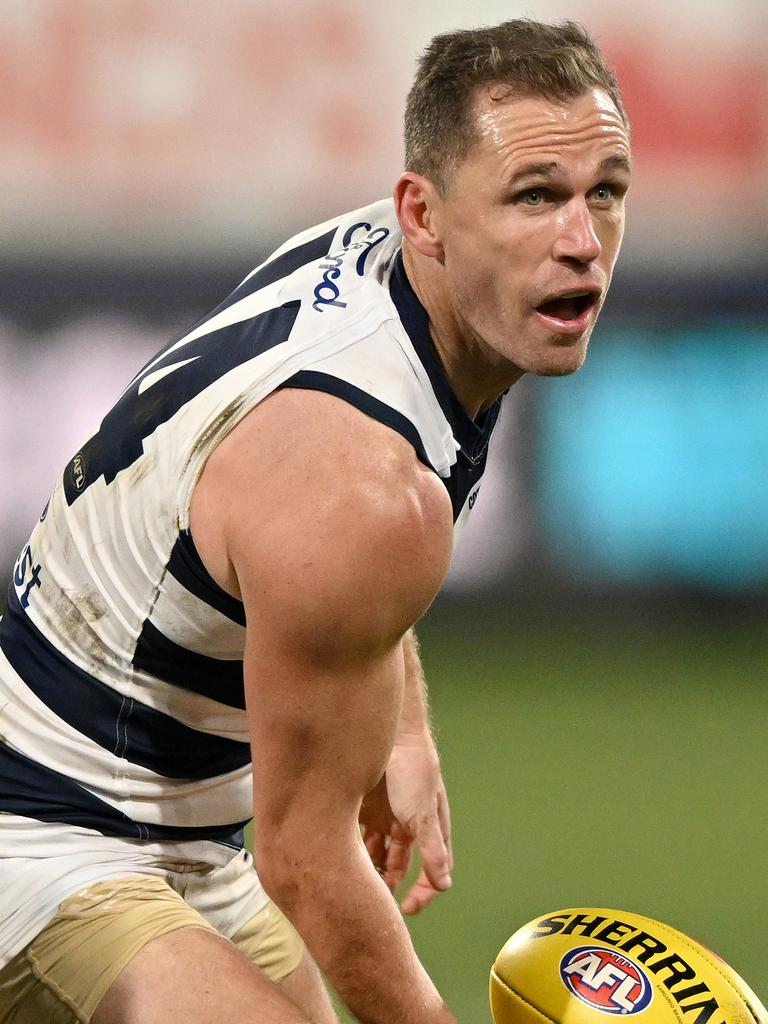 Joel Selwood also missed the Saints game. Picture: Morgan Hancock/AFL Photos/via Getty Images
The clash was Dahlhaus' ninth game this season, three of which have been as the medical-sub, as improved depth has seen the 29-year-old struggle to lock in a spot in the Cats team.
While he would rather be playing every week, the hardworking Western Bulldogs premiership player said it was a good sign for the club that Geelong was poised to have several hardluck stories this year.
"You only have to look previously to some premiership winners, there is always that story with teams that are humming," he said.
"You only have to look at someone like Nathan Jones last year that unfortunately didn't play (in Melbourne's premiership). It just happens every year.
"I had it at the Doggies. A couple of players were on the fringe that would have been playing at other clubs. I think everyone knows that and everyone is on their toes (at Geelong) and wanting to play well every week."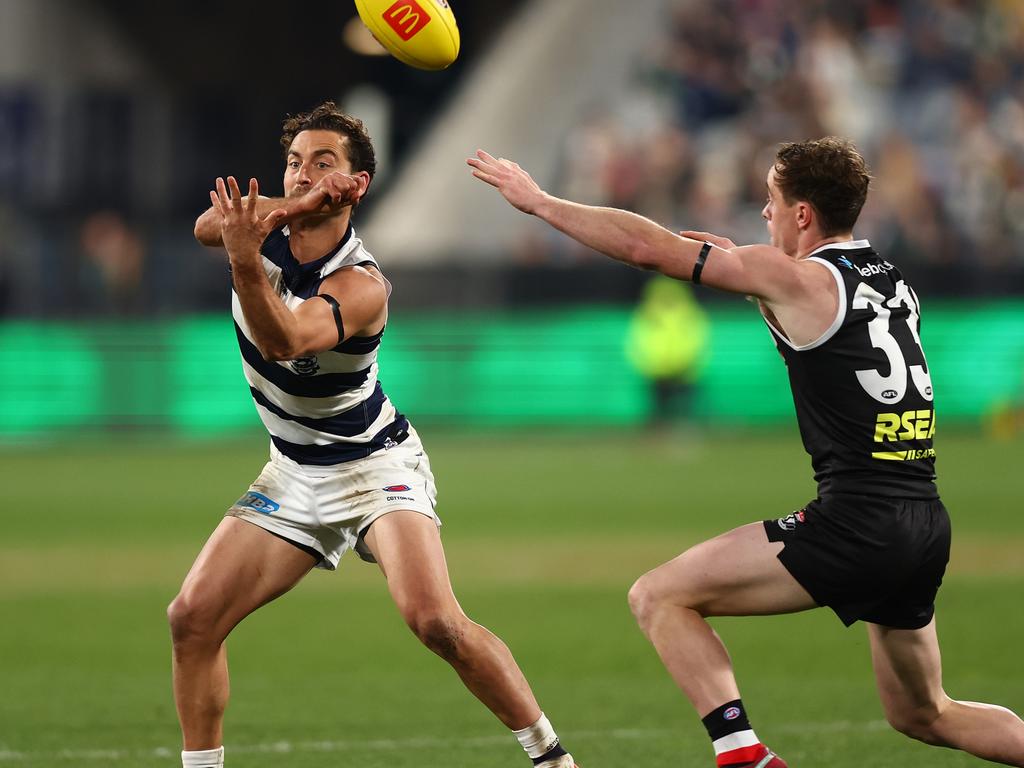 Luke Dahlhaus was a late addition to the Cats team. Picture: Graham Denholm/AFL Photos via Getty Images
On top of the late changes, Geelong's 45-point win over St Kilda came with Joel Selwood (managed) and Gary Rohan (concussion protocols) out from last week's win over the Bulldogs.
Dahlhaus said in the past the Cats may have faltered without some of their biggest stars but this year the even spread of contributors proves they can go deep into September.
"We are pretty confident we can go quite well in the finals, we are probably humming at the perfect time," he said.
"Everyone is playing good footy and it is such and even performance across the board. Maybe in the past we have relied on the likes of Pat and Joel to get us over the line but I feel like everyone is going their bit (this year)."
Eddie Betts making Geelong a better club
Geelong coach Chris Scott says he hopes the current controversy surrounding former Carlton and Adelaide star Eddie Betts does not overshadow his footballing legacy.
The 350-game forward, who now works at the Cats as a development coach, recently opened up about the controversial 2018 pre-season Crows camp in his newly published autobiography.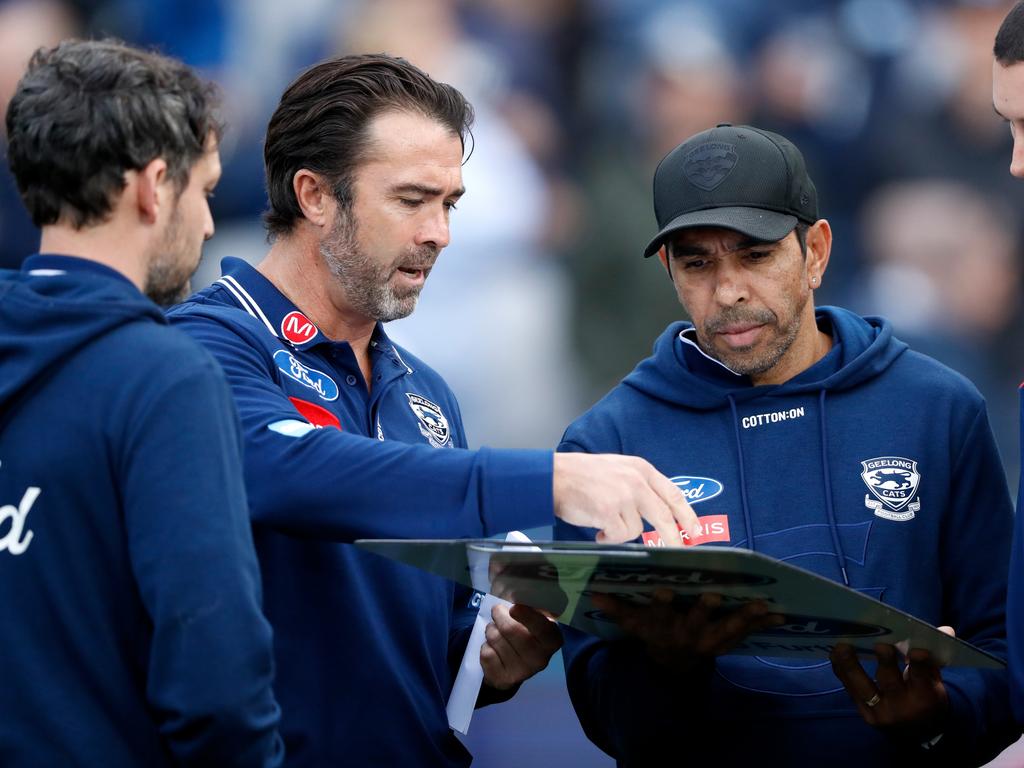 GEELONG, AUSTRALIA - APRIL 30: Chris Scott, Senior Coach of the Cats and Eddie Betts are seen during the 2022 AFL Round 07 match between the Geelong Cats and the Fremantle Dockers at GMHBA Stadium on April 30, 2022 in Geelong, Australia. (Photo by Dylan Burns/AFL Photos via Getty Images)
In his account, Betts said a camp instructor told him he would be "a s**t father as I was raised only by a mother", in an attack "so deeply personal that I was absolutely shattered to hear it come out of his mouth."
Scott said he did not want Betts' accomplishments on and off the football field to be diminished in the fallout from the camp.
"I think the thing I can be sure of is the impact Eddie has had on our group, he's such a positive, optimistic guy and it's no surprise to us that he's handling this situation well given the way he's conducted himself in his time at the Cats," he said.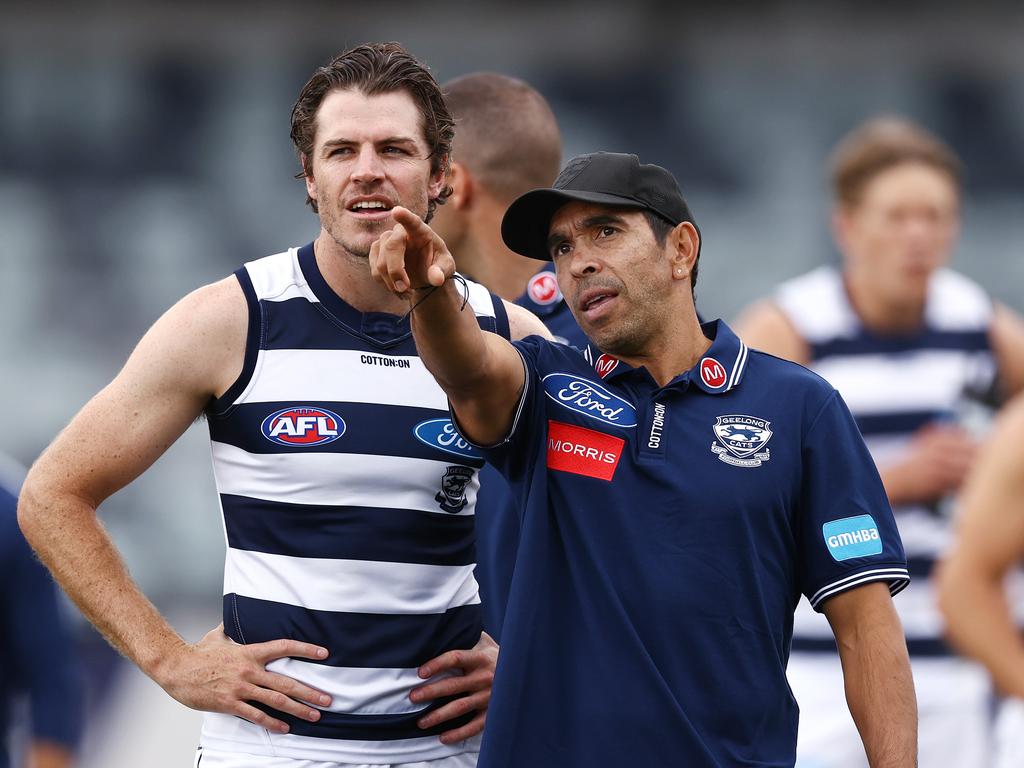 MELBOURNE. 26/02/2022. AFL . Geelong v Richmond at GMHBA Stadium, GeelongÉ. Geelong assistant coach Eddie Betts talks with Isaac Smith pre game . Photo by Michael Klein
"He's had a really positive influence, not just on the playing group and the younger players and the specifics around his role on field and the X's and O's.
"Culturally for us he's added to us, he's been able to tell his story really effectively and notwithstanding the current controversy, and I don't want to diminish that in any way, but the Eddie Betts story is much, much bigger than that controversy.
"So I'm looking forward to reading the book so I can expand my knowledge around some of the adversities that Eddie has been able to overcome, not just throughout his footy career but throughout his life.
"It's a really inspiring story and I think it would be a shame if this controversy diminished the other parts of the Eddie Betts story."
'Reasonable to expect': Late change flagged for Saints clash

Geelong coach Chris Scott has flagged a late change may come ahead of the side running out onto GMHBA Stadium to face St Kilda on Saturday.
The Cats had named ruck Rhys Stanley to return from a minor knee injury and help Jon Ceglar shoulder the ruck load, while Mark Blicavs would be used as a midfielder against the Saints.
But Scott warned the 22 selected might not be the same that face the Saints, with defender Zach Tuohy and winger Sam Menegola potentially set to join the side.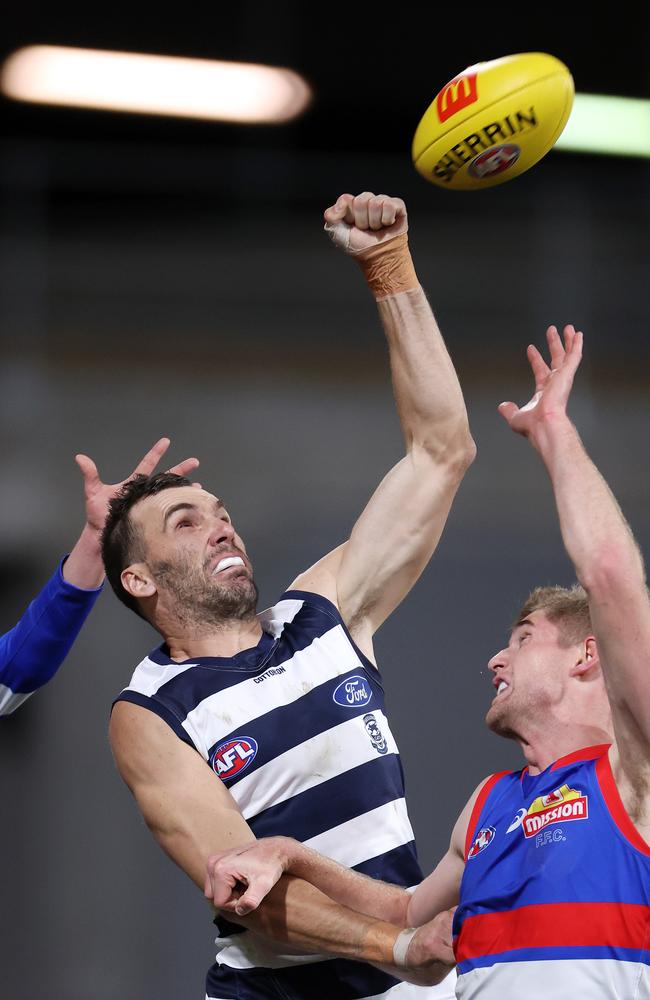 2022 AFL Football Round 20 - Geelong Cats V Western Bulldogs at GMHBA Stadium. Jonathon Ceglar of the Geelong Cats in action. Picture: Mark Stewart
"We were put in the position last night (Thursday) where we had to pick a team and a squad that we suspect was subject to change, and that's probably how it's playing out today," he said.
"I think it's reasonable to expect that the 22 that we picked will change somewhere between now and game time.
"Stanley coming in, we're keen to see Ceglar get some more exposure at AFL level before the finals but we're still undecided as to how that's going to look.
"The uncertainty in the team is around a couple of the guys who we think, or we were confident, would be available but we weren't quite sure, so guys like (Sam) Menegola in particular will probably play now and (Zach) Tuohy is in that mix as well."
Geelong is four points and percentage clear on top of the ladder, while St Kilda is fighting to hold onto a finals' spot, with a loss potentially pushing the Saints outside of the top 8.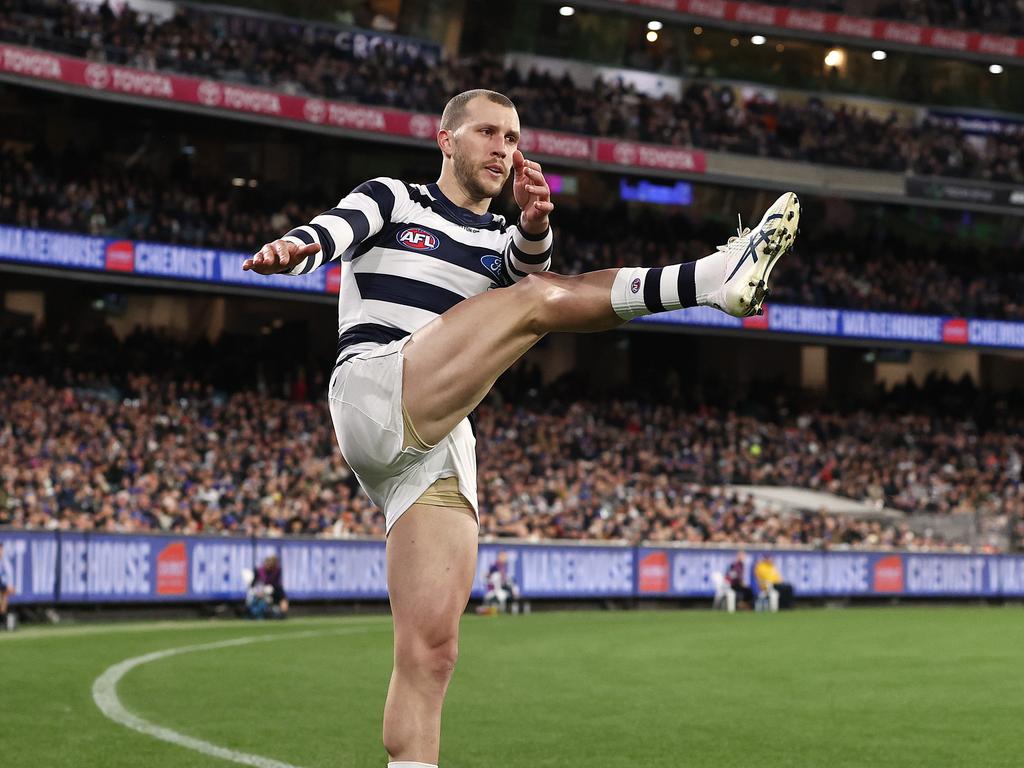 Sam Menegola may be a late in for Geelong. Picture: Michael Klein
Scott said he was wary of the energy St Kilda would bring to save its season.
"It's our preference really coming into finals, the last thing we want to be doing is seeing these games as practice games, we want to be trying to simulate what we'll get in a finals series as much as possible," he said.
"There's no better way to do that than playing a team that's fighting for their football life.
"There was a 20-minute patch the last time we played them where they played exceptional footy, the combination of their motivation and their capability means we're going to get a formidable challenge, which at this time of year, as I said, is our preference."

Captain Joel Selwood will miss the clash with St Kilda after being rested for the round 21 match.
Scott said it was a scheduled rest for the skipper, and he did not expect Selwood to mis another game this year.
"It just seemed appropriate to us that this was the right week to hold him back and get him in as good as shape he can be for the last two games.
"He's been in pretty good shape, it must be said, pretty good shape generally the whole year so this is definitely a proactive move.
"We're pretty determined to stick to the plan.

"I can't see any reason why he would miss another game."
'Doesn't get any easier': Big Saint a Cats concern

Geelong is adamant it "doesn't get any easier" around the ball this week against St Kilda, as Cats assistant Shaun Grigg expects Saint Rowan Marshall to be a handful in the ruck.
Saints big man Paddy Ryder was best-on-ground when his side stunned the Cats in round 9, the last time Geelong lost a game, but he will sit out Saturday night's clash with a calf issue.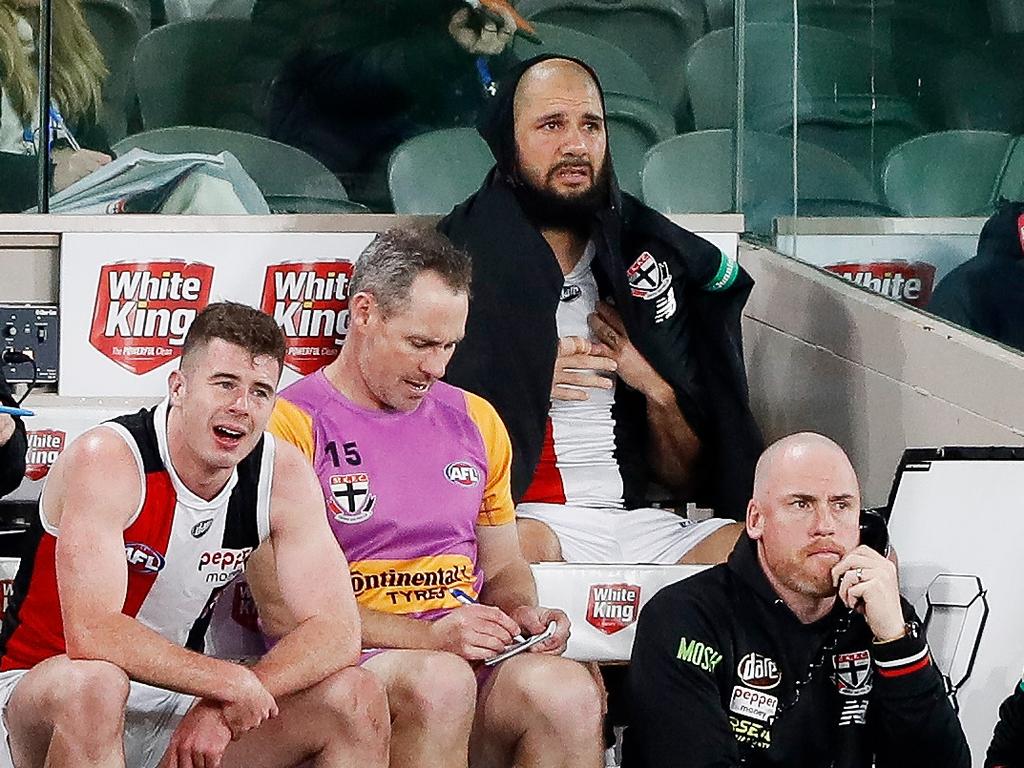 Paddy Ryder (back row) injured his calf last month. Picture: Dylan Burns/AFL Photos via Getty Images
Marshall has taken to the No.1 job with aplomb however and had possibly the finest game of his career last week against Hawthorn, when he amassed 30 disposals, nine marks and 35 hitouts.
He will take on Cats pairing Jonathon Ceglar and Mark Blicavs in the middle of GMHBA Stadium on Saturday night, and Grigg said he was wary of the damage Marshall can do.
"It doesn't get any easier (with Ryder out), Marshall is a great ruckman in his own right," Grigg said.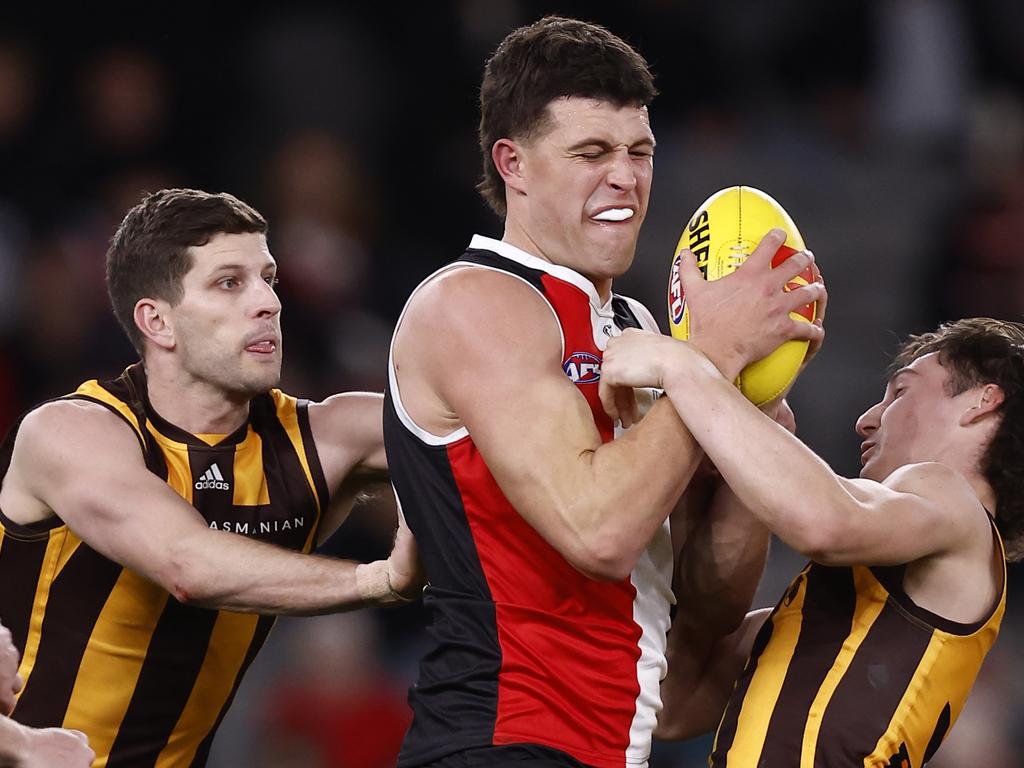 Rowan Marshall dominated the Hawks last week. Picture: Darrian Traynor/Getty Images
"As a tandem they are really strong and Paddy Ryder had a great game against us (last time) but it is not like we are going to be sitting here thinking 'it will be easy with Rowan'. He dominated the game last week."
The Saints kicked six goals in a row in the third term of the round 9 meeting to set up a 10-point win, with Ryder doing damage in forward-50 stoppages.
Despite winning 10-straight games, the Cats have had lulls within matches and Grigg said that would continue to be a work in progress.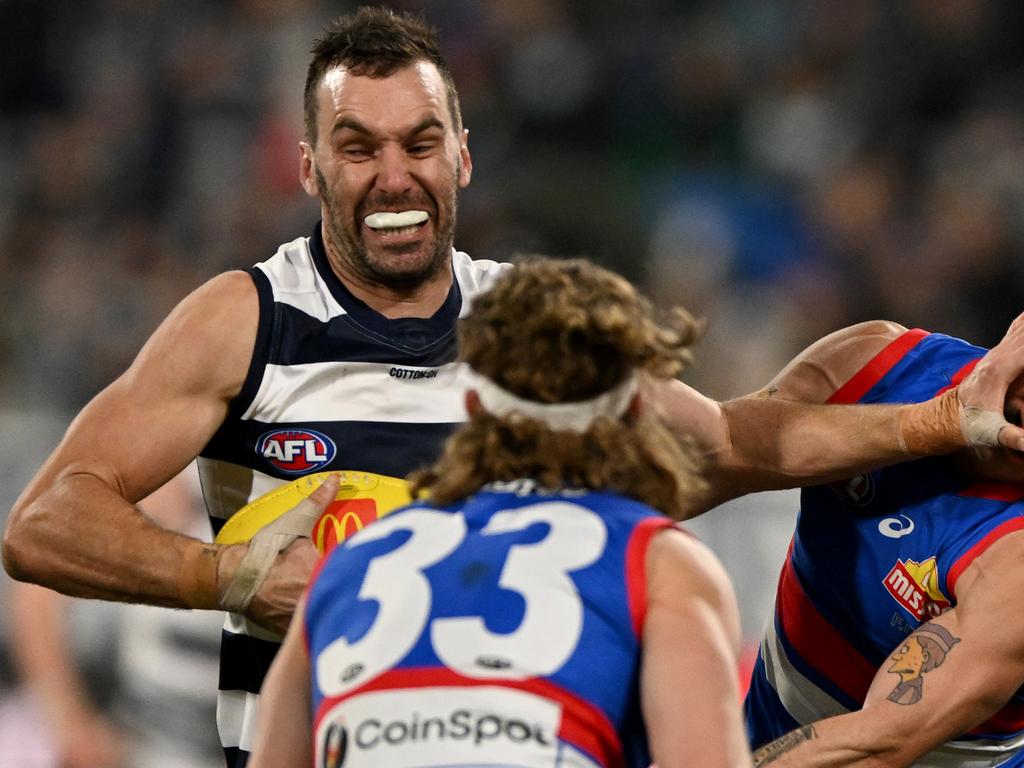 Jonathon Ceglar played his first AFL game with the Cats last week. Picture: Morgan Hancock/AFL Photos/via Getty Images
"You have to understand it is not going to be all your way throughout a game, for us it is about accepting that and embracing what we need to do to stop teams from putting scoreboard pressure on and also be able to wrestle it back and take the momentum of the game," Grigg said.
"It can happen in different ways from different teams. Last time against St Kilda they kicked a lot of forward-50 stoppage goals and were good from centre bounces, Port Adelaide (in round 19) got a run on from centre bounce against us."
Geelong confirmed on Thursday midfielder Brandan Parfitt had signed a fresh two-year deal and Grigg said it was important to lock in the midfielder, who's season has been interrupted by a broken hand.
"It is good to see him back and fit and healthy now and it is good he wants to be part of the midfield for a few more years," Grigg said.
Smith sees premiership trait in Cats
Three-time premiership winner Isaac Smith has compared the resilience in Geelong's playing group to the steely resolve that helped Melbourne end its flag drought last year.
The hard-running Cat knows plenty about premierships, having won three on the trot under Alistair Clarkson last decade and has been a key part of Geelong's current 10-game winning streak.
Isaac Smith dishes out a handball. Picture: Morgan Hancock/AFL Photos/via Getty Images
The Cats haven't had it easy during the run of wins and have come from behind several times, including against Richmond, Port Adeliade and the Western Bulldogs.
He said those wins, where Geelong reversed the momentum of the game at the right time, had begun building confidence that the Cats can get through anything.
"There is probably a little bit of confidence that has been built in the group over the last 10 weeks that is doesn't really matter what is thrown at us, we are going to be able to compete and challenge and try and put ourselves in a position to win before the game is out," he told RSN radio.
"When you start to build, start to get results and get a different experience throughout a period of time, it shows that you can do things and there is a certain level of calmness.
"Melbourne probably had that in last year's finals series and you saw when they were down at half-time in the grand final, they came out and absolutely exploded.
"As a team, once you can build that confidence and belief within the group, you are certainly in a position to finish off (the season) well."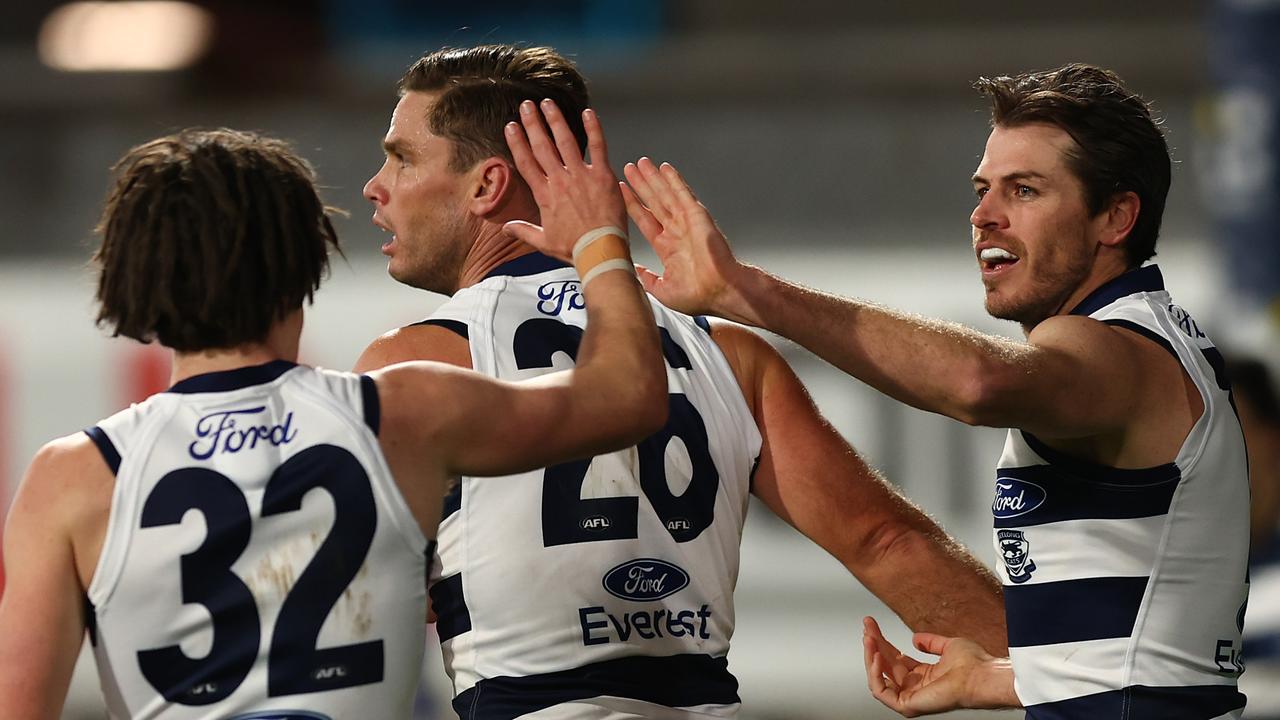 The Cats were humming against the Dogs. Picture: Graham Denholm/Getty Images
The Cats powered through the Bulldogs last weekend thanks to a scintillating eight-goal third quarter.
The dominant 30-minutes had the parochial crowd at GMHBA Stadium on its feet and Smith said the home fans – who will be out in force this Saturday night when Geelong hosts St Kilda – were "daunting" for the Dogs.
"The energy that the crowd were bringing, it would have been pretty daunting as a Western Bulldogs player," he said.
"I'm not exactly sure whether we have had better periods (within a game) at the club in my time.
"That is the belief in the club at the moment: that we can deliver that type of football and we probably should be delivering more often than not and it was great we could do it on Saturday night and hopefully click a little bit more towards the back end of the year."
Cats set to lock in Parfitt on new contract
Geelong is poised to lock away out-of-contract midfielder Brandan Parfitt, with a two-year deal set to take him to free agency.
The hard-nosed Cat comes out of contract at the end of this season and has been in talks with Geelong for most of this season, as the club looks to bed down its young talent.
Brandan Parfitt is in line for a new contract. Picture: Mark Stewart
Parfitt's manager, Tim Lawrence of TLA, confirmed a new deal was close.
"There is nothing to worry about for Geelong fans," he said.
A first-22 player since his first season in 2017, Parfitt is a crucial signing for Geelong given his blend of experience and age.
At 24, he has notched 108 games and is a rare regular midfielder only entering his prime, as several of his teammates begin the twilight years of their career.
By signing a deal until the end of 2024, Parfitt would become a free agent when he is out of contract but he didn't consider leaving Geelong at any point of negotiations.
The Northern Territory product played his first game in eight weeks last weekend after being sidelined by a broken hand and hit with Covid.
He came off the bench in the final term of the win over the Western Bulldogs, replacing Gary Rohan (concussion) as Geelong's medical-sub and Cats coach Chris Scott said post-match Parfitt was set to be in the starting-22 against St Kilda this coming weekend.
Despite drawing interest from rival clubs in the past, Parfitt was always keen to stay in Geelong.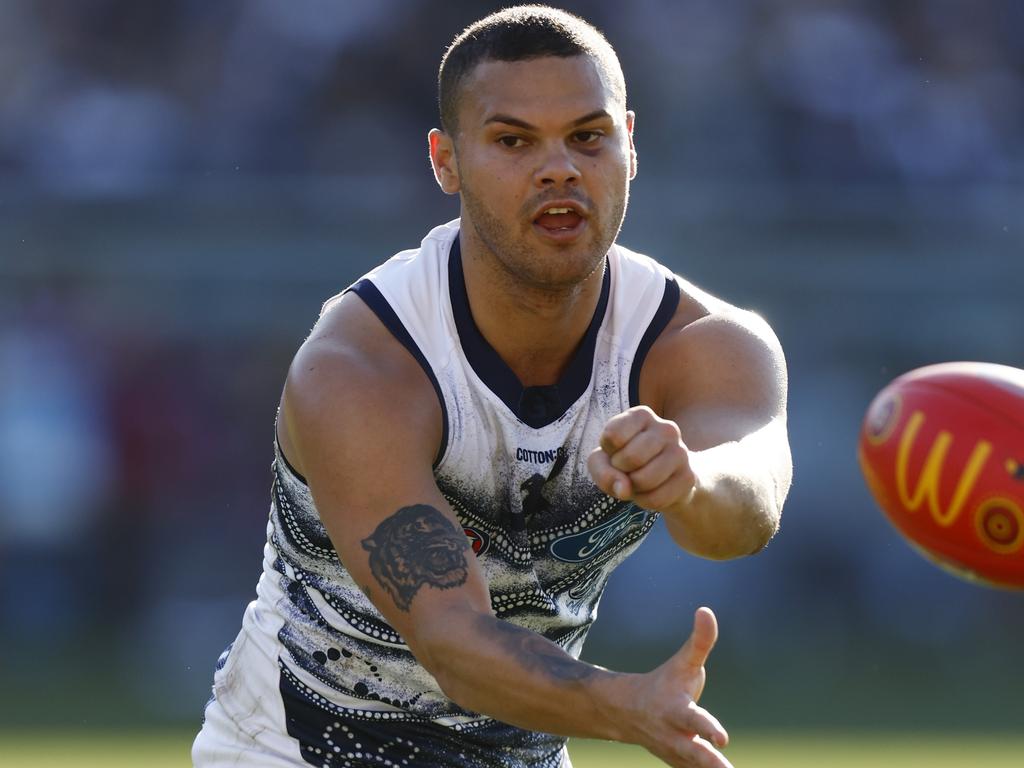 Brandan Parfitt will be a free agent at the end of 2024. Picture: Darrian Traynor/Getty Images
"I am pretty happy in Geelong and we're hopefully not too far away," he said this week.
"Something should get done. I think it is still in the works but I am really happy here and enjoying it."
After signing up an array of younger players late last month, including Max Holmes, Mark O'Connor and Toby Conway, Geelong's list of out-of-contract players has shrunk again with the signing of Parfitt.
Evergreen forward Tom Hawkins has declared he will play on in 2023, while new deals will have to be struck for the likes of Isaac Smith, Zach Tuohy and Zach Guthrie.
Skipper Joel Selwood could play on, while Luke Dahlhaus, Shaun Higgins, Quinton Narkle and Sam Simpson are among others without a contract for next season.
The Cats are committed to improving their list at the end of this season, as midfield targets such as GWS pair Tanner Bruhn and Jacob Hopper have been discussed internally.
Kola backs Cats to defy history on winning streak
Geelong defender Jake Kolodjashnij says his Cats can defy recent history and roll through its premiership push without losing another game.
If Geelong is to do as expected and win its final three games of the home-and-away season – against St Kilda, Gold Coast and West Coast – it will hit September on a 13-game winning streak.
None of the past 20 AFL premiers have entered the finals series with a winning streak of 10 or more.
In 2019, Richmond won its last nine games of the regular season and claimed the cup, the only club to have entered the finals on a streak of more than four games and win it all.
In the AFL era, only the Brisbane Lions (2001) and Carlton (1995) have hit the finals off the back of such winning form, with grand final victories for both sides their 16th win on the trot.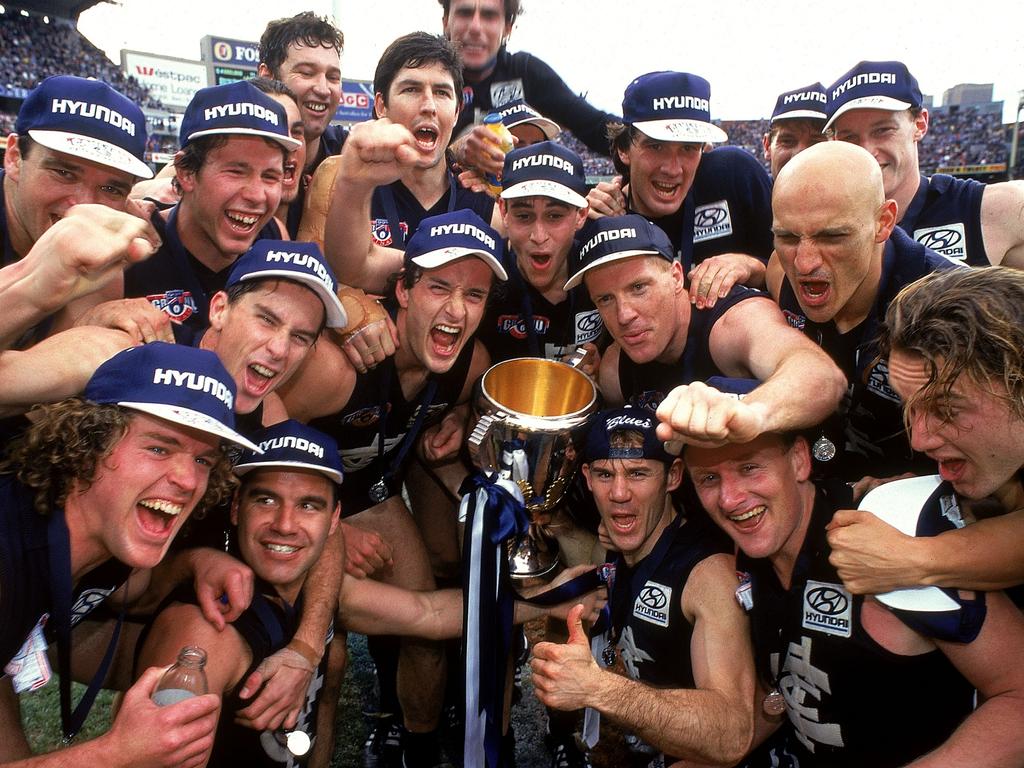 Carlton's all-conquering 1995 team. Picture: Tony Feder/Getty Images
For the Cats to win all the way through, including three finals, they too will need to win 16 in a row.
With playing their best footy as spring awaits the focus for the Cats, Kolodjashnij said there would be no slowing down from here.
"I am happy to keep banking the wins, it is a good feeling singing the song every week," he said.
"We want to play our best footy at this time of the year and that is the main focus for this group – to sharpen things and put our best foot forward come September."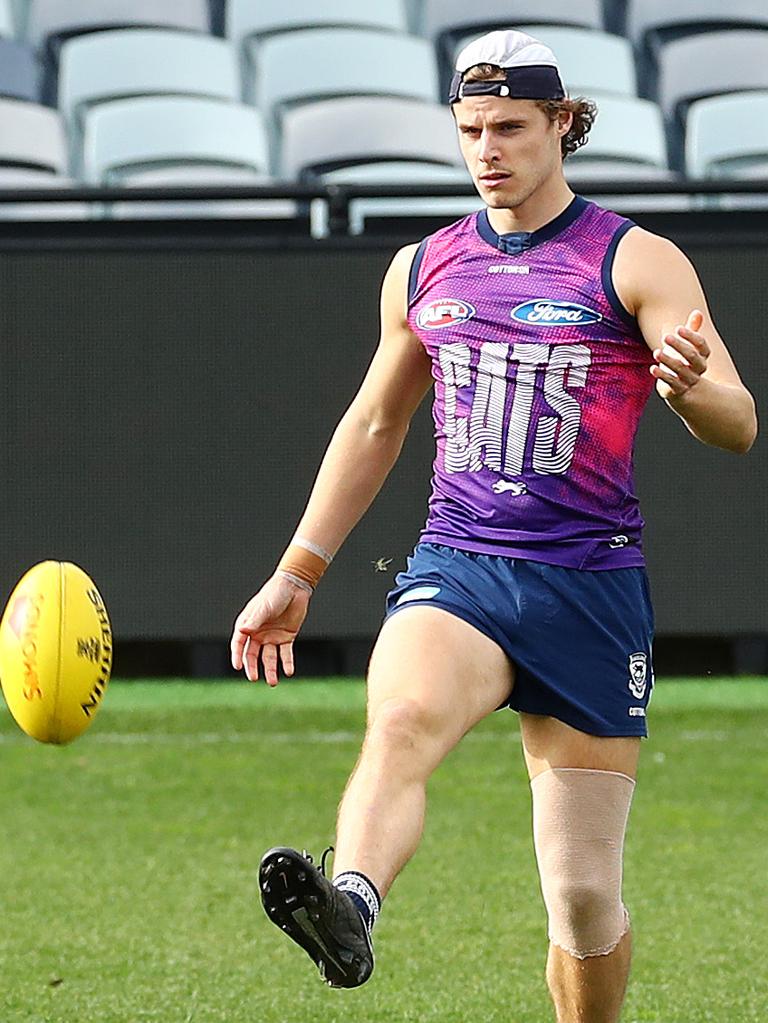 Jake Kolodjashnij is backing the Cats to keep on winning. Picture: Alison Wynd
Kolodjashnij will play his 150th AFL game on Saturday night against the Saints and he said his club had never been better placed for a flag tilt in his nine seasons in Geelong.
Speedy forward Brad Close, who will play his 50th game this weekend, said the Cats were clear there were parts of their game they needed to tighten up in the next three weeks.
"There are a few parts of our game we have let slip a couple of times but it was just a good positive sign (against the Bulldogs) to know we can lock it down later in the game and get the game the way we want it," he said.
Having shrugged off flat patches in games to get past the Western Bulldogs, Port Adelaide and Richmond in its 10-game winning streak, Kolodjashnij said the confidence within the Geelong group to bounce back mid-match held it in good stead.
"That's probably the powerful thing out of all these situations that have happened, once we get these games on our terms we can take it up to anyone," he said.
"The challenge for us now is to do it for four quarters."
Parfitt desperate to lock in spot before finals
Returning Cat Brandan Parfitt is desperate to "do everything I can" to be part of a looming deep finals run as he sees something "pretty special" on the agenda for Geelong come September.
Parfitt has been sidelined for most of Geelong's 10-game winning streak, a run of form that has seen the Cats shoot to the top of the ladder and to premiership favouritism.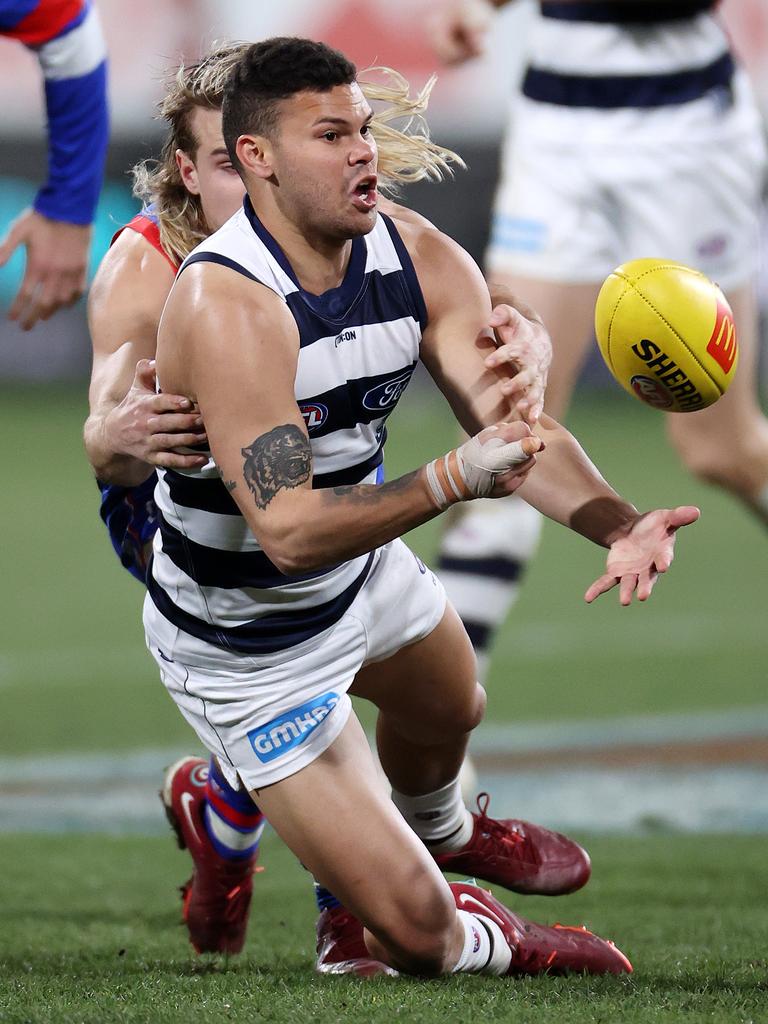 Brandan Parfitt returned against the Bulldogs. Picture: Mark Stewart
A best-22 player for his entire career, Parfitt faces a task breaking back into Geelong's firing midfield and started as the medical sub in his first game in 57 days when the Cats beat the Western Bulldogs on Saturday night.
With a top-two spot almost assured, Parfitt said the Cats would use their final three games of the home-and-away season to finetune their game as he attempted to lock in a spot in the team.
"We just have to try and perfect our gamestyle and our plan and see what's best for the team," he said.
"I am just trying to do everything I can to be a part of it because I feel like we are going to try and do something pretty special."
Having watched on from afar after breaking his hand in round 12 and going through a bout of Covid, Parfitt said Geelong's improvement through the midfield has been thanks to a combination of personnel changes and all players doing their part.
"It's probably a combination of different things," he said.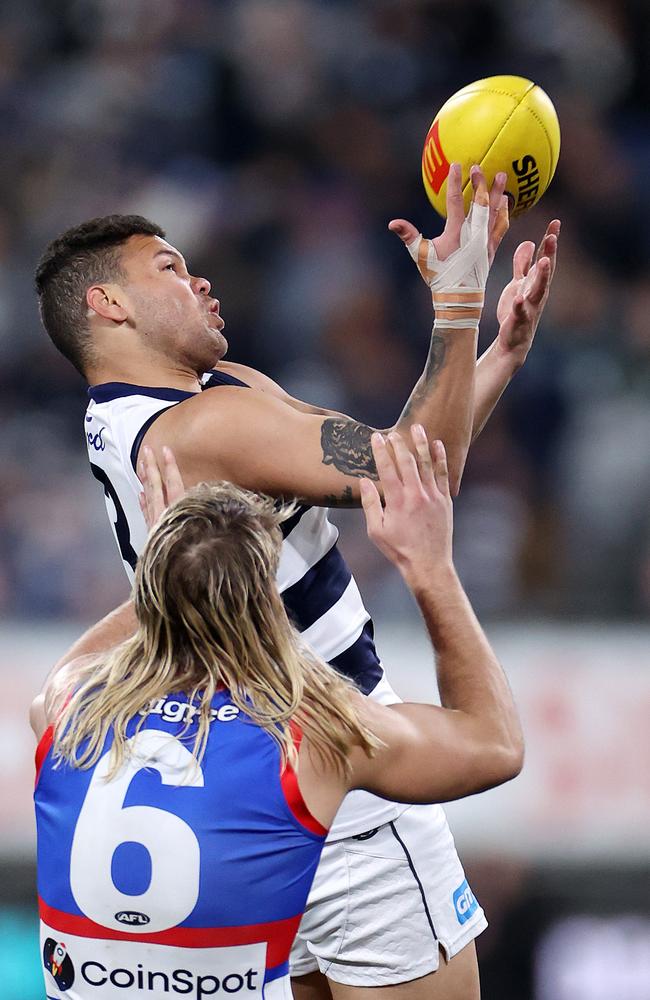 Brandan Parfitt attempts to mark. Picture: Mark Stewart
"Blitz (Mark Blicavs) is playing more midfield, obviously Axe (Tom Atkins) is playing in there and killing it. We obviously have a new gamestyle this year and it started to click after the bye.
"All the boys are performing and once we get going, everyone wants to play their part and play their roles. Once you get winning it is hard to stop."
Out-of-contract at the end of this year, Parfitt has been in slow-moving talks with the Cats on a new deal throughout the season.
The 24-year-old said he hoped a contract would be sorted soon.
"I am pretty happy in Geelong and we're hopefully not too far away," he said.
"Something should get done. I think it is still in the works but I am really happy here and enjoying it."
'Embarrassed' Ceglar to repay the faith
Forced into three surgeries and limited him to three-and-a-half VFL appearances until late July, Jonathon Ceglar felt "embarrassed" by his contribution in his first year at Geelong.
Traded to the Cats in a ruck shuffle over last off-season, the former Hawk steeled himself to be part of a team pushing for finals.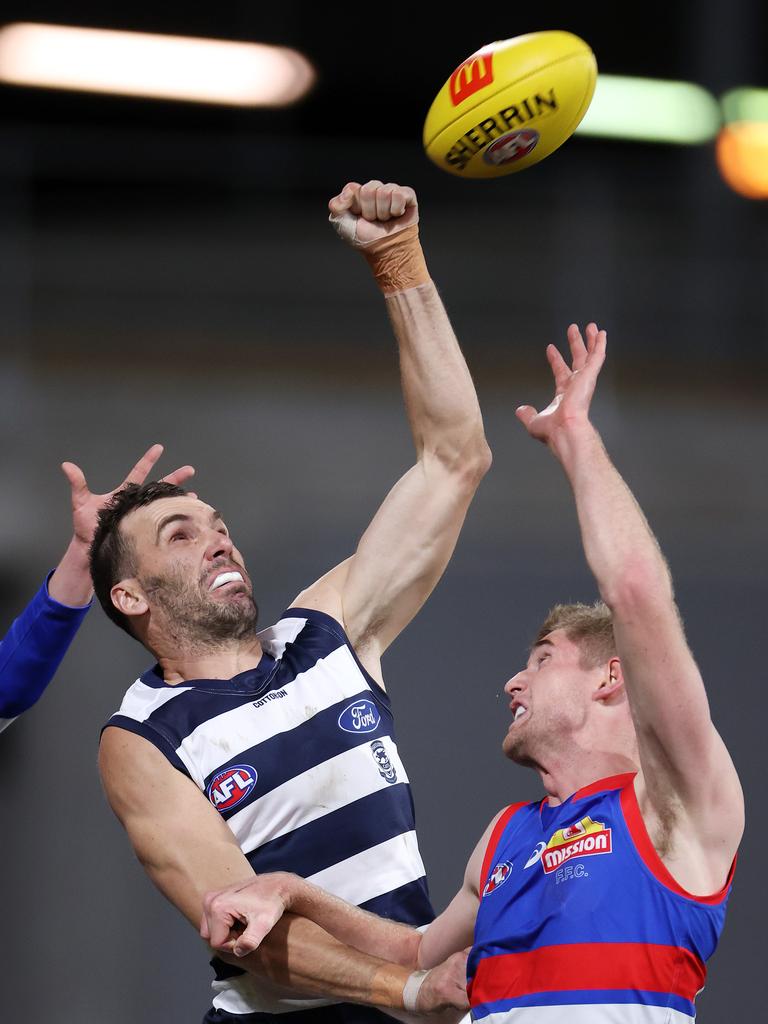 Jonathon Ceglar made his return against the Bulldogs. Picture: Mark Stewart
He just didn't expect it to take until round 20 for him to make any impact at all.
After a pre-season setback, Ceglar broke his foot in the first half of his second VFL game, way back in the first week of April.
Complications after his first surgery on the injury meant he had to go back under the knife and deeper into the club's rehab program.
The famously flexible Geelong program allowed the 31-year-old to clock in and clock off, driving up to Yackandandah to check in on his growing hoard of budding race horses.
Ceglar refused to let his setbacks get the best of him as he eyed a late-season push to land in Geelong's team.
"The support the club gave me and the flexibility in the program to enjoy my life outside of (the club) was great," he said.
"Rehab can be a pretty lonely place at times and you feel indebted to the club. I was 30, turning 31 when they recruited me and you want to deliver on their investment. To not be able to, I felt a little embarrassed.
"It was out of my control rally, a fractured foot, I had some complications with surgery and had to go back in.
"It was nice to have the faith but the job is not done, I have three rounds left and a finals series. That is what I came here for and I imagine that is why they recruited me. I haven't been able to deliver for the first part of the year but now it is time to fulfil what I cam here to do."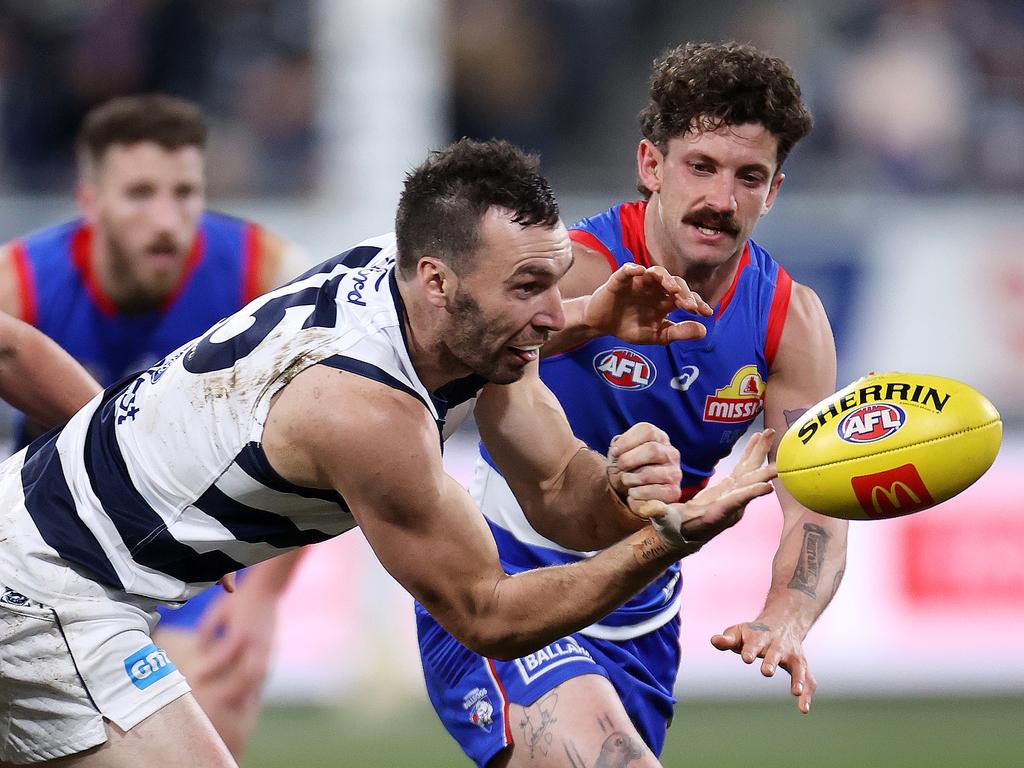 Jonathon Ceglar fires out a handball. Picture: Mark Stewart
Ceglar worked his way back to play two VFL games before an injury to Rhys Stanley opened the door for his shot in Saturday night's win over the Western Bulldogs.
Former Hawk teammate Isaac Smith presented the ruck with his Geelong jumper before the game, with Ceglar describing it as a "privilege" to play in Joel Selwood's 350th AFL match.
"It was a relief (to play) because I probably did feel guilty to a point of not being able to play," he said.
"It was an excitement factor but it was probably a bit more of a relief that I got what I came here to do and injuries are hopefully behind me.
"It was an excitement but with the skip's (Selwood) 350th, it was an important one that we really had to win, not just for our season but for him."
Originally published as All the news as Geelong Cats take on St Kilda in round 21